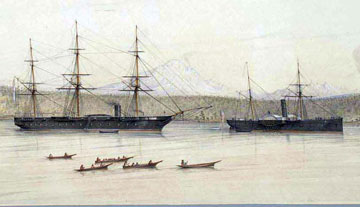 History buffs - here's what's happening....
Mike Vouri tells me he's got an interesting talk tomorrow (I know you're a history nut, 'cause you're reading the Update, which is history in the makin'...):
Explore the Strait of Juan de Fuca at the dawn of Anglo-American settlement during "Safe Passage: The Coast Survey Steamer Active and the Charting of the West Coast, 1852-1860." Park Ranger/Historian Mike Vouri will present this slide lecture at 2p.m., Saturday, August 11 in the English Camp barracks.
Admission is free. A golf cart is available to transport disabled visitors from the parking to the parade ground and back. Contact 378-2902/4409 for more special access information.
The Active (above), a side-wheel steamer operated by the U.S. Coast Survey to take soundings and transport surveyors, also played critical roles in Indian uprisings, shipwreck rescues and the Pig War crisis of 1859. The lecture includes several images of the vessel, as well as photographs and watercolors of San Juan Island that were only recently found in the archives of Yale University.
The Active began work here in the Gulf of Georgia region in 1853. After calling on Gov. James Douglas in Victoria, the surveyors established an observatory on the northeast side of Lummi Island in Hal's Passage, and the base line located on Sandy Point. From this base shore parties made the first U.S. triangulations of the San Juan Islands, while soundings were taken in passages. The ship returned here annually thereafter until the work was discuss the technology of and the challenges of operating 19th century steamboats and surveying equipment.
The Perseid meteor shower has begun...
If you like fireworks, here you go (from SpaceWeather.com) - it's a chance to count your stars and, in between, your blessings:
Although the display will not peak until August 12th and 13th, sky watchers are already counting as many as a dozen meteors per hour (including some nice fireballs) during the darkest hours before dawn. Rates could increase 5- to 10-fold when the shower reaches maximum on Sunday night and Monday morning. Advice: Get away from city lights. While many Perseids will be bright enough to see from light-polluted urban areas, the shower's full grandeur is reserved for places with dark and starry skies. This is a good weekend to go camping.
Visit http://Spaceweather.com for photos, observing tips and a sky map. Full coverage of the shower begins today and will continue until Perseid activity subsides.

Christian Women's Network-San Juan Island kicks off its blog....
Cathy Cole wanted to let you & me know about what the Christian Women's Network-San Juan Island is up to:
Hi Ian,
Remember your article in April about the Christian Women's Retreat at Orkila? Well, out of that retreat came a new island group called Christian Women's Network-San Juan Island. We are a group of women on the island who desire to support and serve island women. We have a blog at http://www.cwnsji.blogspot.com/ .
Women can visit and see upcoming events, Bible studies and a weekly scripture and thought. We are trying to get the word out about the next retreat in March '08. Check it out!
Blessings~
Cathy

Performing Arts Society concert set for next week....
Sally Browne tells me she has a chance for you to catch some way-cool classical tunes:
Five incredibly talented young people from the University of Washington will be featured on the next Performing Arts Society concert, Wednesday, August 15, 7:30pm at the Benefit Players Theatre. The Seattle Chamber Brass Quintet will be performing works of J.S. Bach, Malcolm Arnold, Victor Ewald, John Cheetham and Ingolf Dahl. Windemere Real Estate is making this concert possible with a sponsorship.
Josiah Boothby is a graduate student studying the French horn; Jon Hill is the recipient of the Yamaha Young Performing Artist currently a sophomore studying the tuba; Rachel Moore is a senior trumpet performance major; Colby Wiley is a senior studying the trombone; and Toby Penk is a junior studying the trumpet.
You will not want to miss this evening of great music. Bring a friend and have a good time.
The Seattle Chamber Brass will be performing Thursday and Friday as a participant of the Fair.
As always, the PAS concerts are presented without charge; however, donations are graciously accepted.
We will be moving our concert nights to the third Monday night of each month. Our next classical concert will be at 7:30 p.m. on Monday, September 17, with Hanneke Klein-Robbenhaar, Stella Joh and Sally Browne. For further information, or if you are interested in scheduling an upcoming performance date, please contact Sally Browne at 378-4106, or celloma@gmail.com.
And check out PAS's website, www.sanjuanpas.org, which was created for us by Footenote, Inc.!
Potluck!
My pal Lulu says the San Juan Kayak & Canoe Club is having their potluck on Saturday, and you're invited...here's more. She's say the group is fun because there's nothing but positive strokes!
Huge Parking Lot Sale at the Mullis Center, with donuts & BBQ
Janna from the LWV says it's gonna be a big one:
The League of Women Voters of the San Juans will have a booth at the Huge Parking Lot Sale at the Mullis Center on SATURDAY, August 11, from 9 to 2. (It's not Sunday, see.)
There are 48 spaces including artists and flea markets, both nonprofit organizations and private parties. There will be furniture, tools, housewares, and much more. There will also be a delicious BBQ with hamburgers, kielbasa, turkeyburgers, etc. Rumor has it that there will be Krispy Kreme donuts!
Everyone come. Support the League! Support the Mullis Center!

Quote
We cannot seek achievement for ourselves and forget about progress and prosperity for our community... Our ambitions must be broad enough to include the aspirations and needs of others, for their sakes and for our own.
Cesar Chavez

---
August 9, 2007

Music at the Pub...
Oren & Peggy have had a series of cool musicians drop by this summer, including this coming weekend:
Ian,

Thought we'd drop you a note about the Jenny Davis Jazz Duo this weekend at Front Street Ale House. Jenny Davis, vocals, and Chuck Easton, guitar, perform once again at the Ale House Aug. 10th & 11th. Jenny (above, in the photo) & Chuck played to appreciative audiences Top Side this last February. Quite a few folks got out to see them, and many have asked when they would be back.
Jenny has a great website at www.jennydavisjazz.com.
Cheers,
Oren & Peggy
Around the world...
My friend Bonnie (who used to live here, but now lives in Wenatchee, which makes her a Wenacheeite, I think) reports in:
Hi, Ian! Gene Gearhart and Susea McGearhart are sailing out of Friday Harbor on Tuesday 8/14/07 on a world cruise. Bob Freeauf is one of the swabbies helping out with the voyage down the coast to southern California. Gene and Susea don't know when they'll be back, but Bob will be back on island within a month. They have their 50+ sailboat Moody Blues moored at Jensen's Shipyard (just to the north of the main dock)
I just didn't want them sneaking out of town without a shout from you.
You can write Susea McGearhart at <beachcourt@interisland.net>
Thanks
Bonnie Oldwyn
FH expatriate

Myles & mom check in....
Just got this note from Melissa:
Hi Ian!
Thank you for noting our new family addition on the website!! I wanted to send you a picture of our beautiful little boy!!! Thanks again! ~Melissa Posenjak
Thanks from the Animal Shelter...
Chris from the Animal Shelter wants to tell everyone "Thanks!" - read here for more.
Boardwalk Bookstore presents a reading tomorrow...
Bettye is inviting you to drop by:
Boardwalk Bookstore, 9 Spring Street, Friday Harbor, will host local author, Nancy Lamoureux on Friday at 7:00pm, presenting and signing her book "Lies, Letters, and the Ring." Nancy Lamoureux, a resident of Lopez Island, was born before women's lib, became a 1950's housewife, mothered four children, woke up, and then resumed her career in the health care field. Fascinated with genetics and nursing history, her studies and years of hands-on experience give an authentic background to this family saga. Nancy has written three other books, "By Prescription Only," "Never be a Witness," and "The Conrad Capers."
Quote
Continuity is at the heart of conservatism: ecology serves that heart. - Garrett Hardin
---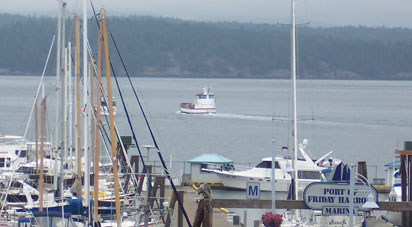 August 8, 2007
An era passes...
The port bell rang the morning of August the 7th, and people along the docks waved one last time, and yes, tears were shed as the Nordland made one last pass through the harbor on its last trip as a barge (right). The boat has served the island for nearly 80 years (Al Jones has had it for the last 31), barging vehicles, goods, and people to and from the island and the non-ferry-served islands as well. (Click on the picture to see the picture in a larger version, which feels even sadder to me.)
Its last trip is to the breaking yard.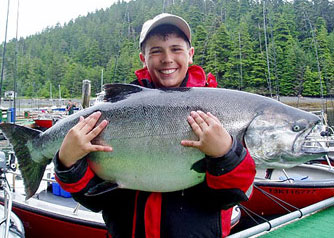 Proud moms...
I think it's cool when folks get in touch to tell me thier kids are online & famous. The picture on the left is Maverick Blake, whose mom (Kim) sent me this photo with the story about what the FHHS grade 9er is doing, catching a 50-pound chinook on Langara Island in BC last week. He's been working with Dan DeShon at Westwind Aviation this summer...
Meanwhile, the other pic is everyone's singing fav Abby Kitchen (mom Elaine pointed it out!), down on the Port's gas dock, from Capt. Roderiquez's blog.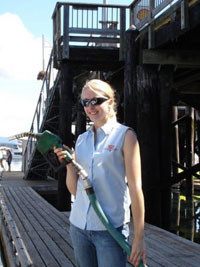 His blog includes a ton of water happenings around here, including the way his outfit (Vessel Assist) helped a seaplane last month. After you check Abby's part, look through his wonderful retelling of some of his adventures (and the boats he's saved.)
It's been 30 years - time to party!
Alan over at the EMS says it's planned for this weekend:
A 30th Anniversary Reunion and Picnic for San Juan Island EMTs will be held at Lakedale Resort on August 11 and 12. Everyone ever affiliated with San Juan Island EMS or the San Juan Aid Unit is invited, along with their families.
The theme for the event is A San Juan Island MASH. There will be games, MASH reruns, swimming, cookouts, overnight camping, and lots of story telling. For further information, go to the San Juan Island EMS website www.SanJuanEMS.org and click on Anniversary Information. Or you can call the EMS office at 360-378-5152.
This year marks 30 years of emergency medical service on San Juan Island provided by the San Juan Aid Unit and San Juan Island EMS. The San Juan Island EMT Association is sponsoring the reunion and picnic.
San Juan Island EMS is the tax supported, county EMS agency serving the residents and visitors of San Juan Island, Town of Friday Harbor, Brown Island, Stuart Island, Johns Island, Speiden Island, Pearl Island and Henry Island in San Juan County, Washington. It provides emergency medical services, critical care transport, and injury and accident prevention. The staff of career paramedics and volunteer EMTs is available twenty-four hour a day.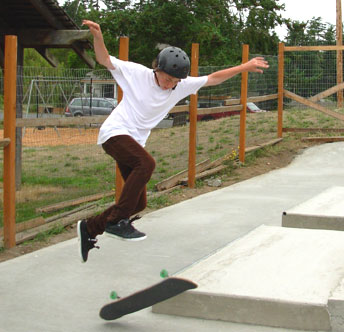 Skatepark redo is cool...
The new additions to the skatepark - mostly stuff added to the end closest to the family park - are done & the feedback I get from my boardin' friend is that they're welcome addtions to the overall skatepark. The Update's Michael Nelson shot the pic at the left yesterday as the guys were breakin' it in.
Big thanks to Todd Kromer and Dennis Garl and all the kids who poured cement & helped shape this this weekend - way to go!
Whidbey Island Bank grows...
Kim Boyd Blake dropped me a quick note about new things at WIB:
Whidbey Island Bank has expanded, adding an additional 1700 square feet, with a beautiful Community Room available to members of the community. Please contact Tawny @ 370-5641 to inquire about use of this new facility. Our open house will be on September 6th - we look forward to seeing everyone there!
Famous columnist in town...
According to his blog, Jonah Goldberg of the National Review is in Friday Harbor this week, re-visiting where he & his wife Jessica got married. Here's more.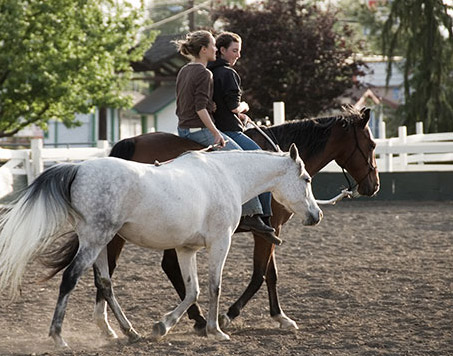 Natural Horsemanship again this weekend....
The kids at Plumb Pond Cooperative are ready to show what they can do - last weekend's show was well attended by an appreciative audience (I asked a couple of the girls who performed, and they were appreciative of the appreciative audience). Free, of course...here's more from States Inn's Richard Foote:
On August 11th, the students of Plumb Pond Barn Cooperative will hold a Natural Horsemanship Demonstration here at States Inn and Ranch.
There will be a brief introductory talk of what Natural Horsemanship is, and then horses and riders will demonstrate the partnership that is possible between humans and equines. The exhibition will last for approximately one hour and end with a question & answer session with the riders. Other students will be on hand to answer questions during the performance.

Last year's shows were a big hit with the audience of all ages.
Quote
Prayer is not asking. It is a longing of the soul. It is daily admission of one's weakness. It is better in prayer to have a heart without words than words without a heart. - Mohandas Gandhi
---
August 7, 2007
Roarin' at the Community Theatre...
Jan at the SJCT says it's gonna rock - here's the scoop on Rory, playing tonight:
She's got the blues and she knows how to use them. In fact, according to the Blues Foundation, Rory Block is "widely regarded as the top female interpreter and authority on traditional country blues worldwide."
The four-time W.C. Handy Award winner—two for Traditional Blues Female Artist of the Year, and two for Best Acoustic Blues Album of the Year—makes a special appearance at the San Juan Community Theatre on Tuesday, August 7, during SummerFest 2007.
Born in Princeton, New Jersey, and raised in Greenwich Village, Block began playing guitar when she was ten years old and soon taught herself flat-picking; by her early teens she was sitting in on Sunday jam sessions in Washington Square Park. She met and played with many legendary blues masters such as the Reverend Gary Davis, Son House, Skip James and Mississippi John Hurt.
Today, her driving acoustic guitar and heartfelt voice are legendary in the Delta blues world. Acoustic guitarist Steve Keys of the Island's Uncle Otto, Rhythmatics, and Dubious Brothers bands has followed Block's career and is looking forward to watching her blues magic in person. He is struck by how she has achieved what no other white woman has done: mastered the unique styles of 1930s blues musicians. "She's almost like a walking history of this type of music and is very accomplished at it," added Keys.
Block has recorded more than 16 albums, including her collection Best Blues And Originals, which includes the single Gypsie Boy with Stevie Wonder on harmonica. She has also performed and recorded with such popular greats as Bonnie Raitt, Taj Majal and Mary Chapin Carpenter. Her recent album, Rory Block - The Lady and Mr. Johnson, won "Best Acoustic Album Of The Year" in the 2007 Blues Music Awards.
Baby news...

Whoa! We got babies everywhere....to wit:
• That's Peg Knight in the middle in the pic - her twins are due Sept. 2, but will probably come sooner...she's got Jim & new FHHS grad Alia around to help!

• Saturday Kelsey (she's the one at San Juan Health Care) & Brad Olenik welcomed their new baby boy, Riley!
• Melissa Posenjak and her husband Jared had a baby boy on July 28th. Baby Miles James weighed 6lb and 1 oz, and he is a very sweet baby. Kim Blake at Whidbey Bank says, "But what else would you expect with Melissa as a mommy?"
Quote
Love takes up where knowledge leaves off. - Saint Thomas Aquinas
---
August 6, 2007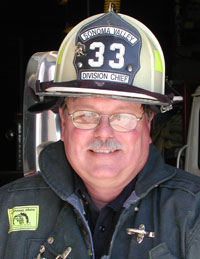 San Juan Island Fire Chief arrives...and knows where to go..
Wanda from the Fire Department sent me the news about our new chief, Steve Marler, including his remarks about why his wife helps with his sense of direction. Sounds like he's gonna be a good one for the islands:
A Pacific Northwest native born in Mission, B.C., Chief Marler has 30 years experience in the fire service which began as a volunteer firefighter in Tuolumne County, near Yosemite National Park.

Highlights in his background include service as the only paid firefighter with the Ceres Fire Department in California for four years, before serving in the scenic California Wine Country for the past 24 years. While there he worked through the ranks to Division Chief in charge of ambulance billing and membership, fire prevention, public education, fire investigation and administrative operations, etc.

Married to wife Karen for the past 25 years, Chief Marler says "When I met her, she was my dispatcher. I knew it would be the perfect marriage, because she was always telling me where to go." They have one adult daughter and a teenage son.

Chief Marler has attended the National Fire Academy in Emmitsburg, Maryland numerous times for continuous training and recently completed coursework for a Bachelor's degree in Business Management.

Bringing the handy hobby of amateur radio operation, Chief Marler also loves camping getaways with Karen, both of which they will have opportunity to enjoy here in and around the San Juan Islands.

Please look for Chief Marler around town and take your opportunity to extend a warm welcome to the islands.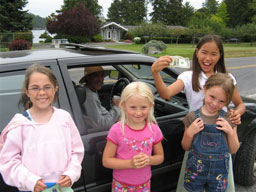 Get yer cookies, get yer lemonade....
It's pretty common this time of year to see our kids out on the roads selling stuff to funraise for different things...here's a mention from one of my favorite moms about how well it's going:
Hi Ian, As a parent, I'd just like to put out a thank you to all the islanders who so kindly patronize kids' entrepreneurial efforts during the summer. You can not believe how excited kids get when someone pulls over to buy whatever they are selling. Today it was Allison Benz, Lucy Urbach, Jillian Urbach and Katherine Close selling lukewarm lemonade and under-ripe apples on Turn Point Road. The kind customer you see in the picture even turned around so he could buy from the girls! They were thrilled! Thanks, Jill Urbach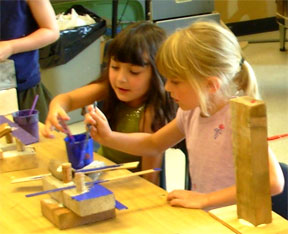 Camp Eagle Rock rocks, baby....
It's the last week of Island Rec's Camp Eagle Rock, but they're still having fun. Camp Director Amara Zee is back for her second year, and she and Program Directors Betsy Anderson and Christine Reid direct this year's counselors: Claire Burke, Corwin Waldron, Brock Polda, Kirsten Olshefsky, Willie Burns and Aaron Kendziorek. Willie, Brock and Aaron were all campers themselves not so long ago.
Besides providing a fun & often educational place for kids during the summer, the Camp is an essential part of the island's way of helping working parents have a safe, nurturing place to be during the summer season. (Photo at right by the Update's Michael Nelson, this morning.)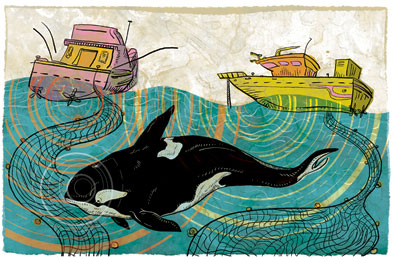 Article about whale watching's impact on the orcas...
Western Prince's Ivan sent me this article in Seattle Magazine reviewing the discussion about what effect whalewatching is having on the orcas' health. While it's generally agreed that the science shows that two things are definitely harming the killer whales - toxins in the water & lack of food, especially salmon - a third discussion has arisen about the effect that boats & their noise have on marine mammals.
I know you're pretty well-read about all this stuff - most Update readers are - but this one's worth taking the time to review. Let me know what you think.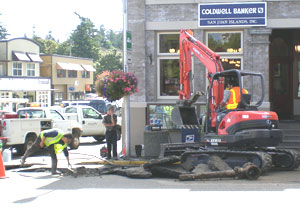 Water main repaired....
Saturday morning one of the aged water mains under Spring Street ruptured, so the Town Public Works guys had to whack a hole in the street in front of Coldwell Banker & replace/repair it. Matt from the San Juan Islander has the "hole" story (he works there), with my picture at right taken during the first part of the day.
Leaving....
Island Rec's Sally Kerr wrote to tell us know that Corelia Peacock is moving on:
Hey, Ian - I wanted to let you & your readers know that Corelia is leaving Island Rec on August 24. She is moving to Bellingham to study nursing. She was the first person hired in the position of Recreation Specialist and did a terrific job in defining that position. She brought us the very popular Father/Daughter Dance, community recreation resource guide and developed a lot of positive relationships with many youth and teens on the island.

We will wish her the best as she enters this new phase of her life!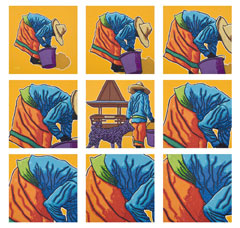 New show open at waterworks...
Ruth at waterworks gallery tells me that the show featuring Tom Rierden (narrative oils) and Marilyn Stiles (ceramic sculpture) opened this weekend and runs till the 26th...be sure & drop by to see art at its best.
Quote
I suppose leadership at one time meant muscles; but today it means getting along with people.
Mohandas Gandhi