July 31, 2007
A boy & his snakes....
When I ran into my friend Si & his mom Laura Holden, I asked him if he could get his garter snakes to smile for the camera, so he did. He takes pretty good care of them, so they didn't mind.
Laura's working at San Juan Holistic Healthcare these days, when she isn't playing with her boy.
August 3, 2007
Reading program rocks....
The youth librarian at the Library, Shannan, wrote to let you & me know the summer reading program, which includes performances each Wednesday at the Library, is going well:
Hi Ian,

Just thought I'd share this great pic (right) from today's summer reading event with "Alleyoop!" in case you want to put it up. Everyone had a really great time..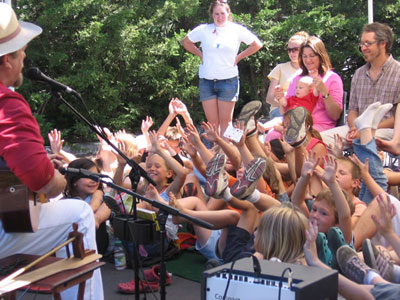 Next week's event (which is the final event for this year) will feature "The Knights of Veritas" who will be here to tell us all about medieval knights, their armor and swords - plus chivalry of course!
The last day to turn in reading logs and collect prizes will be Friday August 10th, so there's still time to get those last minutes counted! As of this morning, kids and teens have reported reading over 1258 hours this summer!

Cheers, :D
~Shannan
Getting ready for the Fair....
Boyd & Lovel sent over the schedule for the fair's SJC Agriculture Tent, with some pretty cool presentations set for this year - here it is.
Skatepark closed this weekend...
Island Rec says the skatepark upgrade is happening, starting today:
San Juan Island Skatepark located at the fair grounds will be closed Friday, August 3rd through Monday, August 6. On Friday, concrete will be poured in the expanded areas of the park. Several days are needed for the concrete to set and cure.

Under the leadership of skate parents Todd Kromer and Dennis Garl, along with Island Rec, an addition to the park had been underway since late June. The new features to the park include stairs, rails, boxes and new approaches.

Volunteers are needed to assist with the concrete pour at noon on Friday, August 3. If you want to help show up at the park with a shovel and boots and you will be put to work.
Quote
Satire is tragedy plus time. You give it enough time, the public, the reviewers will allow you to satirize it. Which is rather ridiculous, when you think about it. - Lenny Bruce
---
August 2, 2007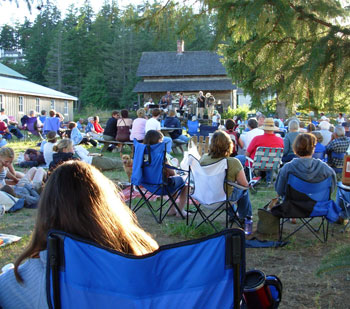 Music on the Lawn series gets mob on the lawn....
Gypsy swing band Django Cadillac played last night (right) at the Music on the Lawn to a great overflow crowd at the Historical Museum, estimated at 300+ by Island Rec director Sally Kerr and at roughly 5,000 by me, so it was somewhere in between.
New radio ahead?
Michael Calhoun and a group of others are working to get a radio station going here on the island. We already live in radio heaven - we can pick up stations in Victoria, Vancouver, Seattle, Bellingham, and others, but we lack one to call our own.
To contact Michael to see about helping out, or to check the group's progress, bookmark their blog.
Soccer camp ahead....
Roger Paul tells me that Islands Community Church is going to offer a four-day soccer camp on August 27-30 from 6-8pm for kindergatners through 5th grade. Call the pastor at 378-4154 to register - only $25 bucks gets you (you, the kid) a shirt & ball.
Quote
"You have heard that it was said, 'An eye for an eye, and a tooth for a tooth.' But I tell you, don't resist him who is evil; but whoever strikes you on your right cheek, turn to him the other also. If anyone sues you to take away your coat, let him have your cloak also. Whoever compels you to go one mile, go with him two. Give to him who asks you, and don't turn away him who desires to borrow from you.
"You have heard that it was said, 'You shall love your neighbor, and hate your enemy.' But I tell you, love your enemies, bless those who curse you, do good to those who hate you, and pray for those who mistreat you and persecute you, that you may be children of your Father who is in heaven. For he makes his sun to rise on the evil and the good, and sends rain on the just and the unjust. For if you love those who love you, what reward do you have? Don't even the tax collectors do the same? If you only greet your friends, what more do you do than others? Don't even the tax collectors do the same? Therefore you shall be perfect, just as your Father in heaven is perfect." - Jesus, from the Sermon on the Mount, in the Gospel according to Matthew
---
August 1, 2007
Bring your blanket & chairs tonight....
Island Rec's Music on the Lawn series continues tonight at the Historical Museum (that's a pic from the first week, towards the end of the evening when there was finally a place to sit down).
The Island Rec page says Django Cadillac is playing - here's more:
This diversely talented group of six were brought together by their shared love of the music of Django Reinhardt and Gypsy Jazz. They combine elements of Swing, Jazz, Latin, Klezmer and Western Swing to create wonderful music that everyone can enjoy. With their infectious rhythms and hot solos they put on a show you won't want to miss.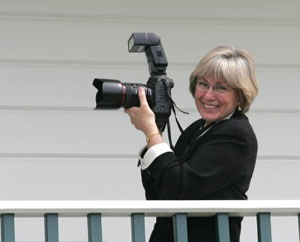 Get the picture?
One of the busiest people this summer whom I know is Marie DiCristina (right), who, with her equally energetic husband Ron, take pictures for seemingly every event in sight.
I see her at weddings & reunions & birthdays & all kinds of things ('cause I help out at weddings sometimes, too, singing), and always see her smiling & angling for the next good shot, like her shooting from the balcony at Roche Harbor at right.
She & Ron make a great team - check out their work at their website.
Baseball sets the tone...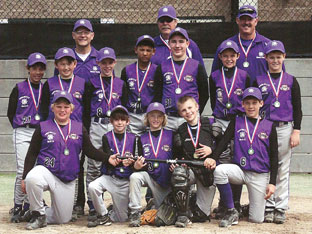 My friend Gavin Guard told me he & Kaleb Warner have been playing for the Skagit Pilots & they did so well they were invited to play at the regional tourney in Eugene last weekend.
The championship series there featured teams from four states & one province, and the Pilots were guaranteed four games. Overall, they did well enough to win third place out of 16 teams.
In the team picture (which includes pics of the other kids, from off-island), Kaleb is the fourth from the left in the back row of kids, while Gavin is first from the right, standing in front of his dad Frankie, who was one of the coaches. Way to go, guys!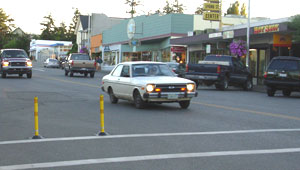 Not goalposts, like you thought....
I asked Katie Leed at the movie theater what those yellow things that were put up in the road last week were doing there (see picture), and she says they're supposed to keep people from passing on the right when they're behind cars about where that white car is.
When the cars try to turn left onto Second Street, the ones behind them will have to wait now.
The play's the thing...
You know, there are a lot of dramatic choices this weekend (try not to choose - just go to all of them!)
Island Left's Comedy of Errors has its last shows at Roche Harbor before moving to Wold Road for its last two weekends, while Smoke on the Mountain ends its run this weeekend at the Community Theatre.
Meanwhile, here's the note from the Benefit Players about their shows, this month:
The Benefit Players Theater Summer Repertory has three plays in August. Two of the plays are premiering at BPT, written by Gray. "Four for the Show" (directed by Ernest Pugh) had its premier last weekend and continues for two more weekends. "Best Friends Forever" premiers this weekend and will run 3 weekends. "Sophie" is written by Bryan Willis and will run two more weekends.
All shows start at 7:30PM. The exact dates are on the poster and the performance schedule at the website http://sanjuanbenefitplayers.com/calendar.aspx
"Sophie" is based on the life of Sophie Large, a teenager from England whose dreams and writings are found throughout this play. "Sophie" was performed at the Edinburgh Fringe Festival, Scotland.
"Four for the Show" is a dramatic farce where a playwright struggles to trust the actors with whom he lives and works.
"Best Friends Forever" is a family oriented drama about finding friendship and the importance of family in a challenging world.
Here for the summer....
Whitney (on the right) will be a sophomore at FHHS this fall, and she has her just-graduated sis Sarah here for the summer from Minnesota - Sarah is enrolled to begin at Whatcom Community College this fall.
Missing dog
My buddy Charles writes in - do you know whose dog this is?
Hey, Ian.
A charcoal grey standard poodle without a collar wandered into my yard this morning (on Sutherland Road). I took him over to the sheriff, who said they'd get someone from the
shelter to pick him (or her) up (I didn't investigate the gender).
I don't know if you put things like this in the Update, but if you do...
Charles

Quote
"Long hair is considered bohemian, which may be why I grew it, but I keep it long because I love the way it feels, part cloak, part fan, part mane, part security blanket." - Marge Piercy
---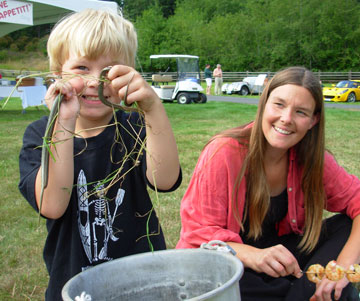 July 31, 2007
A boy & his snakes....
When I ran into my friend Si & his mom Laura Holden, I asked him if he could get his garter snakes to smile for the camera, so he did. He takes pretty good care of them, so they didn't mind.
Laura's working at San Juan Holistic Healthcare these days, when she isn't playing with her boy.
More orca pictures...
If you haven't seen the orcas lately on the westside - and they have been a bit scarce - you can check out these photos from the Orca Network's photo gallery, shot last weekend.
The postings include some by Monika Wieland.
Back to visit...
She's been around so long I didn't know she had moved - Sherrie Willows has been living in Seattle for the past year of so & working with her son Keith there, so it was a nice surprise to run into her at Griffin Bay Books over the weekend & catch up a bit.
That's her (right) with her pal Louise Dustrude, who was visiting the store with John, who is looking pretty fit & dapper after his heart work back in May.
Music at the Port


Every Sunday there's free music at the Port's little park, there next to the marina office....hosted by Chinmayo, it starts at noon with open mike, then some group or band plays around 2. Same thing Friday nights...I know the poster to the right is too little to read, but if you click on it, you'll get the full story.
See you there!
Quote
And we should consider every day lost on which we have not danced at least once. And we should call every truth false which was not accompanied by at least one laugh.
Friedrich Nietzsche

---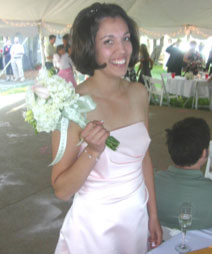 July 30, 2007
Local woman makes great strides....
I hear that Erin Woodward is heading to Whittier, California to become director of the STRIDE program for handicapped adults, teaching & training folks the life skills they need for independent living, at the YMCA there. Proud papa Vic tells me he's going to miss having her around the island.
By the way, Vic & Mo celebrated their 15th wedding anniversary a couple of weeks ago - congrats, you guys!
Are you signed up for soccer?
The deadline to sign up without an additional fee is August 1st - get down to Nash Brothers Sporting Goods & get your player on the roster - ages 6-13.
Questions? Call Sherri at 370-1035.
Nearly 300 folks watch the flying dogs catching frisbees before dinner at the annual
Wags to Riches fundraiser Sunday night
Animal Shelter gets a boost Sunday evening....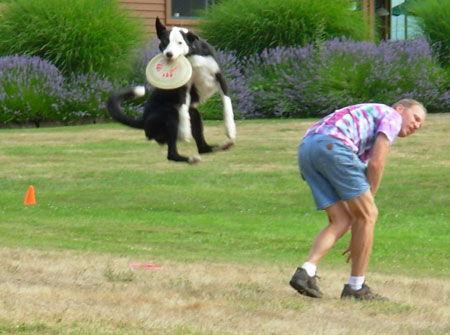 It was a first class fundraiser - great food, cool marimba music, a rapid-fire auction (plus a silent auction), and the thing ya need the most - a good cause.
Last night's Wags to Riches was put on at Bob & Lissa McDowell's place on Hannah Road, looking over the strait towards Victoria. Some 220+ tickets were sold, and dozens of volunteers helped make it a great evening for visiting with friends, meeting new friends, checking out dozens of donated items in the silent auction, drinking a little wine, and being outside in the early evening (with no rain!)
The featured music was provided by the Kubatana Marimba Band, while the show was the frisbee-catching dogs from WOOFD (which means something something something Flying Dogs), like my friend catching the frisbee & some air in the picture.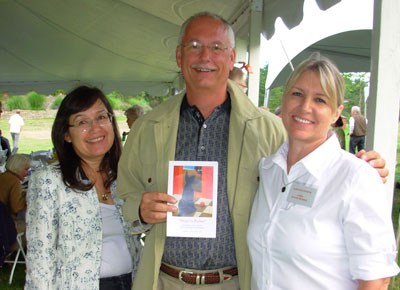 The lively live auction was called by Doug Bison (the voice of the island) and Mike Adams (the auctioneer of the island), including Doreene & Dave Keyes winning Jamie Ellsworth's painting "Home" (here's what it looks like) - that's Jamie on the right.
The folks from APS were still tallying up the proceeds late last night, but if you measure success by having an event that pulls dozens of people together from all over the island & having a great time, this one hit the mark.
Are you signed up for football?
It's the time of year to get going for fall sports, and football begins practice today - here's more from my pal Cassie:
Ian- I was hoping you can post a reminder for any children interested in playing football ages 8+ to 13 (6 to 8 year olds - cubs start in September) to show up at the Elementary School Field for practice on Monday July 30th at 3:00pm. The registration forms are available online here. You do not need to be signed up to start practice.
Thanks Ian! - Cassie Kurtz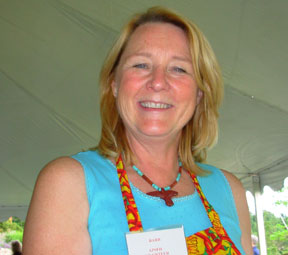 Island Rec hires a new administrative assistant
You already know Barb Jensen (left) from her work with the Audubon Society and her work with providing nature talks & nature walks, especially with birdwatching. Now you can find her working in the office at Island Rec over on Guard Street. Drop by & say hey!
By the way, I just discovered that the Community Resources part of the Island Rec site (a lot of it was prepped by Corelia Peacock) is really useful & very complete - check it out here & see if you agree. I sure like it.
And the winner is...Loren!
Remember I told you "The Loren Brothers" won this contest (dig it, here).... I was close, but a bit off:
Ian,
Thanks for the mini-blurb about my win. Just one thing: there is just one Loren. So "the Loren Brothers" just doesn't work. Brothers is my surname...like sisters, just different! LOL
Loren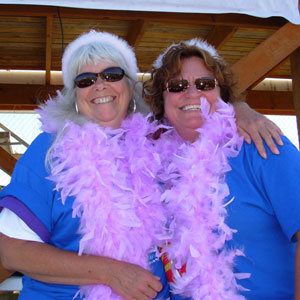 Relay for Life scores a great weekend win....
Here's a portfolio of the survivors' lap, and the teams who participated...click here
There were hundreds of folks, dozens of walkers & runners, and most of all, a lot of hope that it really is possible to kick cancer. This weekend's fourth Relay for Life here on the island started at 3pm Saturday & went through the night till morning on Sunday (cancer doesn't sleep, and neither did the relay participants.) That's co-chairs Robin & Debbie getting the teams fired up at the first of the day on Saturday (right).
Here's a gallery of about 40 pictures that I took for you, so you could see your neighbors.
It was cool to see Bill Chevalier back on-island for a bit - he's here till mid-week. It was great to see the survivors' lap to start the event off (they're the ones with the purple shirts in the pictures) because they may be bravest folks you've ever met. It opened one's heart to walk around the track & read the names of our friends & family members who have passed away...which is the source of the resolve for so many to work to find a cure.
Way to go.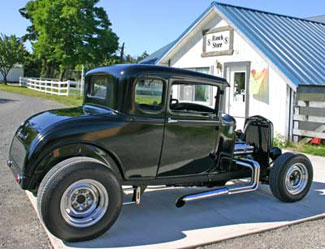 Meanwhile, out at States Inn....
Richard Foote has had a busy summer out at States Inn, but not too busy to write...he says:
Ian,
Thanks for the note about the store. I wanted to send you a picture of one of the net roadsters that stopped by the Inn for a few days, while it is out parked in front of the store. Very neat car, very nice people.
Richard & Angel, Innkeepers
States Inn & Ranch
Quote
"Human beings, who are almost unique in having the ability to learn from the experience of others, are also remarkable for their apparent disinclination to do so." - Douglas Adams