Click here for
last week's news...
---
January 31, 2008
Getting Siri-ous....
If she looked familiar in the story, that's because she is - FHHS grad Siri Thorson is featured in this month's BUST magazine - you can read the online writeup (with pictures) on their website (scroll down to the January 29th entry). She's at university in New York City studying film, and says in her blog that she enjoyed meeting the BUST people & that she's happy with the way the article turned out.
Seems like just yesterday (it was 2003) when she was the teen library assistant at the Library, putting on the Young Authors Fiction Contest that year (check the stories - they're really good!)
Another local girl makes good - way to go, Siri!
Farmer's Market!!
Grisha from the Market has news:
The San Juan Island Farmers' Market is moving to the Fairgrounds for the remaining winter market days. Locally grown produce, meat, eggs, and cheese will be available along with an assortment of fresh baked goods and hot drinks.
The Market takes place from 10 am to 1 pm in the fruit and vegetable exhibition adjoining the Main Building at the Fairgrounds. The next winter market is Saturday February second.
Lindley's coming back....
When Mike Adams told me that Jackson Browne sideman David Lindley was coming back this year, I put it on my calendar, and I hope you put it on yours. If it's got strings, David can make it sing. Here's more from the folks at the Community Theatre:
Get ready for one wild musical Monday night when David Lindley returns to the Theatre this coming Monday, February 4 at 7:30 p.m.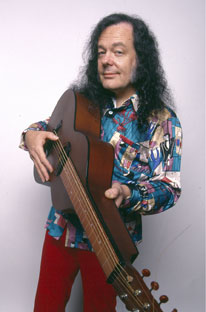 Ask anyone whose seen David in concert and they might have to pause a moment when you ask them how it was…it's hard to describe someone who has a powerful instrumental talent (from lap steel guitar to the Turkish saz and chumbus), writes and sings songs with titles like"Catfood Sandwiches," and "Alien Invasion," has a slightly demented sense of onstage humor, and wears lots of bright colors!. As his website proclaims, David is redefining the word "ECLECTIC".

Local musician Mike Adams of Uncle Otto is a big fan of David and was here last year for his first visit to the Theatre. He says it was great to watch David's impact on those who weren't as familiar with him. "A David Lindley concert is a musical awakening for a lot of people," said Adams. "He's as good as it gets—a world class string wizard!"

Well known for his many years as a featured accompanist with Jackson Browne, David has been one of Hollywood's most in-demand session musicians, lending his skills to the recorded works of Bob Dylan, Rod Stewart, Linda Ronstadt, Crosby and Nash, Warren Zevon, and many others.

Tickets are $20 for adults and $10 for student reserved, with $5 student RUSH tickets available at the door. The SJCT box office is open Tuesday through Friday from 11 am to 4 pm, Saturdays from 11 am to 2 pm and one hour before each performance. Call 378-3210 or surf to www.SanJuanCommunityTheatre.org
The VAM lecture is Saturday!
Gu Xiong speaks on the second at the Theatre - this is something you won't want to miss. Here's more.
Sale at Dominique's
Teri tells me it's their winter clearance sale:
Yes, it's that time of year - the weather may be yucky but the deals are incredible! We need to move out some winter merchandise to make room for Spring. Select items are now up to 75% OFF!!! Now is a great time to treat yourself to a beautiful new coat or gorgeous sweater. Remember, we still have plenty of chilly weather ahead!

Quote
Guys are simple... women are not simple and they always assume that men must be just as complicated as they are, only way more mysterious. The whole point is guys are not thinking much. They are just what they appear to be. Tragically.
Dave Barry
---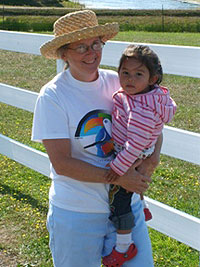 January 30, 2008
Cinda Sue's website - it's up!
Cinda Sue Dow (right, with friend) has a new site to tell you about her art & interior design services - check it out!
Where whales eat lunch.....
Looks like L pod has been spending at least part of the winter down in California's waters, off Monterey...Ken Balcomb says it takes them eight days to swim that far, but that's where the salmon is. Here's more, from the Seattle P-I.
Sandy, when it counts....
It was cool to hear from a friend after the weekend's freeze:
Ian - I could not find where to send this email, so I thought you would be the best contact to get the message out.

I just wanted to thank the appropriate parties involved for taking the time to sand Terrace Drive on Hillview Terrace. We were concerned about getting to work today and I was very relieved to see the road had been sanded. It is our first winter on the hill and it was my understanding that this road was not sanded. I tried to find somewhere on the internet on what roads are planned for sanding, scheduling, etc. I was unsuccessful.

Thank you, Town of Friday Harbor & the County for your continued effort for our safety on these hazardous streets of our beautiful island. Regards, Wil Oliver
What a wonderful world......
Terry Fator (ventriloquist, impersonator, singer, and comedian) offers a nice bit, with kermit, Louie, and a smile....
---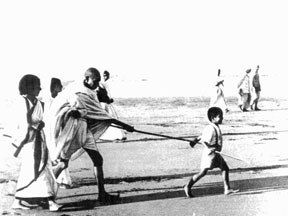 Quote
What difference does it make to the dead, the orphans, and the homeless, whether the mad destruction is wrought under the name of totalitarianism or the holy name of liberty or democracy?
Mohandas Gandhi - the Mahatma was murdered sixty years ago today, although his quest for peace continues
---
January 29, 2008
No snow, Joe -
The weather guessers had us with freezing & some snow today, but warm winds & a little rain came instead. The forecast is for warmer temps for the rest of the week, so maybe it'll snow then.
Who knows....
Twenty & still counting.....
Did you know Julie Greene (famous loan specialist for Wells Fargo & even more famous local actress) and Ian Walt (famous sea urchin diver) have been together for twenty years? Wow! Congratulations, you two!
Island vocabulary: I'm trying to put together a little dictionary of island expressions so that foreigners, visitors, relatives, and people from Lopez know what the heck we're talking about. Here are some samples from this emerging work:
There's nothing to do on this island.
Translation: I didn't feel like helping my friend with his roofing, or helping my friend move, or watching someone's kids so they could go to a movie. I didn't feel like working in the garden, or taking a walk down at South beach, or playing with the dog, or painting the office with the guys at work. Didn't wanna go to the play, or the basketball game, or the high school play or band concert. Didn't meet a friend at the pub, didn't work on my boat, didn't call a friend to get a beer. Definitely didn't go to the movie theater or go bowling. Who says this: People who are gonna move within the year.

Sorry I'm late. Got stuck in traffic.
Translation: Came down Second Street towards the movie theater, and tried to turn left at King's Market. Any time of day, it takes a half hour to turn. Who says this: Amazed visitors.

Ugly house.
Translation: Your house, not mine. You built your two million dollar house between my house and the water. Who says this: People who thought this would never happen, even though they built their house between someone else's house & the water.

Does the water go all the way around the island?
Translation: I just don't get how islands work. Who says this: Visitors who didn't get past eighth grade science or locals who haven't been to the west side lately & forget.

Off-island.
Translation: This is both time & place. When someone here says, "I'm going off-island," it means they're going somewhere else in the known universe, possibly as close as Orcas, or as far away as Seattle, Taiwan, or Bath in the UK. It's also time - saying "I'm going off-island on Saturday," means they probably won't be around most of the day. Who says this: People on-island.
Ladies on horseback, naturally....
My friend Lillan Roquet teaches Natural Horsemanship during the summers on the island (and usually participates in their demonstartions at the County Fair, and other times). She sent a couple of videos that'll give you the idea - here's her note, too:
Hi, Ian! This winter, I decided to put together a little highlight tape of some of my students out at States Ranch on the island. This is footage from a summer demo we did out there. All of these girls ride AT LEAST 4 days a week - rain, hail, and shine - and deserve all the recognition they can get for the hard work they put in. Thought people might enjoy to see some of the youtube footage. Hope all is well - Lillan
Orca recovery plan reviewed.....
Last week's orca recovery plan is certainly a step in the right direction - here's more of a discussion about it from marine biologist & photographer Fred Fellerman's blog.
Whoa! Protect the waters!
There's a nice site called Protect Your Waters that spotlights that nice article the San Juan Islander wrote about the invasive sealife Nick Brown ID'd when he was diving....here's more.
A song for you....
Here's a song for you, just because I like you. You belong, among the wildflowers...click here.
Salaam - peace & music on Thursday.....
Jan from the Community Theatre has a treat ahead on Thursday - here's the scoop:

A world of magical sounds awaits you THIS Thursday, January 31, when famous musical talents from the Middle East grace our Whittier stage at 7:30 pm.

The five-person Salaam Ensemble, directed by award-winning composer and artist/educator John Zeretzke, uses powerful vocals and ancient instruments to represent a variety of musical cultures from such countries as Iran, Syria, Lebanon, Turkey, Armenia and Israel.

John's name is probably familiar to many of you since his brother, Dave Zeretzke, has been living on the island since 1980 and works for the San Juan County Administrators office. John is quite proud of his little brother and is looking forward to seeing the ensemble in person (he's only watched them on DVD). Like his brother, Dave believes that "music is the language that unifies people" and that Salaam (translated into English it means "peace") is a great example of that. Plus, says Dave, "They're great musicians!"

Indeed, the resumes of these musicians are phenomenal. Check them out at http://zworldmusic.com/zworldmusic.html.
Our vote is ahead - here's more details....
Last week, I mentioned that the League of Women Voters had written up an explanation of how the caucuses (Republican & Democratic) worked, and how the primary connects to all that - here it is, for you to look at. Democrat Ruth Fleming wanted to add a bit more for the Demo side:
Ian, that is great! There has been a change though. The 15% no longer exists - in other words, if your precinct votes for a candidate and it is less than 15%, there can still be a delegate elected depending on how many delegates are available in that precinct. Also, I would love it if you could just put a blurb in about the time (1:00) on Feb. 9 and the place (Friday Harbor High). Thanks, Ian! Ruth
And - support your schools!
As you know, the Update is generally pretty un-political, but there some things that, in my mind, aren't political, but there ARE votes involved with 'em. One of them is doing the right thing for our kids.
On the 19th, you get a chance to approve the renewal of the Four-Year Capital Projects and Technology Levy for the schools on the island. And, because I know you're really busy & want to pretend you don't have time to read this fine web page that explains why it's a fine idea to support the kids in this communnity by approving the thing, I'll just go ahead & tell ya - vote YES on this one.
It's good for the schools, it's good for the kids, it's good for the communty, it's good for the future.
Another way to support the schools - go to the Knowledge Bowl next week!
The San Juan Public Schools Foundation puts on the K-Bowl every year, and it's great fun. Here's more about the SJPSF (click here), and here's more about a great evening, from Kelly Snow:
The annual Knowledge Bowl will be held on Tuesday, February 5 at the Community Theatre. Our fabulous Friday Harbor Jazz Band will begin performing at 6:40 p.m. in the lobby, and the Friday Harbor Middle School PTA will offer delicious bake sale treats.
The competition begins at 7:00 p.m., with teams consisting of 8th grade students, a 9th and 10 grade team, and a 11th and 12th grade team going head to head with four local community service groups: Kiwanis, Soroptomists, Lions, and Rotary Club. Teams will match wits to answer tricky trivia questions on a range of topics, from physics to local history. The event is emceed by Ralph Hahn, with entertainment during intermission by the Friday Harbor Jazz Band (along with some special guests).
The Knowledge Bowl is presented each year by the San Juan Public Schools Foundation. Through its two main fundraisers, the Phone-a-Thon and the Business Partnership Program, the Schools Foundation raised $56,900 in 2007. These funds were used to enhance local public education programs, such as High School Spanish (textbooks), 4th & 5th grade Social Studies, Middle School Special Education, and the Auto Shop and Biology Lab at the High School, as well as other projects throughout the year.
The tickets prices for this community event are just $5 for adults, and $3 for kids. Come and cheer on your favorite team!

We need a new playground at the elementary school - here's how we can do it....
There's a happening this weekend to help raise the funds to put this in place (click on the picture for a bigger version). Here's more from the PTA: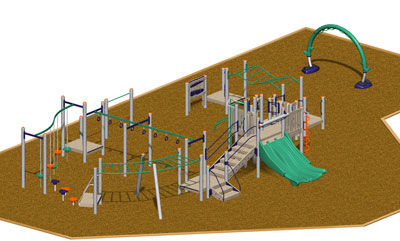 Swingin' music, gourmet food and tantalizing auction items make for an evening of fun aimed at keeping Friday Harbor children's bodies and brains growing through safe and interesting play.
"Party to Play," at the Roche Harbor Pavilion on Saturday, February 2 from 6:00 to 9:00 p.m., will benefit the Friday Harbor Elementary School PTA's Playground Fund. The PTA's key campaign for the 2007-2008 school year has been to raise enough money to replace the school's aging (20+ years) playground equipment.
"Party to Play is a great chance for adults on our island to really make a difference for our children," said PTA co-president Kim Ott. "Healthy and physically active children are important for the whole community and updating our playground will provide a wonderful environment for our children to learn and play."
The PTA needs to raise at least $50,000 in hopes of getting the playground ready and installed by the beginning of the 2008-2009 school year. So far, more than $10,300 has been raised.
The evening is also a chance to relax and enjoy an elegant time with old and new friends. The dinner includes a gourmet buffet presented by Roche Harbor Resort chefs.
The island's own One More Time Band has volunteered to swing things up a bit with their "sounds of the swing era and beyond." The band includes: vocalist Jill Urbach; Janet Olsen, Tom Starr and David Eden on trumpets; bass player Jeff Clark; Scott George, Rich Barker, George Johnson and Jim Francis on saxophones; drummer Kit Dohrman; Jeri Ahrenius playing piano; and Ken Davis, Joe Tein, and Sven Bune on trombones.
Boo Boo Keane will act as auctioneer for the evening, offering several major live auction items, including a beach house in Mexico for Spring Break, a private tour of the Friday Harbor Marine Labs, "A New Year and A New You!" pamper package with more than $1,000 in Arbonne premium skin care and wellness products, and much more! A silent auction with even more donations will take place during the cocktail hour (No-host bar) from 6:00 to 7:00 p.m.
Event sponsors include San Juan Masonic Lodge #175, Claire and Keith Grinstein, Luxel Corporation, and Roche Harbor Resort.
A limited number of tickets are available; tickets are $50 per person (21 years and older) and can be purchased at Islanders Bank, Griffin Bay Bookstore or by calling Kim Ott at 378-8735 or Liz Seaton at 378-7291.