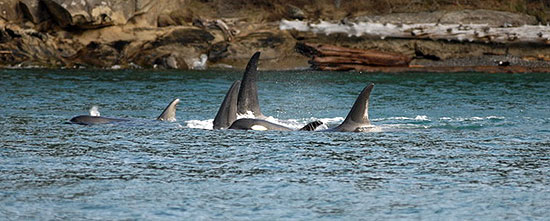 While you were watching the Super Bowl last weekend, Dave Ellifrit from
the Center for Whale Research was visiting with J-pod near Active Pass.
February 9, 2008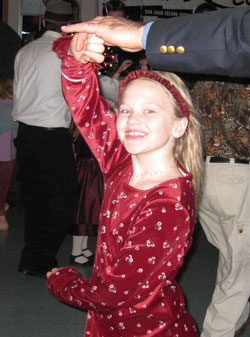 Not sure how to attend the caucuses on Saturday?
Click here for the details! Friday, the governor endosed Obama, while both senators have endorsed Clinton. Tomorrow, let's see how it all turns out.....
The Father/Daughter Dance was a blast!
Last night's third annual Father-Daughter dance had about 175 papas & their girls dancing the night away for the evening, including Megan dancing with dad Tim Wilson (right). The near-Valentine's Day event has been a hit since Island Rec got it started in '06.
I'll post a ton of pictures from it on Monday - I promise! Check back, willya?
The Roche Harbor Fishing Derby got started on Friday....
The Salmon Classic Invitational got started on Friday morning with windy seas - here's more from the Roche Harbor News.
Passing....
One of my favorite people to see at the post office each week, getting his mail & always greeting me with a huge smile & a handshake, was our friend Carl Wills. He passed away on the second of this month.
After moving here in '71 to teach drivers' ed, he was also really active at the Community Theatre, and always asked me, "So when are you going to have time to do a play with me?" He was a great one, and he'll be missed. Here's a more detailed writeup from the San Juan Islander.
Coming this way....
A woman named Maddie is going to do research at the Labs in the spring...here's her blog.
Westcott Bay wins grant.....
The Westcott Bay Institute here on San Juan Island has been awarded a $20,000 Arts Education Grant from the Norcliffe Foundation in Seattle! Here's more.
Quote
"This is our mammalian conflict --- what to give to others, and what to keep for yourself. Treading that line, keeping the others in check and being kept in check by them, is what we call morality."
Ian McEwan

---
February 8, 2008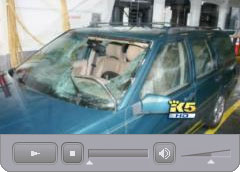 Just when you thought it was safe to ride the ferry again....
My friend Peggy sent me this link about the way the wind is kicking the ferries around in the waves - a woman from Lopez whose windshield was broken by the waves (yep, you read that right) is interviewed. Here's the report, from Channel 5 in Seattle.
Father-Daughter Dance rocks, baby!
It's tonight - and you can bring any daughter you want - doesn't matter how old you OR she is! And I like the idea that no one is turned away for financial reasons - here's more from Island Rec:
Hey Ian,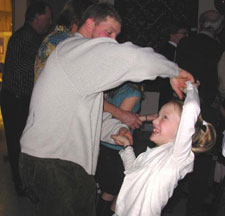 Folks wanting to come to the Father Daughter Dance on Friday February 8 can still get tickets from Island Rec. There will be great dance music played by Shamrock Sound and appetizers and desserts by Vinny's Ristorante. $20 tickets are for the father daughter pair. Tickets at the door are $25. All daughters receive a corsage and a keepsake photo.
This is a special event for father and daughters of all ages! The dance is from 7-9pm at Mullis Center. Generous scholarships are available for families that qualify for free or reduced school lunches.

Sally
Helping out for Valentine's Day....
I asked Rebecca Barnard how her daughter Wynn (FHHS, '08) is doing with her calendar sales, and she told me about this cool project that will help out this coming week - now I know where I'm gonna buy my Valentine for you, dear reader! Here's the scoop:
You probably know some about Wynn's Village to Village group at the high school. Their goal is to connect our island to impoverished villages through art, and to use that connection to improve education in those villages. Last year, they sold calendars to raise money for a school in Commandancia, a remote village in the Peruvian Amazon.
Recently they collaborated with JoanRuth Baumann to expand their project to a village in Kenya called Kunya Village. A high school education in Kunya Village costs $600 a year, more than most families make annually. If parents can afford education, they usually choose to educate their sons, not their daughters.
Over the next two weeks, Village to Village is selling Valentines featuring art made by Grace, a talented young girl there. Each nicely packaged valentine includes a framable small print of one of six works by Grace.
The proceeds from the Valentines sold will go toward scholarships for girls in Kunya Village, as well as to buy school supplies for both Commandancia and Kunya.
The Valentines are available by donation at the following stores on the island:
Dominiques
Friday Harbor Drug
Griffin Bay Books
Spirit Tree
Island Wools
King Printing and Design
Pelindaba Downtown
San Juan Florist
Softwear
Warehouse Coffee
Thank you for helping spread the word!
Playwrights Festival swings into action....
It's this weekend & next - great chance to see local talent on stage & behind the pen, with five shows written by local playwrights. Click here for more.
Benefit Players has the show:
Sally from the Benefit Players Theater wanted you to know about the next show:
It's Ballet Folklórico Monarca de Friday Harbor on February 11 at 7:30pm at the Benefit Players Theater, corner of Tucker Avenue and Guard Street. The show repeats February 16, at 2:30pm at the Benefit Player Theater. Maria Chavez and Salvador Garcia put the group together in 2004. The group started out performing for the Catholic Church here in Friday Harbor. Soon, they were invited to perform at the Festival of Trees and the County Fair. Here's more, on the Performing Arts Society's website, made by Richard Foote for them.
Meanwhile, back at the ranch....
States Inn's Richard Foote says this is a good time to drop by:
Our Ranch Store is still open over the winter, with fresh eggs, fresh bread, meat pies, fruit pies, local beef, pork and lamb, and regional cheeses. We also have fresh milk available each week, by order only. Call 378-6240 for more details. We have a calendar and product info online at www.statesinn.com/ranchstore.html
Quote
Yes'm, old friends is always best, 'less you can catch a new one that's fit to make an old one out of.
Sarah Orne Jewett

---
February 7, 2008
Historic site! That's us!
Sandy Strehlou, who is the Historic Preservation Coordinator for the Town, tells me reps from the National Trust for Historic Preservation and the Washington Trust will be on hand to present the Town with a plaque naming FH as a distinctive destination for 2008. The ceremony is at noon at the Town Council meeting - this is really quite an honor!
Here's more about their 2008 list of the Dozen Distinctive Destinations - drop by at lunch if you can!
Meanwhile, here's the Town's website, just launched this week, that celebrates our history - it's called historicfridayharbor.org.
Swearing in....
The Chief Justice of the Washington State Supreme Court will be on hand Friday afternoon to swear in newly-appointed judge John Linde at 4pm in the Superior Court Room. John's been away to Judicial College to get ready for his new responsibilities. Way cool - way to go, John, and congratulations!
Quote
"So-called "Global Warming" is just a secret ploy by wacko tree-huggers to make America energy independent, clean our air and water, improve the fuel efficiency of our vehicles, kick-start 21st-century industries, and make our cities safer and more livable. Don't let them get away with it!"
- Chip Giller, Founder of grist.org

---
February 6, 2008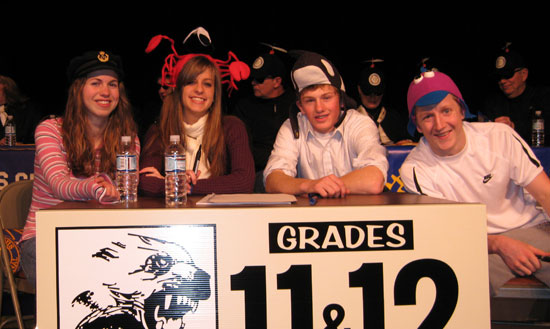 Last night's Knowledge Bowl was great fun, with the FHHS Junior/Senior team
winning it all at the end, beating the FHHS 9th/10th graders, the FHMS 8th graders,
and the hard-charging, second-place Soroptimists, as well as the Rotarians, the Lions,
and the Kiwanis Club. That's Kate Fyrqvist (she was on the team when they won in
ninth grade, too), Kara Dunn, Cody Price, and Otto Schmidt.
The big winner of the night: The San Juan Public Schools Foundation put on the
well-attended fundraiser. The biggest winner because of that: Island kids.
Looks like our votes/choices may matter after all....
After Super Tuesday's not-completely-decisive results, it looks like our caucuses this week may actually matter! The local GOP & Dems meet to register their thoughts - you don't want to miss this chance to help shape the future. The local League of Women Voters' Nancy Wight sent me the caucus times:
The Democratic Caucus is at Friday Harbor High School at 1:00 to 3:00 pm this Saturday with the doors opening at l2:30 pm.

The Republican Caucus is from 12:30 pm and I don't know if they had an end time but I presume 3:00pm this Saturday at the Grange.
Wonder how it all works? Republican friends can look up the caucus process on the county GOP website (you gotta download the newsletter - describes things pretty well there), while Democratic friends have it easier - delegates are selected at the caucus, and the Feb. 19th primary expresses preferences but doesn't select delegates to the convention (here's their site, with a YouTube video to explain things to you).
I thought this Seattle Times article explains it pretty well - see if it answers your questions.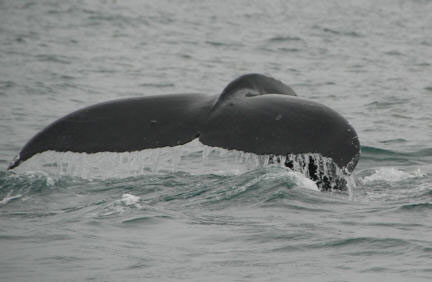 Juvenile humpback off the west side of San Juan Island
on Monday - photo by Jim Maya.
Whales on the loose...
Jim Maya (Maya's Whalewatch Charters - he runs all year) sent me this picture of a humpback he shot (above), the last couple of days. You know how we can tell the orca whales apart by their saddle patches - each one is distinctive & different?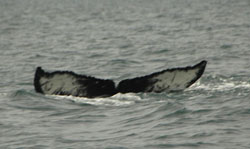 You can tell humpbacks apart by the underside of their flukes, like the one Jim shot to the right - click on it to see an enlargement.
Here are his reports from the two days:
Feb. 4: The same juvenile humpback (above) that I saw on Saturday, 2/2/08, was seen this afternoon (2/4/08) off of Bellevue Pt. San Juan Island, by Ken Balcomb. I went out to see if I could get a better shot of the underside of the fluke so that it might be identified. It was feeding in erratic directions, so I didn't get the shot I wanted.

Feb. 2: We picked up the juvenile humpback right off of Henry Island (N. San Juans) on Saturday, 2/2 about 1400 hrs. I had just gotten through saying to my passengers that if they come back in late summer or in the fall I could show them humpbacks, but not at this time of the year, and boom, I saw the first blow about 200 yds off my port. He zigged and zagged for about an hour feeding off of south Kellet Bluff and then we left him/her. Of course, my passengers were thrilled.
Remember Liana Turner?
She used to live here ages ago, and now has a bakery in Mexico - here's more.
Speaking of baking....
My friend Cathy Cole says there's a 4-H Bake Sale (it's the San Juan Country Critters annual bake sale, to be precise) this Saturday from 10am-2pm at the Marketplace. She says all proceeds go to support educational field trips and other learning opportunites. Stop by and pick up cakes, cookies, brownies, breads, and many more delectibles!
A song for you....
Here's Joni Mitchell, in 1970, singing one of my favourite (she's from Canada!) songs. And...don't it always seem to go - you don't know what you've got till it's gone... They paved paradise & put up a parking lot...
More on the flying squirrels.....
The discussion continues - see the other stuff below if this is news to you. My friend Denny writes in:
Thought I'd add my experience with F.S.'s too.
My cat Momo brought one inside a few years ago when he was younger and more hunter active but by the time I got to it the head was missing. I was very impressed by what was left however: very soft fur, grey on top, white belly, with flaps under the legs very prominent. I really felt badly when I saw how beautiful it was.
Someone put me onto Terry Domico and I called him to see if he wanted the remains. He didn't, but we talked for quite a while and he told me that there was a small colony of the squirrels on Mt. Dallas. My place is in West Side Story which is just below Mt Dallas. Terry said the squirrels eat truffles and come down to the forest floor at night but that is when they are at risk from owls, and unfortunately outside cats, when they scratch around for food.
It's been a bunch of years since I talked with Terry but I seem to remember him saying that he had one as a pet that would come to his place in the morning and crawl all over him, then go inside where he had a nest where the squirrel would sleep all day. In the evening Terry would then let it out and it would head for a tree, climb up and sail off.
Let me know if you want to see one (sans head). It's still in my freezer.
Cheers.

Quote
"If you can't feed a hundred people, then feed just one"
Mother Theresa
---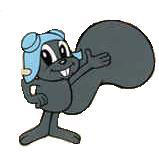 February 5, 2008
Animals on the loose...I thought they were bats...
Yesterday, the first thing I heard was, "Dude, we got flying squirrels on the island. Haven't you ever seen one?" (see below for my observation there are no squirrels on the island, and other cosmo-biological but incomplete data from my research lab).
Besides Chris Hodgkin's observation that Garfield couldn't possibly see his shadow because he's looking the wrong direction, my friend Boyd Pratt offered his thoughts:
Well, yes, I do read your website regularly, and I believe that you have said more than once (i.e., more than the mention on the 3rd) that there are no squirrels on the island. Actually, there are, old timer, and they are flying squirrels; the reason that you may not be aware of this is that they are nocturnal... Dave Brandt and I had a 'discussion' about them; we both were aware that they were on Orcas, and I mentioned that they were here, which he denied, and then the next time I saw him he said that his cat brought one in the next day.
The orcas go south.....
Richard Rodriguez offers a more in-depth look at L pod's trip to California by including an article by the Center for Whale Research's Ken Balcomb, the world's most noted orca researcher who lives on the west side. Here are his remarks (and thanks, Richard!).
The ferries may be worse than you thought.....
According to this article in the Everett Herald, a guy tapping on the Hiyu's hull with a hammer poked a hole in it in December 'cause it was so rusty. Read more about the parlous state of our ferries....
The Unitarians go online.....
Kurt and the Unitarians now have a blog to let you know what they're up to - check it out!
Let 'em eat cake!
Have you seen Daniel Van Hamersfeld's new website for his cake business? Check it out here (he makes some pretty awesome-looking cakes!)
From ashes were ye made, to ashes you shall return....
Tonight is Shrove Tuesday, and tomorrow is Ash Wednesday here on the island, and there are services around. Here's the word from Jill Urbach:
I wanted to let you and your readers know that the Presbyterian Church is having an Ash Wednesday service this Wednesday the 6th at 12:15 PM. Swing by on your lunch hour. All are invited. The simple service will be led by the church elders with Bob Benz speaking.
Meanwhile, over at St. David's:
Hi Ian - Thank you for helping get out the word! Here's what is happening at Saint David's:
Tuesday 5:30-7:00 -- a Shrove Tuesday Crepe Supper - $5.00 donation to the building fund
Wed. 7:30 am Prayer Service with Imposition of Ashes
and 5:30 pm with the Lutherans, a Prayer Service and Imposition of Ashes
Peace, Nancy
Saint David's Episcopal Church
The Arts Fair is coming - get ready!
There are two ways you can get involved in the Chamber of Commerce's Arts Fair:
CALL FOR ARTISTS- San Juan Island Summer Arts Fair 2008: The San Juan Island Chamber of Commerce invites local and regional artists to participate in the "Splash of Summer Color" weekend, by joining us in our Summer Arts Fair 2008, July 19 and 20, outdoors in Friday Harbor.

There will be approximately 50 Artists Booths, a Kids Creative Zone, a Sidewalk Art Contest, Music on the Courthouse lawn, a Pancake Breakfast, a Food Court and Farmers' Market!

Call now to request your application. Applications for the screening process are due by March 17, 2008. For more info, Contact Debbie Pigman at the Chamber, chamber@sanjuanisland.org or 360 378-5240

Call for Souvenir Art Poster Contest Entries. The San Juan Island Chamber of Commerce is seeking entries for its art poster contest for The "Splash of Summer Color" weekend. The Splash weekend, July 19 & 20, is a two day festival of showcasing the Summer Arts Fair in Friday Harbor and the SJI Lavender Festival at Pelindaba Lavender Farm. The winning entry will be the art used for the souvenir poster, sold during the weekend and will also be used for the cover of the arts fair souvenir program. For an entry form, contact the San Juan Island Chamber of Commerce, chamber@sanjuanisland.org or 360 378-5240.
Quote
Today's writing is from Kahlil Gibran's "The Prophet".....
And a man said, "Speak to us of self-knowledge."
And he answered, saying:
Your hearts know in silence the secrets of the days and the nights.
But your ears thirst for the sound of your heart's knowledge.
You would know in words that which you have always know in thought.
You would touch with your fingers the naked body of your dreams.
And it is well you should.
The hidden well-spring of your soul must needs rise and run murmuring to the sea;
And the treasure of your infinite depths would be revealed to your eyes.
But let there be no scales to weigh your unknown treasure;
And seek not the depths of your knowledge with staff or sounding line.
For self is a sea boundless and measureless.
Say not, "I have found the truth," but rather, "I have found a truth."
Say not, "I have found the path of the soul." Say rather, "I have met the soul walking upon my path."
For the soul walks upon all paths.
The soul walks not upon a line, neither does it grow like a reed.
The soul unfolds itself, like a lotus of countless petals.
---
February 4, 2008
Basketball rolls on....
The FHHS boys whumped Lynden Christian Saturday afternoon, a day after jumping LaConner. The Wolverines (14-5, 9-1 in league) are now tied for the league lead as they head to Darrington to play the Loggers (13-4, 7-3) tomorrow, then wrap up the season at home on Saturday with Shoreline Christian (9-10, 6-5).
With the playoffs looming in a couple of weeks, it feels like the guys are peaking at just the right time. Way to go!
New biz in town.....
I hear my friend Rebecca Barnard has begun marketing a holistic aromatherapy/meditation-based weight release program, called AromaSlim. You can check it out online at http://www.AromaSlim.com. Read all about it!
Where are YOU going for Mardi Gras?
Obviously, there's the Knowledge Bowl at the Community Theatre on Tuesday night, but there's also a little Fat Tuesday action at the Ale House. Here's the word from Oren:
We've put together a little Mardi Gras celebration at the Ale House Tuesday Evening. It will be downstairs, some wonderful food & drink specials, as well as live music! From 7-10pm, enjoy King Steve & the Blues Guardians. Steve, Roger & Cecil will be putting out some blues, we'll serve up Hurricanes, and feature a limited edition Bourbon Street Black Hoo Doo Lager. Chef Matt has put together Mardi Gras dinner features, including Masa Calamari strips with spicy roasted Poblano Remoulade, Andouille Sausage corn dogs with a sweet horseradish mustard, Pine Nut crusted chicken with Andouille cream, fried polenta & roasted butternut squash, & flat iron steak with skillet corn sauce on shrimp Clemenceau. Knock off those winter Blues and kick it up a little!
Quote
Politics will eventually be replaced by imagery. The politician will be only too happy to abdicate in favor of his image, because the image will be much more powerful than he could ever be.
Marshall McLuhan, in the 1970s
---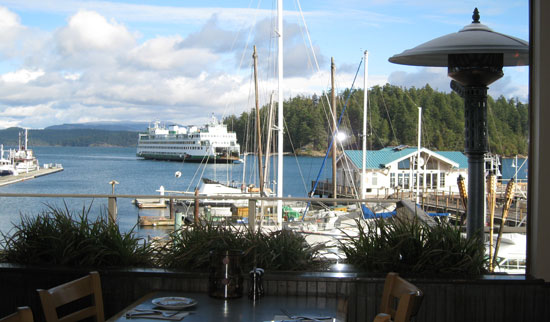 Sometimes it's pretty sunny here, even in the dead of winter.
The ferry came in this weekend, in this photo shot from Downrigger's.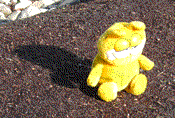 Shadow seen....
I sat in my backyard for HOURS waiting for the groundhog to come out & look for his shadow, before I realized I had never seen a groundhog on the island (there are no squirrels, either, rookie).
So I put Garfield out to see if he saw his shadow, and as you can see, he did. (That was shot next to the parking lot of By Design, the best-kept web-designing secret in the world.)
The Groundhog site says that means six more weeks of winter, but I think when Garfield sees his, that means six weeks of cats. I'll look it up and get back to you.
Chris found....
I had heard in town Saturday that after a month missing, Chris Ogle was found in his truck off Egg Lake Road this weekend. Those of us that knew Chris as one of the hardest-working guys around, who deeply loved his family, are gonna miss him. Condolences to Roma and the kids.....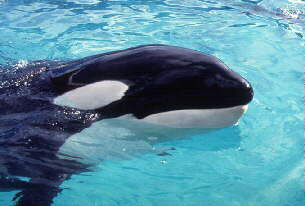 Can Lolita come home?
It was more than thirty years ago that Lolita the orca whale was captured from her L pod family, and she still performs in the Miami Seaquarium. People supporting her release from the swimming pool prison she currently inhabits range from Placido Domingo to 50 Cent to Johnny Depp to me.
One way to help - quit drinking beer made by Anhauser Busch, who owns the Seaquarium.
Another - sign up with islander Howie Garrett's campaign to free Lolita. Here's more from the Victoria newspaper, the Times-Colonist.
Buying a car? Look here!
Wendy at M&W Auto Sales & Rentals has added a page to her site that lists all the cars she has on the lot for sale - you'll want to look here when you're on the prowl for a new car...check it out. Her site is at sanjuanauto.com, and the car listings are at sanjuanauto.net.
Vegetarian Potluck on Sunday!
If you want some good eating, and a chance to meet other islanders, put this on your calendar. Here's the word from Jane:
Sam and Jane Buck's 21st Vegetarian Potluck will be held Sunday, Feb. 10 at the Friday Harbor Grange. Guests are asked to arrive at 4 p.m. Two videos will be shown. At 5:45 pm the Vegetarian Dinner begins with beautiful piano music by Chetana. Please bring foods free of meat, fish, fowl, eggs or anything which contains their essence such as gelatin, egg whites or lard. Vegan & Raw Foods are encouraged. Please label food containing dairy, honey or nuts.
Bring your own full place settings and optional copies of your recipe to share. Our traditional Food Bank Donations of canned food or donation of $3 per person or $5 family will be collected. Everyone is welcome to view DVDs only, or enjoy the potluck or both! Questions – Call Jane Buck 378-2170 or write her at tofunuggets@planetgrateful.com

"The Future of Food" is a documentary film by Deborah Koons Garcia,offering an in-depth investigation into the truth behind the unlabeled, patented, genetically engineered foods that have quietly filled grocery store shelves for the past decade. We cast our votes each day by where we spend our dollars, and corporations tally those votes. Do you know how you are voting?
"The N'kisi Project" is a remarkable short video featuring a dramatic scientifically controlled demonstration of the telepathic abilities of an 8 year old African Grey Parrot named N'kisi.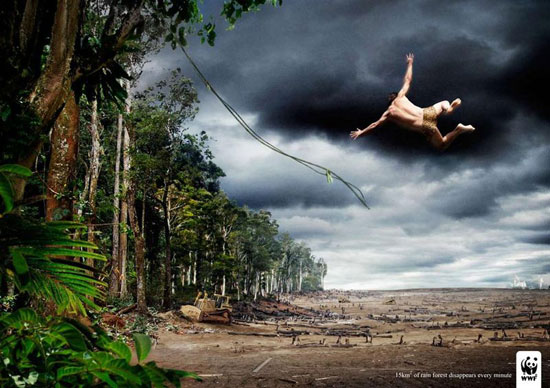 Why rainforests are important for islands like us.....
You may have heard that the rainforests of South America and Africa have been wiped out, and continue to be - just while you were reading this sixty acres were cut down.
You might be thinking - so? This is one more thing we can't live without, or more precisely, breathe without. The forests provide the balance between the carbon dioxide we (and all animals) breathe out and the oxygen the forests make when they "breathe out." Africa may seem like a long way away, but islanders need air, too. Here's a quick rundown of the problem.
And don't tell me you don't "like" science stuff...this is more. It's BREATHING.
Quote
"Those who dance are considered insane by those who cannot hear the music."
George Carlin