---
February 22, 2008
Newshound signs off...
Well folks, it's been a fun week writing the Update but Ian will be back on Monday and I need to get back to my regular job of watching the office door and greeting visitors.
It's not easy doing both. Dogs aren't great multi-taskers in case you never noticed.
I want to thank everyone who tuned in this week and wrote to me. It was great to hear from you all! - Tucker, canine columnist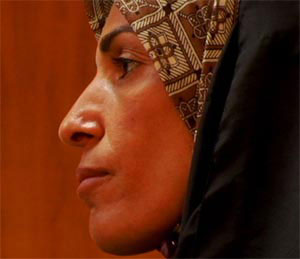 Oscar Night...
Be sure and check out the Academy Awards on Sunday when James Longley will be up for an award for his documentary Sari's Mother. Here's a still photo from the movie from James' Daylight Factory website. You may remember that last year he was also nominated for his film Iraq in Fragments. James is not only an inspired filmmaker but a talented photographer too. You can see his images at www.photokunst.com.
Help out at the K-9 Carnival...
You humans have the Fair and the Children's Festival and the 4th of July picnic but the event the island dogs now look forward to is Island Rec's K-9 Karnival. I had the best time there last year. Abby from Island Rec writes to say that they need volunteers for the event:
Island Rec is looking for volunteers to help out at our K-9 Carnival on Sunday, March 30th. Volunteers can help out before with set-up, during with parking, fee collection, and activities, or after the event. The K-9 carnival is a chance for dogs and their human companions to spend a day making new friends and having a good time. Come help out a little and have a lot of fun! For more information or to volunteer contact Abby @ 378-4953.
So give them a call and sign up. You'll make a lot of dogs really happy.
Get your laughs here...
Jan from the San Juan Community Theater reminds us about the great comedy at the theater tonight:
HI SJCT Friends!
Vroom…Vroom….Get ready for 90 degree turns at 100 mph!
Bellingham's Andrew Connor and Mike Mathieu are ready to take you on one gigantic comedy ride in their latest concoction of hilarity: "Stick to Glue," the "best of" The Cody River Show's 2007 hits.
They shake up the Whittier stage THIS Friday, February 22 at 7:30 p.m.
The duo has reworked their 2007 highlights into15 different sketches that connect in unexpected ways. As Andrew notes, "We take our audiences into a whole new universe as we move into each piece."
This is the comedy team's third year traveling around the country with their wacky stage shows that feature dancing, poetry, zany costumes and props, and plenty of physical comedy. "We like to take audiences for a ride," says Andrew. "Our show is a nonstop flurry of activity." (And that's no joke, just ask an islander who saw last year's show!)
Tickets are $15 for adults and $8 for student reserved; $5 student RUSH tickets are available at the door one hour before the performance. A private donor has made provision for free tickets to anyone needing financial assistance to attend a Theatre event.
The SJCT box office is open 11 am to pm today and then 11 am to 4 pm Thursday and Friday—plus one hour before the show. Call 378-3210 or surf to www.SanJuanCommunityTheatre.org.
Specials for February...
Downtown Dog sends out an exclusive invitation to dog-lovin' San Juan Island Chamber of Commerce members. A 50% discount on one day of doggy daycare during the month of February. Treat your best friend to a day of play! You can call them at 378-0981 to schedule your dogs special day at Downtown Dog. I just love Downtown Dog, especially riding the Bow Wow Bus!
Mirabelle Skin Care is offering a variety pampering treatments and products throught the end of February.
And Mi Piace Coffee House has a buy one Panini and get the 2nd one for your loved one at half the price in honor of Valentine's Day through the end of the month.
Quote
Dogs are not our whole life, but they make our lives whole.
Roger Caras
---
February 21, 2008
Become Firewise...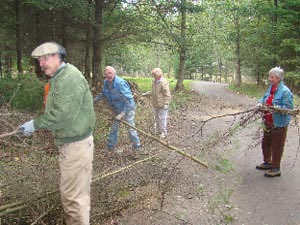 Do you know what to do to protect yourself from a wild fire? Well, the South Cady Mountain Firewise Community is holding an introductory meeting to discuss the issues and the logistics of becoming a Firewise Community on February 26 at 6PM at the San Juan Island Fire Department's headquarters at 1011 Mullis St. At right is the Mistly Isle Firewise Community doing their part to protect their neighborhood.
Ron Garner writes:
The San Island Fire Department understands the valuable aid they receive when a community has achieved Firewise Community status. It makes it considerably safer for the Fire Department to defend successfully a neighborhood against the wild fire that is bound to come through our Island. With this in mind, the Firewise Team is encouraging all neighborhoods to join the Firewise program before the high fire danger season this summer. Your fire department does not have enough firefighters to protect every home. This is where your pre-fire actions can make a difference. After all, the home you save could be yours.
To find out more about this free and voluntary program, call Ron Garner, Firewise Coordinator, at 378-7722 or stop by the headquarters station to pick up printed materials. Ron can also help with a Firewise evaluation of your home.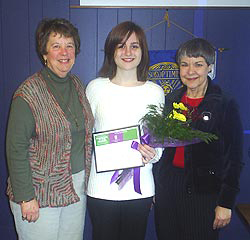 A very remarkable young woman...
Wynn Barnard received this years Violet Richardson Award from the Soroptimist International of Friday Harbor at the Soroptimists meeting on Wednesday, February 20. That's Wynn with the Chairperson of the Violet Richardson Award Committee Lori Stokes and Soroptimist club president Ellen Roberts.
Soroptimist Peggy Long writes to tell us:
Wynn Barnard, a senior at Friday Harbor High School, has been selected by the Soroptimists as the recipient of the club's Violet Richardson Award. This award is presented annually to a young woman in our community between the ages of 14 and 17, who is committed to making the world a better place and has had significant and noteworthy accomplishments as a volunteer.
In 2006, Wynn traveled to the Peruvian Amazon on an educational student trip, and visited Comandancia, an impoverished, remote river village. The children there had no school supplies, and Wynn was inspired to start a non-profit organization called Village-to-Village, dedicated to supporting village schools.
First, Wynn and classmate Kelsey Kennedy applied for and received a $1300 Gates Foundation grant. Then, Wynn approached Friday Harbor Drug, who generously donated art supplies to send to Comandancia. The village children made dozens of drawings, using natural dyes from the jungle. Lino Ayala, a Mexican immigrant who was the janitor at FHHS, worked closely with Wynn to translate the calendars into Spanish. King Printing designed and printed bilingual calendars displaying the children's art work. Money from the sales of the calendars (over 200 have been sold!) is being sent to Comandancia in the form of school supplies.
When Wynn convened a day-long retreat a few months ago for the officers of this year's FHHS student government (she is the President), her meeting agenda was "What can we do for our community? What can we do for our country? And what can we do for our world?" Gordy Waite, Director of Guidance and Counseling at the high school, observed, "I cannot think of a better person who exemplifies the spirit of the Violet Richardson Award."
Aviation Museum Celebrates Opening...
On Sunday February 24th, the San Juan Aviation Museum will be dedicated in the Roy Franklin Terminal at Friday Harbor Airport. The museum has been a joint project of of the San Juan Pilots Association and the Port of Friday Harbor, spearheaded by Dr. John Geyman, Ray Bigler and Port Commissioner Barbara Marrett. The museum illustrates the progress of aviation over the years with many pictures and memorabilia on display. The opening ceremony will be held from 3:00 - 5:00 pm. The public is invited and refreshments (my favorite!) will be served.
Quote...
If you think dogs can't count, try putting three dog biscuits in your pocket and then give him only two of them.
Phil Pastoret
---
February 20, 2008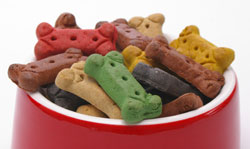 Hey I'm back!
It's me again, Tucker, the canine columnist. Ian decided to take the whole week off so I'm filling in until Friday. My friend Buddy told me I should ask for a raise. I think he's right. Let's see, I'm getting 4 biscuits a day now. So I think I'll ask for 2 more. That should fill me up until about 10 in the morning.
More great places for dogs...
My friend Kaiya wrote to remind me that I left out another great dog hangout. The gravel pit by Jackson's Beach. That is a great place to run. I sometimes even get to go off leash there, which I love.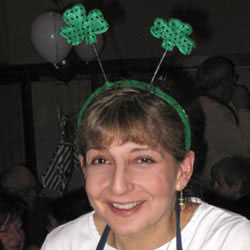 New dog park in town...
Speaking of being off leash, did you hear that there's plans for a new dog park next to Browne's Home Center? The Browne family has offered the land to give the park a home. It's going to be called the Eddie & Friends Dog Park in honor of Eddie, the Browne's Home Center mascot. You can get some yummy biscuits at Browne's, too. You can read more about the dog park plans on the San Juan Islander.
Soroptimist St. Patrick's Extravaganza...
Soroptimist International of Friday Harbor is having their ninth annual St. Patrick's Dinner and Auction on March 15th at the Yacht Club. They've changed it a little bit this year. There will be only one dinner seating at 6:00 pm and the live auction at 7:30. But this year you can pick up Irish Dinners To Go, already cooked, available for pickup from 5:00-5:45pm. Tickets are for sale at The Toy Box, The Garuda and I, Dr. Patricia Hansen's office and from Soroptimist members. They will also be selling tickets at the Marketplace and King's, times to be announced.
Passing...
David Swan passed away on Monday February 18th. Our thoughts go out to his family.
Cell phone network turn down...
San Juan Wireless advises all AT&T cell phone users that AT&T plans to turn down (sunset) its older networks, the TDMA and analog networks, starting February 18, 2008. Beginning February 18, 2008 and concluding February 20, 2008, AT&T is scheduled to cancel the remaining TDMA subscribers. So those older AT&T phones will no longer work.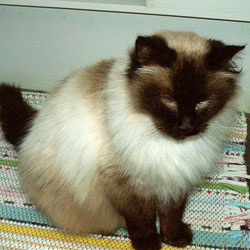 Some upcoming events you may want to check out...
Skagit Valley College offers a Manufacture Your Manuscript in Word class February 26th with instructor, Ian Byington (hey, I know him). To power up your Microsoft Word skills for publications, school work or pleasure. Also an Introduction to QuickBooks Pro class on March 15th with instructor, Bobbi Sandburg, which they say is a "nuts-and-bolts class that provides the essential financial information a small business needs". Call now to register for these prime classes at 378-3220. Space is limited!
San Juan Nature Institute's ongoing winter Lecture Series, presents a lecture by George Dyson, Science Historian and author of the book Darwin Among the Machines on February 28th.
You can check out the hilarious comedy of The Cody Rivers Show: "Stick to Glue" at the San Juan Community Theatre on Friday, February 22nd at 7:30 p.m.
And on Saturday March 22 the Friday Harbor Animal Shelter is sponsoring a Bowlathon at Paradise Lanes. Bowlers and sponsors needed. Contact the shelter for details. Help out the dogs and cats who aren't as lucky as I am to have a good home and a good job.
Quote
No one appreciates the very special genius of your conversation as the dog does.
Christopher Morley
---
February 18, 2008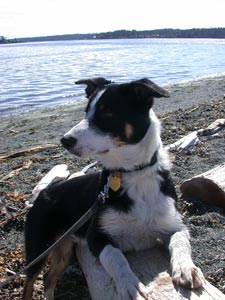 Hi everybody!
So I was hanging out in the By Design office and noticed that Ian's computer was free. I had some time and thought maybe I could report on some of the stuff happening around the island and some of my favorite things to do. By the way, I'm Tucker, the office dog, in case you haven't met me. That's me over there on the right.
Great places for a dog (and people) to walk...
There are a lot of cool places that I like to go for walks around the island. There's all the trails by Cattle Point and American Camp, South Beach and Jackson's Beach, the trail by the Friday Harbor Airport, the Roche Harbor trails, and the Mitchell Hill DNR property, which I hope remains open to the public, since it's one of my favorite walks. The people who walk with me check out the maps from the San Juan Islands Trails Committee to find the way but all they have to do is follow my nose. I always know the way!
Music at Island Studios...
Claudia at Island Studios wrote to say that Alex Shapiro's new CD is available for sale at the studio. Just keep in mind that they will be closed from Sunday 2/24 - Friday 2/29 for the new carpet installation. I remember my puppy days when you had to watch me around carpets. I'm glad I'm over that.
Got News?
I kinda like this writing the Update stuff. I may keep at it for awhile and give lan a break if he'll let me. If you have any news, just drop me a line at
Quote
Dogs are our link to paradise. They don't know evil or jealousy or discontent. To sit with a dog on a hillside on a glorious afternoon is to be back in Eden, where doing nothing was not boring--it was peace.
Milan Kundera
---