---

The Cascades in late winter (like, last week) from the beach next to the Anacortes
ferry parking lot, on the way home.
March 4, 2008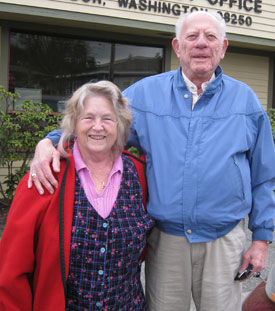 Friends in front of the post office....
That's Athlene & her husband Sid (right) out front of the post office the other day....I didn't know if you knew: Athlene helped out with the sewing classes at FHHS in January/February this year, which why the kids' stuff looked so good. She's really good at that.
Trivia news from the Ale House...
Oren & Peggy had a bit of news for yous:
Ian,
Would you please help us get the word out that this Thursday, March 6th, will be the last Thursday evening Trivia Night this spring. Spring signs are everywhere, crocuses, baby daffodils, & violas are popping up; even our hops are showing shoots! Daylight savings time arrives early again this spring, so we know that people's attention will soon turn to outdoor pursuits. Chef Matt is planning leg of lamb & scallops, Peggy is putting together some tasty pecan pie, & we have Cask conditioned Haro Strait Pale Ale on tap. Of course, JB & Glenda/s Music Trivia will have a couple more showings this spring, the next one is scheduled for Friday, March 14th, All games start at 7PM.
Cheers, Oren & Peggy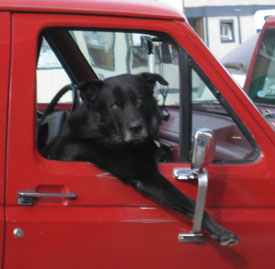 Needs a cook....
Ada from Mi Piace called and asked if I'd mention that she needs a pasry chef. I told her sure.
Everybody's friendly here....
One of the cool things about living here is walking down the street & having everyone wave at you, or at least lift a paw, like this friend in his truck (right).
Typing too fast or having a really great time or what?
Can't tell you who...but someone here told me her husband went to Australia for a sales trip and e-mailed back a quick, short note: "Having a great time. Wish you were her."
I love blogs.....
I think they're such a nice way for folks to catch their friends up with what they have going on... I ran into Louisa & Steve Keys' writing the other day - here ya go, check it out!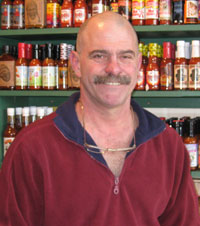 The Hot Shop is hot!
I got a chance to drop in on the Hot Shop for the first time since Phil & Michele sold it to Eddie & Genie Williams...Eddie (right) tells me he's having a great time there, with more business than he expected this time of year, and really fun customers dropping in.
Go by & see him when you get the chance!
At the tire shop....
Have you seen Annie Adams painting called Men At Work, Tire Shop, using the tire shop here on the island? Check it out.
Joy's service is tonight....
Former islander Joy Miller will be remembered at the Grange tonight starting at 6pm....drop by. She passed away last week at the age of 28.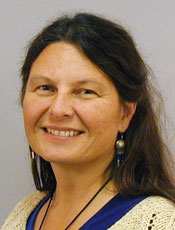 Newton named to Puget Sound Partnership....
Did you hear that Jan Newton (left) from the Friday Harbor Marine Labs (she teaches ecosystem dynamics) has been selected to chair the Puget Sound Partnership's Science Panel? Here's more.
Quote
There are more love songs than anything else. If songs could make you do something we'd all love one another.
Frank Zappa
---
March 3, 2008
Michael Soltman just misses the cut....
Just got a note that Michael wasn't chosen for the final three for the Northshore Superintendent job - he says he's not sure the job was a good fit, and that he's glad he's here working with us & our kids.
He's a great one - glad we didn't lose him.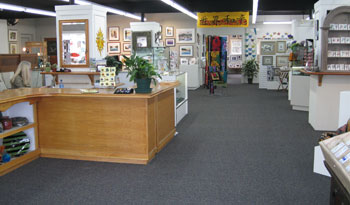 Island Studios' facelift is complete....
Claudia Fullerton just took over at Island Studios last September, but she's given the store - one of the biggest on the island - a makeover, over the last couple of months.
In January, the process began with painting the ceiling black, which was no small feat with the light fixtures, turns & bends, and occasional pipes that hang there. That was followed by painting the walls so that the art would display with more contrast.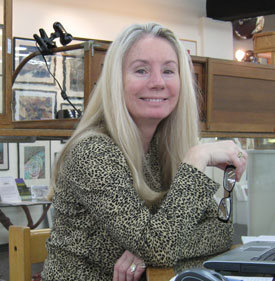 She finished the project last week by replacing the carpet with a new one. She laughed and told me some customers really like it, because they say it smells like a new car. As you can see in the picture, the greeting area has been moved to the left as you enter the store, as well, making it easier to welcome folks into the store, and opening up the way the store feels.
Claudia's closed on Tuesdays (it IS still the winter season, ya know), but you can get an idea abot the things the store carries by looking over her online store at www.islandstudios.com, and order things from the comfort of your home. But you can also go see them in person and buy them from the comfort of the store, too.
Hear me out on this one.....
There's a good opportunity for seniors to get their hearing checked, which audiologist Stacie Baisch has been doing for a few months now...here's the deal: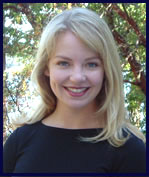 Audiology services are now available at the Mullis Senior Center through Island Hearing Healthcare the 1st Wednesday of every month. Free services include hearing tests, hearing aid evaluations, hearing aid repairs and hearing aid programming. To schedule an appointment, contact the Senior Center at 378-2677.
All services during this visit are provided by Stacie Baisch, Au.D., an audiologist and resident of Friday Harbor. Dr. Baisch specializes in emerging hearing aid technology and aural rehabilitation. Island Hearing Healthcare is located at 545 Spring Street, across the street from the Inter Island Medical Center.
Financial assistance and sponsorship for hearing solutions are available through the Northwest Lions Foundation. To learn more, contact Island Hearing Healthcare at 378-2330.
Whales get a break from Navy sonar testing, hopefully.....
In other news related to hearing....in the month since the courts re-instated protections for whales and marine mammals from the testing & use of high-decibel sonar, people have begun to look closer at the effects of the blasts on the mammals....here's more, with remarks by islander Ken Balcomb. (This is a good article that explains why the protections are needed; it doesn't explain why the administration wants to overturn those protections.)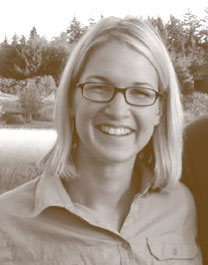 She's underway....
Looks like Jennifer Rigg (right) has her new shop going, in the new building across from the Market Chef. Drop in & see her, or check out her site at www.loeadesign.com.
United Way adds new board members....
Bonnie Gilmore, Executive Director of United Way of San Juan County, wrote to let me know she has three new board members, and an exciting year ahead:
Michelle Shober, PhD, is the former Director of Compass Health in Friday Harbor and currently serves on their regional board. Michelle joined United Way in late 2007 and serves on the allocations committee. Marty Huleatte, PhD, is a retired educator with experience in both education and prevention. Susan Lembcke, Branch Manager of KeyBank in Friday Harbor, brings a wealth of financial experience to the organization. United Way's county-wide board also includes Steve Buck, Candy Dossett, Danah Feldman, Randy Gaylord, Bill Henikman, John Manning, Bill Morrissey, Howard Schonberger, Jan Koltun Titus and Jackie Worobec. Emeritus members include Irene Hall, Frank Fagan and Carol Marble.

A chance to gather with other green-minded folks....
Nonprofits Unlimited's Liz Illg dropped me a line to let us know about a Seattle-based event, with some 40,000 people expected to attend:
Hey Ian,
There is a totally cool Green Festival (click here for more) coming to Seattle April 12-13 that is seeking 1,200 volunteers to help make it happen. Nonprofits Unlimited will be registering the 350 expected exhibitors, businesses and organizations committed to social justice, ecological protection, and sustainable local economies. Can you help us recruit a few more folks from the islands that would like to help out?
And by the way, at the same time the Dalai Lama will be in Seattle presiding over the Seeds of Compassion, a gathering of educators and others concerned with children and the way they learn to care for themselves, others and the world. Check out the amazing curriculum materials for kids of all ages.
One of the quotes that is included in the material sums up both these events: "Each of us has response-ability for our unique piece of Creation, but only from the deeper wisdom and compassion of our Greater Self can we truly care for the world that is entrusted to us." (Rabbi Theodore Falcon).
Thanks!
Liz