Click here for last week's news...

---
March 15, 2008
Whew! Finally!
We've worked to get it for years - think about it. What happens when ships leave Canadian waters (where they're escorted by tugs) and enter US waters? They get un-escorted, inviting an Exxon Valdez-type disaster if the engines fail or someone runs a boat on the rocks.
Now that's been addressed, finally. The part time rescue tug at Neah Bay has been fully funded, as Thursday the State Legislature came up with $3.65 million in its supplemental budget to pay for a year-round rescue tug at Neah Bay to prevent oil-spilling shipwrecks.
---
March 14, 2008
What was it like back then?
You know, it's gonna be cool - on the 25th at 7pm over at the Historical Museum, Boyd Pratt is gonna talk about what it was like to homestead here (for white folks; the native people apparently came over seasonally) back in the day. He's calling it "Proving Up," which was the process back then of showing your claim was on file with the government.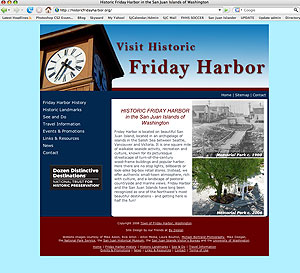 Now that's gonna be cool.
Speaking of cool AND history....
Have you seen the new website for Friday Harbor's history? It's located at www.historicfridayharbor.org, and it not only looks good, it's full of info about where we came from, and also lists events for later this year & next (which is our centennial year.)
Concert tomorrow night....
Over at the church it should be quite a show - here's more:
Hi Ian,

I wanted to let you know about a great concert that is going to be performed at the Presbyterian Church at 7:00 pm Saturday night.

We have a group of 62 high school musicians visiting from King's High School in Shoreline. They include a chamber orchestra, a concert choir and a select group of jazz musicians. These kids perform jazz, contemporary Gospel and spirituals. They are award-winning musicians who have competed in jazz festivals across the country and performed at Carnegie Hall. It should be a great concert. It's free and all are invited.

The kids will also be performing on Sunday during the Presbyterian Church's Palm Sunday worship service at 10:00 am.

Thanks, Ian!

Jill Urbach
Planning for Easter next week?
Island Rec's Abby's got a different way to do the hunt:
Flashlight Easter Egg Hunt: A unique twist on the regular Egg Hunt! Teens, 6th grade and up, are invited to bring a flashlight and a basket for a night of hunting for Easter Eggs in the dark and play games. This event will take place on Saturday March 22nd, at the high school track field, from 8:30-10 pm. Come join the fun - there's a treat in every egg and it's free! Contact Abby Spann at 378-4953 for more information.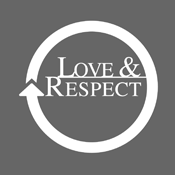 Love & Respect - a conference....
Vic Woodward has a deal going next month you'll wanna sign up now for...here's the scoop:
Hi Ian!
Monique and I are facilitating another Love and Respect video marriage conference. I have attached a poster with all the details (click here to see it). We have an early bird discount going. Would you mind putting this in your San Juan Update? You will also find a logo for Love and Respect. This is our third conference over the last couple of years and each one has been sold out and received very positive feedback.
Thanks so much!.
Vic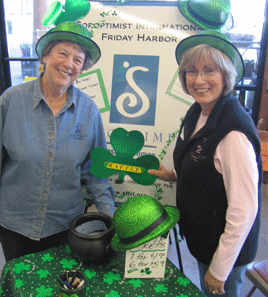 Celebrate St. Paddy's at the Dinner! and the Auction!
The Soroptimists are back for another great St P's Day deal (that's Soroptimists Lori Stokes and Marie DiCristina at the Marketplace Ticket Sales table):
Tickets still available! Bring your family and friends to enjoy the wonderful 9th Annual Soroptimist Corned Beef and Cabbage Dinner, Live Music with Teddy Dean and friends, a Silent Auction, Raffle and a Live Auction on Saturday, March 15 at the San Juan Yacht Club. This year the Dinner sitting is at 6pm followed by the Auctions. New are Dinners To Go which can be picked up between 5 and 6pm. This is the Friday Harbor Soroptimist's major fundraiser for all their annual projects.

All tickets can be purchased at Marketplace 2:00 to 5:30 this Wednesday-Thursday and 11:00 to 2:30 this Friday. Tickets also available at the Toy Box, The Garuda and I and Pat Hansen's office. For more information visit: www.sifri.org

Support the Animal Shelter!
From the APS: Paradise Lanes will once again be hosting the 3rd annual Friday Harbor Animal Shelter Bowlathon on Saturday, March 22nd. 32 bowlers have signed up and are still gathering pledges in hopes to reach a new bowlathon record of $10,000. If you haven't sponsored a bowler yet and would like to participate, please contact Leslie at the shelter. And if you want to come down to Paradise Lanes and join in on the fun as a spectator, we'll be bowling at 6:30 pm. Hope to see you there!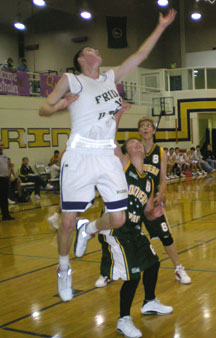 Tommy - All State!
Tommy Fowler (right, getting mauled on the way to the hoop) was named to the state team - here's more from his mom Mary:
Hey Ian!!!
Tommy was voted one of the top 10 1A STATE basketball players. Your own coach can not vote for you, so it is quite an honor to be voted in by the other coaches. This is not the all-league award he already earned but an all-state placement on a team that will play against the 2A team this Saturday at Franklin High School at 4:00 pm.
Our friend Jordan Smith from Lopez Island made the 1B team which plays the 2B team at 2:00 pm on the same day.
Not bad!!! TWO ALL-STATE ISLANDERS!!!!
GO TOMMY AND JORDAN!!!!!
from one proud Mamma;
Mary
New Leadership at United Way
From the United Way: Bonnie Gilmore, Director of United Way of San Juan County, is pleased to announce that has Jackie Worobec of Lopez Island has been elected 2008 Board President. Danah Feldman, also from Lopez, will serve as Vice-President with Susan Lembcke, Branch Manager of Key Bank in Friday Harbor named as Secretary. Michelle Schober of San Juan Island will assume the responsibilities of Treasurer. Outgoing President Bill Morrissey will put his many years of experience on the United Way board to work on it's allocations committee. The board also welcomes new member Chuck Rust of San Juan Island, whose background includes the development of programs for children that focus on prevention. Rust also served on the allocations committee for United Way of Merced County, California. "We are positioned to take the organization to a new level in 2008, stated Gilmore, allowing us to better meet the needs of islanders through our support of more than thirty human services programs."
Wynn does it again!
Lori Stokes wrote to tell me (and you):
I was just notified that our winner of the Violet Richardson Award,
Wynn Barnard, has been selected as the VRA winner at the regional
level! She will be recognized at the regional conference awards
luncheon on April 26. She wins $1000, plus another $1000 will be
donated to her Village-to-Village volunteer organization. Her
application will now be sent on to the national level, where she will
compete with 27 other regional-level winners for an additional award,
including a contribution of $2500 to the winner's volunteer
organization.
I hope you are as proud of Wynn as I am!
-Lori Stokes
Take me out to the ballgame!
Purple & Gold are gonna feed ya when you go to see the Wolverines this Saturday!
Ian-

Saturday, March 15th at the Hartman field.
Purple & Gold will be hosting a barbeque at the first home game of the season.
We will provide hotdogs, chip and beverage for $5.00.
There will be other snacks available as well. All money raised goes to the athletic program.
Friday Harbor will be playing a double header against Orcas starting at noon.
Let's give our Wolverine boys a well attended kick off to the season!

Thank you-
Elisa Howard
Purple & Gold President
Bob Dylan sings for you....
This is from Newport in '65....one of my favorite songs 'cause it reminds me of you, baby......

Quote
Next week, New York's David Paterson will be sworn in as the nation's first blind governor...at a press conference yesterday, he also displayed a rather awesome sense of humor. "Just so we don't have to go through this whole resignation thing again," one ballsy reporter asked, "have you ever patronized a prostitute?" Paterson thought for a minute. "Only the lobbyists," he said.
---
March 13, 2008
Soccer: Coupeville 3, FHHS 1
In a rematch of Monday's game at home, Friday Harbor gave the Wolves all they could handle for three-quarters of the game. Coupeville scored the first goal, but junior midfielder Pablo Lopez answered to set the halftime score at 1-1. The Wolverines attacked hard in the second half but were unable to score, while the Wolves put the game away with their third goal with fourteen minutes left.
After three games in five days, Friday Harbor has a week before they travel to King's High in Seattle next Wednesday.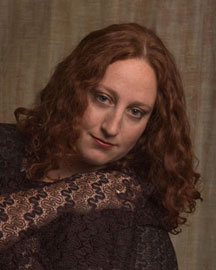 Corrine Stevens is heading for school....
It's a benefit concert for Corinne, by Corrine (right). Saturday afternoon she's singing at the Community Theatre to help raise money so she can attend the Franco American Vocal Academy. If you haven't heard one of the brightest & most talented singers on the west coast, now's the time to catch her!
Here's the details, from her website.
Annie Adams, online....
If you like Annie's art in person (I do!), you're gonna love it online, too - she has a bunch of new work posted on her site - here it is. Check it out!
Spots are still open....
Minnie Knych tells me there are still spots open to go to Boys' State & Girls' State this year...it's an all-expenses-paid trip to this annual event (I know, I went when I was a junior in high school), and it's cool. Last year Mitchell McCormick & Kate Fyrqvist represented us, there.
For more info about this American Legion-sponsored opportunity, contact Minnie Knych at 378-4662 (office) or 378-7040 (home).
Firefighter of the month.....
Carolyn over at the fire station sent me this readable & well-written writeup about a great guy - David Howitt (right) - read it & get to know one of our friends who's keeping us safe. (Click here for the story.)
Back in the pool, kinda....
You know, I've played pool on the Labs pool table, and I thought I could bend it like Beckham. It wasn't till I played on the straight tables at the bowling alley that I found out I wasn't THAT good. Here's more from Bob at the Labs:
Friday Harbor Labs is looking for a donation of a regulation size Pool Table for the Student Rec area. Our current Pool Table is held together by duct tape and more duct tape. Pool is a popular recreation (along with ping pong) for the students. We would like to enable them to enjoy it when they want to take a break from their long days of study and research.
If you have a Pool Table in good condition that you would like to donate, or if you know someone who does, please contact me, Bob Schwartzberg, at the Labs at 360-378-2165 ext 2 or at rsberg@u.washington.edu I can arrange for a pick up and a receipt for tax purposes.
Thanks - Bob Schwartzberg
Quote
"Local TV news across the country [is] saturated with mayhem and fluff at the expense of the broader range of issues important to our communities. TV news has become an emotional collection of the terrifying and the titillating, chosen to generate what marketing experts call 'arousal.' Arousal prepares viewers for TV news' abundant advertising but it does not inform citizens. Rather, it breeds cynicism, discourages civic participation, and promotes fearful withdrawal and passivity."
— Rocky Mountain Media Watch
---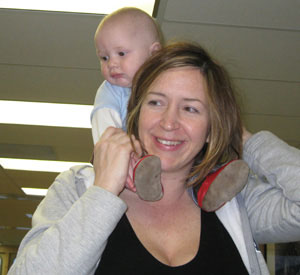 March 12, 2008
Two heads are better than one.....
Peg Knight brought by Graham to say hey on the ferry the other day, while twin bro Stuart was playing with papa Jim at the other end of the boat.
The boys were born in September, and it was fun to watch Graham tracking so well with his eye on the camera lens - and he has a great smile.
Join Snoop Dogg & Johnny Depp to free this whale....
They're not the only ones in the campaign to free Lolita the orca...here's more.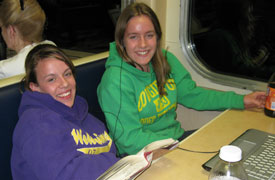 Ware have you been?
Speaking of twins on the ferry, it was good to see seniors Anna & Beth Ware on the ferry Sunday night....mom Judy & dad Dwight took them & the rest of the family down to California to visit young Dwight, who is an airman stationed in California, where Judy tells me he's learning languages (the one he's studying now is an Afghan dialect).
Geography Bee Champ goes to the state level....
You may remember last year around this time in the Update we reported to you that we had a master geography bee kid here on the island (here's the story, then). Zach Reshovsky was also a state finalist last year, coming in second to Caitlyn Snaring of Redmond, Washington, who went on to become the winner of the 2007 National Geographic Bee.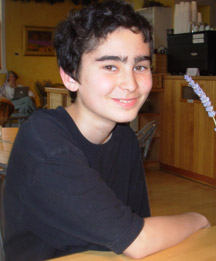 Well, Barbara Bevens tells me he's at it again - here's the rest of the story about Zach (that's him, last year, right after the contest):
Zachary Reshovsky has just been notified by the National Geographic Society that he is one of the finalists eligible to compete in the 2008 Washington Geographic Bee.
Bees were held in schools with fourth through eighth grade students throughout the state to determine each school's Geographic Bee winner. School level winners then took a qualifying test, which they submitted to the National Geographic Society.
In each of the 50 states and in the territories, the National Geographic Society invited the students with the top 100 scores to compete at the state level.
The 2008 Washington Geographic Bee will be held at the Greater Tacoma Convention and Trade Center on Friday, April 4, 2008.
The state winner and his or her teacher will represent Washington in the national finals at the National Geographic Society headquarters in Washington D. C. The national winner will receive a $25,000 college scholarship.
How would you fare as a Bee contestant? At the school Bee level this year, students had to answer such questions as:
The Unites States Naval Academy is in Annapolis, the state capital located closest to what large bay? (Answer: Chesapeake Bay)
Which country's vegetation regions range from the Nubian Desert in the north to tropical rain forest in the extreme south? (Answer: Sudan)
One of the world's largest oil exporters borders on the North Sea and Arctic Ocean. Name this country. (Answer: Norway)
A country bordered by India on three sides often experiences severe floods during monsoon season because it lies on a low delta plain. Name this country. (Answer: Bangladesh)
Airplanes heading north from Belize City to New Orleans fly over what large peninsula? (Answer: Yucatan Peninsula)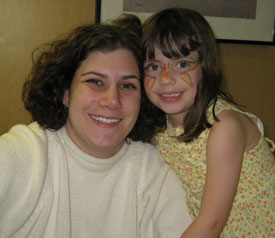 Off to the mainland...
That's ace FHES second-grade teacher Shannon Evans with her daughter Joanna on the ferry this weekend, heading for the mainland.
Playground goal...nearly there!
Here's the word from the Elementary School:
The Friday Harbor Elementary School PTA is just $7,000 short in their goal of raising $50,000 to replace the school's aging playground.
A recent $10,000 donation from Island Rec combined with $22,000 from a February dinner/auction and sales from last summer's pie booth at the county fair, have netted the PTA some $43,000.
"We are very pleased with the community support for this project," said FHES PTA co-president Kim Ott. "From individuals to local businesses, and now the very supportive Island Rec, we are so close to having the new playground installed this summer."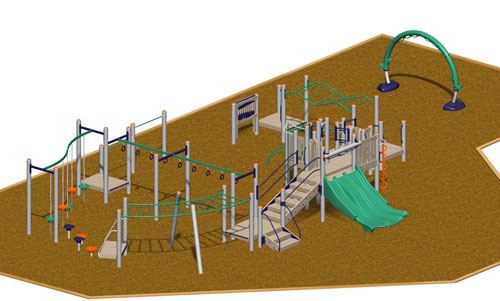 The PTA Board took on the playground project because of concerns the 20-year old equipment has become more costly to maintain and needs to be rejuvenated so students can fully utilize it. The planned new structure from the Big Toys Company will include more variety and also equipment for students with physical limitations. In addition, all Big Toys products are 100% green, made from recycled plastics and metals (no potentially hazardous PVC's).
Ott says that a number of carpenters and other volunteers have already signed up to help install the equipment this summer and it's now just a matter of obtaining that last amount of money to get the replacement process moving.
Residents interested in contributing to the FHES Playground Campaign may contact Kim Ott at 378-8735.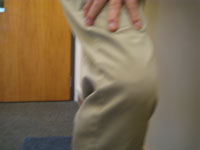 Bob's knee is better, now....
I saw Bob Wingate (you know, the guy who owns the Little Store & the Big Store) the other day, and he says his knee replacement went great. He's moving really well, too, so I asked him if I could take a picture of his new knee. He said yes, so there.
Last chance to get cookies...
Jan tells me there are only a few left:
Hi, Ian! Just wanted to give you an update on the Girl Scout cookie sales. We are down to our last 150 boxes or so (we started with 2600!). We have lots of Tag A Longs (those are the chocolate peanut butter ones that so many people liked last year but haven't gone as fast this year). We also have some All Abouts (shortbread dipped in Chocolate) and a few of the new sugar-free Chocolate Chips. Anyone interested in buying...or donating (we'll take them to the fire departments, EMS and Family Resource Center)...can email me at janbsmith@rockisland.com.
We're only selling for a few more days, so please have them contact me no later than Thursday.
Thanks! Jan
Remembering what we're doing.....
Next week is the fifth anniversary of the beginning of the invasion of Iraq...in their blog piece, Bob Weimer & P.L. Morningstar remember the gathering in Friday Harbor before the invasion began...here's more.
Kids - this is THIS weekend!
Abby at Island Rec says it's here:
Island Rec's preschool arts and crafts is back! Join in this drop-in program for arts and crafts, games, and songs. Your preschooler will have an opportunity to play, create and socialize with kids their age. Just drop by the Family Resource Center between 1 and 3 pm on Saturdays thru April 5th. Come join the fun! $3 per child, $2 for each additional child.
Quote
"We find ourselves ethically destitute just when, for the first time, we are faced with ultimacy, the irreversible closing down of the earth's functioning in its major life systems. Our ethical traditions know how to deal with suicide, homicide and even genocide, but these traditions collapse entirely when confronted with biocide, the killing of the life systems of the earth, and geocide, the devastation of the earth itself."
Father Thomas Berry
---
March 11, 2008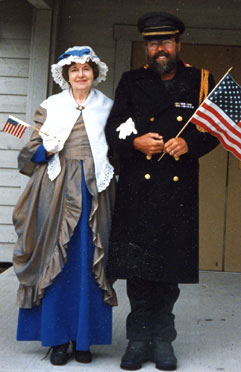 Passing.....
If anyone was an active part of the past century here on the island, it would be Lee Bave - she helped get the Whale Museum going (back in 1979) and kept the Pig War Museum going for years. When she passed away yesterday at the age of 97, a bit of island history passed, too.
Here's a bit from my favorite online historian, Peggy Sue McRae's blog, posted last October:
Historian Laurel Thatcher Ulrich, was interviewed on KUOW Weekday this morning. The title of Ulrich's latest book, Well-Behaved Women Seldom Make History has become a popular slogan. Says Ulrich, "History is not just what happened but it's what gets remembered."
Lee Bave is one memorable, energetic and creative woman who may have veered slightly outside of the bounds of what is considered "well behaved" to keep the history of San Juan Island's Pig War alive and vibrant. Bave maintained the Island's Pig War Museum and was also famous for her performance of the San Juan Saga, a one woman accounting of the Pig War.
Lee will be missed...I'll keep you posted with memorial plans.
Fundraiser...
My friend Jill says there's a musical event at the Presbyterian Church tonight....
Hi Ian,
There will be a piano concert at Friday Harbor Presbyterian Church Tuesday, March 11 at 7:30 PM. Grishna Krivchenia will perform solo works of his own and Sally Browne will join him on her Cello as they perform a Brahms Cello Sonata. The concert is a fundraiser for the church's new piano and donations are gratefully accepted. (The current piano has been on loan and its owners need it back.)

Thanks! Jill Urbach
Eat your greens....
This is an ugli fruit from Jamaica (right) - photographed at the Marketplace a while back.
Proof we have it all here....
Happy trails to you....
The Trails Committee has room for you to help out - here's more from Don:
You are cordially invited to the San Juan Island Trails Committee general meeting to be held at the Whidbey Island Bank community room (enter at the
back of the bank building located next to Marketplace on Mullis) on March 12 commencing at 5:00 (until 6:30).
Don Jarrell, Chair
Cam's new tunes....
Cere Demuth wrote to point out that Cameni Williams (island girl makes good!) has posted her new songs with her band Yearling Graham on her MySpace page....here they are - check 'em out!
They just released their new CD, so this'll give ya a taste.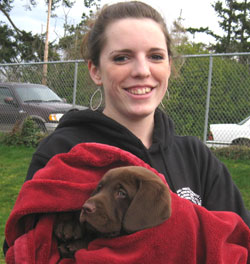 New dog on the block....
That's Katie Chevalier (left) with her new friend Sherman at last night's soccer match....
Actually talking about population - wow!
I was pleased to see that Yahoo! News actually featured a story about population...about time! The idea that we can somehow resolve the issues that have brought on climate change & other world problems with out resolving the cause of them all is more than simple - as it says in the article:
"Despite being one of the largest drivers of climate change, the question of population growth is strangely absent from public debate. It seems that addressing our growing global population is as taboo as taking shots of Jägermeister at an Alcoholics Anonymous meeting."
A screen shot of the Yahoo page for you is here; the article is here.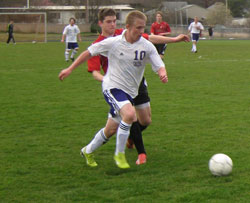 Soccer boys come up short in the last 45 seconds....
FHHS came oh-so-close to victory last night as they fell 2-1 to quick Coupeville.
Both teams came out firing in the first half, with the Wolverines holding the edge in shots but Coupeville managing a breakaway to go up 1-0 at the half. Erik Nash (left) answered with 23 minutes gone in the second half in a game that had no overtime - league matches this year will settle as draws. Problem was, the Wolves popped one to the top left corner to win with only seconds left.
There was a lot to like in the game, as the Wolverines showed far more offense than Saturday's game, and the defense seems to be jelling.
No rest for the weary, as the guys head to Coupeville tomorrow for 4pm game there, looking for a better result.
March 10, 2008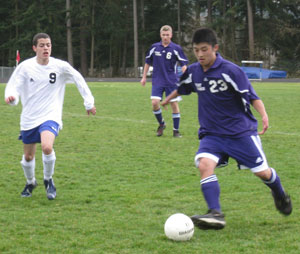 Soccer gets underway....
The FHHS boys travelled to play South Whidbey on Saturday, and I'd say they became the victim of some unfortunate turns - the Watermen scored two in just under four minutes (two floaters from the right wing that caught the far post, high), before the two teams played an evenly matched draw till South Whidbey sneaked a corner in with just 10 seconds to go. Final result: 3-0, them. Final feeling: A good start for the season.
You see, we were aggressive in the middle of the field, and played toe-to-toe with a team that was 11-3 & playoff bound last year. Daniel English (above) & the defense played an outstanding game against a tough opponent who is in a division above us. It was a game for learning, and happened at a good time in the season.
Today: It's Coupeville, visiting us here at 4pm. See ya there!
From a small island in the Pacific.....
Tracy James moved from here to Paris, and reports in occasionally, and as you can see, people go to see her there, too:
Ian, just a note to say hi. Did you know Fred Yockers, Linda and the girls are heading to Paris in April? We're planning a little reunion (dinner at my favorite pizza place!). You know, Xiao Fei took her first steps at my day care on San Juan many years ago! Right now you are receiving this email from Guam (tiny island 4 hours from Japan in the Pacific Ocean) where I was born 51 years ago. I had to get a copy of my birth certificate for the French bureaucrats and used that as an excuse to see the island after leaving 46 years ago. Anyway, we read you from all over the world! Take care, Tracy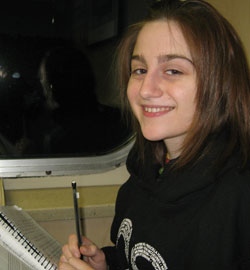 Wynn wins......
Just heard that FHHS senior Wynn Barnard was offered a full ride at Seattle University next year through the Sullivan Leadership Program - wahoo! That makes three FHHS seniors who have received full-expenses-paid offers so far this year....it's great to see our talented kids get rewarded!
Lacrosse gets off to good start...
Coach Rob & Coach Ryan say it's a good start to the season - the boys lost two on Saturday at a tourney (their victors? The eventual tourney finalists....), with respectable, close matches in both games. Then they won 2-0 over North County yesterday to start their regular season. The Dragons (1-0) have their first home game next Wednesday (the 19th), so we'll go check them out then.
Quote
"People call me a feminist whenever I express sentiments that differentiate me from a doormat or a prostitute." ~Rebecca West
---
March 7, 2008
The All-League selections are in....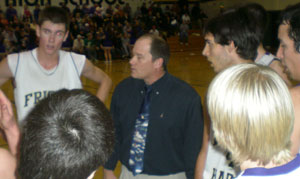 The basketball all-league teams were named yesterday, and I think they came out about the way I would have voted, with leading scorer senior Tommy Fowler making the first team for FHHS (he was easily one of the best players in league this year, and probably made a run at most valuable player), steady senior point guard Erik Nash showed up on second team, while Austin Scheffer and Parker Lawson copped honorable mention honors. FHHS coach Rod Turnbull (right, with Tommy just left of him) was named co-coach of the year - capping off a banner year for Wolverine roundball. Way to go, guys! (Here's the entire league posting.)
Irish music in town - catch it!
The Friday Harbor Irish Music Camp wraps up tomorrow night with a concert by the camp staff at the Community Theatre at 7:30pm...tonight there's a Ceili Dance at the Grange at 8pm. This music is beautiful to listen to, at home & on the radio, but it is so much better to listen to it live & feel it, so that it can flow over your heart & your bones.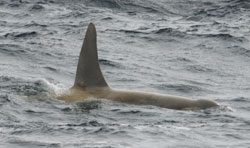 White orca amazes scientists...
Islanders Susan & Howie from the Orca Network report a startling discovery, up in Alaska. Here's more, from their report:
Scientists aboard the NOAA research vessel Oscar Dyson in the North Pacific have sighted a creature of great rarity and even myth: a white whale. The white killer whale was spotted with its pod about two miles off Kanaga Volcano, part of Alaska's Aleutian Islands, on Feb. 23.
At the time, Kodiak-based Oscar Dyson was on a research expedition for NOAA's Alaska Fisheries Science Center, assessing pollock fish stocks near Steller sea lion haulout sites. The white whale is a fish-eating type of killer whale, as were all the killer whales photographed on the expedition. Fish-eating killer whales are the most frequently seen whales around the Aleutian Islands during the summer. The winter sightings represent important evidence that they may be common year-round.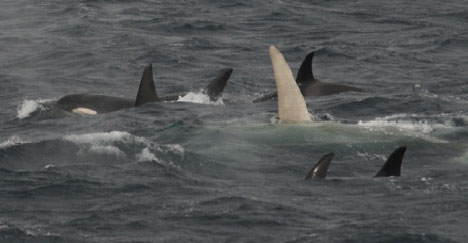 Holly Fearnbach, a research biologist at NOAA's National Marine Mammal Laboratory in Seattle, was able to photograph the whale's white fin and back. "With hundreds of killer whales documented around the Aleutian Islands, this was equivalent to finding a needle in a haystack," she said.
Few white killer whales have ever been seen, according to Fearnbach, much less scientifically documented.
This whale is likely not a true albino because it still has signs of darker pigmented areas on its body. However, because of its prominent coloring, the white whale serves as an indicator for movements of killer whales in the North Pacific.
Other sightings of a white killer whale have been reported previously in the Aleutian Islands as well as in the Bering Sea and off the Russian coast. Scientists are working to confirm whether or not the individual whale sighted Feb. 23 has been reported earlier.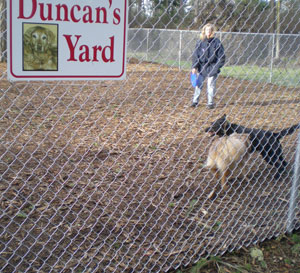 Here's the full article, my dear whale-nut friends.
Why it's called Duncan's yard.....
OK, baby, stay with me on this one...the story winds around a bit, but we'll get there if you keep your feet in the creek.
You know ('cause I told you last fall) that the Animal Protection Service (APS - that's short for animal shelter here on the island) just put up an area where the animals, mostly dogs, can run free, or at least freer than those little cages they gotta put 'em in. The place is named for longtime islander & bookstore maven Susan Eyerly's golden retriever Duncan.
You still with me on this?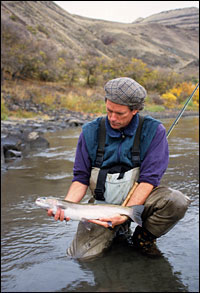 So, before she died a couple of years ago, Susan mentioned to friends that Duncan was named for writer/philosopher/good soul/fisherman David James Duncan, whose book My Story As Told By Water is my present nighttime reading (I read his The River Why back in the '80s & it hooked me).
So there's this wonderful circle (there always is - open your eyes & turn the TV off) between a place the dogs play & David & Susan's good heart & a chance to play in the sun.
I'd like you to get to know David a bit better - this interview with him last year will give you a peek into his mind & heart. Check it out.
Nearly done - whoa!
When I visited with Trent Roberts a couple of days ago when he was working over at the Village at the Harbour project, I asked him when they'd be done. He said a couple of weeks, which amazed me, so I dropped by to see Seanene Kennedy yesterday to check on it, and yep, that's the deal - heck, she and Brian Brown are already planning an Open House for the assisted-living place on the 22nd from 2-5pm (I'm telling you, 'cause you're invited.)
The Village has 36 units presently (they've got a permit for up to 42), and is located smack in the middle of what folks there might need - it's got a grocery store on one side, the medical center on the other (and San Juan HealthCare within spittin' distance), and the Mullis Center just behind. Shoot, it couldn't be more perfect.
I'll try & find out more about this for you. Pretty cool.
Time for you artists to step up....
Island Studios' Claudia wants to let you know there's only a month left to get stuff in - here's more:
A Call to San Juan Island Artists and Galleries for ARTSTOCK 2008! Artstock is an art festival established to celebrate the diverse artistic spirit of professional artists and galleries on San Juan Island.
ARTSTOCK 2008 is now accepting applications for artists and galleries on San Juan Island who are interested in participating in this juried two day event October 4-5, 2008. Applications are available on the ARTSTOCK website at http://www.artstocksanjuanisland.com/ or at any of the four founding galleries: Arctic Raven, Gallery San Juan, Island Studios and Waterworks Gallery. Submission deadline is April 3, 2008.
Quote
Be as sure of it as you are that God lives: at the least good deed done here in this world, the least bit of good will, the least good desire, God laughs and plays.
Meister Eckhart
---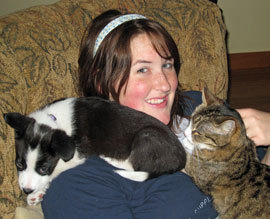 March 6, 2008
New dog on the block.....
As you can see, Kestrel Bailey has a new dog in the house - here's more from her mom, Shannon:

Ian, I enjoyed the picture of office dog, Tucker, and the magazine cover. It was because of that cover on National Geographic that I gave in to my family's desires and though impractical, but emotionally healing, we got a border collie puppy through the NW Border Collie Rescue. She is nine weeks old and her name is Fiona Finn or Finn for short.

Finn is already filling our hearts after the loss of our beloved Kit a year and a half ago. Border collies are wonderful companions, but everyone who considers one should be reminded that they need a job and socializing. We will spend at least three years taking Finn everywhere with us so that she is careful and sweet to all people. Godspeed, Shannon



Moving up the street....
Hey, I ran into longtime Coldwell Banker realtor Michele Meyer over the weekend & she says she's changing offices, moving to Re/Max. Michele is active in the community & a great mom to her two kids....good luck, Michele!

At the Spirit Tree.....
Kenneth dropped me a note to share with you (by the way, his girl Emily turned five this week!):

This Sunday, March 9th, 2008 at 1:00pm there will be an Abraham Group meeting at Spirit Tree Gifts. This day also falls on the beginning of Daylight Savings, so to avoid confusion; 1pm will be the same as this current time (pre 'Spring Forward' time). The meeting lasts about an hour or so, depending on how many guests arrive. I look forward to seeing many smiling faces. In the Spirit of Gratitude, Kenneth Atwell, Spirit Tree Gifts

Opening night - it's tonight....
Jan at the Theatre says the new show goes up at 7:30 tonight:

A Journey Into Sunshine and Hope: Enchanted April Opens March 6
Timing is everything. Ask Gretchen Gubelman, the director of the San Juan Community Theatre's late winter production, Enchanted April, and she'll tell you the play adapted by Matthew Barber from Elizabeth von Arnim's novel of 1922 is very timely in 2008.
In one way it's timely because San Juan Island's winter has indeed been a dreary and dark one, and many of us are looking for brightness. A romantic comedy, Enchanted April opens in a dark, rain-drenched post-World War I London. Mid-way through the play there is a sunny transformation. That sunshine comes both in the weather and with the infiltration of hope—something Gretchen thinks is also timely in the world today: the need for hope.
"This story is about one woman's hope that permeates, spreads, and magnifies, turning everyone [other characters and audience] around," said Gretchen.
The young woman, Lotty Wilton (Kate Hunter), helps lead her stoic and proper friend Rose Arnott (Deb Langhans) in a plot to escape their dreary lives as they find two other women to rent an Italian castle and head off for a holiday together. There, among the wisteria and sunshine, each of them blooms in colorful ways. And when the men in some of their lives make it to the castlexthey, too, find transformation.
Enchanted April also features veteran island actors Susan Williams, Hunter Wood and Patti Bair, as well as newcomers Kaitlyn Johnson, Greg Hertel and John Pachuta.
Curtain time for opening night on March 6 is 7:30 p.m. A pre-show party, including complimentary wine and appetizers catered by Rocky Bay Café, will start at 7:00 p.m.
This production is sponsored by Islanders Bank. Opening night ticket prices are $17 for adults, $9 for student reserved, with $5 student RUSH on available seats one hour before the show. Enchanted April also plays, March 7, 9, 13, 14, and 15. Tickets prices vary, depending on date.
Quote
Love is always bestowed as a gift - freely, willingly and without expectation. We don't love to be loved; we love to love.
Leo Buscaglia

---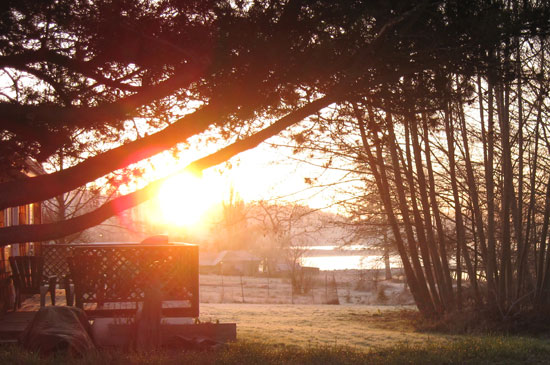 Another sunny day in paradise...this morning's sunrise over Jackson Beach was frosty, cold, and promising, with sunny skies & 50+ degrees on tap for today.
March 5, 2008
We're Number One! We're Number One!
Yep, it's US, baby! We're on top! We have the highest gas prices in the WHOLE STATE! We're STATE CHAMPS! Here's a website with proof...ours was $3.85 yesterday for regular.
Soccer opens this Saturday....
With softball & baseball & tennis in jamborees to start their seasons this weekend, the boys soccer team kicks off, too, but with a counting game. They travel to South Whidbey High with a busload of talent and high hopes.
When I dropped by practice yesterday, former coach Ron Duke commented that this may be the quickest team we've had in ages, and he has the long view, including our near-state champ group in 2004 when this year's seniors were freshmen.
Coach Andy Duke likes what he sees, too - we're strong in every position, with talent off the bench as well. Starting seven seniors, including ace defender Kevin O'Connor (right), and all-leaguers Louis Paul & Shay Byington, they're joined by rookies Nick Roberts (he nearly won Island Rec's Loop Run in August) and Conner Lanphere (leading & prolific scorer from last year's eighth grade lot).
High scoring seniors Erik Nash & Miguel Medina will be backed up by junior midfielders Cameron Byington & Pablo Lopez, and returning senior defenders Josh Combs & Daniel English. The Wolverines have two strong keepers - last year's senior starter Avery Adams & new-to-camp senior Jacob Gustafson - so we're in good hands there.
I like the United Nations feel of the team, too - Miguel & José are from Mexico, Conner was born in England, Josh & Stephen are Canadian, Daniel's from Korea, Pablo's dad is from Chile, Erik's stepmom is from Honduras, and heck, Gus is from Alaska, which used to be Russian until 1867.
I'll go to Saturday's game & let you know how they look. Stay tuned.
It's this Saturday, cowgirl...check it out....
Ginny & Shane wrote to remind you & me about this annual, fun event:
San Juan Island 4H Bits and Spurs horse club is hosting a Country Western Dance, Saturday, March 8, 2008 at the Roche Harbor Pavilion. There will be a fabulous dessert bar, virgin margaritas, raffle for the giant plush horse and other cool stuff, cake walk, line dancing and lots of fun.

Tickets are on sale now $12 for adults, $6 for kids 12 and under. Tickets are available from club members who will be at Market Place today, March 4 from 3 to 5, by calling 378-2876 or 378-2931 and at the door.

All proceeds from the dance benefit the 4H Bits and Spurs member's educational activities.

See you there!!!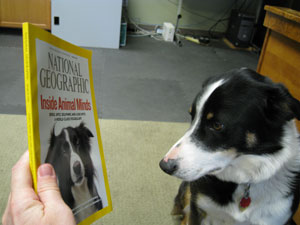 Right hand dog gets big head......
Came back to the office a couple of days ago to find Tucker the office dog curled up with the latest National Geographic. That looks to me like he got his first cover.....and to think only a week ago he was writing for us.
Click here to check out the raise he got....
Lacrosse dinner moved up....
I hear the lacrosse dinner tomorrow night was moved up to 5:30pm, to accommodate the winter sports awards at the high school. See ya there!
From the slopes to you....
When I heard that Sue & Rod Turnbull had started a shredding business, I figured it was either a guitar shredding gig (like this) or a skiing thing (like, when you shred the slopes). I was so wrong.
They shred paper! Now that's useful - here ya go, check out their website for the whole scoop. (I have an ad for them over there to the left so you can get back to that easily.)
Help the Class of 2008....
Deborah from the senior class tells me this is coming:
Rummage Sale - The 2nd Annual Senior Class Rummage Sale is scheduled for Saturday March 22nd, 9:00am-12:00pm, in the HS Commons. We are seeking quality donations. Items can be dropped on March 21st. Let us know if you need them out of your way sooner and we can arrange for pick up.
Please help us make this annual event a huge success.
A song for you, from Dire Straits....
It's a long way to where you are (I checked the tracker - and there are Update readers in China, the Ukraine, France (hi, Tracy!), England, Canada, Scotland, Australia (hey, Tiana!), Taiwan (yo, Andy), as well as Pennsylvania & even Spokane, so here's a song from Mark Knopfler you might like:
Quote
As it happens, a few years ago I got to play Murray in Herb Gardner's "A Thousand Clowns," a play in which a sorta eccentric philosopher/writer is trying to keep custody of his precocious nephew, whom the state is trying to take away from him. I've always loved the little speech he gives the social worker about why he'd like the boy to stay just a little longer:
I just want him to stay with me until I can be sure he won't turn into Norman Nothing. I want to be sure he'll know when he's chickening out on himself. I want him to get to know exactly the special thing he is or else he won't notice it when it starts to go.
I want him to stay awake and know who the phonies are, I want him to know how to holler and put up an argument, I want a little guts to show before I can let him go. I want to be sure he sees all the wild possibilities.
I want him to know it's worth all the trouble just to give the world a little goosing when you get the chance. And I want him to know the subtle, sneaky, important reason why he was born a human being and not a chair.