Click here for last week's news...

---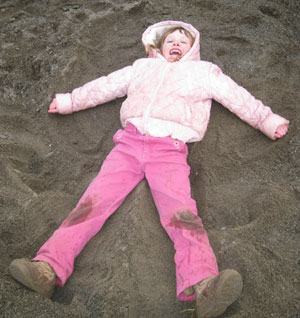 March 21, 2008
Happy Spring & Happy Easter this weekend!
Sandy....
That's my friend Jackie (right) playing in the sand, during Wednesday's chilly lacrosse game. Having fun!
Rummage Sale for the Class of '08...
The big rummage sale fundraiser is this weekend at the Friday Harbor High Commons! The sale is on Saturday from 9am - noon.
See you there!
Good Friday/Easter schedule....
Jan over at St. Francis Catholic Church says this is the schedule today & this weekend:
12 Noon: Good Friday - Rosary
3 pm Friday: Stations of the Cross
7 pm Friday: Good Friday Liturgy with veneration of the Cross
8 pm Saturday: Easter Vigil Mass
9:30 am: Easter Sunday Mass
Finding veggie meals here....
Kate from Portland was here a week ago, and reports her adventures looking for a vegetarian meal, with the Backdoor Kitchen saving the day...here's more.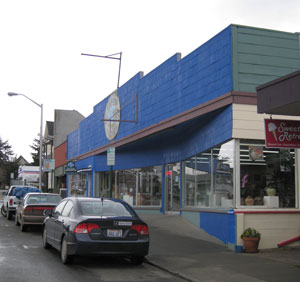 Got the blues, in a good way.....
You can't miss the new blue look of Island Studios and Nash Brothers' Sporting Goods, as they repaint the top part of the stores - here's what it looked like last weekend, on a kinda grey day....lookin' good!
Energy vampires....
Are you low on energy because people are sucking it outa ya? Here's some advice from a guy named Craig that you might find useful - don't let the energy vampires get you.
Getting going, down on the harborfront....
Kurt Long has taken over the spot where Island Dive used to be, and he's getting things going there with his business, Naknek Charter and Dive - here's his report for this weekend:
This weekend, Sat. March 22 and Sun. March 23, the Naknek dive boat will be running dive charters from Friday Harbor and we have room on the boat. The trip includes two boat dives at local sites as well as lunch and snacks. The dive sites are still to be determined but will be suitable for certified open water and advanced divers. The cost for the dive trip is $80.00 per diver. Non-diving passengers are welcome, the cost is $35.00. For more information, reservations and pick-up times, please call at 360-378-9297.
Naknek Charter and Dive- Have you ever wanted to learn how to Scuba Dive? We are now offering dive certification for open water and advanced certifications. Call Kurt Long at 360-378-9297 for more details.
Quote
You have to be strong enough to say if the culture doesn't work, don't buy it.
Mitch Albom
---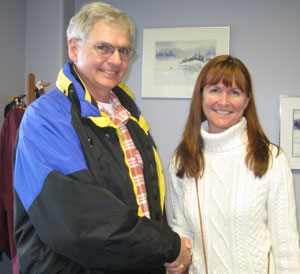 March 20, 2008
Happy Spring Equinox!
Trumpeter Inn changes hands this summer....
Yesterday Larry Hoppe dropped by to tell me he and Cheryl have closed the deal with Shaun and Goeff Anders of Phoenix. Shaun (and her dogs!) will take over as innkeeper on August first as she wraps up her work in Arizona, and is looking forward to cooler summers here on the island.
Larry tells me he and Cheryl are retiring to southern Colorado - they've done a super job with the Trumpeter Inn since they came along in October 2005. Good luck, you guys!
Demonstration in Seattle to support Tibet tomorrow.....
Things are pretty tough in Tibet right now....here's a way to have your voice heard, from Peggy Sue's blog.
Soccer: King's 3, FHHS 0
Friday Harbor High played King's tough for three quarters on Wednesday, behind only 1-0 at the half. But the Knights (3-0) are on a mission this season after losing 1-0 in the state championship last year, and held on to win 3-0.
"It was encouraging," noted Wolverine senior captain Louis Paul afterwards. "We have really improved since last week, and overall things went well. Obviously, we need to finish and score, but that will come." The game was played on the Knights' artificial turf field, which was the widest the players have seen in three years. "We played well together, as a team," Paul said. "We're looking forward to playing Saturday at home."
The Wolverines (0-4) face Lynden Christian (1-2) at 1pm here on the island on Saturday. The Lyncs are coming off a 6-1 loss to Bellingham, a 2-0 loss to Meridian, and a 2-0 victory over Nooksack Valley. Friday Harbor's deceptive record masks that they have stayed close against some of the better teams in the state.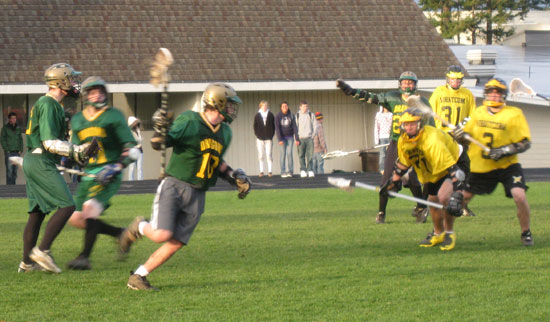 It was a close game throughout, but the Dragons simply ran out of time in a hard-played 5-4 loss to Whatcom last night on the FHHS field. Conner Johns ((10, green) and the boys hustled till the end, answering each Whatcom goal but coming up short at the final whistle. The Dragons play again Friday, at Mukilteo. Their next home game is next Wednesday.
San Juan Safaris splits....


Here's the deal:
For the past nearly two decades, Bill Wright and Colleen Johansen (in blue) have run San Juan Safaris out of Roche Harbor and Friday Harbor with both kayaking and whalewatching. Now they tell me they've sold part of the operation to Brian Goodremont, their former operations manager (in the middle photo). The way it'll work: the kayaking and whale watching from Roche Harbor will be under Brian's watchful eye and his new name (San Juan Outfitters), while Colleen & Bill (they're not retiring!) will run two whale watching boats out of Friday Harbor.
Along with 3 hour kayaking and 5 hour kayaking, Brian has added 3 day overnight packages to Sucia and outer islands and a special Inn to Inn package. Also offered are kayaking lessons and private kayaking tours.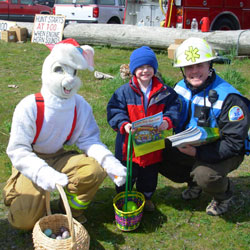 Easter Egg Hunts....
After Island Rec's Flashlight Hunt for teens on Saturday night (here are the details), there will be Easter Egg Hunts at Roche Harbor (the Bunny arrives at 12:30pm for the 1pm hunt), and at Jackson's Beach at one, after the Fire Department bunnies do their job amongst all the driftwood.
Easter Egg Hunts through history:
Back in 1998 (check the April 13th posting)
Back in 1999 (story & picture of little Megan McCormick)
Back in 2006 (a huge portfolio of egg hunters & their mamas & papas - see if you're in there!)
Back in 2007 (another huge portfolio!)
And Easter services on Sunday....
Jill wrote to let us know when the services are:
Would you please let everyone know about the following worship opportunities at Friday Harbor Presbyterian Church? All are welcome to attend and participate.

Thursday, March 20: 7:00 pm - Maundy Thursday communion service
Friday, March 21: Noon - Good Friday prayer/healing service
Easter Sunday, March 23: 7:00 am - Sunrise service at Carter Ranch
8:00 - 9:30 am - Easter Breakfast served by the FHPC Deacons
10:00 am - Easter Worship service


Movie at the Sail Loft this Saturday!
Andra & Patrick at the Sail Loft tell me the first movie night went so well, they wanna do it again! Here's the scoop from Andra:
San Juan Canvas is hosting the second in a series of sailing movie nights on March 22nd, 7:00 pm @ the Sail Loft. Suggested donation at door $5 under 18 and $10 adults, proceeds to benefit San Juan Island Sailing Foundation. Featured this month ~ "Drum" , 8 months of Whitbread Round-the-world sailing chronicled by Simon Le Bon (of Duran Duran ~ great soundtack) and "Stormy Weather", 1998 race around Britain and Ireland. Most of this awesome footage was shot on board in heavy conditions, beating into stormy seas, or reaching at 20 to 25 knots. For more information, call the folks at the Loft 378-4119.
Refuse charges going up....
Just got this note from Keri at the Town, for those of us that live in town:
I'm just giving everyone a 'heads up' whether you use town refuse services or not. The rates will be increasing in April. For those of you, who haul your own, just a 'heads up' that the county is raising their rates too. For more information on rates, you are more then welcome to email me back - if you have concerns. Thanks, Keri L.Talbott, Town of Friday Harbor, Customer Service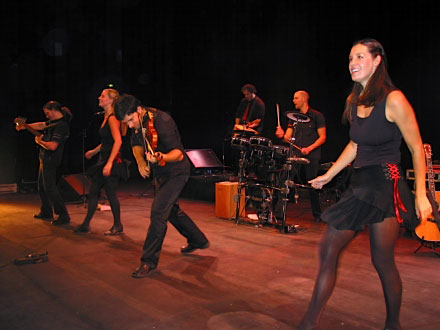 Music this Friday at the Theatre...
Jan at the San Juan Community Theatre tells me you'll want to be there (and there are free workshops by these guys):
If you have other plans on Friday, you might want to think again—you just might kick yourself if you miss this one!

Nova Scotia's Grand Dérangement brings spark-flying instruments, poetic songs and mesmerizing step dances to the Whittier Stage this Friday, March 21 at 7:30 pm.

These group of young people "defy you to sit still" as they share their unique mix of electrifying sites and sounds—fusing traditional Acadian music, rock, jazz and Cajun and Irish rhythms. This is one musical and visual show that is sure to pull us into high spirits! Check out their website at www.grandderangement.com to see just what this unique group is all about!

This is Grand Dérangement's first visit to Friday Harbor. They had a sold out debut in Orcas last year and have sold out this year's Orcas show on Saturday, prompting them to set another Orcas show for the same night.

BUT we get them here first and there are still tickets left for Friday's performance. Tickets for adults are $23, student reserved are $12 and the $5 student RUSH is available (if there's still seats) one hour before the show. The Box Office is open Tuesdays through Fridays from 11 am to 4 pm, Saturdays from 11 am to 2 pm and one hour before each performance—you can also call 378-3210 or visit www.sanjuancommunitytheatre.org.

PLUS - three of the group's members are hosting FREE workshops on Saturday from 10 am to 11 am. Vocalist and fiddler Daniel LeBlanc is holding a fiddle workshop at Isle Be Jammin' (335 Argyle Street next to Radio Shack). Call Kirk Fuhrmeister at 378-5151. Also from 10 am to 11 am, step dancers Suzanne Comeau and Danielle LeBlanc will hold a workshop on Acadian step dancing at Dance Workshop II (located next to Second Act on First Street). They'll demonstrate how this type of step dancing is different from Irish or Scottish step. Contact Merritt Olsen at 378-3211, ext. 29 to reserve a space.
April showers bring May flowers....
And this song, by Simon & Garfunkel - April Come She Will - from their second album (I added it to my second album, too - click here to hear a bit of that, if you like):
Here are the words, if you wanna sing along:
April come she will
When streams are ripe and swelled with rain
May she will stay
Resting in my arms again
June she'll change her tune
In restless walks she'll prowl the night
July she will fly
And give no warning to her flight
August die she must
The autumn winds blow chilly and cold
September I'll remember
A love once new has now grown old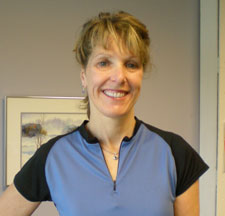 Spring into spring with Skagit Valley College....
Stella at Skagit Valley College says there are some classes this spring that will keep you fit, and now's the time to sign up for them....Diana Stepita (right) dropped by the office to let me know her Abs class is gonna be cool - three times a week in the morning - a great way to start your day! Here's more (call Skagit at 3220 for more details):
Spring Classes start the beginning of April with Fitness Through Yoga (April 2nd) with instructor, Genevieve Kenny. This class addresses the fitness aspect of Hatha yoga to help improve flexibility and strength while using relaxation and breathing techniques to teach stress management. 8-Weeks to Tighter Abs (April 2nd) with instructor, Diana Stepita, offers a balanced workout combining resistance training with yoga and Pilates-based stretching concentrating on abdominal muscles with an added bonus of reducing back pain and improving posture! Pilates (in the afternoon) brings you full circle with a method of conditioning that incorporates a system of stretching and strengthening exercises with instructor, Veronica Romey. What a wonderful way to conclude your day!
Quote
Life must be understood backwards; but... it must be lived forward.
Soren Kierkegaard
---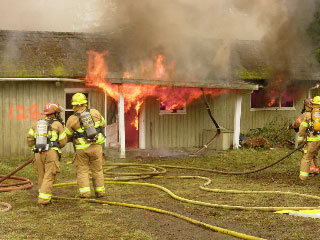 March 19, 2008
Relax...just practicing....
We have some of the best fire response folks in the nation here on the island, and one reason is the extensive on-going training the firefighters get.
Over the weekend, they burned a place over on the west side, for practice doing rescues & putting it out. Here's Brad Creesy's report on the training exercise on Yacht Haven Rd on Saturday.
San Juan Island Fire Department members from across the island took part in a live fire training exercise on Saturday at Yacht Haven Rd. Property owners Gayle and Wayne Laufer donated an older home to the Firefighters' Association for use in training.
Before lighting actual fires, the firefighters used smoke bombs to fill the house with smoke, and practiced locating possible victims and rescuing trapped firefighters. All this was done with less than six inches of visibility inside the structure.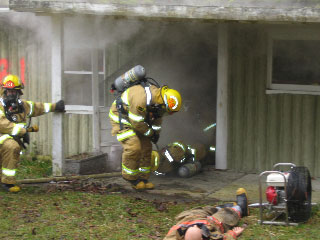 Later, fires were set in the house and firefighters responded to search the building and extinguish the fires. Then they "overhauled" the scene to locate any fire hidden in the walls or ceiling.
After a great lunch provided by the department's logistics volunteers, additional live fire evolutions took place until the house became unsafe to continue to work in.
Donated houses provide invaluable training for the department volunteers. With the fortunately low number of structure fires on the island, these trainings allow newer firefighters to gain experience not available elsewhere. With this practice and higher level of confidence, they can respond safely and effectively when a true fire emergency occurs.
The department welcomes new volunteers and will offer its annual Wildland Firefighter training during the last two weekends of June. You may contact the department for more information at 378-5334. Structural firefighting training is scheduled for the fall.
Jazz at the Library this Saturday!
This weekend it's the Tangria Jazz Trio at the Library at 5:15pm. Sheryl Mebane, percussionist & author of Ladybird, will perform and read from her jazz inspired novel. See ya there!
Quote
Bitterness is like cancer. It eats upon the host. But anger is like fire. It burns it all clean.
Maya Angelou
---
March 18, 2008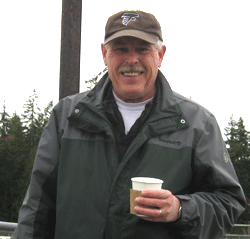 Jeff's on the beat....
Most of you remember longtime island reporter Jeff Vanderford (right). He moved from here to Whidbey Island a few years ago, and I ran into him last week at the soccer match at South Whidbey High.
He tells me he really likes that island & life there, but also says he misses folks here, and asked that I tell you all "hey!" He's working for the South Whidbey Record, so you can read some of his stories online if you like.
Movin' on....
Ran into Jim Shelton yesterday...he tells me he & Hedda King are moving to Sisters, Oregon in a couple of weeks. Hedda's a longtime fixture at Islanders Bank and served on the Town Council, while Jim's built some fine fine buildings around here. They'll be missed....
Getting better....
I just heard that FHHS student Elton Blackburn was in a bicycle accident this weekend and was med-flighted to St Joseph Hospital in Bellingham. He will be in the hospital for this week, and is expected home this weekend.....
It was a good idea - now it's the law.....
The voluntary whalewatching guidelines for boaters & whalewatch boats became law last year when the County approved a fine for folks who knowingly get within 100 yards of an orca.
Last week, the Legislature kicked that up a notch as they approved legislation that made it a crime at the state level. Looked to me like it was modeled around what we had already set in place, but it has one new part - it says you can't "leapfrog" ahead to where you think the whales are gonna swim to, cut off your engine & wait. Now you have to actively get out of their way....all this adds up to an interesting summer on the water, with needed protection for our killer whale friends in place. Here's a bit more from the Peninsula Daily News, which explains it better than I just tried to.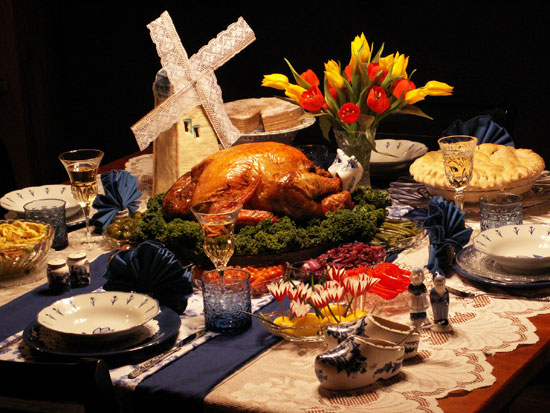 Wow - she does it again! Yvonne wins another cooking contest (above)!
It was cool enough that Yvonne Buijs-Mancuso won that pizza contest in New York last August (here's the story, with a picture of her), but now she's copped another.
Sponsored by Bon Appétit & Electrolux, the contest sought pictures of your turkey dinner, with the winner winning $25,000 worth of stainless steel kitchen appliances (here's a copy of the rules). So Yvonne put together the spread you see in the photo above, which included the description below as part of her winning entry! Way to go, Yvonne!
[Readers who watch the Food Channel too much now realize they can keep up with culinary news right here on the Update.]
"TIPTOE THROUGH THE TULIPS"

This Indonesian spice-rubbed roasted turkey is tiptoeing his way through the tulips, which perhaps is a little difficult because he is wearing Dutch porcelain clogs! Tulips are everywhere on this Dutch Rijsttaffel table; in a vase, painted on the dishes, even cut out of radishes. The gardens around his platter represent the tulip fields of the Dutch polders and to accent the Dutch theme, a windmill made out of speculatus cookie dough is the centerpiece. Even the paddles turn to add ambience.

The epitome of gastronomical indulgence in the Netherlands is the Rijsttaffel, which is the tradition of eating rice as a condiment to almost any other of the table's delicacies. The turkey is stuffed with rice, along with Gado Gado, which means vegetables accompanied with peanut and curry sauces. The serving bowls for these sauces are the Delft Blue clogs on the bottom right hand corner.

The authentic finale for the Rijsttaffel is a fourteen layer Speckkoek, the Dutch Indonesian spice cake, a delicate accompaniment to a great cup of coffee or heady liquor aperitif. For the more traditional sweet tooth, a Dutch apple pie can't be argued with served with thickened whipped cream.
Saturday it's the Animal Shelter Bowlathon....
Leslie from the Shelter says you can help:
It starts at 6:30pm at Paradise Lanes - 32 bowlers will be competing to raise money for the Friday Harbor Animal Shelter. Last year almost $9,000 was raised. Sponsors are still needed if anyone would like to help out. Call Leslie at the shelter for more information. 378-2158.
Opening at the Island Museum of Art this weekend....
Here's a note I got from the Westcott Bay Institute, about a show with a bunch of familiar names: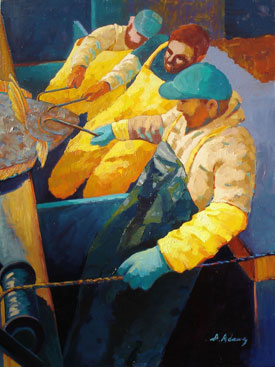 The Island Museum of Art opens its 2008 season with a group exhibition of San Juan Island Artists combining their creativity into a show entitled: WORK. The exhibition opens with a reception Friday evening, March 21st, and continues until April 30.
In the planning stages for nearly two years, the exhibition is guest curated by and includes the work of Annie Howell-Adams. It was in 2006 that Howell–Adams began a series of paintings about commercial fishermen, some from sketches down at the docks, others from her experience commercial fishing. Howell-Adams states "My fishermen are heroic, I see a lot of beauty in people working. I like to see a movement, and know exactly what that person is doing. The figure at work is a varied topic and perfectly suited to a group show." In preparation for the exhibition, Howell-Adams has also been sketching at Malcolm Tire Shop, Jensen's Shipyard, and at a local salon, In Style.
Each artist in the exhibition celebrates the theme of work by showing island traditional ways of life through a variety of media. Each artist brings the best representations of their figurative art produced over their years of being on San Juan Island. Ann Walbert created a piece about sheep shearing, Richard Barnhart painted an artist at work, Linda Degnan-Cobos has been spending time at Heritage Farm drawing and painting. Other San Juan artists exhibiting are Cynthia Church, Becky Kilpatrick, Kristy Gjesme, Chinmayo, Mary Guy McCulloch, and few surprise guests.
Annie Howell-Adams is an award-winning painter. She works outdoors around her San Juan island home at beaches, farms and special locations she has known since childhood. Annie is a keen observer of light, rooted in the 19th Century tradition of plein air oil painting. At the basis of her work, she believes in good composition and sound drawing skills. In her abstract work, she often distills ideas to their essential form. Having taught drawing, pastels and plein air painting for many years, Annie has a good understanding of assessing artists skills and suggesting ideas to achieve new levels of artistic awareness. For Annie, the biggest joy is the act of creating.
Quote
I am not bound for any public place, but for ground of my own where I have planted vines and orchard trees, and in the heat of the day climbed up into the healing shadow of the woods.
Wendell Berry
---
March 17, 2008
Help an island boy....
Margaret & Kerwin Johnson sent me this call for help about a little island-grown family...here's the details - see what you can do to help: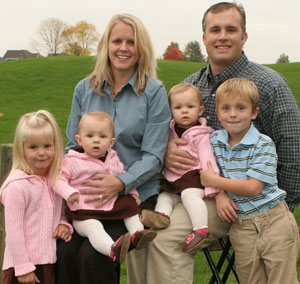 Matt Johnson, a 1992 graduate of Friday Harbor High School has been diagnosed with Myelodysplastic Syndrome. This very rare blood disease is a precursor to Acute Myelodysplastic Leukemia. Matt's only hope for cure is a stem cell transplant.
Matt and his wife Jackie, (formerly Jackie King), also a FHHS graduate, and their 4 children, Dustin (7), Tesa (4), and twin girls Taylor and Jordan (15 months), live in Lake Stevens, where Matt supports his family as an electrical contractor.
Matt's MDS is an aggressive form and it's critical that he find a match immediately.
A bone marrow drive in Matt's honor, will take place at the Presbyterian Church on Tuesday, March 18th from 11:00am to 6:00pm and Wednesday, March 19th from 10:00am to 2:30pm, and will expedite placement of potential donors, aged 18 to 61, to the National Bone Marrow Registry. The test is a simple saliva sample. The cost is $25.00 but for anyone unable to pay, the cost will be taken care of by Matt's families.
For those who live off-island and would like to know where to donate, please go to www.psbc.org. If you have any questions please call: Margaret 472-0123, or Greg 378-2151.
Your prayers for a match and cure for Matt are sincerely appreciated,
Matt, Jackie, Dustin, Tesa, Taylor and Jordyn Johnson
Kerwin, Margaret, Ben and Vanessa Johnson,
Rick and Karen King
Steve and Kelli King
Greg and Natalie King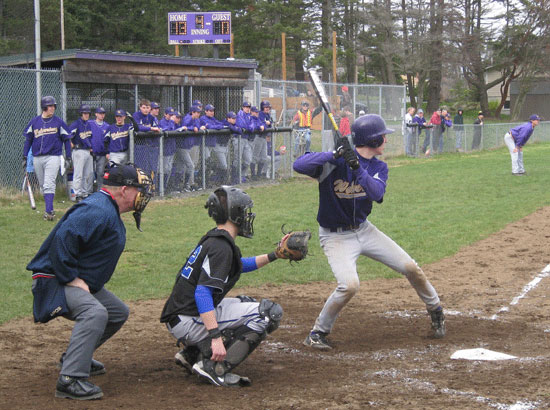 Saturday afternoon the FHHS Wolverines jumped ahead of the visiting Orcas Vikings and never looked back, sweeping the doubleheader by a combined 32-1 score. That's Albert Strasser above, one pitch away from a run-scoring double in the fourth inning of the first game, in which pitcher Richie Ochoa allowed only one hit.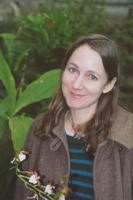 Clone yourself!
Research from Dawn Vaughn, a doctoral student in biology at the Friday Harbor Labs (right), suggests that sand dollar larvae cloned themselves when exposed to danger, within 24 hours. Here's more, from MSNBC.
New restaurant in the old one's place....
Looks like 120 Nichols has been bought by the folks who run Tucker House/Harrison House, and will re-open in early April as Coho (this is the same spot where Felicitations Bakery was till 2003) - here's more from Anna Maria's blog.
Lacrosse wins, softball rocks Orcas....
Junior attackman Isaac Taylor tells me the Dragons beat North County at their place 7-2 to get their season off to a nice start. The guys play here at FHHS at 5:30 on Wednesday for their first home game.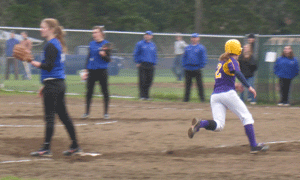 Meanwhile, the softball girls swept Orcas on Saturday afternoon in a doubleheader (that's Beth Ware scampering home after rounding third in the third inning) - they return to action at home on Friday against Nooksack Valley.
Art in the desert.....
Islander Jason Napier is showing his cool bronze sculptures at the La Quinta Arts Festival in California - here's more.
Quote
Actually, we have no problems -
we have opportunities for which we should give thanks...
An error we refuse to correct has many lives. It takes courage to face one's own shortcomings and wisdom to do something about them.
Edgar Cayce
Another take on the ads....
You've probably seen the Apple Computer ads on TV (or by clicking the Apple ad to the left....) - here's one of the ads from the same series, in the UK: