June 20, 2008 - Happy Summer Solstice!!!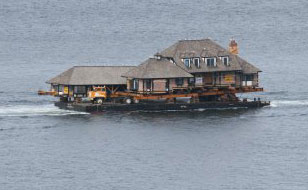 A house on the water....
When ace photographer Sandy Buckley reported to me she had taken a picture of a house on the water, I told her that was cool, way to go, but I needed some hard news for the San Juan Update, because that's what our readers demand.
So she sent me the picture at the right...it really was a house on the water - a 3300 square foot house being barged from Puget Sound up to Fanny Bay near Nanaimo, BC. Sandy wrote it up on her cool blog, and there was a story in the PI, too.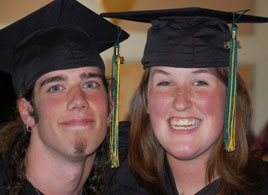 The last graduation was a blast, too....
Last Saturday, Griffin Bay High School had their graduation ceremony in the Friday Harbor Middle School Commons. Kim Norton, the director of the school, and Superintendent of Schools, Michael Soltman, spoke and presented the diplomas to the seven graduates, including Kestrel Bailey & Tyler Shubert (right). Congratulations!
Sentinal Island, still alive....
Earlier this week, I had occasion to go over to Sidney on the ferry, and the captain decided to go hug the coast of Speiden, and to go between Sentinel Island and Speiden Island.
It's the first time I had seen the island up close, although, like thousands of others, I had already seen it in dreams because of June Burn's book, Living High.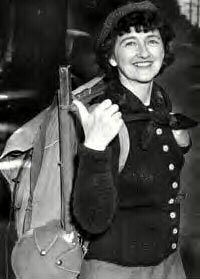 Born in Alabama in 1893, June (left) met & married Farrar Burn in 1919, and they homesteaded on Sentinel shortly after. The story of their move there & life there, and subsequent wanderings around the country, is a story of life lived fully, and dreams pursued & attained. Personally, I think it should be required reading for anyone moving here...
Living High was reprinted by Susan Eyerly at Griffin Bay Books in 1992, and there are still copies around the island...see if you can find one. There's a little writeup to give you an idea about these two remarkable folks in the Skagit River Journal - check it out.
It'll make you want to drop by Sentinel, too.
The paddlers are out & about.....
Amy Lou is keeping a blog for the canoe paddlers who are operating out of Jackson's beach - check it out to see what kinda fun they're having. They've added kid paddles, too, so you can take the kids out on the water, too.
Quote
Let the rain kiss you. Let the rain beat upon your head with silver liquid drops. Let the rain sing you a lullaby.
Langston Hughes

The classical sounds of Chamber Music San Juans warm up summer solstice!
Artistic director and clarinetist Patricia Kostek brings together some of CMSJ's favorite performers including violinist Ron Patterson and violist Roxanna Patterson with a new artist to the group: bassoonist and Grammy Award nominee, Martin Kuuskmann (right). Born in Estonia, Kuuskmann is a graduate of the Manhattan School of Music and Yale University School of Music. He now resides in Blaine, Washington, and teaches at Mannes in New York.
The Pattersons, Kostek, Kuuskmann and other special guests will perform works by Brahms and Mozart. Those in attendance at the performance of CMSJ's Vivaldi's Four Seasons last fall enthusiastically proclaimed it among the best they have heard anywhere - the summer concert should prove no different.
There will be a pre-concert lecture at 7:00 pm that will entertain as well as inform you about the evening's program.
---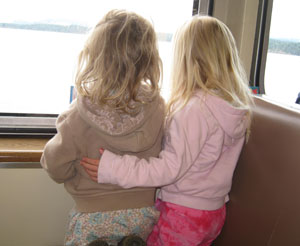 June 19, 2008
That's Jodi's and Anna's girls on the ferry yesterday (right), enjoying the view from the ferry window.
Gas prices....
With gas up to $4.80 now, it's good to be able to stay in touch - here's a web page that records local prices.
Hear ye, hear ye....
You know Stacie Baisch the hearing doc (here's more about THAT) is a little over a month away from her first baby...she and tree-guy Casey are expecting towards the end of July. Just saw her this weekend & she's got the proud mama glow - she'll be a great one.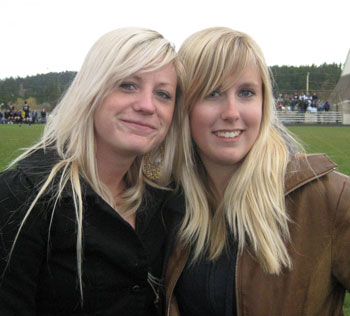 Off to Finland....
Saw Tony Fyrqvist and the family heading for Finland yesterday on the ferry - they'll be there for three weeks, with ace daughter & FHHS '08 valedictorian Kate staying for five weeks total.
Speaking of Scandinavians...
Just got a note from Anna (right, on right) and Charlotte, who have been at FHHS this past school year from Sweden & Norway - here's more:
Hey Ian,
As you might know, Charlotte and I are leaving this Monday to return to Sweden and Norway.
But before this we are planning to have a goodbye party this Saturday that is open for anyone who wants to come.
We were wondering if you could put something about this up on sanjuanupdate so that as many people as possible can come? It's this Saturday at the 4th of July Beach from 12pm to 3pm. We are providing drinks and cake. and whoever who wants to come are more than welcome!
:)

Anna Gunnarsson
Quote
Plan to be spontaneous tomorrow.
Steven Wright
---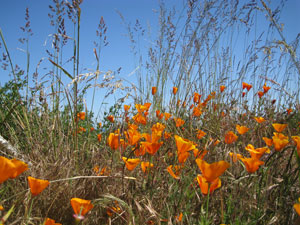 June 18, 2008
Another screen-saver for you....
My friend Hannah down in Issaquah says the only reason she reads the Update is to get the pictures you can enlarge & make 'em into screen-savers.
And all this time I thought it was the gripping prose.
So, here's another one for you - click on the poppies at the right and you'll see the big version, which is as close as I can get to to telling you how cool it is that we get to live here. Pretty, too.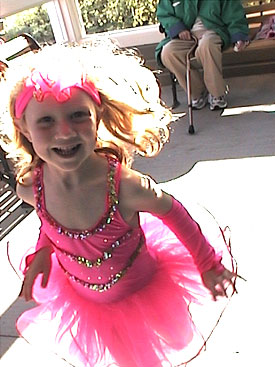 Getting ready for Dance Happy!
That's Amy Lou Harold's girl in bright pink (kinda like a Degas painting, don't you think?) getting ready for last weekend's Dance Happy show at the Community Theatre.
What Annie Adams has been doing with her painting....
It's good to keep up to date. Click here to see.
New laws for watching orcas kick into effect last week...
Soundwatch's Kari Koski sent me this note to explain how the laws (and enforcement) have changed in the wake of the killer whales getting listed as endangered. Here's more, so you'll be more careful:
Keeping with the theme, it is appropriate that the new Washington State Vessel Laws become effective tomorrow, June 12, 2008. Soundwatch has been working closely with the Washington Department of Fish and Wildlife Enforcement Office and the Washington Parks and Recreation Commission to create and distribute educational materials to inform boaters on the new laws for Southern Resident Orcas. Hot off the press are posters and brochures outlining the state laws as well as an overview of the Endangered Listing Status and State and Federal Laws in the latest edition of the Washington State Parks Adventures in Boating Handbook. Help us spread the news by getting the word out to your family and friends, as well as local marine business and boating groups. I am sending along PDF versions of the posters and brochures that are ready to send, print or post. Here are the new responsibilities for all boaters in Washington State Waters:

GET OFF MY TAIL!
IT'S THE LAW.
In Washington State, it is unlawful to*:
APPROACH within 100 yards of a killer whale.
INTERCEPT a killer whale by placing a vessel or allowing a vessel or other object to remain in the path and within 100 yards of a killer whale.
FAIL TO IMMEDIATELY DISENGAGE a vessel's transmission within 100 yards of a killer whale.
HARASS any marine mammal.
*Some exemptions apply.
See Wildlife Viewing at WWW.WDFW.WA.GOV for more information
Boaters are encouraged to follow the Be Whale Wise Guidelines for Marine Wildlife
Thanks for Being Whale Wise and spreading the word-
Kari Koski and the Soundwatch Crew!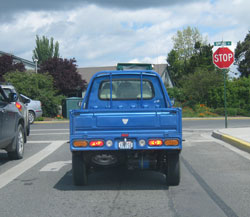 Sign of the future....
It was great to see Brad Pillow in his electric blue truck (It's electric - the way it runs - not electric blue colored....) turning onto Spring Street off of Mullis.
There are increasing numbers of electric & alter-modal vehicles around these days, as well as bikes & folks walking.
It's just good sense, isn't it?
Quote
The older I grow the more I distrust the familiar doctrine that age brings wisdom.
H.L. Mencken
---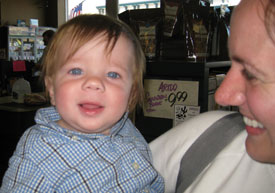 June 17, 2008
That's Baby Miles with proud mama Melissa Posenjak (and papa Jared) at King's a few days ago - he's nearly 11 months old already!

Joining up......
Earlier this month I had heard that it was happening: The folks at Re/Max were merging with Friday Harbor Realty at the end of this month. Sybil Mager (left) posted her remarks about the merger on Active Rain a couple of days ago - here's what she says.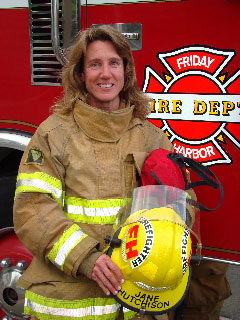 Firefighter of the Month - it's Jane!
The Fire Department has named Jane Hutchison (right) as Firefighter of the month - Jane worked in the legal field for over twenty years and now works at San Juan Fitness.
She is one of the fittest people on the island, regularly appearing in marathons & ironman contests, and is also one of the nicest people you'll ever meet. Here's more about Jane.
Dunkin' at Sunken waxed....
Abby at Island Rec says they didn't have enough people sign up this year....
Where & when to run....
It's time to get your running routine going here on the island, which means you need to check out Clark Gilbert's blog (he knows things you don't) where he lists some opportunities & ideas for you. Check it here, dude or goddess, whichever you are.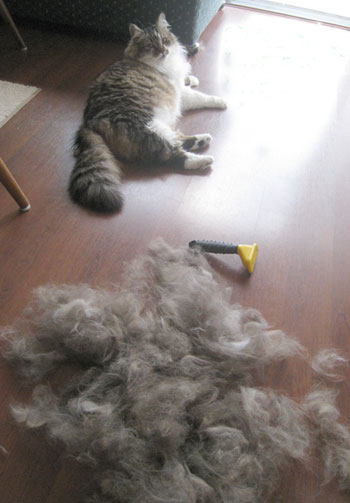 Josie's cat is available if you want to knit a a sweater.....
So, she got a thing called a "furminator" for brushing Stripes, her hairball of a cat, and wow, did he deliver the goods!
As you can see, there's no need to raise sheep when you get one of these, and a cat with fur as 90% of his body weight.
When eagles fight....
Did you see Mary & Lou's pictures of eagles on their blog? Here ya go.
Ferry schedule changes this weekend...
The summer schedule for the ferries kicks in this weekend, so check thelink at the top of this page (where it says "ferry schedule" for your convenience). Also, the ferry people wrote & asked me to tell you all this:
For the first two weeks of summer schedule, vehicle capacity on the San Juan Islands routes will be less than it normally is at this time of year. Due to WSDOT's ongoing vessel maintenance efforts, a larger vessel will not be available to serve the Anacortes/San Juan Islands route from the beginning of summer schedule until July 7.
Maintenance that was started in March on the 202-car Wenatchee is scheduled to be completed by July 7. This will result in a cascade effect of vessel moves that send the144-car Kaleetan back to the San Juan Islands, returning the route's overall vehicle capacity to regular summer levels. More details are available at www.wsdot.wa.gov/ferries/service.
During the first two weeks of summer schedule, travelers to the San Juan Islands are encouraged to arrive early for their desired sailings, especially over the Fourth of July weekend.
Dancing this weekend...
My friend Shannon says you have two chances for dances, on Friday & Saturday:
Patrick will be teaching SALSA this Friday night at 8pm at the Dance Workshop II. Stop in for his fun and high-energy session to lively salsa music. Music for general dancing after the lesson at about 9pm. We'll be glad to review steps with you then.
Saturday June 21st with live music by the Old Contra Dance Band with Mike Cohen calling the dances. At the Friday Harbor Grange, 7:30 to 10:30pm. Your $7.50 donation benefits the Agricultural Resources Committee. Refreshments provided too.
No experience needed to have a great time. Contra dancing is kinda like square dancing. The caller teaches a dance pattern, then the band fires up while everyone dances to the music and the caller's melodious instruction.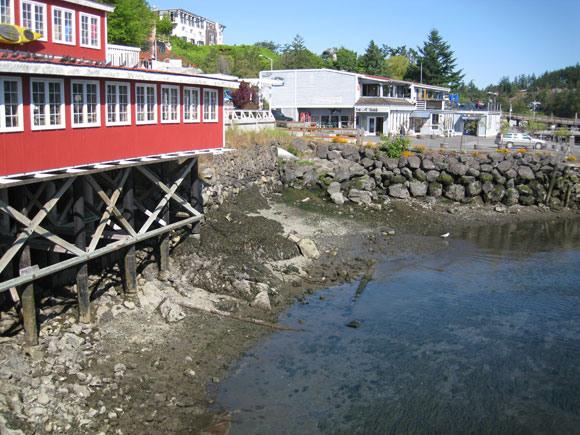 Yes, the tide's been kinda low, lately. This was taken Sunday morning, around 9:30am.
Happy together....
Today's song is from 1967 - here's archival footage of the Turtles with "Happy Together"...easy to dance to, just for you.
---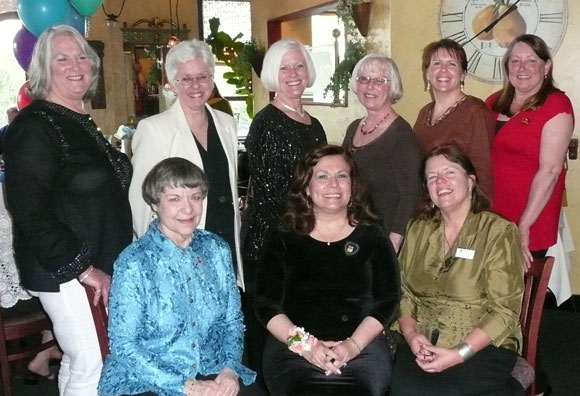 The Soroptimists of Friday Harbor have had a productive 2007-2008 year! They installed their new officers on June 8 at a private party at Vinnie's Restaurant. Pictured from left to right seated are: Outgoing President Ellen Roberts, incoming President Debbi Staehlin and Board members. Seated is Nancy DeVaux and standing left to right Patty Brightman, Marty Huleatte, Carol Capps, Shelley Alan, Sharon Pigman and Phyllis Davis. The club membership began the year with 65 members in July 2007, ended with 88 members in June 2008. To become a member or for more information, please visit www.sifri.org
Quote
I think God's going to come down and pull civilization over for speeding.
Steven Wright
---
June 15-16, 2008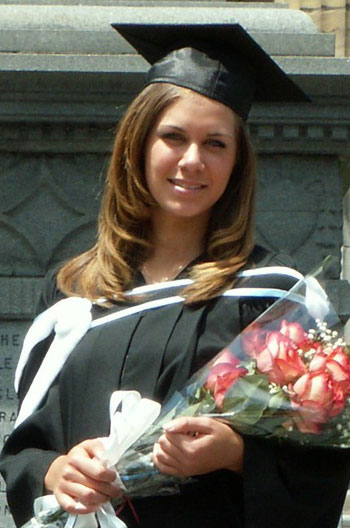 Bob & Yvonne write in: On May 30, Ayanna Mancuso (right) was presented with a Bachelor of Arts degree, with minors in Spanish and Communications. The Convocation ceremony took place at the McGill University campus in Montreal, Canada. She is now employed by C3 Events as the Marketing Coordinator and will reside in Montreal.
Gas rises....
Did you see that the cheap gas at the Big Store was $4.80 yesterday?
Friday is the day....
Tucker the Office Dog just reminded me....Friday is Take Your Dog To Work Day.
That is, unless you're already there, like Tucker. Then I guess it's play with your dog at work day, or something.
Still looking for the last bit....
Purple & Gold received more money last week, but Kim Blake tells me we still need $9900 to re-instate the rest of the sports that got cut....she says: "Please let people know that they can drop a check off to me at the bank (Whidbey) or at the High School where we have a mail box."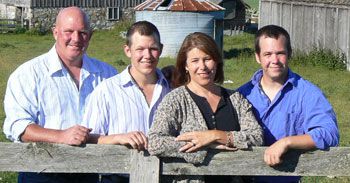 Lisa throws her hat in the ring, too....
Yesterday, I mentioned that Dan Miller, Lovel Pratt, and Gordy Petersen are running for County Council - the fourth person in that four-way race is Lisa Guard (that's her with Rex (left) & Brandon & Blake)...here's her press release about why she's running & to tell you a bit more about her (click here.)
About those paper bags...
It's time to ditch the paper bags & use re-usable bags when you get your groceries at King's and the Marketplace. Here's the story from my good friend Gerald "Bear" Gentemann, reporting from Japan:
Paper Bags Versus Plastic Bags: With the Global Earth Summit coming to Miyazaki, Japan in September I guess I am more aware these days of ecological issues.

True of False: America's paper bag consumption uses 14 million trees a year. The answer is: True
According to the Sierra Club and other environmental think-tanks, paper bags are just as harmful to the environment when you look at the overall impact behind their production and consumption - where the source material comes from, how energy-intensive they are to make; and how difficult they are to recycle or reuse.
One of the paper bag's more obvious impacts is deforestation. While America's consumption of plastic bags uses up 12 million barrels of oil a year, its consumption of paper bags fells 14 million trees a year.
It has even been suggested that paper bags cause more global warming than plastic bags, simply because they take up more space so need extra transportation, using up energy.
Others have said the reverse, that because of the energy used in the production process, plastic bags still remain the greatest scourge on the environment of the two.
Out at Lime Kiln....
Erin checks in:
Hey, Ian! The Interpretive Center is open daily thru Sunday, September 14th. Hours will be 11am to 6pm daily. we also have Light House Tours: Thursday and Saturday evenings from 7pm till sunset thru Labor Day.

Low Tide Discovery Walks: Thesea re on Tuesdays & Fridays, scattered through the summer - see the Community Calendar for times.
This is all FREE programming!! Dress for weather and bring drinking water! All schedules are "whale dependant".... If there are whales in the area, we will stop, drop and watch!!! ;0)

Also, if there are groups of six or more, I will do private tours of the Park. Please call Erin in advance @ (360)378-2044 (ext #4). Come join the fun!!

We are always looking for volunteers for various tasks and educational outreach. All levels are welcome, training is available! Thanks!

Cheers, Erin Corra
Parks Interpretive Specialist
Quote
Sponges grow in the ocean. That just kills me. I wonder how much deeper the ocean would be if that didn't happen.
Steven Wright

---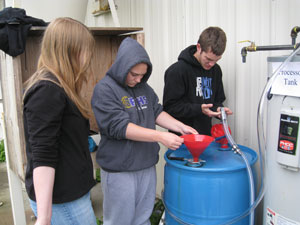 June 13, 2008
FHHS science teacher Nick Frazee's students (right) have been making biodiesel fuel this week...need some gas?
The kids' last day of school is today as summer vacation begins - that's what all the whooping & hollering in town is about.
Lacrosse oldtimers - come on by!
Rob Cuomo (317-7639) tells me there will be an alumni game for lacrosse players at the high school on Saturday at one - anyone can play, so bring your stick & come on down! There will be a bbq afterwards - high school & middle school players welcome.
Candidates get the ball rolling.....

In the County Council race to replace Kevin Ranker (he represents the south end of our island), there are four candidates - Daniel Miller, Lisa Guard, Lovel Pratt, and Gordy Petersen. I heard from Lovel (left) the other day (here is her press release announcing her candidacy), and Gordy (right) just launched his website (http://gordyforcouncil.com) for his campaign. I'll post more as I hear it...
This campaign this year has its primary the Tuesday after the Fair in August, with two left standing for the November election. It's cool to have a good pool of talented folks to pick from!
Lacrosse oldtimers - come on by!
Rob Cuomo (317-7639) tells me there will be an alumni game for lacrosse players at the high school on Saturday at one - anyone can play, so bring your stick & come on down! There will be a bbq afterwards - high school & middle school players welcome.
Rande's show opens next week....
Arctic Raven Gallery presents Rande Cook's "Transcending Form" exhibit, which opens Saturday, June 21 and continues through July 27. This engaging young artist along with tribal artists Calvin Hunt, John Livingston and Mervyn Child, will be at the show's Artist Reception from 5:30 – 8:00 PM on the 21st. Please join us for this celebration. "Transcending Form" spotlights the richness and diversity Kwaguilth artist Rande Cook's contemporary vision. In this, his first solo exhibit, Cook transcends traditional Native formline design, arriving at a place both ancient and innovative. Monumental works in cedar and glass, abstract panels, paintings, serigraphs, bentwood boxes, paddles, drums and rattles showcase Cook's infallible graphic design sense.The Gallery is located at 130 First Street South, Friday Harbor, WA 98250 / 360-378-3433 / www.arcticravengallery.com
Quote
If you don't like something, change it. If you can't change it, change your attitude. Don't complain.
Maya Angelou