Midfielder Kevin O'Conner (right) controls the ball in front of the goal in last night's win. (Click for larger picture)
April 23, 2008
Wolverines rise to top spot in state baseball poll.....
Even though the state poll (click here) has the guys ranked #1, Coach Rich Warin told me yesterday he doesn't put much stock in such things....with the playoffs coming along in a couple of weeks, the team (now 14-0) will have a chance to show then that they deserve the attention they've been getting.
Their game at Orcas was forfeited by the Vikings yesterday; they play away today & Thursday before returning home on Saturday at noon to play LaConner. The playoffs begin on Saturday the third in Blaine.
The softball Wolverines, meanwhile, play Evergreen Christian today down there before taking a week and a half off, returning to play Anacortes here on the 2nd of May.
The Lawrences hit the road....
After living here for nearly ten years, Pat Lawrence came by to tell me she & Ken are leaving early next week to move to Mill Creek. Pat (right) spent five years as the owner of Island Studios, which has become a center for over a hundred artists to be able to sell their work. Her volunteering & help at the Animal Shelter & can-do attitude will be missed here on the island.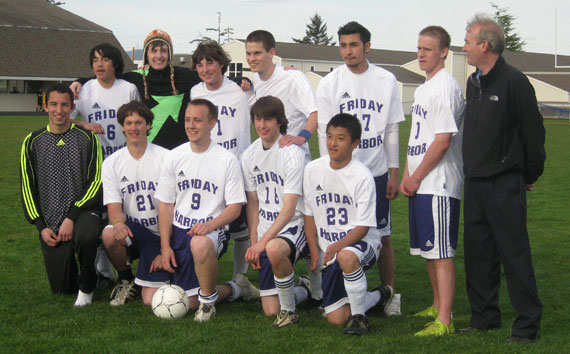 The seniors on the soccer squad get together after their last home game yesterday, which they won 1-0 over Nooksack Valley. Front row: Gus (keeper), Kyle, Louis, Shay, Daniel; back row: Stephen, Avery (keeper), Kevin, Josh, Miguel, Erik, and coach Andy.
Soccer team wins last home game Tuesday night....
About eleven minuntes into the second half, Erik Nash crossed the ball from the far left corner to Miguel Medina at the far post for the squad's prettiest goal this season, giving the Wolverines a 1-0 victory over the Nooksack Valley Pioneers. The win puts the Wolverines into a play-in game next Wednesday at Coupeville.
Quote
Can miles truly separate you from friends... If you want to be with someone you love, aren't you already there?
Richard Bach
---
April 22, 2008
Where there are princesses, love, truth & beauty follow....
On Earth Day last weekend, the Birmingham News carried an op-ed piece written by my famous environmentalist brother in Alabama. The dozen or so folks I had e-mailed this to all said I should consider sharing it with you, so here it is.
And yes, Whitney really is a princess. And yes, she got the Canadian coin when she visited here.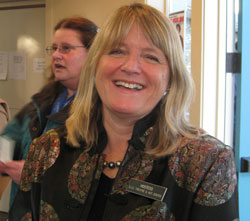 Lynn's up & running....
Lynn Danaher (right) tells me she already has 5 of 7 suites rented at her new spot at Argyle Suites (over on Argyle, just across from Malcolm Street)...they're open for inspection, so drop by and see what a cool renovation job she's done - looks great!
New album - it's a release party!
Jan at the Community Theatre has more:
You're invited to a special CD Release Party for the island's own Teddy Deane and Jonathan Piff: The Play-Rite Boys.

The party is coming up NEXT Saturday, April 26 from 7:30 p.m. to 9:30 p.m. inside the Gubelman Theatre. Teddy and Jonathan will be playing tunes from their newest CD, So Far So Good. Released on the "Red Newt" label, it's a collection of 13 original songs by Teddy, orchestrated and co-produced in Portland, Oregon, by Teddy and Jim Brunberg.

The party also features local musicians Debbie Nash Strasser, Cecil DeMeerleer and Jerry Rongo, joining them for lots of singing and playing together. Specific island songs included in the concert only: "Wolf Hollow Jamboree", "I Saw Her Cheatin' on the Kaleetan" (which includes the name of each and every Washington State Ferry) and the haunting refrains of "San Juan Island Girls," now an island sing-along standard.

A $7 donation is requested at the door (seating is limited).
---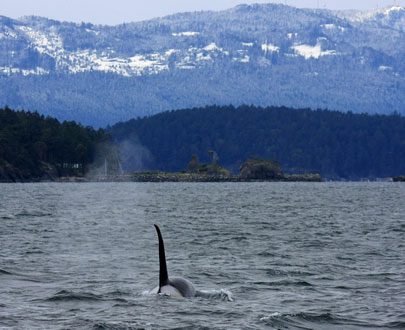 April 21, 2008
What a weird weather weekend....
Wasn't that something - the cold is so strange for this month, then the snow. I got to work my way up Vancouver Island, which was hit pretty heavily early Saturday, and was amazed to see the Malahat looking like a winter wonderland.
Closer to home, Western Prince's Ivan shot the picture at right when he was out on Saturday, saying he hadn't been out with the snow AND the whales before.
Makes for a cool day...here's more on his blog, on a day of the unexpected.
Jody is moving on....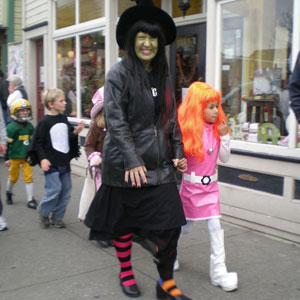 It'll be strange to start next school year without my old friend Jody Metzger at the elementary school...after 27 years here, she's accepted a position in the Kent School District for next year.
It feels like she's done it all here - music teacher, classroom teacher, Halloween parade witch (sorry, it's the only pic I have of her, but as you'd guess, she's with the kids) and since 2004, the Friday Harbor Elementary School principal.
When I saw her yesterday, she has nothing but great things to say about the island she's served so well...I'm pretty sure my kids got the beginnings of their love for music from her work when they were in third grade, and she's kept FHES on an even keel in her time at the helm. She'll be much missed, and her hard & thoughtful & energetic work at school much appreciated.
Soccer withdrawal pains....coming up...

At FHHS, the Wolverines haven't played a match since the first week of the season, but this week we're back in action, with the last home game of the season on Tuesday at 4:30pm (see you there!).
That's followed by a couple of away games on Thursday & Saturday, then a "play-in" game on Wednesday next week, with opponent & all that to be announced. I'll keep ya posted.
School district faces deep cuts....
Last week, the San Juan School District began to let folks what we'd feared: our island faces massive cuts in our budget next year, with the projection that about $820K has to be trimmed (I take it back - "hacked" is closer to it).
Where to start? There will be a series of meetings this week and next to begin the process, which begins with talking to folks. Michael Soltman sent me this letter (take the time to read it, please click here), and asked that I invite you to the meetings below to listen, and come to tell what you think & feel:
The Board of Directors of the San Juan Island School District will be attending the following public meetings to discuss budget planning for the 2008-09 school year. Board members will attend and listen to information presented and comments; however, no formal action will be taken by the board. Three meetings are planned:
Faculty and Staff Meeting – Monday, April 21, 2008, 3:15 p.m., Middle School Commons
- Agenda: Presentation of state-wide education funding issues & effect on SJISD
Community Meeting – Wednesday, April 23, 2008, 6:30 – 8:00 p.m., High School Commons
- Agenda: Presentation of state-wide education funding issues & effect on SJISD
Community Meeting – Thursday, May 1, 2008, 6:30 – 8:00 p.m., High School Commons
- Agenda: Consideration/Discussion of possible program/staffing cuts for 2008-09
A song for you....
I'm in the mood if you are - I'll sing Harry Chapin's "Circles" for you, right now. All you gotta do is click here. (This is from my album Love You on the Run; here's a video of Harry & Tom singing it, just months before Harry died in 1981.)
From the song: "No straight lines make up my life - all my roads have bends; No clear cut beginnings, and so far no dead ends...."
As the sickness kinda spreads....
Ran into a friend on the street & asked him how he was....said he's always been a Luddite, but has had the crud for the last month, so now he's a Cruddite.
Another You....
This is one of my favourite songs, from an Australian group in the '60's called the Seekers - see what you think: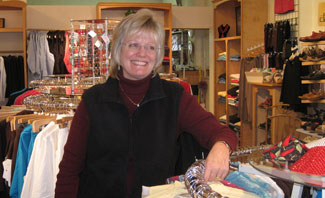 Back in action....
After a winter of painting & re-arranging & changing, she's back open - Christine Mays (right) opened on the first at COTTON - COTTON - COTTON, her store down next to Bella Luna. She has new lines, a new paint job by husband Jim, and some pretty cool stuff.
Drop by & check out her new look!
First rhubarb
Margaret Thorsen says she'll have rhubarb at the Farmers' Market - here's her blog, from her farm.
More Aikido....
Bill Carli dropped me a note that classes are gearing up:
Hey, Ian! I want to let you know that Island Aikido is starting again after taking the winter off. Aikido is a form of martial arts but mixed with an almost zen like attitude of non-violence (yes it's true). It is a wonderful physical and mental work-out. The classes are being taught by Charles McCarty who has over thirty years experience in Aikido. Once again I am amazed that such talent is available on our island. If anybody wants more information, please call Charles at 370-5444. - Bill Carli
Snow flowers....
I love this picture of flowers in the snow - check it out on Laura Lynn Hanks' blog. It rocks.
Back in the day....
In the Mother Earth News, there's a report about how Christian & Lea from Olympic Lights B & B moved here, back in 1988. What's cool is that the article is from 1988 - here, check it out.
Moving....
Teri Gentry tells me she's moved her skin care services to 470A Argyle Street (in the Carter House)....drop by to see her & see her new digs. Here's her brochure, so you'll get an idea what she's up to....
What the future holds....
We're at a crossroads with the health of the Puget Sound biosphere, as far as I can tell.
Take a moment to read William Dietrich's thoughtful observations about what we have going on (both the mess and the good news), and what lies ahead.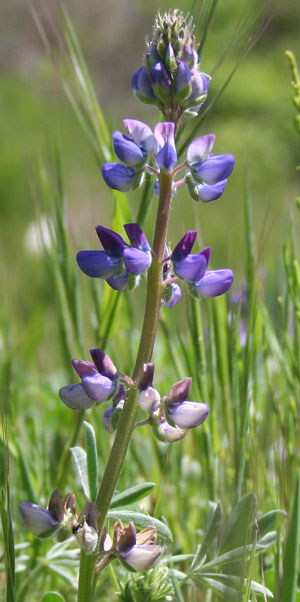 Saving the prairie...
Mike Vouri says this is one to put on your calendar (including the lupine at right):
San Juan Island National Historical Park's chief of resources management, Chris Davis, will explain the park's long-range program to restore American Camp's prairie in a guided walk scheduled 1 p.m., Saturday, April 26.
The free program meets at the American Camp visitor center, 4668 Cattle Point Road. Parking is available in the center parking area and the Redoubt turn-around. Call the visitor center at 378-2902 for special access information.
Davis will explore the natural history of the prairie and explain the park's plans for maintaining (and some cases restoring) cultural and natural features of the landscape. In a region well known for its abundant rainfall, lush forests and moderate maritime climate, American Camp's prairie is a throwback to a bygone era when prairies were common in the Puget Sound and the Northern Straits regions. Formed by retreating glaciers and influenced by climate, these pristine ecosystems were maintained by native peoples who periodically burned to enhance the growth of edible plants.
Fewer than 20 such prairies are left today, according to Superintendent Peter Dederich. The change began in the mid-19th century when Europeans brought grazing animals, domestic and other non-native plants, which dramatically altered and impacted the prairie ecosystem by squeezing out native prairie plants. On San Juan Island it was Hudson's Bay Company, which founded Belle Vue Sheep Farm site (near present-day Grandma's Cove) in December 1853. As human settlement and development continue to claim open spaces, remnant prairies such as American Camp's have become increasingly rare and valuable.
The park's goals are to maintain the cultural landscape (including features from 1859-1872), and to manage for native species and natural processes where that is compatible with cultural resources protection, Dederich said.
During the walk Davis will identify native species that remain such as raptors, butterflies, vertebrates and edible plants such as camas, which appears each spring and offers a peek at a cultural landscape that has been utilized by people for more than 2,500 years. He also will conduct visitors through a four-acre site, where over the last five years the park, with assistance of community and several environmental volunteer organizations, has been planting native seedlings cultivated from seeds gathered on the prairie.
Need a truck - got one?
This weekend's final weekend of Talley's Folley (which, by the way is brilliant - don't miss it!) is not all that Island is Stage Left has going on....they need a dump truck. I told Helen I'd share that with you - here's more:
Ian,
Thank you! Yes, it would be fabulous if you'd run something about the dump truck for us.
We leave for England in two weeks for my niece's wedding and we've got to finish the stage with the fill dirt and get the building inspector scheduled before we leave, as the day we after we return, we start rehearsals on the stage - so we're against a tight timeline too.
We have someone who will load the truck with a tractor, an excavator to move the dirt into place, someone to donate at least most of the soil and volunteers to do the finish stuff, but we still need the dump truck to transport it and, of course, dump it!
The stage has to be less than 30" from the ground otherwise the Building Dept. will make us put railings on it - which of course we can't have! So we're moving the mountain to Mohammed and building up the level of the surrounding soil. People can call Helen or Dan at 5649 or email us at stageleft@centurytel.net
Quote
Oh if a man tried
To take his time on Earth
And prove before he died
What one man's life could be worth
I wonder what would happen
to this world
from Harry Chapin's gravestone
---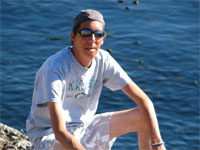 April 18, 2008
Bill Chevalier passes away....
Yesterday morning our old friend Billy passed away...here's the story from the family. The memorial service is tomorrow at the Presbyterian Church at 1pm:
William "Billy" Robert Chevalier (June 29, 1964 – April 17, 2008)
Billy passed away peacefully in the early morning of April 17th. Billy was diagnosed with terminal lung and brain cancer in November of 2006. After his lengthy battle with cancer, he is at rest.
Billy was raised in Friday Harbor and graduated from Friday Harbor High School in 1982. In his early years he was known for his working at Entertainment Tonight. He later became famous for his cinnamon rolls and award winning beer bread during his baking career at the Front Street Café. (At right - that's him at the Relay for Life last July).
He is survived by his two daughters, Natalie and Katherine Chevalier, of Friday Harbor, his brother, Bernhardt Jr. and his wife Misty, with their children Mark, Andrew, Jazzmyn, and Logan all of Lynnwood, his uncle Charlie Chevalier of Friday Harbor and his Uncle Edward Chevalier of Seattle. Billy will also be left in the hearts of many other family members and friends.
Billy is preceded in death by his mother, Wanda "Sue" Chevalier, father, Bernhardt Chevalier Sr., Grandparents William and Connie Marlow, Grandparents Alfred and Adeline Chevalier.
Farmers Market - it's this weekend!
Market maven Margaret Thorsen wrote to tell me it all begins this weekend for the season - the first weekly Farmers Market of the 2008 season begins this coming Saturday at the courthouse parking lot, from 10:00 to 1:00. Here's more about the market.
Clean 'em up, Earth Day celebraters.....
Jana from the Friends of the San Juans has more:
Come one, come all and help clean up Beaches in San Juan County! On Sunday, April 20th from 12-2pm. Meet at South Beach at the South Beach parking lot. Clean the beach, collect trash data, and help National Parks Week get off to a great start. For more information, contact Jana at 378-2319, jana@sanjuans.org.
Quote
All we have to decide is what to do with the time that is given to us.
Gandalf, from J.R.R. Tolkien

---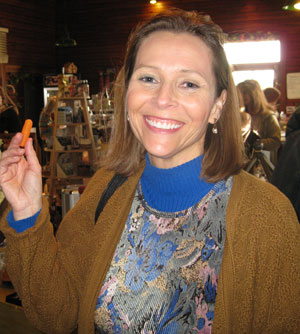 April 17, 2008
The show is on track....
It's hard not to hear good things about The Music Man, currently in rehearsal heading for its preview weekend on the 3rd...everyone I've run into that's in it tells me they're having a great time getting ready. I loved how Bye Bye Birdie turned out when Merritt Olsen directed it, and I'm guessing he's the glue that's holding this one together & making it fun...he makes good shows.
I ran into Roberta Leed (right), one of the great singers AND actresses of the island, the other day....she's playing Marian opposite Ken Serratt's Music Man. She says it's gonna be a fun show & made me promise not to miss it. See ya there!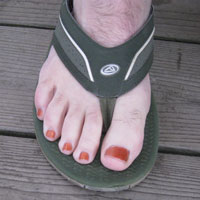 Clark's Toes.....
Those are the studly toes of ace runner Clark Gilbert, when he was pouring wine at a hoorah the other night at San Juan Vineyards. Serious feet on a serious runner.
She's back!
Sally Browne tells me she's back in action downtown:
GRAND REOPENING of Friday Harbor Souvenir Company, across the street from Kings Market, behind Island Wools, next to the Chamber of Commerce.
Please join Sally and Scooby in celebrating their opening for the new 2008 season. On Tuesday, April 15 from 6pm to 7:30pm.
Find out what memorabilia I have to offer your family and friends when they come visit you. Hours will be 9:30 to 5:30, 7 days a week, with dog walking breaks 2-3 times a day (times will vary).
This summer I will try something new. There will be an "Ugly Pet" contest weekly/monthly. Bring a picture of your pet and vote for your favorite picture. Prizes will be given.
Internet stations are set up inside the store for those who require connection with the outside world and did not bring their computers, printer is not connected to these computers. I offer fast connection in a friendly environment.
Lots of fun. Classical music playing in the background. I happily answer questions about our island. I can print off boarding passes for those leaving our island. Scooby is available for that "doggy fix". Always a smile.
See you soon! Sally
You can call me Al.....
Chevy Chase and Paul Simon knock it down. And yes, it's OK to dance to this.
Everybody else does. :)
---
April 16, 2008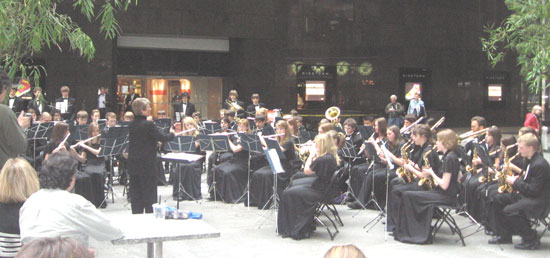 Janet Olsen conducts the FHHS Band as they played in New York's
Trump Tower Atrium last week (photo by Kelly Snow)
FHHS Band returns form New York, Bermuda...

Ace Band Mom Kelly Snow reports that the kids and chaperones had a great time (click on the picture to see a larger version, and to see all the faces of everyone you know!):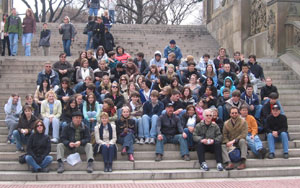 Hi Ian --
Here's a couple photos from the Band Trip 2008 -- we just returned Fri. night, and I've almost recovered! These are just a tiny sample of our great time in NY -- that's all of us in Central Park (right), and the kids performing in the Trump Tower atrium. We'll all remember squeezing onto the subway, starting the wave at Yankee Stadium, exhaustion at the fabulous Lion King on Broadway, the lights of Time Square, amazing art at the Met, the line at the Empire State Building, a workshop with Tim Stella, the Musical Director of Phantom of the Opera, and so much more!
On the cruise to Bermuda we had 18-foot seas, lots of dramamine, fun ship activities, tons of food, good times swimming and hottubbing, shopping, and karaoke-ing!
Thanks to all the parents, teachers, chaperones, local businesses, etc. who helped put this trip together!
Kelly Snow

Love & Logic - it's time for you to sign up!

Nan's class starts on the 29th (click that day on the San Juan Community Calendar for details)...this one is aimed at parents with kids up to six years old...click here for the details & registration form. It's a fun class that will make living with your kid more fun.
Speaking of kids six & under....
Marty at FHES says it's time to sign up:
Friday Harbor Elementary School welcomes the Kindergarten class of 2007-2008! Registration for next year's Kindergarten class will be held on Monday and Tuesday, April 21 and 22 in the school office. Parents who wish to enroll their children for the 2008-09 Kindergarten session should call the school to set up an appointment. To be eligible, students must be five years of age by August 31, 2008. Please call the elementary school at 378-5209 to make an appointment.
Please bring your child's birth certificate and immunization records. If needed, birth certificates may be obtained at the San Juan County Health Department. The Health Department will offer health screenings for Kindergartners later in the spring. Their number is 378-4474.
Special show at the BPT....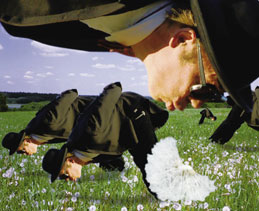 Sally Browne reports: It is with great pleasure we announce a last minute performance by Hacki Ginda, Berlin's comedian extraordinaire. He will entertain us with his beautiful clowning at the Benefit Players Theater, corner of Tucker Avenue and Guard Street on Thursday, April 17, 2008. Doors open at 6:30pm with the show beginning at 7pm. Limited seating so come early. (see the San Juan Calendar for more info - click on the 17th)
We're number two! Wahoo!
The Seattle Times prep poll has our baseball guys at #2 in the state - the Wolverines (12-0, after last night's trimming of Concrete) have been playing like they're on fire, getting hits when they need 'em, and good, solid unhittable pitching.
Meanwhile, the softball girls come back....
Last night the softball girls were behind 13-0, only to close to 16-12 as time ran out. It was a home game that kept the fans from heading for the exits after the girls scored 8 in the fifth to show they never stop playing. Super job by a fired up team, which reflects well both on the spirit of the girls (including Margaret Nash, right) and the solid coaching job by Kevin Carlton.
Firewise continues to grow on San Juan Island....
Ron Garner for the Fire Department reports:
Two Communities Join Firewise USA: Misty Isle and Westside Story communities are now members of the Firewise USA program that helps area residents protect themselves from wild fire.
Homeowners work together to reduce the fuel load, keep roads open, and do the small things to bring the odds into their favor. Simple things like cleaning the gutters, not only in October but also in June, prevent burning embers from falling into the dried needles that lay inside. These falling embers could catch the house on fire.
The Firewise concept is a voluntary nation wide program supported by the San Juan Island Fire Department. The Department gives their expertise freely to the neighborhoods so they can prepare their homes before a wild fire comes to their area.
The most dangerous time during a wild fire is when it is sending up fiery embers that can travel well over a mile threatening multiple areas. If homeowners have reduced the fuel load, being especially careful to remove latter fuels, the small bushes that grow into the lower levels of tall trees, their homes have a much better chance of surviving a wild fire.
To join the 14 Firewise Communities that are located on San Juan Island call the fire department at 378-5334.
(To the right: That's Susan Sickle of Westside Story receiving their Firewise plaque. Photo by Ron Garner.)
---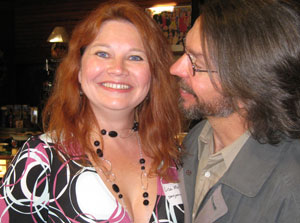 April 15, 2008
TV on the web, coming to the island....
Last night I ran into Lisa Mollica and Darren O'Brien (right), who are making plans to draw on their marketing background and start an internet-based TV presence to showcase the San Juan Islands. They told me they would let me know when they get it all started - to find out more, call Lisa at 378-6063.
Have you been by the Coho?
The Coho Restaurant opened last weekend, and I'm hearing good things about it - check out their website at http://cohorestaurant.com/ and you'll get the idea - Anna Maria is a great cook, so I'd bet on this one being a great one.
Watson bailed out, in Canada....
Sea Shepherd founder Paul Watson (right, at Mi Casita here last year)'s boat was impounded over the weekend in eastern Canada....
Captain Watson said their mission was to document evidence of cruelty by sealers to support a European initiative to ban seal products, and that his boat was illegally seized; Canadian authorities saw it otherwise, calling Paul a "terrorist," and more.
Here's the CBC story, and here's the Sea Shepherd side of things. Meanwhile, author Farley Mowat helped bail the skipper & his mate out of the pokey, with Watson paying with toonies while describing the government's action as a "pirate" action. Here's more about that.
Kevin's running for the State Senate.....
When Kevin Ranker (right, on the ferry a couple of years ago) announced earlier this year he wouldn't run for re-election to the County Council, he didn't say he wasn't gonna run at ALL...he's announced that he's going after retiring Harriet Spanel's seat in this year's Democartic primary. Here's the story from the Ocean Beaches Waves web site....
Chess club gets going....

My friend Roz dropped me a note to let us know about this new club:
San Juan Island Chess Club: Beginning Saturday, April 26, 2008, the newly-formed San Juan Island Chess Club will meet weekly to play chess--Saturdays, 2pm at the San Juan Island Library. Set up: 2pm, Take down: 4:45pm. Times are valid at least until the June 21 ferry schedule. Please bring any size chess set. Under one hour games are encouraged. Future tournaments. Novices of all ages are welcome - must know how each piece moves. There is no charge for this casual, contemplative afternoon. Come as you are. Contact Roz Casad (roz@rockisland.com) for more information!
Did you....
...do your taxes? Yet? Better get to it....
Get with it....
One of the big questions with climate change is...how are our presidential candidates responding to the challenge of global warming? The League of Women Voters has invited economist Dr. Edwin Dolen to address this at a presentation on Saturday the 26th - for more details, see the San Juan Community Calendar (and click on the 26th).
Apocalypse now, in the phone number world....
I remember back in the late '90s when the internet & faxes started using so many of the phone numbers on the island that the 378 prefix ran out of phone numbers...it used to be cool: you could just tell folks your four numbers for your phone.
Then we started using 370, and people started muttering about it getting pretty crowded here.
Now, besides all the cell phone numbers ya gotta keep straight, they're starting to use 375, which used to be reseved for Center Island (God knows, THEY'RE not using all THEIR numbers.) But it's OK - this way we can stay in touch with all the new folks.
Quote
Rachel Carson put this in her first book, The Sense of Wonder: "If a child is to keep alive his inborn sense of wonder, he needs the companionship of at least one adult who can share it, rediscovering with him the joy, excitement and mystery of the world we live in."