February 11, 2005
Basketball tonight: At FHHS the girls get underway at 4:30pm and the boys play league-leaders LaConner at 6 to close out one of the school's better seasons. Hope to see you there...I'll check with the coaches to see what the playoffs look like for the girls & the boys next week.
Road to Victoria: Thanks for writing & telling me how to get there this time of year...you can charter a plane or drive to Anacortes, go to Vancouver, take the BC Ferries to Vancouver Island, and down to Victoria. That's pretty much it, unless you have your own boat or plane, since there's no commercial boats running this month that I could find out about. Thanks for your help on this. I think I'll just stay here, too.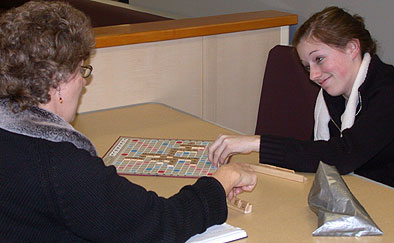 Late scores: You know how the big papers - Seattle Times, the P-I, the LA Times - sometimes can't report a score because they go to press before the game's over? Lilly and her mom Jody were playing Scrabble on the ferry so I took a picture of them. I asked Jody later who won and she said they weren't really keeping score.
Jody works with the Visitors' Bureau and is the voice on the phone when you call them...good choice, since I don't think I've ever seen or heard her be anything but cheerful & welcoming.
Other late scores: Whoa! It was great - the sophs/frosh team won the 11th annual Knowledge Bowl last night. The team of Steffan Iverson, Kati Schmidt, Theo Pratt, and Kate Fyrqvist edged the Rotary Club, with the late-charging eighth graders coming in third.
Quote: Most of the luxuries, and many of the so-called comforts of life, are not only not indispensable, but positive hindrances to the elevation of mankind. With respect to luxuries and comforts, the wisest have even lived a more simple and meagre life than the poor. - Henry David Thoreau

Best Best Western around: The Friday Harbor Suites officially became a Best Western this week (their official name is Best Western Friday Harbor Suites, if you're writing this down), which includes the new look of their website.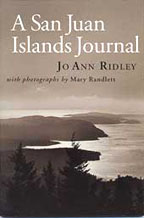 New book: I love it when islanders show off what good writers they are by putting out books; it's even better when it's a good book. And I've been hearing good things about this one (I saw a copy at Griffin Bay Bookstore the other day). Jo Ann wrote me this note:
Hi, Ian,

I'm a former islander and (still) writer. The bookstores in Friday Harbor are carrying my new book "A San Juan Islands Journal," illustrated by the great Pacific Northwest photographer Mary Randlett. It's a series of essays about all the islands as I knew and reported about them in the 70s, quite a bit about Friday Harbor and SJI, and one chapter about Charlie Nash called "Charlie's Eagles." It seems to be well received and I think you'd enjoy it.

Just found your web site and think you're doing a great job with it!

Thanks, Jo Ann Ridley
Fishing Derby checks in: Chris Watling at Roche Harbor tells me the winner of the 2005 Salmon Classic Invitational is Richard Price from Ferndale, Washington who caught a 21.60 lb. chinook salmon from his boat Tequila Queen on Saturday. Along with a trophy he won $10,000.00 cash which he was going to split with his crew. Here's more.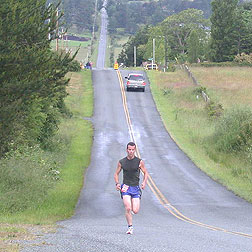 The Marathon is set: Clark Gilbert and Paul Hopkins are working hard to get the third annual San Juan Island Marathon underway, and since I went to one of the planning meetings, I can tell you, they're off to a great start.
This is the time of year marathoners make decisions to up their training & get ready; it's also the time of year for people who want to help with race to call or write Clark & tell them you want to volunteer.
Check their website & get on board. It's a fun group to put on a race with!
Children's Festival Poster Contest: My friends who are putting on the Children's Festival need a poster - would you or a young friend make one? Here's the deal:

Grab some paint, crayons, markers, pencils or more for March 1st is the deadline to submit a poster for the 15th Annual Children's Festival! Children and Adults of all ages are encouraged to enter. Prizes will be awarded to the top 3 entries with the grand prize being a half day wildlife adventure cruise aboard Bon Accord Charter for a group of up to six people.

Posters must be hand drawn on paper size 8.5 x11'' and must include the following information:
Island Rec's 15th Annual Children's Festival • Saturday May 7th 10am –2pm
San Juan County Fairgrounds • Free
Arts and Crafts, entertainment, Refreshments & More! • Bring a T-Shirt to decorate

Entries should be submitted to Island Rec. All artworks will become the property of Island Rec and will not be returned. For more information call Sally at 378-4953.


February 9, 2005
Long way to Victoria: Yesterday, a friend asked me what's the best way to get to Victoria, since the ferry's not running & she'd like to get there on Saturday.
Do you have any ideas? I haven't found an easy way yet, poking through the companies that usually do it (closed) online - any ideas? Drop me a note at the address at the bottom of this page, and I'll report what I find.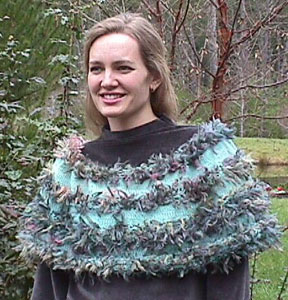 February 8, 2005
No news, sorry: Nothing happened.
That's OK, though, if you think about it.
Warm up: You know, Marjorie at Honey Lane Farms not only has a nice bed & breakfast, she also has an alpaca farm, and sells yarns and patterns (that's Bridget wearing one, right - you know her from the yarn store at Cannery Landing and also working at Pelindaba).
Check out the colors, the shapes, and the possibilities at Marjorie's website.
Music at Pelindaba: Tomorrow from 7-9 pm, Sugar on the Floor sings "Folk Songs of Courting and Courting Complaints." Drop by & stay warm.

We're on TV, again: Robin from the Visitors' Bureau tells me:
The Travel Channel's Honeymoon Hotspots USA program which was partially shot in the San Juan islands last September will air Monday, February 14 at 9:00-10:00 pm Pacific Time.

If you have a TV, that might be interesting. Or you can just go outside and look at the island without having to wait till Monday. Probably better in person, anyway.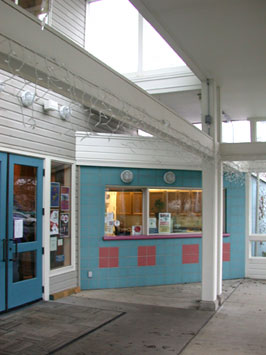 Another good idea: When I went to the Community Theatre this weekend, it was rainy & cold & even snowed a bit...this made me think it was a pretty good idea that they've added the cover & windblock structure to the front of the place, so you can get your tickets without getting soaked.
More dry people, that way.
Quote: I have not failed. I've just found 10,000 ways that won't work. - Thomas Alva Edison
February 7, 2005

Dream on: That nice dusting (or slushing, depending on what part of the island you live on) of snow from yesterday ain't gonna keep you out of school, so forget it. It didn't stick, but it was nice to play in. That's first-grader April (left), who went out to catch snowflakes on her tongue during intermission of the high school play's matinee on Sunday.
Quote: "For me, it is about the transformation of imagination - being able to transform yourself into something greater than you are, even if nobody believes in that or believes in you." - Director Marc Forster, Finding Neverland

More theater: Did I mention that Jabberwock, the high school show, was great? I realized last night it was the 11th main stage show I'd seen director Fred Yockers put on - keep it up, Fred! The kids did a super job.
Quote II: " Be the source, not the results." - Rumi
Even more theater, as local boy does good: On Friday, Merritt & Janet Olson went. Roberta Leed went. Mary Keith went. Where? Over to see the Skagit Valley College production of "A Midsummer Night's Dream," which featured the island's Nic Zervas as Bottom (you'll remember him from "Hello, Dolly," last year, here). They told me they loved it, and that Nick did well.
Sad trip: Got to visit with Andy Gutierrez and his wife Friday, as they made their way to pick up daughter Amy at the airport in Seattle...they're looking after grandkids Dustin and Naomi (he calls her CC) in the wake of Dan Wells' sudden passing this last week. Amy's in the military, stationed in Guam. Andy said a memorial service is being planned.
The Scarlet Letter: In the old days, they used to stick a scarlet "A" on folks who did certain things...well, hearing about the jerks who defaced the middle school with graffiti makes me think that when we catch 'em that they be made to wear a scarlett "J" - for "jerk."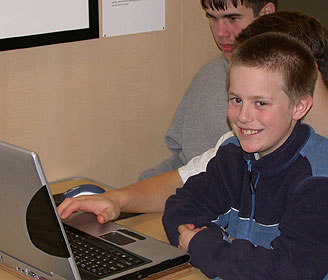 Here's a note posted by the San Juan Islander from the principal & 213 kids affirming their thoughts about the whole business.
Don't be messin' with our good schools.
Ball boy: You know, I thought about it when I was at the basketball game last week...the ball went out the end door, and who ran to go get it? Brett Paul, of course.
Brett's the nearly ten year old whose brothers played on the nearly-champs FHHS soccer team this year. He became a familiar sight at games, sitting in the end zone to chase errant shots to keep the ball in play & keep it going. He's a pretty good player himself, but he always looks for people to pass to, which makes him my kind of player.
And he does it all with a smile.
Quote, redux: "Do you know," Peter asked "why swallows build in the eaves of houses? It is to listen to the stories." - James M. Barrie in Peter Pan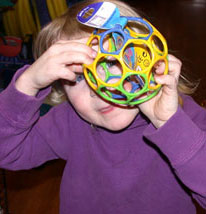 February 4, 2005
Toy Box goes online: Nancy and David at the Toy Box just launched their new website this week - take a peek at it & see what you think.
Designed and built by By Design's Chelsea Pascoe (who also works there), that's Chelsea's sis Gracie to the right, having a ball at the store, one of the fun places to hang out in town.
Ferry schedule back to normal: The Sealth returned to the game today, and month and a half after running aground and being out of commission. The WSF says we're back on the regular winter schedule (that's the blue one) now.
February 3, 2005
Shakin': If you were up this morning you felt it: There was a 3.0 magnitude earthquake centered on Oak Harbor, felt as far away as Shoreline and, of course, here. Here's the UW report, with a map.
The island square dance: People stay at the dance, but sometimes change partners: Longtime Coldwell Banker real estate agents Annette Schaffer and Samantha Garl have changed offices, moving across the street to work with Friday Harbor Realty, according to the FHR agent page.
Meanwhile, Mikki Ellis has started as manager over at Discovery Inn, working for Jim Smith. Mikki served as general manager of the Inns at Friday Harbor, then oversaw the renovation of the Friday Harbor Suites over the last two years. The move is a homecoming of sorts - Mikki managed Discovery Inn (then called Island Lodge) back in the early nineties, went to seek adventure & fortune in California for a while, then returned in 2001.
Passing: Young Dan Wells passed away a couple of nights ago, apparently by his own hand. The brother of Wells Fargo manager Michele, the likable Dan leaves a couple of young kids, and a circle of friends who will miss him.
February 2, 2005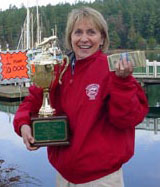 The Fishing Derby is this weekend: Only 100 boats. The winner gets $10,000. And you need to sign up now - it's this Friday, Saturday, and Sunday, out at Roche Harbor. Here's the details.
And here's the word from Debbie from Roche (right, with the trophy & the dough):
Hi Ian,
Just wanted to drop you a note and let you know that I am really enjoying your site! Working out at Roche I am no longer as 'connected' to FH happenings, and with both my kids out of school, I am out of that loop too, so again thanks for keeping us 'updated'.......

Also wanted to invite you to check out the Roche Harbor Salmon Classic Invitational fishing derby that is happening this week. Registration begins Thursday and fishing is Friday and Saturday, .....great event and we have all the top winning fish on full display both days of the derby, right in front of grocery store at our Derby Headquarters........
Thanks! Debbie Sandwith
Spam: You know I try to be upbeat about what's happening these days, but one problem that's not getting better is spam. So, as a public service...
Here's a report from the New York Times that was also in the Seattle P-I that suggests the congestion is just getting worse, and that efforts to stem it are coming up short, as hard as people are trying.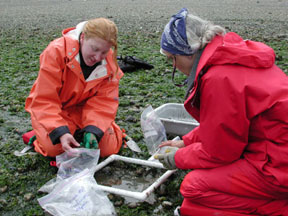 Marine Labs report: Alana Hysert sure put together a nice little website describing what's going on with shoreline diversity in Puget Sound, working with Megan Dethier from the Friday Harbor Labs. That's Amy Glaub helping collect samples with Megan (headband) on the beach.
Quote: Kindness in words creates confidence, kindness in thinking creates profoundness, kindness in feeling creates love. - Lao Tzu

Which makes me wonder - if you were arested for kindness, would there be enough evidence to convict you?
Basketball: The basketball girls have apparently notched a slot in the playoffs with their win over Concrete last night, while the boys solidified their hold on second in league, scoring 70 to outpace the visitors.
Speaking of making great plays: The high school play opens for a one-weekend run on Thursday, going till Sunday. It's called "Jabberwock," and it promises to be great fun. I've been to 12 years straight of high school productions, and they haven't let us down yet. See you there.
Especially if you've never seen one of the FHHS shows - you'll be surprised. I promise.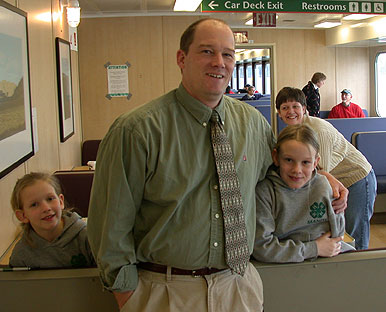 January 31, 2005
Basketball boys drop one to #1 LaConner: There was a lot of confidence on the ferry Friday as Friday Harbor went over to play the top of the league with LaConner (11-0 in league, 15-2 overall). But we knew we were going to have our hands full, and we did: The Braves jumped out to an early lead, kept it around ten points, and made it stick for a final of 52-39.
The loss drops the Wolverines to 13-3 (8-3 in league), in second place ahead of Darrington. We play Coupeville and Concrete this week, then close out against LaConner again next week.
Coach Rod Turnbull (left, with his Mandy & Taylor, and Sue just behind) has done a super job of keeping the boys focused this year, and you can see it in the way the guys are playing - sharper passes, better defense, and good shot selection. Tuesday's game is at home at 6 (after the girls at 4:30) so you can see for yourself.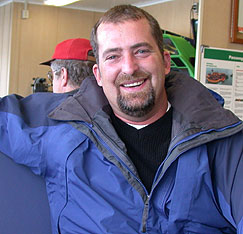 Basketball girls roll on: Meanwhile, the girls waxed the Lady Braves 47-30 to pull to 7-10 on the year.
The JV girls won handily as well, while the JV boys had a tough time with LaConnor, losing 55-34, although we outscored 'em 29-20 in the second half.
Heading out to represent us: On Friday's ferry, there were others besides the Wolverines who were representing us.
The Visitors' Bureau sent Director Deborah Hopkins to a tourism expo in Seattle for the weekend, following in the footsteps of outreach coordinator Robin Jacobson, who had already hit the road for a similar but larger-scale deal in Los Angeles on Thursday for this weekend.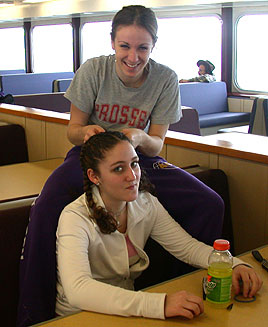 Newly-sworn-in commissioner Kevin Ranker (right) was also on the boat, heading for Olympia to discuss the proposed changes in the way ferry fares work. He had a petition on hand people could sign (here's one for you to download), and was telling me he's enjoying the good start his term is off to.
He mentioned he'd met new Gov. Christine Gregoire earlier this month, and that she seemed like someone we can work with. He called her "Chris," so it looks like that's off to a good start, too.
Knot ready: And...the basketball girls were getting ready for the game, with properly braided hair, as you can see with Lauren getting Megan prepared, and having fun doing it.
Musta worked, as both teams won later that afternoon.
Ferry late: I heard the Elwa had some trouble Saturday night, and stopped off at Orcas on the way home, where it left its passengers to wait for three hours before the next boat stopped and took them home. The Illahee picked up most of its schedule Sunday; not sure yet what the week looks like.
New baby: Ran into baby Maxwell with his mom Stephanie Buffum (of the Friends of the San Juans) and dad Si this weekend. He's getting pretty big for a nearly six-month-old - Stephanie says he's weighing in at the 95th percentile or so.
Quote: "People have a hard time letting go of their suffering. Out of a fear of the unknown, they prefer suffering that is familiar." - Thich Nhat Hanh
Click here for more news
Click here to look through previous years' Updates. You're in there, somewhere.
---
The information here is simply stuff we here at By Design think is important around Friday Harbor or on the Island. Some of it's news, some of it's old news, and all are just things we wanted to mention, with most of it about the things that make living here great.

There will be more next week, if anything happens.

Ian Byington
ian@byd.com

More info about the island:

This site prepared by our friends at By Design in Friday Harbor.
The information contained here is
©Copyright 1997, 1998, 1999, 2000, 2001, 2002, 2003, 2004, 2005 and next year, too
by By Design, Friday Harbor.
Unauthorized reuse of the content of these pages is prohibited;
links to other sites is intended to be to the benefit of those sites,
and for the edification of our readers,
and does not constitute endorsement or
agreement with views expressed there.