November 6, 2005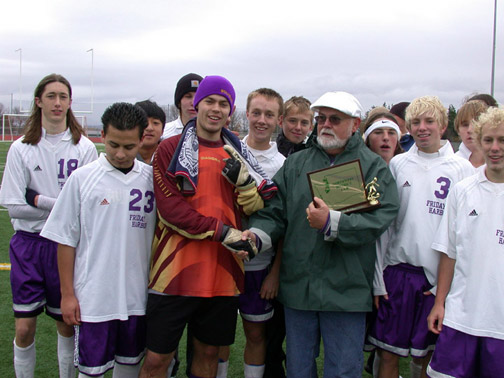 Coach Ron Duke congratulates the team after they received the District First Place Trophy
Wolverines Hold Off MVC 2-1, Advance to State Final Eight: Friday Harbor won the District One top seed Saturday, beating second-finisher Mount Vernon Christian 2-1 in a shootout at Mount Vernon High. The overtime victory sends the Wolverines (15-1-1) into action with Seattle Academy of the Arts & Sciences (SAAS) next week for a chance to win a chance for the school's second straight visit to the State Final Four. Here's the rest of the story, with photos.
Girls soccer comes close in playoffs, lose 1-0: It was a cold, windy game played in a constant downpour Saturday night in Bellevue, but that didn't dampen the FHHS girls' spirits as they took on Forest Ridge, the #2 team in the Emerald City League, in the playoffs Saturday night. The Wolverines' tough defense shut down the Ravens for the entire game, except for a tiny crack twelve minutes into the game when Raven forward Kelli Walton got a shot off right before the defense collapsed on her, for what turned out to be the game's deciding score.

"They were good," noted junior defender Lindsey Youngquist after the game. "We spent the game adjusting to them, which made us tougher in front of the goal, and gave us more chances to score in the second half."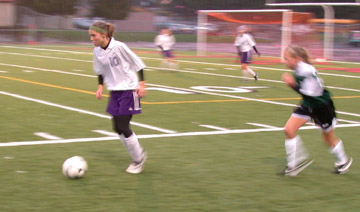 Coach Doug McCutchen liked what he saw. "For the first time in four years, we showed we're competitive with the Seattle teams in the playoffs. This year, this team has a sense of success that transcends soccer - the leadership of the seniors and ccaptains, and the way these girls look after each other is what this team is all about. I couldn't be more proud of them. They gave it their all, tonight."
Senior midfielder Lillan Roquet brings the ball up the left wing in the second half (photo).
Although the team loses eight seniors, the squad's prospects are bright with talented underclassmen and the news that our U-13 team (which includes several eighth graders) won their league championship on Saturday as well.
November 4, 2005
Books, books, books: One of the cool things that happens each year is on tap this weekend - head over to the elementary school for the FHES PTA Book Fair & Breakfast from 9am-noon. The breakfast is $7 with all proceeds to benefit the 5th grade field trip fund!!
You need to get some books anyway - the holidays are coming - so this is a good place to start.
FHHS football rolls on: The guys thumped Orca 57-7 for the Island Cup yesterday over there - next stop: the state playoffs.
Bea passes: Just heard Kevin Ranker's grandmom passed away - I met her last year & she was an awful nice lady. She'll be missed....
Quote: There's an old joke. Uh, two elderly women are at a Catskills mountain resort, and one of 'em says, "Boy, the food at this place is really terrible." The other one says, "Yeah, I know, and such small portions." Well, that's essentially how I feel about life. Full of loneliness and misery and suffering and unhappiness, and it's all over much too quickly. - Woody Allen, from Annie Hall
November 3, 2005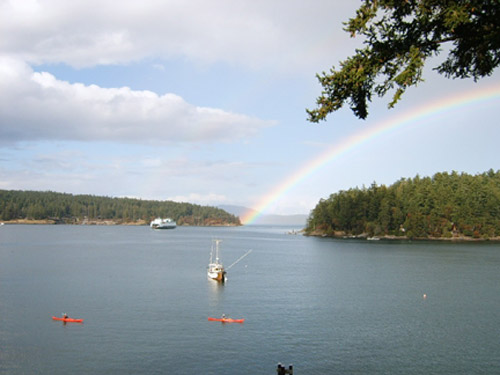 Memories of...last week: Yes, it was pretty outside last week when Barbara Rouleau caught this rainbow as the ferry came around Brown Island into the harbor. With storms predicted for the next couple of days, just remember.
Click on the photo for a bigger version...really cool. Good eye, Barbara!
FHHS boys score two in last three minutes to win: Friday Harbor nailed down a second straight trip to the State Final Eight (say THAT out loud) last night, doing it the hard way.
The second-ranked Wolverines mud-wrestled 0-0 with Orcas for three quarters of a game, with good chances by both sides, when the Vikings opened a muddy hole in the center of the muck & snuck a score past keeper Paul Guard.

But the league champs just kept coming, and with less than three minutes showing, defender Kevin O'Connor found striker Felipe Lopez open on the wing. The senior captain dropped it inside to our leading scorer Mario Nunez, who found enough space to get his footing and deposit the ball in the back left corner of the net.
A minute and a half later, defender Louis Paul (right) mailed home a 35-yarder from outside the left elbow of the penalty area to seal the deal, sending FHHS to a 2-1 victory.
The victory sends the Wolverines (14-1-1) to Mount Vernon High on Saturday (probably at 11am - call the school at 5215 to confirm after Thursday afternoon to be safe) to play Mount Vernon Christian for the third time this season. That game will determine which bracket the two teams will be assigned next week.
Quote: You don't dance to get to the other side of the floor. - Alan Watts


November 2, 2005
Wolverine Women peak at right time, top Concrete 10-1: When you play someone three times in a season, it's hard to know what's going to happen, but FHHS beat Concrete for the third time Tuesday night by its largest margin for the year.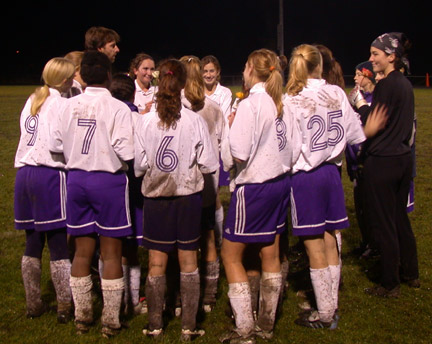 Besides scoring its high for season goals, the team also became the school's most successful team, finishing the season at 12-4, losing the least number of games since girls soccer began at FHHS in the fall of 1995. The team appears to be headed into Saturday's playoff game in Seattle on a roll, winners of six of their last seven.
There were several surprises during the evening: coach Doug McCutchen showed up at the game in spite of a incredibly painful back that has threatened to sideline him for the week; FHHS got goals from freshmen reserves Ingrid Carlson and Charlotte Guard, as well as senior defender Fahren Carlson; and maybe the biggest surprise was the poise and accuracy the girls showed, playing a sure-footed game on a sloppy, muddy field. Their passing game clicked, the defense was impossible to get around, and the the shooting was deadly.
Rock on, girls.
Cotton clothes: Hey, Dolphin Arts has an Open House to celebrate their 15th anniversary - it's Friday the 11th from 5-7pm. Way to go, Vivian!
Get your shot, and pay attention: History lesson: With all the present discussion about bird flu, it's interesting to note that the Spanish Flu pandemic of 1918-1919 killed more American soldiers overseas than the Great War did. Here's more.
On the run: Paul Hopkins & Island Athletic Events tells me he's got a run planned for Thanksgiving - here's the deal:
The first annual "Turkey Trot," a 5K (3.1 mile) run, walk and/or crawl, will be held on Thanksgiving morning, November 24, at 9:00 am. Registration will take place beginning at 8:00 am in front of the Best Western-Friday Harbor Suites, the location of the start and finish, rain or shine.

Registration fees will be $5.00 and two cans of food for adults and $2.00 and two cans of food for kids under 16. Proceeds from the Turkey Trot will go to the Friday Harbor Food Bank and the Thanksgiving Community Dinner held at the Grange.

The Turkey Trot is produced by Island Athletic Events, LLC with special thanks to Kings Market and Best Western. For more information or to pre-register, contact Paul Hopkins at 472-0908.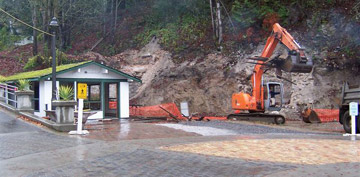 Shirt Shop bites it: While Dolphin Arts stays put, the Shirt Shop (right) out at Roche Harbor was torn down yesterday, as you can see in these photos from Donna Leone & Debbie Sandwith.
The photo at the right shows the shop nervously awaiting its fate.
Quote: This may be a hard statement for many, but you will eventually come to know it is true: No fault, no hurt comes to self save that thou hast created in thine consciousness, in thine inner self, the cause. For only those that ye love may hurt you. - Edgar Cayce

And a song: I haven't had a song for you for a while, but that doesn't mean there are no songs to sing. You've heard this one before - did you know Charlie Chaplin wrote the music for it? Music trivia....hum along with me:
Smile
tho' your heart is aching,
Smile
even tho' it's breaking,
When there are clouds in the sky
You'll get by,

If you smile
through your fear and sorrow,
Smile and maybe tomorrow,
You'll see the sun come shining through for you

Light up your face with gladness,
Hide ev'ry trace of sadness,
Al'tho a tear may be ever so near,

That's the time,
You must keep on trying,
Smile, what's the use of crying,
You'll find that life is still worthwhile,
If you just smile.


November 1, 2005
Who was that masked man? Probably your kid: It's always fun to dress up, and even more fun when everyone you know dresses up.
One of the things we've done since time immemorial here (translate: as long as I can remember) is the Costume Parade from the elementary school in the middle of the day. Folks gather in the shop doors to wave at the kids and take their pictures.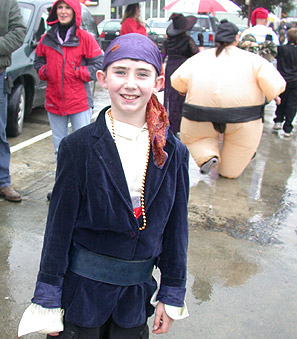 This year's parade was in a bit of a rain, but that didn't seem to keep anyone from smiling. That's my friend Taylor the Pirate to the right, and yes, that IS a sumo wrestler of some sort behind him.
Look through this portfolio of about 40+ photos for more kids you know, and kids at heart: There's also people at the Rocky Bay Cafe, the folks at Wells Fargo, your favorite realtors at Coldwell Banker, and a few other grownups as well.
Happy Halloween to you...hope yours was fun.
Farmers' Market goes in: Cindi Mullis just wrote to tell me (and you) that the Market moves inside at the Grange Hall this weekend, on Saturday.
Merri Ann's update: Realtor Merri Ann Simonson just posted her quarterly newsletter, and says the offices have sold $70 million more in property now than the first three quarters of 2004 - a whopping 72% increase over the same period last year. Read more.
Girls soccer today at 4:30, here vs. Concrete: Be there & support the best (record-wise) team FHHS has ever fielded for girls soccer. Come see why....
Beach Watchers gets going: You love the beach, and you want to help protect it, as well as share it with visitors (who sometimes need a bit of training to look after it)? Well, Rowann over at the WSU Extension Office is getting the county Beach Watchers going, and here's what she says:

Beach Watchers are professionally-trained volunteers dedicated to protecting San Juan County's fragile environment through education and public awareness. We love sharing our enthusiasm with others who want to know more about this beautiful place and join us in helping protect it.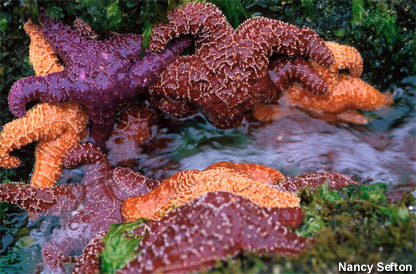 Our first training series begins March 1, 2006. Classes will be held Wednesdays and Fridays in Friday Harbor. Contact us for more information at this time; we'll be posting more about the classes on the website soon. Ready to sign up? The application is on the website as well.

What will you be watching? The ochre sea stars to the right give you an idea, eh?
By the way, if you check the Halloween portfolio above, Rowann's in the very first photo.
Shannon has an idea: Whenever my friend Shannon has an idea, it's a good one...she wrote to tell me October was Breast Cancer Awareness Month, but that's no reason not to remember we have work to do this month, too:
Just a little note about Breast Cancer Research. I was in the post office and found out that they will only carry the Breast Cancer stamps until December 31st, 2005. They cost 45 cents so 8 cents goes to research. I find that sometimes it's difficult to come up with donations for different organizations and I've found this to be an easy and inexpensive way to help support one cause I really care about. Here's more.
Thanks for considering this.
Shannon

Quote: The Indians knew that life was equated with the earth and its resources, that America was a paradise, and they could not comprehend why the intruders from the East were determined to destroy all that was Indian as well as America itself. - Dee Brown (b. 1908), U.S. author of Bury My Heart at Wounded Knee (1970).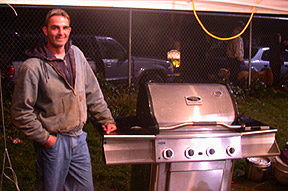 October 31, 2005
He's a winner: The Wolverines weren't the only winners on Friday night: FHHS wrestling coach Gordy Banry (right) won that fancy barbeque from San Juan Propane that was raffled off at the homecoming game.
That'll come in handy when he & Deanna have the team over to eat.
Halloween, island-style: Saturday night in the streets, I ran into the guy who says he won $500 at China Pearl for the costume contest - looked like a cross-dressed Viking or something, but it was kinda dark & I didn't have time to ask before he took off.
Tonight, there's a teen Halloween shindig over at the Fairgrounds till 11 or so, and lots of mamas & papas will be taking their kids up to Hunt Street & around the Greenway neighborhood to trick or treat - watch out for our little goblins in the road, willya?
The San Juan Update Top Ten: No one else does it - who else would go out on a limb and tell you who's who in state boys soccer? This'll be your guide as to who is rising, who's in decline, and who can be expected to do well in the playoffs, which start this week.
(Psst: By the way, the Wolverines are number two.) Check out the Top Ten.
Thought: Do you remember where you were six years ago, today? I do.
Quote: Our generation is realistic, for we have come to know man as he really is. After all, man is that being who invented the gas chambers of Auschwitz; however, he is also that being who entered those gas chambers upright, with the Lord's Prayer or the Shema Yisrael on his lips. - Viktor E. Frankl, Man's Search For Meaning


October 30, 2005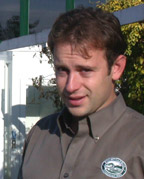 Sam with a plan: Roche Harbor restaurant manager Sam Jacobson (right) tells me he's got the Fireside Lounge open this winter, with a fire going in the fireplace for the first time in a decade.
Besides that, he's also got a special in the McMillin's Restaurant: half-off all bottle wines till the end of November. Read the Roche Harbor news for more information.
Leaving for Indonesia: I got a chance to have lunch with Made (that's pronounced MAH-day) yesterday before he took off today for SeaTac, and Indonesia (there's a photo of him in the May 2, 2005 entry, below). He's been working lately as a window washer, and is pretty famous around here because he's always cheerful, always smiling.
He tells me he's going to be gone about three months, and hopes to be able to bring his new wife Maria back with him after the new year.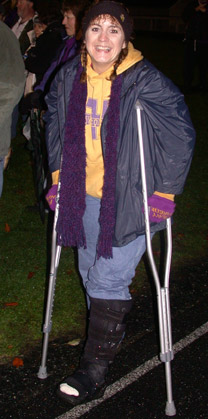 Got a leg up: Here's what Leann Grosjacques's ankle (right) was looking like at the football game on Friday night - she broke it a few weeks back, and tells me she's on crutches for another 5-10 weeks.
As you can see (and as people who know her would guess she would), she's handling it all with a smile.
Extra hour: What are YOU going to do with the extra hour we all got today when we set our clocks back because of daylight savings time?
I'm working on my Halloween costume. I want to be a pirate.
Soccer playoff set: Our Wolverine boys are playing the winner of tomorrow's Lopez-Orcas game this coming Wednesday, with the winner proceeding on to the State Final Eight. We beat Lopez two weeks ago 5-0 and split with Orcas this season, winning 4-0 and losing last weekend 1-0.
Plaza Suite opens this week at the Theatre: There are a number of good reasons not to miss the play the next two weekends at the Theatre, which I'd like to address here & now so you get on the ball & get your tickets ordered.
I'm an authority, see, because I went to the preview last night to check out the show, so I could tell you about it.
First, the acting is honest & straightforwward. It's real people on-stage, going through the situations. Bill Lembeck is way believable as the over-the top dad working with his wife (Margaret Hall) to get his daughter out of the bathroom & down to her wedding; Hunter Wood is right on with his depiction of a distracted husband, with the subtle touches that help point to his real distraction to both the audience and his wife (Tina Cagwin). And Susan Williamson hits the right note as both nervous & determined to check out her high school sweetie (Doug Schirmer) a decade and a half later. Good acting.
It made for an enjoyable evening - the audience spent most of the night laughing, partly because of the timing of the activity on stage, and partly because Neil Simon writes those little moments into his plays that when we see them, we see ourselves. That's the kind of thing I kept hearing at intermission from the folks watching.
Director Andrew V. McLaglen has done it again. Don't miss this one. I want see it at least once more - hope to see you there. Here's times & nights.
Etta's grows: Nikki who lives next door to it tells me she's enjoying watch Etta's Kitchen continue to get better and better - Stacy Smith's running the place, and is putting a lot of love & care into making sure it's done well. That's the little to-go coffee place just past the Computer Place as you're going out of town, if you're looking for it..
Quote, as the president addresses the deficit: "All the perplexities, confusions, and distresses in America arise, not from defects in their constitution or confederation, not from a want of honor or virtue, so much as from downright ignorance of the nature of coin, credit, and circulation."
—John Adams, THAT president


October 29, 2005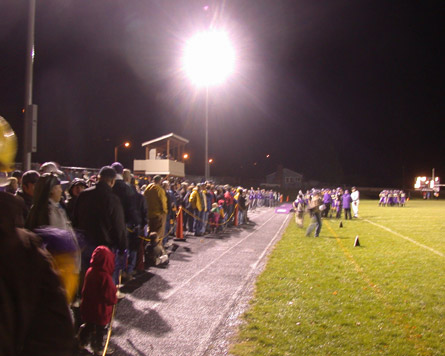 You already know the scores: It's been a good week for the playoff-bound FHHS teams.
The football team (9-0, 6-0 in league) entertained a rain-drenched but enthusiastic homecoming crowd (right) last night by scoring 28 on Darrington in the first quarter and cruising to a 63-0 victory.
I used to coach (and play) football, and have always believed you can tell who's gonna win by watching the play at the line. These guys are the real deal - when I watch them move the opponents' defensive line back, and watch our defensive line penetrate their backfield, I believe these guys can play with anybody. If I ever need a mountain moved, I'm gonna ask these guys to push.
How good are they? The Wolverines have scored 491 points while allowing only 62 so far this year, but waiting on the other side of the state are defending state champs Royal High (9-0, 7-0 in their league), who have put 467 on the board while allowing only 66. And...there are some other teams, really good ones, we'll have to beat to win the whole thing. When the playoffs start after Thursday's season-ender with Orcas, we'll have our hands full showing we belong on top. And we'll be ready.
The soccer girls (11-4, 9-2 in league) should win their last game with Concrete Tuesday here at 4:30 to post their best record ever in the 11-year history of the program.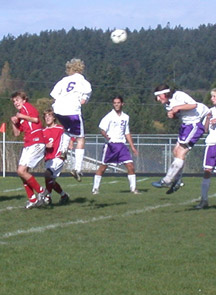 Coach Doug McCutchen and the poised Wolverine Women beat North Sound Christian 3-1 Tuesday in their last game, and are more rested, fired-up, and well-prepared than usual for next Saturday's opening playoff match. Soon as we know whom we play, I'll let you know. Meanwhile, this is a team of unselfish team-players to be proud of.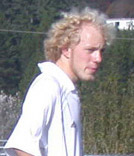 Saturday marked the season-wrapup for the second-ranked soccer boys (13-1-1, 9-1 in league) as they knocked off a quality #8-ranked Seattle Christian (10-3-1) squad in a non-league 2-0 win here on the island.
Last year's league MVP Felipe Lopez scored the first goal early, beating the keeper on a breakaway at 14 minutes, while Mario Nunez added insurance with a quick flick from Erik Nash with 15 to go. The backline played its best overall match to date, rotating to cover and forcing the visitors to shoot from outside the penalty area. Probable all-league keeper Paul Guard made the case for all-state, while you really ought to hire defender Daniel Jones (left) as a security guard - he won't let anybody in. Here is a portfolio of about 43 photos from the game.
The guys open their playoffs here at home this Wednesday against someone from the lower part of the bracket who plays Monday. I'll keep you posted.
Quote: Affluence without simplicity is a giant trap. Every saint who ever lived, lived simply - not because he was holier, but because he was smarter. - Christian Science Monitor

Click here for more news
---
The information here is simply stuff we here at By Design think is important around Friday Harbor or on the Island. Some of it's news, some of it's old news, and all are just things we wanted to mention, with most of it about the things that make living here great.

There will be more next week, if anything happens.

Ian Byington
ian@byd.com

More info about the island:

This site prepared by our friends at By Design in Friday Harbor.
The information contained here is
©Copyright 1997, 1998, 1999, 2000, 2001, 2002, 2003, 2004, 2005 and next year, too
by By Design, Friday Harbor.
Unauthorized reuse of the content of these pages is prohibited;
links to other sites is intended to be to the benefit of those sites,
and for the edification of our readers,
and does not constitute endorsement or
agreement with views expressed there.
All rights reserved, except in Britain, who have their own reserve.