October 28, 2005
Where the whales are: According to Susan Berta & Howie Garrett, the local whales (probably J-pod) have been sighted downsound, and were moving back this way as late as yesterday. If you see orcas, it also might be the transient orcas that travel through here this time of year.
Signup now: Just 210+ days to go! You can sign up for the Marathon here online!

Kathy's book is out: You probably already knew that Kathy Farron had been working at At Home Magazine, that she helped get the Catspaw Foundation going, and the the longtime yacht broker has just joined Friday Harbor Realty as a real estate agent - but did you know her new book is out?
The fifth of her Gimbaled Gourmet series - this one is called Ship to Shore - is available online as of last week. Here's the scoop.
Mike & Dawn get hitched: Hey, I just heard Mike & Dawn who run Island Dive got married earlier this week. Our congrats to them - they'll be back in town on Monday if you want to go see 'em at the shop.
The Big 5-0: There's a poster around town, so I guess it's not a secret - Suzie over at San Juan Physical Therapy turns 50 next week - happy birthday!
Homecoming this weekend: See you at the parade, pep rally and football game tonight! Our studly Wolverines (8-0, 5-0 in league) take on the Darrington Loggers (1-7, 0-5 in league) in what may be the bigger of big mismatches this year by our strong team. FHHS has scored 428 points while allowing only 62 in 8 games so far this season.
Then, tomorrow at noon the FHHS soccer boys take on Seattle Christian (6-0 winners over Mount Vernon Christian last night) for their season-ender, before jumping into playoff action next Wednesday.
Quote: "I think the environment should be put in the category of our national security. Defense of our resources is just as important as defense abroad. Otherwise what is there to defend?" ~ Robert Redford, Yosemite National Park dedication, 1985
October 26, 2005
FHHS boys top Coupeville 5-0, repeat as league champs: The second-ranked Friday Harbor Wolverines (12-1-1, 9-1 in league) got two goals from senior captain Eric Rothlisberger with a convincing 5-0 victory over visiting Coupeville (9-7, 5-5 in league) Tuesday night. The win leaves FHHS alone on top of the Northwest League in the end-of-season standings. Here's the rest of the story.

Friday Harbor held onto its second-place ranking in the The San Juan Update Boys Soccer Top Ten week in spite of last week's loss to Orcas.
Quote: Civil disobedience becomes a sacred duty when the state becomes lawless or, which is the same thing, corrupt. - Gandhi
(I added this, remembering brave Rosa Parks, who passed away this week. Her simple refusal to move to the back of the bus lifted a whole people to the front of American life - she'll be missed.)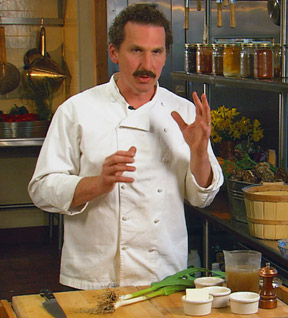 October 25, 2005
Greg comes back to his old haunts: Tonight at Pelindaba, from 7-9 pm former islander Greg Atkinson presents his new book, "Entertaining in the Northwest Style: A Menu Cookbook"

Former favorite San Juan Island chef, Greg Atkinson, is one of the pre-eminent practitioners of Pacific Northwest cuisine. Nationally recognized for the award-winning menu he created at the Friday Harbor House and for revitalizing the menu at Seattle's celebrated Canlis restaurant, he is also a gifted writer with articles appearing in a variety of publications.
He lived in Friday Harbor for 12 years, and when he returns, it is always a treat.

Still going: Ran into Paul Chadwick (the famous cartoonist) and he tells me he's still on the project, working on the video game for the Martix, which is still in production.....
On the water: Martine from Sea Quest Kayaks tells me they're running another two weeks, and had a great trip last Saturday. It's always nice to get out on the water. Salish Seas & Bon Accord whale watching/nature tours also run all year....
Another good reason to live here: The candidates' forum last week was enjoyable in that the presenters & candidates were thoughtful, civil, intelligent folks who clearly want to serve the county & town. It's nice not to have what we do here operate at the national level of silliness...good people who will do a good job. That's what we got. Good deal.
Quote: "Ya gotta own your own days and name 'em....or else the years go by and none of them belong to you." - Murray Burns in A Thousand Clowns, by the late Herb Gardner
Connection, or what: All the hurricanes + global warning - what do you think? Here's a note from a newspaper in Florida, who has a ringside seat to crappy weather.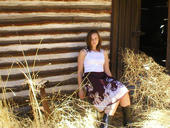 What the Williams kids are up to: You know me - I love hearing what people are doing int he world. I ran into Anne Williams at the concert at the Theatre the other night, and she reports in:

* Tyler is working in the business end of commercial airlines at The Boeing Company and he sees Shane Coulter who works in test flights. Tyler also plays with the Puget Sound Basketball League and with Boeing Basketball and loves it.

* Zachery got really burnt out on studying so much science (he still is on the Dean's List) so he joined up with the Boston University Stage Troupe and he will be in the Foreigner one week before Thanksgiving.

* Cameni (above) was recently invited to play at the Tractor Tavern (in Ballard) along with lots of other awesome performers benefiting the Katrina animals. She just finished copy writing two new songs which she has on myspace.com/camwilliams. Ever since she graduated from NYU, she has had a blast doing original works...in music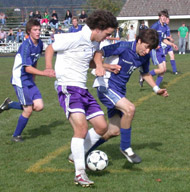 .
Orcas catches us from behind: It was fun being the only undefeated team in the state (the other one - Overlake - lost last Thursday), but a tough & talented Orcas team came visiting our Wolverine soccer boys (now 11-1-1) and were able to make a one goal lead stand up in a 1-0 setback for FHHS. The local guys might have been a little leg-weary - it was their 6th game in 10 dayd, a brutal schedule - but made no excuses as they kept attacking the goal right up to the last minute. I have a portfolio of photos from the game here.
They're back in action vs. Coupeville here tonight at 4:30pm.
October 19, 2005

Soccer rocks: Playing their fourth game in six days didn't slow up the second-ranked Wolverine soccer team, as they upended visiting Shoreline Christian 8-0 Tuesday night. Mario Nunez got a hat trick and more, scoring five of the goals in the lopsided match. Here's the rest of the story, with photos.

The win sends the boys to fourth-ranked Mount Vernon Christian (9-2, 6-1 in league) on Thursday to cast their vote for which team will end the season as league champs. The Hurricanes' sole league loss was a 4-1 setback in early October; a win by Friday Harbor (10-0-1, 7-0 in league) puts the Wolverines in the driver's seat for the last week of the season.

Quote: "Promise me you'll always remember: You're braver than you believe, and stronger than you seem, and smarter than you think." Christopher Robin to Pooh (A.A. Milne)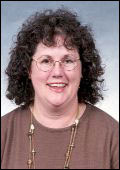 October 18, 2005
Skagit chooses a new head: The months-long selection process is complete, and Randy Martin over at Skagit Valley-San Juan Center tells me they're pretty happy with the director they've chosen.
Dr. Denise King comes to us from Olympic College in Bremerton (I nicked the photo from their website), where she's been the Dean of Social Science. SVC is planning an open forum for folks to meet her this Wednesday - call there for more info.
Picture perfect: Bob Stavers sure takes some good photographs...he's posted a bunch on his Gallerie Hare website...see what you think! He and Judy are off travelling at present - Lisa Holt (she's dogsitting for them) tells me they're in New Guinea at present.
Soccer update: Today the FHHS girls (9-3) travel to play LaConner (8-3) at their place to sort out who should be league champs. The teams have split in their two matches this year and are tied for the league lead with 7-1 records. The Braves lost their third of the year over the weekend to 2A Nooksack Valley while the Wolverines were thumping Seattle Christian.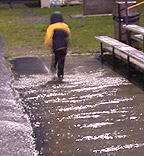 Meanwhile, the boys played Monday night in the rain & the mud: Senior Eric Rothlisberger nailed two goals to lead the unbeaten Wolverines (9-0-1) to a convincing 5-0 non-league win over Lopez (5-4). Here's more about the game.
The victory sets up tomorrow's league re-match with Shoreline Christian at Friday Harbor at 4:30pm.

The soccer players weren't the only ones playing in the puddles at the FHHS-Lopez game Monday night (left).
October 17, 2005
Down to two: Looks like Lulu Johnson's not gonna be on the November ballot for Commissioner after all - she had to file a deal saying she intended to run before the primary, and didn't. So we're back to Bob & Steve, like before. The ballots for the November 8 election get mailed out on the 18th, I believe.
Which reminds me: I hope I see you at the candidates' forum on Tuesday night so we can hear the Commissioner candidates and for those of us who live in town, hear Liz & Steve for Town Council.
Girls rock on: Coach Tina Jones tells me our 7th & 8th grade soccer girls won their game on Saturday at Burlington 3-0, but more importantly are getting stronger & more confident with both their passing and defense.

For sale: I have to sell my desk to make room in the office. Here's a picture (right) and a description. As you can see, the monitor goes into the desk, which is really good for your shoulders & back. You'd like it.
October 15, 2005
Wolverines remain on top: The football team ran their impressive season to 7-0 last night with a 65-6 thumping on rival Concrete. FHHS led 35-0 after one, and 49-0 at the half, and never looked back. The Wolverines have three games left, and are odds-on favorites to repeat as league champs.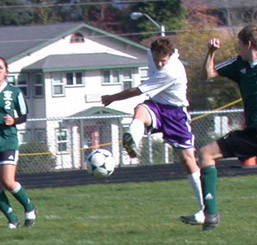 Wolverines remain on top, part 2: In boys soccer action, six Wolverines scored to push undefeated and second-ranked Friday Harbor 8-0 over visiting Shoreline Christian Saturday.
The win leaves FHHS (8-0-1) as one of only two unbeaten teams in state 1A soccer. They will face league rival fourth-ranked Mount Vernon Christian (9-2, 6-1 in league) on the mainland on Thursday. Here's the rest of the story, with pictures.
Eric Rothlisberger scores the game's second goal only four minutes into the match (right).
The Wolverines held on to the number two spot in the San Juan Update's State Soccer Poll for boys soccer (1A), as Overlake nailed down number one, and University Prep inched upward. Check the poll and see why.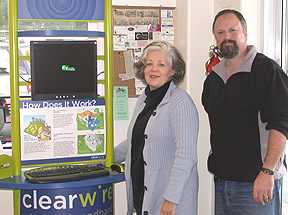 New wireless service available: San Juan Wireless is offering a new wireless & phoneless way to get online for the Internet...using Clearwire.
Here's a writeup that explains how it all works, with prices - the key is that a signal is picked up by a receiver that Joy Sevier and Carl Johnson (left) give you when you sign up, rather than using phone lines. Available in the area around town at this point - call them up and see what you think.
Sounds like a cool idea.
Crème Brulee: If you haven't been by Megan Yelle's place on Spring Street (where Osito's used to be), you just might want to pop in there & see what you're missing. You'll get a pretty good idea from her website, and the way she explains things:
We are pleased to offer an expansive collection of home furnishings and accessories, fine quality children's clothing and stylish women's apparel.

Sourced from a large collection of fine products throughout the United States and Europe, Crème Brulée has something for everyone. From plush furniture and bedding, to beautiful French candles and cashmere sweaters, Crème Brulée is committed to offering quality products that help create a stylish and comfortable living.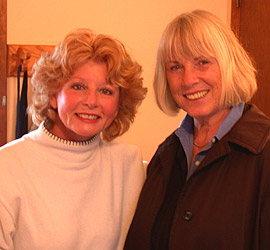 Winnie visits the island: It's always nice to drop in on our local Soroptomist International group because they're friendly folk who make everyone feel welcome.
They're not called "International" for nothing, though. Through an SI program started in 1990 called "Grant of Friendship," Soroptomist members from all over the globe can apply to visit groups in other countries to meet the international organization's goal of "developing a spirit of unity & friendship with Soroptomists from other countries."
So, last week Grant recipient Winnie Hoerst dropped in to the local meeting to explain what her group is up to in Germany (our local Toy Box maven Nancy Hansen went on a similar trip abroad a couple of years ago). Winnie and local prez Betty Cantrell (on left) shared notes about ways to connect to other groups and develop unity within one's own group.
Dogging it: I saw Andrew Seltzer carrying a tiny little dog the other day & I asked him if that was something that movie star or whoever it was did (carrying little dogs), and he said, "Oh, you mean Paris Motel 6?"
Yeah, her.
Lotta blood: Kathy from the Blood Drive reports: "We registered 79 donors and collected 67 units of blood. This will benefit up to 201 patients. We actually did ok for a rainy holiday Monday. I will let everyone know when the next drive is. Thanks so much to everyone who donated or tried to donate blood on Monday!"
Quote: To people who think of themselves as God's houseguests, American enterprise must seem arrogant beyond belief. Or stupid. A nation of amnesiacs, proceeding as if there were no other day but today. Assuming the land could also forget what had been done to it. ~ Barbara Kingsolver, Animal Dreams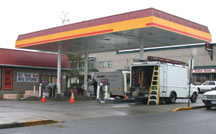 October 13, 2005
New gas at the pump: As you can see in this shot from this morning, Bob Wingate is painting over the old Chevron signage at the Little Store and the Big Store (left) because they're switching to Shell.
I asked him why, and he says Lin Pearson at Petro San Juan switched because of a variety of reasons, including that it's something like 8 cents a gallon cheaper.
Paul Simon's birthday: Hey, that would be today, which would explain all the people humming "Feeling Groovy" when they walk down the street.
When he sings, 'I hear the drizzle of the rain/Like a memory it falls/Soft and warm, continuing/Tapping on my roof and walls" - it's like he knew what it was like to wake up to our drizzly morning, this morning. Don't you hear that in your head?
Happy birthday, Paul.
Sara & the movies: Sara Williams, whom I mentioned below, tells me Paramount has an option on her book, "The Don Juan Con," and that her other book "The Serona Scandal," has been picked by Florida PBS' Expressions Magazine.
That reminds me of Tami Oldham Ashcraft's Red Sky in Mourning doing so well - she got picked up after self-publishing by Hyperion and has some movie stuff going on, too. Pretty cool.
Singing his cheerful song: That's a chestnut-backed chickadee at the Marine Labs, photo shot by Ali Gill and identified by both Ali & Sue Vulgaris of the Whale Museum (right).
The Phone-A-Thon is coming: It's next Monday & Tuesday, and it's a huge and important fundraiser for the island's schools. Kelly Snow sent me a writeup that explains how it's an important part of how the San Juan Public Schools Foundation helps support so many cool things at school, including help buy the elementary school's math curriculum materials this year.
Quote: "For mind is the builder and that which we think upon may become crimes or miracles.
"For thoughts are things and as their currents run through the environs of an entity's experience - these become barriers or steppingstones, dependent upon the manner in which these are laid as it were.
"For as the mental dwells upon these thoughts, so does it give strength, power to things that do not appear. And thus does indeed there become that as is so oft given, that faith is the evidence of things not seen." - Edgar Cayce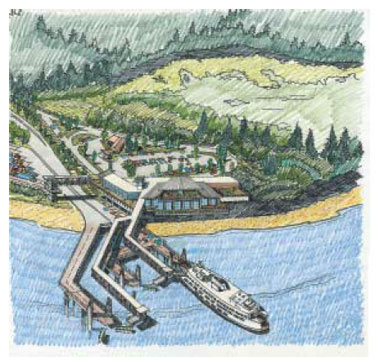 October 11, 2005
Anacortes Ferry Terminal project moves along: According to Washington State Ferry's Russell East, some of the ferries that serve the islands are as much as 78 years old. The terminal has seen better days, too, and there are plans to renovate it.
Russ is the director of terminal engineering, and he says the WSF is running its operation more like a business in hopes of lessening its dependence on the money it's granted. While that includes things like food on the boats and shooting movies on them, which cleared about $5 million last year, it also means building and improving the infrastructure. The picture above is what the terminal and the area may look like in 2013.
Speaking at last night's Chamber of Commerce meeting, Russ, regional coordinator Jane Davis, and terminal engineer Laura Aradana invited folks to drop by Key Bank on Friday at 10am to visit with them about the project. The estimated $120 million project assumes increasing traffic over the next few decades - we had 2 million people go through the terminal last year - and hopes to provide for that.
Here's a description of the project and here are the design concepts of what's been proposed. Check it out....and let 'em know what you think on Friday. See you there.
Caliornia bound: Mikki Ellis tells me she's headed to the warmer climes of California, and will be taking off this week.
Mikki was the manager of the Discovery Inn (Island Lodge, then) in the early '90s, after which she returned to California to raise her family. The island drew her back in 2002 to work at the Friday Harbor Suites, during which time she oversaw most of the massive renovation which that property underwent. She returned to Discovery Inn this last season, and now it's time to move on. Her energy, her smile, her creativity, and her sense of humor will all be missed.
It's going to be a great one: The San Juan Islands Women's Summit has some 47 speakers & presenters lined up for the conference, to be held November 4-5. Check online what's up, and get yourself signed up.
Science moves ahead: On Friday, the San Juan Public Schools Foundation presented $9500 to Friday Harbor High School Science Teachers Emil Zhu and Marc Vermeire, and students.

This money will be used to update FHHS Science Department Equipment for all areas: Chemistry, Physics, Marine Biology, and Biology. This year, in addition to their standard offerings, FHHS is offering Advanced Placement Science classes in both Physics and Environmental Science.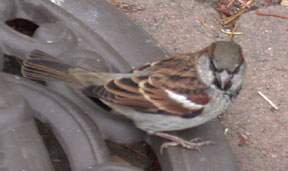 Don't you wish you were teaching science here? This high school probably turns out more marine biologists than any place....
Sparrow on the loose: Actually, this little guy has friends - a lot - who came to visit when I was out at Roche Harbor last week. He was especially interested in what was left of a cupcake on the ground.
Shannon & Steve: I ran into Shannon Sandwith this weekend at the soccer matches at the elementary field with her fella Steve Parker. They're aiming at an October 29th wedding. Congrats!
October 10, 2005
New owners: Richard and Angel Foote tell me they've sold Beaverton Valley B&B to Dave Kinnaman & Natasha Frey, who started there on the 28th last month with their first guests.
Richard & Angel are still running the States Inn...they tell me they're putting together a Valentine's Day show ("I Do, I Do") with Angel & Hunter Wood in it for next year. Cool.
Quote: We've got this gift of love, but love is like a precious plant. You can just accept it and leave it in the cupboard or just think it's going to get on by itself. You've got to keep watering it. You've got to really look after it and nurture it. --John Lennon, born October 9, 1940.
October 9, 2005
Good morning: Everyone needs a song to wake up to, so here's one for you, by our friend e.e. cummings:
i carry your heart with me(i carry it in
my heart)i am never without it(anywhere
i go you go,my dear;and whatever is done
by only me is your doing,my darling)
i fear
no fate(for you are my fate,my sweet)i want
no world(for beautiful you are my world,my true)
and it's you are whatever a moon has always meant
and whatever a sun will always sing is you

here is the deepest secret nobody knows
(here is the root of the root and the bud of the bud
and the sky of the sky of a tree called life;which grows
higher than soul can hope or mind can hide)
and this is the wonder that's keeping the stars apart

i carry your heart(i carry it in my heart)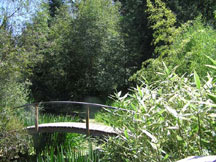 Bamboo on the island: I got a chance to go visit John Stamey's Wild Bird Bamboo place in the middle of the island, and let me tell you, it was pretty neat. He's cultivating some 50 varieties of bamboo right there (as you can see in the photo, around the bridge), and he helps people with installation, removal, and simply understanding drought-resistant bamboos. Check him out.
Ferry rates go down today: The peak season surchange goes away, so now it's way cheaper to ride the ferry.
Orcas author to talk at Pelindaba: On Tuesday the 18th at 7pm, Sara Williams will lead a discussion entitled, "The Literary Role of the Mystery." A former Gannett newspaper reporter and columnist whose stories were frequently syndicated in major U.S. dailies, she has won various state and national journalism awards. She'll be here to dicuss discuss her plot-twisting, page turning books "The Don Juan Con" and "The Serenoa Scandal."
Here's a page with reviews of the "Don Juan Con."
New owners: Mark & Aylene have packed up and are leaving the keys to the Trumpeter Inn B&B to Larry & Cheryl Hoppe, who will be along this next week. Mark & Aylene were very active in the community in the four years they were here, doing everything from serving on boards to waving in the parade. They'll be much missed.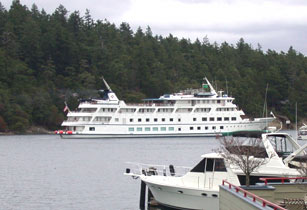 Meanwhile, the Panacea B&B has sold as well - I'll see if I can find out more.
Cruise ships pass through here: We have all kinds of visitors here on the island, and one of the more conspicuous is the occasional cruise ship, like the Yorktown Clipper at right, which runs between Seattle and Vancouver.
The boat was here Wednesday night and all day Thursday, and the folks from the boat got to explore Friday Harbor and roam the island with Dan Ward from San Juan Transit.
It's always nice to have friends drop by.
Car whoas & car woes, here's how to make your car go: You know sometimes your car's acting up, and it sure would be nice to get the mechanic to come to you? Like, when your car won't start?
That's Loren & Gina's business - to come to you. CARx DOCTOR is a mobile mechanic who comes to where you & that recalcitrant vehicle are. You'll find they're awfully nice folks, too.

Teams prevail: Whoa - the football team set Charles Wright Academy back 61-7 on Friday night, while both the girls & boys soccer teams won on Thursday. They don't play till they go off-island this Thursday.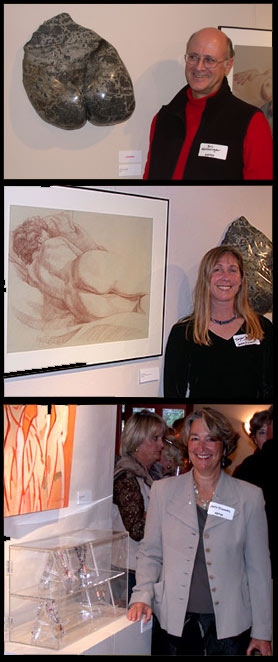 Mario Nunez headed in a Felipe Lopez pass with only four minutes left to win 1-0 at Coupeville for the boys to remain undefeated.
Chamber open house this week: Debbie Pigman from the Chamber of Commerce writes:
The San Juan Island Chamber of Commerce invites Chamber members and other local business people to the Chamber's Open House in celebration of its new location at 135 Spring Street, across from King's Market Thriftway.
Please stop by to meet the Chamber's staff and Board members, experience the Chamber Visitor Information Center and learn how and where the Chamber promotes island businesses and helps grow the island's economy. The open house will be Wednesday, October 12 from 4 to 6 p.m. Refreshments and entertainment will be provided.

Give blood on Monday: Kathy wrote to tell me & you:
Hi Ian, Our Island Blood Drive will be held Monday, October 10 from 11:30 am to 5:30 pm atthe Grange. We were up last time with 80+ showing up to give blood but I can't help but believe with all the folks on this island that we could do even better. For information contact Kathy Meier at 378-2117. This blood drive is sponsored by the Lions and the Grange. Thanks.

Great exhibit: They're calling it the Group Figurative Exhibition - it's drawings, paintings, jewelry, and sculpture, curated by Taylor Bruce at the Island Museum of Art on Spring Street.

I dropped by for the opening on Friday night and it was impressive to see such an array of talent & good work, all in such a small place. It included sculpture by Bill Weissinger (top - that's what you think it is, and the sign says "touch, please"), drawings and paintings by Taylor (center), and original figure-based jewelry by Chris Treinens of Wild Women Studios.
Other artists included Annie Howell-Adams, Richard Barnhart, Dennis Kaill, David Harsh, Christa Malay, Lorinda Roland, Cynthia Church, and Matthew Gray-Palmer.
The exhibit runs till the 15th. Don't miss it.
Quote: When pure sincerity forms within, it is outwardly realized in other people's hearts. - Lao Tzu, 6th century B.C.

Passing: It was tough to note the passing of Jenay Westgate - she's the one who you may remember was so concerned about the foxes on West Side Road this summer & wrote in to me about them, especially the one in the photo called Foxtrot.
Her warm heart for the animals will be missed.
---
The information here is simply stuff we here at By Design think is important around Friday Harbor or on the Island. Some of it's news, some of it's old news, and all are just things we wanted to mention, with most of it about the things that make living here great.

There will be more next week, if anything happens.

Ian Byington
ian@byd.com

More info about the island:

This site prepared by our friends at By Design in Friday Harbor.
The information contained here is
©Copyright 1997, 1998, 1999, 2000, 2001, 2002, 2003, 2004, 2005 and next year, too
by By Design, Friday Harbor.
Unauthorized reuse of the content of these pages is prohibited;
links to other sites is intended to be to the benefit of those sites,
and for the edification of our readers,
and does not constitute endorsement or
agreement with views expressed there.
All rights reserved, except in Britain, who have their own reserve.