January 5, 2006
Hey, I'm back! It's good to hear from you this week - I took a short break from writing for a while so I could get a tiny vacation (I went to Alabama to visit my folks & hang out at my uncle & aunt's organic farm) and so I could catch up, this week, with everything else.
I asked around a bit this week, and people tell me nothing's really happening, so that's my big report.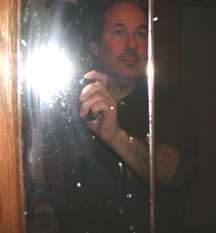 December 24, 2005
Time for a break: Just to let you know, I'm on a break till the new year...I wanted to take a moment, though, and thank you for reading my newsletter all these years, and filling me with such a strong sense of why our little island is such a gentle & nurturing harbor for so many of us.
If I would wish you anything this season, I would wish you freedom from worrying, freedom from doubt & fear, and freedom from a feeling of lostness.
Thanks for everything you give me to make this possible! I hope you have the best of holidays with loved ones all around, and people that are lucky enough to be with you.
Peace in the new year,
Ian, your weblisher
PS - It's harder to take a picture of yourself than you think. YOU try it.
Orcas in the neighborhood: As you know, the killer whales wander all over the place during the winter...Tom McMillen of Salish Sea Charters/Island Adventures found the whales today! He reported at noon Friday a pod of orcas resting just off Shilshole, heading south. He said it was J-pod, and that they were heading into Elliot Bay, in Seattle.
Compliments to you: Ever get "compliment" and "complement" mixed up? Here's a British guy who helps clear it all up. If you like that (he's really funny), you'll love his War with the Frogs.
Quote: "Therefore I tell you, do not worry about your life, what you will eat or drink; or about your body, what you will wear. Is not life more important than food, and the body more important than clothes? Look at the birds of the air; they do not sow or reap or store away in barns, and yet your heavenly Father feeds them. Are you not much more valuable than they? Who of you by worrying can add a single hour to his life?

"And why do you worry about clothes? See how the lilies of the field grow. They do not labor or spin. Yet I tell you that not even Solomon in all his splendor was dressed like one of these. If that is how God clothes the grass of the field, which is here today and tomorrow is thrown into the fire, will he not much more clothe you, O you of little faith? So do not worry, saying, 'What shall we eat?' or 'What shall we drink?' or 'What shall we wear?' For the pagans run after all these things, and your heavenly Father knows that you need them. But seek first his kingdom and his righteousness, and all these things will be given to you as well. Therefore do not worry about tomorrow, for tomorrow will worry about itself. Each day has enough trouble of its own." - Jesus the Christ, from the Sermon on the Mount
December 22, 2005
Happy solstice to you: Now the days get longer, from here on out. Cool.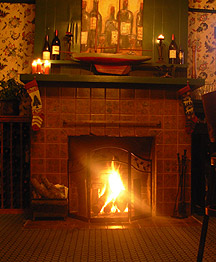 Moving: The shuffle is on...you noticed that Big Daddy's ended 30 years of business last month, down there across from the pub. So you probably saw folks tidying up in there & scrubbing the floor yesterday - The Gourmet Galley, which may be one of the island's best kept secrets, is going to move forward so they have a street front for the biz.
Meanwhile, Bettye at Boardwalk Bookstore says she'll move down to Galley spot, which will give her store more visiblity, and she says that'll make it easier for folks who have trouble with stairs. She plans to open at near the outside door of the Front Street Cafe, which will makes things easier to see from the ferry.
Warm & cozy - drop by the Fireplace Lounge at Roche Harbor one of these chilly winter evenings...that's the fire from last weekend.
Quote: How long can men thrive between walls of brick, walking on asphalt pavements, breathing the fumes of coal and of oil, growing, working, dying, with hardly a thought of wind, and sky, and fields of grain, seeing only machine-made beauty, the mineral-like quality of life? ~ Charles A. Lindbergh, Reader's Digest, November 1939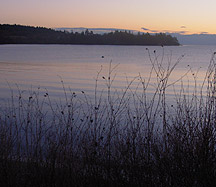 December 20, 2005
The truth about False Bay: It's really shallow. That's why even though it looks like a nice moorage spot, you're gonna get stuck in the mud at low tide.
Sure was pretty this weekend, near sunset on Sunday.
Changes upon changes: I hear Roche Harbor has hired Lisa Brown to step in & take Chris Watling's place as assistant to the general manager & marketing coordinator. Lisa has been the executive assistant for the school district for the past few years, and has been instrumental in helping organize things in that office, as well as overseeing personnel needs for the district. Lisa starts out at Roche after the new year.
Meanwhile, the school district will move front office maven Maude Cumming over from the high school to take Lisa's place - a good choice, since Maude knows just about everybody in the schools, and works well with folks. I haven't heard for sure who will take her place....
Different people get different things for Christmas...some people get new jobs. Happy new year!
Quote: "It did not really matter what we expected from life, but rather what life expected from us. We needed to stop asking about the meaning of life, and instead to think of ourselves as those who were being questioned by life – daily and hourly. Our answer must consist, not in talk and meditation, but in right action and in right conduct. Life ultimately means taking the responsibility to find the right answer to its problems and to fulfill the tasks which it constantly sets for each individual." - Viktor E. Frankl, Man's Search For Meaning
December 19, 2005
Christmas in the air: And on the water! The Roche Harbor Lighted Boat Parade was pretty cool, with nearly two dozen boats decked out with lights and color and sound....that was Saturday night just after sunset. It was really pretty to see the lights on the water.
It was also fun to see everyone dressed up last night for the Victorian Christmas caroling at Roche (like Tom Fenley and his family, below).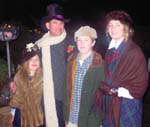 It felt for all the world like you'd been transported back to the early 1900s in front of the old hotel. Here are some photos I took - see if you're in there!
Good with their feet AND with their brains: Did you hear that both the girls and boys soccer teams were named state academic champions for the fall, meaning they had the highest grade point averages as a team for their sports among all the 1A teams that play.
The girls scored with an atmospheric 3.77 GPA (at the awards ceremony last week when it was announced, I heard one of the girls whisper, "OK, who got the B?"), while the boys' 3.65 is pretty impressive as they won for the second year in row.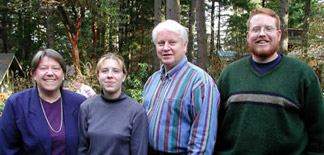 What the Zaehrings are up to: I love stuff like this - Dan sent over his family's website so you can see pix of his boy Jamie getting married last October (to his wife Michelle), and you can see what Jennifer's been up to at the UW and in Mozambique. That's Andrea, Jennifer, Dan, and Jamie in the pic to the left.
Dan's biz is Account/Ability Resources, helping businesses see that there's more to financial management than just paying bills and recording income.
New look: I saw Adnan from Maloula's on Saturday at the grocery store - he tells me the family is all back in Damascus & doing very well, thank you. He's re-modeling the restaurant while he's closed this winter, and had put in a 12-hour day that day. Should look pretty good when he's done!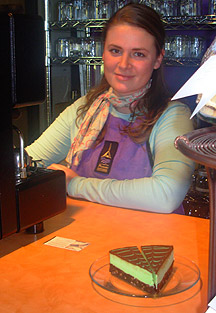 New look II: When Debbie and Allen Shayo bought the Panacea Inn earlier this fall, it had been called the Concord Inn for a year or two, the Panacea Inn before that, and was a private residence in the late 1980s.
Steve Demerest had gotten it going around 1993 as the Panacea, before he sold it to Jessica and Beverly Shutte, who sold it to Eric & Laura Concord, who now have passed it on to the Shayos.
They have decided to re-name the place to reflect its historic roots - Peter Kirk built the Craftsman-style house back in 1907, so they've christened the inn the Kirk House. You can read all the history on their web page, which they just re-designed and launched. Check it out.
Sweet things at Pelindaba: When I went to get some coffee at Pelindaba the other day, Chantelle showed me this dessert (right), made by Brenna's partner Greg (you know Brenna - she's the one who often opens & is there, bright & cheerful, each morning.) I thought I'd take a picture to show you....
Quote: Have you seen Casablanca with Humphrey Bogart lately? It's one of the great ones...there's this bit that reminds me what I sometimes hear in the coffeehouses here from people who just moved here:
Captain Renault: What in heaven's name brought you to Casablanca?
Rick: My health. I came to Casablanca for the waters.
Captain Renault: The waters? What waters? We're in the desert.
Rick: I was misinformed.

December 16, 2005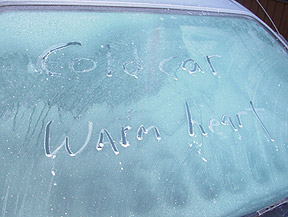 Warm heart, chill out: You know the old Irish expression that is so thoughtful whenever you shake hands or hold hands with someone whose hands are a bit chilly: "Cold hands - sign of a warm heart."
It WAS pretty cold this morning - does that apply to cars, too?
ICE Open House: Speaking of ice & cold stuff, it was warm & welcoming at the Island Communications & Electric open house yesterday, over at their place in the new building across from Public Works, right as you turn up the hill past the baseball field. Their website reports what they offer: "Licensed electrical contractor providing residential and commercial electrical services including structural wiring systems (low voltage), home automation, security alarm systems and business telecommunication systems."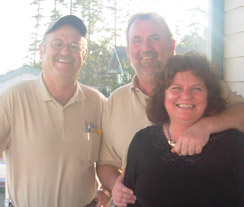 At the open house Lew (center) and Debbie Dickenson, and Bob Jarman invited different vendors so you could see the latest & greatest systems that are available- fascinating stuff. On the site, there's also a photo of the other guys who work with Lew, Debbie, and Bob: Ron Thurman, Joe Floer, Ryan Burke, Ken Serbian. Check 'em out.
Changing of the guard: The Town Council won't meet again till the 5th of next month, but when they do it'll look a bit different. Last night's meeting was ended with the swearing-in ceremonies for Howie Rosenfeld (re-elected), newly-elected Liz Illg, and second term council member but first term mayor David Jones (on left, with outgoing mayor Gary Boothman).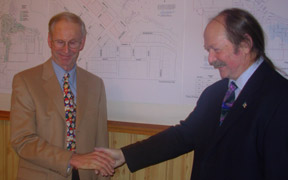 The meeting was also marked by Gary's emotional goodbye to public service, the last eight years of which have been as mayor. Former mayor Bill LaPorte gave a touching valedictory, and the folks in the town chambers gave Gary a rousing, standing-ovation sendoff.
New energy, new beginnings, and a sad goodbye for someone who's given his all in his love for our little town. Thanks, Gary.
Christmas at Roche: You know there's a bunch of stuff going on at Roche Harbor this weekend, right? Here's the writeup, from their site. See you there!
Canada geese, unite! After I called the geese in the photo below "Canadian geese," I got a bunch of obscene phone calls with honking noises.
So I looked it up & sure enough, the proper name is "Canada geese."
Touchy bunch.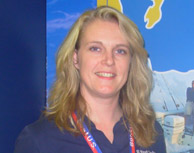 New face in town: Drop by & say hey to Katie Shipley, the new store manager at West Marine. She used to live in LaConner, and has managed the Bellingham & Anacortes stores before moving here with her kid Devon, and to live aboard in the marina. Good to have you here!
Power outage blues: Pretty cold last night, especially with the power out for the evening, for our friends who heat with electricity. And that's not all...the movies had to start early - by 7:30pm - so they were over before the lights went out at the Palace Theater.
Quote: If one advances confidently in the direction of his dreams, and endeavors to live the life he has imagined, he will meet with a success unexpected in common hours. - Thoreau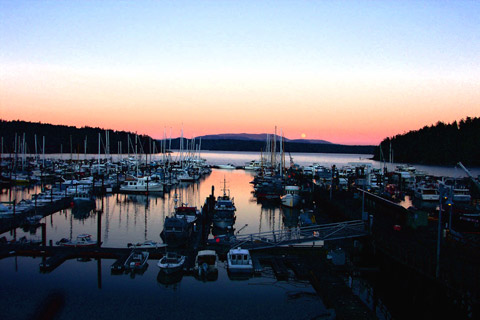 Photo of Thursday's moonrise by Steve Simpson for the Port of Friday Harbor.
Check out the Port's new webcam (replacing the old one!) to see what the harbor looks like, right now!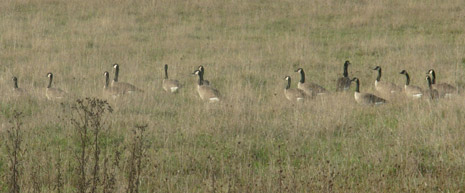 December 15, 2005
Canadian goose on the loose: Hey, we all have dreams - I always wanted to be a wildlife photographer for National Geographic, and the hope continues. Only problem: the wildlife is invariably hiding, moving, or running away.
Yesterday when I was motoring along on Roche Harbor Road, maybe a mile and a half out of town, I saw a gaggle of geese (they're called a skein of geese if they're flying, and a wedge of geese if they're flying in a "v" - here's proof) hanging out in the field, so I stopped and shot some pictures. As geese do, they started walking rather nonchalantly away, and went to look for slugs & worms and other lunch. That made me think about lunch, so I went down to the Golden Triangle:
Golden Triangle news: Well, it's been a couple of weeks now, with the Thai Kitchen closed, and Avon told me that she's "pretty sure" she'd like to open for the evenings at the Triangle starting next week, perhaps as early as Thursday. She & Boone have moved things around in the restaurant in a nice way that kind of opens up the counters - go check them out! That made me think about opening things up, so I went to the west side.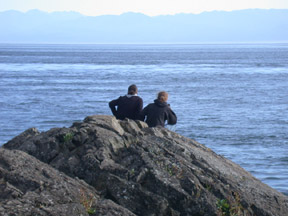 West side story: It's just as pretty in the winter...here's a shot from Lime Kiln, looking out over the water, watching for sea lions and minkes and occasional killer whales. That made me think about the Whale Museum, so I went to their gift store.
Whale Museum gift store: It rocks! If you haven't finished getting cool stuff for your favorite nephews or budding scientists (or already graduated scientists) or other marine-mammal-loving friends, drop in and see what Sue & Heather have there at the store. You'll love it. That made me think about kids.
New kids on the block: If you've been by the Market Chef, you probably already know that Laurie & Tim are expecting their next child next month, while over at Wells Fargo, Michelle Morton (along with Dave from the Sweet Retreat) are looking forward to their first kid's late-spring arrival. That made me think about the arrival of winter.
The arrival of winter: Yep, it's nearly solstice - on track for next Wednesday. From there on out, the days get longer - wahoo! That reminds me of the dark....
The Dark, tonight: Hey, it's already night time, so maybe you wouldn't even notice, but OPALCO is having a power-off period starting tonight at 11pm till 5am or so, so if you're planning on staying up to read, get your candles out.
Click here for more news!
---
The information here is simply stuff we here at By Design think is important around Friday Harbor or on the Island. Some of it's news, some of it's old news, and all are just things we wanted to mention, with most of it about the things that make living here great.

There will be more next week, if anything happens.

Ian Byington
ian@byd.com

More info about the island:

This site prepared by our friends at By Design in Friday Harbor.
The information contained here is
©Copyright 1997, 1998, 1999, 2000, 2001, 2002,
2003, 2004, 2005, 2006 and next year, too
by By Design, Friday Harbor.
Unauthorized reuse of the content of these pages is prohibited;
links to other sites is intended to be to the benefit of those sites,
and for the edification of our readers,
and does not constitute endorsement or
agreement with views expressed there.
All rights reserved, except in Britain, who have their own reserve.