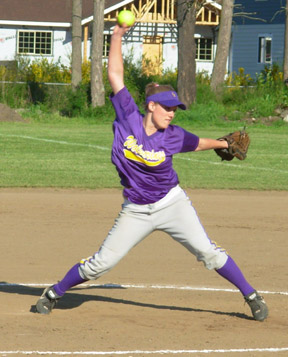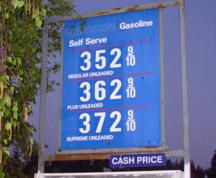 May 3, 2006
Gas on the rise: It was $3.47 over the weekend; Tuesday night the lowest price was $3.52. Ouch.
Wolverines play long and hard vs. Concrete: The Friday Harbor baseball team notched its tenth victory of the season, dumping Concrete 8-2 at home yesterday. FHHS has two games left, then eyes where the final league standings leave them in the playoffs, which begin next week.
Meanwhile, the softball girls gave tough Concrete all they could handle. The girls tied the game 1-1 in the bottom of the sixth to go into extra innings, then re-tied the score in the 8th 4-4 to keep things alive.
However, they were unable to match the Lions' last two in the eleventh, as they lost 6-4 in 11.
Wolverine ace pitcher Beth Kelsey (left) was still throwing strikes in the late innings as she went all the way for FHHS. "They were second in state last year, and are pretty good this year," Beth told me afterward. "But we showed we belong." The girls have another week and a half left in the season, which will set up their playoff chances.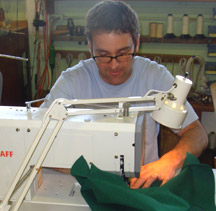 Tuesday night's game showed they have the stuff of champions, as they continued to come back, and back, and back, with poise & enthusiasm.
Sail on: The sale is complete, and Patrick Pillsbury (right) has been working for the last month at his new place, San Juan Canvas & Sail. Drop by and say hey to him & Connie Black, who's been there for a while.
Quote: Who gains by being forgiven and by forgiving? The one that forgives is lord even of him that he forgives. - Edgar Cayce
Bird lookout, coming & going: Barb Jensen of the Audubon Society says there are lots of birds arriving.
She says, "I just saw my first Vaux Swift passing through the islands. House Wrens are here too. Pacific-slope Flycatchers are here too. David Ridgeway saw a Trumpter Swan still on Orcas and I have been seeing five swans on Sportsmans Lake on San Juan the last few days. They will be taking off soon!"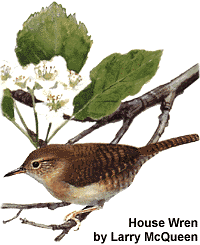 This is the time of year the trumpeters take off, so get out there soon, if you want to see them. I have a bunch of house wrens, chickadees, and juncos around my house (along with lots of crows and robins). That's a wren to the right, by Larry McQueen.
May 2, 2006
Writers, unite! I hear there's a writer's cafe at Pelindaba Wednesday night at 5:30pm...they say, "Local writers and their guests will gather to share with each other - and interested members of the public - short readings of poetry, fiction, and non-fiction."
See you there!
May 1, 2006
Fished out by the ferry folks: As I understand it, last night when the Sealth was coming to Friday Harbor, they got a distress call & veered off to nearby Carter Beach, where they plucked a guy who'd gone overboard out of the water. The boat was met at the dock by the island EMTs, and he was flown to Harborview right off. No word on his condition or identity this morning, but we'll keep you posted.
Children's Festival reminder: It's this Saturday. Fairgrounds. You're reminded not to miss it. 10:00am. See ya there! (I think I said 10:30am in another place, but it REALLY starts at 10 - don't be late!)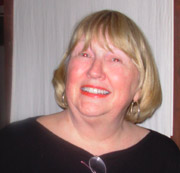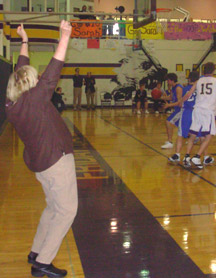 It's the principal of the thing: The San Juan School District has been more than lucky in hiring strong administrators in this decade, and one of the good picks was Marilyn Luckman at the high school. She came aboard in 2001, bringing with her experience, a broad & varied background, Principal of the Year honors from two states, and more energy than most people you'll ever meet.
That's her (left) cheering on the Wolverine boys back in February with her customary gusto.
She tells me she's retiring from the school district after this school year, but not retiring: She'll be offering consulting to principals & schools to assist them in the changes they face.
This is one of Marilyn's strong suits, and a key part of her FHHS legacy - shepherding the Gates Grant innovations (most of which are not technological, but geared toward student involvement & achievement) over the past four years, from proposal to neat idea to a reality that is now in place throughout each classroom at school. She's also led the school in making it a place where kids can actually learn, with a focus on academics that continues to keep FHHS one of the highest ranked schools in the state in more categories by most measures.
This is one woman who will be tough to replace, and who will be much missed.
School Board member Heidi Lopez tells me a search process to replace Marilyn will begin soon.

Prom rocks: By all accounts, Saturday night's prom went well...most of the FHHS crowd at the Yacht Club was still there when I dropped by at midnight. It's always great to see our great kids all dressed up with somewhere to go - and there were plenty of smiles to go around, including, left to right, Melissa & Madison, Stephen & Danile, and Alaina & Heaven.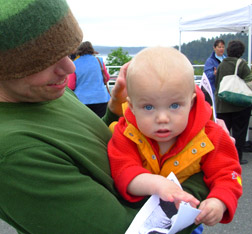 One more reason the library is a great place: If you haven't met Floyd (that's him with his boy Satchel, looking at you) yet, drop in at the library & say hi. He looks after all things technological there, which is why the computers & their networks work all the time, and work well. He's a friendly, cheerful, helpful guy who is part of what makes that place special.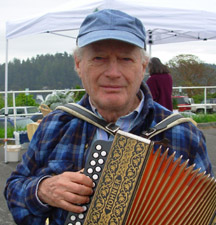 Looks like his wife Adrian's going to work part time at the libabry, too - just got hired - and they took on Emily Wolf, too.
That's them at the Farmers' Market on Saturday - kinda misty at first, before it REALLY rained.
Mike's still playing: That was Mike Cohen on the squeezebox at the Market on Saturday - did you know he runs Project Nature Connect, here on the island? This internationally recognized program is described in the first part of the website: "Learn how to use alternative personal experiences with attractive forces in mother nature and human nature to strengthen personal and global well-being."
Quote: "What each must seek in his life never was on land or sea. It is something out of his own unique potentiality for experience, something that never has been and never could have been experienced by anyone else." - Joseph Campbell

April 29, 2006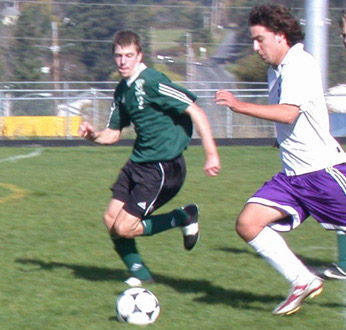 Soccer news: Two things to let you know - One: looks like the high school season for boys will be switched from the fall to the spring, as it was approved the other night. So - no season this fall, back in action in Spring 2007.
Two: the Seattle Sounders are playing a game in Mount Vernon next Saturday evening (they scheduled it so you can see it, AND go to the Children's Festival). The San Juan Soccer Association has set it up that if you go get your tickets at Nash Brothers Sporting Goods (formerly Duke's) they're half price. Makin' it easy for you to see pro soccer.
That's senior Felipe Lopez to the right, playing this past season for FHHS. He's one of our local stars you'll be able to say you knew BEFORE he turned pro.
Internet's fixed. Relax: Friday morning when folks on the island couldn't get their DSL connections going, they're were naturally wondering what was up. So was I, so I called Bill Henikman, the Friday Harbor Area Plant Supervisor for CenturyTel. He said that Verizon was doing a network change in Mount Vernon that inadvertantly knocked out the feed to the islands, which Verizon was able to troubleshoot & restore service by around 9:40am.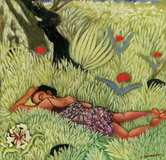 waterworks' new show: I just got this nice note from Ruth at waterworks, who has a couple of new artists to tell you about:
Image is: Cathy Schoenberg, Knotty meadow, oil on linen/board (click to see a larger, cooler version)
waterworks gallery is pleased to open the May show with new works by 2 amazing artists.
Sue Roberts' painted ceramic and encaustic sculptures are whimsy with an edge. The ordinary can often be easily identified and then taken further with a sense of humor and a narrative style that has a serious side to it. Sometimes these delightful, thought provoking sculptures are just pure and curious fun!

Cathy Schoenberg's paintings are rich in color and patterning, exuding soft confidence that suggest an interior landscape that invites exploration and enjoyment. The women in these paintings often appear to be sleeping, dreaming, and gathering sustenance from the environment that surrounds them.

The gallery has been representing both artists for many years. This show is very exciting, as both artists are mid career and have established themselves in the regional arts scene .

waterworks gallery, established in 1985, represents a group of eclectic contemporary artists who live and work in the Pacific Northwest. Hours in May are Tuesday through Saturday, 10:30 to 5:30 and most Sundays, 11:00 to 4:00. Preview this show on-line as of May 4.www.waterworksgallery.com

Quote: "I see the kids and I feel like taking them all away to a safe place to hide until the war stops and the hunger stops and El Cua becomes strong enough to give them the care they deserve." - American Ben Linder, killed 19 years ago yesterday by US-supported contras while he was working to bring electricity to the rural parts - and poorest parts - of Nicaragua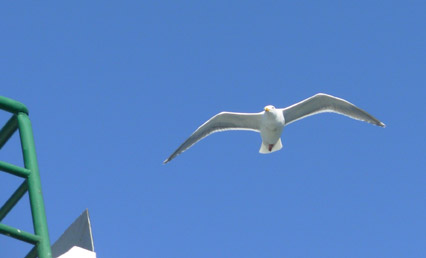 April 28, 2006
Sunday afternoon at the Anacortes ferry lanes, a seagull looks over the ferry. (Click for a larger, cooler image.)
Connection was down: Usually it's the guys who have DSL who are pretty smug about how fast things are, compared to their friends who use dial-up to get on the Internet. This morning the turtles outpaced the rabbits as only dial-up customers could get online for nearly two hours. CenturyTel apparently had some problems on the mainland lines, and it's OK now.
And to those of you who called to thank me for fixing it for you, hey - you're welcome.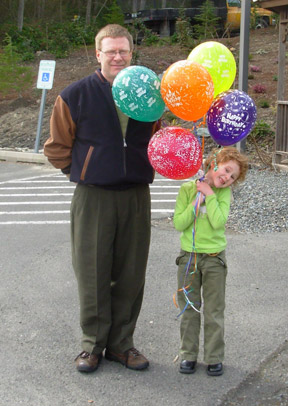 Vote: You got your mail-in ballot this week about the Housing Bank initiative. This would put in place an excise tax on real estate to help folks who are having trouble affording homes here...check here to see the website in support of the measure. Good idea? YOU try and buy a place here. Is this the way to mitigate that? You decide.
That's Patrick and Annebelle dropping balloons off for wife/mom Denise King at Skagit Valley College for her birthday last month.
In from Australia: After mentioning all the folks with Melbourne connections earlier this week (see below), I ran into Kathy Cope's dad yesterday at the Thai restaurant...he's from Melbourne, too. He's visiting for a week, and he'll be back when she & Drew Dawson get married in August.
Drop by: The work on Memorial Park should be done by Monday morning, as the Town finishes putting the last trees and benches in, today. Looking good. Also...looking done.
Fun-raiser: Over at the sixth graders at Spring Street International School they're selling lilacs & baked goods on the porch today as a little fundraiser. Make your office smell better - go get some.
Quote: ""Whatever you do, you need courage. Whatever course you decide upon, there is always someone to tell you that you are wrong. There are always difficulties arising that tempt you to believe your critics are right." - Ralph Waldo Emerson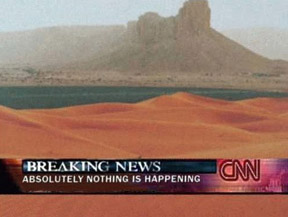 April 27, 2006
Turn it off: This is National Turn Off Your TV Week (doesn't Turn Off Your TV Year sound even better?) during which people gnash & wail about how television is bringing down western civ, and then go watch it anyway.
Did you know? On average, children in the US will spend more time in front of the television (1,023 hours) than in school this year (900 hours). That's one reason they're better at tv stuff than school stuff.
Well, I'm not gonna tell you how I feel about you rotting your mind with too much tv, but if you're interested, here's a website about the week.
Speaking of TV: Wouldn't it be cool if CNN would admit it? (Screenshot to the left.)
Speaking of TV, again: Last night, "Smart Travels with Rudy Maxa" covered San Juan Island on channel 9 (the Visitors' Bureau's Robin told me about this). She says rerun dates can be found on the KCTS website.
Quote: "We as a country are wealthy, fat, comfortable and complacent, with apparently a built-in allergy to unpleasant or disturbing information. Our mass media reflect this. Unless we get up off our fat surpluses and recognize that television in the main is now used to distract, delude, amuse and insulate us, television and those who finance it as well as those who look at it and those who work at it, are going to see a totally different picture." -- Edward R. Murrow, 1958
Victoria gets hitched! One of my favorite folks around is Victoria Compton (see Sept. 17, 2004 in the Update for her involvement on the national political scene) - she's been living back east after working here for the Journal and then starting At Home magazine which is still going strong under Claudia LaCava Macdonald. She got married here a couple of weeks ago, and Marie DiCristina files this story:
James Jorasch and Victoria Compton were wed at Our Lady of Good Voyage Chapel at Roche Harbor on Saturday, April 15, 2006. The clouds parted to provide lovely sunshine to warm the crisp, breezy air. The ceremony was conducted by friend Claudia LaCava Macdonald.
Immediate family in attendance were: Bride's mother Karen Compton, Sister and Maid of Honor Elisabeth Compton and Groom's mother and stepfather Mel and Judy Malinowski, Brother and Best Man Craig Jorasch (with his family), sister Marta Kenehan and Grandmother Lennice Anderson.
There were friends and family from around the country and Friday Harbor. The guests and family enjoyed hors d'oeuvres and beverages at the Madrona Bar followed by a gourmet dinner in the Madrona Room. Everyone enjoyed dancing and listening to the tunes of Steve Keys and his band of local musicians. The evening ended with a beautiful sunset. The couple will reside in New York, New York and continue to visit their island home. Victoria has been a long time resident of Friday Harbor and the founder of the At Home Magazine.

Speaking of getting hitched: FHHS art teacher Pat Speer told me yesterday her son Kyle's getting married in late July.
Speaking of getting published: This is great - Susan Wingate, who is a heck of a writer & is teaching writing classes up at Skagit this term, dropped me a line to tell us:
Hey, Ian - I'm happy to say one of my short stories has been short-listed in the UK competition, SlingInk. The story BREAKING will be included in the competition's 2006 anthology and will soon be available through Amazon and from the website shop Of SlingInk (where it's cheaper!). Look for it soon! Thank you for sharing in my good news. Health and good hope to all!
Cheers, Susan.
Less cars going to Canada from here: The WSF says the 124-car Chelan will replace the 144-car Elwha on the International run as well as domestic routes. They say that due to vessel moves, capacity in the Islands will fluctuate depending on the vessels in service. WSF encourages travelers to plan on earlier sailings if possible as the last sailing of the day from Anacortes at 8:25 pm is the smaller capacity Chelan.

April 24, 2006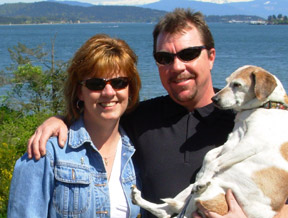 Ron & Sandy mark five years: Well, there's some news: Ron Bates & Sandy Montana (right) celebrated their fifth anniversary this weekend by going snowboarding up the Nooksack Valley. Congrats!
Then, there's other news - Sandy has accepted the job to replace manager Gretchen out at the Lime Kiln Café at Roche Harbor. She's been at the Little Store for a long time, and worked before that at Roche, so she's returning to familiar ground. She starts this week.
Getting married: Looks like Cara Johnson (she's George & Milene's daughter) is marrying her longtime friend Mustafa - the wedding is set for mid-June.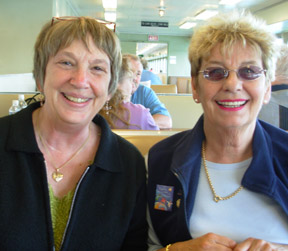 Soroptimists host a friend: You may remember last October when Winnie from Germany came to visit the island on the Soroptimists' Grant of Friendship (you can find the writeup under the Oct. 15th, 2006 posting, below)...
This week our local Sorops are hosting Joc Hanby from Melbourne, Australia (same as Chris who works the front desk at Friday's Historical Inn, mate) - Nancy Hanson (on left, with Joc on the ferry) from the Toy Box drove to the airport to get her, and brought her to the island yesterday afternoon. She'll be visiting the island this week till Thursday, then make her way to Tacoma, Port Angeles, and further downsound to visit other groups. Nancy's son, by the way, has lived in Melbourne for the past few years.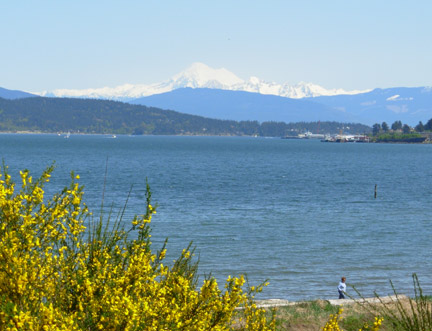 So tell her "g'day" when you see her - her name is pronounced "joss" - just tellin' you so you'll get it right.
It was a sunny Sunday afternoon yesterday at the Anacortes ferry lanes, looking toward the mountains. Yep, that's scotch boom, a noxious weed, in the foreground, right.
The Children's Festival - it's coming up: Here's the deal if you just moved here & you DON'T know about the Children's Festival, you need to know that this is simply one of the coolest things that kids can do here.
It's the Saturday after next, on the the 6th, and there is a ton of stuff that happens there. And...it's all totally free, even the food. Here's the write-up my CF friends sent you & me:
CHILDREN'S FESTIVAL TAKES TO THE JUNGLE MAY 6th: Slithering reptiles, wild storytelling, karaoke jingles, and dozens more "jungle-icious" activities await visitors to the San Juan Island 16th Annual Children's Festival: Jungle Quest.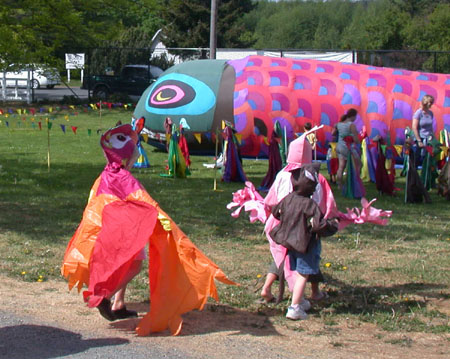 The free event for children of all ages takes center stage at the San Juan County Fairgrounds from 10 a.m. to 2 p.m. on Saturday, May 6th. Featured entertainment includes Clayton Green's Roving Reptiles. Green will present three separate 45-minute shows that bring jungle life to the island and families face-to-face with live snakes and exotic reptiles.
The popular Nylon Zoo storytelling tent presented by the San Juan Island Soroptimists returns, with an animal design to match the festival's theme.
In addition, the successful debut of karaoke at last year's festival sings on the entertainment stage in 2006. More interactive fun (new this year) is a Quest for Clues, giving visitors a chance to win prizes in a fact hunt throughout the festival.
Demonstrations include Birds of Prey presented by Wolf Hollow Wildlife Rehabilitation, car seat checks by emergency services, and safety and equipment presentations by local fire and rescue crews. Dozens of local nonprofit groups will be providing activities for the children, including clay sculpting, arts and crafts, face painting, and costume dress-up.
Free hot dogs, soda, and popcorn provided by the Kiwanis and Lions Clubs will also be available.
The San Juan Island Children's Festival is a program of Island Rec and is sponsored by Downriggers, Masons, Soroptimist International of Friday Harbor, San Juan Island Fitness Club, Mi Casita; Islanders Bank, Coldwell Banker, Whidbey Island Bank, and Chicago Title. For more festival information, contact Sally Kerr at 378-4953.
Here are photos from the 2004 festival to give you a taste of what it's like: Portfolio I and Portfolio II.

Rev's back: The guy who is arranging the music for this year's 100th anniversary County Fair has also been doing it for the Seattle Folk Festival the last few years - Rev Shannon (right) tells me he's around to get this year's music going as he has in past Fairs, but isn't doing Folklife this year.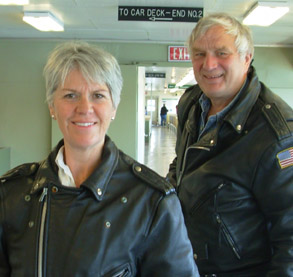 Tom & Maria on bikes: Yep, the reason Tom & Maria Small (left) have matching leather coats is they were coming back from a motorcycle ride this sunny weekend on the mainland...they're just 2-3 weekends away from daughter Kris' delivery of her first child - the grandparent moment is near.
Quote: As selfishness and complaint pervert the mind, so love with its joy clears and sharpens the vision. - Helen Keller
April 22, 2006
Whales are around: Ron L. Bates from Victoria reported to the Orca Sighting Network folks that J pod passing through on the west side earlier this week. He mentioned that J-1 was miles ahead of the pod, as they made their way to Port Angeles (well, the water NEAR PA; everybody has their favorite place to go drinking, there).
Usually the whales get to be regulars here in May, after the the salmon become more abundent on the west side. (Orca equations for you: Salmon=lunch.)
Every Fifteen Minutes: Speaking of drinking, in an event that will be covered by Seattle and Bellingham news folks, there will be a two day happening at the high school next week, focused on the notion that every fifteen minutes in the US, someone dies in a car fatality related to driving under the influence, usually drinking. Called "Every 15 Minutes," the event will include experiences for the students related to what it's like to lose a friend or classmate this way.
Most of you know that the kids we have here on the island are pretty exceptional, talented, usually personable, and with gifts which they share in various ways in the community. After the deaths of a couple of our friends earlier this decade that had drinking & poor judgement involved, you'd think that we get it, but it's pretty clear we have an underage drinking problem here. Surveys have shown it, the kids are pretty open about it, the crime logs suggest it.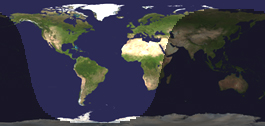 You can read about the problem here (well thought out remarks in the San Juan Islander), and support Lainey Volk's program next week at the high school.
I shot this photo (right) this morning at 8am so I could show you how dark it is in Australia when we wake up. Pretty sunny in Greece, though, eh?

Saturday is Earth Day: This is the week that the Soroptimists set up a table at Market Place for folks to come in and sign up for an area of the island to pick up trash. Bags and gloves will be provided.
Debbie at the Chamber mentions: "The Town of Friday Harbor is included on that area map, so the Chamber of Commerce is encouraging businesses to join together and choose your own block or section of town to clean. Just bring filled trash bags to the Chamber office any time between this Saturday and next Wednesday and the Town will dispose of them for us!"
Memorial: People are invited to join together to celebrate Susan Eyerly's life at a potluck at 4 p.m. Saturday, April 22, 2006 in the main building at the San Juan County Fairground. If you would like to share a one-minute memory at the service, please contact Helen Machin-Smith at 378-5649 before Saturday. Bring flowers (in containers) if you wish.
Birthday: Did you know Jeremy Perry (currently on deployment somewhere is the South Pacific aboard the aircraft carrier USS Abraham Lincoln) celebrated his 25th birthday last week at sea and far from home? He's Colleen Bennett's son, and she's awful proud of him.

Quote: "A time has come when silence is betrayal. That time is now." -- Dr. Martin Luther King, Jr.
Further proof that spring has sprung: Farmers' Market begins this Saturday, April 22nd from 10am till 1pm at the Courthouse Parking Lot. Fresh greens, meats and eggs now and every Saturday through the fall. See you there!

Tulips in bloom on the island...photo by Jolie Wheeling.
Click here for more news from earlier this week!
---
The information here is simply stuff we here at By Design think is important around Friday Harbor or on the Island. Some of it's news, some of it's old news, and all are just things we wanted to mention, with most of it about the things that make living here great.

There will be more next week, if anything happens.

Ian Byington





More info about the island:

This site prepared by our friends at By Design in Friday Harbor.
The information contained here is
©Copyright 1997, 1998, 1999, 2000, 2001, 2002,
2003, 2004, 2005, 2006 and next year, too
by By Design, Friday Harbor.
Unauthorized reuse of the content of these pages is prohibited;
links to other sites is intended to be to the benefit of those sites,
and for the edification of our readers,
and does not constitute endorsement or
agreement with views expressed there.
All rights reserved, except in Britain, who have their own reserve.