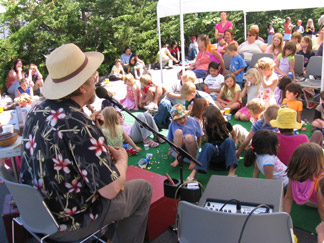 July 3, 2006
The Summer Reading Program at the Library starts: Heidi from the Library tells me they're off to a great start:
Hi Ian - We had our first program of the summer reading program today and I thought that you might be interested in seeing some of the photos I took of the program. If you want to post any on your site, that would be great.

The Summer Reading program kicked off with the performer Alleyoop, aka Allan Hirsch, a very entertaining singer, storyteller, and puppeteer. There were about 120 kids and 30 parents enjoying this first show of 6 shows that take place every Wednesday afternoon from 1:30 to 2:30 through August 2nd. And we'd love to have you come to a performance one Wednesday – it's lots of fun. For more information about the program, check out this URL: http://www.sjlib.org/justforkids/summerreading.htm

Thanks, Heidi
It's an island deal: Charlie Felds tells me he & his new wife Diane have opened their shop called Island Deals down at Jeri's Mall, down from the new location of the Hot Shop...he tells me they're selling affordable things islanders need - clothes, dry goods, and such, to save a trip to the mainland. Drop by & see them! They're also hoping to open stores in Anacortes & on Orcas in the next year or so, as well.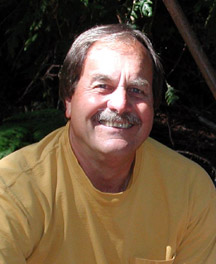 Dos Diablos: Paul & Andi Knapick are opening their new Mexican restaurant & bar in the old Amigo's spot, with an entrance on Spring Street, this week. They'll be featuring traditional Mexican fare, and have Mark (who used to be part owner at Hailey's) help manage the place. I dropped in on Saturday & the place looks good - check it out yourself!
Rich announces for County Council: Another candidate emerges: Rich Peterson (right) tells me he's gonna run for County Council - here's his announcement, with a little bit of info about him.
Quote: I think the environment should be put in the category of our national security. Defense of our resources is just as important as defense abroad. Otherwise what is there to defend? ~ Robert Redford, Yosemite National Park dedication, 1985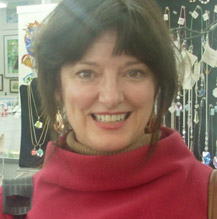 June 30, 2006
Book signing & reading tonight: Margaret Doyle, renowned local author from the San Juan Islands, will come to Boardwalk Bookstore on Friday, June 30, 5:30p.m., for a reading and signing of her book, "The Fisherman's Quilt".

The Fisherman's Quilt was a Semi-Finalist for the 2005 Independent Publishers Book Awards "Best Fiction" and was nominated for the Pacific NW Booksellers 2005 Book Awards.

Open House at Island Studios: On Saturday, July 1st from 10 am to 5 pm, Island Studios will be hosting an Open House with the Play-Rite Boys performing 1-4 and many of the artists doing demonstrations. Drop by & see what's new!
Plan ahead: Are you coming from off-island this weekend? Leave yourself at least a couple of hours in Anacortes at the ferry terminal - the reports say it's already getting busy this weekend!
GMA covers us: There was a bit about us on Good Morning, America this week on TV - here's the transcript.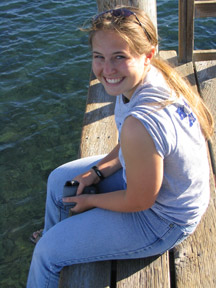 Abby's here this summer: Sally Kerr has the scoop:
There is a new face at Island Rec!
Abby Spann is a senior at Eastern Washington University majoring in Recreation Management and will be interning for the summer at Island Rec. Abby is originally from Wyoming and is looking forward to the new experiences of island living.
You will be seeing Abby aiding in all aspect of Island Rec, both in the administrative as well as helping run the many summer programs that Island Rec has to offer. She is very excited to be a part of the Island Rec team and eager to start her position as Island Rec's very first intern!
Be sure to stop by and help welcome Abby to the island.
The Fourth is coming: Besides the parade in the morning, the fireworks in the evening, all the stuff that happens at Roche Harbor all day, there's also the Pig War Picnic at the Historical Museum again.
Dolly Salazar from the museum has more:

The San Juan Historical Museum in Friday Harbor will once again host the annual July 4th Pig War Picnic on the Museum grounds from noon to 4 p.m.

This year, the Museum is pleased to welcome The Market Chef for the first time. With its glowing reviews on 43places.com and judysbook.com (5 stars!), the Market Chef Deli and Catering is one of our local culinary jewels. They'll be serving Texas Beef Brisket Sandwiches and Pulled Pork Sandwiches, both served on their homemade White Rolls with coleslaw, watermelon and chips. A full plate of food for $8 per plate. Natural soft drinks and dessert will also be available to purchase.

San Juan's Fire District #3 will provide a picnic menu including burgers with Walla Walla onions, veggie burgers, hot dogs, and coleslaw.

Soda pop and ice cream will also be for sale in the Museum's Carriage House. And adults can relax and enjoy a cold beer or glass of wine under the shaded canopy of the Beer Garden.

Activities for the kiddies include face painting, a bucket brigade, egg toss, hay scramble and cakewalk. The One More Time Band will perform live jazz throughout the afternoon. National Park Ranger Mike Vouri will give a lively spoken word portrayal of Capt. George Pickett, telling the story of the Pig War – from the seemingly minor incident that nearly brought England and America to blows, to its peaceful resolution moderated by Germany's Kaiser Wilhelm. The National Park Service will also give a woodworking demonstration.

Admission to the event is by donation. Proceeds from the Pig War Picnic benefit the San Juan Historical Museum and the volunteer firefighters. The Museum is located at 405 Price Street in Friday Harbor.

Another cool book-signing: Tomorrow night, it's at the downtown Pelindaba at 7, featuring AN EVENING WITH PULITZER PRIZE WINNER /New York Times reporter TIMOTHY EGAN and his latest book "THE WORST HARD TIME: The Untold Story of Those Who Survived the Great American Dust Bowl." Here's more...
The "new" gravel pit: Hey, I heard that the County purchased the gravel pit this week...cool! here are some ideas to put it to use (since it's near Jackson's Beach, we could call it Jackson Hole):
Dog Walk Heaven with massive dog runs and trails (no leashes allowed)

Make it into a huge lake and stock it with fish

San Juan Island Water Slide World with kayaks and automated orcas, porpoises and seals

Pygmy pony ranch (we could call it Zappa acres)

The biggest putt putt golf course in Western Washington (they have bigger ones in Eastern Washington, I think)

Quote: A man must be able to cut a knot, for everything cannot be untied; he must know how to disengage what is essential from the detail in which it is enwrapped, for everything cannot be equally considered; in a word, he must be able to simplify his duties, his business and his life. - Henri Frederic Amiel
June 28, 2006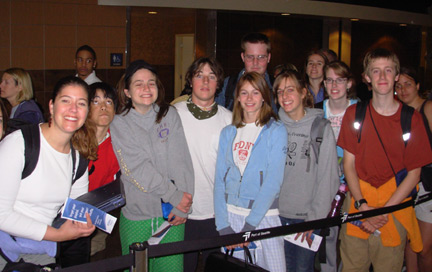 Yarp rolls on: When I was at SeaTac last week, whom should I see but our YARP kids from FHHS, getting ready to make their 7am flight last Wednesday. Led by ace teachers Val Curtis & Alana Hysert, the kids are in the Amazon basin studying species, habitat, and available resources in Peru. They'll be back next week, and they said they'd let me know when their report about their trip is online, so I'll let you know.
YARP stands for "Youth Amazon Research Project," by the way.
Quote:
If at first you don't succeed, don't try skydiving. - somebody on the ferry coming to the island on Tuesday
June 26, 2006
That 80's Show: Looks like we're heading into another day in the eighties tomorrow, after today's warm day reminded us it really is summer, at least till later in the week when things cool off.
The dance next week: There are a number of Relay for Life fundraisers ahead, as we look toward the event itself the last weekend of July - here's one coming up:
Hi Ian, I don't know if Deanna has contacted you about posting some of the fundraiser's for this year's Relay for Life? We (Islanders Bank team) are putting on a Street Dance next Saturday, July 8th on Court Street from 7pm – 11pm to raise money and would really appreciate if you could put it on your website??
We will be having a booth set up this Friday (June 30th) in the Islanders Bank lobby, selling tickets to the Street Dance, plus Luminaries, Relay for Life flower pins and raffle tickets for a basket we will raffling off at the dance. Tickets are available here at the bank or upstairs China Pearl right now until the day of the event, which you can also purchase tickets then.
Hope you can post this for us. Let me know.
Thanks for your time. Dawn Adkins
June 21, 2006
Happy solstice to you: Even though the days will get shorter from here on, it's warm enough that you won't notice, maybe.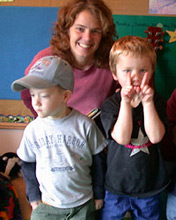 She's back! When I told you a month or two ago that Director Lauren was leaving the library to take a job in Whistler (next week is her last week - that going away party is on Thursday next week for her & retiring volunteer coordinator Kathy Babbitt), I mentioned it would be tough to replace her.
Well, as far as I can see, the board did a super job. They've offered the job to former assistant librarian Laura Tretter, who left the island a little over a year ago to seek out a job in the great wide world - she landed a job in the Denver library system. But the call of the island was greater than all that, and she has accepted the director position here, and will be returning to the island in the next couple of months to take Lauren's place.
That's Laura with a couple of Head Start friends last year, doing some singing with the kids.
Our library is one of the coolest, well-supported, and pleasant places around, and hiring someone as strong as Laura will help keep it that way.
Fair, nearly free-for-all: The folks at the County Fair are celebrating the event's centennial year, and are hoping to get as many people as possible into the Fair this year for free. Here's the update from yesterday:
In celebration of Centennial Fair, the San Juan County Fair Board is pleased to announce free admission every day for youth 16 and under. Although we have received donations from the community, we have not met our financial goal to offset this expense.
It's not too late to make a contribution. Donations are tax deductible, and will be a valued gift toward making the Centennial Fair the best yet! Contributor names will be proudly displayed on Sponsorship Banners. If you would like to donate, please mail your check to: P.O. Box 1094, Friday Harbor, WA 98250 or call the Fair Office at 378-4310.
Writers - come together: Susan Wingate tells me there's a literary happening ahead: the July Writers' Workshop Series at Skagit Valley College. You can call them at 378-3220 for more info, but here's a start:

Local writing professionals, Alice Acheson, Bryn Barnard, Wendy Shepherd, Terri Clark and Susan Wingate, will offer instruction in a powerful series of writing workshops geared toward the experienced and the emerging writer.

During the month of July, beginning the 8th and ending the 29th, a different set of workshops will be presented in cooperation with Skagit Valley College in Friday Harbor. These workshops will cover writing processes from Journaling to Publication. Over four consecutive weeks the college will offer two workshops each Saturday totaling seven workshops over 4 weeks. On July 29th the college will facilitate a panel discussion featuring the participating instructors.
New whale babies, baby: Susan & Howie from the Orca Network say there's new whale kids, in a report from last week:
Good news! The Center for Whale Research has a preliminary report on the return of K & L pods, validating the addition of L108 to L54 (sighted last month by Canada's DFO), & Tom McMillen called in a report this afternoon with news from the Center about a new K pod calf as well - more details below, & as soon as we get any photos of the new babes we'll add them to our website "Baby" page at: http://www.orcanetwork.org/news/babies.html .
It will likely take a few more encounters with all of K & L pods present to determine/confirm missing members of K & L pods (as of last winter, possible "missing" whales included L107, K31 & L32).
Susan & Howie
Quote: Is there really the desire to know love, or to know the experience of someone having an emotion over self? Is it a desire to be itself expended in doing that which may be helpful or constructive? This can be done, but it will require the losing of self, as has been indicated, in service for others.
. . . But arise to that consciousness that if ye would have life, if ye would have friends, if ye would have love, these things ye must expend. For only that ye give away do ye possess. - Edgar Cayce
June 19, 2006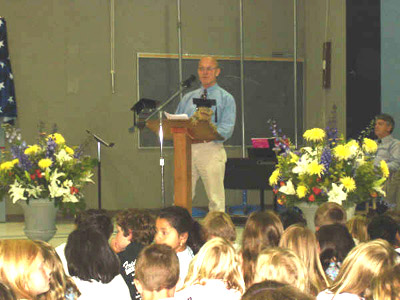 One more graduation: We talked a bunch about the different graduations around here, but don't think we've forgotten eighth grade and fifth grade promotion, too...as the kids head for the next big school for them, it's great to watch them continue to grow.
That's longtime fifth grade teacher Jay Westphalen making his remarks at last week's FHES ceremonies in the gym.
Triathalon rocks: It was cool to hear that islander Ron Wilson was the first San Juanderer to cross the line at the Triathalon - Ron ran his first marathon at Whidbey, earlier this year, then the San Juan Island Marathon, then this...he's doing a great job. Meanwhile, Jane Hutchison was the first woman from the island to win Saturday. Matt will be posting photos on the San Juan Islander - check 'em out.
Quote: Making the simple complicated is commonplace; making the complicated simple, awesomely simple, that's creativity. - Charles Mingus
June 17, 2006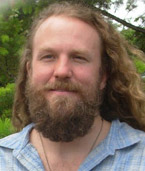 A song for you: Everyone needs a song to wake up, don't you think? So hear's a song I sing when I think of you...hope you like it!
Yeah, you.
Spiritual retreats with Clinton: Clinton Brock (right) is offering retreats here on the island to help folks with their spiritual growth ...check out his website for more.
Soccer nuts, unite: Of course, the World Cup is going on, so former FHHS coach Doug McCutchen sent a note around to friends & fans to join up at Hailey's today, which gathered a nice crowd for the USA/Italy game, a valiant draw for US partisans as they played most of the second half with only nine men. The USA plays Thursday to see if they can progress to the round of 16.
Sam says thanks: When Sam Buck's heart stopped on him, the island pulled together & got him to the hospital & determined he needed a pacemaker...that was all about a month ago, and he's back at work at Coldwell Banker selling real estate again - you can see his "thank you note to the communnity" on the San Juan Islander here.
Good to have you back, Sam.

Kristi's baby: Remember Kristi Mullis? She's married to Edwin Scott Momeny and lives in California now - proud grandmother Cindi sent along this photo of newborn Ella Rose Momeny, born on June 9.
Kristi graduated from Friday Harbor High School in 1995 and is teaching Middle School Science in Sherman Oaks, California. Ella's grandparents are Cindy and Jerry Mullis, Friday Harbor, Washington, and Kayleen Momeny, Marilyn and Lyman Momeny, all of Burbank, California.
Fourth year - can you help? If you'd like to help a high school student with his or her community project AND do good things for the community, check this out, from Larry Wight.
The San Juan Island Community Council has recently issued their fourth request for proposals. The Council is intending to award up to $20,000 to individuals or groups who need funding for supplies or materials. Another condition from the Gates Foundation is that all the work needs to be done by high school students.
More details about the Community Council and this Gates Foundation Grant can be found at here. The proposals are due on September 15, 2006. Please contact Larry Wight, 378-5215, or at lwight@sjisd.wednet.edu, with any questions.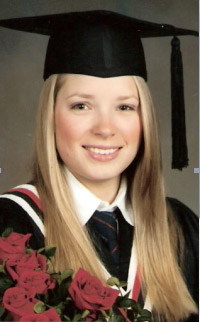 More graduation: While we were having graduation here on the island last week, next week islander Kimball Hall (right) graduates from St. Michaels University School in Victoria. At the school, she was Head Girl, Head of the Student Council, Day Prefect, Boarding Prefect, Head of her Boarding House, and served on the Prefect Council and the Admissions Council. In athletics, she was Captain of the Senior Girls' Tennis Team and a member of the field hockey team. Kimbell has maintained an A average throughout her high-school career. This fall, she will attend Georgetown University in Washington, D.C.
Kimbell is the daughter of Margaret and Albert Hall of Friday Harbor.
Music at the Ale House: Oren & Peggy have started having music upstairs at the Front Street Ale houe - here's a lot of familiar names for you, in a note from Oren:
Hi, Ian - Thought I'd bring you up to date on the music program that Peggy has put together for Top Side at the Front Street Ale House this summer. Both floors were remodeled this spring, and Top Side has a new to us (we used recycled oak) wood floor, which gives the room a much sharper sound!

Most of the music will run from 8 - 11PM, no minors.

Friday, June 23rd - Floating Glass Balls (Bluegrass)

Friday, June 30th - Be Careful (Brewer Mike & Friends)

Saturday, July 1st - Cecil & Kirk Singalong

Sunday & Monday, July 2nd & 3rd Dee Dee Blue Eyes

Saturday, July 8th - Uncle Otto

Friday & Saturday, July 21st & 22nd - Dee Dee Blue Eyes

Saturday, July 29th Solar Siblings

Saturday, August 5th - Be Careful

Friday, August 11th - Kirk & Cecil Singalong

Wednesday, August 16th - Opening Night of San Juan County Fair (Dee Dee Blue Eyes CD Release Event)

Friday & Saturday, August 18th & 19th - Dee Dee Blue Eyes

Friday, August 25th, Steve Keyes, Cecil Demeerleer, and Roger McGilvrey
Cheers,
Oren (and Peggy)
Soroptimist Club induction: Last Sunday at the Duck Soup Inn, the Soroptimists inducted the coming year's officers, which includes new President, Becki Day and the 2006-07 board: President Elect: Ellen Roberts, Treasurer: Phyllis Davis, Membership-Treasurer: Patty Brightman, Recording Secretary: Lorraine Littlewood, Corresponding Secretary: Debbi Staehlin, Director-at-Large: Sally Kerr, and Director-at-Large: Carrie Brooks. They said they really appreciated the help of Gretchen Allison, owner of Duck Soup Inn and her hostess, Anna Lisa and staff for incredible support, service and gourmet selections.
In the photo, it's (left to right) ...Debbi Staehlin, Patty Brightman, Ellen Roberts, Becki Day, Pat Hanson, Sally Kerr, Carrie Brooks, Phyllis Davis and center front Bette Cantrell.


Quote: You are in a partnership with all other human beings, not a contest to be judged better than some and worse than others. - Wayne Dyer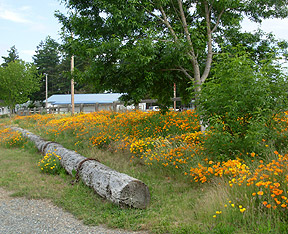 June 15, 2006
That's the poppies next to the horse ring at the Fairgrounds - Christine of the San Juan County Fair tells me that the late Tony Surina planted these, which re-appear every year, which proved such a big hit that he planted poppies all over the roadsides of the island, as you can see when you drive or bike around.
Thanks, Tony.
Click on the photo for a bigger version.
June 14, 2006
Windermere gives back: John Bostrom from Windermere tells me they have a cool deal going on Friday:
This Friday, June 16th is Windermere Community Service Day where 8,000 associates nationwide skip work to give back to their communities. We spruce up city parks, schools, playgrounds and senior centers. Windermere San Juan Island will help out at HeadStart doing landscaping, painting and general clean-up.
We're happy to lend a hand and proud to serve the neighborhood we call home. Thanks go to Jim Schuman, Thor Black and Rob Browne for their participation and generosity. I'm proud to coordinate this event along with fellow agent Rebecca Hughes. (Go Netherlands! Fear the Orange!) Thanks for letting people know, Ian - John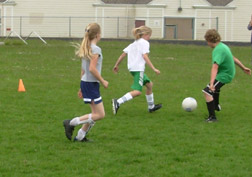 Soccer stars: Remember I mentioned that there was a 3 on 3 tournament at the high school on Sunday? I wanted to tell you that that nearly 50 middle-school kids jumped in to a day of playing six or seven games of ten minutes each (YOU run for 70 minutes...it's a good workout!), and had great fun.
The championship bracket yielded winners: In the Blue Division, Victor Capron, Larissa Nash, and Elizabeth Taylor took top honors, while in the Red Division the top spot was won by Nick Roberts, Ellie Guard, Conner Lanphere, and Hannah Starr.
The real winners, of course, were all the kids who played & played hard. It was a great day.
Quote: "A venturesome minority will always be eager to get off on their own, and no obstacle should be placed in their path; let them take risk, for God sake, let them get lost, sun burnt, stranded, drowned, eaten by bears, buried alive under avalanches - that is the right and privilege of any free American." -- Edward Abbey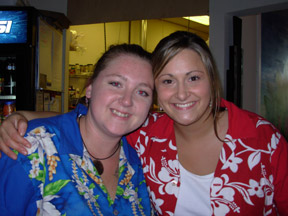 June 13, 2006
Bowling's dynamic duo: One of the reasons that Jimmy's Cafe is one of the friendlier places on the island to eat is waitresses Sara (right) and Rachel, who work to serve folks in the restaurant & in the bowling alley while they bowl at Paradise Lanes...drop by & tell 'em hi.
Browne's is down: There's still a picture of the place where Browne's Lumber moved in 1965, across from what is now Wells Fargo Bank....but all that's left is memories now, as the last part of the building was razed yesterday.
The Brownes had moved to their present location out on Mullis back in 2000, having outgrown the downtown building with both goods and employees (over 50, presently.) Here's a bit about the history of one of the oldest (1920) continuing businesses on the island, from the Browne's Home Center site.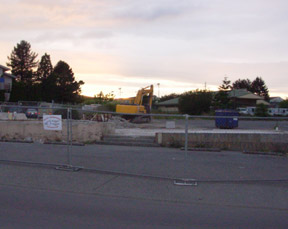 The photo at right, shot at sunset Monday, shows the great lot that is all that is left.
New county administrator: After decades of running the county with three commissioners, the new county charter last November created a six-member council, which will be elected later this year, and a county administrator to be appointed to run the day-to-day business of the county.
Last week the Council chose Pete Rose (not the not-Hall of Famer) for the administrator position, beginning a new era of how the county does its business.
Quote: "Most of the luxuries, and many of the so-called comforts of life, are not only not indispensable, but positive hindrances to the elevation of mankind. With respect to luxuries and comforts, the wisest have even lived a more simple and meagre life than the poor." - Henry David Thoreau
June 11, 2006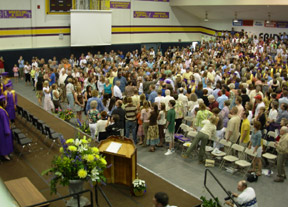 Graduation rocks: It was, for us, a huge class - 82 members of the Class of 2006 at Friday Harbor High School walked in commencement exercises yesterday afternoon. Of that lot, 52 started their school lives here in 1993 in kindergarten; most have lived here for most of their lives.
There's much to be grateful for - maybe it takes a village to raise a kid; most of the village turned up to celebrate that yesterday (click on the picture at right, and see who you know in the larger picture.)
That's why this is one of the biggest community events around here...nearly everyone on the island is touched by what these kids have done over the past twelve years, whether it was in sports, community services they did to make the island better, working at our businesses, smiling at us on the street - we continue to have class after class of great people.
Click here to see a nearly 50-photo portfolio of the afternoon, including an awful lot of smiling graduates.
Besides the regular-session students, graduation included kids who completed the Running Start program at Skagit Valley Community College, and home-schoolers who participated in the Griffin Bay High program.
Future stars shine: Hey, wanna see the future? While the World Cup excitement sweeps the planet, there's a 3 on 3 tournament at the high school tomorrow around 12, featuring some 41 middle school kids. Drop by & watch 'em...you'll like what you see.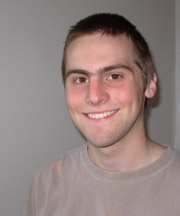 Spring Street's graduation: Spring Street International School holds their graduation today, at the Community Theatre - I ran into their top student, graduating senior & all-time great kid Devin Schwinge (right) at the FHHS show Saturday, who came by to watch friends graduate.
They don't come much sharper than him.
Quote: When someone shares something of value with you and you benefit from it, you have a moral obligation to share it with others. - Chinese proverb
June 10, 2006
Sunny days: After all the clouds burned off, this Saturday has turned into a beautiful day. Get outside & play, then go to graduation.
Click here for more news from earlier this week!
---
The information here is simply stuff we here at By Design think is important around Friday Harbor or on the Island. Some of it's news, some of it's old news, and all are just things we wanted to mention, with most of it about the things that make living here great.

There will be more next week, if anything happens.

Ian Byington





More info about the island:

This site prepared by our friends at By Design in Friday Harbor.
The information contained here is
©Copyright 1997, 1998, 1999, 2000, 2001, 2002,
2003, 2004, 2005, 2006 and next year, too
by By Design, Friday Harbor.
Unauthorized reuse of the content of these pages is prohibited;
links to other sites is intended to be to the benefit of those sites,
and for the edification of our readers,
and does not constitute endorsement or
agreement with views expressed there.
All rights reserved, except in Britain, who have their own reserve.