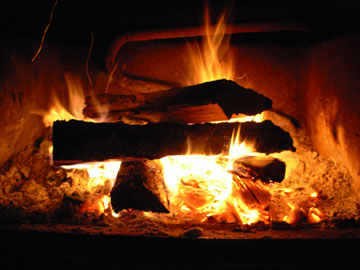 December 7, 2006
I hope you've been warm the past few days...this is the fire in our fireplace Friday morning. Looks like the snow & ice are finally melting around here.
Snow days makeup decision reached: The San Juan Islander did a super job of collecting folks' thoughts about how to tack on five instructional days to an already busy school year, and they've posted the decision by the school board last night - to add three days to the December break (the 18th-20th), delay graduation a week to June 16th, and add two days to the June schedule.
Here's the school board's report, posted by Matt & Sharon at the San Juan Islander.
A birthday to remember! Arthur Whiteley's 90th is being celebrated at the Friday Harbor Marine Labs on the 9th...again, check the San Juan Islander today for a nice writeup & details....
Flag: The flag at the Library is at half mast today to remember Pearl Harbor day, today.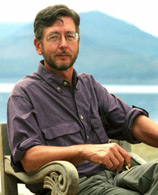 Book-signing & reading: Drop by Boardwalk Books on Friday to see Michael Donnelly (right) with his new book, False Harbor, which is double-cool 'cause it's set in the San Juan Islands.
Last weekend of "Rita": Helen wanted you to know - this is your last chance to see a great show. See you there!:
It's the final week of "Educating Rita" with an added Saturday matinee performance.

Yes, we know you've been hampered by snow, but you still have a chance to catch this great show

At the Roche Harbor Pavilion this week:
Thursday @ 7:30
Friday @ 7:30
Saturday @ 2:00 and 7:30
Sunday @ 5:30
Next week:
Friday 15th @ 7:30

Dolphin Arts: Vivien re-scheduled her Customer Appreciation Day to Saturday from 10-5, with new designs & 40% off all cotton clothing.
And she's open - she and several other merchants are open till 7 on Thursdays during December for you to drop by when you get off work. Buy local!
December 6, 2006
Bill the baker: Dan Gillespie said it was a nice surprise to find a place called Third Place Books in Lake Forest just north of Seattle, but even nicer to run into former islander Bill Chevalier cooking there, in the bakery.
On the ferry: The Price family (that's Jerry, Jody, Cody, and Lily) were coming back from seeing Casey at college on Sunday, and playing a friendly game of blackjack...Al & Kathleen Commins were coming back with a new horse, as well, while I heard Vic Capron brought a couple of great Danes with him. The ferry as ark...
The tradition continues at the Historical Museum: Dolly sent me this notice about the Museum's holiday event:

Coldwell Banker San Juan Islands in Friday Harbor continues its long-standing support of the San Juan Historical Museum with this year's sponsorship of Museum's Old Fashioned Holiday Celebration. This marks the fifth year that Coldwell has generously helped fund the annual event. Located in Downtown Friday Harbor, Coldwell Banker San Juan Islands has served the area for 42 years.

This year's Holiday Celebration is on Wednesday, December 6, from 5 to 7 p.m. on the grounds of the Historical Museum at 405 Price Street in Friday Harbor. The event is free to one and all, but donations are gratefully appreciated.

The San Juan Historical Museum is the premiere source of historical research and information for San Juan County in Washington State, as well as being the Northwestern-most museum in the continental United States. For more information about this event and the Museum in general, please contact Dolly Salazar at 360.378.3949 or museum_admin@sjmuseum.org.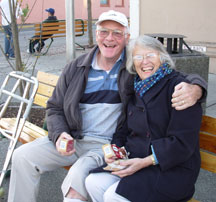 December 5, 2006
School "extra-days" decision due on Wednesday night: The School District tells me they'll make their proposal to the School Board tomorrow night about when & how to make up the school days missed last week.
She's got Mike to keep her warm: Kathy & Mike Chadwick got great seats on the bench, cold or no cold...I took the picture right before the homecoming parade in October, but wanted you to see it.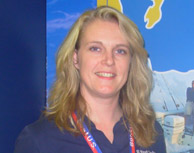 The best at West Marine: Remember Katie Sipley (left) at West Marine? She took over as manager there last year, taking Wil's place (the previous manager) - they just had their baby back in October. She tells me that baby Morgan was over ten pounds...Katie's resigned from West Marine & is home with the kid for a while & they're doing great.
Orca behavior explained: When the story broke that an orca in captivity had dragged its trainer to the bottom of the pool, it's only natural they'd see what orca researcher Ken Balcomb from San Juan Island has to say...here's more.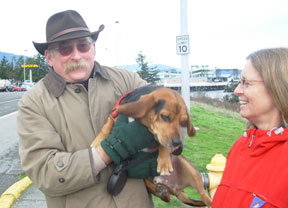 Ferry dog: It was nice to run into Erin & Dan Gillespie at the ferry landing yesterday, with their friend Jick. I was able to shoot a photo of them on the highway, with Jick smiling at me.
While we were visiting, Erin's daughter Rowan called from Vermont to report that there was national news coverage of the Quidditch World Cup at Middlebury College. The things they teach at school these days...
Dinner at the Labs: The end-of-year presentations at the Friday Harbor Marine Labs are this week - here's what's scheduled (in a note from the Labs' director, Ken Sebens:
This Thursday, December 7, our Research Apprentices will present their end-of-quarter research talks in the FHL Commons. Four teams of undergraduate research apprentices designed and conducted experiments in several areas of the marine sciences during the past quarter. You're invited to attend any or all of the talks on Thursday in the Commons. The schedule of talks:
8:30 a.m. - 10:00 Marine Fish: Ecology, Habitat Requirements and the Design of Marine Protected Areas.
10:00 Complimentary refreshments
10:30 - 12:00 Computational Modeling of Biological Networks.
Lunch break
1:00 to 2:45 Pelagic Ecosystem Function in the San Juan Archipelago.
2:45 - 3:00 Complimentary refreshments
3:00 to 4:30 Ecological and Evolutionary Analysis of Spatial Variation in Marine Systems.
If you'd like to enjoy lunch or dinner with students and scientists that day, we'd be pleased to have you join us in the FHL Dining Hall. Please RSVP by the close of business Tuesday. For lunch, soup and salad costs $6, or the hot entree is $9.25; dinner is $13.25 plus tax.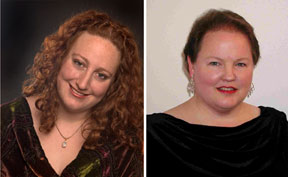 We hope you can make it.
Ken Sebens, Director, Friday Harbor Laboratories
San Juan Singers getting ready: I asked RuthE who was singing at this year's holiday concert for the San Juan Singers next week on the 16th & 17th - she says they will again feature members of the Victoria Chamber Orchestra, under the direction of Yariv Aloni, as well as two local soloists - Corinne Stevens (on the left) and RuthE Wells (by the way, Corinne's photo is courtesy of Anne Sheridan). Here's more.
Quote: The value of old age depends upon the person who reaches it. To some men of early performance it is useless. To others, who are late to develop, it just enables them to finish the job. - Thomas Hardy
December 4, 2006
School make-up: Over the weekend, everybody I ran into who has a kid in school had an opinion about when the five days we missed last week should be tacked on...should it be the end of the year? Ditch spring break in April? Add it onto to Christmas/holiday break in two weeks? Go to school on Saturdays?
Soon as I hear, I'll let you know - I'll make some calls this morning, but I think they're still talking about it.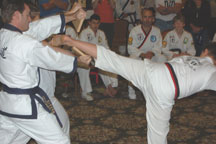 Getting ready for your boards: I have friends that study in grad school for their boards, but sixth-grader Gavin passed his with flying colors (see story below). Way to go, Gavin!
Back at the Theatre: This weekend on the 9th the Bills are back - you'll love these guys! Here's more (from the SJCT site.) Here's what RuthE tells me:
Hey, Mr. Acoustic! Here's a show you're personally going to love, and I hope you'll share your enthusiasm 'round the acoustic community. The Bills have played here three times before – have you seen them? – and we're delighted to have them back. They're more fun than a barrel of puppies, AND they're smokin'-hot musicians who really know how to put on a show. This is a great show for the family, especially if you have budding musicians in the house. The Best Entertainer of the Year moniker should include Best Role Models in Music as a subtitle. Hope to see you there! – RuthE.
Famous in Argentina: Couple of nights ago, Chris Teren went to a concert...in Argentina. It's fun to see our friend on the other side of the world (in summer!). His picture was snapped in the crowd - here's the rest of the story:
Hi, Everyone! I can't believe it, but I made it into a website while attending a cowboy music concert (think yodeling) and guess who is on the first photo of the slideshow? You guessed it... ME! Check out this link:
And follow the link on the right side of the screen that says [slideshow]. I'm in the front row.
New Year's Party - getting planned: Cynthia at the Prevention Coalition is pulling things together with Island Rec for New Year's Eve - here's her report about what's happening, as well as her need for volunteers.
Quote: "The blunt truth about the politics of climate change is that no country will want to sacrifice its economy in order to meet this challenge, but all economies know that the only sensible long term way of developing is to do it on a sustainable basis." - Tony Blair, British prime minister
December 2, 2006
Gavin gets his black belt! Last month sixth-grader Gavin Guard surprised folks by qualifying for the honor - here's the story:
Gavin Guard was presented with his first-degree black belt in TaeKwon Do at the November 18th tournament in Lynnwood by his instructor, sixth-degree senior master Michael Rennick. Gavin has been training at Michael's TKD academy since he was six (he's 11 now!) and says he credits his achievement to his instructors, Michael & his wife, second-degree black belt Amanda Rennick. Michael has been awarded titles, including national master of the year & national black belt of the year, while Amanda also has won a national black belt award. Gavin ended up in the tournament taking a first place in forms & a first in sparring in the black belt division, and hopes one day to become a master himself & teach others.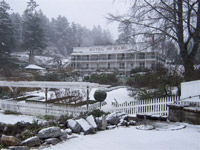 Roche Harbor plans Christmas: Looks like great happenings out at Roche (right, in the snow) the weekend of the 16th - here's the rest of the story & the schedule. It'll be fun!
Christmas shopping - a new look at the tradition: I keep hearing the words "pressure" and "stress" and "anxiety" in connection to shopping for folks this season. What's cool about the holidays is you can do 'em any way you want & it's good.
For years now, I've observed a "hundred dollar Christmas" - the idea is to spend no more than a hundred bucks for the holiday with my sons. How can you do that? Easy enough - four years ago we made candles for all our relatives; another year we made a music cd; the next year we delivered cookies we'd made...another year we donated the dough to the Heifer Project.
We try to live simply & this is an essential part of that...that's the idea.
When we started it, I sent Christmas cards to folks explaining what & why we were doing what we're doing, including this description of the whole idea by one of my favorite writers, Bill McKibben.
See what you think!
December 1, 2006 (updates)
Couple of big events you'll want to know about: Bettye from Boardwalk Books just called & says tonight's reading by author Ann Rule is gonna be rescheduled later - Ann didn't want people trying to come with the weather the way it is (plus she'd be coming up from Seattle - no certain thing).... so I'll let ya know when that's back on the calendar.
Meanwhile, here's a note from Helen with Island Stage Left (here's the show schedule) & tonight's show of "Educating Rita":
Well, here we are - challenged by the weather again! Just to update you:
We will be performing as scheduled this week. IF YOU COME, USE THE ACCESS ROAD (opposite the Sculpture Park). THIS IS FLAT AND CLEAR AND LEADS YOU TO THE UPPER AND LOWER PARKING LOTS. You will see our sign there.
Last night (Thursday) we had a small but exuberant crowd which was much cheered by the warmth of both the building and the production.
We have added a Saturday matinee for the 9th Dec so we will have performances that day.
We hope to see you at a performance very soon.
Warmly, (!)
Helen

December 1, 2006
No school on San Juan Island on Friday!
Meltdown: Thursday's warmer day did a super job of making the ice & snow that's left slicker & slipperier, so with Friday's school closure we get the whole week off from school. This gives us a great chance to explain to the kids what "cabin fever" is.
Everything should be back on track on Monday...still to be determined: When the lost days will be made up.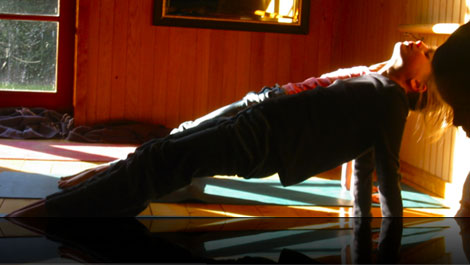 Amy's Open House is still on: Yoga teacher Amy Lear's having an open house at her place out on Limestone Road - here's the story:
Hi, Ian! My name is Amy Lear and I have a yoga studio near Roche Harbor. I'd like to invite you to an open house that we are having next Sunday 2pm-6pm at 228 Limestone Point Road. We'll have a sauna and an old snorkel hot tub for those who like heat, food, yoga classes on the 1/2 hour, chess and lots more. Hope to see you! Amy

San Juan Vineyards, too: Colleen at the Vineyards says they have a tasting from 1-4 on Saturday - she says: "Tasting will be free (up to 4 in the tasting room) plus there will be Barrel Tasting in the Winery Building. There will be great Wine Specials and Gift specials. Who knows, you may get all of your Christmas shopping done!" Here's the flyer she made about it - it looks pretty good, 'cause she's got a good graphic design eye....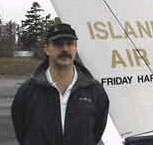 Alan delivers: You already know Island Air's Alan Dortch (left) - he was a key part of piloting a successful birthing experience last month - here's the story in the Anacortes online news-thing.
Going to the garden: Bonnie Sliger, one of the friendly voices you hear when you call Cathy Cavanaugh's office, has just launched her new Nana's Garden website. You can shop online for gift baskets, toys, picnic baskets and plush cell phone friends for holiday gift giving. (Santa, are you listening?)
Quote: A person sees in the world what they carry in their heart. - Johann Wolfgang Goethe, from "Faust"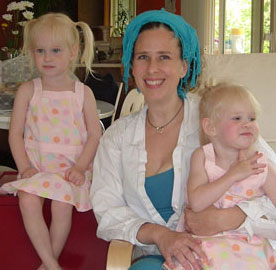 Speaking of new sites: Have you seen what Angela's doing with in-home (hers) care? It's a holistic adult family home - check it out.
No lights this weekend: Debbie Pigman tells me: The annual Tree Lighting Ceremony and Decorating Contest judging scheduled for this weekend have been postponed one week. The Tree Lighting Ceremony will be next Friday, December 8, starting at 5pm, and the Decorating Contest will be on Sunday, December 10 at 6pm.
If you have questions, please contact the Chamber of Commerce at chamber@sanjuanisland.org. or 360 378-5240.
Other re-sched: Corelia at Island Rec tells me that girls who are signing up for basketball have till Tuesday the 5th now - the date was extended because of the snow, ya know.
Orca attack: Did you hear about the orca attacking a trainer at SeaWorld yesterday? Here's the scoop...there's a bit in it where they say they don't know what would make a whale want to do that. Ya take an intelligent, feeling animal that swims 75 miles a day in the wild & stick him in a 75 foot pool...how would you feel?
Other whale news: Scientists seem to think humpbacks may be smarter than previously determined - here's what they've found out.
Other quote, words of hope: The pope wraps up his visit to Turkey today, during which both he and the head cleric of Istanbul, Mustafa Cagrici, prayed at a mosque there. "A single swallow can't bring spring," Cagrici told the pope, who ends his first papal trip to a Muslim nation Friday. "But many swallows will follow and we will enjoy a spring in this world."