Valentine stories: OK, get 'em in! I already have three love stories for V-Day - so get yours in here! Just mail 'em to the address below & send pix if you like! I'll post 'em that week...I'd love to hear your story about how you met, how it's going, and the proof you offer that love is real - send it in!
---
January 29, 2007
The deepest blue: After one of the bluest & prettiest days we've had in weeks, the sky was even nicer after sunset in a dusk that took forever...the sky was a deep, deep blue with Venus & Mercury on the horizon. Very nice.
So, here's a song to start your day, nature child.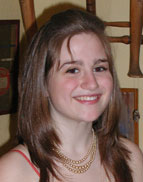 Wynn Barnard on the road: So many people talk about doing something to make the world a better place, but it seems some days only a few really do something...here's what one of our favorite juniors at FHHS is up to, in a note from her mom:
Hi Ian! Let's give our young activist some press: Wynn is doing a volunteer internship this winter term with HateFreeZone in Seattle. HFZ agitates for immigrant rights largely in response to the Patriot Act. As you can imagine, Wynn is full of enthusiasm and delighted to see that the world can change if each of us speaks out. The founder of HateFreeZone, Pramila Jayapal (here's the Update's report of that, with photo), spoke recently at the local library. You can read more about the organization at http://www.hatefreezone.org. Thank you! Rebecca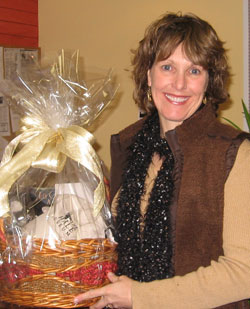 What people say: It's fun to hear what people say about the island - here's a bit from a blog, about someone's visit last month.
Diana's a winner: Back in December there was a contest - if you went shopping at one of sixteen places on Thursday nights that month, you got a card punched. If you got all the slots punched, your card was drawn from the other cards punched & you win!
The winner of the Chamber of Commerce December Thursday Night Shopping Punch Card thing was Diana Stepita (right). The C of C's Debbie Pigman tells me the prize for winning was a basket of goodies, donated by participating retail stores.

Scouts on the boat: Yep, that was Michael Perrin & the other Boy Scout leaders bringing the kids back from a sub-freezing camping trip this beautiful if chilly weekend.
Mastodon teeth from the islands: A dentist in British Columbia is making some incredible discoveries with fossils found here in the islands...here's more about what she sees.
ESA & the whales: Kari from the Whale Museum says there will be a meeting next week at the Grange on the evening of Tuesday the 6th at 7pm so that Lynne Barre of the National Marine Fisheries Service can offer an overview of the recovery plan connected with the orcas getting put on the Endangered Species Act's list, as well as telling you (I mean, YOU) how you can help both with the recovery and with submitting your comments. For more info, contact Kari.
Passing: Thomas McPheeters lived here back in the 70s, then moved (when his wife died & he re-married) to Eastern Washington. A veteran of three wars, Mr. McPheeters passed away last week at the age of 81. Here's more.
Quote: "We will never forget them, nor the last time we saw them, this morning, as they prepared for the journey and waved goodbye and slipped the surly bonds of Earth to touch the face of God. Godspeed." - President Ronald Reagan's remarks after the news that the Challenger had blown up on launch twenty-one years ago yesterday, in 1986. Crew members were shuttle commander Dick Scobee, pilot Mike Smith, astronauts Ellison Onizuka, Judy Resnik, Ron McNair and Greg Jarvis, and teacher Christa McAuliffe.
Poster contest starts this week: Jan sent me this bit of contest news:
The Children's Festival's 2007 poster contest gives San Juan Island children
a chance to show off just how they see their world.
Official entry forms are available starting February 1 for artists of all
ages ready to share their talents in the San Juan Island 17th Annual
Children's Festival. Winning entries will be used to promote the May 5th
festival and its 2007 theme: CELEBRATE YOUR WORLD.
Prizes will be awarded to the top four entries. The grand prize is a Whale
and Wildlife Tour for four aboard San Juan Island's 46-foot Western Prince
II. Other prizes include gift certificates from the Toy Box and Osito's.
Poster entry sheets are available at San Juan Elementary School and Island
Rec (580 Guard Street). Entries must be submitted to either of those
locations by Friday, March 16, 2007.
All artwork will become the property of Island Rec and will not be returned.
For more information call Sally at 378-4953.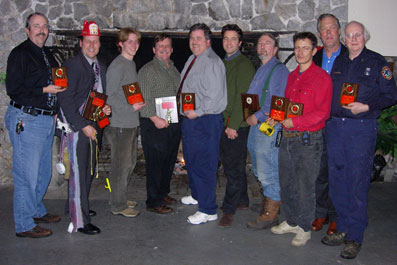 Firefighters Honored for Dedicated Service: Father and son took home two of the major awards at the San Juan Island Fire Department's 22nd annual banquet last week at the Roche Harbor Pavilion. Nearly 100 firefighters and their guests paid tribute to the 2006 contributions of all of the firefighters and support staff.

(Left to right): Brent Johnson, Doug Maya, Michael Henderson, Jerry Henderson, Jack Casey, Jason Wood, Robert Demar, David Howitt, Albert Olson and Tom Odegard.
Jerry Henderson was named Officer of the Year and his son Michael Henderson was named the Rescue Technician of the Year. Rescue techs acquire additional training for responding to motor vehicle accidents and operating the Jaws of Life.
The following other firefighters were honored for their service in 2006:
Firefighter of the Year – Doug Maya
Rookie of the Year – David Howitt
Support Volunteer of the Year – Tom Odegard
The following firefighter of the year station awards were given:
Station 31(Mullis St.) – Doug Maya
Station 33 (Little Mountain) – Jack Casey
Station 34/35 (Sunset Point/ Roche Harbor) – David Howitt, Jason Wood
Station 36 (Eagle Crest) – Brent Johnson
Dave Smith received the Smokey Bear Award for all of his work in public education, including transporting the Children's Safety House to and from Burlington.
In another tribute, Peter Kilpatrick was honored for serving with the department for 20 years and Chris Guidotti for 10 years of service. Robert Demar recently retired after 17 years with the department, while Albert Olson was recognized for being in the fire service overall for 40 years.
The San Juan Island Fire Department would also like to recognize the Friday Harbor Fire Department for providing a crew covering an initial response in case of a call during our banquet.
January 26, 2007
Valentine stories: OK, get 'em in! I already have three love stories for V-Day - so get yours in here! Just mail 'em to the address below & send pix if you like! I'll post 'em that week...I'd love to hear your story about how you met, how it's going, and the proof you offer that love is real - send it in!
Getting it straight! You know that great picture near the bottom of this page of Mitchell Bay in the snow? Jim Maya sent me that (which I thought was great!) and so I mistakenly credited to him, but actually eagle-eye photog Laurie Schochenmaier shot it, which Jim told me but I missed in his note.
So all you folks who want a $200 framed copy - call Laurie, not Jim. And...way to go, Laurie!
Birthday thing: I love how Matt & Sharon are putting folks' birthdays on the San Juan Islander...pretty cool. And Happy Birthday, Marty! You rock!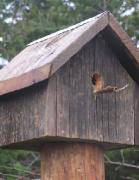 For the birds: You know Tim, the kayak guy from San Juan Kayak Expeditions? Well, that's not all he does:
Hi Ian - My winter hobby is building birdhouses for small birds from driftwood and old barnwood. They are cute, creative, one-of-a-kind and decorative. They are for junkoes, nuthatches, chickadees, finches, etc and can be mounted on walls, fences, posts or trees. I have 38 houses for sale from $25 to $35. All are mounted for easy viewing on our Birdhouse Woodshop wall or fence posts around the yard making an eccentric but entertaining environment. I also have seven active bird feeders which also attract towhees, downy woodpeckers, flickers, varied thrush and more. We call the place "The Aviary"! We are at 745C Tarabochia Lane off Larson St off Tucker St. Phone: 378-4436.

I also have for sale driftwood walking sticks and canes ($15) and driftwood candle holders ($5).

If you find this worth mentioning in one of your sites, it would help us greatly to nudge this fledgling home industry into flight.

Attached you will find photos of the woodshop and some of my birdhouses. Let me know what you think. Thanks. - Tim Thomsen

Music tonight with Don & Ian: Kirk tells me that tonight & tomorrow (Saturday) at Isle be Jammin' Performers' Showcase he's got guitarist and song stylist Don Yankovic with steel guitarist Ian Gatley at 7 & 9pm. It's $10 advanced, $12 at the door at 335 Argyle (next to Radio Shack). Call 378- 5151 for more info.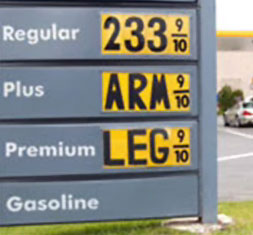 Gas prices: On the island the cheap gas has now snuck below $3/gallon. Still not as good as the mainland, some days (right).
Spa re-opens! I went to get a massage yesterday with Susan Millington (she does a great job - I'm STILL relaxed) and she told me that she & Celie Lansing are re-opening the Lavendera Day Spa at their new location at 440 Spring St. (the old Second Act building). She says:
Our experienced professionals invite you to celebrate our opening on Feb 1st, 2007 from 9am - 5pm February 1st

with $1 a minute treatments all day by appointment - call 378-3637. Healthy choices for the New Year!

Did you know? Swash (Backwash), in geography, is the water that washes up on shore after an incoming wave has broken. This action will cause sand and other light particles to be transported up the beach. The direction of the swash varies with the prevailing wind, whereas the backwash is always perpendicular to the coastline. This may cause longshore drift.
Work that into your conversation today. Dare ya.
The only Britney Spears video I'm gonna post on the Update 'cause I know you think you're too cool for that kinda thing: So, here.
Planning for the potluck: The next one is in a couple of weeks, but these are cool - here's the note from the Director at the Marine Labs:
The Marine Science Associates Potluck / Lecture will be in the Commons at the Friday Harbor Laboratories on Wednesday, February 7 from 6:00 to 8:30. Everyone interested in current research in the marine sciences is enthusiastically invited to attend. Signs will direct you to the parking area behind the Commons. The following two illustrated talks will be presented: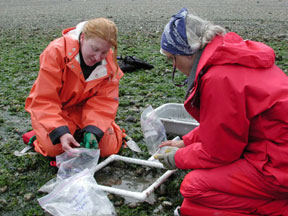 Dr. Megan Dethier, Research Professor, UW Friday Harbor Labs (right, right): "Closer to the San Juans is better: Understanding biodiversity patterns on Puget Sound's shorelines." The plants and animals that live on and in pebble-sand beaches of Puget Sound show a striking pattern of much higher biodiversity in the northern (more marine) end of the Sound relative to the southern (more estuarine) end. We will discuss this pattern and our recent experiments investigating its possible causes, such as pollution, temperature stress, or supply of young that disperse in the plankton.
Dr. Hannah Stewart, new FHL Postdoctoral Fellow: "Tiny "housekeeper" crabs help prevent coral death in South Pacific." As the structural foundation of tropical reef ecosystems, stony corals harbor a wide variety of species, including fishes, shrimps, bivalves and crabs. These associated organisms gain protection from their host corals, but may also provide important services, too. This talk will present recent work that uncovered a previously unrecognized, but important role of tiny crabs in the survival and health of branching corals on nearshore reefs on the island of Moorea, French Polynesia.
Please call 378-2165 or e-mail cowelk@u.washington.edu by Monday, February 5 to let us know if you plan to attend the Potluck/Lecture and to find out what is needed for the potluck. Please bring a potluck dish and your own table settings. We will provide cups.
Dr. Kenneth P. Sebens
Director, Friday Harbor Laboratories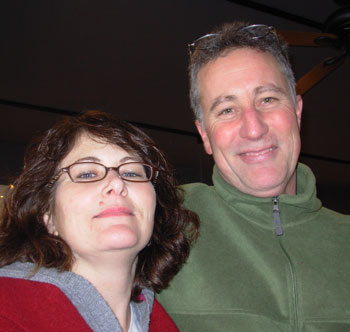 On the town: I ran into Scott & Kim (right) last weekend & got their pic for you.
Quote: "I don't know a single environmentalist that is not an optimist. When I realized that, that made me very hopeful. Everyone I know -- even people who have been working on nuclear issues for 20 years -- they're optimists. The truth is we can solve a lot of these problems. These are all man-made problems and they can be man-solved. That's the good news." - Laurie David
January 25, 2007
Clark, lost & found: One of the great running gurus of the island here is Clark Gilbert, who reports in his blog how he got lost last weekend. As he notes:
Well, here's the deal. Any one can run around Turn Point Loop, but it takes real runners to get lost. In the forest. With a half a million down trees. At least there wasn't any bears.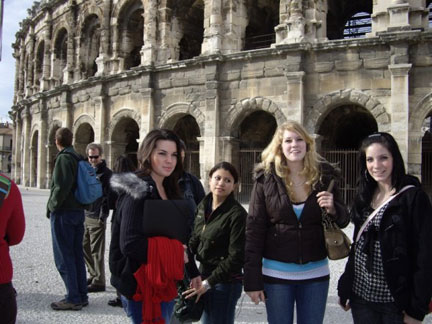 The kids check in from France: The French class is still in France (with a side trip to Nimes, as you can see - ), and Hanna Burke & Nancy Jones file this report about what they've been doing, and here's more pictures.
That's Hanna (left), Alinson, Meaghan, and Priscilla in front of the gladiators' place in Rome....
Buck Family helps Home Trust help islanders: I met Bob Buck a few years ago when I went to his house to help with some computer stuff...you know you're working with someone who has been around the block when you look up at the pictures around his desk & there are photos of him shaking hands with presidents & Supreme Court justices. Judge Buck started out as the county prosecuting attorney & after that, history was made. He was a bright, courteous, delightful gentleman to work with.
Now that courtesy has been extended to the island he loved - here's the report from his family:
The San Juan Community Home Trust is excited to announce a new partnership for its next set of permanently affordable homes. The three children of Robert F. Buck and their spouses, Vincent and Jane Buck, Carolyn and Bob Norman, and Jai and Bequin Boreen have agreed to sell one-third of their 46 acres to a supporter of the Home Trust and to collaborate on the creation of permanently affordable housing. The land is adjacent to the former gravel pit, and within several blocks of Friday Harbor Elementary school. Here's more.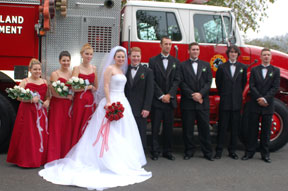 Jessica & Patrick got married: And I wanted you to know about it...the ceremony for Jessica Griss and Patrick Merlino was last October, and here's the writeup about it. They're making their home here on the island - if you click on the picture you'll see a larger version.
Charis Pruitt was the Matron of Honor and Brien Sesby was the Best Man. Other members of the wedding party included: Jessica C. Merlino, Crystal Carlson, Gary Griss, Michael Ahbel and Jameson Dreyfous.
Growth Management Act meeting next week: Elizabeth Davis, Chair, Natural Resources Committee of the League of Women Voters of Washington State, will present findings and lead a discussion of a year-long study of the Washington Growth Management Act on Tuesday, January 30th, at 12:15 at the San Juan Island Library Conference Room This League of Women Voters study included talking to planners, government officials, lawyers, non-profits, developers and ecologists, to discern the successes and failures of the GMA. Several local people participated in the study.
The Washington Growth Management Act impacts our lives in many ways including protecting critical areas and habitats, as well as property values. San Juan County is currently in the process of updating its critical areas ordinance, a mandatory action of the GMA.

This meeting is sponsored by the League of Women Voters of the San Juans. The public is invited to attend and bring a lunch to engage in this all-important discussion. For more information, or for a copy of the completed study, contact League of Women Voters of the San Juans President, Amy Trainer at amy@sanjuans.org.
Quote: "Though every legal task demands this skill, it is especially important in the effort to frame public policy in a way that is properly responsive to human needs and predicaments. The question is always: How will the general rule work in practice?" - Elliot Richardson

January 24, 2007
Easy choice: The mistake that voting for things like "Best Documentary" for an Academy Award involves is the notion that one doc is better than another (or any movie, for that matter). If you're betting on whether An Inconvenient Truth is somehow better or worse than Iraq in Fragments and "playing smart" as those pundits who don't get adverbs tend to say, then you gotta choose.
But I know you're smarter than that - see them both. Both are winners.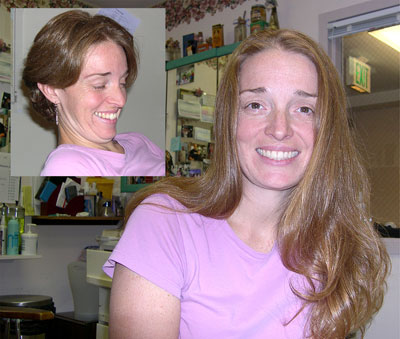 Locks of Love: Another donor to the program that outfits folks with wigs that need 'em for medical reasons was Shannon Dean back in 2004, as you can see in the before & after photos here. Sharon at the San Juan Islander sent me this link to tell you more about the program & how to contribute.
Shows this week: What are you gonna see? On Thursday at Pelindaba they're showing "Who Killed the Electric Car?" at 6:30pm (here's details).
Meanwhile, on Friday the Library has the family movie night, showing "Beause of Winn-Dixie" at 6:30pm by the fireplace.
Meanwhile, "The Last of the Red Hot Lovers" is happening at the Benefit Players Theater, and Saturday, it's TJ Casey at the Community Theatre.
And this weekend only - no football. Time to get out!
Quote: Few persons will leave their families, connections, friends, and native land, to seek a settlement in untried foreign climes, without some strong subsisting causes of uneasiness where they are, or the hope of some great advantages in the place to which they are going. - Thomas Malthus
---