February 27, 2007
Oscar party: It was pretty cool to have former islander James Longley's documentary "Iraq in Fragments" up for an Oscar last night (here's an review about the movie you might like). Although the Oscar went to Al Gore's movie, James came out a winner by being nominated, I'd say.
Car class: Those kids that are putting that car together for the winter-interim class are about ready to show it off - here's a note from program coordinator Larry Wight:
Thanks for your coverage of this class! I, the students, and especially all the volunteers really appreciated this. Work is continuing over Break. The car was driven to Cliff Jefferies' shop where all the body work is being done. The hope is to actually paint the car in time for exhibitions at the high school.
The car will be exhibited in front of the high school (maybe on the lawn!) all day on Tuesday, 2/27, with students available to answer questions and describe this huge project. I hope you'll be able to stop by and issue a final report on this impressive effort. - Larry
Soroptimist Awards to Outstanding Women and Teens: The awards were made on the 21st at the weekly meeting - here's the info, from Nancy DeVaux (I'm putting the whole thing in here, 'cause these are folks to be proud of):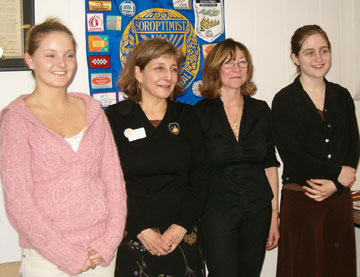 The Violet Richardson Awards were presented at the Soroptimists' luncheon meeting on February 21, along with two other annual awards made by the Soroptimists.
(In the photo:Tara Melborne, Soroptimist President Becki Day, Lainey Volk and Wynn Barnard at the Awards Luncheon)
The "Making A Difference Award" this year went to Lainey Volk, for her leadership on the Every 15 Minutes program. Lainey put together the program with massive coordination involving 27 organizations, 14 grants and over 200 volunteers. The program simulated a fatal car accident involving teens and alcohol, and involved mock rescue, medical, law enforcement, media, legal, court and funeral proceedings. Students are still talking about the event and according to some, "we know there are young women who have made positive choices as a result." Lainey's compassion and organizational skills have truly made a difference here in our community.
The "Women's Opportunity Award" goes to a woman in San Juan County who is the primary wage earner in her family and is working to improve her economic status. This year the award went to Amy Johnson of Orcas Island. Amy is the mother of three, works full time as office manager at the Orcas Family Health Center, and is working on her Bachelors degree. Amy will be present at the March 14th "Notable Women's Luncheon to receive her award.
Violet Richardson Awards - A teenager's life is busy – going to school; completing homework; often working part-time; and participating in sports, music, or other school activities. Despite these demands, many of our islands' teenagers are setting aside time for volunteering, determined to make a difference in their community.
One such inspiring volunteer is Tara Melborne, a senior at Spring Street International School, who has been selected by the Soroptimists of Friday Harbor to receive the club's 2007 Violet Richardson Award. This award, which comes with a $750 cash stipend, honors Tara's volunteer work for the ESL Child Enrichment Program.

For two evenings each week, Tara works with the children of Spanish-speaking adults who are learning English through Skagit Valley Community College's ESL (English as a Second Language) program. While the adults are busy honing their language skills, Tara helps their children with homework, sets up art projects, reads books with them, and stimulates conversations in English. Rita Ament, who works with Tara in the program, observes, "I love her. She has become a very inspirational young woman. It's rare that someone her age really cares for an individual and gives all of herself to them. Tara brings magic to the program."

Three other young women, who all attend Friday Harbor High School, were selected as runners-up for the award. Wynn Barnard traveled to the Peruvian Amazon last summer, and was inspired to begin developing a project that will send art supplies to children in a little village there and will then sell their artwork here in Friday Harbor, using the proceeds to purchase and send educational supplies to their village. Sarah Heeren is being honored for her work with Island Rec, coaching teams for both basketball and volleyball, as well as putting together and running a very successful volleyball camp last summer. Katie Schmidt, who lives on Shaw Island, has been writing and publishing a monthly newsletter in Spanish, as a way to reach out to the vibrant - but often ignored - Latino community on the island; she is currently in Ecuador, working on improving her Spanish-language skills during a six-month exchange trip.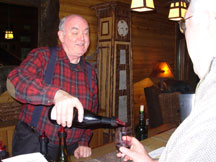 Wine-tasting at Lakedale: You know you can drop by & see David & Kathryn at Island Wines next to the ferry for a taste of their wares, and you can always check out Yvonne & Colleen at San Juan Vineyards out on Roche Harbor Road, too.
Well, it's cool to see Lakedale's new manager Michael Cawdrey starting a weekly wine-tasting out at his place...I dropped by on Saturday to check it out (that's him, helping another customer). Here's what he had written me (which is a way to say you're welcome to drop his place this coming Saturday):
It is my goal to have Lakedale become known and used as a Community Asset. One way I am doing that is by having a Wine Tasting every Saturday from 4pm to 6 pm in the Great Room in the Lodge of Lakedale. The fireplace, the deck on the lake, the ambiance are all a part of the experience. Eventually, this will evolve into a Wine Bar gathering place where Islanders and Visitors can interact, or not (as one is inclined). But in either case, it is a great place to meet "half-way between", or "on the way", and will be open probably Th-Su 3p-7p or as attendance dictates. Also, special events.

I realize that you do not normally include weekly events, but there is a theme each Saturday that I would be glad to send to you to include if you feel it would be helpful in building community. February 17th, the theme was "Winter Comfort Wines" to enhance a "Winter-lude"; and Saturday March 3rd, will be a Taste of Italy from Gavi to the Tuscan Hills. Cost is $5.00/per person, which can be applied to a purchase. No reservations are required. Looking forward to seeing you!
Speaking of cars: You know, sports fans, it's time to turn off your car when you're at the store or the post office. There's no gain for your motor or gas mileage when you leave it going, and when someone leaves their car going with their tailpipe pointed at the door at the Little Store, it's just friggin' inconsiderate of the folks inside. Turn it off.
Quote: After you have exhausted what there is in business, politics, conviviality, and so on - have found that none of these finally satisfy, or permanently wear - what remains? Nature remains.
Walt Whitman
February 23, 2007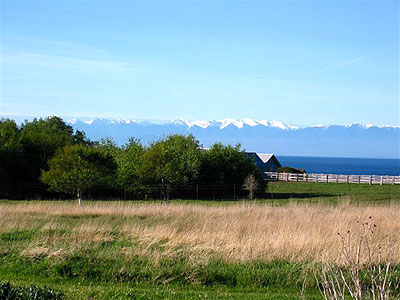 Blue, out across the ocean: I know you noticed how blue & beautiful it was yesterday (if a bit chilly), but it was cool to talk to Christian over at Olympic Lights who reminded me of this summertime photo from his b&b, looking out at the Olympic Mountains (kinda towards Port Angeles). Warm thought for a cool day....
Fuel dock takes a break: Did you know the fuel dock at the Port is gonna be closed March 12-18th? Work that ito your boat plans so you don't run dry in the middle of the water.
The Garuda and I enters a new phase: Show up for their Community Appreciation Night, March 1, 4-8pm. Go and meet the new owners of the Garuda & I and see the exciting changes. All beads 20% off. Free refreshments. For information call 378-3733.
Year of the Pig: You know we live in a place where our Pig War meant we didn't have one. This being the Chinese Year of the Pig - maybe we can do that again.
Here's my song for you, to go with that notion.
Peace.
Vol Coordinator needed: The United Way is looking for one. Call 378-4121 for more info, and get yourself involved, baby.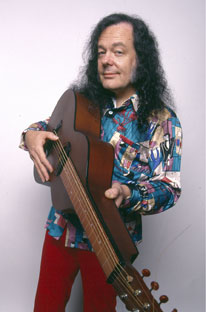 Finally, David Lindley: He's actually gonna play here. Proof we've arrived, if you ask me. The deal is on for this Monday evening, and I hope to see you there, music fan. He's the one with the soaring leads on the Jackson Browne songs you know, and more. Here's a bit from the Theatre about him:
Whether its bluegrass-meets-Paganini, or incendiary reggae, or stratospheric slide solos, Lindley is an adventurous musician and an impeccable showman. He makes a rare solo concert appearance in Friday Harbor at San Juan Community Theatre on Monday, yes Monday, February 26. Curtain time is 7:30 p.m.
Lindley is the original outside-the-box artist. He has made a career out of blending styles, smashing musical barriers and fusing idioms. Well known for many years as the featured recording and tour accompanist for artist's such as Jackson Browne, Linda Ronstadt, Joe Walsh, Karla Bonoff, Crosby,Stills and Nash, Wally Ingram, Marshall Crenshaw and Rod Stewart, and for his long collaboration with Ry Cooder, Lindley effortlessly combines American folk, blues and bluegrass traditions from African, Arabic, Asian, Celtic, Malagasy and Turkish influences. The eye-poppingly clad "Mr. Dave" also is known for his uncanny vocal mimicry and demented sense of humor onstage, giving his show a sense of both brilliance and merriment.
This performance/production is sponsored by Computer San Juans Inc., Funk-n-Junk Antiques and San Juan Garage Door. Tickets are selling fast and reservations are recommended. Tickets are $20 for adults and $10 for student reserved. $5 Student RUSH will be available at the door. A private donor has made provision for free tickets to anyone needing financial assistance to attend a Theatre event. The SJCT Box Office is open Tuesday-Friday, 11-4, Saturdays 11-2, and one hour before any performance. Call 360-378-3210, or go to www.SanJuanCommunityTheatre.org.
The Whale Museum re-opens - check it out! The museum usually has a little break in January to close & to re-coop from the previous season, but now it's open again. They had an open house to celebrate last week & to welcome new director Jenny Atkinson. Here's a bit they sent me about all that: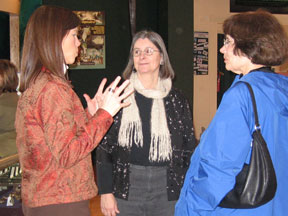 The Whale Museum's Open House held Tuesday, February 13, was a big success. More than 70 people (including residents from area islands, Lopez, Orcas, San Juan, Shaw, and Yellow, as well as Seattle) attended to get a sneak peak at the exhibit hall. Attendees also enjoyed delicious refreshments prepared by The Doctor's Office. "We are pleased that so many people could attend. It was wonderful to meet members of our community and hear their stories. The Museum has a great history with contributions from so many community members. It is great to know that the Museum has an exciting future backed by so many caring individuals and organizations," said museum director Jenny Atkinson.
The Whale Museum's Exhibit Hall and gift store reopened to the public on Friday, February 16. The museum is open daily from 10 a.m. until 5 p.m. Thursdays will continue to be "Islands Free" days (no admission charge) for San Juan County residents.
(Museum director Jenny L. Atkinson talks with Dr. Tina Wyllie-Echeverria and artist Kathy Shaw; photo by Amy Traxler)
Quote: "The years are rolling by me, they are rocking evenly - I'm older than I once was, but younger than I'll be. That's not unusual - after changes upon changes, we are more or less the same - after changes we are more or less the same." - additional verse in "The Boxer," added in 1971 & in their live performances since, by Paul Simon. Proof in the video below, for you.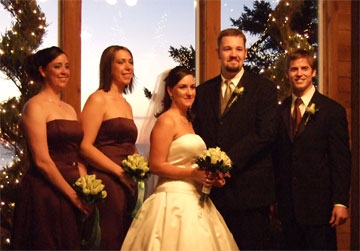 February 22, 2007
Got married! Traci Mullis married Kristopher Kyle Yates on January 27, 2007 in Pacific City, Oregon. The bride is a 1998 graduate of Friday Harbor High School. Traci was attended by her sister and roommates from Linfield College, the groom by his brother and Oregon State roommates. The couple will make their home in Canby, Oregon. Parents of the bride are Jerry and Cindy Mullis of Friday Harbor Washington. The groom's parents are Margaret Byers and Robert Yates, both of Salem, Oregon.
February 21, 2007
Cookie Monsters unite: Next week, the girls will hit the streets with the cookies - that's (left to right, front row: Claire Boden, Cady Wilson, Echo Wood; in the back, Megan Wilson, Hailey Ott, and Emma Wickman - six of the Brownies. Here's the scoop from Jan, one of the troop leaders: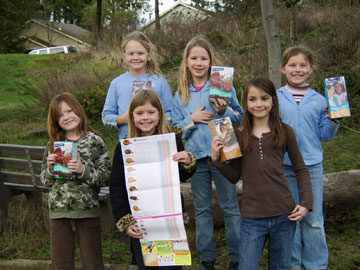 San Juan Island's Brownie Troop 183 sets up "shop" this March with cries of: "Get your Thin Mints. Get your Somoas!"
The annual Girl Scout cookie drive kicks off on Friday, March 2. The dozen members of Troop 183 will be hosting a cookie table outside Islander's Bank from 3 p.m. to 5 p.m. and parading through downtown Friday Harbor. The troop will also be at several locations during the month, including King's Market on Sunday, March 4 from 11 a.m. to 3 p.m., and Marketplace on Mondays, March 5 and 12 from 3 p.m. to 5:30 p.m.
Proceeds from the troop's cookie sales will go toward a special off-island trip as well as into the troop's new philanthropic fund. The girls recently donated money to Heifer International and to Friday Harbor's Family Resource Center.
"Fundraisers like the cookie sale not only give the girls a chance to go have fun away from home, but they teach them how they can make a difference in their community and their world," said troop leader Wendy Wood.
For more information on buying cookies, please call Jan Bollwinkel-Smith at 370-5354.
Downtown Forum underway tomorrow: Debbie from the Chamber tells me the Chamber Downtown Forum will meet this Thursday, February 22, 8:30am, at the Best Western. Please NOTE the change in day from the fourth Tuesday to the fourth Thursday. Participants will determine additional actions to undertake in 2007 for Litter Control, discuss Transportation concerns - shoulder season, public transportation, parking, etc. - and open the floor to any new actions for consideration. Coffee and pastries will be provided.
Blakely down for a bit tomorrow: Bill Henikman from CenturyTel called to ask me to tell you CenturyTel will be doing maintenance work on the fiber optic cable serving Blakely Island on Thursday, 2/22/07. Service on that island will be interrupted for a short period of time during the daylight hours and restored as quickly as possible. (Readers from Blakely, call me if you have any questions!)
Time for a hand of bridge: Patricia Hobbel wrote to tell us that the Monday Duplicate Bridge Club meets Mondays from 12:30-4:30 at the Mullis Center. They'll provide you with a partner & free coffee, with free play for a month (regular dues are $3/week). She says to call Patricia Branstetter at 378-3584 if you have questions.
February 20, 2007
Should be we build a hospital here? Charles Anderson and the Community Hospital Project conducted a 560-resident phone survey last month, and found that although the details of the project are yet to be defined, 72% of voters were willing to support construction of a new facility through additional taxes. The project is calling the results of its survey "overwhelming support" as they seek to work to upgrade our present medical center to a full hospital. Here's more...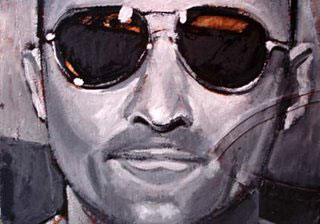 Annie's new work: Annie Howell-Adams has a new series of her paintings, which she's posting on her blog to share with you...she describes the 100 Faces Project:
Here are my first paintings of 100 Faces, soldiers who have died in Iraq, all since 2004. As I listen to the news, soldiers who have died are portrayed as if they are statistics. ....."4 more soldiers killed in Iraq......" The references for my pieces come from the CNN website, you can go over and read all the names, ages, where people were from, and how, supposedly, they were killed. 19, 20, 19, 23, 28, 22 years old. I have created 100 drawings and now I am working in oils for larger paintings.
February 19, 2007
Kind of a holiday: You already knew it was Presidents' Day today, so sure, the Post Office & usual suspects will be closed today, so I guess that means no bills will be delivered, so you don't have to pay 'em.
Meanwhile, school's out this week for the public schools for mid-winter break, with much of the island taking vacations this week, because it's tough to keep the family & work schedule together for a break when the madness of summer hits. Take a deep breath & relax, willya?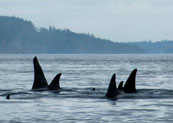 Jim Maya reports that all members of
J-pod were accounted for last
Thursday in Swanson Pass.
(Click on the photo for a larger version.)
One last weekend: "Pack of Lies" enters its last weekend this Thursday-Saturday at 7:30 each night (hint: Thursday is the bargain night.)
This is more than a show - it's had discussions & activities around the community because of its premise: When IS it OK to lie for what folks are calling national security? The Community Theatre and FHHS set up a special showing of the play during school time a couple of weeks ago. Click here for more info - see ya there.
From the Library's website: There will be a dialogue relating to the ethical and psychological issues raised in Pack of Lies, the play currently presented at the San Juan Community Theatre. In conjunction with the play, the library invites the community to read one book, The Human Factor by Graham Greene. The novel is concerned with the same subject as the play and addresses many of the same spiritual and psychological themes. A panel discussion led by pastor West Davis will be followed by a community discussion. Other panelists include psychologist Barry Jacobson and psychosocial clinical nurse specialist Lenore Bayuk. The event is free and is presented Sunday, February 25th at 7:30PM at the San Juan Island Library.

Speaking of going West: Friday morning I saw West & Sue Davis at the Rocky Bay getting ready to travel & hook up with Craig & Denyse & the kids for a trip to Disneyland (Craig & Denyse's little story was part of the Valentine Story special, last week.)
Passing: Boyd Pratt's mom Brenda has passed away....a full-time islander since 1975 (she and Scott bought property at Mulno Cove in '64, and spent many summers here), she was active in the community & at the Historical Museum.
A memorial service in celebration of her life will be held by St. David's Church, which is undergoing renovation, in St. Francis Catholic Church on Thursday, February 22nd at 3:30pm. The Rev. Nancy Tiederman will officiate. A reception at the San Juan Historical Museum Resource Center will follow. In lieu of flowers, contributions may be made to St. David's Episcopal Church, San Juan Historical Museum, Animal Protection Society of Friday Harbor, or the Honolulu Academy of Arts.
Quote: "When you love someone, all your saved-up wishes start coming out." - Elizabeth Bowen
February 16, 2007
Transfers: You know how you sometimes need to transfer movies or data from your VHS tapes to CDs or DVDs? Music from cassettes to CD? Film to DVDs? Check out Susan on Lopez, who has a business doing just that, called Blue Toad Design.
Once & future point guards: That's former FHHS girls' basketball point guard, former girls head coach, and present mom Tracy Roberson (right) with her future ball-handler Dylan at one of the home games last week. I asked him to smile, so he did.
Live & Learn kicks off: The San Juan Island Library announces the beginning of a new adult programming series they are calling "Live and Learn @ your Library."
Live and Learn programming is designed to fulfill its mission to be a learning center for the community. The library seeks to carry out long range goals to facilitate life-long learning and to provide a public forum supporting the exchange of ideas. "For specific programs we used results drawn from our programming survey conducted in October. Our vision is to provide meaningful, provocative, and recreational programming that responds to community needs and interests. The offerings will primarily showcase the expertise and experiences of our own community members," said director Laura Tretter.
"The long-term logistical plan is for each Live and Learn series to explore a theme in different ways. Each themed series will then run in approximately three month blocks three times per the year. Events such as book discussion groups, workshops lectures, and films will be a part of each series," Tretter added.
"Express Yourself" is the first theme. In celebration of self expression the library will highlight the work of authors, poets, artists and activists who have communicated their thoughts through self-expression, as well as provide workshops that allow the public to explore paths to your own personal self-expression. Here's more...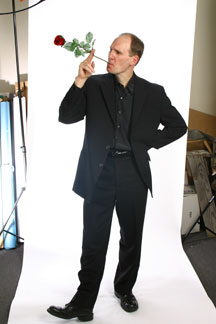 Funny at the Community Theatre: Here's the word about their show, tonight:
It has become something of a mid-winter tradition for San Juan Community Theatre to host comedian David Crowe and his guests for a night of good clean fun called the Laugh Lovers Show. Crowe will appear with fellow San Francisco Comedy Competition Winner Bengt Washburn on Friday, February 16, at 7:30 p.m.
Crowe (right) is a prolific and diverse comedian, whose summers on Orcas Island as a young man give him special insight into our way of life. His observations on island life in the simple act of reading headlines from the local papers alone are worth the price of admission.
Washburn is billed as "the world's funniest Mormon," and has been working in comedy for 13 years. His interests – and no doubt subjects of comedic exploitation – include his family, art (he holds a masters degree in painting), politics, a little golf and skiing. No doubt you have something in common with him and can laugh along with his observations of life.
This performance is sponsored by San Juan Pest Control. Tickets are $14 for all seats, with $5 Student RUSH available at the door. A private donor has made provision for free tickets to anyone needing financial assistance to attend a Theatre event. The SJCT Box Office is open Tuesday-Friday, 11-4, Saturdays 11-2, and one hour before any performance. Call 360-378-3210, or go to www.SanJuanCommunityTheatre.org.
At the game: I saw my friend Conrado (left) at the FHHS roundball game a week ago, and he said, "¡Hola!"
Last of "The Last of the Red Hot Lovers": San Juan Benefit Players have extended their run of Neil Simon's Last of the Red Hot Lovers for three more performances, Friday and Saturday, February 16 and 17, at 7:30 pm, closing Sunday, February 18, at 5:00 pm. Admission is by donation, and all contributions to San Juan Benefit Players are tax deductible.
Sam checks in: Remember Samantha Elliot? She just wrote & said to tell everyone hi - she's working at the Mayo Clinic in Scottsdale, Arizona, where spring training starts soon.
Your chance for the grant: The San Juan Island Community Council is soliciting its sixth round of proposals for Gates Grant funding. Proposals must address an important community need, must involve work that can be completed by high school students, and must be for supplies and materials only. In addition, due to contract limitations, all funds must be spent or encumbered by May 31, 2007. More details about this Request for Proposals, the Council and the Community Gates Grant can be found at
http://www.sjisd.wednet.edu/fhhs/communitygates/index.html

United Way: You know, one of the great things that happens in this community is the United Way. Bonnie Gilmore & her gang raised some $121K last year, and here's where it's needed, so here's where it's going:
This year United Way of San Juan County has granted a record $121,450 to local
human services programs throughout the County. For the past ten years, United
Way has worked to build its capacity to serve families and children in our island
communities. United Way has a comprehensive allocations process that requires
applicants to report on successes and demonstrate results. Over its decade long
history, United Way has granted nearly $1 million, helping thousands of island
residents. No monies are allocated outside of San Juan County. Thanks to the
generous contributions of many, grants have been awarded to the following: (Click here for the list)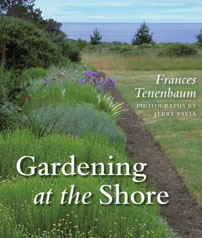 Steve's work on display: Dana Roberts from Island Gardens Company is pretty proud of Steve Schramm's work - here's more:
We'd greatly appreciate it if you would post the following press release - our company's work being featured in a newly published gardening book. Attached also is more information about the book's author and photographer, plus a little about Island Gardens Company.
Six residential landscapes designed by Steve Schramm and created by Island Gardens Company are included in the new book Gardening at the Shore, written by Frances Tenenbaum, with photography by Jerry Pavia.

In this recently published book, Tenenbaum (the legendary editor of Houghton Mifflin's series Taylor's Guides to Gardening) delves into the unique gardening challenges presented by coastal environments—the cool, foggy Pacific Coast, the New England and Mid-Atlantic Shore, and the warm southeastern Atlantic Coast.

The landscapes of Island Gardens Company were chosen to represent the Pacific Northwest region.

The featured landscapes illustrate Schramm's design principle of choosing landscape plants and materials that combine harmoniously with the natural surroundings, so that the native landscape is enhanced rather than overwhelmed. Schramm's collaborative style is expressed in these gardens: he responds to the demands of the site, reflects the desire of his clients, and calls upon the many talents of his staff. The gardens' owners come to know their landscapes as living, changing, outdoor homes that are beautiful, functional, and personal.
Dollars for Scholars: When you eat at the Rocky Bay on Tuesday next week, the money goes to Dollars for Scholars. I know you don't eat out much. Now's the time to start.
Just back from the ABA: Bettye Hendrickson of the Boardwalk Bookstore recently attended the American Booksellers Association Winter Institute in Portland, Oregon.
The ABA provides independent, professional booksellers access to education, business services and information they need to be successful in a changing environment.
Bettye says, "This was a wonderful opportunity to gain knowledge, network with other independent bookstore owners and meet numerous authors. Of course, everyone was talking about the release of the new Harry Potter book slated for release in July. Be sure to put in your reservation to ensure you get it the day of release."
Quote: "When I was crossing the border into Canada, they asked if I had any firearms with me. I said, 'Well, what do you need?'" - Steven Wright
February 15, 2007
Basketball roundup: Our young teams went into the district playoffs this week knowing it was an uphill battle, and so it was. The boys were ahead last night 19-15 against Meridian in the third but the Trojans went 11-11 from the foul line in the fourth to ice the 40-30 victory. Here's the Bellingham Herald report, including a nice photo of Austin on defense.
Meanwhile, the girls lost Tuesday with Nooksack 61-26 to end their season - here's the report, with a photo of Meaghan, from the Herald.
Wrestlers at state: It's Jacob Foley and Chris Newman in Tacoma this weekend - go get 'em, guys!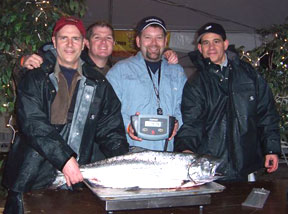 Fishing Derby results: You know, one of the great winter-time events around here is the Annual Salmon Classic Invitational each February, and Debbie Sandwith at Roche Harbor just put on what may have been the best one, yet, in the event's four years. A little sunshine this year helps, too...here's the report from last weekend's excitement:
Roche Harbor is very pleased to announce the results of the fourth Annual Salmon Classic Invitational held Feb 8-10, 2007. A total of 98 boats with 326 anglers aboard took to the calm, sunny waters for their chance at $19,500 in cash prizes. A total of 89 fish were caught and after weighing-in, Mike Simms (right, in blue with his team), Woodinville, WA took home $10,000 for his 1st place salmon of 21 lbs 3 oz.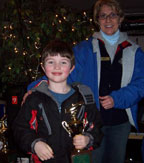 Andy Holman, Friday Harbor, hooked the second place fish - 20.05 lb - for $5000; Dave Reep, Mt. Vernon, WA finished 3rd with 19.03 lbs for $1500; Bobby Collins, Arlington, WA took 4th place and $1000 with his 18.05 lb salmon. Best Boat Total Weight went to Dale Nelson; Paul McAbee, Bellingham, WA & Jed Buchholz, Thornton, Colorado with a total weight of 59.09 lbs and a prize of $1,500.
The youngest angler in the derby was Floyd Sharp (right) from Bellingham, WA at age 6 who was in his first Roche Harbor Derby with his father. Andy Holman from Friday Harbor won the drawing for an entry into the 2008 Roche Harbor Derby. Roche Harbor Resort is the sponsor of this drawing in memory of Rich Misdom, valued at $600. The beloved Roche Harbor resident and avid angler was always the first to register in the previous derbies.
In addition to the cash awards, over $8000 in give away prizes were drawn, donated by industry vendors & retailers.
Music at the BPT: Sally Browne tells me there's another show next week:
You won't want to miss the Performing Arts Society's next concert, which will be held on Wednesday, February 21, at 7:30 p.m. at the Benefit Players Theater (corner of Tucker and Guard). Last month's debut concert received rave reviews from the audience!
This time around Hanneke Klein-Robberhaar (violin) and Sally Browne (cello) will be joined by Mary Doerflein (violin) to present a set of string trios. Also featured on the program will be Farhad Ghatan, playing piano works by Scott Joplin, Mozart, Bach and Albeniz. And last -- but certainly not least -- Jacki Altier's lovely voice is sure to charm those in attendance. Admission is free; all donations are tax deductible and will help support the Benefit Players and its charitable causes. more....
February 14, 2007
Happy Valentine's Day, my friends!
People meet & fall in love with each other different ways, and it's always great to hear the stories. Here are a few from Update readers that they were kind enough to share with you & me. Love, Ian
PS - Here's a little song for you, for the day...your love is shining through.