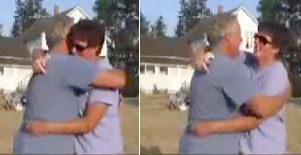 March 14, 2007
It takes two: It was a pleasant surprise to hear that Sally Kerr (yes, that Sally, the one at Island Rec) and Tim Thomson (yep, the Tim with the kayaks) got married last weekend - they've been together for a good while now, and it's great to watch the glow when they're together, and to feel the love they have for each other. Congrats, you two!
That's a clip of them last summer from that video I shot last August....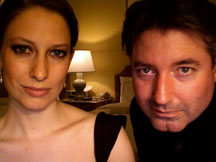 It takes two, part two: After the Academy Awards, I scoured the 'Net to find pictures of James Longley at the ceremonies or on the carpet, with his sister Margaret (she shot much of the film), but since I couldn't find any, I asked their mom Alison what she had.
She wrote Margaret, who sent along a couple of pix from their hotel room after the show (right) and one of her in her Oscar dress. She said in her note to her mom that the show was fun & much nicer in person - more relaxed & real.
I wonder if they could hear the whole island cheering that night? Sure proud of the achievement that "Iraq in Fragments" represents. (Here's the trailer).
Soccer gets underway: FHHS traveled to Sultan with new coach Andy Duke to start the season. Missing a starting goalkeeper and a couple of players who don't have quite enough practices just yet, the boys trailed only 3-2 at the half before falling 7-3 to the 2A Turks. The Wolverines got two goals from Erik Nash & one from Miguel Medina, and a workman's job from never-been-a-keeper Pablo Lopez, who will return to the hole he left in the midfield in tomorrow's game. Despite the result, it's a good start to the season.
Then they're at home on Saturday at 12:30pm.
Home with softball & baseball: The softball girls play their first home game Friday, by the way, while baseball won't be home till the 23rd, although they're sorta close to home at Anacortes this Saturday.
Movies: Couldn't quite bring myself to sign up for 300 so I went with my pals from the library to see Children of Men (here are reviews). I definitely blew it, thinking it would be more cheerful, but it was a compelling, very dark look of a the way the world might look in the next quarter century. Reviewer Chris Barsanti said, "This is how humanity ends ... annihilated not all at once, but piecemeal, slowly ground to bits between the codependent ideologies of terror and fascism."

I thought it was a pretty dark look at a future world that is definitely a writable but undesirable script, if we're not careful. If you go see it, let me know what you think.
Quote: Beer is living proof that God loves us and wants us to be happy. - Benjamin Franklin, one of the founding fathers

March 13, 2007
Sports get going: FHHS baseball got the ball rolling for the spring season with a nice 12-3 opener win over Bellevue Christian in the rain Saturday (we call it a mist), while softball was at Coupeville last night. The soccer boys begin their first spring season (they've always played in the fall, since the program started in the early 1990's) with a match in Sultan today, Coupeville Thursday, and their first home game Saturday with King's at 12:30pm.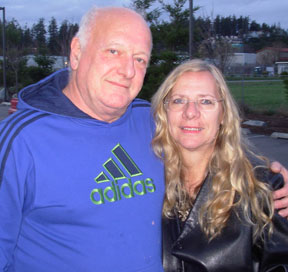 New owners at the Slow Season: Originally from Austria, Ilse & Helmuth (right) know what they're getting into. They've lived aboard down on Lake Washington, and now are taking on the challenge of operating the island's only floating bed & breakfast, the Slow Season (also called the Wharfside B&B). The boat's hauled out & getting worked on in Bellingham this week, but drop by next week & say howdy down at the marina.
J pod in the neighborhood: On Sunday Dave Ellifrit and some folks from the Center for Whale Research followed up a sighting by Jim Maya earlier in the day to shoot these photos of the killer whales, near Victoria.
Radio pals get together: Longtime radio host Red Robinson caught up with islander & longtime radio personality Pat O'Day for an interview, which he posted the audio from, on his website.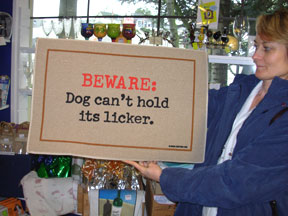 Doormat lets you know: I kinda thought the doormat Josie's holding (right) at San Juan Cellars gives fair warning to folks who visit homes with friendly dogs.
In other wine news, Stan Reitan opened up his new wine shop, Brazenly Lucid, on Nichols Street, where Gray Matter used to be. He's keeping his blog about opening up to date, so check it out.
Roy's is still Roy's: Roy tells me has sold his coffeestop to his sister Sherry, so don't be surprised when you see new faces in the longtime Friday Harbor drive-by. A longtime favorite that Roy began eleven years ago, he tells me he & Mary are relaxing, just a little, as FHHS senior Trent plans on joins bro Tyler over at Western Washington next fall. He also tells me the name's gonna stay the same.
300 - a hit: There was a pretty good sized line outside the Palace Theater for "300" Friday night...Aaron continues to pick a nice mix of newer movies, popular movies, and thought-provoking films.
Yep, you can see ace photographer Shay in the mirror in the pic...
Fire at Boardwalk necessitates sale: There was just enough smoke in the early morning below Boardwalk Bookstore to make it so Bettye has to sell all the books...so she's offering the slightly smoky books at 60% off. Here's the rest of the story from her, and your chance to drop in on a good time to help her out, and stock up.
Quote: There can never be peace between nations until there is first known that true peace which is within the souls of men. - Black Elk
March 9, 2007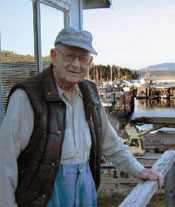 History, alive: Nourdine Jensen goes to work every day, like most of us here on the island. He still works at Jensen Shipyard, which his dad Albert began in 1910 (Nourdine was born in '14, so he had to wait a few years before he started work there....)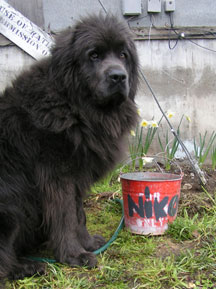 You can read all about the shipyard & the Jensen family on the new website that his granddaughter Alisa has put together (with By Design), including a bit about the history, who works there now, and Niko the shipyard dog.
Photo exhibit: We have some great photographers on this island, and this next month their work is all in one place - tonight there's an artists' reception for Kathy Ballard, Sondra Bayley, Kim Bertrand, Michael Bertrand, Robert Demar, Peter Fromm, and Mark Gardner at the Island Museum of Art from 5-7. Here's more...
The island from the air: When Dan Pimentel took a trip up here on one of the Kenmore seaplanes, he added a writeup to his blog about how wonderful the trip was - you haven't really seen how beautiful this place can be till you've seen it from the air. Here's his writeup, and here's his pictures. Now get your ticket. Wow.
DST: I woke up at 6 this morning to see if it's light enough to move the clocks, and decided it's OK. So, this weekend, let's move 'em ahead an hour for daylight savings time. Then check your computer to see if it did, too.
It'll get light around 7 next week, but that's OK. Happy equinox to ya.
Books, here: Similarly, I love it when people like our bookstores, because I believe we have the best around. Mary, in her blog, has a little rundown of her shopping here. She also has a set of reviews of books she's read, including this nice look at Mike Vouri's Pig War book.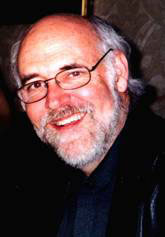 Speaking of writers, here's a writer speaking: Author Terry Trueman will visit the San Juan Island Library to talk about his experiences as a writer & host writing workshops for adults & kids (registration required, but it's free) - on Thursday next week. Then, Friday, he has an open talk for anyone...here's the details. I'll be there - hope to see you, too!
Stuff to do: You know, besides the photo opening tonight, there's also Cemetary Club at the Community Theatre, the Parrothead Party at Haley's on Saturday, and all that planned stuff, you COULD take a walk outside in the woods or on the beach. Take the kids, so they remember how beautiful a place it was where they grew up....
Why they're called that: The state of California did a study to see why a killer whale might attack a human being, as happened at Sea World earlier....well, duh. Orcas usually swim 75 miles a day, and you stick 'em in a 75 foot pool. Here's the Los Angeles Times editorial...
Quote: "The secret of life is honesty and fair dealing. If you can fake that, you've got it made." - Groucho Marx
March 8, 2007
Services: The times have been set: Services on Saturday for Jarvis Teasdale includes viewing at 1pm at the church at Valley Cemetery, with burial service following at the cemetery at 2pm. The Memorial Service is at 3pm at the Presbyterian Church followed by a reception at the church. Cathy Cole tells me you can contact Suzie Fowler at 378-7776 to help with food and serving at the reception.
The service for Dr. Marcia Zakarison is set for this Sunday at the Presbyterian Church at 1:30pm, with reception following.

March 7, 2007
Passing: It's been a hard week for islanders...with Doris Hartman's memorial service last week and the shock of Marcia Zakarison's passing Monday came news of a car wreck out Cattle Point that claimed the life of Jarvis Teasdale Monday night (the other two occupants of the car are in hospital).
Just 22, people who knew Jarvis always saw him smiling - whether at high school soccer, or at classes at Skagit Valley College, or in 4-H, or just around town. Condolences to Janelle & Jim for the loss of their son & our friend.
As soon as I know about services for this weekend, I'll post that here...
Seeing Paris: It was nice to see Paris Dayton Monday night over at Haley's (right)...she tells me she's cutting hair at the Gene Juarez Academy in Seattle, along with fellow FHHS grad Chelsea Foussard.
Hear, hear: I got a note from Stacie Baisch, the hearing doctor, that she has an open house scheduled for next week on the 16th-17th...here's the details:
Hi, Ian - Thanks again for the write up on the Update. I am wondering if you would be willing to spread the word for me again- I am having an open house next week. I'm giving free hearing tests and a rep from one of the top hearing aid manufacturers is coming in to do hearing aid demonstrations and provide information on emerging technology.
I'd love for people to come down, with or without hearing loss, just so I can meet people.
I attached a pdf with the specifics if you are interested (click here to read it) and think your readers would be interested. I know the ad is a little on the wacky side- I am hoping to grab attention.
Thanks, Stacie Baisch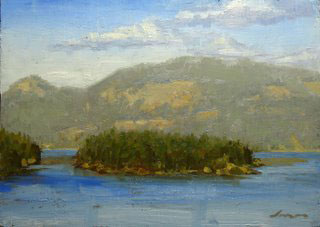 Matt's painting blog: He's got the touch - have you seen Matt Miller's blog, with his paintings? Take a look - you'll like what you see, like the painting of Turtleback Mountain to the right....
Running & running: You just have to admire someone like Laurie, who is working herself into shape for the half-marathon here in June, and hopes to run her first marathon in 2008...here's her blog.
Where are you? I love this little map that Richard with the B&B Association has put together. Besides looking up B&Bs, you can look for your own house, or others, as well - here's the story:
Ian, Our Google Map of the San Juan Island Bed and Breakfast Association members is now online at www.islandlodging.net

Also, anyone can find their own own Geocode (latitude and longitude) with our (free of course) San Juan Geocoding Map www.islandlodging.net/latlong.html Using the Hybrid button gives you a satellite image with the street names. Pretty neat. You can use this to find pretty much anyplace on the planet.
Quote: "Believe in yourself, know yourself, deny yourself, and be humble." - John Treacy, 1984 silver medalist, marathon
Ferry petition drive: The local drive for the "Petition for Sustainable Ferry Funding" is entering its final phase, with approximately 3000 signatures to date towards the goal of collecting more than 3500 by Monday March 12. Petitions are still available at many convenient locations and the sponsors are urging supporters to help by canvassing their friends and neighbors.
On March 1, the Friday Harbor Town Council unanimously passed a resolution echoing key petition positions. Another resolution in support of the petition is pending final consideration before the San Juan County Council.
A delegation of local officials, business leaders and concerned citizens will be heading to Olympia March 15 to present signed petitions and related ferry finance concerns in meetings scheduled with legislators: Sen. Spanel, Rep. Morris and Rep. Quall, and with an executive policy aide to Gov. Gregoire. The delegation plans to bring a variety of relevant viewpoints in support of the petition's positions on limiting pending WSF ferry increases to 2.5%; the need for economic impact study of the cumulative effects WSF fare increases on our local economy; the need for stable long-term ferry financing for both operating and capital needs independent of the fare box; and concerns about tarif based priority loading reservation systems on WSF.
Locations where Petitions can be signed:
San Juan Island: Harbor Rental, The Little Store, Pelindaba, Printonyx, By Design, The Journal office
Lopez: Isabels, Caffe La Boheme, Paper Scissors on the Rock
Orcas: The Orcas hotel, Cottage Gift Shop, Island Hardware, Rainbow Services, Ray's Pharmacy, Teezers, The village Stop
Shaw: Kiosk
For additional information please contact: Anne Sheridan 378-7286, Louise Dustrude 378-4306 or Lee Sturdivant 378-2648