March 20, 2007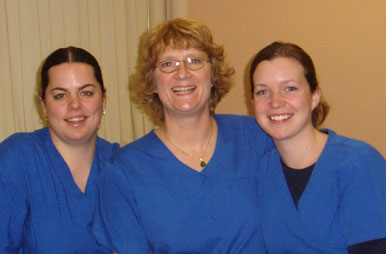 New nurses on the block: It's always great to hear about islanders doing great things - Melissa Aylward dropped me this note to let me know about graduation last week:
Hi Ian, wanted to share with you that that three of us islanders have graduated from Skagit Valley College's School of Nursing with RN degrees - Kathryn Clary (center), Claire Vedder-Valdez (left), and Melissa Peacock-Aylward. We celebrated with a traditional Florence Nightingale Candle lighting and pinning ceremony on March 15, 2007. Kathryn is a 14 year island resident and has accepted a job at Island Hospital in Anacortes, WA. Claire Vedder-Valdez, a 2000 FHHS graduate, has accepted a job at the new Trauma Center in San Diego, CA. Melissa Peacock-Aylward, a 2002 FHHS graduate, has accepted a job at Providence Everett Medical Center in Everett, WA.
A big THANKS to the community for all their support!
Melissa
Party for Linda Barnhart: She's retiring from the Library after years there, with a little going away deal at the library from 3:30-6pm on the 30th. There's also a journal at the front of the library where you can write your thoughts, thanks & wishes for Linda. we're gonna miss you!
We have placed a journal in the front of the library where you can put in writing your thoughts, thanks and wishes for Linda. We are also throwing a party on Friday March 30th from 3:30 – 6:00 p.m. to try and thank Linda for her 14 years of service to our community. We hope to see you there.
Quote: "How old would you be if you didn't know how old you are?" - Satchel Paige
March 19, 2007

Noah got it, we get it: After all the rain the past few days, especially Saturday's never-ending downpour, you could feel a palpable collective sigh of release yesterday when it was clear & blue & nice in the afternoon. I think it feels that way when the rain falls like it's never gonna end.
Meanwhile, out on Bailer Hill Road, the water collected & lakes were begun, but not enough to cover the road (above, Sunday afternoon) like it did earlier this year. Not yet, anyway.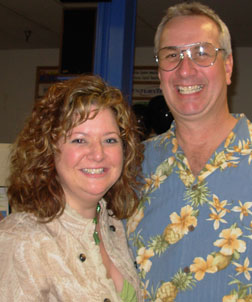 It was cool that the Little League got their tryouts in yesterday - one of the coaches told me earler in the week they'd have the tryouts come hell or high water, and we sure had the high water. They had to re-schedule from last Sunday.....
More rain is expected for the week though, so button up.
Birthday: It was a nice surprise - Brenna and her buddies kept mum & were able to surprise Tall Paul (right) with a surprise party over at the bowling alley Saturday night. The occasion? He's 50 this week...way to go! She assembled a large & loving mob to wish him well into his second half-century - and a good time was had by all.
Running for the board: Islander Matt Marinkovich is running, along with twenty-two other commercial driftnet fishermen who are vying for seven seats on the board of the Bristol Bay Regional Seafood Development Association, with election results to be announced in mid-April. (That's in Alaska, where the salmon are...here's more.)
St. Patrick's Day on the island: You hadda be color-blind to have missed the green of the holiday here on the island this weekend - besides the Soroptimists' well-attended annual St. Pat's dinner, there were crowds at the local watering holes late into the night.
The good folks at King's Market were into it, with folks all decked out in green, even Roxy with her green hair cooking in the deli section (left). Hope you had a good one!
Selling well: According to the Desert Sun, Jason Napier sold five scuptures in five hours in Palm Springs' La Quinta Arts Festival this past week.
He's got great sculptures, so those of us that know his work aren't surprised. Here's more...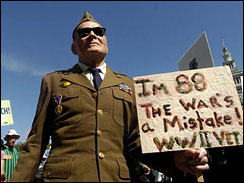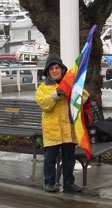 Peace starts at home: As thousands demonstrated around the USA against the four-year-old Iraq war, like the WWII vet in the photo to the left,, dedicated Shari Larson (right) was setting up in the rain with the local peace folks. Here's more...
Coming event: Ashley & Tony are at their mom's at the Labs this weekend - here's their baby-is-coming blog.
Yes, Santa, there is a sun: Deb came up last week from Seattle, and caught a nice pic of our sunny day on Wednesday on her blog...here it is.
Proof there is a sun, sometimes. Or there was, once.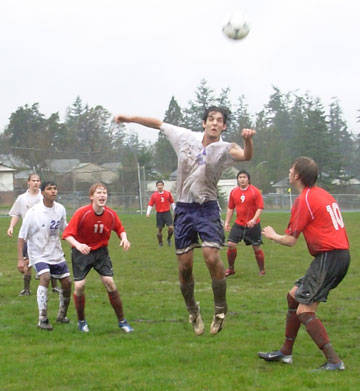 Sports in the mud: Friday's softball & Saturday's FHHS baseball games were scrubbed in light of the continuing rain this weekend, but the soccer boys took on King's on Saturday in a muddy mess of a game that once again shows we need to re-visit the notion of an artificial turf, year-round field.
The Knights solved the problem of having a field that did not allow a pass to predictably go anywhere by going to the air, scoring their first two goals on headers on their way to an 8-1 victory. There was a bit of hope as José Charape nailed Miguel Medina's drop pass for a sweet 18 yard goal, followed by (on the right) Pablo Lopez's screamer that nearly scored two in one minute, but King's led 4-1 at the half and stretched it from there.
You could see the Wolverines' improvement - from the first half & from the first two games - in the second half as they passed better, and created more of an attack. Catch more at their next home game on Friday afternoon against Meridian at 4:30.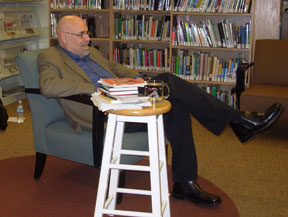 Author talk: It was another successful show put on by our increasingly diverse (from a programming angle) Library.
This past week, Adrienne, Laura & Shannan set up workshops for folks to visit with author Terry Trueman - at a young teen workshop, an adult workshop, in middle school classes, and finally a talk at the Library in front of the fireplace. Engaging, energetic, and a heck of a reader of his own stuff, Terry's presentations fired up the island writers he came in contact with here...and that's what's supposed to happen.
I just fininshed his just-released "7 Days on the Hot Corner" and it's a fast-paced, well-crafted tale of a kid with a problem & a love of baseball, and more. Check it out next time you're in the library & you'll see why some of the kids who came to his talks told him that he's their favorite author. Cool stuff.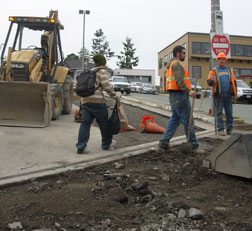 Lane One done: I know you've been wondering - they finally paved over lane one in the ferry lines & were using the whole lot on Sunday's crowd. The pic at right was shot Thursday, to show you what it looked like before.
DEM talk: Brendan from the DEM reports in about tonight's talk:
The final Monday night natural disaster talk is tonight at the Grange at 7pm. Dr. Cynthia Garder is a geologist at the USGS Cascades Volcano Observatory who specializes in the eruptive histories of NW volcanoes. Dr. Gardner will talk about the processes that form our local volcanoes, and will shed some light onto each of the individual mountains and their potential for future eruptions.

The Cascades Volcano Observatory is tasked with monitoring, understanding, and predicting the behaviors of the handful of active volcanoes dotting the Cascade range. For more information go to: http://vulcan.wr.usgs.gov/

This talk is sponsored by the San Juan County Department of Emergency Management.

Basketball stars begin to rise: It was cool to hear from Charlyn Warner how well the guys did last weekend:
5th/6th Grade Boys Place 2nd in S.W.I.S.H. Basketball Tournament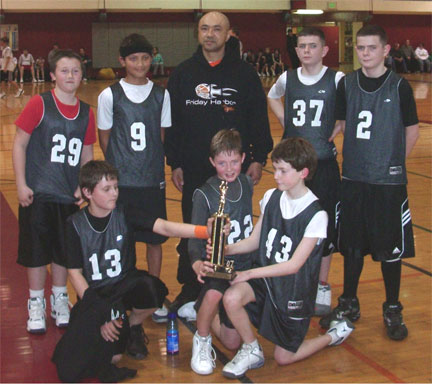 (back row, left to right): Alec Kurtz, Kaleb Warner, Coach Glass, Dylan Demaris, and Levi Demaris. (front row, left to right): Jacob Justiniano, Donald Galt, and Morgan Kinnamin.
MARCH 10, 2007 – Saturday, the Friday Harbor Tigers boys basketball team placed second in the 6th grade 'C' division of the S.W.I.S.H. Basketball tournament, losing in a single-point game to Granite Falls; final score 19-18. The team, sponsored by the Friday Harbor Athletic Association, placed 4th in regular season play with a record of 5 wins, 4 losses.
Coach Stephen Glass was very pleased the team's performance throughout the season and during the tournament. "At the beginning of the season, I placed the team in a tougher division in order to increase their level of play," said Coach Glass. "And it was great to watch the boys improve with every game. We went into the last two weeks of the season in a 4-way tie for first. We had just 5 players those last games and lost against 10- and 12-man teams. So, while we finished a very respectable 4th in regular season, I am confident that every team we played in this league we had a real shot of beating. I am very proud of the boys and they should feel proud of their performance."
Players' parents, friends, family and the Friday Harbor Athletic Association are equally pleased with the great season the boys delivered. A quote from one parent sums it up for all, "What fun they were to watch!"
As for the players, they now have their sights set on next year. Kaleb Warner, the team's point guard and wingman, said, "Most of us are 5th graders, so next year a lot of us will be playing again. And we want to win the big trophy!"
Quote: Every gun that is made, every warship launched, every rocket fired signifies, in the final sense, a theft from those who hunger and are not fed, those who are cold and not clothed. - President Dwight Eisenhower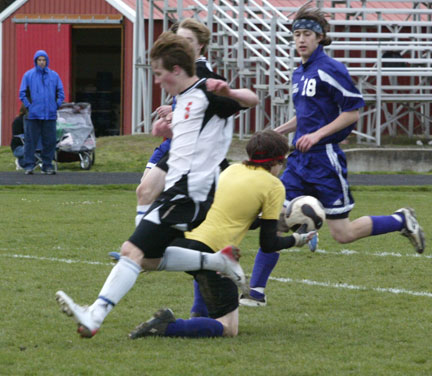 March 16, 2007
Adams vs. Adams: FHHS junior goalkeeper Avery Adams collects the ball from Coupeville's freshman forward Justin Adams with help from junior defender Shay Byington (18, purple) in the second half. Adams scored three of CHS' goals in the Wolves' 4-2 win. Photo below: junior forward Miguel Medina's header on goal is just wide. (photos by Jim Woolbright.)
Wolves Drop FHHS 4-2: Friday Harbor hit the replay button in its second game of the season: like its first game with Sultan, they were down by a goal at the half. Like that first game, they got goals from junior forwards Erik Nash and Miguel Medina. And like that first game, they were unable to score the equalizers, as FHHS lost to Coupeville Thursday night 4-2.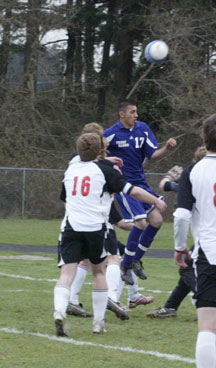 The Wolverines began the game by controlling the midfield for the first 12 minutes, but then the tide turned, and Coupeville opened fire on first-year junior goalkeeper Avery Adams. Wolves forward Justin Adams notched the first two of his three goals in the first half, but Nash headed in junior midfielder Louis Paul's long throw-in to bring the Wolverines close at the half.
The second half found a fired-up FHHS side playing more aggressively and attacking more. But, unable to contain Adams, Friday Harbor was in a 4-1 hole before sophomore midfielder Pablo Lopez threaded a pass between two defenders to Medina breaking to goal, who calmly tapped it into the left corner with 17 minutes to go. A furious attack for the rest of the game didn't deliver another score, though, and the final score was 4-2.
The Wolverines come home to play Seattle-area King's High Saturday at 12:30pm for their first home match of the year.
Tennis rocks: The girls' team played at Coupeville and played well by all accounts, led by doubles partners Amanda Root and Lindsey Youngquist, who came back strong to win
5-7, 6-2, 6-3.
Running into the store: Getting off the ferry last night, the fire department had cordoned off Second Street where it turns off Spring Street - someone had run their truck into the side of King's Market. Folks on the scene said no one was hurt...you'll be able to see the scape marks & loosened bricks on the wall when you go by this morning.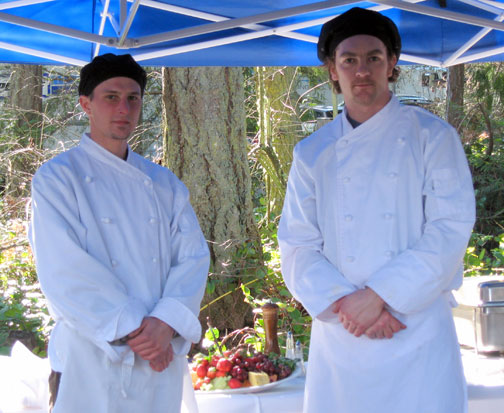 We're in the shoot: The Visitors' Bureau's Robin Jacobson tells me she and her friends pulled together the support (with island as backdrop) for a commercial shoot...ordinarily, film crews bring their own food & security & staff, but for this one she got 'em to hire local, including John Peakes from 120 Nichols (with his helper Jason, left). Here's the tale: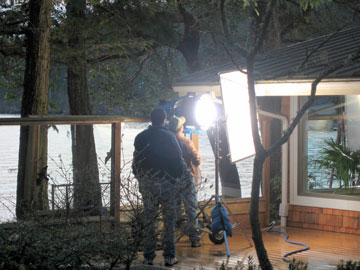 When the new Lipitor commercial starts airing soon with Dr. Robert Jarvick, inventor of the artificial heart, the beach scenes may look familiar. The entire commercial was filmed on San Juan Island as a project of the Visitors Bureau. Becki Day of San Juan Events, John Peakes of 120 Nichols, Linda McMahon of Friday Harbor Realty, Janeen Jennings of Best Western Friday Harbor Suites and Linda Hersey of Friday Harbor House were all on the local team with me. The Visitors Bureau lured this production away from Marin County and other islands down sound. John Peakes is to be commended for catering gourmet breakfasts to the production crew of 50 -- in the woods, way before dawn and by the power of generators for lights. Coming back to serve a beautiful hot lunch was easy after that!
United Nations: On the way home from the game last night, a couple of the guys & I figured out that the players on the team have parents (or co-parents or step parents or birth parents) from these nations: Korea, Sri Lanka, Mexico, Canada, Chile, Honduras, and maybe Switzerland, with a couple from Pennsylvania & Alabama, which is pretty far as well.
Quote: I've found that luck is quite predictable. If you want more luck, take more chances. Be more active. Show up more often. - author Brian Tracy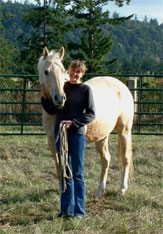 March 15, 2007
Why the horses are smiling: You probably already knew that Cynthia Elliott's been doing equine massage for a while now, but she's also been working successfully with a process called Emotional Freedom Techniques...check out her new website for how all this works & see what you think (I think it's great!)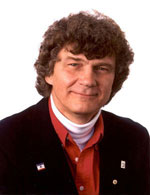 New at Kent Meeker's: Over at Kent's real estate place (KMI) he's got a veteran real estate agent, as longtime Windermere agent Jim Knych has moved over to work with him.
Down at the Port: At the Port of Friday Harbor's marina, the Fuel Dock is closed from Monday, March 12 to Sunday, March 18, 2007 - so make your plans ahead of time for fueling!
Sold & re-opened: This is good for everyone - after years of running the coolest cotton clothes place around (and designing nice & comfortable wearable art - great stuff), Vivien Burnett has sold Dolphin Arts/Cotton-Cotton-Cotton to Christine Kelvick. Chris is gonna re-open on Saturday for the season, so drop by & say hey! (I know Chris from her work at Inn to the Wodds B&B and Windermere - she'll do a great job there.)
Stuff to do this weekend: All right, I know when you moved here you used to say, "There's nothing to do here." That's because, well, there wasn't. (That was 1918.)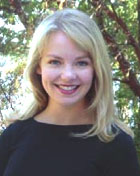 This weekend you'll be saying, "How can I do it all?" So get your to-do list out & get around. There's the last weekend for The Cemetary Club at the Community Theatre, Stacie's open house (that's her on the right) so you can learn more about hearing on Friday & Saturday at Island Hearing Healthcare, Terry Trueman's talk at the Library, and the Soroptimists' St. Patrick's Day Dinner (tickets still available!) on Saturday night.
Also, Arsenic & Old Lace opens tomorrow at the Benefit Players Theater for its run till April 7th... and there's this invitation from Cathi at Namasté Yoga & Reiki Studio:
I was wondering if you could post a community announcement regarding the free Experience Reiki event that Namaste Yoga and Reiki Studio is hosting on 18 March (this Sunday) from 4pm to 5pm. This is an opportunity for anyone to come either be a subject of some energy work and for practitioners on any Reiki level (1,2,3 or Master level) to share energy work with others in the community. Located at 485 Ellsworth in the Ellsworth Professional Building (off Blair), across from the school district building.
Then there's also the dinner & auction at the elementary school tomorrow night, early enough for you to do all this other stuff:. Here's the word from Jan:
Lads and lassies, their families and friends will be wearing green and giving the green on Friday, March 16.
The Friday Harbor Elementary School PTA is holding a St. Patrick's Day Auction and Dinner inside the elementary school cafeteria and gym from 5:30 to 7:30 p.m.
The PTA's biggest fundraiser of the year, the auction raises money for special events and activities at the school. The PTA board members are also hoping that this year enough will be raised to pursue improved playground equipment for the school.
"The play structure is twenty years old," said Co-President Kim Ott. "Like most things after twenty years it needs a good upgrade."
The evening's dinner includes a catered meal by Laurie and Tim of The Market Chef (Shepherd's Pie, soda biscuits, macaroni and cheese, and salad). For dessert, the school's 5th grade Bake Sale will feature gourmet cakes and home baked goodies. A limited number of dinner tickets are available and must be purchased in advance at the school for $10 per adult and $5 per child.
Guests do not need to purchase dinner tickets to attend the silent and live auctions, which will feature dozens of items donated by local businesses, including two roundtrip tickets on Kenmore Air, restaurant and hotel gift certificates, food and gift baskets, and stays in Mexico and at a Mt. Baker Ski Cabin.
While adults make their bids, children will be entertained and busy throughout the evening with craft activities, storytelling, and the return of Magic Biggers!
For more information on the PTA Dinner and Auction, contact Kim Ott at 378-8735.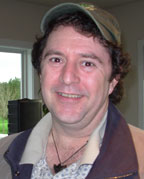 New owner at Spirit Tree: I enjoyed meeting Kenneth Atwell (right) the other day - he just bought Spirit Tree last winter, and has it fired up & going with new, cool stuff. He dropped me this note about a little bit about what's up, after I suggested he check out the Update:
Ian - I like this site, it is one I'll be checking on frequently and passing along to my friends.
While checking out some of the links, I realized that I need to mention that Spirit Tree is where you'll find Al Gore's book and DVD of An Inconvienient Truth, as well as The Secret and other current books. We are committed to helping raise Conscious Awareness - thanks for helping us spread the word! It was a pleasure meeting you,
Namaste'
Kenneth Atwell
Spirit Tree Gifts

Lecture at the Marine Labs cancelled: Just got this word about Dr. Moon's talk from the Nature Intitute:
We regret that Dr. Moon will not be able to travel to Friday Harbor on Wednesday, March 21 to give his lecture on Stem Cell Research. We have had to cancel the lecture. You may see an article about the lecture in the Journal on Wednesday but that was submitted before we had the news. I hope you will come to the final lecture in the series: The Crisis in American Fisheries by Ray Hilborn of UW.
Thank you for your support

Fiona Norris

Quote: Do not assume that he who seeks to comfort you now, lives untroubled among the simple and quiet words that sometimes do you good. His life may also have much sadness and difficulty, that remains far beyond yours. Were it otherwise, he would never have been able to find these words. - Rainer Maria Rilke