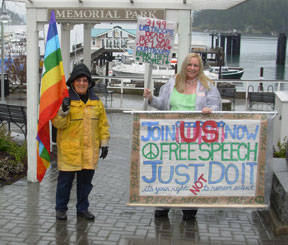 March 31, 2007
Peace vigil today: Lesley Larsen (on right) tells me to make somethng grow, you gotta keep watering it, and that's what she's doing with helping organize today's Peace Vigil at the War Memorial Park from 11-1pm.
Iraq in Fragments: Went to see James' film last night, and you can see why it's gotten the awards & the attention. Wow. A dark & deep look into what's happening with the people there, with a story told by the people themselves, in their words. You owe it to yourself to listen to them....
Small note: Claudia Mills from the Labs helped me update the note below with James & Margaret - she was his only other videographer shooting the film.
Sports everywhere: Baseball, soccer, & softball are all on tap at their respective fields today, with the K-9 Carnival happening over at the airgrounds (dog sports, you know.) The lacrosse game has been rescheduled because the field is so crummy & muddy...

March 30, 2007
Sharing rides - an idea whose time has come: You know Samantha Gilbert (she's married to Clark Gilbert) bought Girl Friday from Tanya a year or two ago...she's got a super idea.
You know how when you were in college (before they kicked you out, or before you got you PhD) there were rideshare boards where those of us who didn't have cars (the poor) could hook up with those kids who did (the rich) when they were going somewhere, usually to some rock concert. Same idea, 'cept it's not about poor or rich - it's about having sense enough to share a ride off-island.
So Samantha has set up a calendar where folks can sign up to either offer a ride or look for one....she has it on her blog, so check it out. Way to go, Sam!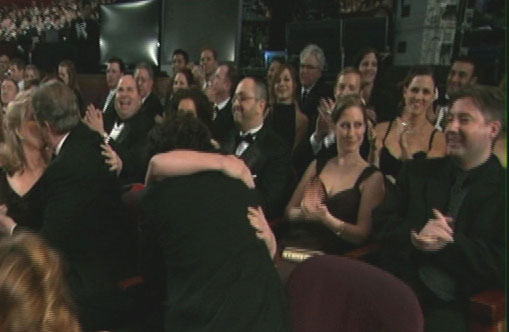 Longley's movie comes to town: James Longley's almost-Oscar-winning Iraq in Fragments comes to the theater tonight for a week - see ya there.
Above is a video capture of the moment that Al Gore was announced as the winner of the Best Documentary Oscar - that's him in the liplock with Tipper on the left, with James in the row behind to the right, clapping, with sis Margaret (his videographer, besides what he shot) to his right.
But the movie isn't about awards, it's about a real nation in turmoil, with real folks - mamas & papas & kids - trying to make sense of a crazy situation. See it.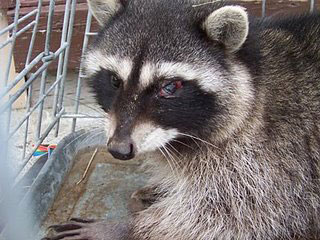 Better get a seat! The Middle School Players present "Cinderella - or How Pipsqueak the Mouse Became a Stallion" March 30 and 31 at 7:30 pm and April 1 at 2:00 pm. Seats in our huge Community Theatre go fast for this one...
Wolf Hollow: You can keep up to date with what's going on at Wolf Hollow by reading Heather's blog, Hollow Happenings. She has a super rundown of the cool stuff they do at the wildlife rehabilitation center, including taking care of this raccoon (right). Read it - it'll make you appreciate just one more thing that makes living here rock.
Linda's farewell: Be sure & run by Linda Barnhart's goodbye open house at the Library from 3:30-6 today.
Quote: "Love casts out fear, but we have to get over the fear in order to get close enough to love them." - Dorothy Day
March 29, 2007
New book on the block: She never quits writing - Susan Wingate (right) talks about her new book & book tour in her blog.
It's this Saturday: Grab your dog & take 'em to the K-9 Carnival at the Fairgrounds from 11:30-2:30. Here's the word from Corelia at Island Rec:
Ladies and Gentlemen, Pooches of all ages - come one and come all to San Juan Island's first ever K-9 Karnival! There will be entertainment, contests, activities and fun for you and your dog! $5.00 will get your dog in to the festivities, with $3 for additional dogs.
To check out the games & activities, see Island Rec's listing - looks like fun! See you there!
Spring training: Former islander Sam Elliot lives near enough in Arizona to see the Mariners' spring training - she checks in (by the way, if you wanna see her pix, drop by my office):
Hi Ian - I thought you might like to see these photos I took at spring training.
It was a dream come true to be there!
Coincidentally at one game, the woman behind me & I started talking and I discovered that she is Roy Cope's daughter! We reminisced about all the plays Roy & I had done together, especially remembering him as the Tin man in "The Wizard of Oz". What a small world!
Enjoy............
Sam
What's happeing at the Marine Labs: Here's a quick rundown of three upcoming events at the Labs:
The Marine Science Associates Potluck / Lecture will be in the Commons at the Friday Harbor Laboratories on Thursday, April 12 from 6:00 to 8:30 p.m. Everyone interested in current research in the marine sciences is enthusiastically invited to attend. Signs will direct you to the parking area behind the Commons. The following two illustrated talks will be presented:
Dr. Ellis Loew, Department of Biomedical Sciences at Cornell University:
"Color Vision in Fish."
Color vision has most likely evolved to aid in the recognition of ecologically relevant targets. Given the great variety of environments inhabited by fish, and their specific visual tasks, different fish should have different color vision systems. To test this, the color vision capabilities of fish from various environments have been ascertained and, through behavior and modeling, related back to this fundamental expectation.
Dr. James W. Truman, Department of Biology, University of Washington: "Hormones In Insects And Their Marine Relatives: Don't Bug Me When I'm Crabby!"
Arthropods are diverse in both their life histories and the complexity of their behavior. This diversity, though, is rooted in conserved developmental and endocrinological mechanisms that are shown by all of the arthropods. We are using crustaceans and sea spiders to examine the ancestral functions for genes regulated by hormones that are crucial for metamorphosis in insects.
Please call 378-2165 or e-mail cowelk@u.washington.edu by Monday, April 9 to let us know if you plan to attend the Potluck/Lecture and to find out what is needed for the potluck. Please bring a potluck dish and your own table settings. We will provide cups. We hope to see you there.
Plan ahead! You might put these dates on your calendar as well:
FHL's Open House on Saturday, May 19. Our students and scientists will describe their research and show the diversity of critters found in local waters.

June 9th, Friday Harbor Laboratories will hold its 7th annual 'Jazz at the Labs' - an evening of food, fun and great music at the Labs. This year's program will begin with dinner from 6:00 – 7:00 pm with music provided by the San Juan Jazz Quintet. At 7:00 pm, Chris Amemiya's Jazz Coalescence will perform.
March 28, 2007
The future, baby: You keep wondering what the future might look like, and so do I. Here's a glimpse: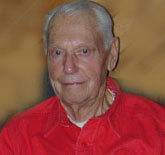 Passing: It was sad to hear of the passing of Wally Mullis, a true islander, this past weekend. He was Jerry's dad, and a lot of folks' friend...here's more.
New baby: Looks like there's a new whale in L pod...the baby is called L 109 - here's the scoop.
Cell thing: Several people noted that yesterday there was a bit about both San Juan Cellars & San Juan Cellular, all in the same bit.
If there's a place called San Juan Celery, I'll keep you posted.
Get your vision & hearing checked: The Lions Health Screening Unit (LHSU) will visit San Juan Island on March 30 & 31, 2007 from 10am to 4pm each day. The purpose is to screen the public for vision and hearing acuity, glaucoma and diabetes detection, and blood pressure screening.
Sponsored by the San Juan Lions Club, these screenings are available for free of charge. The LHSU is a program of the Northwest Lions Foundation for Sight & Hearing, a 501©(3) charitable nonprofit organization founded in 1969 by Lions Clubs in the Northwest. The LHSU operates under the Lions motto "We Serve" and is staffed by volunteer health professionals and Lions Club members. Since 1997, this professionally equipped mobile unit has traveled throughout Washington and Northern Idaho providing vision, hearing, glaucoma, diabetes, and blood pressure screening to more than 30,000 people annually, including 25,000 school children.
The LHSU is able to keep its service free through the efforts of civic-minded volunteers, local Lions Club sponsorship, and the Northwest Lions Foundation for Sight & Hearing. For more information, call Sally Browne (360-370-5711) or Stacie Baisch, Au.D. (360-298-1369).
Quote: Count your blessings. Once you realize how valuable you are and how much you have going for you, the smiles will return, the sun will break out, the music will play, and you will finally be able to move forward the life that God intended for you with grace, strength, courage, and confidence. - Og Mandino
March 27, 2007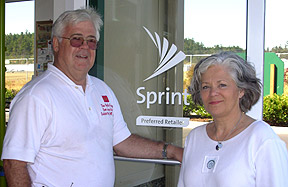 Travelers: Joy Sevier at San Juan Cellular tells me that Denny (left) went to Dallas last week for an DirectTV inservice & conference, which included shows by Sheryl Crowe & Rod Stewart - Denny says he had a great time.
Meanwhile, Robin Jacobson's over in Scotland visiting her daughter Liza, and she files this report:
I know you like this small world stuff, so here's what I've got. I heard right before I left for Edinburgh that David and Kathryn from San Juan Cellars are also here -- I'm looking for them! But I heard they are at St. Andrews playing golf and I'll be in the Highlands. Here in Edinburgh, I answered a question for a woman at the computer terminal next to me at our hostel. She said "You sound like you're from home!" Apparently, there is a Salish Sea accent. She is from Victoria and was not surprised when I said I was from San Juan Island. In my room, there are women from New Zealand and Indonesia. It's one international slumber party.
Robin
Dining for Scholars: The Dollars for Scholars folks are trying out a new way this year to raise money with their Dining for Scholars programs - rather than one night out for Dining for Scholars, participating restaurants now select "their own day" to contribute to local scholarships.
The goal is to fill the participating restaurant with customers knowing that if the businesses benefit, then scholarship funds also accumulate. The new format also allows a variety of restaurants to be visited each month (January, February, March, April, possibly May, October, November & December).
So, this month: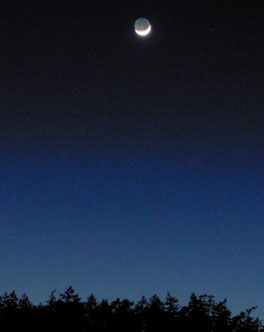 March 28th at the China Pearl; (lunch & dinner)
April 3rd at the Bella Luna; (lunch & dinner)
April 9th at the Peppermill Note (dinner only)

Customers that eat out and select the above restaurants on the dates mentioned, will be supporting Dollars for Scholars scholarship fund. The participating restaurant donates a portion of its proceeds on the dates they have selected.
I see the moon, the moon sees me...
Tuesday night's fingernail moon meets the
last light of an equinox evening.
Lecture at the Friday Harbor Marine Labs - tonight!: Dr. Ray Hilborn will present the final lecture in the San Juan Nature Institute Lecture Series on Tuesday, March 27 at 7 pm in The Commons. His topic is The Crisis in American Fisheries.
Quote: "I always love to quote Albert Einstein because nobody dares contradict him." - Studs Terkel
March 26, 2007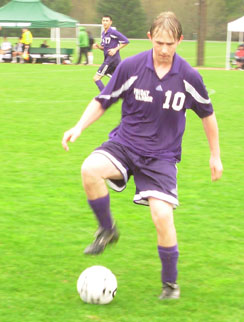 Sports report: As you might have guessed, softball & baseball got rained out this weekend, but our plucky soccer team went & played Charles Wright Academy (6-0) in Tacoma on Saturday in a driving rain. Erik Nash (right) and the boys held the Harriers scoreless for ten minutes before they exploded for four goals in 17 minutes for a 4-0 halftime lead.
The second half was more like it - our defense closed the gaps to effectively shut off the CWA attack, while up front we created more chances. The final result was a 4-0 setback, but the valiant draw in the second half was something to feel good about.
The boys are back in action Saturday here.
Boardwalk Bookstore: You know it's been tough for Bettye down at Boardwalk Bookstore, with all the smoke damage to her books meaning she has had to sell off her inventory at 60-75% off so she can re-stock her shelves in the next few weeks...but she keeps smiling.
A writer named Nu Quang was here this weekend & dropped by the store, and I love her writeup of her visit on her blog, called "A Gift From A Stranger." Bettye should be proud....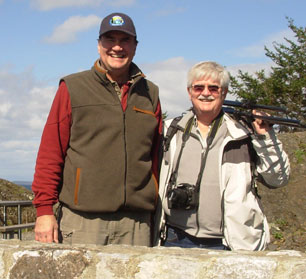 Guide to the travel guide guide: Yep, he's sent thousands of visitors here - Jack High (left) from GoNorthwest.com was visiting this weekend when I ran ito him and Bill Wright from San Juan Safaris walking around in the sun at Lime Kiln Sunday. Jack's site has been around for years and is a wonderful resources for people making their plans to travel around the Pacific Northwest.
Meanwhile, Bill returns to his spot with the state tourism board this year, and tells me there are a lot of promising signs with state support increasing this year - no place to go but up. Looks like the state's catching on that tourism's (especially eco-tourism) a good economic area to help grow.
Quote: "Don't ever forget two things I'm going to tell you. One, don't believe everything that's written about you. Two, don't pick up too many checks." - Babe Ruth
March 23, 2007
Too cloudy: The Update remains the only online media here in western Washington committed to regularly reporting of UFO sightings. You see it, we report it. Problem is, nobody's seen anything lately (at least, that told me...). Besides it's been really cloudy.
So, you can spend this downtime between reports looking over the French government reports about UFOs, just opened to the public this week. Cool & interesting stuff, especially if you speak French.
Operators getting going, next weekend: San Juan Safaris & Western Prince plan to get their whale watching seasons going next weekend, while San Juan Excursions will kick things off closer to the end of April.
Roger at San Juan Excursions tells me he's got 100+ kids coming in mid-April for the fourth straight year at the end of our spring break...he got help setting all that up from the Ellensburg schools superintendent, Gretta Merwin, who you will remember was our supe till 1995.
Speaking of schools: The Board met last night to discuss whether to whack the mid-winter break, and took input from the public regarding that.
Most of the kids I've talked to tell me they like the break but wouldn't mind getting done a week sooner in the summer; most of the parents I've asked about this say they like the chance to have a family trip or family time that's not during the holidays or summer. I wasn't able to attend last night, so I'm not sure what folks there said....
The deal is that the decision has to include the personnel association, as well, so negotiations will continue, with a decision expected later in the spring for next year's schedule. We'll watch & see what happens.
Quote: "Each player wants to leave the mark of his will, his signature, on important acts he touches. This is not the voice of ego but of the human spirit, rising up and declaring that it has something to contribute to the solution of the hardest problems, no matter how vexing." - Pat Riley, NBA coach
March 22, 2007
Happy Equinox to ya: Now it's Spring. Really. Get outside & go play in the daffodils, rookie.
More light than dark. Now that's a concept.
Shooting match: I was visiting with John Dustrude yesterday and we were looking at the construction at King's, upstairs, and wondering between us what it was all gonna be when it was done. He mentioned that back in '72 there was a rifle range up there on the second floor, for folks with .22s.
Here's the plans for King's, by the way...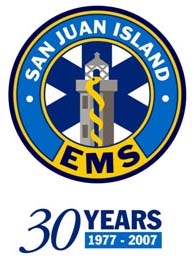 Thirty years - get ready: Alan over with the EMS folks wants to help get everyone together for August - can you help? Here's the deal, from him:
The San Juan Island EMT Association will host a 30th anniversary gathering at the Lakedale Resort on August 11-12, 2007. The event will include overnight camping, games, contests, cookouts and storytelling to commemorate the thirty years of emergency medical service provided by EMTs on San Juan Island. All present and former EMTs and their families are invited to attend.
The celebration will include a MASH hospital site with group camping on the waterside at Lakedale Resort. A small number of individual sites have already been reserved and more family camping sites are still available at Lakedale Resort.
Present and former EMTs and EMS families are encouraged to mark August 11–12 on their calendars and join the festivities. For additional information, or to be included on the mailing list for future announcements, contact the San Juan Island EMT Association at P.O. Box 1243 in Friday Harbor or via email at sjiemta@sanjuanems.org .
Senior Class Garage Sale/Silent Auction: It's Saturday, March 24th 8:00 am to noon. Quality items will be accepted Friday, March 23rd after school in the commons. Questions? call Marlys Merna 378-5321.
Films this week: Looks like the war & war-making are on folks' minds - at Pelindaba tonight here's the deal, according to Amelia there:
At 6:30 tonight the Pelindaba Film Club presents Why We Fight...Filmed during the Iraq War, this documentary examines America's military machine and the reasons why an otherwise peaceful country engages so frequently in war. Illustrated through personal stories from those engaged in or affected by American militarism and its ideologic and economic imperatives. Winner, 2005 Sundance Grand Jury Award. Director: Eugene Jarecki (2005 – PG-13). Film showing (98 mins) commences 6:30pm, followed by discussion.
Sunday night the Democrats have food & a film at the Grange - here's the story from Lee:
The wonderful film, 'The US vs. John Lennon,' will be shown this Sunday evening (3/25) at Grange Hall following a bargain lasagna dinner of pasta, french bread, Caesar salad, drinks and dessert. All for $10.00 in advance (at Griffin Bay Books or Garden Path Cafe) or $12.00 at the door. This is a fund raiser for San Juan Island Democrats.
The Seattle P.I., in reviewing the film last year, called it a "history lesson set to music.... and an unpleasant truth about government paranoia, and the lengths to which the highest office in the land will go to squelch the dissent of a radicalized culture. "
Following the film, attorney Roy Moceri, first amendment expert and former San Juan Island resident, will lead a discussion on Dissent in a Time of War, and Janet Thomas, local activist and author will bring us up to date on what happened to all those arrested during the Battle of Seattle, the title of the Thomas book on that event.
Dinner is served at 5pm. "Be there or be square." Regards, Lee Sturdivant
It's the Animal Shelter's Bowlathon: Saturday March 24 • 4pm - 10pm • Paradise Lanes. Still time to sign up for a really fun event. Complimentary pizza and free bowling provided. All bowlers need to do is bring in a minimum of $100 in pledges and show up ready to have a good time. Great music and door prizes. For more information call Leslie Byron at 378-2158.
Roche Harbor Sportswear. Annual Spring Opening Celebration! March 23, 5pm-7pm. 10% discount on all merchandise for the evening. (Located above Roche Harbor Grocery).
MS: Local psychotherapist Allison Shadday, LCSW, will read and talk about her newly published book which brings her unique experience of both professional counselor and MS patient with multiple sclerosis. She's at Pelindaba this Friday night...here's more.
Mark Twain: At the Community Theatre Friday night...here's more. (You're gonna love it!)
Quote: Don't tell fish stories where the people know you; but particularly, don't tell them where they know the fish. - Mark Twain
March 21, 2007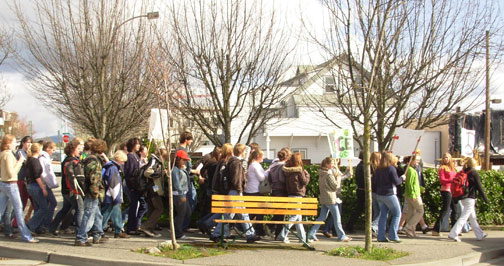 Peace on the march: When I went to meet up with my friend John for lunch at the Garden Path yesterday, I had no idea that we'd be surprised by the sight & sound of dozens of our high school students who joined National Student Protest Day by leaving school to walk the streets of town, chanting to oppose our country's war effort. Having grown up in Alabama during the time of Dr. King & another occupation of another country, I remember what he said in 1967, when I was the age of my friends marching yesterday:
"I have moved to break the betrayal of my own silences and to speak from the burnings of my own heart. ... I knew I could never again raise my voice against the violence of the oppressed in the ghettos without having first spoken clearly to the greatest purveyor of violence in the world today -- my own government." (here's the entire address)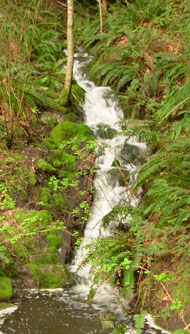 Those are the words of one of the great patriots and apostles of peace, who walked this planet during our time. The tradition of dissent is noble & necessary - otherwise the great changes we've seen in the USA might never have happened. The students walked in that great tradition yesterday.
The water was wide: That's that little stream you see above Deadman's Bay, on the way to Lime Kiln from the south. It was swollen & full of water from the weekend's rain, when I shot it on Sunday...
Music tonight! Corinne says there's music in the air at the BPT:
Enjoy an evening of voices raised in song Wednesday, March 21 at the Benefit Players Theater. The Performing Arts Society's concert begins at 7:30 p.m. at the theater located at the corner of Tucker Avenue and Guard Street in Friday Harbor. The program offers you a mix of women's voices: from four-part unaccompanied popular songs to Italian love songs, from traditional Irish duets to tragic German lieder. All PAS concerts are free-of-charge; however, donations are graciously accepted and contributed to those in need in the community.
What: Performing Arts Society Concert - A Sampling of Songs
Who: Sopranos Corinne Stevens, Angel Michaels & Abby Kitchen; Pianists Alise Samoilova & Tatiana Samoilova; A capella group "Sound Vibrations"
When: Wednesday March 21 at 7:30 PM
Where: Benefit Players Theater, corner of Tucker & Guard in Friday Harbor
How much: Admission is FREE, donations welcome

Arsenic and Old Lace runs till April 7: RuthE sent us the word about the latest Benefit Players Theater offering:
San Juan Benefit Players presents the classic dark comedy Arsenic and Old Lace by Joseph Kesselring, directed by Ed Strum. Performances begin Friday, March 16, and continue Fridays and Saturdays at 7:30 pm and Sundays at 5:00 pm on March 17, 18, 23, 24, 25, 30 and 31, and April 1, 6 and 7. The Benefit Players Theater is just off Tucker Avenue at Guard Street in Friday Harbor.
The story is of two quaint little old ladies (Patti Bair and Pam Gillette), beloved by the town and known all over for their acts of charity, among which is a penchant for finding people who are lonely, without friends or family. Unbeknownst to the town, they also poison them, and bury them in the basement.
Their nephew (Douglas Schirmer), a theater critic, spends most of his time being flustered after discovering his aunts' dark deeds, and he tries to pin it on his insane brother (Paul Arroyo), a harmless dim-wit who thinks he's Teddy Roosevelt. The plot thickens when the nephew's sinister brother (Warren Baehr) returns with a body of his own to bury. The absurd situation makes for a delightful comedy.
The cast also includes Tim Bair, Shannon Kelley, Roberta Leed, Dawn Nivinski, Ernest Pugh, Elizabeth Swift and Marc Wynn. Parental discretion is advised as, although there isn't a bad word uttered in the play, the dark nature of the plot might frighten younger children.
Admission to all Benefit Players events is by donation, and all donations are tax-deductible. Proceeds from this event go to the company's Benefit Fund.
For event information, call 370-5560, or go to www.sanjuanbenefitplayers.com.
Time to walk:
Tracy Roberson tells me there's a group of folks who are working on making some lifestyle changes with our kids, to help make healthier kids. Here's more from Tracy:
A group of parents and citizens wanting to promote active, healthy lifestyles has started meeting in Friday Harbor. Concerned by the increased numbers of cars delivering students to schools and health issues related to physical inactivity organizers are looking at ways to improve pedestrian safety and increase the number children who walk and bicycle to school. Improving existing routes and creating walking and biking alternatives are among the group's goals.
Calling themselves the Safe Routes to Schools Committee the group is modeled after a national program that provides guidelines and funding for pedestrian education, engineering projects, and aids to law enforcement. The purpose of Safe Routes to School is to provide a safe, healthy alternative to riding the bus or being driven to school.
Regional experts are helping the group identify enforcement and educational strategies to meet those goals. The group has been meeting with town and school officials to identify safe routes and strategies to make it more fun and "cool" to walk or ride a bike to school.
To model safe walking organizers are planning a "Walking Schoolbus," an organized event where children brought by their parents from out of town could be dropped off at designated points and joined by other children along the way to walk as a group to school. Reducing the numbers of children driven to school would alleviate congestion at the schools, reduce fuel consumption, and eliminate unnecessary driving.
The next meeting of the Safe Routes to School Committee is Friday, March 23rd from 3-5pm at the San Juan Island Family Resource Center (476 Market Street). Anyone interested in promoting active, healthy lifestyles from a young age is invited to attend. For more information call Tracy Roberson at 378-6920.