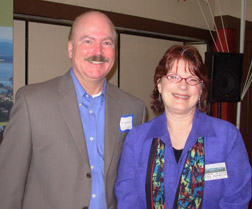 April 6, 2007
Homecoming for Roger: It was cool to have former FHHS grad & islander Roger Brooks come talk about Tourism/Destination marketing strategies & principles at the Visitors' Bureau yesterday...sound boring? It wasn't! Roger's a motivating speaker who fired up the crowd with stats, stories, and common sense principles... that's him with SJIVB marketing maven Robin Jacobson before the show.
My favorite story was Roger mentioning that back when he lived here in the sixties/seventies, there was a re-enactment of the Pig War put on at the theater - the Royal Theater (now the Palace movie theater), in which he played...the pig. That meant he got shot, then dragged off-stage, usually getting pretty much gouged by the chickenwire in his costume. I saw Steve Dubail last night to check this story, and he laughed & said it was so....I asked Steve whom he played, and he said he was the Blue Boy, who mostly just stood around in a velvetine blue outfit for no apparent dramatic reason.
Wedding bells: That's not the only show Ms. Jacobson's involved with this week - son Sam is marrying Alejandra Zacci this weekend at Roche Harbor, where he's the lodging manager. They have guests coming from Italy and Argentina, and all around. All the best to you, Sam & Alejandra!
Last weekend: It's your last chance to catch "Arsenic & Old Lace" at the Benefit Players Theater - see ya there.
Trojans derail Wolverines in soccer: Friday Harbor High had the first and the last word Thursday, but were unable to contain Meridian in the middle of the match as the Trojans ran away with a 6-2 win.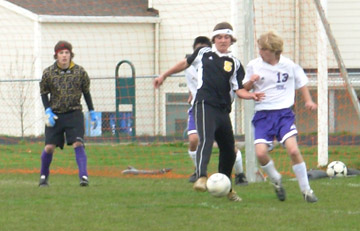 That's Grant Schwinge in white, working the ball out of keeper Avery Adams' goalsmouth.
FHHS set the tone early. Junior forward Erik Nash nailed a half-volley from the top of the penalty area to the top left corner only ten minutes into the game. The Trojans answered with three, however, to set the halftime score at 3-1. Three early goals in the second half put the game out of reach, but the Wolverines could take pride in a goal by junior midfielder Miguel Medina, as he put away a curving cross from junior midfielder Josh Combs from the right with twenty minutes left. Although Friday Harbor spent the last twenty minutes of the game attacking at the offensive end, they were unable to come up with another score.
Next up: FHHS plays Saturday at 11:30am at home against South Whidbey High. SWH beat Coupeville two weeks ago by a 2-1 count, while the Wolverines lost their second match of the season to the Wolves in a tightly-fought 4-2 game.
Lacrosse on Saturday: Junior Ben White from the San Juan Dragons lacrosse team tells me they play at 5 on Saturday here, which gives you a chance to see them in action. They lost Wednesday night in their away game...here's more about their schedule, and how their year is going.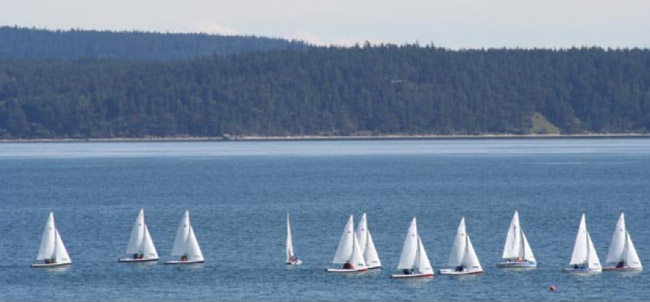 Regatta on Sunday: You probably saw all the boats last weekend on Griffin Bay - so did ace photographer Toni Franklin, who sent over this shot of the boats underway.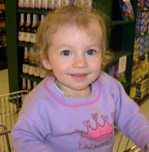 Just saying hi: That's my friend Nakayla (right), who said hi when she was shopping on Wednesday night at King's.
Global Warming Forum on tap: Larry Greene aasked me to tell you about this cool event coming up next weekend - I'm telling you know so you won't miss it:
On Sunday afternoon, April 15, 2007, Spring Street International School (SSIS), in conjunction with Navigating Our Future, will co-sponsor our first Community Forum of 2007 as part of a curriculum-focused Seminar Series, exploring key topics facing our community and the country.
Larry Greene, a member of the SSIS and NOF board of trustees, and Roger Frost, Head of School at SSIS, will host the forum, featuring guest speakers, community discussion and lively debate. Ted Hope, co-founder of Spring Street International School and lead social studies teacher in the high school, and Shann Weston, teacher at SSIS, will serve as moderators in the first forum.
The first subject in the series will be: Global Warming – The Scientific, Economic and Social Impact and what we can do about it….
Guest speakers: Dr. Richard Gammon, Senior fellow at the U.W. School of Oceanography, and Dr. Yoram Bauman, lead economist on the 1/10/07 report: "Impacts of Climate Change on Washington's Economy.
The program will include lectures, group discussions with question and answer periods, reports of group findings and a final discussion period at the end of the forum.
Limited seats are available for interested community members.
Please visit www.navigatingourfuture.org to register attendance or contact Larry Greene at 378-3123.
Admission is free but space is limited to 200 attendees.
Quote: "Never look down on anybody unless you're helping them up." - Jesse Jackson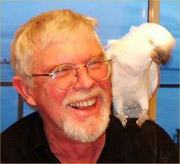 April 5, 2007
Remember the Slow Season? You may recall that I told you a few weeks ago that Helmuth & Ilse bought the island's only boat-based bed & breakfast, the Slow Season earlier in March.
Well, like most boats, it needed a bit of cleanup & touchup & so on, so Helmuth & Terry Sanders (left) took the boat to Bellingham to get hauled out & prepped for the season. Terry has some nice pictures of the haul out & of the trip home in his blog...check 'em out.
Harbormasters unite! Next week from Tuesday through Saturday the Port of Friday Harbor's Bob Freeauf & our harbormaster Tami Hayes are hosting the west coast's harbormasters for a conference at the Yacht Club...pretty big deal. You'll see the visitors around town, so say howdy. Always good to have people who appreciated the water around the island, I'd say.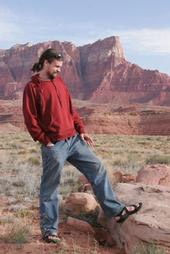 Speaking of boats & such: Looks like Dan & Jan Fogle have sold Friday Harbor Yachts to Skip McPadden, whose wife Teri runs Dominique's Clothing. Skip's a longtime sailor who knows boats, so it looks like a good fit.
Dave's new CD & tour: Islander Dave McGraw (left) hits the road tonight in Arizona tonight & works his way back up the west coast in support of his new CD this month...give his tunes a listen on his website.
Pig War lesson: Still wondering about what all the fuss is about with the Pig War? It's worth finding out more about it, if only because it's cool to have "wars" in which no people are killed, and the principals determine whatever the issue is, isn't worth killing anybody. Here's Richard Roderiguez's version.
Island Air Ambulance Celebration Sunday April 15: Friday Harbor, Wash. – The community is invited to a celebration of the new Island Air Ambulance service to be held on Sunday, April 15 at 1:30 p.m. in the Island Air hangar at the Friday Harbor Airport.
Island Air's specially configured Cessna aircraft and the FAA-certified Lifeport Stretcher will be on display and will be demonstrated by the flight-certified EMTs. The many islanders who have supported the development of the air ambulance service will be recognized, along with the government officials who facilitated the licensing process. Here's more about the service.
Twenty five years young: Since the Animal Shelter is celebrating its 25th anniversary next week, I thought I'd drop by & see how they're doing.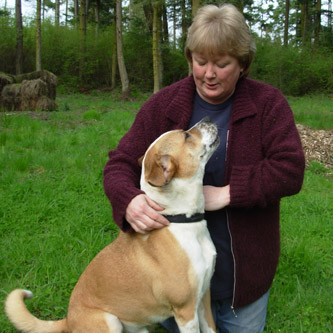 First of all, they have an awfully nice web presence, in part because of the donated efforts of talented web designer Angie at Graphic Details. Here you can find ways to volunteer, dogs & cats to adopt (with pictures!), ways to donate, and more. Pretty cool.
When I visited the shelter yesterday, I was reminded why I always like dropping in. The place is clean & tidy, and the front office is welcoming and cheerful. Leslie Byron (right) has done a super job in her three years as director, tightening up the financial underpinnings of the organization, and working to make the shelter's mission more clear to islanders.
"This is a good place for animals to come," she smiled. "We want to get the animals that come here healthy. It's a pet-friendly place, whether the animals that come here are lost or up for adoption." Board President Chris Sly-Prochnow chimed in, "It's so nice here, my husband says it's like summer camp for the animals. It's more than that, though - we're looking for a home for all of them."
The Shelter just received a grant from PetSmart Charities to expand its spay/neuter capabilities - Chris says they'll start a program called Trap/Neuter/Return (TNR) with the goal of spay/neutering as many feral cats on the island as possible. She says, "Many people are caretakers of these cats - if they'll let us know, we can help these cats by alleviating their suffering as well as their impact on island wildlife. When we all work together, we can work toward eliminating the feral cat issue altogether."

The Shelter started out as a set of cages at the dump back in '82, then moved to Wold Road to an old boarding kennel after that. The Shelter set up in its present location in 1992 on Shelter Road, just off Mullis Street/Argyle/Cattle Point Road (no one really knows what the road is, there) just past the end of the airport runway. Operating on land leased from the Port of Friday Harbor, the Shelter became debt-free in '95. They continue to do a super job with fundraising, as evidenced by the $8K raised by last month's Bowlathon, and the upcoming Bake Sale on the 21st.
Drop by & check 'em out - you'll love what's going on there. It's definitely one of the island's treasures.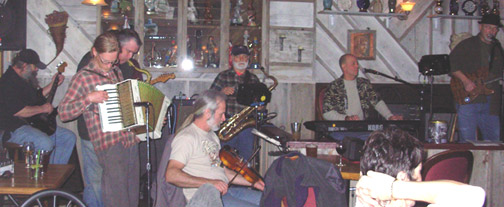 Blues night last night: Look, I can tell you about it, I can get my kid to take a photo for you (Cam took the picture above last night) but you just gotta get yourself down to Bella Luna from 6-9 on Wednesday nights. There's not much season left - the jam is over during the summer. See ya there next week.
Saturday at 3: It's kind of a weird time (3pm!), because musicians from four islands come together to perform - you gotta see Island Sinfonia this year. Here's details on the Community Theatre's website.
Quote: "Love is life. All, everything that I understand, I understand only because I love. Everything is, everything exists, only because I love. Everything is united by it alone. Love is God, and to die means that I, a particle of love, shall return to the general and eternal source." - Leo Tolstoy
April 3, 2007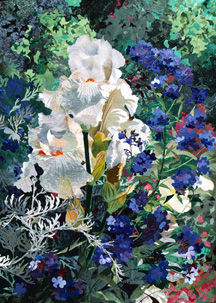 waterworks begins its 22nd year: Ruth Offen at waterworks says things are ready to go for the season:
Ian, Happy Spring!! Yeah
The walls have been scrubbed and freshly painted, the carpets have been cleaned and I am back from vacations. waterworks gallery starting its 22 year is back to being open. Spring gallery hours are Wednesday thru Saturday, 10.30 to 5.30 and some Sundays 12.00 to 5.00. I have received new works by many artists including new textiles from a local favorite, Amanda Richardson (right). Stop by and say hello . The first show of the year will be April 7th.
Cheers
Ruth
The MRC needs you: (this is a press release I got...)
The San Juan County Marine Resources Committee (MRC) is a citizens' advisory committee dedicated to the protection and restoration of marine resources in the San Juan Islands. As requested by the County Commissioners in 2004, the MRC is developing a Marine Stewardship Area Plan to protect our resources and to provide for their use and enjoyment now and in the future.

You are invited to get involved by attending a workshop to address the questions:
1. How can we protect and restore the marine resources of SJ County?
2. What are the characteristics of our preferred future for our county's marine environment?
3. What strategies, actions and programs should we use to reach this preferred future?
Please join us Saturday, April 7th at the SJ Island Yacht Club from 9 a.m. to 1 p.m. Lunch will be provided at no cost to participants. For more information, please visit the MRC Web site at www.sjcmrc.org/index.htm or call 360-378-7592.
Richard Strathmann, Professor, Dept of Biology
Associate Director, Friday Harbor Laboratories

Re-do of the site: Did you see the re-design of Friday Harbor Lights' website? Check it out?
Video of the week: Be sure & watch it all the way through..... music & spoken word & zen & pretty cool.
What's up at Skigit? Stella over at Skagit Valley College says there's cool stuff ahead this spring:
Longer and Brighter Spring Days Bring a Golden Opportunity!
Right now you have the opportunity to catch some of Skagit Valley College's most exciting, new Spring Quarter classes!
These classes range from studying the music of the Great Russian Composers, to coaxing the best stories from your memories in The Art of Oral History both on Orcas Island, to delving into the Economics of Global Warming on Lopez. Or, if you want to immerse yourself in the ancient rivalry between Sunnis and Shiites to the present-day military and cultural conflicts in the current war then Iraq: An Historical Back-Ground, on San Juan, is right for you. And just to round-off your list, you might want to join us for Photoshop Elements putting all that digital power at your finger tips!
So take the leap! The opportunity is yours - call or come by the San Juan Center, 221 Weber Way, Friday Harbor at 378.3220, 8 am-5 pm - Mon.-Fri. Sign-up right now!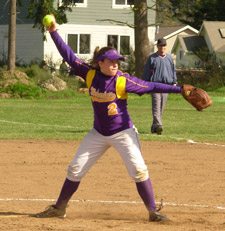 April 2, 2007
Sunny Saturday, and the Wolverines roll: Perfect weather & perfect performances went together, as the FHHS softball team rolled over visiting Evergreen Lutheran 14-0 & 12-2 with Kerri Goff & Beth Ware (right) turning in stellar pitching stints.
Meanwhile, over at Hartman Field, the baseball boys stayed unbeaten by dumping LaConner twice - both teams have had trouble getting games in, with the rainy weather.
Meanwhile, Saturday afternoon the Wolverine soccer team beat Mt. Baker 3-1 at home behind two goals from Miguel Medina (below, on the breakaway, in white) and an insurance penalty kick by Erik Nash for their first win of the young season.
FHHS soccer is back in action Thursday at 4:30pm against Meridian at home in a re-scheduled game, then play Saturday at home as well at 11:30am.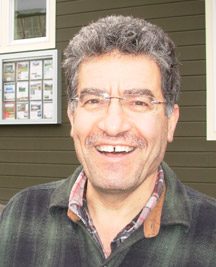 Opening & looking good: Adnan Nassrallah (right) tells me he's re-painting & cleaning up to open Maloula's late this week... Mediterranean food at its best. He says the wife & kids'll be back for the summer from Damascus...can you believe Tony's in university already?
Good show: Three shows, three sellouts this past weekend - the middle school's play, a fractured fairy tale of Cinderella, was a total crackup.
Fred Yockers has done it again, and the kids have done it again - a funny, well-paced, well-scripted show that had the crowd laughing the whole way, including the elementary kids & the retired folks. It's another way to bring our community together - can't wait till the next show.
Brilliant. Way to go!
Ferry good: Hey, we can go to Canada now! The new ferry schedule for the spring (click on the link at the top of the page, rookie) includes resumed service to Sidney, BC...nice for a trip over, eh?
Doggone good show: Three hours of events & contests & more made for doggy heaven at the Fairgrounds on Saturday, as Island Rec's K-9 Carnival brought together dogs & their owners with a chance to play.
I hope this is one that turns into an annual event -- just too much fun.
Whales to stay in California? That's what this Victoria-based article wonders - two of the three pods resident to here have been finding more salmon there & less here...here's the scoop.
Twenty five years & going strong: Did you know the Animal Protection Service is 25 next week? More on that later this week - we have one of the better animal shelters around.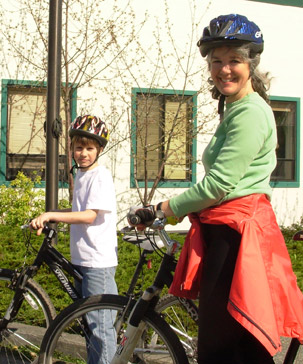 Biking on a sunny day: It was cool to see that Ian (left, in pic on the left, right?) took his mom Pamela out for a bike ride on Saturday when it was still warm.
Quote: "Do you know what astonished me most in the world? The inability of force to create anything. In the long run the sword is always beaten by the spirit. Soldiers usually win battles and generals get the credit for them. You must not fight too often with one enemy, or you will teach him all your art of war. If they want peace, nations should avoid the pin-pricks that precede cannon shots." - Napoleon Bonaparte (1769-1821)