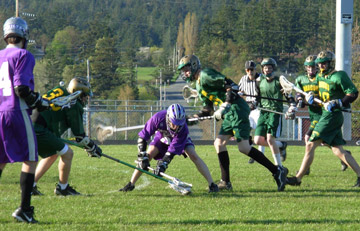 It was a sunny day for the San Juan Dragons lacrosse team (green)
Thursday afternoon at FHHS.
April 20, 2007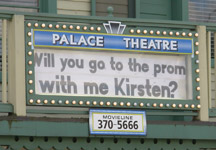 Mystery: Islanders passing through town Thursday morning were surprised to see the words at right in the place of the movies that were playing at the theater.
Authoritative sources (kids from the high school) told me which of the two Kirstens at FHHS it was, and who put up the sign, but the folks at the theater said they weren't supposed to tell, so I won't ruin it for them, or you, nosy.
If they wanna be shy, let 'em.

More mystery: The part that's not a mystery is that Laura & Adam Saccio are changing things at the Friday Harbor Inn on May first, with an open house on the fifth for you...here's what he says:
Celebrate the grand opening of ELEMENTS San Juan Island Hotel & Spa on Cinco de Mayo!
Friday Harbor's classic motor inn, The Friday Harbor Inn, re-opens more like a firecracker than a flower this Cinco de Mayo, with renovated room tours, Mexican food and music, free chair massage, a sea kayaking demonstration and general good cheer. Come help us celebrate our exciting new offerings from 2-6pm on May 5th.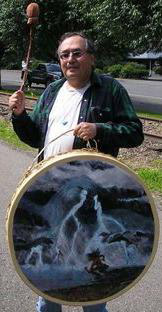 The mysterious part is that he & Laura also have a project they're calling the Bird Rock Hotel, opening next year. I tried to cajole, bribe, threaten, and sneak the answer out of him, but he just smiled (or laughed at my pitiful efforts to ask him), and said, "It's a secret. Can't tell you now." So, I don't know where or how or what the BRH is.
Here's their mysterious web page...see what you can figure out. Then tell me.
Special guest at the Spirit Tree: Kenneth tells me that tonight is going to be a pretty interesting & uplifting event:
We have a class this Friday on Increasing Prosperity with well known speaker and Shaman Walks with Thunder (right). If we could get this posted with you it would really help us get the word out.
So I looked at his web site and it's pretty interesting (here it is) - the event is only $25 & you can get more details at the Spirit Tree. It's cool to have these kinds of things here....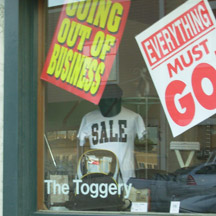 Moving out, moving in: The Toggery's packing it in (left), with a big sale the past couple of weekends, so drop by & see how things are there this weekend.
The word on the street is that Griffin Bay Bookstore plans to relocate to the spot...I'll get a confirm on that later today & let you know.
Video, much watched: That song I sang on the video I posted back at Christmas hit 1200 visits yesterday, making that the biggest crowd I've ever played for.
Thanks for listening!
Hanging out day: Just because National Hanging Out day was yesterday, you can still throw with the deal this weekend when you do your clothes.
The idea: Instead of using your drier (or dryer) at home, hang out your clothes & save the energy. Instead of using electricity, use the great nuclear reactor in the sky to warm & dry your clothes.
Nearly 10% of American residential energy use is drying clothes...that's a way to whack that percentage, right there. So get outside, willya? We got a planet to save. Here's more...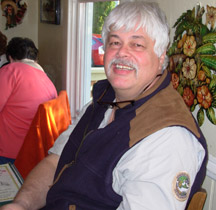 Chillin' at Mi Casita: Around here, it's not uncommon to run into friends & find out where they went on their last trip, or where they're going on their next one. I, for example, went to Lopez last week. (Thanks for asking.)
Most folks would have a time beating Capt. Paul Watson's travels, though, as he returns to Antarctica to resume his anti-whaling campaign...he dropped in for dinner at Mi Casita (right) last night with some staff members. The Sea Shepherd founder moved his headquarters to the island back around 2001.

Underwater for another 20: Chris Teren celebrated his 20th year of diving with a dive on the west side that included posting the shots he took underwater. You owe it to yourself to see how the west side looks under the surface...totally beautiful, like the spiny star at left.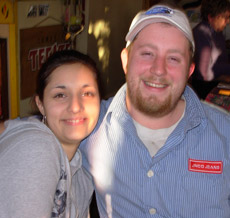 Possibly the island's cutest couple: If you were wondering who was running the bowling alley tonight, it wasn't Kelly & LJ - they had a night off together & went to dinner at Mi Casita last night...Kelly works for Dave in the restaurant while LJ helps manage the alley with Scott.
Poetry at the Library: Tonight are the poetry readings at the Library, starting at 7pm...in front of the fireplace. Grab your best verse & come share with us! See you there!
More poetry: Sometimes, things are so dark only a poet has the words to help us deal with it.
Incredibly, poet Nikki Giovanni taught (and dismissed from her class) the guy who shot up Virginia Tech this week, and when she spoke to the campus this week, she was the right person at the right time.
"We know that we did not deserve it," she said, "but neither does the child in Africa dying of AIDS, but neither do the invisible children walking [through] the night to avoid being captured by a rogue army. Neither does the baby elephant watching his community be devastated for ivory; neither does the Appalachian infant killed in the middle of the night in his crib in the home his father built with his own hands being run over by a boulder because the land has been destabilized.
"No one deserves a tragedy.
"We are strong enough to stand tall tearlessly," Nikki continued. "We are brave enough to bend to cry and sad enough to know that we must laugh again…. We will continue to invent the future, through our blood and tears through all this sadness.
"We will prevail."
This weekend: Farmers' Market gets going for the season outside at the courthouse parking lot, from 10-1 on Saturday....The San Juan Singers, directed by & featuring RuthE Wells, perform this weekend at the Community Theatre....It's Earth Day! One way to celebrate: Join the Whale Museum! First 50 new members this weekend receive a limited edition Tote Bag in addition to other great membership benefits. Stop by from 10AM-5PM daily. For more information call 378-4710 ext 30.
Tonight: Pelindaba Lavender Downtown's Cultural Forum features "Music & Politics in Afghanistan" at 7pm. Lorraine Sakata has been studying Afghan music and culture for forty years. For decades, Afghanistan was relatively unknown to Westerners. All that changed after Sept. 11, 2001. Through photographic images from Kabul and samples of Afghan music, including Afghanistan's new national anthem, she will share her own experiences and facilitate conversation to expand our collective understanding of Afghan culture.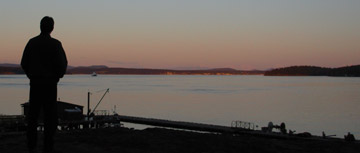 Sunset Thursday night, looking east from the Friday Harbor Marine Labs.
April 18, 2007
Art open house: Kind of a new thing at the Whale Museum, and kinda cool: There's an artist's reception from 2:30 to 4:40pm today for Susan C. Peterson, whose work is available to buy in the gallery of the gift shop. Here's a sample of her stuff from her website, but it's much cooler in person. See ya there.
Spring Fling: Kathy Hagn tells me Spring Street's got a big event coming next week:
Coming up: Our upcoming Spring Street International School Annual "Spring Fling" and auction. With the music of Steve Keys, luscious bites from Gretchen Allison at Duck Soup, a broad variety of auction items, including SSIS art, and the auctioneering skills of Mike Adams, (all for $15.00 per person), it will be a fun evening! The event takes place on Saturday, April 28, 5:30 PM at the Yacht Club. Tickets are available at SSIS, 378-6393, 2 for $25., or $15. each.

SSIS is completely funded by tuition and fund-raising efforts, supports a strong scholarship program for many of its students, and offers a wonderful college preparatory education option in the islands.
Quote: "Participate joyfully in the sorrows of the world. We cannot cure the world of sorrows, but we can choose to live in joy." - Joseph Campbell
15 in June: Skagit Valley College director Denise King tells me that SVC-San Juan Center is gonna graduate 15 folks this year. Pretty cool - that's a lot for our little college. Graduation is in June - I'll get you more info when we're closer to it.
April 17, 2007
Nothing happened: So there's nothing to report. Go do your taxes or someting.
Quote: "Can anything be stupider than that a man has the right to kill me because he lives on the other side of a river and his ruler has a quarrel with mine, though I have not quarrelled with him?" - Blaise Pascal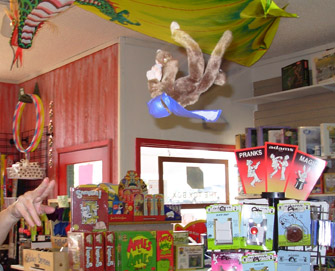 April 16, 2007
Today's theme: Stores with weird pets: You gotta got check out the flying screaming monkeys down at the Toy Box - they're great! Nancy had told me I had to check 'em out, so I swung by yesterday and Carolyn (that's her hand at the bottom left) showed me how these sling shot flying screaming guys get airborne, and I was able to catch him doing hang time, as you could see.
Pretty cool.
Then I dropped in on Beth Hudson, who's now working at Harbor Books over at Cannery Landing, next to the ferry. Part of her job there working weekends is looking after Keith Baker's hedgehog.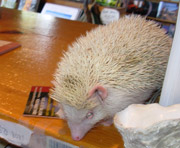 She told me about this, and I realized I had never actually seen a hedgehog in person, or otherwise.
So Beth got Pyg (short for "pygmy) out of her cage which had a sign that said "Beware of the Hedgehog" on it, and introduced us. She ran around a bit on the counter & was otherwise pretty shy.
Beth also told me that daughter Bridget is graduating this spring Phi Beta Kappa & signed up to work with an outfit called Teach for America, working with under-resourced schools in East Palo Alto, California.
Cancelled: Now you can do something else on Wednesday night - here's a note from Sally Browne:
It is with regret that the Performing Arts Society concert scheduled for Wednesday, April 18 has been cancelled due to illness.
The next scheduled concert will be May 23rd, 7:30pm featuring the harmonic talents of Therese and Daniel Finn singing "Love Songs of the 30s, 40s, 50s and Beyond."
See you on the 23rd of May.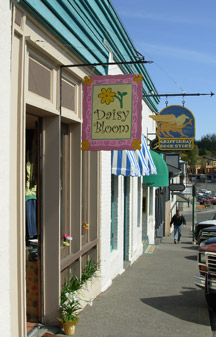 Moving: New Owner Michelle moved Daisy Bloom (right) uptown a bit from its longtime spot down on the harbor, next to the pub.
Now they're located right next to Griffin Bay Books on First Street, so you can drop in & say hey on your way to get your screamin' monkey at the Toy Box. Then go get your clothes at Daisy Bloom.
Update about Tom & Connie: Catherine from Seattle is posting info about what's happening with the Odegards' recovery from that wreck in California a couple of weeks ago.... here's her last entry, which updates the previous entry which reported a response from Connie, which was much-welcomed news. Keep sending those healing vibes & wishes for recovery her way...
Whales on the horizon: Yep, that was J pod on the west side, Saturday.
Quote: "There's not an American in this country free until every one of us is free." - Jackie Robinson, celebrated yesterday on the 60th anniversary of his historic integration of major league baseball
The problems with electronic voting, and more: That's one of the things addressed in today's League of Women Voter's get-together at the library at noon, open to everyone. Here's more:
The next LWVSJ Membership Meeting is on Monday, April 16, from 12 noon – 2 pm at the San Juan Island Library Conference Room. The topic is: "Why a League of Women Voters in 2007?"
We will be showing the DVD "Invisible Ballots" from the League of Women Voters of the U.S. This film shows the vulnerability of using electronic voting machines, highlighting one of the many issues in which the League is involved.
The discussion will be led by Susan Dehlendorf and center around the history of the League and its importance in today's changing world. Everyone is welcome. This is a wonderful opportunity to learn more about the history and activities of the League of Women Voters on all three levels: local, state and national.
I hope to see you there.
Janna Gingras, Secretary LWVSJ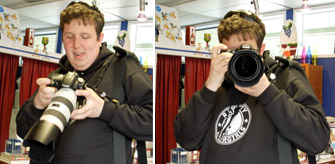 OK, stranger - draw: I bet this guy at the wine shop that my camera was bigger than his, so he got out his, and won, by about 25 pounds. I shot him before he shot me, though, with my little derringer of a Nikon.
On the run: Clark Gilbert got nice pictures of folks from the island who went to run the half-marathon at the Whidbey Island Marathon (there's a pic of Shannon, Emily, Adrienne, Stacey, Kim, and a woman I don't recognize), as well as Paul Hopkins with the Visitors Bureau banner at the expo (promoting our marathon in June). Check out our island runners....
RuthE bows out: When the San Juan Singers do their concert this Saturday & Sunday, it'll be the last one for RuthE Wells, as she preps to move to San Francisco for a job there. Here's more....
Far as I can see, this island is gonna seriously miss her talent as an actor & singer & director & overall cool person, the way she keeps people connected, and her great heart.
Burning is OK, almost: This is just for the Town, according to Kellé at the Town offices, and totally cool for those of us in town with piles of demised branches & all that in the yard:
BURN BAN TEMPORARILY LIFTED: The Town Council has elected to temporarily lift the statewide "Burn Ban" for urban areas that went into effect on January 1, 2007.
Burning of "STORM DEBRIS ONLY", will be allowed starting April 18, thru June 3, 2007. Those wishing to burn are required to obtain a "Burn Permit" at the Town Hall main office. There is no charge for the permit.
Friday Harbor Fire Chief Vern Long encourages this clean up in order to lessen the danger of fires that could be fueled by the storms dried and seasoned debris. He reminds residents to burn safely and responsibly. If residents have any questions in regards to the burning requirements, they are encouraged to call the Town Fire Department at 378-4183.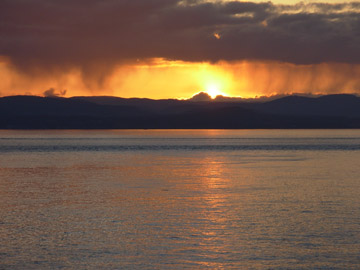 Sunset Tuesday evening from the Land Bank property
on the westside - raining over Vancouver Island. (Click on photo for a larger version)
April 13, 2007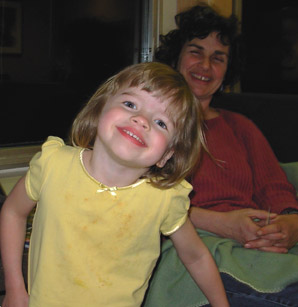 Kelly, back on the island: Josie Marriner (right) brought her mom Kelly Owen back to visit San Juan Island this week...they came to pick up brother Geordie, who came to visit over spring break. The Marriners moved to Bellingham a couple of years ago, but stay in touch with friends here.
Islanders Bank - closer to becoming a Banner Bank: Looks like April 27th is when the shareholders meet to approve Banner Bank's buyout of the company that owns Islanders Bank, with the anticipated closing date May 1st.. Here's more...
Getting wise about fire: We've had some big fires here on the island - the downtown fire in 2002 and the Haymakers' fire in '96 still send chills - and being smart about what makes it possible for big fires to spread is a good start.
The Firewise program is working with people in the community to help them assess what their property looks like in terms of being ready to withstand a blaze - here's a rundown of what they're doing.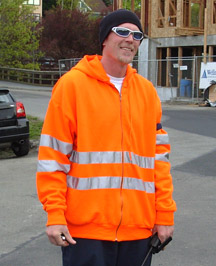 Orange you visible, now? The ferry workers got new bright orange coats that make it so you can't miss 'em now! That's Zack (left) a couple of days ago at the top of the lanes in Friday Harbor.
Soroptimist's Third Annual Fiesta Dinner and Bowl-A-Thon: This year it's on Cinco de Mayo on Saturday, May 5, 2007 at 6 pm at Paradise Lanes, Friday Harbor. Marie DiCristina has more:
Last year the event raised about $10,000 and we hope to make at least that much this year. The Soroptimist Cancer Treatment Support Mission project is to fund ferry tickets for local Islanders receiving Cancer Treatment off-island. As we all know the need is great and the ferry ticket costs are on the rise. Soroptimist supplied over $8,000 in ferry tickets in 2006. You can support the fundraiser one of three ways: attend the Fiesta Dinner Event, buy a Fiesta Raffle Ticket and/or sponsor a Bowler with $ Donation. Dinner tickets available at The Garuda and I or Christy's Island Salon. Tickets will also be sold at King's and Marketplace the last two weekends in April. The Tickets for the Mexican dinner, donation and good time.
For Donations of Goods and Services or to Purchase Tickets, please contact Chairpersons Marie 378-5949 or Patty 298-1224. Can't attend? Donation checks can be mailed to: Soroptimist-Fiesta, Post Office Box 2856, Friday Harbor, WA 98250 Visit the Soroptimist Friday Harbor website: www.sifri.org for more information.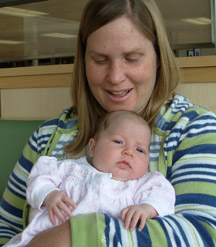 New islander: Tommy & Diana Pieples (right) introduced me to Satchel & Jackson's new sister Nyla Ione this week - she was born in early March & is doing great.
Children's Festival: It's only three weeks away, so the planning & setup is happening now, which is why today is the day you need to call Sally at Island Rec at 378-4953 & volunteer.
Today.
I've gone every year for the past 13 years, and I can't think of a volunteer job where you'll have more fun. Call now.
Right now.
Running Start, revealed: High school kids can take college classes AND work towards high school graduation under the dual graduation plan called Running Start. Skagit Valley College is holding an information night about all this on April 24th...here's more.
Kindergarten Registration: Friday Harbor Elementary School welcomes the Kindergarten class of 2007-2008! Registration for next year's Kindergarten class will be held on Monday and Tuesday, April 23 and 24 in the school office. Parents who wish to enroll their children for the 2007-08 Kindergarten session should call the school to set up an appointment. To be eligible, students must be five years of age by August 31, 2007. Please call the elementary school at 378-5209 to make an appointment.
Please bring your child's birth certificate and immunization records. If needed, birth certificates may be obtained at the San Juan County Health Department. The Health Department will offer health screenings for Kindergartners later in the spring. Their number is 378-4474.
New cover: That awning on the Cannery Landing Building next to the ferry took a beating with all the storms this winter, so they're almost done with the new overhang, which looks a bit sturdier.
Quote: "Still and all, why bother? Here's my answer. Many people need desperately to receive this message: I feel and think much as you do, care about many of the things you care about, although most people do not care about them. You are not alone."
Kurt Vonnegut, who passed away this week at the age of 84.
April 12, 2007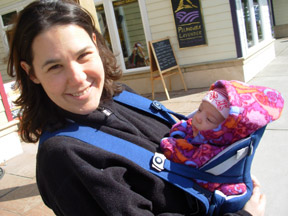 Connected: Laurie from the Market Chef (right, last year with her now-big baby) filled in the blanks on our friend Andy, mentioned in the article below, as well as news about Angie Morrison's baby:
Hey Ian,
Just thought I'd let you know....that "chef" on San Juan Island from the New York Times article is none other than our own Andy Radzialowski at The Market Chef, so come on in and say congrats to him for the write-up!!! No Brooklyn Squirrel on the menu though.....
Also, I know you remember Angie Morrison (now Braunstein) who helped me open The Market Chef. Well she, husband Brian, daughter Dahlia and son Tristan just welcomed their new baby girl, June Gray into the world yesterday just after 2 o' clock p.m. She was 8 pounds, seven ounces, 21 inches and from what I hear, an absolutely beautiful newborn. Both mom and baby are doing wonderfully. Pass the news!
An island away: Remember Maia Yip, who was working at Coldwell Banker for so many years? She's working on Lopez for Camp Nor'Wester these days. This'll give you an idea of what they do...pretty cool outfit.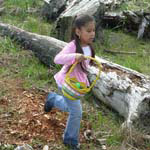 Easter pix: Whaddya mean, you didn't see all the Easter egg hunt pictures? Here they are!
Don't PAS this one up: The folks at PAS wanted me to tell ya:
You won't want to miss the Performing Arts Society's next concert, featuring the early works of Francesco M. Veracini, Arcangelo Corelli and Johann Sebastian Bach. The concert, which is free (donations are graciously accepted and will be contributed to those in need in the community), will be held on Wednesday, April 18, at 7:30 p.m. at the Benefit Players Theater, at the corner of Tucker and Guard. Every seat was taken at last month's concert, so you might want to plan to come early!
Hanneke Klein-Robbenhaar will "wow" us with her love of baroque music in two violin sonatas by Veracini and Corelli; and Pat Gislason, playing her modern silver flute, will bring us the wonderful sounds of Bach. Both musicians will be joined by Stella Joh, with her early touch of the keyboard.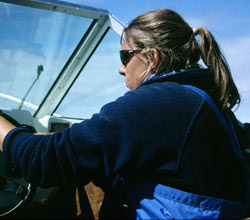 Looking for a home for the summer: My friends Frankie (right, driving a research boat) and Brianna are looking for a place from May to October - here's Frankie's poster telling the whole story. Can you help? You won't find two nicer, more reliable people.
Radio? Here? Michael Calhoun is exploring what it would take to put us on the air, and he wants to hear from you...here's what he was thinking:
Ian, You do fun surveys and polls on the Update, these keep us truly up to date on Island happenings. Maybe you could help us with a quick poll or survey. Monday, six professionals with a combined 270 years of TV, Theatre and Radio experience asked each other if San Juan Island needs a Radio Station. What kind (commercial high wattage or educational low wattage), what format (Rock, Classical, Jazz, Country, Golden Oldies), and who pays (ads or subscribers)?
We knew we had to ask more Islanders. Could you ask for us? Does San Juan Island need a radio station? Thanks! Michael Calhoun (send your e-mails to Michael at sjiradio@rock.com)

Time to attack the trash: When I walk the roads of our island, I'm at times amazed that there's ANY crap on the sides of the road... I mean, how empty-headed (or empty-hearted) can a person be, to toss garbage out of cars on the side of our cool island?
Well, Lori at the Anti-Litter Initiative has a plan. Here's her report:
The litter problem on our beautiful island belongs to all of us, and it won't go away unless all of us do our part. Start by imagining no litter anywhere! Wouldn't that be something???
The San Juan Island Anti-Litter Initiative is sponsoring a new campaign to help tackle the litter problem on an island-wide basis. It's called Imagine No Litter!, and is an island version of the more well-known adopt-a-road program that exists in other areas of the country.
There are already many residents who are regularly cleaning certain roadsides or beach areas. Most notable is the volunteer group Trash Masters, who have been picking up litter along the entire length of Roche Harbor Road for over a year. Unfortunately, the amount of litter they are collecting each month doesn't seem to be declining, but our hope is that the relatively recent "Secure Your Load" campaign has raised people's awareness about the problem of trash blowing out of the back of pick-up trucks en route to the Transfer Station on Sutton Road.
You can sign up to help -- either as an individual or as part of a group (e.g., a family, a neighborhood, a business, a club) -- by mailing in the form included in the flyer that is being sent this week to all island residences, or by calling or e-mailing me (Lori Stokes, 378-4643, lori@rockisland.com), or by marking the map that will be on display at Market Place from April 14-28.
If each of us volunteers to do just a little bit, just imagine the huge impact that all of us together will have!
April 11, 2007
Update on Tom & Connie: Just got a note from Catherine, Tom & Connie Odegard's friend who is helping out in the aftermath of their terrible accident (see previous report in yesterday's posting):
Hi Ian,
I just got off the phone with Tom to let him know about your kind update for the folks on the island... Connie is apparently responding positively today!!! She is able to wiggle her foot in response to questions, so Tom said, "keep those emails to her rolling in!" All the prayers & thoughts surrounding her may make a miracle happen.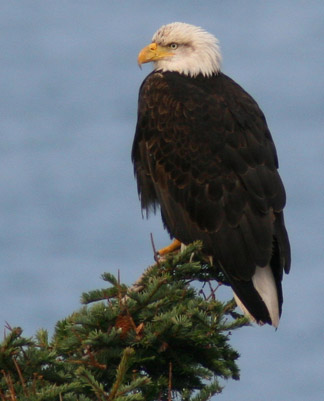 Thank you for your support!
Best, Catherine

Majestic: You already know I'm a fan of Sandy Buckley's wildlife pictures...she sent me this perfectly-angled photo of an eagle the other day...you can see more on her site.
Patrick & Andra doing great with the sails: Have you seen their new website? They're doing great as they start their second summer at San Juan Canvas down on the harbor making sails & other canvas stuff...the sail shop was previously owned for years by Peter & Susan Risser.
Drop by & tell 'em hey!
Spells well: Zachary Reshovsky did a super job at the state geography bee...here's the whole story.
The Washington Sun Dodgers? Yep, that's what the Huskies were called in the days before the school mascot became the noble dog...here's proof.
Speaking of nicknames: The Seattle Times' Craig Smith thinks we should change FHHS' name. Here are his thoughts...
Bottled water - get real, dude: As this article explains, bottled water is often simply tap water, put into bottles. Can you spell scam? Most people who drink bottled water do so 'cause they think it's cleaner & purer & healthier than the stuff from the tap.
As the article fails to explain, all those thrown-away bottles are clogging up landfills & dumps around the country & around the world.
If you think this is no big deal (and worse, you think it's unrelated to the island), swing by our dump sometime. If we're gonna save the earth, we just as well start here.
Then get a water filter & carry on...
Here's more.
Children's Festival needs you: They're looking for volunteers for the May 5 edition - call Island Rec (4953) for details & to sign up. And don't miss this one - it's approaching twenty years, and it's fun for all the big people as wella s the little people. Join up.
Vivien has a note for you: She asked me to share this:
BUSINESS ANNOUNCEMENT
Even though I have sold DOLPHIN ARTS/COTTON COTTON COTTON to Christine Kelvick March 1st – I am continuing my custom screenprinting business under the name of VIVIEN BURNETT ART. I have been providing screenprinted shirts to clubs and businesses for 18 years and hope to continue. I can use your design or create one for you. Phone: 378-3526
Coming up at the Whale Museum: Chris says to get your calendars out for a couple of cool deals:
Wednesday April 18th - Artist reception for Susan Petersen in The Whale Museum gallery.
Susan's colorful images of sea creatures inspire joy, curiosity, awe and
smiles! Enjoy an expanded selection of art work and meet Susan from 2:30 PM- 4:30PM
Light refreshments provided. Susan's art will be featured all month long.
The Whale Museum is open 10-5 Daily
Fri – Sun April 20-22 - Celebrate Earth Day 2007 by joining The Whale Museum
First 50 new members receive a limited edition Tote Bag in addition to other
great membership benefits. Stop by from 10AM-5PM daily. For more information
call 378-4710 ext 30

Quote: "That's what makes it so fun to be on a team. You're sitting at your house, thinking up this wild, crazy stuff as to how it's going to go, and the other guys are sitting at their houses doing the same thing." - Bill Walton, former NBA basketball dude
April 10, 2007

Connie and Tom in an accident: I just got word that Tom (right) & Connie Odegard were in a car accident early last week down in California where they were visiting. I just spoke to their good friend Catherine Reynolds in Seattle (she has details of the accident in her blog, posted this last weekend), and she says Tom's amazed the docs by his speedy recovery and has just been released from the hospital, but that Connie's still unconscious from eight days ago.
Tom is staying with his nephew in Redding, and Connie is at Mercy Medical Center in Redding in room 59-A. Click here to send a 'get well e-mail' to Connie at the hospital...best wishes to two islanders who mean a lot to us here.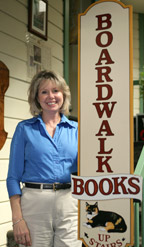 Pulling it together: I dropped by Boardwalk Books to see how they're doing in the aftermath of the smoke damage last month - Bettye says they've finished their sale, and all the books were taken away last week, and now they've started restocking the shelves, which looked to me like they're already a third to halfway full.
Looking good down there - drop in & say hey to Bettye & Angie & Michelle & Ray & see how it's going. That picture of Bettye to the right is by Marie Dicristina, by the way.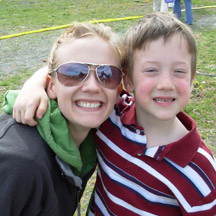 Getting married: That's Ally & Skyler at the Easter egg hunt at Jackson's Beach on Sunday - she and her friend Nick (here's a shot of him & their boy Weston) tell me they're getting married next month on the 12th - congrats!
Thanks for your input! You know, it's really cool to have you write in & tell me how you think I'm doing. Some of you checked in about my little redesign here on the site....let's look at that a moment (I've made a few changes already):
Hey, Ian -
Nice masthead on the new re-do! It looks for all the world like something the Utah Visitors Bureau would use! Your pal, Al
Thanks, Al. The old masthead (here it is) was shot at South Beach at sunset, so I would disagree about the Utah bit. However, the New Mexico Chamber of Commerce was wondering where I shot it & wondered if they could use it.
Hi, Ian - Like the new design. Looks tighter, and cleaner. That seems like a lot of ads on the left side of the page. Looks like you have a lot of people who want to advertise with you. How much are those, anyway? Your brother in webwork, Sammy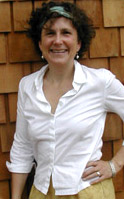 Thanks for your input Sam. Just don't tell me the fence above looks like Tennessee. The ads are $75/month - just call me or write.
Yo, Ian - Nice look. I like how the ferry schedule is right on top. I have you bookmarked, so that makes it easy to get to. Thanks. Eileen in Anacortes
Need a place to stay? Have you seen Liza Michaelson's place? She (right) rents it out as a guesthouse - great place to stay. Check it out!
What's cooking in New York: This is a fun article about preparing meals found in your own backyard, from the New York Times, with a San Juan Island chef mentioned...check it out.
Quote: "A common mistake that people make when trying to design something completely foolproof is to underestimate the ingenuity of complete fools. - Douglas Adams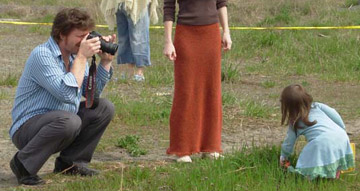 April 9, 2007
Easter eggs mostly get found: Over at Jackson's Beach, the Easter Bunny (cleverly assisted by the Town Fire Department) hid a couple of zillion eggs amongst all the driftwood on the beach. There were a couple hundred kids ready to go at one pm, when the fire truck's horn signaled the beginning of the stampede to the logs.
You can tell by the pictures here that people were having a good time - here's a whole portfolio of photos from the day - see if you & your kid, or you and your papa, or you & your mom - are in there!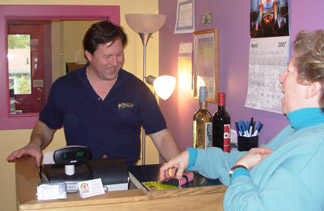 Stan's the man: Saturday I dropped in on Stan Reitan, at his new wine shop which he calls Brazenly Lucid over on Nichols Street. You knew that Stan was at King's Market for 25 years or so, with 18 of them as the wine guy...so now he brings that expertise and knowledge to bear in his own shop.
He has a wine tasting coming up this week on the 12th, and other events planned, which you can read about on his blog...check it out!
Birthday: It was Carolyn Haugen's birthday a couple of days ago, and it was cool to get a chance to say hey & happy birthday when I ran into her & daughter Krissy at the last show of the BPT's Arsenic & Old Lace, which by the way, was wonderful.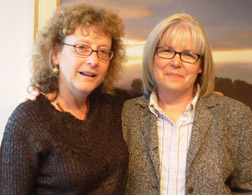 Opening: That's Kathleen Hooks on the right with waterworks gallery's Ruth Offen at the opening of her show there on Saturday night. The opening was well-attended with folks who came to see Kathleen's work as well as the other art at the gallery.
Listen to the killer whales: There's a collective of folks making it possible to hear the orcas over the Internet...a growing coalition of scientists, educators, and citizens are working together to expand a regional hydrophone network in the Salish Sea. This site presents the status of the network and is an experiment in sharing real-time underwater sound from different "nodes" of the network via the Internet.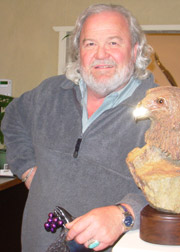 Doug sets up over on Nichols Street, too: After a bit of time over at the shop that used to be Neil's Images for a long time, Doug Bison has gathered up his bronze & artwork and moved into the shop next to Funk 'n Junk. He was open last weekend & ready for business, and tells me he really likes his new spot in the building across from Latitude 48 & Stan's shop.
Much of what Doug's art expresses has been handed down from his grandfather, Little Bison, who was a survivor of the Wounded Knee Massacre in 1890. Here's more....
Sports over the weekend: It was doubleheader time for softball & baseball - the girls ran into a buzzsaw as Concrete won twice behind dominating Lion pitcher Britt Howell. Meanwhile, the guys split with the Lions, according to the San Juan Islander, whumping 'em 11-0 before losing 6-1 in the second game.
Over at the soccer field, the boys took the field after less than two days' rest against South Whidbey High. The guys recorded a shutout in the first half in what former coach Ron Duke called "the best half of soccer we've played this season."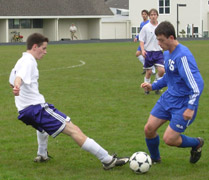 I would agree - we outshot and generally outhustled them then, and for another17 minutes before they shook loose from our tight-marking defenders & midfielders (that's junior mid Josh Combs, right, disrupting play in the second half) to cross the ball from their right wing to the center to put it away for a 1-0 lead.
Their second goal with 10 seconds left was meaningless; we had pushed everyone forward & nearly got the equalizer time & again in the last minutes. South Whidbey (now 3-4) on the year went home with a hard-fought victory; the Wolverines continue to improve with every half we play.
FHHS' next match is two weeks away, with shortened practice this week for spring break, then five games in eight days starting April 21st.
Those doggone ferry tickets: Our ferries were the guinea pigs for that barcode system that replaced the old ticket system...the switch was made on our runs back in October. Now the ferry runs downsound are using the new system...here's what people down there think.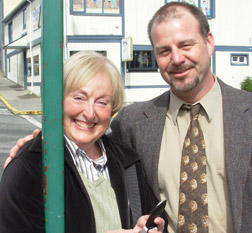 Happy Easter with mom: It was good to see proud son John Bostrum (left) out with his mom Carol during the sunny part of Easter Sunday yesterday, just before lunch.
J pod's back around: Here are some photos of J pod this weekend, off the west side.
Passing: It was fourteen years ago that Dr. Edna Guibor moved from the island to Arizona after her decades-long veterinary practice ended, but she'll be remembered as one of the pioneers of animal husbandry here...she died a couple of weeks ago at the age of 85. Here's more.
Outdoor Odysseys marks two decades: One of the oldest sea kayaking businesses in the area is celebrating its 20th year by asking people to send in memories of their trips over that time - they qualify for $20 off on their next trip if they send a story in. Here's more....
Hunter safety class coming: David McCauley tells me a much-needed workshop is on the calendar - here's his note to me for you:
Washington State law requires all individuals born after January 1, 1972 to show proof of basic hunter education training before purchasing a hunting license. The Washington State Hunter Education class includes firearm safety, hunting regulations, conservation, sportsmanship, and basic survival and first aid.

This year's Friday Harbor Washington State Hunter Education class is being held the week of April 23 - Monday through Friday from 6-8 pm. There is no minimum age; however, parents of children under 12 are encouraged to attend the classes with them. The course is free. Please contact David McCauley at 378-9745 for more information and to sign up to attend.
Quote: "I like to believe that people in the long run are going to do more to promote peace than our governments. Indeed, I think that people want peace so much that one of these days governments had better get out of the way and let them have it." - Dwight D. Eisenhower