---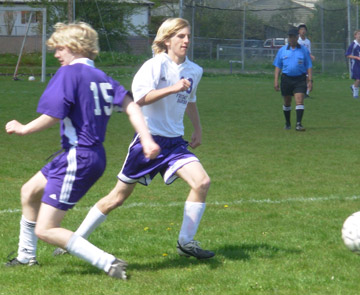 April 29, 2007
FHHS midfielder Grant Schwinge beats the Lake Stevens defense.
FHHS ends regular season with 4-1 win: Friday Harbor won its second game of the week Saturday, knocking off visiting Lake Stevens 4-1 behind two goals by team scoring leader Miguel Medina.
The Wolverines camped in front of the Vikings' goal for most of the first half before sophomore striker Cameron Byington took a rebound off the keeper and tucked it into the right corner for the lead. The shot was set up by a well-placed shot from junior forward Erik Nash, whose hard volley bounced off the goalie's hands. Six minutes later Medina scored his first on a breakaway after a feed from sophomore midfielder Grant Schwinge, followed by a replay of the first goal: Nash shoots, keeper blocks, rebound drops to Medina's strong right foot, he tucks it away.
The Vikings made it interesting in the second half, managing a goal with 23 minutes left, but freshman midfielder José Charupe nodded in a long cross from sophomore Pablo Lopez to put the game away with thirteen minutes left.
"We are definitely working together more as a unit," Coach Andy Duke said afterwards. "This week has shown what we're capable of on the field, and as a team. The midfield and forwards are connecting better, and that's been good for our offense."
As the Wolverines head into next week's playoff with Coupeville on Wednesday, they are heartened because they have won two of their last three, and registered a shutout half in the loss. "We are definitely peaking at the right time," noted Duke. "These guys know they have a chance to do well at Coupeville, and they're eager to show what they can do."
FHHS (3-9) ended its regular season with the win Saturday. With a win Wednesday, they would play King's High on Thursday, then play, win or lose, again on Saturday for a chance to go to state. In the team's early-season match with the Wolves at Coupeville, FHHS lost 4-2 in a ragged game, missing two starters and the chemistry they've built up in two months since.
Quote: "What prudent merchant will hazard his fortunes in any new branch of commerce when he knows not that his plans may be rendered unlawful before they can be executed?" - James Madison
Happy Birthday: Yep, several of her friends took Becky Shanks to Mi Casita last night for her happy day & had the whole place sing "Happy Birthday" to her. Pretty cool deal for one of the nicer teachers around.
Soccer update: It was a a tale of two games when Friday Harbor High played Anacortes Thursday afternoon. FHHS held the visitors to a valiant 0-0 draw at the half, reflecting the growth of coach Andy Duke's young players this season.
If that was a sign of the growth, the second half reflected how beat up the team is, playing its fourth game in six days. Duke pulled four starters to start the second to rest their injuries, and had all the team's reserves playing midway through the half. The Seahawks took advantage and scored a quick four goals in the first ten minutes of the second half, and coasted from there to an 8-0 verdict.
Entering its last week of the regular season, the Wolverines (2-9) have a great deal of hope in the next few days. They finish the season Saturday at home at 11:30am against Lake Stevens, then enter the playoffs next Wednesday at Coupeville, a team FHHS feels they can beat.
Quote: "Evolution made civilization steward of this planet. A hundred thousand years later, the steward stood before evolution not helper but destroyer, not healer but parasite. So evolution withdrew its gift, passed civilization by, rescued the planet from intelligence and handed it to love." - Richard Bach
Geography Bee near-champ: San Juan Island's Zach Reshovsky came in second on March 30 in the state geography bee...he could have come in first & gone to the national competition if he had answered this question correctly:
"Jin Mao Tower, which has the highest hotel rooms in the world, is located in the Pudong District in which East Asian city?"
His dad Marc, and the whole island, have a lot to be proud of with this kid. Wait'll next year.
By the way, in the national competition's 19-year history, five winners have come from Washington state.
Principal resigns: The word's out that Patricia Scoot has offered her resignation from the school district, after a year at the high school. That's a drag - she's a good one.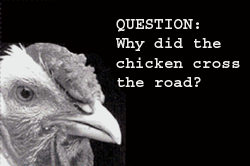 Chicken, road, redux: I found this video & it cracked me up.
Vols needed: Amy with the Stranding Network says they need more help - here's the scoop (and a good way for you to help out!):
The San Juan County Marine Mammal Stranding Network (SJCMMSN) is currently recruiting volunteers in preparation for the upcoming stranding season. Members of the Network respond to calls on both live and dead marine mammals that wash up on local beaches. Amy Traxler, Coordinator of the SJCMMSN, says that "even though we do response work year-around, June through August is crazy busy due to all the harbor seal pups that come ashore."
There will be a mandatory training class for volunteers on Thursday, May 17. In Friday Harbor the class will be held from 10-12pm and on Orcas from 3-5pm. If you'd like to reserve a space in the class or would like additional information on what's involved in being a volunteer, please contact Amy at The Whale Museum at 378-4710 X31 or via email at amy@whalemuseum.org.
Quote: "I don't think there is anything more effective than demanding and keeping a vigilant watch over rigorous respect for human rights." Jose Saramago
April 25, 2007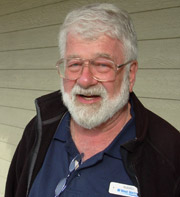 New at West Marine: If you lived in Oregon before you moved here, you probably heard him on the radio & TV as a commentator - Russell Sadler been living aboard at the marina for 2-3 years now, and just took the job as acting manager West Marine's store over next to the bowling alley. Drop in & tell him hey.
Fares up: Well, it's time for the ferry rates to undergo their annual ascent.... on May 1, the peak season officially begins with an additional surcharge applied to fares for non-frequent users and a 2.5% rate increase for all ferry users.
Soccer rocks: FHHS's road-weary squad played their third game in four days Tuesday night at Nooksack Valley, but they weren't too tired to come away with a 2-1 win over the Pioneers. Sophomore Cameron Byington notched a first half goal under a diving keeper in the rain, then sophomore Pablo Lopez got his first goal of the year for the victory in the second half.
Quote: "Ever notice how irons have a setting for permanent press? I don't get it." Steven Wright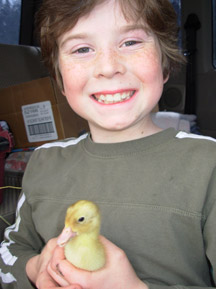 April 24, 2007
Duck! My friend Max showed me his new baby ducklings on the ferry on Saturday (right.)
Running Start meeting: Interested in getting your last two years of high school taken care of while getting your first two years of college off the ground? That's the general thrust of the Running Start program at Skagit Valley College...they have a general info meeting tonight at 6 at the college.
New judge: The state has OK'd us having our own judge instead of sharing one with Island County (they did that last week). One of the issues: Should the spot be appointed or elected? The County Council sent me this bit:
Today, the County Council will be discussing the issues surrounding the newly created San Juan County Superior Court Judge position today, Tuesday, April 24, 2007.

It is the Council's desire that interested citizens be given every opportunity to attend this discussion. The discussion will begin between approximately 10:10 a.m. during the regular Discussion Agenda.
My input (I knew you were wondering!) is that the position should be appointed...elections are simply the wrong way to review a judicial candidate's qualifications & pick the right woman or man.
My further input - at this point, County Prosecutor Randy Gaylord and local lawyer John Linde have expressed interest in getting the job. Talk about a can't lose deal - whichever of these two good men might get the new judgeship, the County wins.

Feeling good: One of the best ways to get feeling better is to hang around docs who make you well, and that's what chiropractor Mark Earnhart (left), naturopath Joe Wessels, and audiology doctor Stacie Baisch (front right) have going at San Juan Holistic Healthcare on Spring Street, kinda across from the medical center. I've been treated at one time or another (and had my rock 'n 'roll ears tested!) by one or the other of 'em at one time or another, and it's a great place to get treated.
Mark started his practice on the island in '84, joined by Joe in '87 and Stacie last year, so they've been around for a while, but he keeps studying & learning new things and staying up-to-date with new developments in healing. They're lucky to have three of the most positive people on the island working with them - Lisa Sandifer (back row), Laura Holden (front & center), and Debbie Cutting - drop by & schedule a visit soon. Their new website can tell you more.....
Soccer: The boys ran into a tough King's High team in Seattle yesterday, losing 3-0 to a team that beat us 8-1 earlier this season in the mud. Today our road warriors travel to Nooksack to try & jump the Pioneers, 4-2 losers to Lynden Christian, with whom we just played a close one.
Next home games: Thursday at 4:30 & Saturday at 11:30am.
Safe Boating Class: The Coast Guard Auxiliary is offering a class you'll want to know about - here's the word from my friend Charlie Lindenberg:
Dear Ian: Help! We need publicity in the worst way. We (the F.H.
detachment of the Bellingham flotilla, U.S. Coast Guard Auxiliary) are
teaching the America's Boating Course on Sat., Apr. 28, at Skagit Valley
College Rm. A/B, from 8:00 to 5:00. We have space for 30.
The $45 course fee includes materials and lunch. Graduates
will meet the boating educational requirements for the mandatory
Washington State Boater's Education Card. This year, the card will be
required for anyone age 12 to 20, operating a power boat over a minimum
length. So, please mention this class if you can. Thank you! Nancy and
Charles Lindenberg, 378-6855. For information call Susan Eberhard,
378-3608.

Tom's poem: Several of you asked about Tom's poem from Friday night - I think you'll like it:
Under Mt. Shasta,
spring fed pond with
resident geese hide
a many chambered dragon
within which magical quanta check, recheck,
house and warm, human spirits
who heal or mend ill and broken eggs,
taking stock, flowing love,
maintaining equanimity
there is no higher calling...
no farther shore of ministry...
there is no unnecessary person
on the fireground
Tom Odegard, 2007
Quote: "Let my soul smile through my heart and my heart smile through my eyes, that I may scatter rich smiles in sad hearts." - Paramahansa Yogananda

April 23, 2007

Poetry readings rock: That's Rebecca Wylie-Echeverria above reading to over 40 at Friday night's poetry readings, sponsored & hosted at the Library. She was one of four featured poets, followed by open mike for readings by others in the crowd. If you missed it, be sure & catch the next one.
Hosting duties were assumed by Janet Doane & Amy Wynn, who stepped up to cover for Tom Odegard, who is still in California tending to Connie as he & she recover from that car wreck a few weeks ago. Tom & Connie were on people's minds - he sent a couple of poems to be read, and a moment was taken to send healing energy from the group to Connie. Here's more from their friend Catherine's blog, detailing their recovery....
Interplay: Overheard at the grocery store, a high school boy & a high school girl:
"You know what? You're a chocolate-covered jerk!"
"Hey! Whoa! That's cold! I'm not chocolate-covered!"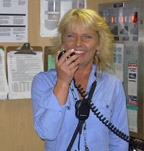 Responsive: Remember I told you the people who enunciate on the announcements on the ferry should speak more clearly, so it sounds like "Friday Harbor" insted of "Freddy Harper"?
Remember I said they should get rid of the canned announcements that ended with a bit that said, "You have now arrived at your destination," which is kinda useless on the 8:25pm ferry that goes to four destinations?
It appears the Update has spoken, and the State Ferries have responded. On the ferry last night coming home, Kathy (right) handled the MC duties & mike responsibilities with grace & charm. Much better. Way to go, WSF! Way to go, Kathy!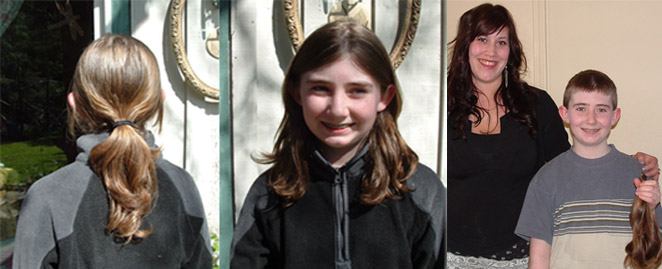 Locks of love: Sixth grader Taylor Hammel's been growing his hair since fourth grade, and last week he went by Christy's and made a donation to the Locks of Love program, which makes wigs for folks undergoing cancer treatment - that's Lindsey who was his stylist for the procedure - looking good!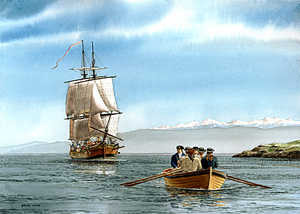 Anchored in history: There's a group in Bellingham looking for the anchor from Capt. Vancouver's boat off Guemes & Cypress Islands at the turn of the century, like the 1800s - that century.
The photo at right is a painting by Steve Mayo of Vancouver coming into Cattle Pass at the end of our island in 1792 - Steve is part of the group looking for the anchor, which is all that remains of his vessel from over 200 years ago. Here's more...
Fifty years - wow: Joyce Sobel & the Family Resource had a 50th anniversary party for the Cat in the Hat last week - here's the story with pictures.
Even in the world news: There's an article in the International Herald Tribune about how well you get looked after by Anna Maria at the Harrison House Suites & flown here by our friends at Kenmore Air - check it out. I love it when people here get good press for providing good service....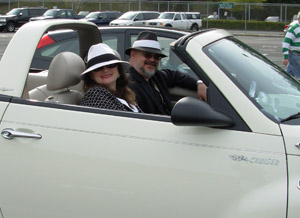 Car Rally winners: It was fun to see Scott & Lynda coming back from the Tulip Festival Rally in their PT Cruiser & all dressed up...they placed the highest for the San Juan Club, and were all smiles.
Vigil this Saturday: Shari Larsen (and others) tell me there's a vigil the last Saturday of every month until the end of the war, at Circle Park at the end of Spring Street, 11am - 1pm.
75 & counting: Shannon Bailey sent in this invitation to an open house (if it's at a boat, is that an open boat?) this weekend, coming up:
2007 is the 75th birthday of the M/V Catalyst. Her maiden voyage was up the Inside Passage and across the Gulf of Alaska in 1932. This was the beginning of her oceanographic research for the Friday Harbor Labs, the University of Washington and the marine science community.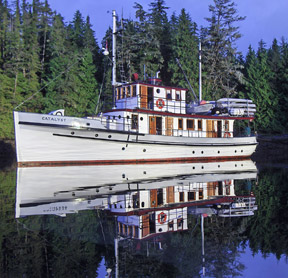 She is currently owned by Bill and Shannon Bailey of Friday Harbor and operates as a charter boat up the Inside Passage, in SE Alaska and in the San Juan Islands. The CATALYST will be open to the public on April 29, 2007 from 1-4pm. She is located in the Port of Friday Harbor. She leaves May 7th for her season as a charter boat in the waters of SE Alaska. She returns in September to charter in the San Juan Islands.
Seminar next week: Merri Ann at Coldwell Banker tells me there's an investment seminar next week you'll want to attend:
Coldwell Banker San Juan Islands, Inc. invites you to a Real Estate Investment seminar free to the public on Thursday, May 3, 6:00pm to 8:00, at the San Juan Island Fire Department located on Mullis Street in Friday Harbor. The class is sponsored by Pacific Crest Savings Bank. Everyone is encouraged to attend this highly informative session designed to educate anyone thinking of or currently investing in an individual retirement fund.
Here's more....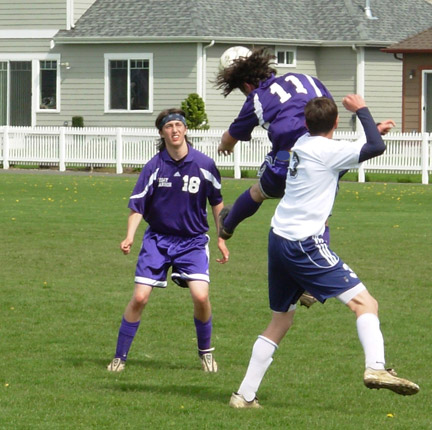 Sports over the weekend: Check out the San Juan Islander to catch up on how the games went this weekend - I went to the soccer game, so I thought I'd tell you about that.
FHHS traveled on Saturday to Lynden Christian to play the Lyncs - the boys overplayed the home team for the first fifteen minutes or so, with three excellent chances to score & pretty tight defense. But LC struck 24 minutes into the game for a 1-0 halftime lead, and popped for a second goal with 20 gone in the second period to ice the 2-0 victory. That's Kevin O'Connor rising for the defensive header (#11, purple) and getting some hang time on defense in the second half to disrupt the LC attack. (Here's more, with pix, from the Bellingham Herald).
The boys begin a brutal week today, traveling to Seattle for game with King's, Tuesday to Nooksack, with Thursday & Saturday home games. Then, a play-in playoff game next Wednesday...look for them to see if they can surprise people, as they keep improving game by game.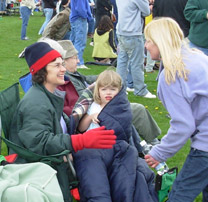 Old friends: One surprise at the soccer game in Lynden on Saturday - at the field right next to where FHHS played was the Sehome-Lynden game, with former islander Dylan Marriner starting in defense for the Mariners of Sehome.
Kelly & Allan came over to watch some of the FHHS game, with the kids he used to coach when he was on-island. The Marriners live in Bellingham now - it was good to see them, as everyone checked in (that's Binney saying hey to Kelly & her girl Josie (seated) at the game).
Quote: "Without free, self-respecting, and autonomous citizens there can be no free and independent nations. Without internal peace, that is, peace among citizens and between the citizens and the state, there can be no guarantee of external peace." Vaclav Havel

---
April 22, 2007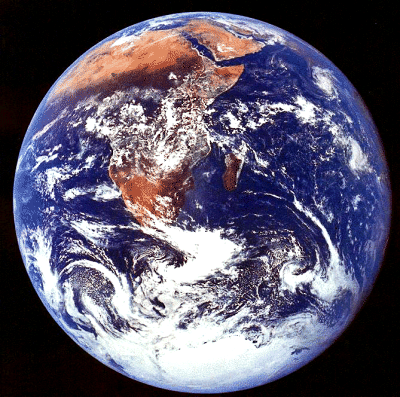 Happy Earth Day! Never has an Earth Day come in the 37 years since the day was first observed in which the planet has been in greater need of our attention....for this day, I thought I'd offer some readings from friends & writers (I know you're literate, or you wouldn't read the Update).
Some things I've been collecting for you, just for today:
Acting Now To Save Life On Earth, by E.O. Wilson
He says: "Except for giant meteorite strikes or other such catastrophes, Earth has never experienced anything like the contemporary human juggernaut. We are in a bottleneck of overpopulation and wasteful consumption that could push half of Earth's species to extinction in this century.As the newest reports of the Intergovernmental Panel on Climate Change stress, we are carelessly destabilizing the planetary surface in ways harmful to our own welfare. Paramount is the irreversible loss of natural ecosystems and species that make up the human life-support system.
"Humanity must make a decision, and make it right now: Conserve Earth's natural heritage, or let future generations adjust to a biologically impoverished world.
"There is no way to weasel out of this choice." Here's more...
Things to do, from the Sierra Club. Here's more...
A green Christian conservative, by Rod Dreher
The conservative columnist admits it's, well, getting warm in here. Here's more....
Population: An effective way to fight global warming, by John Seager
To try & decrease our impact on the earth without reducing our numbers just ain't gonna work. Here's more....
Finally, An Earth Day With Promise: For Many Years, It Was a Hollow Joke. But This Year, We're On The Cusp of Real Progress, by Bill McKibben
He says: "For too many years, Earth Day has seemed a kind of hollow joke. We gather in our parks and on our beaches, we pledge to protect the planet's environment, and then we go home to continue living in President Bush's America, where virtually nothing happens to make the earth a safer place to live. How could it when the environmental committees in Congress were chaired by men who insisted global warming was a hoax? The stagnation had grown so bad that by last spring I hardly wanted to be a part of Earth Day at all." Here's more...