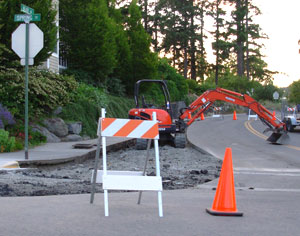 July 13, 2007
Blair Street project continues...
You've gotten used to it this week - the town guys are putting in that new sidewalk so they have the spot where it meets Spring Street all closed off. You have to go around to get to the post office, but you've always been flexible about that, haven't you?
They poured a bunch of concrete yesterday - let's see what it looks like this weekend.
MORE Fourth of July pictures...
Peter sent me some you might enjoy...if you didn't see yourself in my set or the San Juan Islander's set, check out Peter's.
Soccer signups - now!
The local youth soccer association has nearly everbody signed up, except your kid, probably. Here's how it works.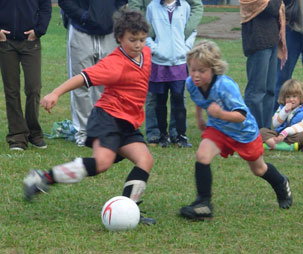 Each fall, over 225 kids play soccer here on the island. This includes leagues at the U-8 (that means "under 8," you know, like first graders), U-10 and U-12 levels which play here on-island, while our U-13 & U-14 boys & girls - four teams - play off-island opponents. Since the games begin in early September, the organizers need your kid's (or kids!) registration in by August 1.
After that there's late fees & no guarantees you'll be on a team, because have YOU ever tried to make a balanced league with an even number of games? So get it in, now. Here's the website with more information & the registration forms.
Stuff's happening this weekend....
• Dominique's Clothing is hosting a Riki Schumacher Jewelry Trunk show on Saturday, July 14th from 11am to 6pm. If you know Riki, you know what fabulous jewelry she creates - come and see Riki's great new designs, enjoy some yummy treats and great company. Located at 285 Spring Street.
• I like Scott Kirby a lot, ever since I first heard him at the old Jazz Festival here years ago...he's back tonight at the San Juan Community Theatre at 8:00 pm - he calls it his "Prairie Devotionals" piano concert of 20th century Americana and original impressionistic-romantic works.
Saturday night at the Community Theatre is the preview of Smoke on the Mountain, which has an 11-show run scheduled.
• The Backdoor Kitchen will be serving dinner and/or drinks in the garden every night this summer! They will be serving their full menu until 9:00 and limited bar menu until 11 or 12. They say they will bring lunches back in the early fall.
• At Pelindaba on Monday, Amelia says it is the first of this year's Four Conversations About "The Comedy of Errors," Island Stage Left's summer Shakespeare production. She also says that on Tuesday, local author Jean Hendrickson will be presenting her new publication We All Have a Purpose For Being Here: A Memoir.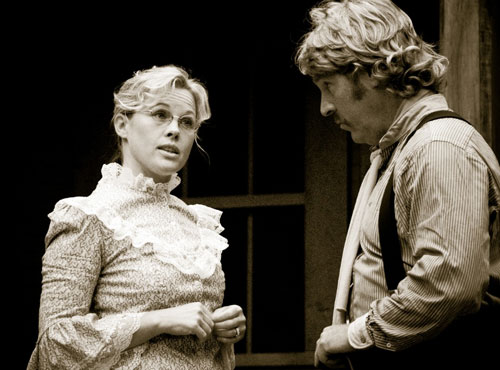 Comedy of Errors - it rocked
I went to see Island Stage Left's Comedy of Errors last night, and all I gotta say is: Don't miss it.
Photo from the play by John Sinclair - here's more.
Dan Mayes (left) continues to a-Mayes as he plays not one but two characters, playing both Antipholi in the show, with each one having his own, distinct persona. His work is counterpointed by Kate Wisniewski's super job playing two Dromios - a worldly twin who comes to meet his more domesticated brother (you remember Kate from Peter Pan years ago, right?)
Throw in Tracy Repop as Adriana (that was her as Desdemona two years ago in Othello - she was so sweet people in the crowd were crying when he killed her) and local star Jill Urbach (in photo) as her sister, and complete the mix with visiting Ashland Shakespeare Festival regular Philip Davidson...shoot, this is a high-powered, energetic play that had people cracking up the whole night. Director Helen Machin-Smith's well-paced play is Shakespeare's shortest - only 1700 lines - and is a delight from beginning to end.
The show runs through August 18...here's more.
News from the Fire Department
Wanda Newman sends me bits of news about our friends & neighbors who help keep us a little safer - as you know, our firefighters here are volunteers (64 of 'em!), which is why I'm putting their names in these stories, so you'll know who they are & give you a chance to thank them for all they do for us.
The 64 members of the San Juan Island Fire Department provide both structural and wildland fire protection as well as rescue services to the community from seven stations around the island.
• San Juan Island Fire Department firefighters Kyle Davies and Jason Wood left early Sunday morning to assist in suppression efforts at the Easy Street fire east of Wenatchee. Davies is serving as single resource boss of the wildland engine and Wood is serving as firefighter. They were put to work immediately upon their arrival.
• Nineteen new wildland firefighters have joined the volunteer ranks in San Juan County. Four firefighters from Lopez Island, and 15 from San Juan have completed San Juan Island Fire Department's Wildland Firefighter 2 course.

The course encompasses four days over two weekends, culminating in a live burn for hands-on practice of the newly learned skills and knowledge. The timing of the course each June precedes the wildland "season" which typically runs from July through to about September, depending on weather conditions.

The San Juan firefighters participating in the course this year included Robin Dyer and Ben Waldron at Station 31 (Mullis St.), Jack Casey and Jeff Sarantopulos at Station 33 (Little Mountain), Scott Boden and Wendy Wood at Station 34 (Sunset Point), David Billstrom at Station 35 (Roche Harbor), Matt Del Grosso, Bryce Fintel and Corwin Waldron at Station 36 (Eagle Crest), and Jim Carroll, Bruce Haggar, and Hollie Swanson at Station 37 (Brown Island).

Our local firefighters are trained to the same entry level standards as those that fight the large wildland fires you hear about across the nation each summer. In fact, when requested, members of our department deploy to assist with wildland fires across Washington. While ever mindful of maintaining manning levels for our own needs, the greatest benefit of having firefighters deploy is the invaluable knowledge and experience they gain which is then passed on to local volunteers.

• Robin Dyer, firefighter and rescue team member at San Juan Island Fire Department, was awarded the Chief Justice Hugh Rosellini perpetual trophy for scholastic excellence at the 2007 Washington State Firefighters Association Fire School. Firefighter Dyer achieved the highest test score of any of the women that have won the trophy since it was first awarded in 1931. The test scores of all firefighters participating in the scholastic track of the week long conference are compared in selecting the annual winner.
Quote
The pursuit of peace and progress cannot end in a few years in either victory or defeat. The pursuit of peace and progress, with its trials and its errors, its successes and its setbacks, can never be relaxed and never abandoned. - Dag Hammarskjold
---
July 12, 2007
The little ferry that could...returns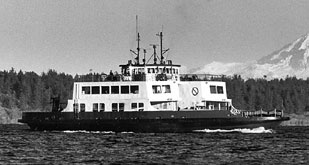 My Washington State Ferry friends wanted me to tell you the Hiyu is back to do the inter-island run, like it used to in the '90s (photo by Robert Demar):
The 59-car Illahee has temporarily been removed from service awaiting the additional inspection, so the 87-car Evergreen State has taken its place serving the San Juan inter-island route. Starting July 15, the 34-car Hiyu will operate on the inter-island route for 1 week while the Evergreen State is at the ferry system's Eagle Harbor Maintenance Facility for its required, annual inspection.
Baby arrives...
On the 9th, at a quarter till midnight, Libbey (Howard) Oswald delivered Oliver Wade Oswald, who was 19 inches and 7 lbs. 15 oz. (I got all this off the huge sign on the front of King's Market.) Mom & dad & baby are doing great.
The play's the thing...
If you like theater, this is the weekend for you - The Benefit Players Theater's evening of four short plays ends this weekend (last chance!), Island Stage Left kicks off The Comedy of Errors tonight at Roche (first chance!), and the Community Theatre's preview of Smoke on the Mountain is Saturday (pre-chance!).
How are you gonna do it all? Let me help you. Smoke is only on Saturday, so go then. C of E plays tonight, so that's when you go to see Shakespeare. That leaves Friday for the BPT deal. That way you won't miss anything.

Welcome back, Potter...
The lines were long (above) & the theater full for Harry Potter's new movie at the Palace yesterday. I saw Wendy Pinnow & her girl Melissa aferwards at the store & they said it was good & that they enjoyed it, while seventh-grader Melissa said they cut out some pretty important parts of the book, she thought.
And a good time was had by all.
Quote from the Comedy of Errors...
"I to the world am like a drop of water
That in the ocean seeks another drop,
Who, falling there to find his fellow forth,
Unseen, inquisitive, confounds himself." (Act, 1, scene 2, lines 35-38)
Antipholus of Syracuse laments his lost state during his quest to find his twin brother and mother. He is in a strange place, away from family and homeland, where no one recognizes him.
---
July 11, 2007
MOL - it's tonight!
Hey, it's gonna be a hot day, so plan on sitting in the evening cool (well, cooler than the day, anyway) at the Historical Museum with Music on the Lawn tonight...it starts at 6:30pm, so bring your lawn chair & blankets & picnic food & relax. See you there!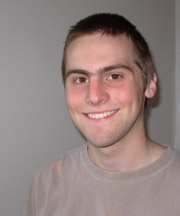 From video to disc, with Devon...
You got 'em, I've got 'em - all those old VCR tapes of the kids when they were little (or YOU when you were little), or the wedding, or the time your kid hit the home run...
Devon Schwinge has a little business this summer making your tapes into DVDs for you - I've seen his work & he does a super job. And...since he's going back for his second year at Whitman in late August, you better do it now. Like, right now. Here's more.
Kids' dancing
Francie Hansen is offering a dance & rhythms class for 5-7 year olds...it's $10 at Dance Workshop II on Wednesdays from 10:30-11:30 till Aug 8. She tells me a portion of what she makes she sends to kids in Africa. It's a dropin deal, and you can either stay and watch of drop the kids off.
Island writers...
Poetry and Spoken Word Night at the library is this coming Friday, July 13
at 7pm. Featured writers are Daniel Finn, Kelsey Kennedy and Anthony
DiMichele. An open mic will follow, so bring along your best stuff or a
work in progress.
Also, the deadline for entering the Written Word at the San Juan County Fair
is July 16, 2007. Carrie Lacher is this year's superintendent and
guidelines for entries can be found on her excellent blog site.
Quote
"To know that even one life has breathed easier because you have lived, that is to have succeeded." - Ralph Waldo Emerson
---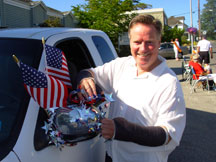 July 10, 2007
He's tough, and he's healing....
Yep, that was Jim Horn from the Toggery who lent his truck for Pat O'Day to announce the parade from last week at the parade, in front of the Presbyterian Church....he says he's been enjoying the break since he & Bob Bellinger closed the store in late April, but he probably didn't mean the breaks in his forearms when he had a tumble down the stairs, which is why he's cast on both arms. He says he's healing OK, though. He's a hard one to slow down, anyway....
Slow Season's season - not so slow....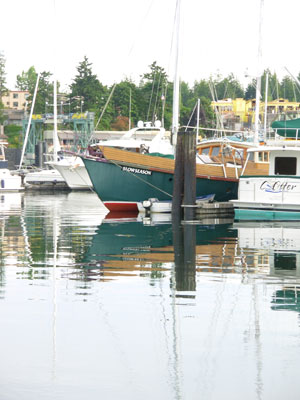 Ilse and Hulmuth bought the Slow Season B & B this spring & have turned it into a lovely boat (I went down to shoot the pic at right & to check.) Ilse says they're nearly full for the summer down in the marina at the island's only floating bed & breakfast. Here's more....
Shakespeare's here....
Helen from Island Stage Left says it's time for the Comedy of Errors' island opening:
Island Stage Left opens "The Comedy of Errors" this Thursday, July 12th and plays at Roche through Aug 5th when it moves back to 1062 Wold Rd for Aug 9th - 18th (playing Thursdays - Suns at Roche and Thurs - Sats at Wold)
The cast and crew just came back from touring Shaw, Waldron and Lopez and found audiences "Wildly" enthusiastic. They are all exhausted but exhilarated and looking forward to opening here at Roche Harbor on the 12th at 8:00 pm.
This production is full of music and laughter. Come for an evening of fun with Shakespeare set in the Wild West. Admission free - as usual. Donations welcome and appreciated.
Quote
The sun, with all those planets revolving around it and dependent on it, can still ripen a bunch of grapes as if it had nothing else in the universe to do. - Galileo Galilei

Here's a 114-photo portfolio of the parade on the Fourth, mostly - there were over 50 entries in the parade this year, which still moved along smoothly. In these pictures, you'll see your friends & neighbors (and yourself, probably), so check 'em out.
The winners in the parade (just announced by the Chamber of Commerce, left to right):


Best Float: American Legion,.
Judges' Choice: Community Band
Spirit Award: Cutthroat Pirates.
Best of Theme: "America's Finest," King's Market
Off-Island Award: Canoe Island French Camp
---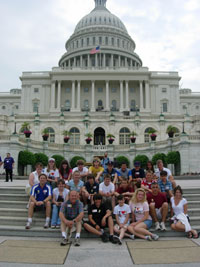 July 9, 2007
Back from Washington
Ace middle school social studies teacher Chris Wolf took a mob of our kids to D.C. & they had a great time. Here's more (you can click on the photo at right to see all the kids in a larger version):
Hey Ian,
I just got back this weekend from a 5 day trip to Washington DC with 19 former 8th graders and 4 parent chaperones. That's us in front of the Capitol.
The trip was a blast, we saw it all: the Smithsonian museums, Holocaust Museum, Mt Vernon, the National Cathedral, the National Zoo, Arlington National Cemetery, the Lincoln, Jefferson, Vietnam, FDR, Korean, and World War II memorials, and much more. It felt like we ran a marathon, but the kids (and the adults) had an awesome trip.
On the trip: Chris Wolf - group leader; chaperones - Rob Cuomo, Kim Blake, Teri McPadden, and Tom Schultz; students - Sam Asher, Megan Cuomo, Maverick Blake, Forrest Brickman, Shawn Cutting, Sierra Dawson, Alex Jangard, Kia Johns, Kyra Kinnaman, Conor Lanphere, Dylan Nelson, Elwyn Pratt, Tyler Pruitt, Nick Roberts, Emily Schultz, Austin Tompkins, Jerusha Turner, Preston Ukra, and Kayla Whalen.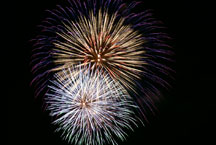 Great fireworks picture...
OK - I know the photo to the right looks like a coupla dandelions, but they're not (although that IS what my yard kinda looks like.) It's an awesome photo that Allen over at Kirk House B&B took down at the harbor on Wednesday night.
It is so awesome that I made a huge copy of it for you to see - click on the little pic to the right to se the big one - you'll love it.
More kids at work....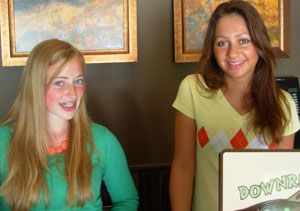 There were more pix in the Lehr/Byington photo set (we started yesterday, showing what students are doing this summer).... at Downrigger's, Brooke Jangard and Kristina Linova are working this summer as hostesses.
Brooke will be back at FHHS for her junior year in the fall, while Kristina returns to Seattle U for her second year there, where she tells me she's having a great time, and says she's glad to go to school there.
Meanwhile, out at Roche Harbor on the docks you'll see a couple of familiar faces - FHHS senior Erik Nash (left) and FHHS grad Brock McNairy are working at the marina this summer.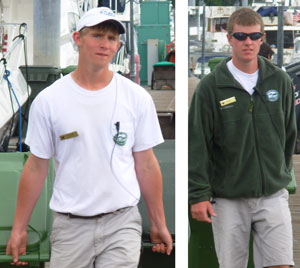 Erik is helping with roundball as well - there is a free boys' basketball camp for grades 4-8 this Monday through Wednesday (July 9-11) at Turnbull Gym from 9am-noon. Erik tells me there will be drills, skills, competition and prizes! It is being put on by Erik and his friends Dan English & Tommy Fowler for their Community Project. Call 378-4869 for details.
Need you scooter fixed?
Susie's Mopeds tells me: "We have just hired our new service manager, Richard Simpson and we will once again do repairs on mopeds and scooters. Our repair shop is located at 320 D Carter Avenue (across the street from Island Petroleum, behind the green house). The phone number at our repair shop is 378-3660 and you can always call us downtown at 378-5244."
Weddings and babies....

Lots of babies & weddings lately, it feels like. Let's check to see what's going on:
Hitched: This weekend FHHS '96 grad Kaal Oldwyn (right) married Courtney Steed in a beautiful, windswept ceremony at Cattle Point, then brought their friends and family back up to the San Juan Island Yacht Club for a sunset reception with food by Cynthia's Of Course, with music by Shamrock Sound. It was one of the most fun, inclusive, and upbeat weddings I've gotten to attend.
Coming: Mary Sliger says Libby's baby is due pretty much any time now, so we'll watch for news about that.
Already arrived: Last Thursday, little Holden came a bit early...here's the tale from Christine: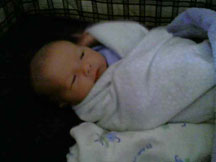 Christine (Mandybur) Martz took a ride in a helicopter at 3am to Island Hospital after a night of watching fireworks which were accompanied by little but strong, overly anxious, kicking feet!
She was joined a little while later by husband and expectant father, Michael Martz, who had to wait for the red eye ferry to get there. Holden Michael Martz was born at 1:08 pm on July 5th. He weighed 7 pounds, 9.1 ounces and was 19 inches and 7 cm long. All of us are happy and well. We are truly blessed by his early but most welcome arrival!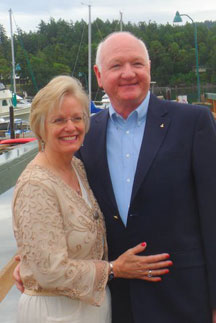 Hitched: Back on the 21st, which was solstice, it was also the beginning of Christine Kelvick's new life with Jimmy Mays (right). They were married on Jim Maya's boat, just off Henry Island at 10 am. They then watched the whales frolic off Cattle Point before returning to a luncheon at Steps Restaurant. They then went to Victoria for a honeymoon for 2 days, via the Victoria Express.
They were joined at the ceremony by Richard Beck (best man), John Wickham, Gloria Beck, Patti Wickham, and Denise McIntosh.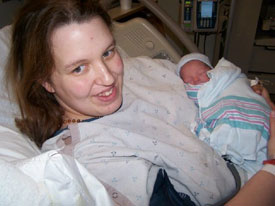 The Becks are from Arizona, as is Jim; John and Patti Wickham come from Friday Harbor; and Denise McIntosh is from Lopez.
Also arrived: Alisa Tappana sent me a pic of her & her new baby Gavin (left) - congrats!
Best Selling Author Patricia Schultz Brings "1,000 Places to See Before You Die" to the San Juan Islands July 14
Robin at the SJIVB sends this reoprt of an author you'll want to catch:
The San Juan Islands Visitors Bureau is pleased to welcome acclaimed travel writer and author Patricia Schultz to San Juan Island and Orcas Island for two book signings and readings this month. Her first book, 1,000 Places to See Before You Die, revolutionized how we plan travel and what we do when we get there. A runaway hit on the New York Times Best Seller List at #1, (with over 2.5 million copies now in print), it launched a multi-media phenomenon for the globetrotting writer. It also helped place the San Juan Islands in the spotlight as one of the 1,000 special places in the world not be missed.
Schultz has just completed a long-awaited second book, with an expanded section on the San Juan Islands: 1,000 Places to See in the USA and Canada Before You Die. She will be on San Juan Island Saturday, July 14 to read from the book and sign copies. The event is hosted by Boardwalk Bookstore and sponsored by Friday Harbor House, one of the accommodations recommended in the book. This event begins at 7:00 pm at Boardwalk Bookstore, 5 Spring Street in Friday Harbor.

Boardwalk Bookstore was established over thirty years ago in the San Juans. For more information on them, see their website at www.boardwalkbookstore.com. For information about the book signings and visiting the San Juan Islands, go to www.VisitSanJuans.com or call (360) 378-6822, extension 1. Patricia Schultz's appearances in the San Juans have been facilitated by Kenmore Air.
Quote
"America wasn't built by conformists but by mutineers - we're a big, boisterous, bucking people and now is our time. Our democracy is being dismantled right in front of our eyes by our own ruling elites. This is a crucial moment when America desperately needs you and me to stand up as citizens. We are not only what democracy counts on, we are what democracy is." - Jim Hightower, from The Public Spirit of America