July 20, 2007
You'll hear better....
Last year when I went to visit Stacie (right) to check my ears (and see if I was as deaf as Pete Townsend from years of playing guitar), I asked her to tell you & me whenever things are happening. She checks in:
Hi, Ian!
It's me again- the audiologist from Island Hearing. I have had quite a few people ask me about these new hearing aids, and I was sent a link to this highly accessible article, 'The Day The Music Died', in the New York Times
Additionally, I have been doing free hearing screenings and consultations for folks who are curious about their hearing levels and impact on communication. I will continue to do these free screenings/consults through August.
I was wondering if you would be willing to spread the word on this. I had a truly positive response the last time you mentioned me on your website.
Call me if you want to talk musician's earplugs!
Thanks very much,
Stacie Baisch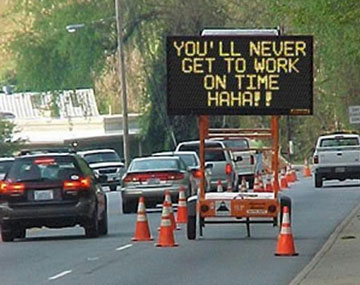 Traffic problems in our sleepy burg...
For all the people complaining about the construction (which is almost done) slowing things up at Blair & Spring Street, here's a reminder (right) from Seattle about the way it is, in the city.
Fog problems never last, do they?
Meanwhile, yesterday's fog (leftover from Wednesday) lifted midday & left us with a nice summer afternoon & evening.
Who's at the Marina this year?
There's a nice rundown of all the workers at the Roche Harbor Marina this summer - check out the Roche Harbor News here!
Amy's class adds a Sunday section...
Amy Trainer's Tuesday night yoga class has expanded - she added a Sunday class...here's the details.
Tom & Connie are back - calling on neighbors....
Wanda Newman asked me to let you know the Odegards are back, and need a hand:
Good afternoon - on behalf of the San Juan Island Fire Fighters Association, please be kind enough to post the following notice online to alert the public to this need and how they can show their support.
As many of you may know, Tom and Connie Odegard were involved in a serious car accident at the beginning of April while on their way from northern California. Tom was hospitalized for a week and has made a great recovery. Connie was held in the intensive care unit of a Redding CA hospital for nearly a month and continues a long and difficult struggle back to health.
Now at home on Egg Lake Road, Tom and Connie are continuing their recuperation. There are a number of ways friends are helping out. Daily chores and expenses are a challenge to their recovery. A fund has been established at Wells Fargo Bank to assist with ongoing medical and physical therapy expenses. Their fellow members of the San Juan Island Firefighters' Association plan to donate their portion of the proceeds from this weekend's pancake breakfast to the account. Other fellow department members are coordinating a Firewise yard cleanup of their property on August 11th.
Watch for Tom and Connie around town or give them a call at 378-3213 and plan to stop by. They appreciate your support.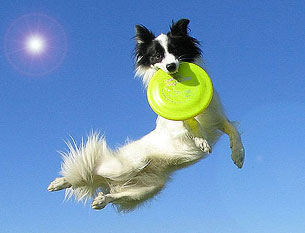 Time for the Animal Shelter fundraiser...
Board prez Chris Sly-Prochnow says it's scheduled for next week:
Our third annual Wags to Riches event will again be held at the home of Bob & Lissa McDowell on San Juan Island on Sunday, July 29 from 4pm to 8pm. This year's event will feature a high-energy exhibition by 6 teams of WOOF D2 (Washington Owners of Flying Disc Dogs...see photo below). There will be a gourmet picnic & spirits put on by the staff & volunteers of the shelter, live music performed by the Kubatana Marimba Band and a silent and live auction with some great auction items. Tickets are $75 per person and are available now. Call the shelter for reservations, as ticket sales go fast. 378-2158
First Nations evening at Pelindaba tonight
It's at 7 - members of the Lummi Indian Nation will present a rich evening of traditional storytelling and music to commence their festive weekend as guest artists of the San Juan Island Lavender Festival and Summer Arts Fair.

Melanie Elizabeth Solomon or Diabol-it'sa (her Indian name) is a full-blooded tribal member and lifetime resident of the Lummi Nation. From her grandfather and mother, Melanie learned the craft of storytelling which she draws on extensively today in her own writings. A diverse artist of the Lummi Indian Nation, Shasta Little-Star Cano uses the often unexpected and ever-changing path through life to inspire her talents ranging from spoken word to artistic prints. Matt Warbus, a student and teacher of Lummi language and culture, is also an expert in Native American Flute Music.
Harry at the Library...
You already heard there are events at Griffin Bay & Boardwalk Bookstores leading up to the midnight release of the last Harry Potter book...Shannan at the Library tells me there's also a deal there tomorrow:
All fans of Harry Potter are invited to the San Juan Island Library to celebrate the release of the final book "Harry Potter and the Deathly Hallows" on Saturday July 21st at 1:30pm.

Prizes will be awarded for best costume, trivia and participation in the fun games and crafts we will be having. There will also be potions making and "magical" snacks.
Home Tour Saturday, 1-3 p.m.
Sixteen homes — ranging in price from $345,000 to $3.4 million — are included in this tour presented by the agents and offices of Coldwell Banker San Juan Islands, Friday Harbor Realty, John L. Scott Real Estate, KMI, RE/MAX, and Windermere.
Quote
"We must not confuse dissent with disloyalty. We must remember always that accusation is not proof and that conviction depends upon evidence and due process of law. We will not walk in fear, one of another. We will not be driven by fear into an age of unreason, if we dig deep in our history and our doctrine, and remember that we are not descended from fearful men -- not from men who feared to write, to speak, to associate and to defend causes that were, for the moment, unpopular."
- Edward R. Murrow from his See it Now CBS Television broadcast of March 9, 1954 in regards to Senator Joseph R. McCarthy
July 19, 2007
Last week at the wedding...
It was great to see old pal Jessica (Oldwyn) Montieth at her brother Kaal's wedding to Courtney Steed - a graduate of FHHS in '98, Jess served as "best man" for Kaal, who described her as his best friend in heartfelt remarks.
That's her on the left with friend Terresa Sundstrum that evening at the reception.
Music in the air, oops...on the air....
KPLU radio's Jim Wilke will be broadcasting music from this year's Jazz at the Labs show (at the Friday Harbor Marine Labs) from last month this Sunday at 1:30 p.m.
Tune your radios to 88.5 for a real treat! It was a hot show, so I'm guessing it's gonna sound pretty good since they must have gotten a good recording that night (I was there & can witness: It was pretty cool.)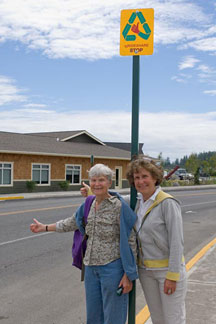 What's happening with San Juan's Rideshare program?
It's doing quite well, thank you - the signs are up & people are starting to use them! It's a great first step towards getting folks to share their cars & the space in 'em (And to meet neighbors you didn't know before!) Here's more....
Liza Michaelson, San Juan Island resident (on right), and her mother Prue Kaye visiting from Corvallis Oregon, recently hitched a ride from the sjRIDESHARE sign on Mullis to American Camp National Park.
Festival time...
The Lavender Festival is this Saturday & Sunday out at the Pelindaba Lavender Farm. 10am-5pm each day. It's FREE - here's a complete rundown of what's happening, including music & events.
Meanwhile, the Summer Arts Fair is also Saturday & Sunday on Court Street, Friday Harbor. 10am-5pm, Sat. and 10am-4pm Sun. Also free - and here's their poster. They'll have lots of children's activities: Chalk it Up Sidewalk Art Contest, a Kid's Hands-on Zone with face painting, quick projects with foam stickers and stamping, a fun project with wood and aprons and paint....and special guest, Binky the Clown, making balloon animals and hats!
Ed Wilson has lined up a fine aggregation of music, to wit:
Saturday: me (10am); Ed Wilson (11am-1pm); David Bayley (1pm); Tim & Michelle Franklin (2pm); Stone Soup Marimba (3:15pm).
Sunday: Ed Wilson (10am); Uncle Otto (11am); Solar Siblings (noon); Keith Busha & Steve Keys (1pm); Watter Billies (2pm); Steve Dyer (3pm).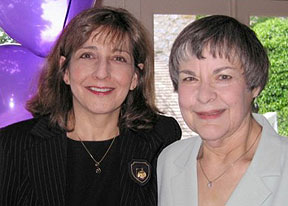 Soroptimists' summer action
Just because it's summer doesn't mean the Sorops go slower - they elected a new board, for one thing. New prez Ellen Roberts (right) takes over from outgoing Becki Day, and the rest of the 2007-2008 board is listed here:
President-elect for next year: Debbi Staehlin; Treasurer: Phyllis Davis; Membership Secretary: Patty Brightman; Recording Secretary: Mary Lou Anaya; Corresponding Secretary: Marty Huleatte; Directors: Carrie Brooks & Nancy DeVaux.
Meanwhile, the club made two important donations as Joyce Sobel accepted a $1K check from Soroptimist International of Friday Harbor on behalf of the Family Resource Center, and Patty Brightman also accepted a $1K donation on behalf of the Domestic Violence Sexual Assault Services.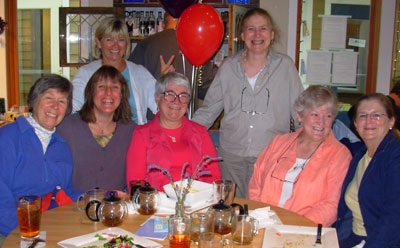 Nancy's birthday...
A group of friends helped celebrate St. David Episcopal Church's rector's birthday - that's Nancy Tiederman in the middle down at Pelindaba's downtown shop yesterday. Many happy returns, Nancy!
Meanwhile, the congregation continues to meet at the Benefit Players Theatre while the renovation of the church continues...drive by sometime. It looks better & better each week.
New location
Orcas Boat Rentals has opened a new location at the Port of Friday Harbor at the fuel dock. They offer 16 foot power boat rentals, with 1/2 and full day rentals available. Call 'em at 472-0020 or 376-7616.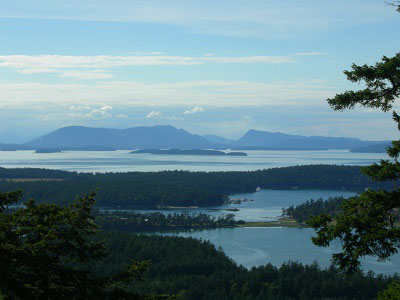 Oh, Canada
Here's a picture my friend Alex took on Canada Day of the our friends in the islands to the northwest, as seen from Mount Young.
By the way, Alex's latest recording, "Notes from the Kelp," is now out, and can be purchased here (look in the bottom third of the page). I just got my copy & I sure like it.
Quote
"Noble brothers and sisters, be joyful and keep the Faith and persevere in the little things you have heard and learnt together with me." - attributed to St. David (520 -589, CE)
---
July 18, 2007
Music on the Lawn is still on, tonight...
Just got the word from Sally Kerr about MOL with Kate Mann playing, tonight:
Well I have waited and waited and still it rains. Tonight's Music on the Lawn Concert Series is now Music on the Linoleum! The concert will take place indoors at Mullis Center.

See you there!

Sally
Roche Harbor news....
If you haven't kept up, now you can - Roche Harbor's Chris Watling has been keeping the RH News up to date all summer - and there is a lot going on out there! Click here to check it out!
Besides that, there's a note on the Roche Harbor site about planes taking off during the play this summer (one flew over when I went to the show last week & you can barely hear the cast for a few moments...):
Since Roche Harbor has an outdoor theater - we are asking all pilots of private planes to kindly refrain from taking off or landing on our airfield between 8 p.m - 9:30 p.m. Thursday through Sunday evenings from July 12 thru August 5! The cast of "Comedy of Errors" would be most grateful!
Opening at the Community Theatre...
Jan says tomorrow night begins the 10-play run:

"Old-Time" Opening for Smoke on the Mountain - Songs of the '30s, foods of the South, and even pickles (yes, PICKLES!) highlight the opening party for San Juan Community Theatre's production of Connie Ray's Smoke on the Mountain on Thursday, July 19. The gospel musical comedy begins its 10 performance run in the Gubelman Theatre with a down-home pre-show party in the lobby and scrumptious desserts with the cast after.
Directed by Denise King, Smoke on the Mountain transforms the Gubelman into Mount Pleasant Baptist Church in North Carolina on a summer night in 1938. Outside in the theatre's lobby, local churches will provide goodies from the era and island folk singer Mike Cohen will share live music from the times. And since the Mount Pleasant Pickle Plant has a supporting role in the play, pickle recipes will be displayed and everyone's favorite big, crunchy pickles will be passed around.
"The lobby fun will help our guests share in the simple pleasures of the time," said King. "It will give them a little flavor of what's to come during the play."
The pre-show party starts at 7:10 p.m., with curtain time at 8 p.m. For tickets, call SJCT at 378-3210 or visit www.sanjuancommunitytheatre.org

---
July 17, 2007
Friday Harbor Class of '87 re-unites...
A couple of weekends ago, the Friday Harbor High class of 1987 had a weekend of activities here on the island, with most of the class showing up at one point or another through the weekend. After a barbecue over at Doug Rhine's house, dinner at the Peppermill, and time on the water, everyone I talked to said they had a great time catching up with old friends.
Some of the folks who attended sent galleries of pictures to me & asked me to share them with you, so here's gallery one & gallery two so you can see how the weekend went & catch up on old familiar faces.
Mad about Harry...
Bettye and Ray tell me Boardwalk Bookstore is hosting a "Harry Potter Comes to Town" party on Friday evening, July 20, 2007 at 8:00 pm, prior to the release of the newest of the Harry Potter series, Harry Potter and the Deathly Hallows. The newest book will go on sale at 12:01am on Saturday morning.
The Boardwalk Bookstore party will include prizes for best costumes, fun and refreshments. Boardwalk Bookstore is located at 9 Spring Street, on the corner of Spring and Front Streets. For further information call the bookstore at 378-2787.
Meanwhile, Laura Norris at Griffin Bay Bookstore is also planning a costume contest and goodies on Friday night, with her copies also going on sale just after midnight.
Sounds to me like if you don't win the costume contest at one end of the street, you can try again at the other....same way your parents do on Halloween as they drift between taverns & costume contests.
I'll check with Keith at Harbor Books & see what they have going on; I'm guessing Carol & Dilys at Serendipity will sleep that night & wait for you to bring your copy to their place as a used book.
Fair news...
Got two things for you: The Premium Book is now available online, which is handy since this year the Fair folks decided not to mail 'em out & save money (one of the benefits: kids 16 & under are free for the second straight year!) You can download yours here.
Also, on Friday night, there will be the first annual Trashion (rhymes with "fashion," mostly) Show, where you take stuff & make wearable art out of it. With a $300 first prize, you know this is a serious business, so get your recycling brain working & check out the rules. Gotta have your application in by August 6th.
Baggage thought...
Watching a guy struggling with his bag on Spring Street the other day, it made me wonder: how is it that we put man on the moon before we figured out it would be a good idea to put wheels on luggage?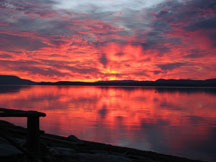 Sunrise looking north over Griffin Bay...shot earlier this month by Marc Grotle (click on the pic for a larger view)
News from States Inn B&B...
Just got this newsflash from Angel & Richard (here's more):
Dear Ian, Just wanted to let you know that we finally got our commercial kitchen licensed and installed, and opened last Saturday. Now folks on the west side can stop for pies and pasties made with local ingredients, water, local goodies ( like popcorn lady kettle corn), fresh fruit, produce from our garden, Golden Glen Creamery Cheeses, Lopez Island Creamery Ice Cream Cones, and crafts from local artisans.
Summer hours are daily 10-5. We plan to be open all year, and have coffee and fresh scones in the mornings for locals when fall comes around... Stop by if you are out this way!
Quote
"It is in the space of mastery over paradigms that people throw off addictions, live in constant joy, bring down empires, get locked up or burned at the stake or crucified or shot, and have impacts that last for millennia." - Donella Meadows
---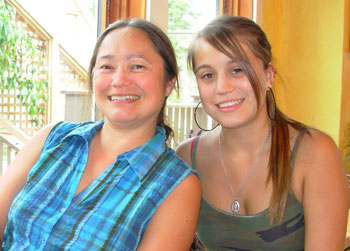 July 16, 2007
People around town...
• Yesterday it was pretty cool to swing by Pelindaba's downtown store & run into Mariko (right), who is just back from two months in Japan AND from her first year at an aeronautical school in Arizona (yep, she's gonna become a helicopter pilot.)
And in case you've wondered if the biggest smiles in the world are proud moms, here's her mom Shirley Hart with proof. Way to go, Mariko!
• You already knew that Peg Knight's gonna have twins next month, but when I asked the expectant mom & erstwhile software engineer what the due date was, she said, "the release window appears to be mid- to late-August."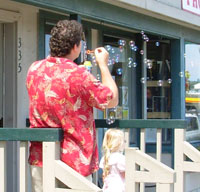 • I always thought Kenneth at the Spirit Tree (almost next to Radio Shack) was a cheerful guy, but on Saturday he was out on the stoop & he was downright bubbly (right).
That's Emily helping him - if you haven't been to see his shop, you're missing out - he's really changed things in a nice way - I think you'll like it.
• Went by the Flying Burrito last week & found it closed ("for re-model," the sign said), so I asked Gretchen & she says they're going to re-open doing some "wholesale stuff," and not as a restaurant. I'll try & get more details.
• Every Friday & Saturday at 3 at the Lime Kiln lighthouse (unless the whales come by!), marine biologist Bob Otis gives a bit of a talk about his years working there, keeping an eye on the orcas.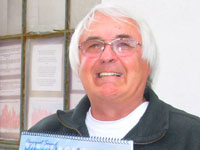 I dropped in to hear what Bob had to say, and it's fascinating to hear about the whales' behaviors & travel routes & feeding patterns from someone who has been collecting observational & acoustic data since 1990 at that spot.
He'll be returning to his university work at Ripon College in Wisconsin for one last semester before he retires, after which he can work more with the orcas. The work he has compiled over the years has added invaluably to what we know about the marine mammals on the west side of our island
His talk centered on video that he has shot during his time out there, with good pictures to show each of his points as he tell you what's going on with the whales. Catch his show if you can.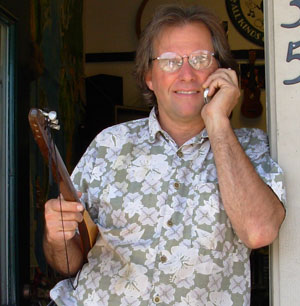 • Probably the most involved musican on the island is Kirk Fuhrmeister (right) at his music shop, Isle Be Jammin', which is next to Radio Shack. If there's something musical going on, Kirk's probably in it, whether it's sing-a-longs at the Pub, or working with the Solar Siblings, teaching lessons or putting on shows at his shop - man, he's everywhere.
Here's more, from his website.
Ed Wilson in concert on Wednesday...
The Performing Arts Society is at it again with a concert on Wednesday, July 18, 7:30pm. Ed Wilson will entertain with original country tunes and his favorite Western standards, not to mention songs of honky tonk angels, wild desparados and sailors on stormy seas.
You will not want to miss this evening of great singing and guitar work. Bring a friend, have a good time, and help your neighbors - all at the same time! Here's more.
As always, the PAS concerts are presented without charge; however, donations are graciously accepted. The donations for this concert will continue to improve the theater (Benefit Players Theater) for all performances.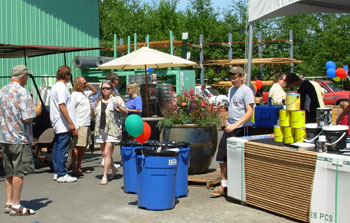 Never knew turning 60 was this much fun...
The Brownes held a block party at Browne's Home Center on Saturday to celebrate the 60 years since 1947 when Jim & Inez Browne bought Davis Lumber (which was started in 1920).
The whole history is here on their website, highlighting Rob & Terry Browne's decision to move the business from downtown (across from what is now Wells Fargo) out to its present location on Mullis Street in 2000 & rename the business Browne's Home Center.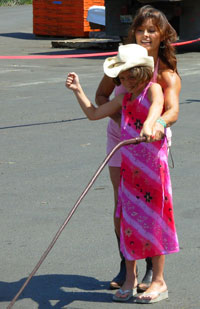 Saturday, hundreds of islanders came by to offer their regards, as Browne's offered free hot dogs & popcorn, raffles & prizes, in-store specials & entertainment, including Lisa Moretti teaching folks how to use a bullwhip.
Off to Austraila...
Judy McManus from the Theatre told me that the Loren Brothers from the island here won a trip to Australia - here's more.
Baseball rocks...
My friend Tony Fyrqvist asked me to let you know how well one of our ball teams did the other day (click on the picture for a bigger photo):
Hey, Ian! Do you think you could publish the picture and a short story on a local All Star Baseball Team that went to Burlington and performed very well.
I know this is not soccer news but as you can tell from the picture almost all of the team are also avid soccer players (Joe, Otis, Willie, Sam, James, Gabe, Peter and Peter). Some of the most memorable moments of the game included Peter Strasser's hit to the outfield that landed just short of the fence bouncing over for a double. Otis' left handed pitching which had movement and speed making it very difficult for opponents to get hits. The enthusiasm of "little unit" Isaiah Hauck at pitching and at short stop. The opponents always started backing up when James Asher came to bat. He seemed to hit line drives to the outfield every time he was up to bat. Everyone in the team played hard and had several good plays either on the field or at bat.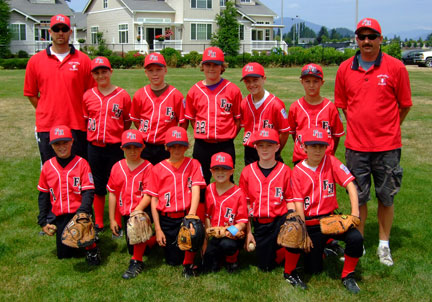 Some of the details:

• Local boys take 3rd place in District 11 Little League Tournament in Burlington.
• The team was composed of eleven All Star players from Friday Harbor ages 9 – 10.
• The boys competed from July 3rd through July 9th ending with a record of 3 wins and 2 losses. The young team was well rounded and showed maturity and athleticism in pitching, fielding, and hitting.

The team was composed of:
(bottom row) Landon Rishel, Isaiah Hauck, Sam Stewart, Willie Christison, Xander Chrichton, Joe Fyrqvist; (top row) James Asher, Gabe Lawson, Otis Cooper-West, Peter Strasser, Peter Holt. The coaches were: Brock Hauck on left and Hogan Rishel on right.

Thank you!
Quote
I'm always amazed that people will actually choose to sit in front of the television and just be savaged by stuff that belittles their intelligence. - Alice Walker