September 10, 2007
A deer friend....
As I was leaving the dump last week, this youngster was watching me (right).
Football squeezes out 21-14 win over King's on Saturday....
Late game heroics by our young Wolverines sealed the deal for a 2-0 season start...here's more from the San Juan Islander's Matt Pranger, including photos.
Good things come in twos - The Knight twins arrive....
Jim wrote to tell me Peg delivered the kids on Friday afternoon: Stuart James Knight weighed in at 7 lbs, 13 oz and measured 21.5" while Graham William Knight tipped it at 8 lbs, 7 oz and 21.2"
His note to me:
All are now home and rest-- oh, wait. Never mind.
-jk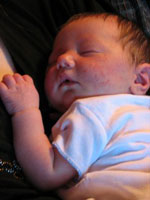 The Sears twins deliver the second one:
Identical twins Dori & Kate Sears do a lot of things together - they opened Stillpoint School last week, and they married the identical Sears twins. Kate delivered her first, James, about six weeks ago, and here's the report about arrival #2:
Dear Ian,
Hi! The first week of school was terrific -- we have a super group of kids, and we love teaching together. And it was very exciting that the first week brought our second baby, too! Dori and Dennis welcomed John Kimball Sears at 8:07am on September 6. He looks just like James! We're having a wonderful time with both boys, and with the start of our first school year. Thanks again for keeping in touch!
:) Dori, Kate, and the boys!
New coffeehouse opens.....
Kelly Snow writes in:
Inquiring (nosey) minds want to know about the new deli? restaurant? that is going in on the bottom of the new Churchill Square building. I thought you might have some scoop on that, since you are always "in the know"...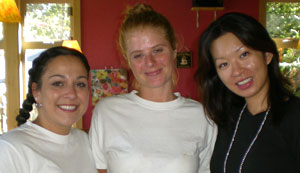 Thanks, Kelly! It's all that - a new deli/coffeeplace/café called Mi Piace, owned by Charles Thomas. They opened over Labor Day & had a very busy first weekend...since I avoid crowds whenever possible, I waited till this weekend to drop in & visit with manager Ada Hung (right), and Giovanna Drew & Jacoba Porter (center). Drop by & say hey - here's more about the Churchill Corner project, which continues to grow.
Curves moves up the street.....
Bonnie Gilmore from the United Way dropped me a note:
Hi Ian, Loving the site. Thanks for all the newsy news. Totally off-topic of your site or United Way, but since you're "in the know" - do you know what happened to "Curves"? The Caines & Spring Street studio is closed up with For Rent signs on the windows ....
Send me the scoop if you know it! Thanks - Bonnie

So I called Margaret at Curves, and she tells me they moved up to the old pet store at 849 Spring Street. She says they still have tanning, and that it's brighter & lighter up there....call 'em at 378-7001 for more information.
Kristina & Ron get hitched...
FHHS '92 grad & former islander Kristina Thalacker returned to San Juan last weekend (she's lawyerin' in the Seattle area these days) to marry Ron Killhorn at her parents' place (her folks are longtime islanders John & Vicky) overlooking Griffin Bay, with a nice reception at the San Juan Yacht Club.
Carey remembered....
Today at 2 at the Presbyterian Church is the memorial service for Carey Popham, who passed away last week...she is much missed. Here's a write-up about her in the San Juan Islander.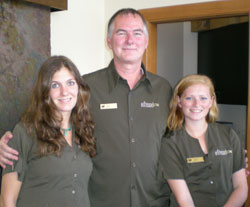 Afterglow Spa's doing great...and there are specials this fall...
Out at Roche Harbor, the Aftergow Spa's just completing their first summer, and manager Troy says it went great, with a bit more business than they expected.
She says they also have specials this fall & winter, which you can check out here.
That's my old friend Antea Rood (left), former front desk fixture & now spa-guy Joe Dunham, and Clare DeLong (who just graduated from the University of Canterbury), ready to help you at the spa.
Quote
"If we know anything about a path at all, it's only because of the great ones that have gone before us. Out of their love and kindness, they have left some footprints for us to follow. So, in the same way that they wish for us, we wish that all beings everywhere, including ourselves, be safe, be happy, have good health, and enough to eat. And may we all live at ease of heart with whatever comes to us in life." - Kirtan closing prayer by Krishna Das

---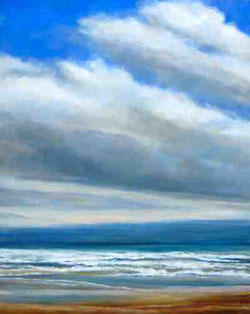 September 7, 2007
Art opening this weekend at waterworks...
Ruth at waterworks has an artists' reception at 5:30pm tomorrow to meet Coral Barclay (that's her pic on the right) & Janis Miltenberger, whose show opens this Sunday at the gallery.
Bike rides on the island...
First of all, let's be clear about bicycles - they are the future. In case you haven't got it through your head yet, you're not gonna be driving that huge rig much longer - the atmosphere & your gas-buying wallet are both taking a hit, and you have more sense than that.
Meanwhile, biking here on the island is good exercise, a great way to get closer to how beautiful it is here, and simply a good idea during the summer. That said, it can be a bit challenging...I talked to someone who was visiting the island & staying at Tucker House who rode from town to Cattle Point & back. She said it's the only bike ride that felt like she was going uphill both ways.
New York's iVillage writer & singer Josey Miller has a similar observation in her blog, which Susie's Mopeds would like. Check it out.
Shopping....
It was nice to run into Mary & her dog at the store earlier this week (right).
Monday night at the Labs...an important reading
San Juan Island Library and the UW Friday Harbor Laboratories are sponsoring an evening with author Dr. Michael K. Honey on Monday, September 10, 2007, 7:00 pm, at the Commons at Friday Harbor Laboratories.
Dr. Honey, a professor at the UW Tacoma campus, will discuss his latest book, "Going Down Jericho Road: The Memphis Strike, Martin Luther King's Last Campaign," offering a vivid chronicle of the events leading up to the 1968 Memphis sanitation workers' strike and its aftermath. Here's more....
One last visit at Vic's with Art...
Art Seels died on Monday at the age of 96...his friend Maya tells me they're planning a get-together at Vics for the Liars' Club at 10am next Thursday. She says bring stories Art told about his adventures in the army, too much speeding in his old (of course) Ford cars and camping. He had many to tell. See you there for coffee and muffins. Here's more about Art.

New Regulations for Nonprofits: Workshop in Friday Harbor September 14
Liz Illg told me about this:
Nonprofits Unlimited is sponsoring a workshop on the recent changes to the Washington State Charitable Solicitations Act. In July new state regulations were enacted that affect organizations that solicit over $25,000 annually from the public. Liz Heath (right) from The Nonprofit Center in Tacoma will be in FridayHarbor on September 14th from 2pm-4:30pm at the Friday Harbor Grange. An ice-cream social will follow the presentation. Cost is $25 and $5 for more than one representative from any nonprofit. To reserve space call 317-4010 or email liz@nonprofitsunlimited.com.
Quote
Former US Representative Jennifer Dunn passed away earlier this week at the age of 66. Rep. Jim McDermott, a liberal Seattle Democrat who served with Rep. Dunn on Ways and Means, said she often put partisan issues aside for the sake of her state.
"People think everyone [in D.C.] has a D or an R after their name," McDermott said. "She was somebody who really had a W after her name, thinking about what was best for the state of Washington."
---
September 6, 2007
Roger's on the move....
I just spoke to Roger Frost, the head of school at Spring Street International School...he tells me he has accepted a similar position at the 170-student Desert Academy in Santa Fe, New Mexico, and will be leaving the island to go to his new job on October 10th. (That's Roger on the right, with San Juan Island School District Superintendent Michael Soltman a couple of years ago, at a Chamber of Commerce potluck.)
Roger tells me it's been a great 3+ years here on the island working with the SSIS teachers, students & parents, but that the new gig is too good an opportunity to pass up, especially as it puts him closer to his daughter. He'll be helping begin an international baccalaureate program at his new place, while leaving SSIS in good shape, both academically & financially.
The school will be run by an adminnistrative team till next spring, when they hope to hire a new head for late spring or early summer.

Amy's on the move, too....
Friends of the San Juans' staff attorney Amy Trainer tells me she's moving to Alaska next month...she's been a key part of the Friends' team as well as a leader with the League of Women Voters and a top-notch yoga instructor (I know, because I've done her classes).
Amy's last class on the island will be one to assist you in enhancing your own practice, a 2-hour Yoga Workshop called "Developing a Personal Practice" on Saturday, September 22nd from 9:30 - 11:30 a.m at Dance Workshop II next to Vic's - e-mail her at amy@sanjuans.org to reserve your spot.
The big one didn't get away....
Barbara Rouleau over at Friday Harbor Lights tells me she's posted this picture (right) on her website of a girl named Elizabeth catching a salmon off the dock - her place looks over the harbor (just a bit down Warbass), and it's pretty rare to have salmon in the area.
Another top one-percenter on the island....
Janeen over at the Best Western/Friday Harbor Suites tells me her place has been ranked in the top 1% among 2,400 other Best Westerns for hospitality...wow! Here's more.
The waters are rising - are you ready?
Here's a pretty clear description from the National Wildlife Federation about the effects of climate change & sea level rise on the Northwest....check it out.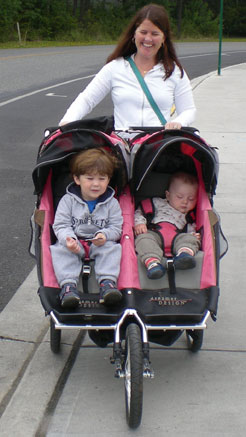 On the run in the streets of Friday Harbor...
That's Deb Vermiere giving Charlie (left) and Oskar (dreaming) a push over on Mullis Street the other day.
Reading this Friday....
Susan Wingate will be reading from her new book "Of The Law" at Griffin Bay Bookstore on Friday, at 7:30 p.m. Here's more....
Nature Institute Kelp Workshop: Find out what's on your dock!
Our friends at the Nature Institute & the Labs wanted you to know about this cool workshop:
Most islanders know bull kelp from the enormous strands washed ashore, but are you aware that there are at least 15 more of these big brown seaweeds? The San Juan Nature Institute is pleased to offer a workshop on this interesting and ecologically important group of algae on Saturday September 15, at the Friday Harbor Labs. The instructors will be Thomas Mumford of the Washington Department of Natural Resources and Richard Norris, retired UW Professor of Phycology.. The workshop will begin at 9:30 and end in time for participants to catch the interisland ferry home.
The class will start with a foray on the docks at the Labs where fresh material of many members of this group can be found and will continue in one of the teaching labs where the discussions will take place. The instructors have been collecting illustrations of the local species and delegates will leave with a handy identification key.
Dr Mumford was a graduate student at UW and frequently returns to the Friday Harbor Labs to teach summer classes. As Natural Resources Scientist for DNR, he has developed a commercial seaweed aquaculture industry for the State of Washington. His interests include the biology and management of seaweeds and sea grasses and mapping and monitoring near-shore marine and estuarine habitats using aerial photography. The course will include a short discussion on kelp mapping, past and present. It is a 'pretty interesting story', said Mumford.
Dr Norris is returning to the classroom with his former student and will be involved in the discussions of life histories and reproductive strategies. Together they will lead the discussions on identification of the local species, the ecological importance of seaweeds and touch on the economic uses of this group of seaweeds. There may even be samples of edible members of the group for adventurous participants.
The San Juan Nature Institute is a certified provider of clock hours for teachers and encourages delegates to contact us immediately if they would like to have this option. The cost per person is $55. Registration is essential and can be done via the website WWW.sjnature.org. or by calling 378-3646. We would be pleased to pick up delegates from other islands if they walk on the interisland ferry. This workshop is offered in partnership with the UW Friday Harbor Labs which is providing lab space and equipment. Please register by Wednesday, September 12, 2007.
Quote
Today's is a poem by e. e. cummings:
i thank you god for most this amazing
day: for the leaping greenly spirits of trees
and a blue true dream of sky;and for everything
which is natural which is infinite which is yes
(i who have died am alive again today,
and this is the sun's birthday; this is the birth
day of life and of love and wings:and of the gay
great happening illimitably earth)
how should tasting touching hearing seeing
breathing any-lifted from the no
of allnothing-human merely being
doubt unimaginable You?
(now the ears of my ears awake and
now the eyes of my eyes are opened)