prepared weekly or so by Ian Byington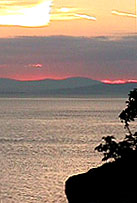 August 11, 1999
Weather: The weather outside is...delightful. The weather inside is frightful. Let it snow, let it snow, let it...never mind.
It's been pretty warm here lately, mixed with lightning & thunder last week. Nice yesterday, though, with a great sunset last night (see photo).
Speaking of lightning, Aimee Urata mentioned on the ferry that the Rouleaus' barn on the north side burned last week. Cause: Fire from the sky.
Tempest scores big: All the reports I heard about the production of The Tempest over on Wold Road were positive... Maggie DiGiovanni said it was "incredible," Bruce Robinson says it was "great - hope they do more," and Boo Boo down at the Ale House said it was "absolutely brilliant." (She was in it, by the way.)
By the way, that thing on Maggie's arm is related to her broken wrist, brought on by falling in a soccer game. FHHS' soccer MVP from 1995 and 1997 grad will have it splinted for another 3 weeks or so.
Off and running: The Town Council race is set with former Mayor Bill LaPorte looking to get back in, former Fire Chief Howie Rosenfeld hoping for a spot, and more.
We'll have more as the race heats up...but speaking of wandering politicos, Governor Locke was in town Monday, touring the downtown, and US Senator Gorton is due to show up and hunt for votes for next year's race on Friday.
The Fair is next week. Get ready.
Whale hunt hurts: Has the Makah whale hunt hurt business around here? This report from the Sea Shepherd Conservation Society thinks so:
August 3, 1999
U.S. WHALE HUNT HARPOONS WASHINGTON TOURISM
- summer resorts empty as tribe prepares to kill more whales
Last spring's whale hunt by the Makah Indian tribe of Neah Bay, Washington,
has triggered a long, disastrous summer for local tourism-dependent towns
and businesses in Washington state. Occupied fishing boat slips at the
Makah marina are down from a seasonal norm of 200 to about 75, and area
resorts, at the height of the season, are surprisingly vacant. Local
chambers of commerce, while acknowledging that the Makah's nationally
televised shooting of a young Gray whale on May 17 has impacted tourism,
have attempted to put the blame on poor weather. However, fishing and whale
watching is booming just across the Canadian border in British Columbia.
(Victoria, B.C., has passed a resolution condemning the Makah hunt.)
The National Marine Fisheries Service is investigating the possibility that
the Gray whale the Makah shot on May 17 was a "resident" whale. The Makah
have announced they will hunt again when the whales start to migrate south
in October, and may take a whale before their Makah Days celebration August
28. "They were out practicing on the water last week," said Captain Paul
Watson, president of Sea Shepherd. "They're getting ready to go out again,
and they're talking about taking as many as five whales."
Sea Shepherd notes that the tribe is now proposing to go hunting just after
a spring Gray whale migration that had the highest mortality rate ever
recorded. Scientists are unsure as to the cause. Opinion polls and
Washington newspapers have reported overwhelming public opposition to the
Makah hunt.
"One more whale hunt will be devastating for tourism in northwest
Washington state," said SSCS International Director Lisa Distefano. "This
is a region dependent on sport fishing, whale watching and tourism, and
those industries start suffering major damage from one more year of this
slaughter."
"We strongly suggest that the business leaders of the affected communities
get in touch with their state representatives and tell them they're not
going to take 'it's out of our jurisdiction' as an excuse any more. The
state needs to seek relief from the tragic policies and actions of the
federal government that are perpetuating this blood sacrifice in U.S.
waters."
Benefit:
Wolf Hollow's annual WILDLIFE CRUISE will embark
SUNDAY, SEPTEMBER 12 at 9:00 AM.
Sponsored by Western Prince Cruises.

Tickets are $50 per person, all proceeds go to
Wolf Hollow Wildlife Rehabilitation Center.

A good cause plus good food!
Only 30 seats available by reservation, so call now.

Call Russ Illig at 378-0838 to reserve your place.
Reunion '79: Jeff McRoberts wrote to tell me the Class of '79 (FHHS) met this last weekend to celebrate...from his e-mail, class members included (his lower case) mike greenway, christina johnson, nancy wampler, jeff mcroberts , dennis louthan, mike hards, karl thomas, mike erickson, paul miner, gene brown, candi browne, cheri ericksen, pegge james
and more!
He asked me to mention it last week, but I was out of town then...hope everybody made it OK.
Shop early...like, now: You can order your holiday gifts of stuff from the San Juans from Naturally San Juan... Patricia has a great set of products, all from around here! Check it out!
July 30, 1999
Passing: Just heard that Anthony Lee passed away on Tuesday after a long fight with cancer. You'll remember Anthony from playing the sax - wonderfully - at Annikin's Gallery the last few years...
Library Book Sale is tonight & tomorrow...go. The Tempest opens tonight....go. Have fun.
July 29, 1999
From the mailbag: A bunch of people have written in about various things...some of the more interesting:
From jstengal@aol.com:
Is the Jazz Festival over yet?
Yes, it is. You can still come visit now....
**************
Bruce Parmenter <BruceDP@iname.com> says:
Solar Energy International presents three 
Renewable Energy Workshops
in the beautiful San Juan Islands of Washington state in October 1999

Renewable Energy for the Northwest
Overview of solar, wind, and water power for home use.
Sunday, Oct 3, $75

Photovoltaic Design & Installation
Learn to use solar-electric technology! Classroom sessions, tours, &
hands-on installation.
Monday-Saturday, October 4-9, $500

Micro-Hydro Power
Harness small streams for home independence!  Classroom sessions,
tours, & hands-on installation.
Monday-Friday, October 11-15, $500

For complete information, contact:
Solar Energy International, PO Box 715, Carbondale, CO 81623
970-963-8855, Fax: 970-963-8866, sei@solarenergy.org
http://www.solarenergy.org
For housing, logistical, and other local information, contact:
Ian Woofenden, SEI NW coordinator 360-293-7448 ianw@pacificrim.net
**************
Meanwhile, Jim McNairy (jbmcn@hotmail.com) reports in from Australia:
Friday July 16
We've been in Australia a month now.  It's hard to 
believe that it's the 
same size as the continental US with only 
18 million people.  But it has 
something to do with the fact that 80% of the 
country is arid or semi-arid.
We flew from Bangkok to Darwin, which is a remote 
city on the tropical north 
central coast.  We rented a campervan in Darwin 
and spent 2 weeks camping in 
the Northern Territory.  Saw some gorgeous land and 
rock formations, 
waterfalls with swimming holes in deep plunge pools, aboriginal rock art and 
sacred sites, crocodiles, wallabies, 
kangaroos, emus, cockatoos - just as 
Australian as we could wish for.
We move back into our house on the island on Aug. 
16, and hope to be in Friday Harbor several days 
earlier for the county 
fair.

We're looking forward to being home after so long on the road, 
but know that 
this experience has been incredibly 
beneficial in so many ways.  As Keller 
said last night, on the eve of his 11th birthday, 
"10 has been the most 
exciting year of our  lives, and we'll never forget it."  
What more can we 
say?
All our best,
Jim, Dotty, Brock & Keller

**************
Minnie Knych of the County Republicans reports:
Senator Slade Gorton will visit San 
Juan Island on  Friday, August 13.
After a picnic lunch in Sunken  Park 
he will meet with interested parties for 
a discussion of the salmon issue, the economy and his education plan.
If you are interested in meeting  the 
Senator, send an e-mail to Minnie Knych at knych@rockisland.com
**************
Some of you know that www.friday-harbor.net is co-hosted as www.karuna.com....hence, this note from Amar in India, which happens to be in touch with why we chose the name "karuna" (in another translation, it means compassion):
>i happened to find your site when 
playing a game with my family the other
>nite.  we were trying to see if anyone 
or company had a url with the name of
>a family member.  well, it turns out my 
mothers name is karuna and your url
>is karuna.com.
>
>my mother was humored with the irony 
and wondered how you came up with the
>name for your url.  in hindi (yes we are 
indian) the name karuna means
>"mercyful."  well, i hope i haven't 
bored you to much.  take care,
>
>amar sood
July 27, 1999
Jazzed: Reports from around town are that the Jazz Festival went well last weekend...the bands were great & the people happy. 20 years and counting.
Weather: You know, it's been great the last few days - not tremendously hot, with sunny skies all around. Good for gardens, good for visitors, good for 'tudes.
Broke: Remember when Joe Ford (he's about ten now) broke his arm about two or three years ago? Now Sam, his brother, has broken his....if he keeps eating all that good food at Mi Casita (dad Greg & mom Carol's place) he'll be fine.
Books, books, books: The Library's Annual Book Sale happens this Friday and Saturday at the elementary school. If you don't go to buy something, at least go and watch all the people crawling all over each other and all the books. A gymful of books - can't go wrong.
Friends of the Library prez Liz tells me it's gonna be the best one yet...
Passing: Just heard Charlie Settles (he worked at Diesel America West) died yesterday... he was in an accident involving a fire & a barbecue...
July 23, 1999
Jazz heats up: Last night the 20th Annual Jazz Festival got underway with its third annual street dance, which was a draw to a chunk of the community...good to see so many people there on a cool summer night with a nice moon over it. The Festival itself formally starts today...were you wondering why there's so many people in town?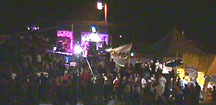 Nice crowd at the dance, as you can see in this shot (above) from behind the Grange.
Shakespeare in love, or in love with Shakespeare: There's a nice story in the Journal about a couple of ex-Ashland Shakespeare Festivalites who have moved here and are putting on a version of The Tempest at their place on Wold Road next weekend and the weekend after. It so cool to have talented people continue to move here....
Saturday Market this Saturday: Go. Be there. Buy fresh stuff.
Food truth: Speaking of good food: Overheard of a visiting three-year-old in the street yesterday: "No, Mom, that's not food. That's MacDonald's."
By the way, we don't have any fast food here. Get used to it. Better for the digestion, you know.
Also, talking to a friend on Tuesday across from the ferry lanes, someone came up and asked, "What time is the 8:10 ferry?"
Told him I didn't have a schedule and to ask the ferry guy. They know stuff like that.
Softball games rock: The big deal here during the summer is softball. There are all kinds of teams and all kinds of players and all kinds of games.
If you ever want to know the results of the games, just look in the papers; they have the scores from the week before. That's Anna on third in the picture to the right, just before she headed home to score and make the score 13-2, 4-3, 7-1, or 96-86, depending on whom in crowd you asked. Her team was ahead, though. There was agreement about that. I think.
Now in its third summer, the league continues to grow. One more reason we need new fields....besides needing more room to play baseball, football & soccer. Build 'em; they'll get used.
July 18, 1999
Sunset: Last night's sunset on the west side was amazing ­ it started with dark clouds to the south, with two rainbows forming. Then the sky opened just in the spot where the sun was, which spent the next 20 minutes drooping into the hills of Vancouver Island, after which it lit up the sky with brilliant reds and purples. You had to be there.
Didn't see Sunset magazine covering
Y6B and counting: According to the US Census World Population count, the world's population hit 6 billion people today. Locally run but internationally known, see the Facing The Future site for more information.
This is the issue of the next century, which drives all other issues. This well-written site helps people make sense of it all.
Sponge: On the west side earlier in the week, I was hanging around to see if the whales felt like coming by. A family from Colorado was looking out over the water, and a ten-year-old girl said, "Look, Mom! I think it's a minke whale! It has a smaller dorsal fin than the orcas!" Her mom squinted and said, "That's great, honey. You're really absorbent."
New book & insights: Jan Jameson & Jeanie Rouleau Burns have cranked out a little book called "You Know You're an Islander When...."
Illustrated by former Sunset magazine editor (and 12-year islander) Sam Connery, this compilation includes the stuff we kinda take for granted.
Snippets: "You wish the deer would quit eating the plants in your garden the garden books say they're not supposed to eat." Or "You've already dated everyone you know on the island at least twice." Talks about how we don't use our car horns much, tend to lock our keys in the car on the mainland, read the paper for all our news, even wedding invitations, and more.
Get one at any of the local bookstores.
The breaks: Saw Robbie Lawson with a huge, black boot kinda thing on her foot last week she slipped on a stair & broke her ankle. Ugh...but you know Robbie: she's still her smiling, cheerful self.
And all that jazz: Yep, the Jazz Festival rolls up for its 20th year this weekend ... make your plans now.
And the County Fair is preparing for its annual show in August from the 18th to the 21st. Grow those zuchinnis!
Big crowd: Happens all the time on the island, but you can tell when it's downtown: Dave and Helen Ellingson threw a nice reception for their boy Matt, who got married yesterday. That's why all those cars were lined up on Argyle Street. Congrats, Matt!

July 12, 1999
Great weather: Great weather this weekend, and for the last week. 'Bout time...get out in the sun.
Ferry loads: Were there tons of people on the ferry this weekend, or what? The overload lots had folks in them, and the boats were packed....I had to go to the mainland yesterday, and didn't see but three people I knew on the way going over. everyone on the way back, of course, lives here.
Field of dreams: If you like ginseng, you'll love organic ginseng, which Jim Lawrence grows out at the Thirsty Goose Farm. Drop by and get some from him, or order some from his website.
Literary review hits the airwaves: The online literary magazine The Dragonfly Review released its summer edition last week....check out the latest & greatest by island authors. Nice Makah story in there....
Fair Fair Book: It's better than fair: The job Wayne Pullman did pulling together this year's County Fair book. Working with Christine Miller (the fair boss), over a hundred advertisers, and with David Norris doing a bunch of the layout....looks good!
Soccer everywhere: Not only did a bunch of kids from the island go to Northwest Soccer Camp on Whidbey Island last week, but Chris Cowell won a most offensive player award, Daniel English won a sportsmanship award, Shay Byington got an outstanding camper trophy (his brother said it was an "out-camping stander"), and the whole camp was cheering for the World Cup women. Nice to have a lot of good things in one place.
Meanwhile, local kids have been playing...and winning....in all-star baseball games on the mainland the last couple of weeks. More details about that as we hear them...
July 6, 1999
Lights out in the daytime: By report, half the island was out this morning...Noë, the computer lab tech at the Marine Labs says they had to turn on the generators to keep things going, and I found the phones out at the Journal most of the morning. Things seem to be working OK now.
Long time islander passes: Just heard that Louise King died last week on the first. Born in 1908, she'll be much missed...
July 5, 1999
Weather this morning: Sky's blue, air's warm, it's beautiful out. Get outside and play.
Another glorious Fourth: It's one, big, day-long community party. There's no way you can go through the day without running into tons of people - visitors & neighbors alike.
The parade started things off, with some new stuff, like Kathleen the librarian's Book Cart Drill, which she and the Friends of the Library pulled off with grace, style & a major amount of synchronization, right there in the street.
There was Brian Calvert using his campaign signs from last year's run at the legislature, this time for getting re-elected as Port Commish. Good recycling...we like to encourage that. Other politicos: Town Council's Vonda & Hedda waving from the back of a car, and County Commish Darcie (dressed in a flowing turn-of-the-century - that other century - dress) from the back of Dandy, her horse.
There was Mike Cohen playing the accordian for two different floats (the old San Juan float & the Historical Society's), as well as tons of kids in different entries.
Shoot, with so many entries, I think most of the island was IN the parade, which made it a good idea to have so many visitors to come watch us.
The other events around the island - parties all over, including at the MacDougalls and the Historical Society, marimba music at the Port, the Chamber of Commerce's street dance, and fireworks at Jackson Beach, the harbor, and Roche Harbor (and it was easy to see Lopez's) - made for a festive, cheerful, musical day in which it was easy to feel like a community.
Next year: Sun.
Crowds leave: Dropped a friend off at the ferry this morning - the ferry this morning had five lines full for the 9:50am boat as the 8:10 was pulling out. Overloads to be expected...
Saw Roche Harbor's Richard Pederson at the Fourth festivities, and he said the hotel's 90% booked....Crystal Seas Kayaking's boss Johannes Krieger said downtown Friday Harbor didn't seem quite as crowded as in previous years, perhaps due to the grayish weather. He should know, with the long view: he graduated from FHHS in the early part of the decade.
Up on the roof: Did you see the emergency vehicles collecting at the Inns on Thursday evening? I called over a couple of hours later & the woman at the desk said a bottle rocket had hit the roof & caused a small fire, which was promptly put out.
Back to Church: Have you seen Mary Ann Church around lately? She's back from her conquest of seven states of the Appalachain Trail (1200 miles worth)...she's been doing things with her 94-year-old mom this summer. As you might expect, the former FHHS science teacher just can't keep still.
Speaking of moving, Vivian Simonis (late of Charters Northwest) is leaving this week for a new job in Newport Beach, California...her smile will be missed...
Speaking of FHHS, that was a mob at Saturday night's hypnomania show - Travis Fox was great fun, and the people who got hypnotized really put on a show. Neat part of the evening: the gym nearly 3/4 full fifteen minutes before the show, because people came to visit with each other. Congrats to the Purple & Gold (our booster club) for a fun evening & successful fund raiser.
Famous: Tori from Friday Harbor House tells me she's getting ready for a picture shoot this week, as the hotel is featured in a video to be shot by the Best Places to Kiss in the Northwest. Lea & Christian's Olympic Lights B&B is also in the show.
July 1, 1999
Transitions: Various health club members tell me Allan Marriner's last day at the Fitness Club was yesterday: no word yet on his replacement.....
San Juan Island School Board member Sue Hill informed me over the weekend that she, Dave Eden, and Sharon Kivisto will not seek re-election this fall, leaving a gaping hole in the five-people volunteer board.....
Heather Caruso will be moving to Bellingham this summer; she has resigned as fourth-grade teacher at FHES....
Doug Scott, the former San Juan Community Theater director who has cobbled together nearly three years as Friends of the San Juan director, will depart this month for a similar environment advocacy job in Seattle.
Sounder adds to staff: The paper has added writer Robin Hamilton to its staff, anticipating the departure of Ann Carlson later this summer, as she takes off with her boy Kirk to attend Western Washington in Bellingham.
With Ann leaving, the newspaper loses a strong writer with her finger on the sometimes hyperkinetic pulse of this sleepy community; the FHHS newspaper also loses the advisor who helped found the publication two school years ago.
Robin will be assuming some editorial duties as well....
Whale watch: The Whale Museum reports that K & L pods have been listed as "threatened" - a designation that indicates the resident family of whales has not been growing in a sustainable manner. In the same report, the Museum echoes the outrage of many islanders in the matter of the Makahs murdering a gray whale last month.
Meanwhile, there's a report of a new calf in L pod....
Also, tonight Lisa Andrews of Save Our Wild Salmon will be speaking about salmon at the Museum at 7pm. - part of a lecture series Amy (of the Orca Adoption Program) and Elizabeth Petras (Deer Harbor Charters) put together for the Naturalists Association and the museum.
Hanging out in town: Not only is the Fourth of July happening this weekend, but so is that hypnotist, Travis Fox, who entertained here in the early spring to overflow crowds....shows this weekend will benefit the Purple & Gold Club at FHHS.
Do I have to tell you about the parade on Sunday, the activities all over the island, the fireworks in the Harbor and at Roche Harbor, the street dance Sunday night? You knew about all that, didn't you?
Weather: Kinda wet this week. Kinda cool, too. Whaddya expect, Arizona?
The race this fall: Harrison House's Farhad Ghatan tells me Howie Rosenfeld's planning a run for town council this fall...there have been murmurings of other candidates, but no official announcements yet.
June 25, 1999
Whales meet on the west side: Jean from Western Prince Cruises, a local whale watchiing outfit, reports that not only are K & L pods here, but had a visit with J pod:
Two longtime orca enthusiasts and I had 
a magical time on the water on June
23 in the afternoon when K & L pods met 
with J pod after being apart for
more than a week.  It happened just past 
5 p.m. in calm seas at the Salmon
Bank. First a few whales met and greeted 
by milling around, and
intermingling. 

We saw several groups of 5 to 8 whales 
meeting and greeting
and playing with each other.  
There was even some mating going on.  There
were only about 7 boats on the water over 
about 1 square mile so the boats
and whales were spread out.  All vessels were 
drifting with their engines
off so we could hear the blows as well as 
the whales conversing underwater.
The whales were relaxed and oblivious to the boats.  
This milling around and
intermingling lasted for upwards of an hour.  
We saw some juveniles breech, a few spyhops, 
tail slaps and some 'pink sea
snakes'.  The orcas were having a grand party 
and we felt so fortunate to
witness it.
Speaking of whales, the investigation continues about the gray whale which washed up dead at Spencer Spit last week.
Theatre hits ten: The San Juan Island Community Theatre celebrates its tenth anniversary next week with a community part & lots of entertainment...check it out.
Rain, rain, go away: It did. But it sure was wet in the middle of the week, huh? Good for the gardens....
Labs take on a pro: The Friday Harbor Labs hired Sharon Beach to work the front office, replacing long-timer Joyce Smith, who retired earlier this month.
June 22, 1999
Old whales return: Elizabeth reports in her weekly report that K & L pods have finally arrived for the summer...among them: Lummi, who celebrated her 89th birthday this year.
Longest day: As the solstice kicks in, the days are really LONG: the sun rises just after 5am, and doesn't set till around 9:15pm. Now they just get shorter, so enjoy 'em while you can.
Tourist season begins - you can tell: Crowds of people in our little berg...locals go downtown infrequently these days, dispair of parking, and never go near the ferry unless picking up somebody. It's good to have the visitors...especially when they're nice to our fragile island.
Clavicle debacle: Heard that FHHS junior Eli Black busted his collarbone, so I called to see what the deal was - he says he took a dive over his handlebars. A drag, with the summer just starting & it being time to work....
Cover up exposed: Peter & Michele DeLorenzi have a new little business selling these deals which cover up stuff in your yard and make 'em look like rocks or other natural things...good for covering & hiding things like pipes, and electric boxes and so on....he writes:
Michele & I just returned from Michigan (very hot and very 
humid) where we looked at our
first prototype of our 250 gallon propane tank cover. 
Looks just like a
really big boulder! Good to be home....peter
Wonder if he sells one big enough to cover big, rusty trucks?
The islands, famous again: Bob Schwartzberg writes that he and his wife are coming to visit in the next couple of weeks or so, and that the island was used in a photo shoot for a clothing catalogue called Early Winters. I ordered one at 800-458-4438 to see how it turned out.
Meanwhile, Tom Magliery visited here with his friend Lisa about a month ago from Ohio...he works with NCSA (the folks who thought up Mosaic: one of the first web browsers, history buff), so we talk 'puters & web stuff, as you might guess. He made a nice little page about his trip here you can check out.
June 15, 1999
Heat wave: It's been in the eighties the last few days...a real scorcher. Blue skies with wisps of clouds. Maybe summer IS coming. Maybe, as we head to the longest day of the year this weekend.
Is Fred here? Overheard on the ferry on Saturday: As someone on the PA system announced how to unload as we pulled into the harbor, ending with, "This is Friday Harbor," one of our visitors said, "What did he say?" and her friend said, "I think he said his name is Freddy Harper."
Getting crowded in town...remember to drive slow & welcome our visitors.
Close look at the economy: If the ads in the paper and "help wanted" signs on the doors are any indication, there's work around here for the summer...quit sitting around and get down to town.
Grads: The islands' schools held their graduation exercises this weekend, with our contribution being FHHS' activities on Saturday night, and Spring Street School's on Sunday afternoon. The local branch of Skagit Valley College also sent graduates into the world, including FHHS students completing the Running Start program, which gives them two years of college & their last two years of high school, all in just two years.
Wish they'd had that when I was in school...
Spring Street valedictorian Sarah Grace tells me she's heading for Stanford; her folks'll be buying the Internet Café from her. Her sister Cara is also "graduating" to a Running Start-like program in Virginia that will begin her college next fall - she just completed her high school frosh year here at Spring Street.. Bright kids we have around here.
This is Spring Street's first graduating class, with seven kids completing the program.
Controversy at the FHHS festivities, as five kids caught drinking on the senior trip were excluded from walking with their class...they were allowed to attend, however, and were acknowledged by the crowd. Seniors here sign a deal saying they won't do that on the senior trip; it's hoped that the grief of this situation drives home the need for keeping one's word....
Overall, a great evening, honoring a great bunch of kids.
Watch for improvements: They're working on Lime Kiln Park for a few days....you might want to head to South Beach to see if the whales are around.
June 11, 1999
Paul passes: Just heard today that Paul Montgomery died over the weekend in an accident. Paul was known to many when he worked as a clerk at Grffin Bay Bookstore; his wit, thoughtfulness, and incisive intelligence will be missed.
Skatepark to open, totally: Went by the Skatepark last night to check out the celebration of its opening tomorrow (Island Rec board member Bill Cumming says it opens at 3pm today), and some skate boarders were checking it out early, reporting: "It's totally cool." Island Rec sponsored a volunteer appreciation shindig to say thanks to the people who made it happen.
Weather: Looks like warm (70s, maybe low 80s) and sunny this weekend. Maybe it IS summer....
June 10, 1999
Graduation looms: Here on our island, perhaps the biggest thing that happens each year besides the Fair is the high school's graduation - folks from all over the island fill our gym to cheer on our kids to the next step.
The graduates include our four-way valedictorians Shaina, Jennifer, Amber, and Ian, as well as a slew of other great kids. The event: 6pm on Saturday night. See ya there. So will everyone else.
Whale-wise: Elizabeth reports that J pod has been around for the latter part of the spring, but that K & L pods haven't shown up yet. They usually arrive around Memorial Day...
Summer, almost: Is it summer yet? Grey clouds this morning for the third grade's field trip to South Beach...it's been cool lately, but the sun's starting to peek out.
Skatepark: Have you been by the Skatepark at the fairgrounds lately? They're putting the sides on with a deal called "shotcrete" and it's starting to to take onits nearly-finished shape. Jon Roney, who has helped coordinate a bunch of this, was beaming as the concrete was going in.
Med Center upgrades: Joan at the Medical Center tells me they're putting in a new information system/computer this month which will coordinate patient records, billing, treatments, and ultimately, reduce the amount of paper used. It'll do everything but deliver babies....and it's Y2K compliant.
And they're not the only ones: Ray at Friday Harbor Grocery has just put in a new system - his first in nearly ten years - that is ready for Y2K.
June 6, 1999
Island Rec shakeup: After 11 years on the San Juan Island Park & Recreation Board, Chris Nelson announced at Thursday's meeting he was retiring.... his tenure saw the building of Family Park at the Fairgrounds, that dock for fishing at Egg Lake, and the renovation at Sunken Park.
Weekend weather: Although it was windy & a tad chilly yesterday, the sun was out most of the day. Looking pretty nice so far this morning.
It was windy enough for the kayaking companies to cancel trips yesterday - ocean kayaks are one thing, but bobbing in the waves is another. Emily from Crystal Seas said they cancelled, while Priscilla from Outdoor Odysseys said they kept to the calmer waters of Griffin Bay.
Lots going on this weekend....Celebrity Golf Tourney, Studio Tour, usual music in town. Next weekend: Graduation at 6 at the high school...a true community event.
Rules for visitors, reminders for us: Remember when we were having a drought back in the summer of 1994? We got out of it OK because we all chipped in: not watering the courthouse lawn or the football field (games had to be scheduled away), not washing cars, serving bottled water at restaurants, watching showers and flushes to reduce water use, and more.
It worked. We got out of what could have been a really difficult situation by pulling together.
One of the things we did at that time was hand out leaflets to visitors at the Anacortes Ferry explaining we were short of water and explaining what we hoped they would do to help us with the problem.
I've always thought that was a great idea. Since we're not short of water this summer, maybe we could hand out a similar "here's how we do things" pamphlet which notes:
Slow down and enjoy the island. Isn't that the whole point of coming? It's going to take a few minutes to get off the ferry, and you can't go faster than about a mile per hour through town anyway. You don't need to hurry to catch the ferry when you're ready to leave, either...it'll leave when it's ready, anyhow.

In a similar vein, when crossing the street, cars here usually wait for pedestrians, so it can take a while just to get through the few blocks we call town. Don't hurry, be happy.

We don't have fast food here. Better for digestion. Enjoy your meals.

Leave your jetskis at home. They really, really don't fit in here, and they're neither safe for you nor our marine animals; currently, they're also illegal. Catch my drift?

If you bring garbage (or pre-garbage) on to the island, please pack it off when you go. We don't talk about this much 'cause we're trying to be polite, but it's pretty expensive for us to deal with 300,000+ people's leftovers, and there's only 8,000 of us to do it. And, no, we can't flush it out into the sea....

Watch for all those people on bikes, especially on the winding roads of the west side. Bike folks, ride single file so car folks can pass you without making it a near thing.

Don't watch tv while you're here. The sunset (currently around 9:15pm, check here for the updated times) is far more memorable, best seen from anywhere on the west side, and hiking far more interesting. Notice the difference in the greens of the trees, in the flight of the eagle, in the rhythm of the small waves on the beach. Reality surfing: much better than channel surfing, and no commercials.

The most common questions asked by our visitors (this is true) are these: (1) What time do the whales come by? (They don't - it's all a myth perpetrated by The Whale Museum and the thousands of people who have claimed to see them...just kidding - actually, they're here most of the summer, but not on a schedule). (2) What time does the 1:30 ferry leave? (1:30). (3) Usually asked on boat trips and kayak tours - how high above sea level are we? (Not very...that's it, the wet stuff there.)

They also ask if we like living here. Yes, we do.
May 31, 1999
Baseball cops second in state! After winning Friday night 3-2 to progress to the Class A state final, our valiant Wolverines scored two in the top of the seventh to tie, then allowed a run in the bottom of the inning to lose 7-6. Good enough to bring home the second place hardware & a lot of pride to the island. Coach Rich Warin says he's proud of the boys, and that they were pretty excited to come so close.
Loaded with frosh & sophs...wait'll next year!
Saturday to the market: Nice start for Saturday's Farmers' Market, which got underway this weekend. Where the food is fresh & the livin' is easy...runs till the fall, every Saturday morning, featuring produce & food from all around here - set up in the Theatre parking lot next to the courthouse.
One more place that the community comes together.
Folklife features local heroes: If you heard the familiar sound of marimbas & drums in Seattle this weekend at the Northwest Folklife Festival, that was Penga...besides playing side sets, they also were the featured preformers at 11am on one of the big stages on Saturday. Music man Kirk Fuhmeister was there to help with the weekend's instrument auction, and Steve Dyer was seen jamming on the lawn as well.
May 27, 1999
Was the weather great last weekend, or what?!?!! In the 80s both days, lots of visitors on the island, and time to work in the garden. Feels like summer. This week, too. Get outside & play.
Baseball heads for Spokane: Coach Rich Warin says the FHHS boys aren't overconfident as they head for Spokane for their state Final Four action tomorrow night. If they win tomorrow, they'll play Saturday for the state championship on Saturday.
Flower power: Did you know Pat's retiring at San Juan Florist? She turning over the reins (or stems) to Julie & Lisa - you know them as the sisters from the Little Store. Passing of the torch is set for mid-June.
Unrelated thought: Reminds me of when the Power Rangers were a big deal...we told our impressionable kids it wasn't Power Rangers, it was Flower Arrangers.
That, of course, made them stop kicking at each other....and they took to the garden.
Whales on the loose: A humpback was reported in the harbor last week...that is VERY unusual, of course...also, a new "mixed breed" of Dall's porpoise has been identified out in the Strait.
Artists Open Studio: It's possible we have more art per square inch on this island than any place. Janet & Walter wrote to let you know:
Hello Ian - Just checking out all your pages etc. 
and the news page you do also on the islands. We would all 
appreicate it if you would include the
eighth annual Artists' Studio Open House. 
Details:
Sat. June 5 10 am to 5 pm
Sun. June 6 12 noon to 5 pm

Nine artists invite you to share their private spaces and their 
personal vision. Maps available at the Library or call Paula West 
378-2391 for 
more information.
Artists are San Juan Silk -  Mary Sly, Sculpture - Paul Herbert, 
hand thrown porcelain - Paula West, Jill Trear Designs Studio, 
sculpted wood turnings - 
Walter and Janet Koertge, sculpture - Tom Pemberton, serigraphs - Nancy 
and Lewis Spaulding, Allison Johnston - painter, and 
Michelle Shober - watercolorist.
Calling the class of '74: Got this note from Mike Carter, looking for friends:

If you happen to hear anything about a reunion for the class of '74
happening this year could you please let me know? I didn't see anything
on the san-juan.net pages (but might have missed it). 
You might try (if they are still on island) Jim Schuman, Steve Buck or
Pat Nash.
Talk to the animals: Jim Nollman just updated his Interspeces Communications web site, which is hosted in Helsinki. Check it out!
May 22, 1999
Baseball makes the Final Four: Friday Harbor High hits the bigtime, as the Wolverines beat Adna 2-1 last night to earn a trip to Spokane next Friday & Saturday for the state Class A semis & finals. Pierre from the Sounder (who came back from the game on the late ferry last night) reports "Only four teams in the state are still playing, and Friday Harbor is one of them! Pretty exciting stuff!"
I'd say so....
Umpires convention: Who were all those guys with blue blazers & ties walking around downtown this afternoon?
Coats & ties on a sunny afternoon - shoot, the only folks who regularly wear ties around here are lawyers, people going to trial (we have a dress code), and off-island sales people who don't get it.
So I asked one of 'em (it WAS nearly 80 degrees - heat wave) and he laughed & said, "We look like a bunch of umpires, don't we?" Turns out there was a Masonic ritual out at McMillan's mausoleum (here's the history & here's a picture of the place.)
Blackout: Friday morning (from after midnight till before 5am) our electric company (OPALCO) turned out the lights so they could work on the system, which they do regularly to keep everything working real fine (anybody who complains about it is probably going to move off-island, anyway)....they're always real good about letting everyone know it's gonna happen, then evrybody forgets & is late to work anyway. Better than Daylight Savings Time.
Meanwhile, the lights are out in Belgrade as the US knocked the power out there. Gotta stop the killing...the people are the ones coming out on the short end of this one.
On the other side of the world: Famous FHHS social studies teacher Jim McNairy reports from the Philippines:
The Philippines is great! We've been here 3 weeks and have been 
blown away by the magnificent mountain scenery 
and extremely friendly people. From the first 
day we got here we've kept meeting people who 
have gone out of their way to befriend us and 
make us feel at home. The Filipinos are much more 
outgoing and friendly than Thais, who are quiet and 
reserved for the most part.
Jim and his family are due back in the States in time for the Fair in August, which shows he's got his priorities straight.
Hearts & bones: Heard long-time islander & farmer Sam Pope's got a rare bone marrow disease that's likely to be fatal if he can't find a donor...check with the local Soroptomists if you'd like to help. Good luck, Sam.
Soap as art: Have you seen the Dreamweaver soaps? Why not? Order 'em online...made right here.
Another angle: Roche Harbor is hosting a camera that points in several directions, posted by the KING 5-TV people. The camera, which you can see online & is updated every five minutes, joins the IslandCam camera that looks out over the harbor.
Sunny day, last time I looked.
Island goes national: As reported here, the island has been getting good press in several national mags of late. Art Lumkes of White Whale Tours tells me he took some photogs & writers from National Geographic around the other day. They're working us into an upcoming article...
Meanwhile, Angela Morrison reports:
I just received my June/July 1999 issue of Family 
Fun, a national magazine for families.  Starting on page 
56 is a 17 page article titled, "1999 Family-Friendly 
Travel Awards".  They divided the country into
five regions and in the Northwest region, beaches catagory, 
San Juan Islands, WA was rated #1 (followed by Cannon Beach, 
OR, Seaside, OR, Lincoln City, OR, Long Beach, WA, and Ocean Shores, WA).  
They show a photo similar to the one you used in UPDATE on May 6th.

In addition to a paragraph about the Islands, the article includes a
pull-out map and San Juan Islands.
Holiday looms: One of the great community get togethers around here (besides the Fair in August) is the Fourth of July...and a great time is had by all.
County Commish Darcie Nielsen grew up here (heck, she was BORN in the county offices behind the post office - used to be the medical center) and remembers the way it used to be for Memorial Day.
I would like to invite the youth of San Juan Island to 
join me in participating in the May 31 Memorial Day parade 
at noon down Spring Street.  When I was a child growing up 
in Friday Harbor the Memorial Day parade was a big event for 
local children. It was a special time to remember and honor 
relatives and fellow islanders who had served our country in 
World Wars I and II, Korea, and Vietnam. Island children 
would follow the American Legion procession down Spring Street 
with arms full of flowers.

Following the memorial ceremony the children would throw the 
flowers into the water at the foot of Spring Street in memory of all 
those lost at war. The water was full of flowers and it was a 
beautiful way to honor our lost loved ones.The tradition seems to 
have disappeared over the years and I am trying again this year to 
revive it.

Most of today's youth are probably removed by one or two generations 
from family and friends who may have served our country in the past. 
However, the distance from the past should not negate the need to 
remember the consequences of the past i.e. people die as a result of war 
and armed conflict. Memorial Day events are one way to remind us that in 
real life war and violence are deadly.  The events in Kosovo and 
Littleton are very real and tragic reminders 
of what happens when violence erupts.

I think this unique Memorial Day island tradition is worth reviving.
Please join me at the end of the parade with flowers in memory and honor 
of all those lost as a result of war and violence.
May 18, 1999
Days of miracles & wonder: Reports from down sound of the Makah killing a gray whale have brought expressions of disbelief, outrage, and sadness from almost anyone I've talked to in the last couple of days...the CNN story and the Reuters version try and stay neutral about it, even leaning into making it sound like a good idea of sorts with the Makah returning to their tradition...
Elizabeth's Notes From The Field report decries the killing, details the slaughter, and suggests ways to change the way we do things.
The whole business begs the question: What does this tell us about us?
J-Pod on the prowl: Wandered over to the west side of the island yesterday evening to get away from the news, and to hang out with the whales...they came along for a while. Good to see them, again.
Back in action: Saw Ruben Woodruff over at the baseball field today...he's been resting after his heart attack last week, and he's looking good.
History is doomed to repeat itself:
Review the Update from April 8, 1999 - May 17, 1999
Review the Update from February 26, 1999 - April 8, 1999
Review the Update from January 3, 1998 - February 26, 1999
Review the Update from November 1, 1998 - January 3, 1998
Review the Update from August 31, 1998 - October 31, 1998
Review the Update from July 2, 1998 - August 30, 1998
Review the Update from May 25, 1998 - July 2, 1998
Review the Update from April 3 - May 25, 1998
Review the Update from January 22, 1998 to April 3, 1998.

Review the Update from November 24, 1997 to January 22, 1998.

---
The information here is simply stuff we here at By Design think is important around Friday Harbor or on the Island. Some of it's news, some of it's old news, and all are just things we wanted to mention, with most of it about the things that make living here great.
There will be more next week, if anything happens.

Ian Byington
bydesign@byd.com
To comment, feel free to add to our guestbook, or view it.
Other places with info about the island:
Everything. Simply everything about the island.
Pretty complete site about the island.
The Journal's Site
Includes news and classifieds!
IslandCam
The camera's pointed at Roche Harbor and Friday Harbor.
Updated every five minutes.
---
Return to the Web Directory....
This site prepared by our friends at By Design in Friday Harbor.
The information contained here is
©Copyright 1998, 1999 - By Design, Friday Harbor.
Unauthorized reuse of the content of these pages is prohibited;
links to other sites is intended to be to the benefit of those sites,
and for the edification of our readers,
and does not constitute endorsement or
agreement with views expressed there.