December 17, 2007
Wolverines are for real this year....
It was hard to tell what we really have in our boys basketball team this year - a nice season-opener win over the visiting Australians & a 60-something to less than 20 win over Orcas suggests we have something going on. But Friday night's win over a huge Seattle Academy team sent FHHS pouring onto the floor after the final buzzer, creating a new generation of true believers.
You get the idea of the size difference as their best scorer puts one up over one of our big guys, Parker Lawson (right)...but basketball results are often determined by two body parts - feet & heart. Our guys were moving their feet well on defense in the fourth quarter, holding the visitors to four points in the crucial last four minutes. And they played with heart in the last two minutes, looking for a way to win, full speed.
As you can see in the photo we had closed the gap to a one point game (we were behind by 8 with five to go) with a minute on the clock, and worked the ball down for the final thirty seconds, only to miss our shot with four seconds. The rebound was scooped up by senior marksman Tommy Fowler, who calmly buried the five-footer from the baseline as time ran out for the Wolverines' 57-56 win, in what was easily the most exciting varsity game in years.
The boys travel to Concrete Tuesday & Coupeville on Friday this week before the Christmas break.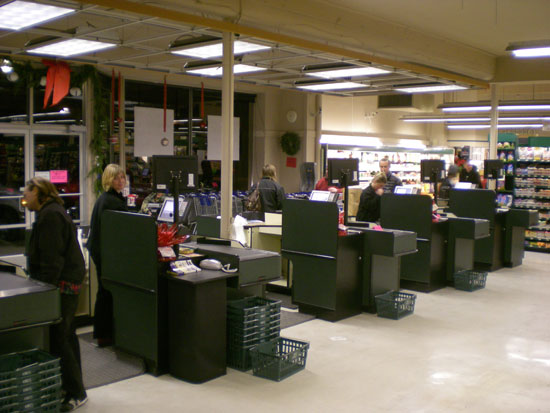 There's more room for islanders to queue up at the new checkout stands at the
front of King's Market. The new checkout arrangement allows to cashiers
ring up your groceries faster, as well.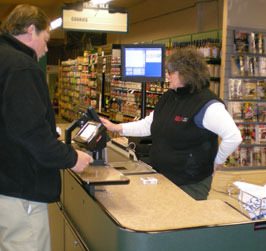 The remodel at King's Market continues....
The new cashier stands at King's are getting rave reviews from the cashiers & customers for ease of use and comfort & efficiency.
Molly Hogan (right) tells me she likes 'em, and the other checkers I've seen since things were changed over last Tuesday night tell me they like 'em a lot.
Great singers!
The San Juan Singers concerts this weekend were awesome...director Angel Michaels wove together a rich tapestry of beautiful music that completely set the tone for the season. This group is truly one of this island's treasures.
Windy & windier....
As windy as it was last night, it's supposed to keep gusting through the week, according to a friend of mine who also had guaranteed it would snow last week on Thursday, which it almost did, but didn't.
Let's see how it goes, and meanwhile...make sure everything's tied down.
Quote
The incestuous relationship between government and big business thrives in the dark.
Jack Anderson
---
December 14, 2007
A quieter, gentler weekend....
From what I hear, it appears a lot of folks are doing their holiday parties at home this weekend, which may free up a little bit of time to actually enjoy the season (hope so!)
We have a week until Solstice, too; school is winding down as the high school has exam week next week, and all the kids get out of classes for winter break on Thursday next week.
Speaking of basketball, sometimes the schedules get a bit balled up with what feels like an imbalance - as it happens, the girls at FHHS don't play a home game in December, and the boys play only one - tonight they welcome Seattle Academy's jv & varsity with the varsity playing at 6pm. See ya there - then see ya at the next one in the new year.
Quote
Advice in old age is foolish; for what can be more absurd than to increase our provisions for the road the nearer we approach to our journey's end.
Marcus Tullius Cicero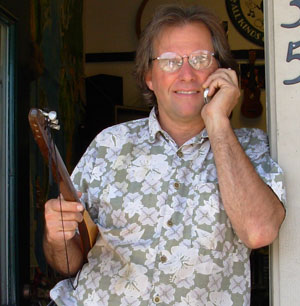 December 13, 2007
Music? Kirk delivers....
You know, I was trying to think what would be a good gift for folks the other day, and it occurred to me that something you might wanna think about is music. Not just a CD you buy for someone, but the gift of learning it. Kirk Fuhrmeister's a good place to start - drop by his store (between Spirit Tree Gifts & Radio Shack) & check out getting lessons for someone. Just an idea.
Meanwhile, his store, Isle be Jammin' Music Store, has new expanded hours: Tuesday - Friday 10am - 5pm, and Saturday 10am to 3ishpm. Tell him I sent ya.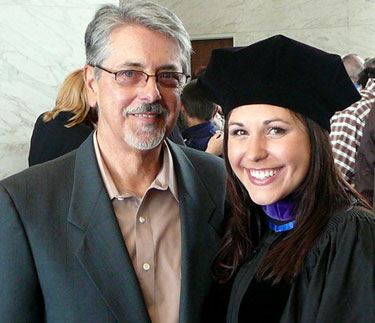 New business around...
Just got this note from Stephanie Picconi about a new venture she & Jack have going, now that they're not doing Lakedale these days ('cause they sold it a few years ago; that's Jack with daughter Cember at university graduation earlier this year) - check 'em out:
Jack and I wanted wish you "Happy Holidays." Our hope is that 2008 will be a wonderful year for you filled with good health and happiness.
We also wanted to tell you about our new travel business called Vagabondo Travel. Please visit our web site at www.vagabondotravel.com. You'll be pleasantly surprised to see that our prices beat Expedia, Travelocity, Orbitz, Kayak, Hotwire, Cheapo Air, Cheap tickets and many more travel sites. If you are considering a trip and would like me to assistance you with your booking please call me at 360-378-3971. Hope you'll check out our site and compare prices.
Our best to you and your family during this holiday season and happy traveling!
Jack & Stephanie

The Christmas Bird Count is this weekend - 108 years of Audubon counts
My friend Barb says she can use a few good watchers:
Circle Saturday, December 15th for the Christmas Bird Count with San Juan Islands Audubon. This is when we crawl over trees, walk along shorelines and stand out in the field counting birds with our neighbors. No, this is really fun. You don't have to be an expert but you do have to have enthusiasm for nature. Join other birders on Orcas, Shaw, Lopez and San Juan Island to do various routes or you can count the birds in your yard or at your feeder. Many routes need better coverage, so call today. For more information and to join call: Barbara Jensen, 378-3068.
Quote
Here is the test to find whether your mission on Earth is finished: if you're alive, it isn't.
Richard Bach
---
December 12, 2007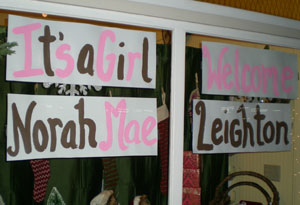 Spelling it out for you....
You can tell Bryan and Carolyn at Sandpebble had their baby (here's their picture from a month or so ago, at the Halloween parade). Even tho' baby Norah Mae was due around the 25th, everyone's healthy & happy, now that she's finally showed up.
End of the game....
It's the last weekend to see Endgame, a play by Samuel Beckett, directed by Ed Strum. The play will run Friday, Saturday and Sunday, December 14th, 15th, and 16th. All performances begin at 7:30pm and will be held at the Benefit Players Theater, corner of Guard and Tucker. As with all performances at BPT, admission is by donation.
The hills are alive with the sound of ....
San Juan Island's community chorus, the San Juan Singers, returns with a new choral director as the group shares the songs of the holidays on Saturday, December 15 at 7:30 pm, and Sunday, December 16, at 2:00 pm.
"Here We Come A-Caroling" includes classical and contemporary songs for the winter season. The program features instrumental and vocal artists, including soloist Corinne Stevens, flautist Pam Stewart, and harpist Mary WillAllen. Pianist Jenepher Reeves accompanies the group. Here's more about the show.
Call 360-378-3210 or go to www.SanJuanCommunityTheatre.org.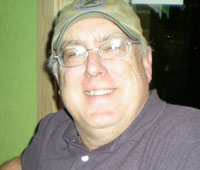 Back for a bit....
Saw oldtime islander Bruce Nelson (right) at Mi Piace last week - he & Denise have been living in Bellingham the last couple of years, but he gets called over here every so often for his electrical expertise.
Women's Award deadline looms....
Did you know about this? It's a tight deadline - the stuff's due on Saturday - but if you qualify, it'd be cool if you got it. Stephanie Buffum Field has more:
Women who serve as the primary wage earners for their families and seek financial assistance to go back to school can now obtain applications for the Women's Opportunity Awards, Soroptimist International of the San Juans major service project.
Application forms (which include information about the award) are available from Stephanie Buffum Field at 472-0404 or stephanie@sanjuans.org and are due by December 15.
The Soroptimist Women s Opportunity Awards program has provided women who serve as the primary wage earners for their families with the financial resources to offset costs associated with their efforts to attain higher education or additional skills and training. The award can be used for tuition, books, childcare, carfare or any other education-related expense. Soroptimists will provide a $1,000 cash grant to its award recipient, who will then advance to the Soroptimist Regional level, where one recipient will receive $5,000. The program culminates with three finalist $10,000 awards.
Soroptimist is a volunteer organization for business and professional women dedicated to improving the lives of women and girls, in local communities and throughout the world.

Quote
The tree which moves some to tears of joy is in the eyes of others only a green thing that stands in the way. - William Blake
---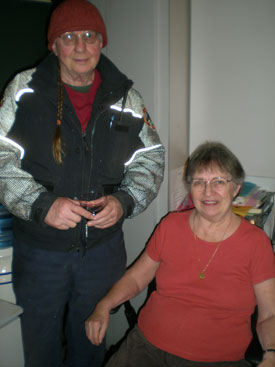 December 11, 2007
Miracle at waterworks....
It was cool to see Connie & Tom Odegard at the artists' opening at waterworks last Saturday. Connie was looking good & full of cheer at the opening, as her miraculous recovery from that car wreck in April (see the April 10, 2007 entry of the Update here) continues.
Way to go, you guys!
All full, ancient mariner...
The Derby's full, already! This is the earliest ever for the February event, but you still have a chance - here's more from Debbie at Roche:
Roche Harbor Salmon Classic has reached its 100 boat entry limit & is Sold Out (!) for the upcoming February 7-10, 2008 Fishing Derby.
Derby Chairperson Debbie Sandwith encourages anglers to get on the waiting list, as each year there are 3-5 cancellations. Current registered anglers have until Jan. 15th to cancel with full refund, so chances are good for a few additional boats to enter & participate in the Derby. (Here's more.)
F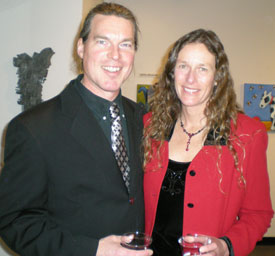 or more information & derby registration packets please contact Debbie Sandwith, Roche Harbor Market, at 360-378-5562 or email at market@rocheharbor.com.
Out on the town....
One of the fun things about Christmas is seeing friends out on the town, and this past weekend was full of that with holiday parties & open houses & such going on...that's Bill & Allison at the waterworks opening, on the way to the Luxel company party.
Still looking for the perfect Christmas present?
Friend of mine once said that the perfect present is one YOU want to play with...I think that's what islander Rick Campbell has going with Precision Hobby Products (here's his good-looking web site, by Tif & Gif).
He has everything you need if you're a remote control aircraft hobbyist - these things are fun! Check 'em out!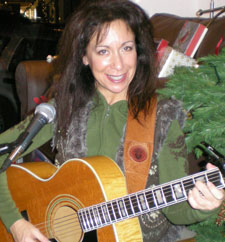 Singing at Griffin Bay Bookstore...
Last week Laura at the bookstore invited Devorah (right) to sing on Thursday night & to offer her CDs for sale, which went really well - have you heard her lately? She's sounding really good these days!
So, this Thursday it's my turn, so drop by & sing along & drink coffee with me & pick up your copy of the either the new CD or the last one or the first one...complete your collection, eh. I'll be playing from 6:30-8pm, and would love to see you there! Here's more.
More music next Monday at the BPT....
Sally Browne has her pulse on the finger of the community & its music....here's her report:
Mark your calendars. The Performing Arts Society concert will be held December 17, 2007 at 7:30pm at the Benefit Players Theater, corner of Tucker Avenue and Guard Street. As always, admission to the PAS concert is by your gracious donations. Our wonderful singing community will present a "CELEBRATION OF CAROLES" featuring Sound Vibrations and Island Chordsmen Plus, directed by Angel Michaels.
Come enjoy the sounds of the winter season with the Island Chordsmen Plus and Sound Vibrations in a CELEBRATION OF CAROLES. These ensembles will present an evening of holiday songs in astounding four-part harmony. At the end of the program, we will offer an opportunity for you and your family to sing in the holiday season with some of your favorite carols.
This concert will increase our funds to help the Banry Family and Brendon McCallum.
Quote
From Albert Gore's acceptance speech at the Nobel Awards, yesterday...this is the part right after he said, "We must act."
It is time to make peace with the planet. We must quickly mobilize our civilization with the urgency and resolve that has previously been seen only when nations mobilized for war. These prior struggles for survival were won when leaders found words at the 11th hour that released a mighty surge of courage, hope and readiness to sacrifice for a protracted and mortal challenge.
These were not comforting and misleading assurances that the threat was not real or imminent; that it would affect others but not ourselves; that ordinary life might be lived even in the presence of extraordinary threat; that Providence could be trusted to do for us what we would not do for ourselves.
No, these were calls to come to the defense of the common future. They were calls upon the courage, generosity and strength of entire peoples, citizens of every class and condition who were ready to stand against the threat once asked to do so. Our enemies in those times calculated that free people would not rise to the challenge; they were, of course, catastrophically wrong.