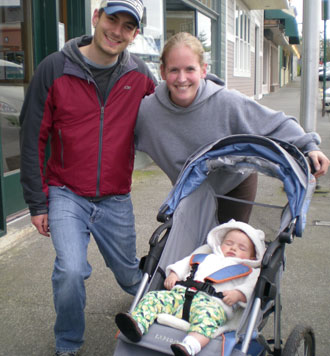 Click here for last week's news
---
May 2, 2008
Bryan & Carolyn Leighton are all smiles with baby Norah Mae, born last December, who apparently can sleep through everything.
Preservation Month is underway...
Last night the Town Council proclaimed the month of May as Town Preservation Month (other places, it's National Preservation Month), and there are a bunch of events related to this on the Historic Friday Harbor website (check their calendar)
Sandy Strelou says the walking tours start tomorrow - here's more:
Historic District Walking Tours: Every Saturday in May, 9:00am-10:00am, the Town of Friday Harbor's Historic Preservation Review Board is giving free, guided walking tours of the downtown historic district. Rain or shine. Space is limited and reservations are required. To register and receive more information, go to www.historicfridayharbor.org or call 360.378.2810 during regular business hours.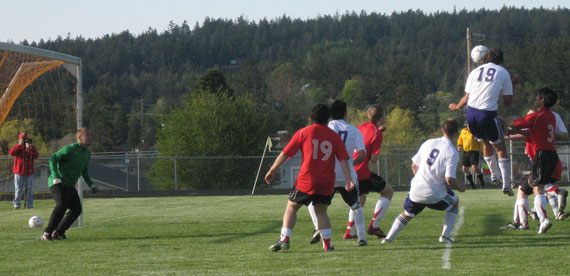 Junior midfielder Pablo Lopez heads Erik Nash's cross from the right wing into the goal for FHHS' tying score with eight minutes left, forcing overtime with King's before losing 2-1. The Wolverines play at 11am tomorrow at Mount Vernon High against Lynden Christian for the third seed in our district, and a chance to continue in the playoffs.
More soccer pictures....
FHHS freshman Tanner Buck put together this little gallery of FHHS soccer photos as a class assignment in graphic design class the other day of the team playing Nooksack & Lake Stevens - check it out! Tanner plays for the baseball team, which plays Saturday to begin the playoffs.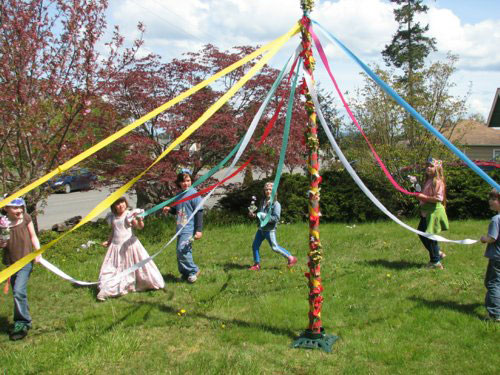 May Day!
Over at Stillpoint School they celebrated with a maypole...here's more from Dori & Kate Sears:
Dear Ian,
The first year at Stillpoint School has been fantastic!! We wanted to share pictures from our May Day celebration yesterday. We had a wonderful time with this new Stillpoint School tradition! We hope you had a great first day of May and enjoyed the afternoon sunshine. Happy May! - Dori & Kate
Dancing with the season....
It was pretty nice last week when Kathy Hagn dropped by my office for something or the other, and her eighth grader Julie (left) practiced her ballet moves outside with her friend Claire while they waited. Pretty graceful on the concrete....
Children's Festival headlines a busy weekend...
There is a lot going on this weekend, but be sure to catch the Children's Festival at the Fairgrounds from 10am to 2pm tomorrow - this nearly two-decade-old event is sponsored by Island Rec and usually has over a thousand people drop by (hey, we only have seven thousand here!)
Drop by & see what all the fun is all about - you'll love it!
Workshop happening at Spirit Tree Gifts...
Kenneth at Spirit Tree tells me there's a special workshop this weekend - here's more:
The Intenders Circle is a way of bringing back cohesiveness to the like-minded, awakened people of San Juan, by creating a community circle of good-will and positive intentions for ourselves and each other. This Sunday from 1 to 4pm I will be hosting Tony Burroughs as he shares his stories of how many communities, just like ours, are creating Intenders Circles and sharing the positive energy of creation and manifestation. I am asking you to please consider becoming a part of this as we could all use as much help as we can get and give. Thank you.
The workshop will promise to be fun and exciting for all. The cost is $35; however scholarships are available if you call me.
For more information visit www.intenders.com.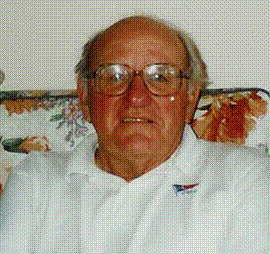 Passing.....
One of the great things about living here is getting to know fascinating people....a few years ago, while waiting for the ferry & catching breakfast at the crowded Blue Dolphin, a man & his wife asked if they could sit at the open two chairs at the table my two sons & I shared.
We said sure, and within the next half hour he took us back to the 80s with stories of South Africa in that incredible time of change. The man was islander Ramsey Milne, who had covered the Johannesburg/New York beat for 18 years and received awards for his writing. He was also (we discovered) the father of Felicity, who opened & ran Felicitations Bakery till '03, before moving to her present spot on Orcas.
He passed away this week, and there will be a service for him at St. David's tomorrow...here's more about a great islander who put himself in the middle of great events...he'll be missed.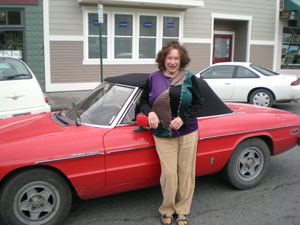 New car....
I saw Mary Doerflein driving around in a sporty red Alfa Romeo last week, so I asked her to pose with it (that's the nearly re-constructed Haley's behind her...). Pretty sporty, Mary!
Check, mate....
Hey, the chess club is over at the Library tomorrow at two....go see how much fun it can be, and if I make it, see how easy it is to beat me (I always forget to protect my queen).
See ya there!
And...the Music Man opens, kinda....
They call it a preview, but you better make time for it, 'cause the tix are going fast - this weekend it's the preview of the Music Man (Saturday night), with the official opening next week at the Community Theatre...check the details on the Community Calendar.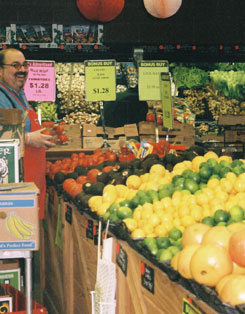 Local color...
Kay Kohler sent me a few pictures like the one on the right to remind us how colorful the produce department at Marketplace can be, most days....pretty cool. Thanks, Kay!
Now the buses are running....
Dan Ward tells me: San Juan Transit, Tours and Charters is starting its 15th year on weekends May 3, 4, 10, 11 and daily starting May 17th.
Fares are $5.00 one-way or $15.00 for a transit day-pass. We have a lodging special for a two-day transit pass for $20.00 each! Commuter / Frequent User Pass for $50.00 ($40.00 for Chamber members) for twenty rides.
Our office in Cannery Landing has schedules for off-island transit options, passenger boats & airline schedules to/from Friday Harbor and BC ferries schedules too! Call at 378-8887 or see our website: www.sanjuantransit.com

Quote
Well, it's not really a quote, more like a little, cool story about the way we can work together, even when we play against each other. Check out this little story from the news that you'll like, even if you don't much care for sports:
---
May 1, 2008
Hey - it's National Bike Month!
Get out there on your two-wheeler - here's a bit from Tracy Roberson:
Hi Ian,
With all this great weather, oh, and gas at $4/gallon, I just wanted to let you know that May is National Bike month. May 16 is Bike to Work Day. See the following link for more info. Maybe you can help spread the word!
Thanks,
Tracy

Come see our budding artists....
Victoria Compton's back on-island, helping Westcott Bay - she wanted yyou to know about this show, opening tomorrow:
Westcott Bay Institute and the Islands Museum of Art are pleased to announce the 6th Annual Youth Art Exhibit. This group exhibit features the artwork elementary, middle school and high school students. There will be a reception for all participants, their families and the public on May 2, 2008, from 5:00 till 7:00 p.m. Prizes will be awarded at the reception in the following categories: K-2nd, 3rd-5th, 6th-8th and 9th-12th grades, and there will be a People's Choice award presented. This year, the show is curated by Grace Seltser-Kelley.
Westcott Bay Institute thanks the following for their generous support of the 6th Annual Youth Art Exhibit: Cafe Demeter, Compost It, Market Chef, Osito's, San Juan Office Supply, Serendipity the Used Book Place, The Toy Box, and Beth Hetrick & Taylor Bruce.
The exhibit will run through May 14th, 2008. The Islands Museum of Art is located at 314 Spring Street in Friday Harbor, and is open from 11 a.m. till 5 p.m., Tuesday through Saturday. Please call the Museum at 360-370-5050 for more information.
Soccer & baseball begin playoffs....
The FHHS soccer guys play today against King's (they beat Nooksack Valley last night 2-1 to advance to see us) here, and then play, win or lose, on Saturday in Mount Vernon to open the playoffs. Gametime: 4:30pm.
Meanwhile, our #1 baseball team travels to the mainland on Saturday to check their record (unbeaten) against the better teams in the state - they are gonna be fun to watch!
Quote
"We make a living by what we get. We make a life by what we give."
Winston Churchill
---
April 30, 2008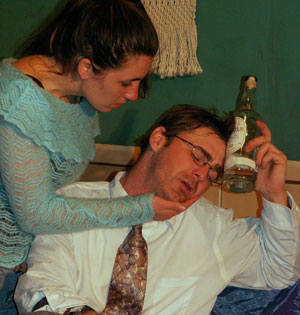 Barefoot in the Park opens tomorrow....
Yvonne from the Benefit Players says rehearsals are going well & it's gonna be a great show - here's the scoop:
The Benefit Players present Neil Simon's best-loved romantic comedy, Barefoot in the Park. Opens May 1, 2008 the play will run weekends until May 18 (May 1, 2, 3, 4; 8, 9, 10, 11; 15, 16, 17 and 18). Sunday performances begin at 5pm while the other nights begin at 7:30pm.
The local cast directed by Ed Strum includes Doug Schirmer as Paul Bratter, Kamala Chambers as Corie Bratter, Yvonne Buijs-Mancuso as Corie's mother, Ethel, and Dorian Oliver as the Bratter's eccentric upstairs neighbor, Victor. Marc Wynn and Ernest Pugh are also in the cast.
The play takes place in a small, quirky 5th floor walk up Greenwich Village apartment. Newlyweds Paul and Corie Bratter contend with a malfunctioning heater, a hole in the roof, and an upstairs neighbor who must go through their flat to reach his apartment - all in the first weeks of marriage.
Paul, a buttoned-down young man is focused on becoming a successful lawyer. Corie is outgoing and romantic. Corie tries to set up her meddling mother, Ethel, with Victor. A hilarious sequence of misunderstandings tests the boundaries of their love.
All performances will take place at the Benefit Players Theatre at the corner of Tucker Avenue and Guard Street. As always, admission is by tax-deductible donation.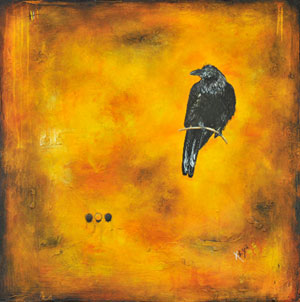 The show opening at waterworks this coming month....
From May 3 - 25 it's Caroline James with mixed media paintings and Matthew Gray Palmer - with abstracted sculpture. Ruth has more:
Caroline James' paintings are abstract in intent. She places recognizable objects, birds, in an abstract field that may provoke a point of recognition or meaning. Caroline James, currently lives on Hornby Island, B.C and has been represented by the gallery for 3 years.
Matthew Gray Palmer, sculptor renown for his amazing ability to capture the detailed essences of an animal is entering the world of abstraction with his recent sculptures. This is Matthew's first show with the gallery and he is a San Juan Island resident.
Hours in May : Wednesday ~ Saturday, 10.00 to 5.30 and Sunday 11.00 to 4.00.
.
Stop by to see all that's new and refreshed
waterworks gallery, established in 1985, represents a group of eclectic contemporary artists who live and work in the Pacific Northwest.
Image: Caroline James, Raven & Ganesha - benevolence , mixed media , 48 x 48
Speaking of good artists with a good eye....
Islander & artist Caroline Buchanan (that's her with her husband Jeffrey) is judging an art show down-state, and in the article in the Olympian about it, she talks about why it's good to see an artist's first work:
"You can be surprised how good an early work can be. Think of how many first novels are the best novels in an author's career. Often there is a truth, an honesty, a passion in an early painting that is comparable to a first novel.
"The question I ask myself is what is an artist trying to say in the means they have chosen to express it."
Quote
People living deeply have no fear of death.
Anais Nin
---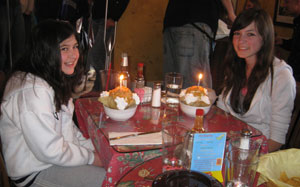 April 29, 2008
Birthday girls....
At Mi Casita on Friday night, the place broke into song for Melanie Cope (11, on the left) and Sierra Dawson (15) who were there with the family for the big day...many happy returns!
Speaking of birthdays....
In early September there will be a new islander as Sam & Allessandra Jacobson have their first child, according to proud grandma-in-waiting Robin Jacobson.
Speaking of proud...

It's something to be proud of - Yvonne Swanberg told me that the Governor had ordered three cases from San Juan Vineyards...pretty cool! By the way, SJV has a new releases party coming up on the 10th...here's more on their website.
Baseball - still #1!
The Wolverines (15-0) are on top in this week's poll - here's the deal.
Movie maven from the island gets recognized....
It was great to hear that islander Margaret Longley was named to receive recognition for her work with her brother James, helping with his Oscar-nominated "Iraq in Fragments," and now working on a film about homelessness. Here's more from Peggy Sue's blog...
Something the ferry folks are doing to help out - a good move.....
I had heard about this, and am happy to report that the ferry folks are going to help out with encouraging folks to walk-on on the Fourth of July weekend...here's more from the Vistors' Bureau's Deborah Hopkins:
As most of you are aware, the Sealth will be in service over the 4th of July weekend, which carries approximately 50 cars less per sailing. Since this is our busiest weekend of the year, the Ferry Advisory Committee (FAC) has been talking with WSF regarding a solution. WSF has agreed to provide free parking for walk-ons at the Anacortes terminal over the dates of July 3-7.
New folks at the Visitors' Bureau...
If you call the VB & hear a familiar "Girl Friday"-sounding voice, or a easy-going Southern voice-with-a smile, it's because they hired Bettye Hendrickson and Tanya Marracci...here's a bit more about them, from Robin:
Bettye is our new, half-time, morning Visitor & Membership Services Coordinator. She will be answering phones and emails regarding visitor information, working with members re: membership benefits, and working on projects including monthly statistics, mailings, listings in our Wedding Guide & Visitors Guide, etc. She also owns Boardwalk Bookstore in Friday Harbor, a SJIVB member.
Tanya is our new, full-time Marketing Assistant. She will assist Robin and I during the mornings (this is a new "half-time" position, due to an increase in our funding this year), and during the afternoons she will answer visitor phone calls and emails, as well as keep our website up to date with member packages & specials, festivals & events, news, etc. Tanya previously worked for member Harbor Insurance Agency, and was the former owner of Girl Friday in Friday Harbor.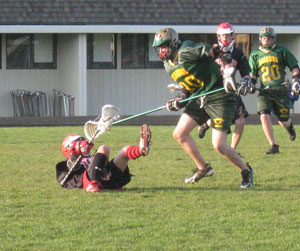 Lacrosse Dragons are on a roll....
And you could feel it, as they rolled up a 12-2 victory over Stanwood on Friday, which left most of the team smiling. Coach Rob Cuomo tells me tonight's 5:30 home game is the last home game, as the Dragons head to playoff action next week with a probable tie for the top spot in league.
See ya there!
Speaking of film makers....
Gerard Woldtvedt wrote to tell me that his wife Karen has submitted an ad to a contest online - here's more:
Local videographer, Karen Woldtvedt, has created a 30 second Obama ad for a nationwide contest sponsored by MoveOn.org. In addition to rising to a challenge from some fervent Obama fans, Woldtvedt, a Clinton supporter, undertook the production out of her respect for the idealism that Obama has inspired in so many. She adds that it is also "a way of preparing myself to become a committed supporter of Obama as soon as he becomes the nominee, if that is indeed what will happen." Limited in ad length to less than 30 seconds, she has tried to include footage of people from various backgrounds and ages, "all who desire to see Obama as our next President."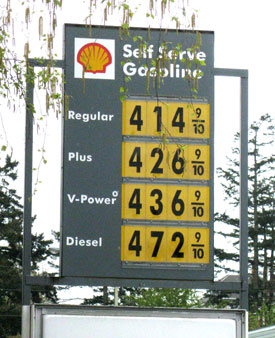 More than 40 islanders and a couple of San Juan Island bald eagles appear in the ad, "A Shared Vision,"on moveon.org, where all of the ads will be available for viewing and rating by the public during April 21-27. Here's the spot.
Gas prices keep rising....
The island continues to be one of the most expensive places in the USA to buy gas, as this sign from the Big Store attests, taken on Sunday.
Meanwhile, in Canada, they popped over the $5/gallon mark as prices were about $1.26/litre over the weekend (there's about four litres in a gallon, roughly.)
I went to Vancouver Island a couple of weeks ago, and it's the first time I've ever filled my tank here before going off-island. Usually people here fill it on the other side....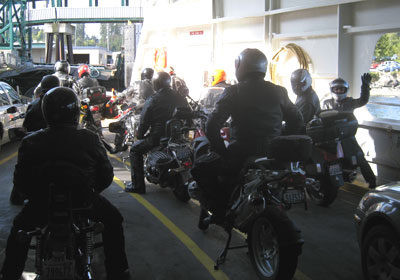 I don't want a pickle...
All I want's my motorcycle....that's a mob of islanders getting off-island on Saturday, with Marilyn O'Conner waving to us.
Here's Arlo's Motorcycle Song, both early and late. It'll put ya in the mood - listen to the whole story.
Hear ye, hear ye - open house this Thursday....
It's the Island Hearing Healthcare Open House from 5-7pm at 545 Spring Street. Snacks and refreshments will be provided as well as information on what Dr. Stacie Baisch, Au.D. and Island Hearing has to offer. For more information, please visit www.islandhearing.net or call 378-2330.
Also participating in the Open House are San Juan Holistic Healthcare, Centergy, and
Lavendera Day Spa.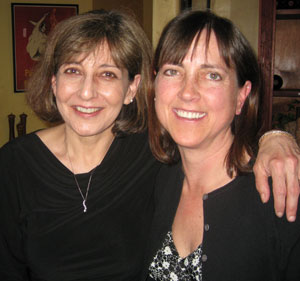 Check out Vinny's....
You always wonder what's gonna happen when a well-established, well-regarded business changes hands, and as far as I can tell, Vinny's has stayed the course since Becki Day (left) and Julie Strang bought the place earlier this year. I dropped by their open house/grand re-opening last night for good food, good company, and definitely making plans to go back there to eat sometime soon. Try it - you'll see.
Quote
If they want peace, nations should avoid the pin-pricks that precede cannon shots.
Napoleon Bonaparte
---
April 28, 2008
Soccer rocks, heads to playoffs...
The Wolverines traveled to Lake Stevens Saturday and pulled it all together with a 6-1 victory to end the regular season. That's senior defender Daniel English heading the ball away in the Wolverines' goalmouth.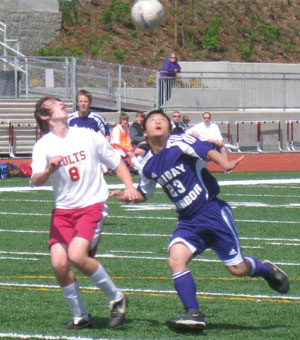 The Colts scored early, but FHHS responded with two goals to make it 2-1 at the half, then opened up the final margin in the second half. We got goals from Erik Nash (3), Louis Paul (2), and Grant Schwinge on a sunny afternoon that sets up this Thursday's game with King's here, to open the playoffs.
It's hard to not to feel optimistic - this is a team on the rise.
Budget meetings & a chance for input....
Michael Soltman and the school district (and you & I) face incredible budget shortfalls this coming year - they HAVE reduced the shortfall projection from $820K to under $600 - but very difficult decisions lie ahead. Today our state representatives are here at 3pm at the middle school to review the situation, and there are meetings you can attend for both information and to give input.
This is the time for that, not after decisions are made & there's no way back. Also, this is the time we all pull together, which includes, almost certainly, having to start the next school year without the entire picture we've grown used to - people are doing the best they can. Be part of the solution...here's the schedule:
The Board of Directors of the San Juan Island School District will be attending the following public meetings to discuss budget planning for the 2008-09 school year. Board members will attend and listen to information presented and comments, however, no formal action will be taken by the board. Three meetings are planned:

Community Meeting – Monday, April, 28, 2008, 3:00 – 4:30 p.m., Middle School Commons
Agenda: Representatives Dave Quall and Jeff Morris regarding the 2008 Legislative Session

Faculty and Staff Meeting – Thursday, May 1, 2008, 3:15 p.m., Middle School Commons
Agenda: Consideration/Discussion of possible program/staffing cuts for 2008-09
Community Meeting – Thursday, May 1, 2008, 6:30 – 8:00 p.m., Middle School Commons
Agenda: Consideration/Discussion of possible program/staffing cuts for 2008-09
A special board meeting is also planned at which board members will be taking action relative to program reductions for the 2008-09 school year:
Special Board Meeting – Monday, May 12, 2008, 6:00 – 8:00 p.m., High School Library,
Agenda: Program Reduction Recommendation
Note: The regular school board meeting for April is scheduled for Wednesday, April 30th. On the Agenda will be board discussion of possible program/staffing cuts for 2008-09.
Quote
"New Rule: From now on, Earth Day really must be a year-round thing. And in honor of this Earth Day, starting Monday supermarket clerks must stop putting the big bottle of detergent with a handle on it in a plastic bag. I don't mean to tell you how to do your job, but you see that handle you just lifted the detergent with? I can use that same handle to carry the detergent to my car. And stop putting my liquor in a smaller paper sack before you put it in the big paper sack with my other stuff. What, are you afraid my groceries will think less of me if they see I've been drinking? Trust me, the broccoli doesn't care.
"Americans throw out 100 billion plastic bags a year, and they all take a thousand years to decompose. Your children's children's children's children will never know you, but they'll know you once bought batteries at the 99 cent store because the bag will still be caught in the tree. Except there won't be trees."
Bill Maher, for The Huffington Post:
---
April 25, 2008
A song to start your day....
Here's a song I've always liked by Arlo.....happy Friday to you!
Lacrosse at home
The Dragons play tonight at 5:30pm at home, as well as next Tuesday at 5:30, heading into the playoffs after that! Drop by & see 'em!
---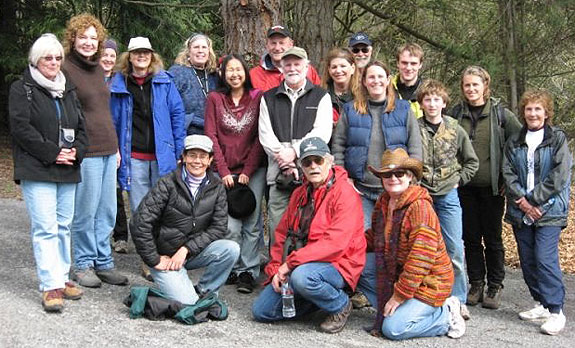 Yesterday, I mentioned the Beach Watchers graduated from the program...this is my chance to introduce them to you, in this nice photo taken by Ruthie Dougherty on Turtleback Mountain (thanks, Shann!)...back row: Shelley Alan, Cheryl Kummer, Martye Green, Monica Kezar, April Ford, Harry Dickinson, Tom Donnelly, Zach Williams, Ulanah McCoy, Shirley Zyph. Middle Row: Kameko Joseph, Rick Exstrom, Raven Sky, Andria Hagstrom, Quinn Freedman. Front row: Shann Weston, Craig Green, Robin Donnelly.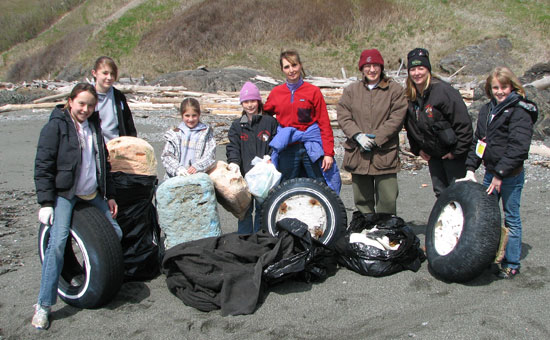 This past weekend, members of 4-H Bits-n-Spurs Club picked up
260 pounds from Granny's and Redoubt Coves
The beaches are cleaner now....
Jana Marks says last weekend's beach cleanup was great...here's more:
'Thank You' for Spring Cleaning our Beaches!
On Sunday, April 20th, in celebration of the 38th Earth Day, 51 volunteers joined sponsors National Parks and Friends of the San Juans and cleaned South Beach, San Juan Island. They picked up 660 pounds of garbage including 9 tire floats, a 10 foot length of large hawser roop, a sand filled TV set, 4 large Styrofoam chunks and bags full of myriads of little pieces of plastic and Styrofoam, food wrappers, cigarette butts and lighters, clothes, bits of rope, netting, shotgun shells, etc.
While the majority of the volunteers stuck to the main beach area, 21 members of the Bits-n-Spurs 4-H club ventured into the more difficult to access Granny's and Redoubt coves to the west where cleanups rarely happen. In addition to individuals around the county adopting their favorite beaches, the Soroptimists cleaned Jackson's Beach – a service they do every three months, the Shaw Is. School cleaned South Beach, Shaw Island, and Nick Teaque of BLM assembled volunteers for several south Lopez Island beach areas.
Throughout the county, individuals and groups, consistently commit themselves to cleaning up our counties beaches and roads. What is striking, however, is that this effort could be repeated every month and we would always have something to pickup. So, in addition to litter pickups, what other solutions can we come up with to eliminate our litter problem? I think about our responsibility as citizens to manage ourselves within our communities well, including managing our garbage. It takes a consciousness to not just drop that cigarette butt on the ground or let our wrappers blow away in the breeze, a caring. Please, let everyone become a partner in keeping the San Juans Islands clean, beautiful and healthy for all living things. Let's "Imagine No Litter" together.
Join community in action! For information on beach cleanups contact Jana of Friends of the San Juans at 378-2319, or for road cleanups contact Lori of the Anti-Litter Initiative at 378-4643.

Thanks again! Jana Marks, Friends of the San Juans
Soccer rocks, nearly gets it......
The Wolverines nearly knocked 'em off...they went to play Anacortes and were behind 2-0 before Erik Nash scored two to tie it up. A draw would have been cool, but the Seahawks slipped one in with ten seconds on the clock to win, 3-2. It was a moral victory of sorts, playing even with the 2A Seahawks (we're 1A, ya know), and bodes well for next week's playoff game, currently set for Thursday here.
Quote
The problem with writing about religion is that you run the risk of offending sincerely religious people, and then they come after you with machetes.
Dave Barry
---
April 24, 2008
Retiring....
Pat Mayo announced his retirement last night at the Port Commission meeting...he's been airport manager for the Port of Friday Harbor, winning awards for his well-run operation and smiling the whole while. He'll sure be missed....
Guide to hiring women....
You know Kimberly Ann who sings on my last album on You Are Love? She sent me this newspaper clipping with advice for hiring women...in 1943. Check it out. Glad things have changed, mostly.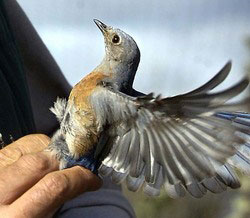 How is the Western bluebird (right) relocation project coming along?
Nicely, thank you, according to this article. There have been nestlings identified here, and that's a good start.
NPOs - the workshop you need!
Bob Schwartzberg is one of the most gifted teachers of fundraising & non-profit management around - I know, because so many people tell how cool it is when they take his workshops. They get so much out of it - his next one is May 1st in Mt. Vernon - and it's worth the trip. Here's the details.
Beach watchers' graduation....
WSU Beach Watchers finish up - Shann Weston has the scoop:
The third class of San Juan County/WSU Beach Watchers graduates April 24th after attending nearly 100 hours of classroom training and field experience about the San Juan County marine and watershed environment.
The new class of Beach Watchers included 10 members from Orcas Island, 2 from Lopez and 9 from San Juan Island. Extension Director Tom Schultz and Program Coordinator Shann Weston addressed the graduating class and handed out Graduation Certificates to the new WSU Beach Watcher Volunteers.
Says Weston, "I have been honored to coordinate Beach Watchers' Training for these special volunteers. Many instructors have contributed to make this experience informative and valuable. The Beach Watchers now have an opportunity to give back to their community with service hours."
The new 2008 WSU Beach Watcher Volunteers are:
From Orcas Island: Keston Blaustein, Ulanah McCoy, Edrie Vinson, Mairi Stagg, Andria Hagstrom, Quinn Hagstrom, Cheryl Kummer, Raven Sky/Dawna Zimbalist, Monica Kezar, Kameko Joseph
From Lopez Island: Beveley Zapalac, Jim Patton
From San Juan Island: Rick Exstrom, Harry Dickinson, Martha Dickinson, Shirley Zyph, Shelley Alan, Craig Green, Martye Green, April Ford, Zack Williams.
For more information about the WSU Beach Watchers program, contact Program Coordinator Shann Weston at 370-7666.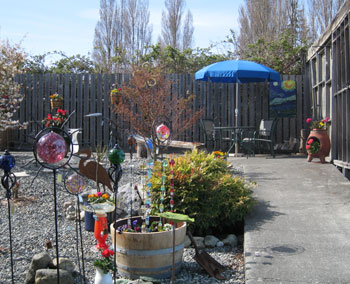 Next time you swing by Island Studios, check out the nice art garden all set up in the back - and you can eat there, too! It looked nice in last Sunday's sun...
Air ambulance equipment gets an upgrade....
Alan over at the EMS tells me how:
San Juan Island EMS EMTs will now be able to more effectively monitor the vital signs of patients who are being flown to the mainland. The EMTs will use the recently acquired Propaq LT monitor and sensor-based stethoscope on all Island Air Ambulance flights. This specially designed and improved equipment provides accurate measurements, even when there is noise and vibration in the aircraft.
The equipment was purchased using generous donations from several San Juan Islanders provided through the San Juan Island Community Foundation and from the Foundation's general endowment fund.
Island Air Ambulance is a healthcare partnership of San Juan Island EMS and Island Air Inc.
San Juan Island EMS is the tax supported, county EMS agency serving the residents and visitors of San Juan Island, Town of Friday Harbor, Brown Island, Stuart Island, Johns Island, Speiden Island, Pearl Island and Henry Island in San Juan County, Washington. It provides emergency medical services, critical care transport, and injury and accident prevention. The staff of career paramedics and volunteer EMTs is available twenty-four hour a day.
Island Air Inc. is a safety award winning, charter company that has provided on-demand flight services throughout the San Juan Islands, Pacific Northwest, and British Columbia since 1992. It currently operates a fleet of five Cessna aircraft and has a staff of eight veteran pilots who have a combined experience of more than 75,000 accident-free flight hours.
Fundraiser for Matt Johnson scheduled....
Diane Hall tells me this will be a fun get-together to help Matt, a '92 FHHS who I believe most of the island knows:
A very "fun" evening of support for Matt and Jackie Johnson to assist with Matt's bone marrow transplant is happening Saturday, May 17, 6pm -10pm. at the fairground building featuring a salmon dinner, live music and auction. Auction items and donations are still being accepted at Islanders Insurance, 545 Spring St. Contact: Nancy Jones, 378-5467, Dianne Hall, 298-0637 or Jane Gerhardstein, 378-4321.
Presented by friends of the Johnson and King families: Kerwin, Margaret, Ben and Vanessa Johnson, Rick and Karen King, Greg and Natalie King, and Steve and Kelli King and Family.
Checks payable to 'Matt Johnson Family Benefit Fund" at Wells Fargo Bank.