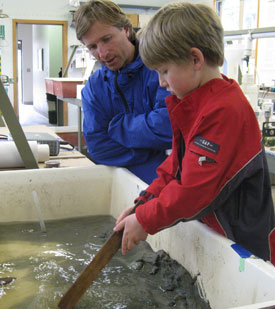 Click here for last week's news...
---
May 16, 2008
Open House at the Friday Harbor Marine Labs last Saturday was a blast (right). There were ooey & gooey things to see, touch, and learn about, and it's always cool to see what the graduate students from the University of Washington are doing there.
How IS that dog park coming along?
I knew you'd be wondering about the off-leash dog park that's planned to be located next to Browne's Home Center, so I went & got the word from Lori Stokes.
Click here for the details & their hope to open it by this summer - and, dear dog-lover, to see how you can help.
Half-mast...
The flags around town were at half-mast for Peace Officer Memorial Day, yesterday.
The Marathon needs help!

The San Juan Island Marathon is on the first of June this year, and they need a bit of assistance - here's more from Heather Hankins
*Hi Ian! Don't know if you know this or not but the San Juan Island Marathon and half marathon is on June 1 and volunteers are needed to help person aid stations and to do traffic control. If you or anyone you know would be interested in helping, please contact Jane Hutchison of the San Juan Island Fitness Club at 472-0268.
Thanks so much,
Heather
Potluck!
Kathy tells me it's next Monday:
You're invited to Grace Girls' Annual All-Family Potluck! It's Monday, May 19, 5:30 pm, at the Paidea School. Bring your family and your favorite food to share, play fun games and have opportunity to get to know each other! The main-dish will be provided. Please bring a side dish and/or dessert to share! A good time will be had by all! This is our last Grace Girls 'till next year. Questions? Call Miss Kathy - 378-1197.
Start making a plan...
My friend Shannon always has good ideas - she told me there are 50 ways you can easily help lower our impact (and YOUR impact) on the planet. Read here for more.
Don't miss the camp.....
Islanders have been taking dance lessons & going to Bill & Rita's Suumer Creative Arts Camp for ages, and they're on again this summer! Here's a quick note from Island Rec to help you sign up:
By now San Juan Island residents should have received Island Rec's 20-page summer recreation program guide in the mail. There is a great picture of a young archer on the front cover and the Children's Festival poster is the back.
On page 18 there are several ads. Regretfully the dates listed for Bill & Rita Ament's Summer Creative Arts Day Camp are wrong. The correct dates for their camps are July 7-10; July 14-17; July 21-24 and August 4-7.
This summer is the 23rd year for the Ament's camp. You can find more information about their Summer Creative Arts Day Camp by calling 378-9628 or by visiting www.amentsummercamp.com
Sally Thomsen, Recreation Director
Island Rec
Quote
Guess I've been thinking about forgiveness a lot lately, so today I'd offer this little bit to read (which is pretty good), and this note from Nelson Mandela:
"Hating someone is drinking poison and expecting the other person to die from it."
A movie for you....
This little 9 minute film has my friend Martin in it, and is a great way to start your day, if you've seen both Shakespeare in Love AND Star Wars....
---
May 15, 2008
sanjuanislandsTV.com goes live!
Take a peek at their website to see videos from around the islands, including this one from the Theatre, inviting you to this last weekend of The Music Man:
Quote
I would not know how I am supposed to feel about many stories if not for the fact that the TV news personalities make sad faces for sad stories and happy faces for happy stories.
Dave Barry
---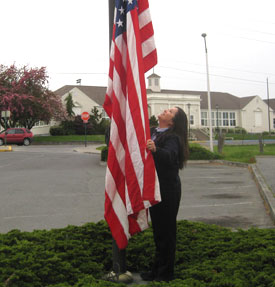 May 14, 2008
Rise & shine....
Most of the island knows Yvonne at the Post Office - I don't think I've ever seen her not smiling, and I'm pretty sure she lightens up a lot of folks' day with her cheerful way. Yesterday she was putting up the flag first thing in the morning, as she does each day.
Good morning on this foggy morning, to ya!
A chance to give...
Minnie Knych of the Legion Auxiliary says they do this every month:
Hey, Ian - On the first Saturday of each month from 10am - 6pm, The Legion Auxiliary collects food and comfort items as well as money for postage to send care packages to our local service men who are serving overseas. We have vowed to continue this collection to make sure that every local serviceman gets a package from home once a month until his tour of duty is over.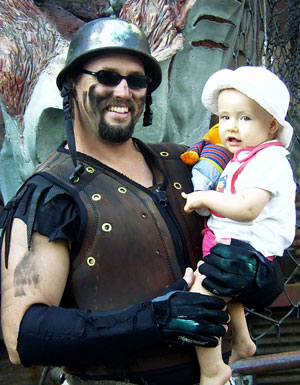 We pack the boxes for mailing the following Wednesday at 5:30pm in the Legion basement. The public is welcome to come and help – kids and families are welcome to attend.
Firefighter of the Month....
Carolyn for the fire department says this month's pick is Ken Clark - he's a fascinating guy who has worked as a professional stuntman & is devoted to his family - click here to read more about Ken, one of the people who make things safe for us here on the island.
That's him with daughter Presley (right).
Quote
This morning's quote is part of Kahlil Gibran's thoughts on love, from the Prophet:
When love beckons to you, follow him,
Though his ways are hard and steep.
And when his wings enfold you yield to him,
Though the sword hidden among his pinions may wound you.
And when he speaks to you believe in him,
Though his voice may shatter your dreams
as the north wind lays waste the garden.
For even as love crowns you so shall he crucify you. Even as he is for your growth so is he for your pruning.
Even as he ascends to your height and caresses your tenderest branches that quiver in the sun,
So shall he descend to your roots and shake them in their clinging to the earth.
Like sheaves of corn he gathers you unto himself.
He threshes you to make you naked.
He sifts you to free you from your husks.
He grinds you to whiteness.
He kneads you until you are pliant;
And then he assigns you to his sacred fire, that you may become sacred bread for God's sacred feast.
All these things shall love do unto you that you may know the secrets of your heart, and in that knowledge become a fragment of Life's heart.
---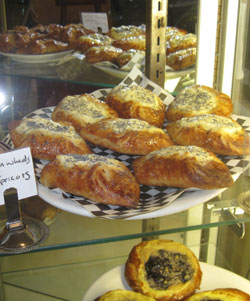 May 13, 2008
That was the pastries at Cafe Demeter this morning at around 7 - they're probably gone by now. Cafe D's owner Bill tells me they had a great first month and are really looking forward to the summer.
Third grader Quinton delivers the goods....
Teacher Noel Harley says her student Quinton ended up in the state finals (and didn't progress from there), but she's proud of him:
Hello Everyone...
I'm very happy to inform you that one of my third graders, Quinton Warfel, was a regional finalist in the Doodle 4 Google competition. The theme of the competition was "What if..." Quinton's doodle was selected from thousands of entries and we are very proud of his effort. He was in a pool of 400 finalists, and on to the next leg of the competition, but he finished up at the state level.
If you would like to see his doodle in person, it is at the elementary school on the wall across from the aquarium.
Thank you,
Noel Harley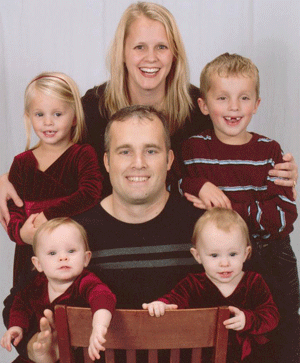 News about Matt, and the fundraiser this weekend.....

First, news about how Matt's doing, from Dianne Hall:
Matt Johnson found a donor!
Matt Johnson started his preparation for a bone marrow transplant with a physical and another blood transfusion on Thursday May 1. Until the point of beginning chemo on the 17th, he'll be in and out Fred Hutchison with various tests They'll be continuing with physical testing and provide education regarding food safety and what will be expected after the transplant which is tentatively scheduled for May 23rd.
The good news is that a donor's been identified (a 28 year old female) and she is having her physical exam this week. More good news is that instead of a 6 day chemo regime for Matt, 3 days out patient and 3 days in the hospital, they've been told that he will NOT need to be hospitalized for the last half of the chemo or for the 3 weeks after transplant. Instead, the chemo will be a 5 day course, which will be easier on him, during which time he and Jackie will be at a condo close to the hospital they had to rent in the event he needs to go in and out of the hospital during that time.
And the fundraiser! More from Dianne:
Saturday, May 17 – An Evening to Enjoy! Music: Dirt Monkeys, Daniel Finn, Jonathan Hu & Vail McClure, Rhianna Franklin & Bob Leitze. There will be a salmon dinner and children's Activities.
A very "fun" evening of support for Matt and Jackie Johnson to assist with Matt's bone marrow transplant is happening from 6pm -10pm. at the fairground building featuring a salmon dinner, live music and auction.
Come with an idea for a Signature Quilt Square to be made into a quilt for Matt.
Auction items and donations are still being accepted at Islanders Insurance, 545 Spring St. Contact: Nancy Jones, 378-5467, Dianne Hall, 298-0637 or Jane Gerhardstein, 378-4321.
Presented by friends of the Johnson and King families (Kerwin, Margaret, Ben and Vanessa Johnson, Rick and Karen King, Greg and Natalie King, and Steve and Kelli King and Family)
Donation checks payable to 'Matt Johnson Family Benefit Fund" at Wells Fargo Bank.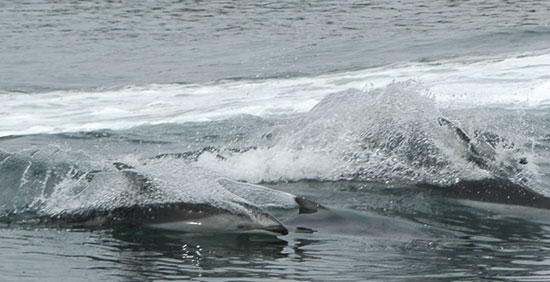 White sided dolphins in the neighborhood....
Jim Maya reports he saw some white sided dolphins (above, photographed yesterday - click for a bigger version). Here's the rest of the story he told me:

Adam U , out on a bird counting mission, shot up to me this afternoon in his Whaler out in front of Mitchell Bay, and told me about seeing some Pacific White Sided Dolphins down near False Bay. We zoomed on down to Pile Pt. and got our the binocs. After a half hour search we found them just north of Eagle Pt. and had a great 45 minutes watching them play, feed and travel east along the shore. This is only the 5th time in twenty years on these waters that I've seen these acrobatic marvels.
Cheers, Capt. Jim

Haley's re-opens.....
I dropped by to see how the "new" Haley's looked, after their comprehensive re-model that's been going on since November. It included completely removing the old building, so maybe re-build is more accurate than re-model.
The new setup includes the dining room in the front & the bar in the back, but with no dividing wall between, as before. The result is a cheerful, happy feeling through the whole place - stick your head in & see what you think!
Quote
All the art of living lies in a fine mingling of letting go and holding on.
Henry Ellis
---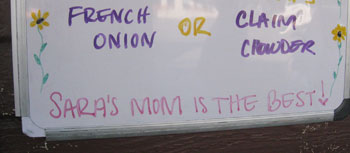 May 12, 2008
Happy Mother's Day to you.....
It was nice to walk around town & see all the kids taking care of their moms.....
Sara, the waitress at Rocky Bay Cafe, honored her mom Mary with a nice note on the RBC menu board.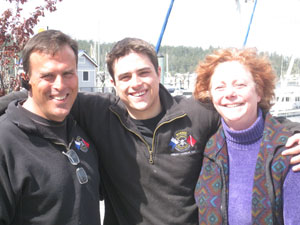 Meanwhile, Mike (center) came up from downsound to hang with his mom Peggy Long (Garudi & I) and dad Kurt (Naknek Charters).
Hope you got a chance to call or visit your mom. Now, here's the deal...if for some reason, you DIDN'T catch up with her, you should know that you have another 48 hours to do so, and it's called Mother's Day Amnesty, brought to you by the San Juan Update. If she says, "Hey, you're late!" just tell her I said it was OK, 'cause it is.
Haley's - back in action!
I saw Bobby yesterday & he says they re-open after the re-model today at 11am - I've looked through the window, and it looks like a complete re-do - check it out!
Our representative announces his choice....
Rick Larsen represents the island in Congress and is a superdelegate in theis year's Democratic Convention. He has announced he is going to support Obama...here's more.
Sports update....
AT FHHS this past weekend, in brief, here's the deal:
Baseball: Won this weekend, still alive in the playoffs
Softball: Won, still in the playoffs
Golf: Play tomorrow in bi-districts; next stop - state tourney
Tennis: Girls last weekend - Amanda Root advanced as our #1 singles seed, plays this weekend; the boys from the fall play this coming weekend as well.
Track - see the San Juan Islander for details
Great Stellar Sea Lion pix....
The folks at San Juan Safaris have a nice picture of stellar sea lions basking on a rock in yesterday's sun, on their blog...check here.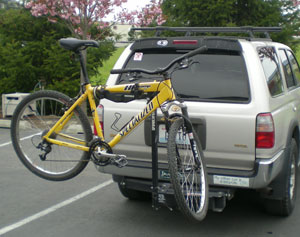 Bike to Work Day....
You can see on the San Juan Island Community Calendar that Friday is Bike to Work Day. But I didn't mean like this...you gotta RIDE it, see?
J pod's in the neighborhood....
They were reported on the west side on Friday, which is the last report I heard. Nan Simpson from Western Prince has more, on their blog.
They're back....
Crystal Seas Kayaking re-opened last weekend for their 15th year of sea kayaking tours. They offer 3 hour, sunset and day tours (6 hours) from May to September and can provide free transportation from the ferry landing in Friday Harbor. Call 378-4223 for details and reservations.
---
May 9, 2008
What's ahead for our centennial celebration.....
Town Clerk Amy Taylor is organizing the town's 100th birthday party for next year, and has a ton of cool ideas. Here's the scoop:
February 9, 2009 will mark the 100th anniversary of the Town of Friday Harbor's incorporation. Plans are still underway for the year-long celebration that will commemorate Friday Harbor's 100th year, and the Centennial Committee urges the community to participate in the celebration.
The Centennial Celebration will kick-off at the San Juan County Fair 2008 and conclude one year later at the 2009 County Fair. Events currently sanctioned include:
August 13th-16th, 2008
San Juan County Fair Centennial Booth
Sponsored by Kevin & Ann Peterson
Sept. 12 & 13, 2008
Beard Growing Contest Begins
Sponsored by Island Rec
Sept. 20, 2008
Community Photo
Sponsored by Debbie Emery & Kelley Balcomb-Bartok
February 2009
Friday Harbor History Book Available for Sale
Sponsored by San Juan Historical Society
February 9, 2009
Town of Friday Harbor Birthday Party
Sponsored by Town of Friday Harbor
May 2nd-24th, 2009
Painting Show of 2008 Friday Harbor
Sponsored by waterworks Gallery
June-August 2009
Children & Teen's Summer Reading Challenge
Sponsored by San Juan Island Library
July 4th, 2009
4th of July Parade Theme: Centennial Celebration
Sponsored by San Juan Island Chamber of Commerce
The Centennial Committee wants to see this list of events grow and is urging involvement from local businesses, organizations, families and individuals to participate in the celebration. Creating special events, publications, projects and programs that honor Friday Harbor's past, celebrate our present and imagine our future is the mission of the Centennial Committee. All ideas are welcome including already popular annual events that may have a Centennial focus this particular year. As well, any potential contest or game suggestions would be helpful. If you have an idea which you are unable to sanction yourself, but think it would be a worthwhile opportunity for someone else, please let us know.
The Centennial Committee meets once a month to review submitted sanctioned event forms. To submit your idea, please visit www.fridayharbor100.com to print out a sanctioned event form and turn it in to Amy Taylor, Town Clerk at Town Hall BEFORE JULY 1st, 2008. With Sanctioning, the Centennial Committee will list the business, project or event on its Master Calendar and website, and sanction the use of the official Centennial logo on related materials.
Help us pay tribute to the exciting people, places and events that helped shape the Town of Friday since nearly a century ago. For more information on the Centennial Committee's Goals and Operating Guidelines, visit www.fridayharbor100.com or email Amy Taylor at amyt@fridayharbor.org.
Music Man is a blast.....
The Music Man (right) plays tonight at the Community Theatre, and is happening this weekend & next - got your tickets yet?
See ya there!
More Town news...
Sandy Strelou says this is something you'll want to think about:
Historic District Walking Tours: Every Saturday in May, 9:00am-10:00am, the Town of Friday Harbor's Historic Preservation Review Board is giving free, guided walking tours of the downtown historic district. Rain or shine. Space is limited and reservations are required. To register and receive more information, go to www.historicfridayharbor.org or call 360.378.2810 during regular business hours.

Rural Architecture in Friday Harbor: On Wednesday, May 14, 7:00pm-9:00pm, the Town of Friday Harbor and the San Juan Historical Museum present a history talk by local historian and preservation architect, Boyd Pratt, entitled Paying Attention to the Ordinary: Friday Harbor's Rural Architecture. This event takes place in the research center of the San Juan Historical Museum, 405 Price Street. For more information go to www.historicfridayharbor.org, call or email to 360.378.2810 or sstrehlou@fridayharbor.org.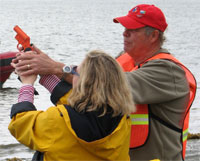 Flare shoot - NEXT weekend!
Mike Griffin writes in: It's Saturday May 17, 12:30 PM, at Jackson's Beach. Learn how to Shoot a Flare……IT MAY SAVE YOUR LIFE! Bring your expired flares to shoot or come for demonstrations of various flares, proper use of a fire extinguisher and more. For more information call Marc Forlenza 472-1644.
Quote
Good judgment comes from experience, and often experience comes from bad judgment.
Rita Mae Brown
---
May 8, 2008
Gas prices are going up all over...
In Nantucket, the gas prices are rising, like here - they even interviewed Charlie Meyer from Island Petrolem Services here - here's the story from the Nantucket paper.
Local Donors Support School District with a $275,000 "Challenge Gift" to Mitigate Anticipated Program Reductions – Designated Gift Preserves K-12 UW Marine Program
Usually I don't run big long things this way, but I believe this is a critical piece to us holding our schools together for the next year. Here's the press release I got from Michael at the district office:
Local donors have coordinated together to make a $275,000 "Challenge Gift" to the School District to mitigate anticipated program reductions due to a $600,000 operating fund shortfall projected for 2008-09. Under the leadership of the San Juan Island Community Foundation (San Juan Island's publicly supported philanthropic organization), five local donors are working together to provide a community incentive to raise the additional funds necessary to address the budget shortfall. Charles Anderson, Chair of the San Juan Island Community Foundation Board, said, "These donors are committed to ensuring that our schools will continue to provide an outstanding education on San Juan Island." He is optimistic that other donors will also step forward to preserve our school programs and recognize the importance of education to a healthy community.
Donations include an anonymous gift through the "Fairway Fund", as well as donations from David McCauley, Cloud Oakes, Scott Boden, and Charles Anderson & Pamela Gross. This collective "challenge gift" anticipates other successful fundraising efforts planned by the community including the "Save Our Schools" phone appeal through the San Juan Public Schools Foundation scheduled for this Thursday evening, 4:00 – 8:00 p.m. Paul LeBaron, President of the Schools Foundation, urged community members wishing to make a contribution that is responsive to the challenge gift to call the Schools Foundation "SOS Hotline" at 370-7925, or to use the "donate now" secure link on the Foundation website, www.sjpsf.org.
Michael Soltman, School Superintendent, expressed gratitude for the generous gift of $10,500 from Carolyn Haugen to preserve the UW Marine Laboratory K-12 Outreach Program. Carolyn helped launch this program while principal at the elementary school. She stated, "I just wanted to do my part to preserve what I believe to be an essential part of our science program. I urge others to step forward as they are able to ensure the continued excellence of all of our school programs."
Michael Soltman and Boyd Pratt, School Board Chair, expressed thanks to the well coordinated efforts of the San Juan Island Community Foundation, San Juan Public Schools Foundation, and other school support organizations to raise funds to address the shortfall. Boyd said, "We are so encouraged by the response of our community to sustain the quality of our schools. This "Challenge Gift" provides a real opportunity to preserve our academic and co-curricular programs for the next year, however the challenge is huge and requires the full commitment of our community to raise the matching funds to meet it."
---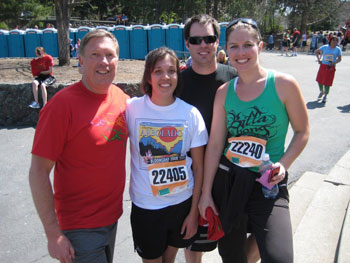 Last Sunday in Spokane, Vic Woodward (left) "ran into" Allison Pemberton (right) and her husband Chris when he and daughter Erin ran Bloomsday.
May 7, 2008
Time to step up for the schools....
Anna Lisa from Duck Soup wrote, with ways to help. The Duck Soup Inn has Friday set as their day to help - you can eat AND help the schools:
Hi Ian-
I wanted to remind you of the fundraiser at Duck Soup Inn on Friday. Fine Dining for the Kids! We are donating 10% of what we take in that evening to the San Juan Island Schools foundation.
Laurie Paul also has a spot set up where you can donate at the counter at Market Chef.
I've also heard a rumour that someone has offered $250K in a donation for the schools if we as a community can match the donation. That would almost take care of things. Have you heard anything about this?
There is also this great article from the Bellingham Herald which explains the current situation quite well and why so many other school districts are facing the same situation.
Thanks! Anna Lisa
The Phonathon is on!
The rumor that Anna Lisa mentions is true, and the public schools' folks are acting.
Tomorrow night from 4-8pm they'll be calling - or you can go to the Public Schools Foundation's website to donate online right now. Just hit the Donate Now! button....now's the time to get this going!
Seasons end, while others keep going....
I got the story when I picked up the boys from the ferry last night - the soccer guys dropped from the playoffs with a 2-0 loss to Vashon, and the lacrosse guys ended their season with a playoff loss as well.
Today the baseball guys continue their championship quest at Sammamish HS vs Bellevue Christian at 4, while the laegue champ softball girls get sub-district play underway on Friday here, against Coupeville.
Running & running....
I saw library director Laura Tretter on the ferry last weekend, coming back from the Vancouver Marathon, where she ran the half on Sunday.
It's happening - the Music Man opens tomorrow!
The long-awaited production of the Music Man opens tomorrow night at the Community Theatre...I checked, and this two-week run's tickets are already selling fast...get yours now (I'm calling today, myself.)
Quote
The weak can never forgive. Forgiveness is the attribute of the strong.
Mohandas Gandhi
---
May 6, 2008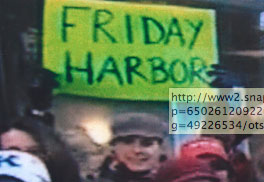 Yep, that's us!
On the Today Show the other day, you mighta been surprised to see the sign at right. Nope, it wasn't the Vistors' Bureau at work. That's Camille Lannan, who moved to New York several months ago. Her grandfather, Andrew V. McLaglen, talked her into making the sign which spotlights the island where he's lived for over thirty years.
Andrew, of course, knows something about getting things on the screen - check here.
SOS for the schools....
You know the Phone-A-Thon the San Juan Public Schools Foundation puts on each October? They're gonna put one on this week on Thursday - a special one - from 4-8pm, to try to raise money for the budget shortfall. Expect a call, and do what you can.
Here's why they're doing it. Read it...these cuts really hurt our ability to get our kids educated.
Also, you can go to the Foundation's website & give (hit the Donate Now button).
Classes at Skagit for all you businesspeople....
This is a great place to start as you tighten up the way you run (or start!) your business - check out what's going on here!
Quote
A film is never really good unless the camera is an eye in the head of a poet.
Orson Welles
---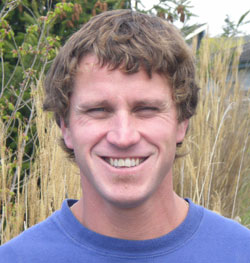 May 5, 2008
Diving deep & coming up with the answer....
That's Ryan Burke with Island Commercial Divers - he's back on-island after a winter away & is geared up for the season with his business of diving to help you with (as his website says), "We specialize in underwater mechanical work and inspections at any location in the San Juan Islands. We can provide a solution to all your underwater maintenance or repair needs, from prop & zinc replacements to hull & mooring inspections to recovery & salvage sevices. We also provide skipper services."
Call him today!
Documentary filmed here....
My friend Jerry Rasmussen helped host a French crew who were here last week filming - here's more:
Dear Ian:
Here is a scoop for your newsletter. A French film crew is on San Juan Island making a documentary about global warming and sustainable life styles for public television.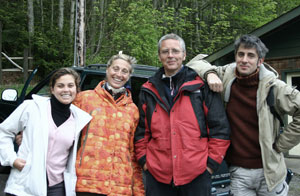 Colleen Howe is the central figure in the documentary. They have been here since Tuesday and will leave this coming Wednesday. They were with Bruce Gregory on Lopez all day Thursday looking at some sort of innovative forestry practice (plus or minus, see Bruce). They are filming at Mitchell bay Farm today. They are staying with us at the Longhouse B&B.
Call Bruce or Colleen and get the real scoop if you are interested. I have attached a "non-Photoshop altered" photo of the crew taken Thursday. Their names are (LtoR): Charlotte Genevoix, Rebecca Boulanger, Vincet Fooy and Alexis Bouvet.
Soccer, baseball, softball move on.....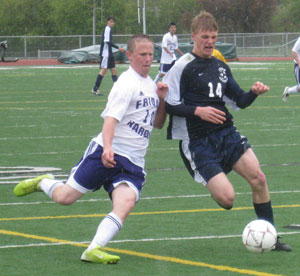 The softball girls played in the rain on Saturday at Coupeville, and cemented their hold on the league crown, winning there, assuring them home field advantage and good seeding for the upcoming playoffs - way to go girls!
Meanwhile, the baseball boys continued in the playoffs despite losing their first game of the season in district play over the weekend - they played two on Saturday, and continue on this week - keep it up, guys!
And the soccer team beat Lynden Christian 3-1 to take the #3 seed in their district on Saturday, so they'll play tomorrow somewhere in the state. (I'll let you know, soon as the WIAA figures it out.) Goals by Grant Schwinge, Cameron Byington, and Kevin O'Conner carried the Wolverines to victory. That's senior forward Erik Nash going for the ball in the second half, right. Here's the Bellingham Herald's version of the story.
Wynn marches on...
FHHS senior Wynn Barnard continues to be recognized for great things....here's more from Lori Stokes:
Our little island should be very proud of FHHS senior Wynn Barnard, who was honored on Saturday, April 26, at a regional conference of the Soroptimists held in Coeur d'Alene, Idaho.
Back in February, Wynn received the local club's Violet Richardson Award, which is presented annually to a young woman in our community between the ages of 14 and 17, who is committed to making the world a better place and has had significant and noteworthy accomplishments as a volunteer. Wynn's application was then passed on to the regional organization of the club, and she was chosen from among 72 other girls for the regional-level award.
At last week's conference awards luncheon, Wynn was presented with two checks for $1000 each – one for herself and one for the volunteer organization she helped to found at the high school, Village-to-Village. She spoke to a group of almost 400 Soroptimists about her project, which supports village schools in impoverished villages both in Peru and in Kenya.
This is the very first time that an award winner from the Friday Harbor club has ever been selected as the award recipient at the regional level of the Soroptimist organization. Congratulations, Wynn!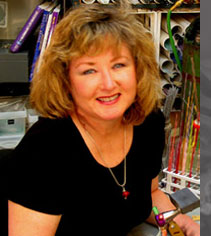 Darleen has the stuff - see it online!
Have you seen Darleen Nixon's new website yet? It does a good job of showing you how great her work has been coming out, lately - check out one more talented island artist!
Feel dizzy? This will make sure you do...
My friend Carol sent this amazing video of hiking in Spain....whoa! Check it out & tell me what you think.....
Hi Ian!
As always I enjoy your daily, newsy website! You always bring out the best of this island; and there are so many "bests"!

My friend, Cathy, sent me this clip with the comment, "Do you want to take a hike?" This particular hike is in Andalusia, Spain. I think I'll pass!

Carol Capps

Quote
Happiness is having a large, loving, caring, close-knit family in another city.
George Burns