---
May 27, 2008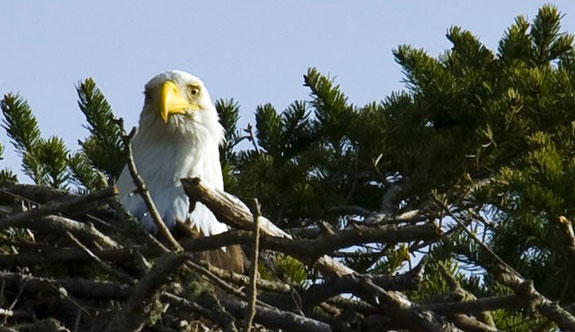 You need to get up early for this one. San Juan Island bird expert Barbara Jensen gives a guided nature walk beginning at 7:30 a.m., on Sunday at American Camp. The walk is free and meets in the Visitor Center parking lot. Birders are encouraged to wear sturdy shoes and bring sun block. Disabled persons should contact the American Camp Visitor Center for trail access information. A former national park ranger and naturalist, this is Barb's seventh season providing bird walks for the park.
The Carnival is this week!
Jan from FHES says it's time for the carnival at the elementary school:
Remember your first school carnival—the cake walk, the smell of popcorn and the splash of the dunk tank? Friday Harbor Elementary School's P.T.A. is bringing back that good old-fashioned family celebration on Saturday, May 31, from 11 a.m. to 3 p.m.
The End-of-the-School-Year Carnival brings together the entire island community for hours of fun-filled family entertainment on the school grounds at 95 Grover Street.
Parent Cathy Kromer is spearheading the Carnival. Kromer says it's both a way to celebrate the end of the school year and coming of summer as well as a good luck send-off for Principal Jody Metzger, who is moving to a school on the mainland. "I think most of us adults remember fondly our carnival experiences and want our kids to share in the fun," said Kromer. "I also know we are all going to remember fondly Jody and her work at the school."
Admission is free to the carnival. There will be $1 tickets on sale for activities and food. More than 17 activity booths, designed and run by parents from each class room, will be on hand; as well as three "bouncy" structures, a dunk tank, karaoke, balloons by Ravioli and a silent auction. Fun foods like hot dogs, popcorn, cotton candy and nachos will be offered. All proceeds benefit the FHES P.T.A.
Quote
Forgiveness is the final form of love.
Reinhold Niebuhr
---
May 23, 2008
Thank you note & progress report....
A lot of you have asked how Matt Johnson's doing...his wife Jackie tells me he's more than half way through the chemo he's gotta do, with him, as she says, "handling it well, with aching bones and loss of appetite being the biggest challenges. The good news is that Matt's spinal fluid is cancer-free."
She & Matt wanted to share this note with us:
We would like to to personally thank the people of Friday Harbor for their love and support during Matt's battle with MDS/leukemia. Although we were not able to attend the benefit dinner/auction/dance held last Saturday, we were touched deeply by the stories of the evening.

Thank you to the group of friends and family that poured their heart and soul into organizing this event. Your time and energy will not be forgotten. The evening could not have been a success without all the generous donations. The auction items were remarkable and the donated time, talent, food, drinks, flowers, and many other items are so appreciated. To each of you that attended and supported us by purchasing dinner or participating in the auction, words cannot adequately express our gratitude.

As we continue our fight for Matt's health we will carry with us the love, kindness, and prayers sent from the community for Friday Harbor. From the bottom of our hearts, we thank you.

Sincerely,

Matt and Jackie Johnson
Meanwhile, Kerwin & Margaret (Matt's mom & dad) asked me to pass on this thank you note to you for last Saturday's fundraiser:
Throughout the years, Margaret and I have participated in many fundraising activities. Never in our wildest dreams did we ever anticipate attending one for our family.
As it happened, the night of the Fun Raiser also marked the beginning of Matt's chemotherapy, the saddest and scariest day in our lives for us all. So, as Margaret, Ben and I approached the evening, we had to emotionally gather ourselves, not knowing how we would do. We'd decided beforehand that we needed and wanted to stay together so that we could help one another keep our emotions in check.
As we walked through the door, we found ourselves wrapped in LOVE. There's just no better way to describe it.. With the warmth that was displayed, our fears and sadness soon evaporated in a sea of hugs, words of encouragement and kisses. The evening was so event-packed, so successful in fund raising and there were so many of you there to support us that we regret not having been able to talk with you all.
We can't thank you enough for what you've given us. Those who planned, staged, donated, bid and bought, provided food, served food, stayed for dinner, made Matt's quilt, signed signature blocks, sang, photographed, set up, cleaned up, played music and danced with us (I believe we have photo's – ha!) will stay in our hearts forever. Thank you to you all for just being there. We love you all and we know how fortunate we were to have made all of you our neighbors so many years ago.
Love,
Margaret & Kerwin Johnson
And, a note from Jackie's parents...
We have been humbled by the outpouring of prayers, love, and support for our family. We appreciate all the effort and generosity extended to Matt and Jackie during this difficult time.

Sincerely,
Rick and Karen King & Family
Reflexology - check it out!
Besides therapeutic reflexology, Deb Langhans (right) is also offering Wholistic Health Coaching over at Lavendera Day Spa - she calls her little business Wholistic Health Options, and you can read all about it on her website.
Memorial Day paraders needed....
Nancy wrote to see if you'd like to help out:
Hi Ian, I'm wondering if you can help me out. On Monday is the Memorial Day Parade. I am putting forth a request for any children ages 6 -18 to march in the parade with me. They would represent the school children of San Juan Island. If anyone would like to, meet me at the Legion at 9:30 am to get ready.
Thanks, Nancy Vejvoda

The word 'bout the bird....
Looks like the Preservation Trust's bluebird project is going well (if you didn't know about this - hey, this is cool!)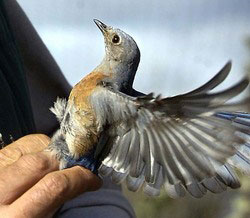 Here's the word about the bird, you can say you heard from Kathleen Foley:
Hello everybody,
The San Juan Islands Western Bluebird Reintroduction Program is steaming right along for this year. So far we have experienced greater success with the program than we had in 2007...here is the latest info, and some numbers:

* We have now released 8 pair of bluebirds. Four of the 8 pair have stayed near their release area, the other 4 pair are considered "at large" and could be in other areas of the islands (or perhaps on the mainland). One pair that was released last week flew directly from their holding aviary straight to a nest box that had been placed nearby...they looked eager to start the nest building process!

* 3 of the 4 pair that have stayed close to the release locations are currently nesting!

* One of the 3 nests has 6 new babies in them...they are estimated to be less than a week old (this will be confirmed soon). When they get a little bit bigger they will have leg bands placed on them for identification purposes.

* Another nest has 6 eggs that are currently being incubated.

* The third nest is completed, but no eggs laid as of yet.

To protect the privacy of the landowners where the birds are nesting (and, to protect the birds themselves during this crucial time), we can't divulge exact locations of the nests. However, be on the alert if you live in the general San Juan Valley/Bailer Hill/Portland Fair environs...you are considered in the "bluebird hot zone" and its likely you may have sightings there. Fo those of you who live elsewhere around the islands, please keep searching...we still have 4 pair that are unaccounted for. Please continue to report any/all bluebird sightings to our special "Bluebird Hotline": 360-298-2822.

Lastly, to see BEAUTIFUL photos of one of our nesting pair of birds, please check out Mark Gardner's web site: www.rainshadowphotographics.com/mp_client/pictures.asp and click on "bluebirds" (there's a few spotted towhee photos in the series as well). A big thanks to Mark for capturing these photos.

As always, I remain appreciative of all of your support and enthusiasm for this project. We simply could not be doing this without your involvement!

On behalf of the partners of the SJI Western Bluebird Reintroduction Project, thank you!

Kathleen Foley
Quote
The first rule of intelligent tinkering is to save all the parts.
Paul Ehrlich

---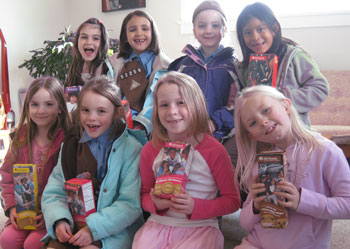 May 22, 2008
Dropping off the cookies....
Joyce Sobel at the Family Resource Center sent me this picture yesterday:
Hey Ian,
The Brownies in Jill Uhrbach and Kim Ott's troop just left the Family Resource Center after presenting me with many boxes of Girl Scout cookies to give out to families with whom we work! I will attach a photo for you. I just love the philanthropic thoughts and deeds of our young people, don't you? Thanks!
Joyce Sobel
The oil crunch hits home....
Two bits: Increasing gas prices are hitting home in a couple of ways - one is explored in this Times-Colonist article (Victoria), where the cost of gas has already gone over $1.50/liter, roughly $6/gallon (US)....here's the article.
Meanwhile, Dan Ward from San Juan Transit tells me we had the best Victoria Day weekend last weekend of the decade - a declining dollar (US), warm weather, and the chance to shop over here with a favourable exchange rate for Canadians brought a bunch over for the weekend - Dan knows, 'cause he drove 'em around & talked to them. Note to folks in town: Their only complaint was getting stuck with posted exchange rates from two years ago...c'mon, you guys. Update the numbers.
The Ale House is 15!
This is the weekend to remember when it all started, fifteen years ago today - here's more from Oren & Peggy:
Hey, Ian,
Peggy & I would like to let everyone know that we are celebrating the Front Street Ale House's 15th anniversary this weekend. ( The actual anniversary day is Thursday, 22nd.)
Thursday, we will feature Eichenberger Hefe-weizen, the same wheat beer we opened with in 1993, at the opening day price of $3.25 a pint. During happy hour on Thursday, all eleven of our handcrafted brews will be $3.25. (4-6PM). Kirk & Cecil will be doing their sing-along routine Top Side Thursday evening, Irish Flute player Hanz Araki, entertains 8-11 PM Friday, we are looking forward to this special treat. Hanz is a Juno award winner, and has played with The Paperboys & the Seattle Symphony.
Saturday night features the Island's very own Solar Siblings. Drop by for special featured opening day menu items, such as Steak & Kidney Pie & Chicken Pot Pie, and featured beer specials all weekend.
Thanks to Friday Harbor for 15 great years,
Oren, Peggy & all the Ale House crew!
Quote
Whether we and our politicians know it or not, Nature is party to all our deals and decisions, and she has more votes, a longer memory, and a sterner sense of justice than we do.
Wendell Berry
---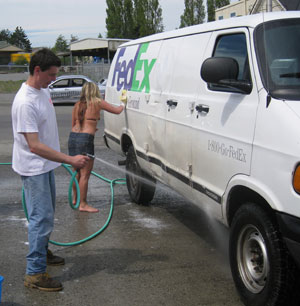 May 21, 2008
It's fundraiser season - for July's Relay for Life, there will be teams of folks doing different things to raise money to fight cancer...that's the team called the Ruby Stillettos washing Sharon's FedEx van last weekend at the bank.
Open House at Island Studios....
It's this Friday, between 4:00pm and 6:00pm. The Play-Rite Boys will be entertaining, with libations, h'ors d'oeuvres and a chance to check out the new look of the place inside, going into the summer season.
See ya there!
Heavy-diesel fans, unite!
Here's a blog by some folks who are into the big engines, with some cool pictures & an exploration about engines at Roche Harbor...check it out!
The Longhouse gets kudos from the French folks....
Jerry Rasmussen wrote last week to tell us that those folks who came to shoot a documentary liked their stay on the island: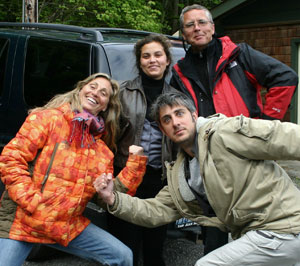 The French documentary film crew that has been on the Island for the past 9 days left for Seattle today. I have attached their parting shot. This crew has filmed documentaries worldwide for French public television and they said that the LONGHOUSE B&B was the best B&B in the world. They said the lodging, food and hospitality exceeded anything they have ever experienced. They said that they will recommend the Longhouse B&B it to all their friends and that they definitely will return.
Fourth class of leaders to graduate...
Deborah Hopkins from the first class dropped me the word:
Leadership San Juan Islands announces graduation for Class IV from 3:00-5:00 p.m. on Friday May 30th at Skagit Valley College in Friday Harbor. Graduates David Bentley, Carrie Burke, Georgeana Cook, Anna Maria deFreitas, Grisha Krivchenia, Christine Miller, Gail Leschine-Seitz, Kyle Loring, Paul King, Tracie Red Elk, Anji Ringzin and Amy Windrope will present their proposed service projects and receive certificates of completion.
Leadership San Juan Islands is a county-wide program which fosters leadership skills such as facilitation, collaborative problem solving, and public speaking as well as the analysis of local systems related to governance, economics, social services, history and culture, education and the environment. Participants are selected in the fall and spend five months together, January through May, with a staff of four and many regional leaders. For more information see: http://www.leadershipsanjuanislands.org/.
Since it's summertime, almost....
Here's a song to welcome the summer in....by Chad & Jeremy, a couple of years ago:
---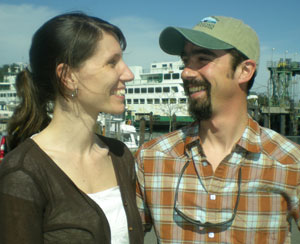 May 20, 2008
That's Pete & Erin (right) who are the new owners of San Juan Excursions, down next to the ferry dock. They're off to a great start this season, offering friendly, naturalist-guided whalewatching trips this summer...drop by and say hey.
Remembering B.J....
Carolyn at the Fire Department sent me a little note about why they had their flag lowered last week:
Hi Ian - Our flag at the Mullis Street Fire Station is at half mast in honor of B.J. Miner. She and her late husband, retired Marine Col. Ross Miner, were firefighters for many years and donated the land for the Sunset Point Fire Station. Until about 2 months ago, she was serving on a fire dept. committee whose task is to determine and honor those who have made significant contributions to the San Juan Island Fire Department.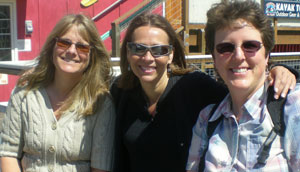 People came from all over....
The Community Theatre's production of The Music Man ended this weekend after an eight-show run (plus one preview) that left the whole island singing, "Chick a little, pick a little" under its breath, and all those other catchy songs. It was fun to see happy people leaving the theater after each show.
It wasn't just islanders who came, though - Roberta Leed (center) played Marian the Librarian & had her longtime buddies Becky and Barb (right) up from Marysville. Barb knew Roberta back when they were growing up in Iowa, so she definitely has the long view.
If you're forgetting the words to "Till There Was You," here's Paul and the Beatles from back in 1964:
Speaking of music videos....
The good folks at San Juan Islands TV have added my video of Give Yourself To Love to their site, along with a bunch of others from the islands - check it here.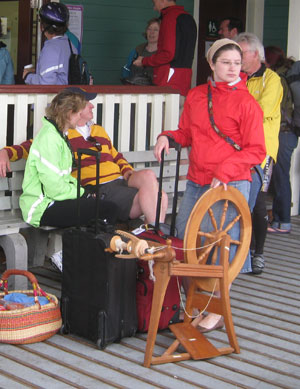 Man, it was crowded....
Yesterday's ferry to Sidney had a fair-sized mob waiting for tickets & getting ready to go back to BC...there were a lot of cyclists who stayed an extra day for Victoria Day, as well as the occasional spinner (right).
Working with the tribes, working with the island....
Bonnie Gilmore from the United Way says they have received a gift:
United Way of San Juan County has announced the receipt of a $5,000 grant from the Tulalip Tribes Charitable Fund. The grant will be used for program support exclusively in San Juan County and will assist in funding programs which provide services to thousands of county residents. According to a Tulalip Tribes spokesperson, "The Tulalip Tribes would like to congratulate this organization for its continued dedication and support for such a worthy cause."
United Way of San Juan County exists to build a stronger, healthier community by raising resources and developing partnerships that make a measurable difference in people's lives. "Having a positive and lasting impact on the lives of those in need is at the very core of United Way's mission," said Bonnie Gilmore, Executive Director. "We are extraordinarily grateful for the generous contribution from the Tribes Charitable Fund."
What else is happening?
Click on the San Juan Community Calendar to find out!
Quote
It may be hard for an egg to turn into a bird: it would be a jolly sight harder for it to learn to fly while remaining an egg. We are like eggs at present. And you cannot go on indefinitely being just an ordinary, decent egg. We must be hatched or go bad.
C. S. Lewis
---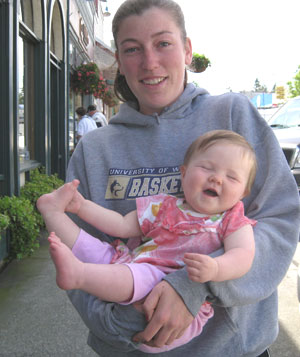 May 19, 2008
That's Kiersten Radden (right) with her happy niece Paloma (she's Ben & Michelle Waldron's kid) in the streets of Friday Harbor on Saturday afternoon.
It worked...with more to come....
Dianne Hall wrote to tell you & me how things went on Saturday:
The Matt Johnson Family fundraiser Saturday night was a huge success. The preliminary count from donations, silent and live auction is $45,000 +. Over 300 people were served salmon and ling cod. Once again this incredible community has come forth to support another family in need. Jackie and Matt are deeply thankful to all the people and business of Friday Harbor who donated and volunteered to make it possible.
Matt is in the hospital and started his chemo therapy just before 11pm Saturday night. Jackie writes, "We are visualizing the chemo attacking the bad cells and destroying them. We are visualizing our God sitting over the bed with us - we know He is."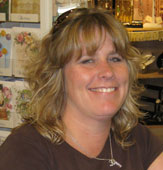 New coffee spot in town....
Julie Shelton and her daughter Brandie have opened up a spot in San Juan Florist to offer coffee & treats, so I went by to check it out on Saturday, and I can tell you, they're doing great.
They call it the Chocolate Garden - drop by & see for yourself - it's cool.
J pod - picture proof they're here...
Sandy Buckley got some nice pictures to add to her already really nice collection of orca photos over the weekend - click here on her blog to see, and to order some of her postcards if you like.....
More bike news...
Last Friday was Take Your Bike to Work Day, and that was so much fun that now it's time for you to plan Take Your Bike On Vacation Day (or week, or something). Here's a new bicycling map put out by the Adventure Cycling Association that charts 870 miles of Washington for you, and of course, we're in here. See what you think.
Isn't it interesting that the roads we bike to work are the ones that visitors go to all this touble to come ride on? Pretty cool. Enjoy the ride.
Quote
What gets the equivalent
of 1,000 miles per
gallon, doesn't pollute,
will save the world,
and transports you in
breezy style? Your bike.
- Mark Jenkins
Half mast, redux....
I mentioned to you that the flags around town were at halfmast last Thursday because it was Peace Office Memorial Day...
The flags at the EMS offices and the Fire Department were also at half mast earlier in the week and over the weekend to honor B.J. Miner for all the work & love she put into emergency services on this island.
Have you checked out the Farmers Market this season?
I didn't see you there this last Saturday, so I'm sending you this nice link so you know what's going on there: http://www.sjifarmersmarket.com/ . See you this week. Promise?