---
June 4, 2008
Elliot & Kari Pemberton had their 5 month old daughter, Siri, baptized last weekend - Elliot sure looks like a proud papa! The photo was sent in by proud gramdma Wendy.
Come meet April on Friday....
Peggy Sue from the Whale Museum tells me you have a chance to meet an incredible artist - here's more:
Sgaana Jaad: Killer Whale Woman, a book featuring well-known Haida artist April White is now available in select galleries and stores. The book, published by Maradadi Pacific Publishing, features 25-years of White's art along with accompanying legends and stories.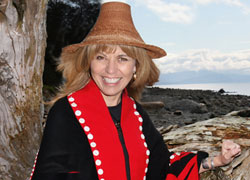 This hardcover collector's edition features more than 40 paintings and hand-pulled serigraphs. Until now White's work has only been accessible to the public through gallery showings, museum exhibits and art stores. This book will enable a wider audience to view and appreciate the work of this talented artist.

"I am elated to have been a part of bringing April White's work to the public in this way," says editor Judi Tyabji. "She is an incredibly gifted artist, and every Canadian should have the opportunity to enjoy her work."

April White is an award-winning, internationally celebrated artist whose work is on display in collections and galleries around the world. A self-taught artist, she has been painting since the early 1980s.
She was born on Haida Gwaii off the coast of Northern British Columbia, and she is descended from a line of powerful Haida chieftains on her father's side. Her mother has a British-American background, so throughout her life, White has moved fluidly between the Aboriginal and non-Aboriginal worlds. Her unique perspective is that of a Haida woman who can also stand outside and look into the native world with a fresh view.

April White has been honoured with the name Sgaana Jaad, traditionally a male name, by her Haida elders because of her prominence within the Haida community, as well as her international recognition as an artist.

April White will be signing copies of Sgaana Jaad: Killer Whale Woman at the Whale Museum in Friday Harbour at 7 pm on Friday, June 6.
The ACLU's stand on the immigration/border patrol situation.....
The local chapter wanted to post their comments on the border checks and the relationship with civil liberties...here's more.
Yeah, the water is low....
The tides have been extremely low at low tide this week....here, check the tide tables. You can really tell when you're down at the marina & can see way more of the sea floor than usual....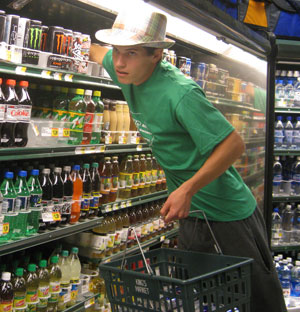 The kids are all right...AND awake....
Last night at King's, senior Josh Combs (right) and several buddies were loading up on the last cans of Red Bull for a study session. Counting the number of cans in his basket, I figure they'll be up till a week past graduation....
FHHS has senior exams this week, with final tests for the rest of the kids next week. Friday Harbor High's graduation is set for Saturday at 6pm, with Spring Street's exercises at the Community Theatre at 1pm.
And...the oceans are growing more acidic....
Move over, global warming. There's a new environmental anxiety on the block: more acidic oceans.
Days after scientists announced finding unusually acidic ocean water in shallow areas off the West Coast, Sen. Maria Cantwell and a fellow Washington Democrat, Rep. Jay Inslee, on Tuesday sought to put the issue on the political center stage.
"From an acidification standpoint, the ocean is on fire," declared Inslee, whom Cantwell invited to the forum.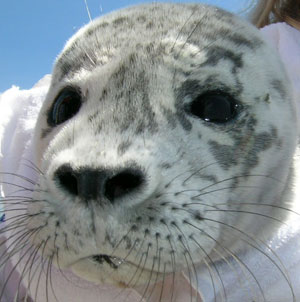 What is the Stranding Network up to?
The Marine Mammal Stranding Network is geared up for the season, according to Amy Traxler. With over a thousand harbor seal pups (right) expected to be born this year, there will be work ahead...here's more from Amy.
Catch the Reading Bug!
The folks at the Library say it's time to sign up!
Summer Reading Sign-up starts on June 13th! Come to the Library and get your reading log so you can start keeping track of the time you read, or someone reads to you! Win prizes!
On Wednesday, June 25th at 1:30 we'll kick off Summer Reading at the Elementary School (on the lawn between the kindergarten classrooms and Head Start). Enjoy music with Maggie Gallivan, popcorn & lemonade!
Graduation at Skagit Valley College next week....
The high schools aren't the only ones with all the fun....Director Denise King has graduation set for next Thursday. Here's her report:
Graduation Celebration for San Juan students will be held on Thursday, 12 June, beginning at 2:30pm with reception to follow.
Graduating students have selected Kestral Bailey as their student speaker and Dr. Roger deRoos as their faculty speaker. President Gary Tollefson will award the diplomas.
Whether you worked directly with the undergraduates above, or served a broader spectrum of learners in the islands, you are all part of the San Juan Center family of educators who make it possible for people of all ages and walks of life to pursue an active life of the mind. Let's celebrate together the joy of learning and achievement that graduation represents.
Please join us in recognizing this significant achievement in the lives of Nicholas Ahbel, Kestral Bailey, Rachael Brown, Mollie (Irene) Heath, Caitlan Wigre, and Zoraida Zeretzke.
How to park here....
Debbie from the Chamber of Commerce reports (you can view the video here):
SanJuanIslandsTV.com has produced a very helpful video for us all – but mostly for our guests -- regarding parking options in Friday Harbor. There's also a downloadable parking map available at the link below. This video was produced for the San Juan Island Chamber & SJIVB on a complimentary basis, after Chamber Forum participants came up with some solutions to Friday Harbor's parking challenges.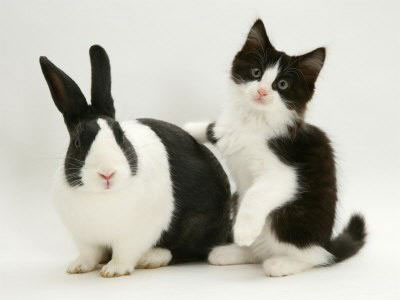 Beware of identity theft....
See (right) what can happen. Protect yourself.
Firewise in action....
Ron Garner from the fire department reports:
On Saturday, May 10, twenty-three Firewise Community folks dropped by Mitzy and Bear Johnson's home on Hillview Terrace Dr. to give them a hand at firewising their home. Five different Firewise Communities located on San Juan Island came with weed whackers, chain saws and hand tools such as brush axes and loppers. Roche Harbor, Westside Story, North Forty, Alaska Place and of course Hillview Terrace III Firewise Communities plus several firefighters from Town of Friday Harbor and San Juan Island Fire Departments all came to beat back the wilderness making the Johnson's home safer from wildfires. In little more than two hours, the brush attackers were able to clear dead brambles, tall weeds and one threatening tree away from the home beginning the 30 foot safety zone that will help protect the Johnson's and their home. These efforts plus the cleaning of gutters, limbing of trees and removing latter fuels all help protect a home.

As one of the volunteers was leaving he was heard to say, "It's amazing what a small group of folks can do in such a short period time." Taking a break with cookies, brownies and homemade crackers always makes the day even more pleasurable. Thanks to all that made the day a huge success.

The following Saturday similar projects were done at Roche Harbor and Westside Story Firewise Communities. To create your own Firewise Community contact Ron Garner, Firewise Coordinator at 378-7722.
Quote
The most pitiful among men is he who turns his dreams into silver and gold.
Kahlil Gibran
---
June 3, 2008
Island R' Us.....
On the ferry last weekend I heard two couples chatting at the table next to mine....one woman was saying that when she and her fella went through Anacortes, they prefer going down R Street instead of Commercial Avenue. The other woman said, "It's so sweet you have a street together, that you call 'our' street."
The Leo Scramble is this weekend coming up....
Check it out - it's the second annual Leo Scramble at the Golf Club, to raise money for the young Lions - here's more.
Pretty rotten stuff....
I rarely watch TV, but I see enogh in bars & at folks' homes to know why John McCain calls MMA (mixed martial arts) "human cockfighting." When I heard that CBS was gonna broadcast it, it felt to me like a new low in prrogramming...yes, I'm a big Edward R. Murrow fan. Here's more.
And another good reason to turn the tube off.
Good music last week.....
I should have mentioned last week that the Elliott Bay Pipe Band (bagpipers) performed in the Memorial Day Parade. Dot Vandaveer says, "They are very talented musicians and they make a special effort to come from the mainland to perform for our Memorial Day parade and to help us memorialize those who have served our country. They are extraordinary musicians and they lend a beautiful dimension to the celebration of those who died for the preservation of our freedoms."Hi, Ian,

Quote
Few people even scratch the surface, much less exhaust the contemplation of their own experience.
Randolph Bourne
---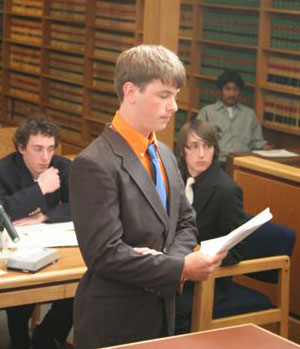 May 30, 2008
Mock trials this week....
On Tuesday, Wednesday & Thursday nights, three different groups of students from ace FHHS social studies teacher Jim McNairy's classes held mock trials at the San Juan County Courthouse...it was pretty awesome to see the students plead their cases. We have an articulate, bright & energetic bunch of kids at the high school.
That's defense attorney Flynn McGilvrey cross-examining the witness while prosecutors Jens Townsdin (left) and Shay Byington take notes. Photo by court photographer Charlie Buck.
Still looking over the plans...
Alan from the Hospital District says they're still reviewing what to do:
Community Hospital Committee, PeaceHealth recommend further study for expanding Island healthcare services: A feasibility assessment presented today to San Juan County Public Hospital District #1 Commissioners recommends that the Hospital District and PeaceHealth, a Northwest-based not-for-profit healthcare system, sign a non-binding letter of intent that would enable further exploration of expanding healthcare services to residents of San Juan Island and surrounding islands. Here's more.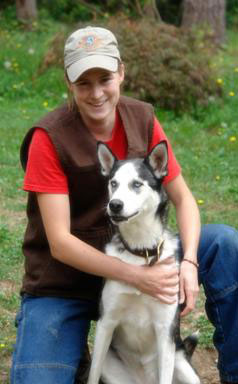 Meet Iditarod Racer, Laura Daugereau at the Library....
Adrienne tells me this is gonna be fun:
Meet the first woman from Washington to complete the Iditarod Race, Laura Daugereau & her dog Bella at the Library on June 7th at 7pm! Laura will provide education about dog care, equipment and the sport of mushing. Hear about Laura's amazing journey, and congratulate her on this amazing accomplishment!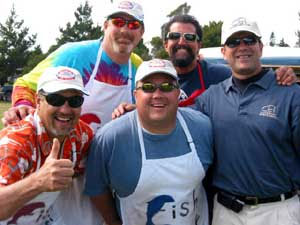 Wells Fargo San Juan Island Celebrity Golf Classic:
Dinner tickets still available for the Salmon BBQ, Saturday, May 31st!
Becki Day tells me you can still plan to come:
This weekend 12 local non profit groups will be working together, along with many others, to help put on the 22nd annual San Juan Celebrity Golf Classic, May 30th and 31st. The event is hosted by the gracious and supportive San Juan Golf and Country Club.

The Salmon BBQ Dinner is an event in itself, attracting up to 500 people every year. Once again Ed Perry and Bill Graves of San Juan Seafoods/Trident Seafoods will be donating 500 lbs. of Alaskan Troll King Salmon. While the awesome John Vjevoda and crew are BBQing the salmon, the Friday Harbor High School Jazz Band will be playing under the direction of Janet Olsen, starting at 5:30. The Silent Auction will be open at 9:00am, and the live auction will be at the conclusion of dinner.

Dinner starts at 6:00, and costs $30.00. For dinner tickets call Becki Day at 378.9519.

Picture (right) from the 2005 Wells Fargo Celebrity Golf Classic, with John Vjevoda and his crew, and their friend, Edgar Martinez.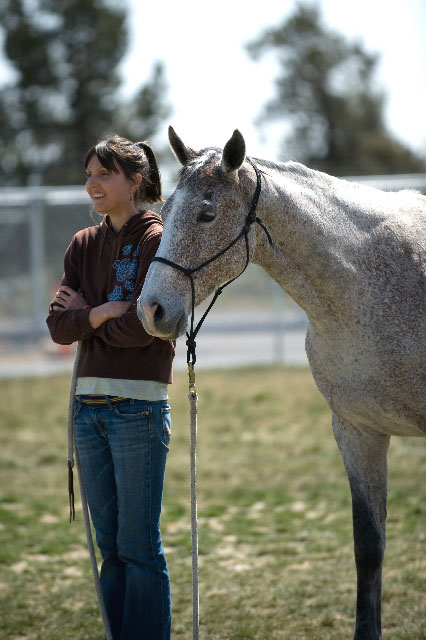 Jenny Rice (above) receives scholarship....
Jenny Rice of Friday Harbor, Washington, was named the 2008-2009 recipient of the Women's Study Club scholarship which carries an award of over $1700 to be used for tuition at an institution of higher education. Jenny was selected from a pool of current college students, with excellent academic records of 3.5 or higher, and who were also graduates of Friday Harbor High School.
She currently attends Skagit Valley College and, after completing her degree program, plans to study writing at Western Washington University. Her current writing project is a documentation of natural horsemanship training activities. A highlight in this narrative showcases a team of young people and Jenny (a trainer) from Plumb Pond Natural Horsemanship School on San Juan Island performing at the prestigious Parelli Natural Horsemanship Exhibition in Redmond, Oregon. (Photo courtesy of John Sinclair)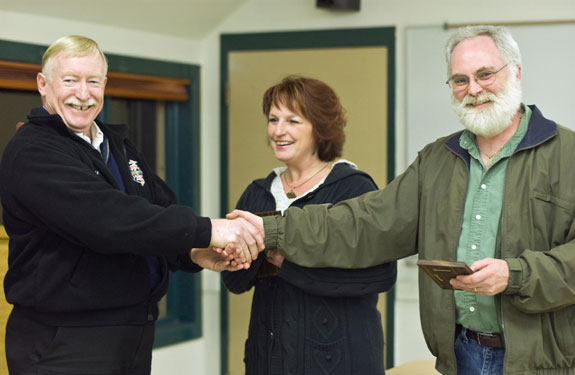 At a recent ceremony, Oren and Peggy Combs, owners and operators of the Front St Ale House in Friday Harbor were recognized for their continued support of activities sponsored by the Friday Harbor Fire Department. Fire Chief Vern Long presented the awards of appreciations after they were unanimously selected by the Friday Harbor Firefighters Association. The Combs play a major role in the purchase, handling, preparation and storage of all the ingredients and food that makes the annual Pancake Breakfast the success that it has become over the years. The Combs recently celebrated their 15th year in business as owners and operators of the Ale House.

Irina Bell & Ying Cen receive help for college, too...
The San Juan Center Endowment Fund will provide partial-tuition scholarships for two outstanding Skagit Valley College students for the 2008-2009 Academic Year: Irina Bell and Ying Cen. These two women were selected from a highly competitive pool of current Skagit Valley College - San Juan Center students with high academic achievement, earning above a 3.5 grade point average, while carrying a full load of courses.
Irina Bell works full-time, serves as an educational volunteer for young children, and hopes in the future to work as a mental and/or physical disabilities counselor.
Ying Cen relocated to Friday Harbor from China where she studied English and other languages, and assisted international teachers in their preparations to teach English to the adults and young children of rural China. Now in the United States, Cen Ying plans to teach the Chinese language to others so that they may learn to appreciate the beauty of Chinese poetry in its original language.
And now, a little entertainment for you....
You know, I get to teach the Graphic Design class at FHHS, and there's some pretty cool stuff that comes out of those kids. Here's a little video that freshman Cody West made of faces around the island, using pictures from the San Juan Update, mostly, and a song I wrote that Joe Bongiorno plays on the piano called "There Will Come A Time." Check it out:
Meanwhile, at the Seattle Folklife this year....
It was fun - I heard islander Dan Paulsen from the Irish Music Camp played last Sunday, and they asked me to play on Friday afternoon, which was great fun.
To get a taste of what it sounded like, here's the first song in my set - John Denver's Rhymes and Reasons, from Things Seen and Unseen.
---
May 29, 2008