---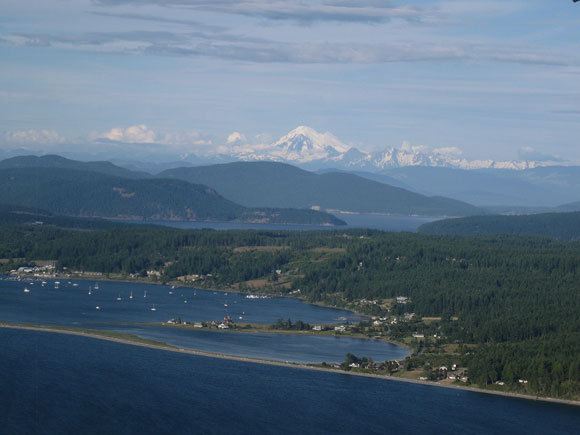 Flying with Kenmore Air over Lopez Village & the marina, I could see Mount Baker in the background on a beautiful day in the air....click for a bigger version.
June 30, 2008
Cell phones...there is karma....
Starting this week, it's illegal to be talking on your cell phone in the car, unless you have one of those hands-free headsets or something. Got it?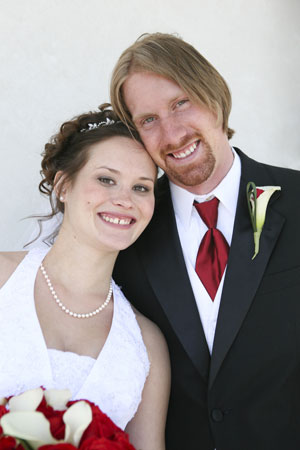 Jessie & Ian get married....
Here's a little write up I got about the wedding last month:
David & Nadine Hall are excited to announce the recent wedding of their daughter, Jessica Elizabeth Hall to Ian Charles Joujan.

Jessica was born in Arcadia, Cal. and her family moved to Oak Harbor, WA in 1991 and then to Friday Harbor in 1993. She graduated from Friday Harbor High School in 2005 and she also graduated from Skagit Valley College in the Running-Start Program with her AA degree in 2005. She is currently a senior majoring in English at Colorado Christian University (CCU) and is scheduled to graduate in Dec. of 2009. It was at CCU where she met Ian.

Ian was born in Zambia, Africa from missionary parents, Janet & Klaus Joujan and later returned to the states and lived in Tennessee after his father passed away. He then moved to New Hampshire when his mom married Lou Milanesi and where he graduated from Kearsarge Regional High School in 2003. Ian is also a senior at CCU working towards a BA in Youth Ministry and a minor in Sound Recording and will graduate in Dec. 2008.

They were married on May 17, 2008 in Littleton, Colorado at Three Trees Chapel with their families and friends in attendance. Jessica's maid of honor was her sister Katie Hall of Friday Harbor. Her bridesmaids were Kim Kennedy of Friday Harbor and Helen Joujan of Germany. Ian's best man was his brother Alex Joujan of Philadelphia. His groomsmen were Jacob Hall of Friday Harbor and his step-brother Jason Milanesi of New Hampshire. Special songs were written and sung by Dennis Pasek of Woodenville, WA and Ian's Uncle Gary Hicks and his sister Anna Joujan both from Tennessee, accompanied Dennis with vocals and guitar. The ceremony was done by their pastor Shawn Johnson of Red Rocks Community Church. Many family & friends from Arizona, California, Michigan, Washington, Tennessee, New Hampshire and Colorado were able to share in this very special day.

They honeymooned in Park City, Utah and will continue to live in Lakewood, Colorado until school is done or life takes them someplace else!
Gary's still in the hospital....
You know that Gary Bowman had that terrible motorcycle accident last week...he's still in the hospital in a coma (as of last night), and Yvonne (from the post office) is with him. The island's hearts & prayers are with him....
Lucas is in Norway....
Alberta tells me her boy Lucas Franco graduated from Seattle University & just landed in Norway this past week for the work he's beginning at the University of Oslo on his master's.
That's why they look brighter....
Over the weekend, the stripes at Marketplace were repainted. Now you know.
Quote
I do not feel obliged to believe that the same God who has endowed us with sense, reason, and intellect has intended us to forgo their use.
Galileo Galilei

---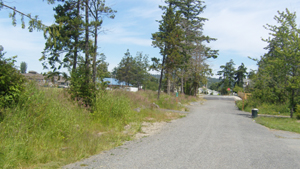 Nash St. next to Market Place is now opened to through traffic. Previously, there was a barrier, but a decision made by Town Council in the last few weeks opened the street.
June 26, 2008
All the questions you meant to ask....
Here's a catchy t-shirt sold down at the Sweet Spot on Spring Street. As tourist season comes around the corner, these won't be the only questions asked. T-shirts are available for $15.
Aground, but now OK....
The Adventuress ran aground, and it took the Coast Guard & the ferry system to help rescue her....here's more from the Seattle Times (proof it's a big story!)
Speaking of the ferries....
The public is invited to attend the Ferry Advisory Committee (FAC) meeting on Thursday, June 26th from 2:30 pm - 5:00 pm at Mullis Senior Center, 589 Nash Street, Friday Harbor.
Election news.....
Lovel Pratt just launched her new website, as she runs for County Council.
Sarah Crosby for the Dems says they have a new spot:
The San Juan County Democrats are at it again! As the 2008 Presidential election cycle gears up they are opening a headquarters which will be known as "Democracy Corner", on July 4th, right after the parade. The headquarters, located at 28 N. 1st Street, is just down the hill from the Whale Museum. Opening hours will be 12:00n until 5:00 p.m., 7 days a week. The office, run entirely through volunteer efforts, is designed to be a place to pick up campaign material, talk politics, watch debates and plan efforts for the Fall campaign season. Those wishing to get involved should drop in to Democracy Corner on our after July 4th!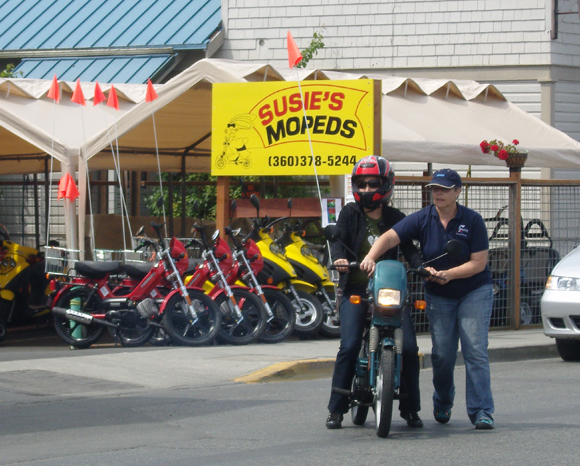 Rolling, rolling, rolling....That's Janice Gooly at Susie's Mopeds teaching a
visitor to the island how to drive a scooter yesterday. (Photo by Maddie Leiren)
Time for your massage.....
Have you seen Susan Millington's website lately? She's added a treatment called Sabai Herbal Ball which opens your energy channels...here, check it out. You're gonna want to try this one!
Quote
Life must be understood backwards; but... it must be lived forward.
Soren Kierkegaard
---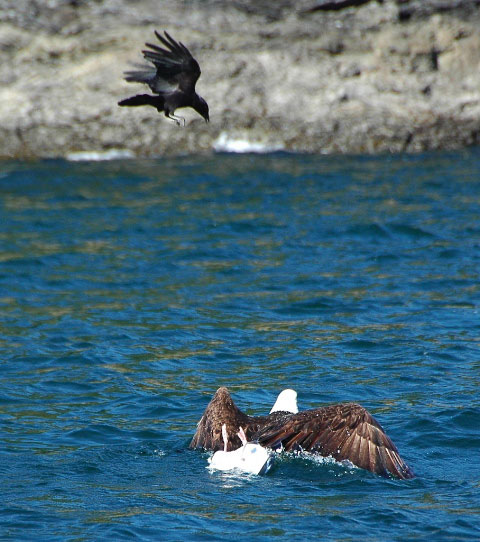 June 25, 2008
Whale watching captain Jim Maya is a pretty good photographer who uses his vantage point out on the water to get some amazing photos of the wildlife....
He sent me this series (click here) of an eagle swimming with a seagull, while being harassed by a raven - check it out. Amazing stuff from just a couple of days ago.
Basketball camp was fun....
Former FHHS coach Vic Woodward had the kids in the gym last week -- here's more:
Ian, here are some pictures of the Advantage Basketball Camp held a week ago at Turnbull Gym. Jason Thomas from Advantage Camps taught 30 players the basic skills of basketball during two days of camp. Jason was assisted by girls coach Eric Jangard with Vic and Monique Woodward. Great fun in the gym again.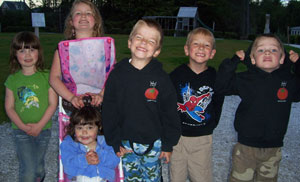 Island people everywhere....
Tori Zehner tells me we just can't help running into each other:
Hey, Ian! Last week Ben Zehner, Justin Littlefield, Charlie Zehner and Maggie Zehner all of Friday Harbor ran into their good friends Fallon and Piper Taylor, also of Friday Harbor, over on the Washington coast in a town called Seabrook. They played bocce ball and made s'mores.
Quote
The breeze at dawn has secrets to tell you; Don't go back to sleep. You must ask for what you really want; Don't go back to sleep. People are going back and forth across the doorsill where the two worlds touch. The door is round and open. Don't go back to sleep.
Rumi
---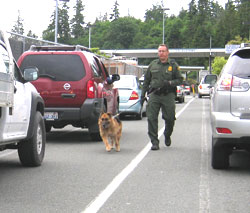 June 24, 2008
Wahoo! Islanders Bank provides the last piece!
Bob Coleman from Islanders Bank tells me the bank is donating the final $5400 needed to restore the athletic programs cut this year....thanks, you guys! That rocks!
The border patrol guys were checking cars as we got off the ferry last week (right.)
Time to go really green is running short....
It's a good one to read: the guy who started getting the country to look at climate change back in '88 says we have less time than we think...here's more.
Quote:
Climate change and global warming are not news, nor is the moral imperative to deal with it. It's time to set aside the notion (well, let's call it what it is - a lie) that it is a liberal or conservative "issue." It is a problem for us all.
Here's what one of the leading conservatives of the last century said to the United Nations General Assembly in 1989:
"But the problem of global climate change is one that affects us all, and action will only be effective if it is taken at the international level. It is no good squabbling over who is responsible or who should pay. Whole areas of our planet could be subject to drought and starvation if the patterns of rains and monsoons were to change as a result of the destruction of forests and the accumulation of greenhouse gases.
"We have to look forward, not backward, and we shall only succeed in dealing with the problems through a vast international, cooperative effort." - British Prime Minister Margaret Thatcher
---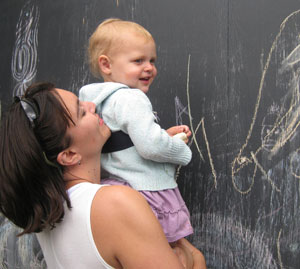 June 23, 2008
Portrait of the artist as a young artist - over at the Westcott Bay Museum (you know, the place that used to be the Spring Tree Restaurant), they have a place where kids & other people can show they got art. Here's a Canadian kid (right) who was visiting & was drawing for a while - she's good!

Sold!!!
Just saw Donna Maloney who tells me she sold her operation at Halvorsen House B&B last week after eight years of owning it very successfully...the new owners are Sea Shepherd, as Paul Watson moves his offices over to Halvorsen Road.....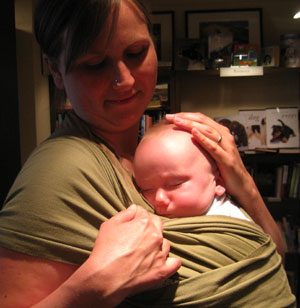 New baby in town....
That's Jennifer Allen (right) with baby Cyrus yesterday at Griffin Bay Bookstore - Jen is still helping put on the County Fair this year, working with Rev Shannon, who is serving as the interim director in the wake of Christine Miller moving on...
Fishing, according to Annie....
I love hearing what people say about us, after they visit - Annie's blog features a bunch of really cool pictures of their time fishing here - check it out! Be sure & look at her other pictures - she ahs a really good eye!
Superpod on the west side....
When all three pods of orcas get together, we call that a superpod - Jim Maya reports in his blog that they got together on Saturday. Here's more.
We're close! Only $5400 to go!
The school district is close to raising the amount of money needed to re-instate all the sports...here's more from their press release:
$5400 Needed by Wednesday to Fully Restore Athletic Programs – Total Matching Funds Near $200,000
Superintendent Michael Soltman reported today that $17,600 has been raised toward a goal of $23,000 needed to fully restore the athletic program for next year. Sandy Guard, Purple and Gold Board Member, said "$5400 is needed by Wednesday's school board meeting in order to fully restore the athletic program without raising athletic participation fees." Purple and Gold is coordinating fundraising to restore funding for the Boys Tennis, Volleyball, Wrestling, Golf , Boys Soccer, and Track programs next year. Donations to Purple and Gold can be made through board member Kim Blake at Whidbey Island Bank, or mailed to P.O. Box 3124.
Charles Anderson, President of the Community Foundation, and Paul LeBaron, President of the Schools Foundation continue to be committed to raising the final $100,000 in matching funds necessary to fully restore funding for all programs and services for next year. Donations can be made directly to the foundations and all donations are eligible for matching funds. To date nearly $200,000 has been raised toward meeting the "Challenge Gift" of $300,000. Community members wishing to make a contribution may call the Community Foundation at 378-1001, or the Schools Foundation "SOS Hotline" at 370-7925, or to use the "donate now" secure link on the Foundation website, www.sjpsf.org. Further, the long range planning task force has had its initial meeting to consider legislative advocacy for full funding of basic education. The task force will work through the summer and fall to develop a long term funding strategy for the next 3-5 years.
Quote
If lawyers are disbarred and clergymen defrocked, doesn't it follow that electricians can be delighted, musicians denoted?
George Carlin
(Comedian George Carlin, a counter-culture hero famed for his routines about drugs and dirty words, died of heart failure at a Los Angeles-area hospital on Sunday, a spokesman said. He was 71.)