---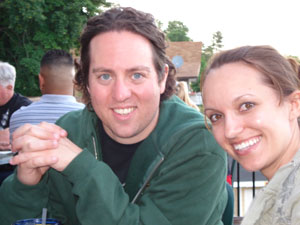 July 2, 2008
New folks in town....
Debbie from over at Kirk House has her daughter around now - here's more:
I would like to introduce my daughter Erin and her boyfriend Jason. They are both school teachers who have decided to move away from the heat and crowds of Phoenix . They will be staying with us and using Friday Harbor as a "base camp" while they search for teaching positions somewhere in the Northwest. They are VERY happy to be here!
Blast from the past.....
Just like you were, I was a regular at Felicitations Bakery till it closed in '03...and one of the friendly faces there was Jenny, who wrote a note the other day:
Hi Ian,
I don't know if you remember me, but I used to see you at Felicitations Bakery when I worked there years ago. I also worked for Key Bank and then Whidbey Island Bank. I just wanted to say hi and thank you so much for your update page. I really love seeing the familiar sights and faces and hearing the great stories. It's much more personable than the paper and gives me the facts about the island so I can stay updated even though I'm now living in Tennessee. I miss the island and the people SO much, but am so blessed to be here in Franklin. My older sister has decided to move down here from Seattle too! I'm working for Suntrust Bank down here (the 7th largest bank in the nation) and having a blast with my new church and new friends. I'm hoping to come for a visit hopefully sometime around October. Thanks so much for the updates and great info and pictures! Hope you and your family are well. Please tell everyone hi and kiss the ocean for me. I'm having withdrawals. : )

Sincerely,
Jenny Krein

Meanwhile, out on the water....
Those paddlers at Jackson's Beach have been pretty active lately - here's more from Amy Lou: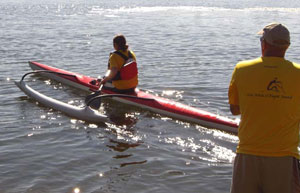 Dear Ian,
Just in case you're looking for more news about paddlers:
Our annual San Juan Canoe and Kayak Open House is coming up on July 5th. It'll be a lot of food, canoe games, friends, and fun on Jackson Beach from 4 until 7pm. Everything free.

Also, I've attached a photo of Willow Seaton, soon to be sixth grader at the middle school. She competed for the very first time in a single canoe and won third place at the PNW-Orca regional championships at Silver Lake on Saturday. In the photo, she is teaching her dad, Dan Seaton, to be very very brave.

Happy Fourth of July,
Amy Lou
Hello, Bluebird Enthusiasts!
Summer is finally here, the blue skies are returning...and the SJI Western Bluebird Reintroduction Project is in full swing. Here's the word from Kathleen Foley:

First, some really great news: of the 10 pairs of Western bluebirds that we have translocated so far (the last pair just translocated yesterday) 5 adult pairs have nested! All of these nests have been made in nest boxes made by island volunteers. In addition, we have brought up from Ft. Lewis 2 pair of birds with their nestlings...one pair with 3 young, another with 6 young. I would like to reiterate the significance of this...in 2007 we only had one pair nest that raised 3 young. Therefore, we are already miles ahead of where we were this time last year.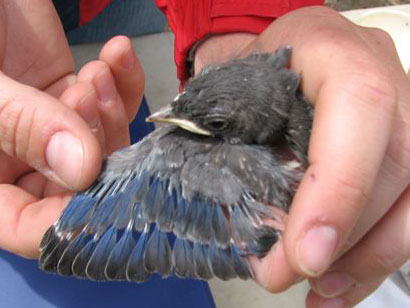 At the right, a young male shows his colors.

Currently, we estimate that there are 7 juveniles that have survived through the fledgling phase and are now flying with their parents. Additionally, 2 pair that have already raised young are renesting...and laying more eggs! (2 broods/year is not uncommon for Western bluebirds). These juveniles will likely remain with their parents for a time, but will be establishing their independence as they grow stronger and able to catch thier own meals. They will join together again for the fall migration.

Sadly, some of the nestlings did not survive, and we suspect that some of the fledglings perished during the really nasty cold snap we had a few weeks ago.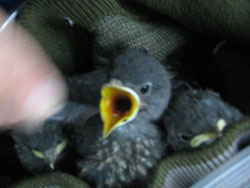 The bad weather, and the unseasonally low number of insects (these birds' food source) were the most likely factors in the birds' demise. To put this in perspective, on average, in WA state, only 30-40% of bluebirds usually survive past the ciritical fledgling phase.

In the meantime, we are providing mealworms near the active nest boxes to help supplement the birds' diet. That, combined with fairer weather, will hopefully increase the fledging success.

Please continue to keep an eye out for the remaining three pair of birds we have not located. Report your sightings to 360-298-2822, to me at 378-2461, or to Barb Jensen at 378-3068.

Enjoy the photos, and your summer. More updates to come later.

On behalf of all the partners in the San Juan Islands Western Bluebird Reintroduction Project, thank you.

Kathleen Foley