July 11, 2008
Time to help a neighbor....
Joy Sevier from San Juan Cellular dropped by the office yesterday to tell me that she & Denny set up a deal at Islanders Bank yesterday for Gary Bowman, who was working with them till that motorcycle wreck a couple of weeks ago that left him in a coma (he's out now.) He's still in the hospital & has a long, long rehab ahead, they tell me....if you'd like to help out, the fund is called the Gary Bowman Medical Fund at the bank. Denny tells me they got $450 in the first hour - a lot of folks care about Gary! - so they're off to a good start. Help out if you can.
More help....
Cathy Cole tells me there's a little one who could use your help - here's more:
The Madrigal Family is putting on a Fund-Raiser Garage Sale this Saturday, July 12th from 8am to 1pm at their home 745 Park Street (next the Montessori School). The Funds raised will go to offset medical costs for Sadie's frequent appointments and hospitalizations on the mainland. Please go to the garage sale on Saturday to support the Madrigal Family. You may pass this on to all you think would be interested.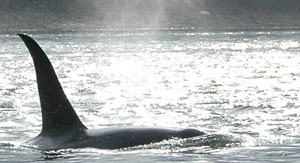 Whales on the loose....
Jim Maya sent in a nice photo of Faith (L57) and says all three pods have been roaming around on the west side this summer.
Strawberries everywhere....
It's happening at St. David's this weekend - here's more from Nan -
Hi Ian - The curtain goes up for Saint David's Strawberry Shortcake Festival Act II on Sunday July 13th from noon to 3:00 p.m at Saint David's Church on the corner of Park and Marguerite Streets. Everyone is invited to join in the celebration! The fundraising event will feature homemade strawberry shortcake made with fresh Skagit Valley berries.
Plans for the afternoon include live music, games on the lawn for young and old, as well as tours of the new building. Local entertainers will provide music and the women's singing group, Sound Vibrations will be a part of the action.
Tickets are $10 each and children under 10 will enjoy shortcake for free. All proceeds from this fun filled afternoon will benefit the landscaping fund for the Celtic Circle Garden. This tranquil garden will be open and available for everyone in the community to enjoy.
Come and join in the music and games on the lawn, tour the renovated church, walk the labyrinth, eat delicious strawberry shortcake, and help buy trees and shrubs for the future garden. What a great way to spend a summer Sunday afternoon!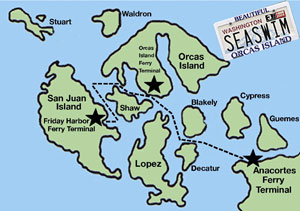 A way to get to the island AND to help out....
Most of us would look at the map to the right & say, yeah - that's the way the ferry goes to get here from Anacortes.
But it's more - on the 26th & 27th this month it's the path Orcas swimmer Damien Stark is gonna take to swim from Anacortes to Oracs to Friday Harbor to raise awareness for breast cancer. Wow...click here to read more about what he's up to, and how you can help.
Baseball guys come in second....
Rob Cuomo and the boys has a great time - here's more: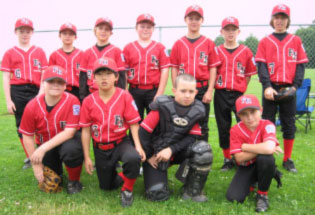 Hi Ian,
The FH 10U All Stars played in a tournament this past weekend in Lynden. The boys won all three of their seeding games, finally losing in the championship game to take home the second place trophy. The absolutely glowing smiles that I saw this weekend will stay with me for a long time. Way to go PIRATES!!!
(Back row, L-R) Xander Crichton, Ashton Ormond, Joe Stewart, Jonathon Ogle, Peter Holt, Anthony Norene, Jake Bower. (Front row) Jesse Kolowitz, Cole Hickenbottom, Isaiah Hauck, Griffin Cuomo. Not pictured: Head Coach Rob Cuomo, Assistant Coach John Bower.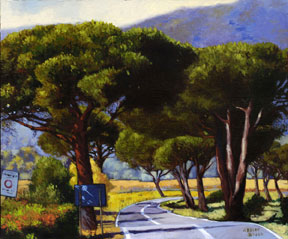 New show at waterworks...
Anne Belov's work (right) is featured from July 5 – 27th...here's more from Ruth:
The waterworks gallery july show opens with the luminous narrative paintings of Anne Belov. She recently traveled to Northern Italy, where she spent time in the villages and countryside.
These recent oil paintings capture the spirit and the light of this region whether it is a small fragment painting or a completed scene, the chiaroscuro work in her paintings is fabulous.
It is about the light.
What the visitors are doing....
Deborah from the Visitors' Bureau sent over the results of the spring surveys - here's what they found:
Below are the results from the Spring Visitor Surveys. Thank you to those members who conducted the 146 surveys we received during April and May. Although these results are not scientifically accurate, here are the highlights:

Origins:
52% came from Washington
14% from California
10% from Oregon
7% from Colorado
5% from B.C.

Activities:
78% dined in restaurants
61% shopped
59% hiked
50% visited a National, State or County park
42% visited a gallery
42% went beachcombing
26% went shore-based whale watching
21% went to a farmers' market or farm
19% visited a museum
18% went whale watching by commercial boat
16% went sea kayaking
16% went bicycling
14% visited a winery

Demographics:
Average age of person making travel plans was 44
Those making travel plans:
63% were female, 38% male
2.4 people per travel party
Average stay was 2.8 nights.

Island(s) visited: (some visited 2+ islands)
58% visited Orcas
56% visited San Juan
11% visited Lopez
9% visited Shaw

Transportation:
93% came by WSF
3% came by Kenmore Air
4% came by Victoria Clipper, San Juan Airlines or charter boat

Meeting Expectations:
46% said their visit "met their expectations"
54% said their visit "exceeded expectations"
0% said their visit "did not meet expectations"
Playground needs help!
Jan from the PTA called & said they're putting it together on Monday & Tuesday & need you:
Volunteers Needed to Help Install School Playground: It's not a barn-raising…but a playground raising that will bring together members of the San Juan Island community on Monday and Tuesday, July 14 and 15.
Thanks to donors from throughout the community, the Friday Harbor Elementary School P.T.A. has successfully raised enough money to replace the school's aging playground with a new and safer structure. However, a successful installation requires a multitude of volunteer help.
"We need at least 20 people each day to assist the two professional installers that are coming here from off island," said 2007-2008 P.T.A. Co-president Kim Ott. "We do have some skilled contractors who are switching their schedules to help us, but we will need more volunteers as well."
Kim says all different kind of skill levels are welcome—a willingness to help in whatever way possible, for however many hours as possible would be great.
You may contact Kim for more information and to sign up to help in this community effort at 378-8735.
Quote
Another possible source of guidance for teenagers is television, but television's message has always been that the need for truth, wisdom and world peace pales by comparison with the need for a toothpaste that offers whiter teeth *and* fresher breath.
Dave Barry
---
July 10, 2008
Candy grabbers, at the parade....
The photo at right of Susan from the Library tossing candy to the crowd - it reminded me that where I was shooting pictures, some kids had put a huge
<------CANDY---->
written in colorful chalk across the street, with the arrows pointing to where they were sitting. Click here to see what it looked like. (And they said, "Please." I like that.)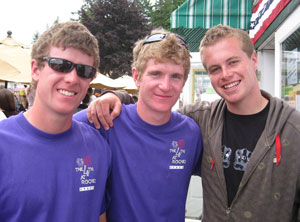 Buddies reconnecting....
Ran into brothers Brock (left, FHHS '07) and Keller NcNairy ('07) with friend Justin Browne ('08) at Roche over the weekend...always good to see our college dudes around the island.
Remember the Written Word!
Entriees are due by July 16th, Barbara Bevens tells me - here's more:
If you are a writer in San Juan County, we need YOU! The annual San Juan County Fair presents its annual Written Word contest. If you write Poetry, Short Fiction, Creative Non-Fiction, Children's Stories, Young Adult Fiction, or want to write about The San Juan County Fair – The Heart of the Islands, here is your chance!
Please see the on-line Fair Premium Book at www.sanjuancountyfair.org for specific details on lots, categories and rules.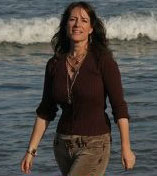 Questions? E-mail the Written Word at the address below. Please e-mail your entry as a Word document attachment to: writtenword2008@gmail.com.
How the ferry to Canada works, sometimes....
I always like the way Alex Shapiro (right) explains things, about how things work around here.
Check out her writeup on her blog about making sense of the ferry's circuitrous route to get you to Sidney, B.C. (click here).
Speaking of great music....
Wasn't last night's Music on the Lawn cool? I heard from the official head counter that about 300 folks came during the show...wow.
See ya there next week!
Quote
1492. As children we were taught to memorize this year with pride and joy as the year people began living full and imaginative lives on the continent of North America. Actually, people had been living full and imaginative lives on the continent of North America for hundreds of years before that. 1492 was simply the year sea pirates began to rob, cheat, and kill them.
Kurt Vonnegut, Breakfast of Champions
---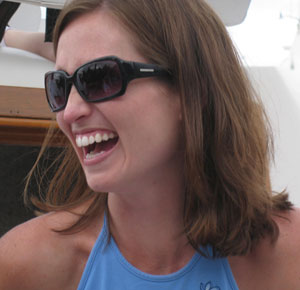 July 9, 2008
Hey, thanks!
Just a quick note to thank the dozen or so of you who wrote to say you liked the portfolio of photos from the Fourth - those are fun to put together, because so many people are smiling back at you, one more time. Thanks for checking in - it's great to hear from you!
It's Music on the Lawn tonight - wahoo!
It kicks off tonight, from 6:30-8:30pm night with the Fun Band from Lopez Island performing, joined by Don Peake, Dustin Allen, and some other great musicians.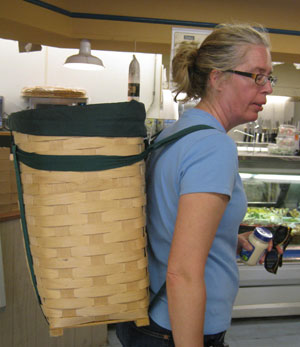 A better way to carry groceries...
That's Karen (she lives aboard in the marina) at King's getting groceries with her back-basket...I think it's the wave of the future, since there were no petrochemicals used to transport her & her chow to the marina, and she doesn't need plastic bags & paper bags, either...way to go!
If you're wondering what's the big deal about plastic bags from the grocery store, here's why it's time to quit (click here.) Some cities, including San Francisco and several in Canada, have already outlawed them.
Time to get your plays in, for the Playwrights' Festival....
Jan from the Community Theatre says you have about a month - here's more:
Playwrights: get ready to share your works in hopes of seeing them come to life at the San Juan Community Theatre! SJCT is gearing up for its annual Islands Playwrights Festival and is now taking submissions for plays to be presented in 2009 (scheduled for February 6-8 and 12-15, 2009 inside SJCT's Gubelman Theatre).
All residents of San Juan County are invited to participate. The festival categories have changed, and are as follows: 30-minute plays, 10-minute plays and 5-minute monologues.
The deadline for submission is Friday, August 15, 2008. Plays can be sent to the Theatre at P.O. Box 1063 in Friday Harbor or dropped off at the Theatre business office. Submission fees, which will be used to pay for professional judges, are $40 for each 30-minute play; $25 for each 10-minute play; and $15 for each monologue. A check for the total fee must be included with four copies of each play/monologue.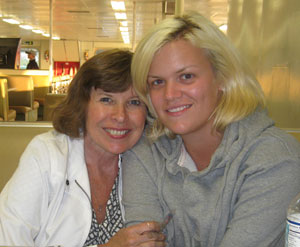 A free information packet is available for pick-up at the Theatre box office. If you have questions, please call Merritt Olsen at 378-3211, ext. 29.
Jessica and Nancy on the ferry....
Ran into Jessica Chaffee (right) on the ferry this weekend...she tells me she's going to marry her boyfriend Tim and that they're planning to deliver their first child in February. That's proud grandma-in-waiting Nancy Fusare with her - congrats to both of you!
Romania outlaws law that made you report good news, kinda....
The Romanians had passed a law saying that there had to be a quota of happy news mixed in with all the rest of the stuff ya see on the newscast - today, the country's highest court said it was unconstitutional, because it was telling people what to report.
The law had been the idea of two senators -- one from the governing National Liberal Party, the other from the far-right Great Romania party -- who bemoaned the "irreversible effect" of negative news "on the health and life of people."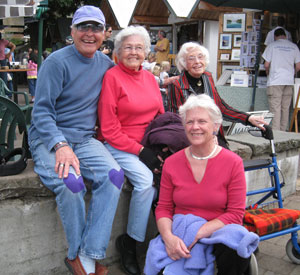 The aim, they said, was to "improve the general climate and to offer to the public the chance to have balanced perceptions on daily life, mentally and emotionally."
Take your mom out on the Fourth!
It was cool to see Christain and Lea Andrade (they've run Olympic Lights B&B for over a couple of decades now) out at Roche Harbor with their moms on the Fourth of July...it was easy to get them to smile for the picture.
Even the Canadians know....
The islands were named as a scenic byway earlier this year, as noted not only by us (we already knew), but in this paper in Nova Scotia, too.
Not really....
Remember earlier this week (here's the report), I told you that the US had been repossessed by the UK?
Turns out that wasn't true.
Sorry about any inconvenience this may have caused.