---
July 23, 2008
Just thinking.....
I was thinking about all the cool reasons we have to live here, which are different from all the cool reasons people have to visit here (which for Canadians, are mostly related to the exchange rate.) Here are my top seven:
We don't have 24 hour banking. How much banking do you NEED?
Traffic jams are 3-4 cars deep. By the time the traffic helicopter gets in the air, rush hour is over.
Most of our traffic jams are islanders waving at the other guy to go first. The other guy is usually saying, "No, you." Takes a while, but it gives pedestrians time to cross the street.
Reminds me of when my boys & I went to the mainland & saw a sign that said, "Be careful (or something), heavy pedestrian traffic." My older boy said, "They got fat pedestrians here?"
Look at all the cool things there are to do, here, on the Events Calendar at right. Click here for the full thing. Wow. Now, the island's secret: Most of those things are free.
Other incredibly cool free thing: There are free samples at the bakeries & grocery store. Nope, not kidding. Check for yourself.
When I lived in New Orleans (before Katrina), I heard there were more bars & tavs per square mile than anywhere else in the USA. Here, I believe there are more coffee places per square mile (heck, we are ONLY a square mile!) than anywhere. Here, count with me: Uptown Espresso, Warehouse, Mi Piace, Roy's, San Juan Florist's coffee stand, The Doctor's Office, the Skinny One (next to Coldwell Banker), Sweet Retreat, Griffin Bay Bookstore, Demeter Bakery, Pelindaba Downtown (kinda), Front Street Café, San Juan Coffee at Cannery Landing. Whom did I miss? Like the old lady who lived in a shoe. Hard to keep track.
The cool tourists who come here. They ask things like "This is an island? Does the water go all the way around?" and "How high are we above sea level?" and "What time is the 1:30 ferry?" I go down to the ferry landing & hang out, just so they'll ask me questions. [The answers by the way: "No, it stops at American Camp because that road's gonna fall in the ocean," "I don't smoke that anymore, dude, dunno,", and "2pm."]
Here all the single women I know, say, "There aren't any men here." All the single guys say, "There aren't any women here to date, man." They repeat this over & over, with no sense of irony, year after year.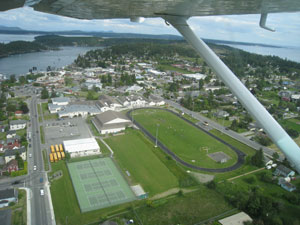 High in the sky.....
Speaking of our island, here's a look (right) from Josie, who shot this when flying over town...click on the pic to see the larger version. See whatcha think. See if you're in the picture.
We're Number Four! We're Number Four!
Robin at the Vistors Bureau says it's pretty exciting that we're getting some recognition for being cool:
Travel + Leisure Magazine announced its 2008 World's Best Awards on July 10, ranking the San Juan Islands #4 on its list of Top 5 Islands in the Continental U.S. and Canada. This is the second consecutive year for this #4 ranking to be achieved by the San Juans in this annual awards program.
Noteworthy is that there is only a three percentage point spread between the first and the fourth ranked destinations. The rankings (in order) are: Cape Breton Island, Vancouver Island, Mount Desert Island, the San Juan Islands, and Cumberland Island. Three of these islands are on the East Coast, with the two Salish Sea international neighbors, Vancouver Island and the San Juan Islands of Washington State, in the first and second ranked positions for the West Coast.
That Dog Park - it's coming along!
Lori tells me they're getting there - here's more, including how you can help:
With just a few thousand dollars left to raise, construction of the Eddie & Friends Dog Park has begun in earnest. While it is still too early to set a date for the opening celebration, the off –leash park will most certainly be complete well before summer's end. Once open, it is anticipated that the park will be self-sustaining through donations of either time or money by park users.
The park is located on a two-acre parcel of land on Mullis Street, between Browne's Home Center and the fire station. It is hoped that residents and visitors alike will enjoy taking their canine companions there to romp and play off-leash. The park will have benches, a source of water, dog waste bags and disposal cans, and a gazebo for people to get under if the weather is inclement.
If you would like to help the park with a donation of any size, please contact Lori Stokes at 378-4643 or lori@rockisland.com. $100 donors get a sign that will be put on the park fence. The sign can be decorated in any way that the donor wishes, for instance "In memory of…(a pet's name)." If you're one of the $100 donors who hasn't yet returned your completed sign to the Island Rec office, now is the time to do so, as the fence will be going up very soon.
---
July 22, 2008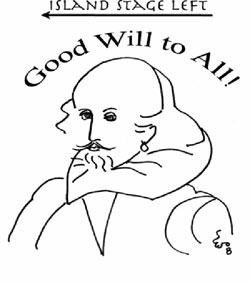 The story behind the story....
These discussions are so cool - if you're going to see The Tempest anyway, you just as well get the background on Shakespeare & his times...the first Wednesday of a four-Wednesday series (see the Calendar for the others) is tomorrow - here's the details, from Peg Knight:
The Summer 2008 Discussion Series on Shakespeare's The Tempest is free of charge - made to accompany Island Stage Left's summer 2008 production of The Tempest.
When: 7 pm on Wednesdays, July 23rd – August 13th
Where: Friday Harbor House's San Juan Room – Beer and wine available for purchase
This Wednesday, it's Professor Michael Best, from the University of Victoria, BC. He is the Emeritus Professor of English at the University of Victoria where he taught Shakespeare, English Literature, Renaissance Drama, and British Literature, as well as the Coordinating Editor of the Internet Shakespeare Editions and an expert on humanities computing. Drop by for his discussion!
African music at the Grange on Friday....
Marilyn Karon tells me it's gonna be great - Mawungira Enharira presents mbira music from Zimbabwe with our local marimba group Musasa & friends. Here's more - don't miss it!


Animal Shelter Fundraiser - it's on Sunday!
Bob Christianson sent me a reminder - I went last year (see photo above of flying dogs & frisbees!) & it's great fun, and great food:
Friday Harbor's animal shelter will host its major fund raiser, the 4th annual "Wags to Riches," this Sunday, July 27, from 4 p.m. to 8 p.m. The event will be held at the home of Bob and Lissa McDowell, 398 Hannah Road. This year's event will feature an exhibition by Wish-n-Wells, a canine agility group, live music by the Kubatana Marimba Band, and silent and live auctions. There will also be a gourmet dinner and wine put on by the staff and volunteers of the shelter. Tickets are $75 per person, and are available at the shelter, 378-2158.
Quote
He who has a why to live can bear almost any how.
Friedrich Nietzsche
---
There was music at the Lavender Festival all weekend, including Stone Soup, a marimba band that plays with passion - looking out over the purple fields of Pelindaba Lavender Farm. There was also music and crafts and art at the Arts Fair downtown, and at Griffin Bay Bookstore's Saturday night music series. It was a great weekend to be on the island!
---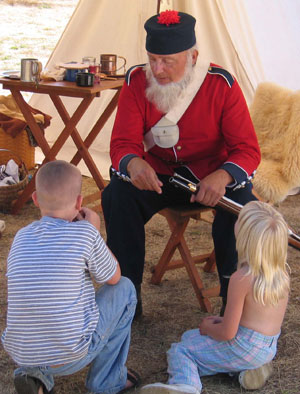 July 21, 2009
NPS Volunteer Fred Hutchings explains his Enfield rifle to youngsters at last year's Encampment.
Encampment - it's this coming weekend!
Mike Vouri from the Parks Service (here's a bit about his new Pig War book, by the way - just released this week....be sure & buy it at a local bookstore!) invites you to come out:
Re-enactors from throughout the Pacific Northwest and Canada will once again celebrate peace as they gather for the eighth annual Encampment scheduled July 26-27 on the English Camp parade ground.
The event is free. Disabled persons should call the park at 378-2902 or 378-2240 for special access information.
Encampment 2008 commemorates the peaceful joint occupation of San Juan Island by British and American forces from 1859 to 1872, and final, peaceful settlement of the Northwest Boundary dispute. Throughout the joint occupation the garrisons exchanged visits to celebrate holidays that included Christmas, the Fourth of July and Queen Victoria's birthday.
Typically the men would participate in athletic contests, imbibe in spirits and other refreshments and usually host a dance to which the community was invited.
The highlight of this year's event will be black powder rifled musket demonstrations at 11 a.m. and 1 p.m. both days. While artillery was forbidden on the island during the joint occupation, the troops from both sides regularly practiced with small arms. The English Camp demonstrations will be done with blank cartridges on a controlled range under strict NPS safety standards.
The Encampment tradition was renewed in 1998 on the occasion of the dedication of English Camp's 80-foot flagpole, a gift to the park by the people of the United Kingdom. Activities include recreations of mid-19th century Royal Marine Light Infantry and U.S. Army camp life, demonstrations of music, blacksmithing, spinning and weaving, sewing and cooperage and carpentry, along with the pageantry of period uniforms in scarlet and blue.
Highlight of the weekend is the Candlelight Ball, scheduled at 8 p.m., in the English Camp barracks. The public is invited to join in the dancing and refreshments that will include the traditional cake and punch. Music will be provided by the folk group Sugar on the Floor.
The weekend kicks off with a performance of The Life and Times of General George Pickett at 8 p.m. Friday at the San Juan Community Theatre and Art Centre. Call the theatre box office at (360) 378-3210 for tickets.
For more information on Encampment 2008 and to view photos from last year's event visit the park's website.
Here & there....

• Robin Lohrey and his buddy Oliver Strasser (on guitar, at right)) celebrated Robin & his family's return from a year in France with a little concert for their little friend (and dozens more) at the Lavender Festival Sunday.
• Here's a writeup on the Middlebury College site about the work Rowan Braybrook is doing in Senegal, which you & I looked over a couple of months ago. Pretty cool.
• David Garfield just got back from a family thing in Nova Scotia.
• You know a weekend ago - island kids Maggie Foley married Roccay LaRock with Ralph Hahn, their principal, as the officiant.
• Over at The Duck Soup Inn, Anna Lisa has a couple of notes: " I wanted to let you know that Gretchen has a cooking DVD out called "Soup and Bread for Dinner" available at the restaurant. She does not have a book out yet, thoogh we are working on a cookbook for the near future. I will keep you posted! Our loyal diners will be delighted to know that the "Lavender Thyme Crusted Free Range Chicken Breast with Goat Cheese, Blueberry Habanero Chutney and Buttermilk Mashed Potatoes" is back on the menu! That dish may be as popular as the Steak Diane! I hope you are having a great summer!"
• What's it like to visit here on the weekend? Check out Chandira's blog, as she came up from Seattle to see the island, whales & all.
Quote
The Eskimo has fifty-two names for snow because it is important to them; there ought to be as many for love.
Margaret Atwood
And a song for you....
It's the Moody Blues in 1984, with "The Voice"....

---
July 19, 2009
Bob says bank failures are a California thing, not an island thing.....
Islanders Bank's Bob Coleman asked if I would share this with you:
Negative press relating to the closure this past week-end of Indy-Mac Bank (Pasadena, California) has caused concern among the public and prompted questions from depositors as to the safety of their deposits.
We have posted important information and links on our website at www.islandersbank.com as a community service to provide all islanders with the opportunity to access information regarding FDIC insurance coverage and the options available to all account holders.
Islanders Bank is the only bank headquartered in San Juan County, and is considered to be well capitalized, safe and sound, and operating within established FDIC guidelines.
Us from the air....
In his blog, Ian (no relation) shows us photos of the island from the air, while mentioning he works with wind generators...check him out.
Come to the Arts Fair! (Here's all about it!)
Come to the Lavender Festival! (Here's more!)
---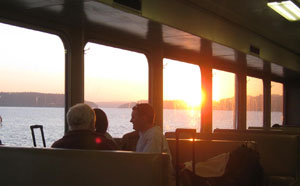 July 18, 2008
Coming home....
I've heard so many people say it, and I was sure feeling it last night...that as soon as we line up in the ferry parking lot, it feels like we're most of the way home. It was nice to watch the sun go down over the islands last night, and to feel the place in the heart that says it's going home.
Nurses in training are working hard....
While you and I think we're doing hard stuff, here's a couple of folks who are working even harder to make a dream come true...couple of times a week, Emily Hallock (left) and Becky Phillips have been taking classes at Skagit Valley College in Mount Vernon as they work towards their nursing degrees.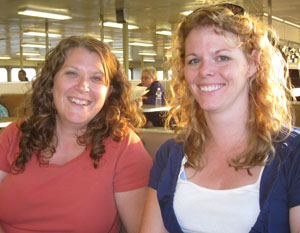 When I saw them on the ferry last night, they were coming back from midterms (you'll notice they have the "I aced the midterm" glow), and told me they're looking forward to classes this fall that they can take online, which will be an easier commute. Meanwhile, they'll keep doing their other jobs, doing administrative stuff at the Medical Center.
They'll be great nurses - we'll be lucky to have 'em!
Singing peace, and living it....
Got a note from our friends at the Christian Science Church about a peace-related event next week - here's the scoop:
Hi Ian,
Hoping there's room in your paper to briefly mention this community event
taking place on July 21st. Thanks in advance for receiving it. Come if you
can.
Sing for Peace Concert July 21 at 7:00 pm
A Hymn Sing Concert for the community in support of peace and ending war will be held Monday night at the Christian Science Church (506 Guard Street). If you've wanted to make some music this summer or do more yourself to end the ongoing war come lend your voice in this rousing occasion. Traditional and familiar hymn arrangements found in different
church hymnals will be on hand. Refreshments will be served after the hour
long event. We hope you'll come!
Cordially, Christian Science Church
---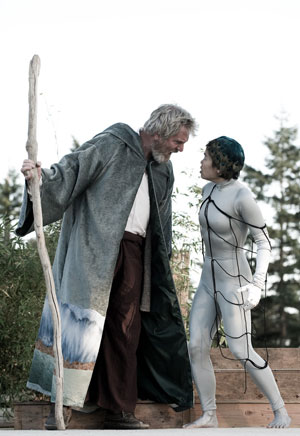 July 15, 2008
[As always, thanks for reading the Update! As it happens, I have to tend to some family business, so I'll be away till Friday this week. If you're the news junkie I think you are, check out the local news online folks at the bottom of this page, if you haven't already!]
There's a Tempest ahead.....
It all starts this Friday at Island Stage Left's Wold Road stage - the fun began ten years ago when Dan & Helen got this little theatre company going with their first show - The Tempest. This year's version will play out at Roche Harbor in August, and played on the outer islands last weekend...it's been wonderful to watch it grow. (That's Prospero and Ariel, from the show, in a photo by John Sinclair.)
Here's more...see you at the show!
The orcas are out there....
Ivan at Western Prince posted some cool photos from this weekend on his blog....check 'em out!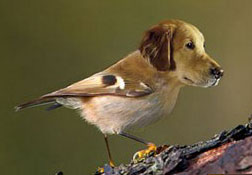 Always wanted a dog....
In fact, I'd like a bird dog.
Got one?
The old canoes shed new light on the waters we need to protect.....
For centuries, the cedar canoes of the Coast Salish Indians have plied the inland waters of Washington state and British Columbia, carrying trading goods, raiding parties and families headed to summer potlatch celebrations.
For several weeks this summer, some of the 100 canoes headed to Vancouver Island for an annual gathering also will be trailing sophisticated water-monitoring equipment provided by the U.S. Geological Survey.
Every 10 seconds, the $20,000 probes will test the water's temperature, salinity, dissolved oxygen levels, pH and turbidity. Sophisticated global-positioning systems will track where each sample was taken, and the results will be posted daily on the Web.
Here's more.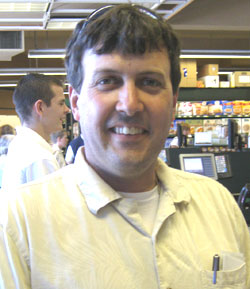 Kelley's doing the job in Renton....
Ran into Kelley Balcomb-Bartok at King's this past weekend....Kelley had to resign last month from the Town Council to become the information officer for Renton, but he was back in town because Carleen's still here for the summer making cakes for weddings & other occasions. He says it's all going well, but he misses the islands.
The Lavender Festival and Arts Fair are this weekend!
Here's more from the Chamber of Commerce's Debbie Pigman:
July 19 and 20 is the SPLASH OF SUMMER COLOR weekend, a time for everyone to celebrate the fragrant harvest at the San Juan Island Lavender Festival, the fine art and crafts at the San Juan Island Summer Arts Fair and special guests, the Lummi Indian Artists.

The Lavender Festival is at Pelindaba Lavender Farm where visitors may choose among a variety of workshops, docent-led tours of lavish organic fields and the production center, or sample foods like lavender chocolate and vanilla ice cream and drinks made in the Pelindaba kitchen. Craft workshops welcome adults and children. Visit the Gatehouse with more than 130 handcrafted products. The festival runs from 10am until 5pm, both days.

The Summer Arts Fair is on Court Street in Friday Harbor and features local and regional artists, selling their works in a juried show. Music (here's the music lineup for both days), children's activities, art demonstrations, a Chalk it Up Sidewalk art contest and the Fire Department Pancake Breakfast plus food court add to the weekend. The time of the arts fair is 10:00 until 5:00 on Saturday and 10:00 until 4:00 on Sunday. Many of the finest Lummi Indian artisans are joining the arts fair, selling their art and demonstrating traditional techniques as well as storytelling and dancing. The Summer Arts Fair is sponsored by Islanders Bank, Printonyx, the Soroptimist International of Friday Harbor and Chandler's Square of Anacortes.

Admission to all events is free.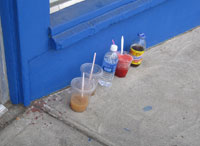 Drinks outside....
It tickled me to see this lineup of drinks outside Island Studios, where there was a little sign that says, "Please leave your drinks & ice cream outside....." So they did.
School budget casualty....
While it was great that we've raised most of the money we needed to get through our budget crisis, it was a drag to lose Lynette Roberts, who was the organized & efficient office manager at the middle school.
Downsizing is a drag, anyway you look at it - she'll be missed.
Quote
"Goodbye from the world's biggest polluter!" - President George Bush, to the leaders of the G-8 Conference last week. The president's attempt at a joke was met with shock by the others at the meeting. Here's more.
---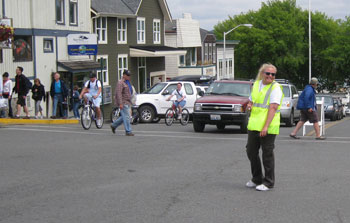 July 14, 2008
That's Rachel conducting traffic as folks get off the ferry and drive up Spring Street...it's been a great idea: To have someone out there to keep things moving. Before the Town did that, things would get pretty clogged up; now it's not clogged for so long. And having friendly smiling folks like Rachel helps welcome our visitors to town...
This just in...from Africa....
JoanRuth had told me she was off to Africa - here's more, from Anne Sheridan:
Hi folks - Happy news flash... Joanruth Baumann and Dick Coffey are on the road spreading the word so I will announce for them:
The brand new Friends of Kunya website http://www.friendsofkunya.org/ is up and ready for visitors!! $23,000. or so is still needed to complete the Kunya village water project, so hopefully this will help increase the $$$ flow...pass it on!. Blessings, Anne Sheridan
Video of the new baby.....
This video is courtesy of the Center for Whale Research in the San Juan Islands (http://www.whaleresearch.org ). The baby is believed to be the newest member of K pod and possibly bumps the Southern resident killer whale population to 88. For more information visit the Center's web site. Posted by www.sanjuanislandsTV.com.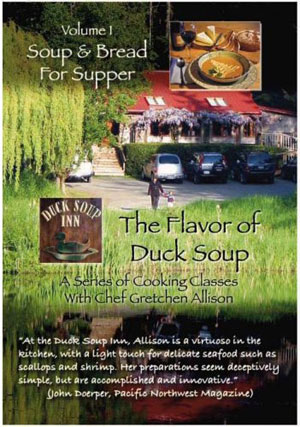 Getchen's new book....
Now it's available - a book (and Volume One, at that! There will be more!) that details the Duck Soup Inn's Chef Gretchen Allison's approach to cooking. It's called The Flavor of Duck Soup: A Series of Cooking Classes with Chef Gretch Allison...here's more. Check it out!
Kennedy in the Northwest....
You may have known that the San Juans were one of President Nixon's favorite getaways back in late '60s and in the '70s, but he wasn't the only high-profile politician of that era who enjoyed the Northwest.
Bobby Kennedy's son (RFK, Jr.) was down at the Gorge protesting the liquified natural gas place there, and shred thoughts about family trips his dad took to the Pacific Northwest...here's more.
Quotes....
Today, some thoughts about the state of things between the USA and Canada, from their leaders (Editor's note: Most regular Canadians & Americans get along just fine, regardless what these guys say.)
U.S. President John F. Kennedy: "Geography has made us neighbours. History has made us friends. Economics has made us partners. And necessity has made us allies. Those whom nature hath so joined together, let no man put asunder."
Canadian Prime Minister Pierre Trudeau compared relations to "sleeping with an elephant. No matter how friendly and even-tempered is the beast, if I can call it that, one is affected by every twitch and grunt."
Canadian Prime Minister John Sparrow Thompson: "These Yankee politicians are the lowest race of thieves in existence." - made during sensitive trade talks with US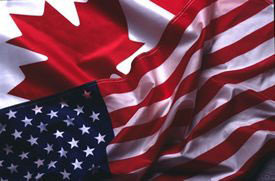 Canadian Prime Minister John A. Macdonald, speaking at the beginning of the 1891 election (fought mostly over Canadian free trade with the United States), Macdonald said: "As for myself, my course is clear. A British subject I was born—a British subject I will die. With my utmost effort, with my latest breath, will I oppose the 'veiled treason' which attempts by sordid means and mercenary proffers to lure our people from their allegiance." - , Feb 3, 1891.
U.S. President Richard Nixon, during his visit to Ottawa in 1972, declared that the "special relationship" between Canada and the United States was dead. "It is time for us to recognize," he stated, "that we have very separate identities; that we have significant differences; and that nobody's interests are furthered when these realities are obscured."
Canadian Prime Minister Pierre Trudeau, speaking in the Soviet Union in 1971, said that the overwhelming American presence posed "a danger to our national identity from a cultural, economic and perhaps even military point of view." Nixon responded in Ottawa in 1972, declaring that the special relationship between Canada and the United States was dead and Canada could not expect to continue to receive special economic favors. Nixon added a surcharge on imports from all countries in 1971, which profoundly threatened Canadian trade and employment; there was even a serious chance the Auto Pact would be cancelled, which would have devastated Ontario. Trudeau had to go to Washington to plead for a reversal, which was granted him.
(Click here for more thoughts about all this.)
---