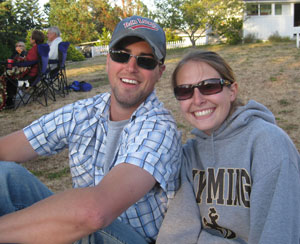 That's Abby and Cody at last night's Music on the Lawn enjoying Miles from Chicago as the sun went down. They're getting married next year (congrats, you guys!) and had a great time at the music last night.
Even more coffee than you can imagine....
You'll remember yesterday (click here for yesterday, and click here for tomorrow) I remarked that there were more coffee places on the island than we knew what to do with...but I didn't catch them all. From the mailbag:
• Okay...I'm sorry if I'm one of many who told you this. But, how could you forget the best cappucino in town at the Market Chef? And, if you're lucky, they might offer you an affogato! Thanks, Ian!
Tanja
• Hi Ian: I'm not sure if this counts as a coffee shop, but Cousin Vinnie's has excellent Italian coffee. Of course, I'm biased, being Italian. Ciao! Joy
And, about that naked mermaid.....
You saw the mermaid in yesterday's Update, and I'd like to thank all of you guys who wrote in.
Yes, I DO know her phone number, and I'm not giving it to you.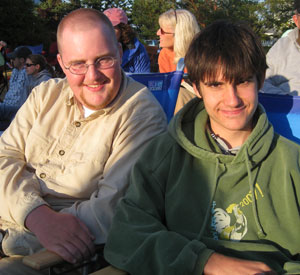 The Pratt boys on the town....
It was cool to see recently graduated (FHHS '08) Theo Pratt and his bro Elwyn (right) at Music on the Lawn last night - Theo is playing Sebastian in Island Stage Left's The Tempest this year, hence to hair do. I told him I really wanted to see the show this week & planned to come tonight, and Theo graciously told me there was no Thursday show this week. I appreciate him saving me the trip.
$1K....helps the local economy....
I saw the Lottery woman at the Little Store posting a thing that says Robert Sandwith won $1000. Then she offered to sell me a ticket, but I was outa cash. Bad move, probably. Congrats, Mr. Sandwith!
He's back!
Paul Hayden was the pastor at the Presbyterian Church 20 years ago, and he'll be back to preach this Sunday, according to the current pastor, Joe Bettridge. Here's more, from the San Juan Island Community Events Calendar.
Stirring things up....
As you may or may not know, our friends in Victoria release their sewage into the Strait (straight in), where the natural action of decomposing takes care of breaking it all down. They have plans for a billion dollar waste water treatment plant in 2016, but in the meantime the issue is being discussed in the media, including this op-ed piece in the Times Colonist.
Passing....
Heard that Jimmie Jones passed away earlier this week at 89....if there was anyone who embodied the spirit of the island, it was him. Here's the writeup from the Journal.
All about kayaks....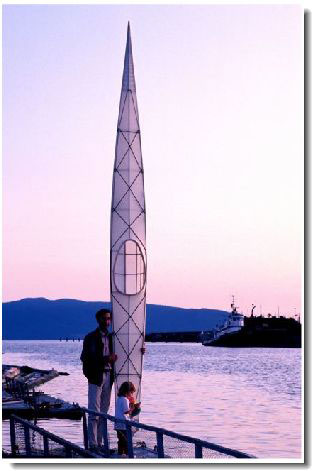 My friend Charles Richardson says this will be fascinating - next Tuesday at the Labs in this event sponsored by the University of Washington Friday Harbor Labs and San Juan Nature Institute:
Baidarka: The Kayak as a Frame of Mind
Tuesday July 29—7:00 PM
Friday Harbor Labs Commons
The oldest known continuously-inhabited sites in North America are in the Aleutian Islands, where sea mammal hunters have lived for as many as 10,000 years. The Aleut kayak, or baidarka as it was named by the Russians who arrived in the 18th century, was the basis of the near-pelagic adaptation. But the reasons for its evolutionary success are still not entirely understood.
George Dyson will discuss what we know of the Aleut kayak's form and function, its adaptation by Russian-American colonists, and George's own reconstruction of these vessels in modern times.
George Dyson is a historian of technology, author of Baidarka, Project Orion, and Darwin Among the Machines, and the subject of Kenneth Brower's book, The Starship and the Canoe. Dyson was the founder of Dyson, Baidarka & Company, a designer of Aleut-style skin kayaks, and is credited with the revival of the baidarka style of kayak.
Sponsored by
University of Washington Friday Harbor Labs
San Juan Nature Institute
Free and open to the public. Join us!
Mountain climbing - don't miss this!
Laura at Griffin Bay Books tells me this event (at the Library, by the way) is gonna be great: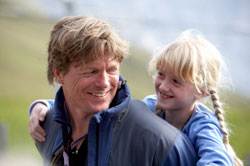 Griffin Bay Bookstore is delighted to host John Harlin III at the San Juan Public Library on Sunday, July 27 at 7pm. Harlin is the editor of the American Alpine Journal and contributing editor for Backpacker. A former cohost of PBS's Anyplace Wild, Harlin is a frequent contributor to numerous publications, including Outside magazine. Since the publication of his book The Eiger Obsession: Facing the Mountain that Killed My Father, released with the companion IMAX film The Alps in March 2007, Harlin has traveled the world thrilling audiences with his visual presentation and enthusiasm for his passions of climbing and family. His book and accompanying DVD will both be available for signing and purchase.
In the 1960s an American named John Harlin II changed the face of Alpine climbing. Gutsy and gorgeous -- he was known as "the blond god" -- Harlin successfully summitted some of the most treacherous mountains in Europe. But it was the north face of the Eiger that became Harlin's obsession. Living with his wife and two children in Leysin, Switzerland, where the couple founded an international school that is still running, Harlin spent countless hours planning to climb, waiting to climb, and attempting to climb the massive vertical face. It was the Eiger direct -- the direttissima -- with which John Harlin was particularly obsessed. He wanted to be the first to complete it, and everyone in the Alpine world knew it.
John Harlin III was nine years old when his father made another attempt on a direct ascent of the notorious Eiger. Harlin had put together a terrific team, and, despite unending storms, he was poised for the summit dash. It was the moment he had long waited for. When Harlin's rope broke, 2,000 feet from the summit, he plummeted 4,000 feet to his death. In the shadow of tragedy, young John Harlin III came of age possessed with the very same passion for risk that drove his father. But he had also promised his mother, a beautiful and brilliant young widow, that he would not be an Alpine climber.
Harlin moved from Europe to America and in the late 1960's and early 1970's Harlin lived on San Juan Island and attended Friday Harbor High School. He writes fondly of his island experiences in his book. With an insatiable sense of wanderlust, he reveled in downhill skiing and rock-climbing. For years he successfully denied the clarion call of the mountain that killed his father. But in 2005, John Harlin could resist no longer. With his nine-year-old daughter, Siena -- his very age at the time of his father's death -- and with an IMAX Theatre filmmaking crew watching, Harlin set off to slay the Eiger. This is an unforgettable story about fathers and sons, climbers and mountains, and dreamers who dare to challenge the earth.
For more information, please call Griffin Bay Bookstore at 378-5511 or log onto www.griffinbaybook.com. San Juan Public Library is located at 1010 Guard Street. Griffin Bay Bookstore is located at 155 Spring Street, across the street from King's Market.
Tons of stuff happening this weekend!
A good place to start is with the Community Theatre - here's what Jan sent in (including this photo that Susan Mazzarella sent me of Diana Stepita at the 4th of July parade promoting the Community Theatre's production of "The Death and Life of Sneaky Fitch") :
Howdy, there, SJCT Friends!
We got us two nights a coming up that will take you back in time to the good ol' pioneer days. One will make you reflect on life during the Civil War and the Island's Pig War. The other will make you chuckle and laugh at the hilarious antics of the old west.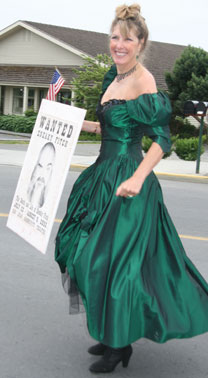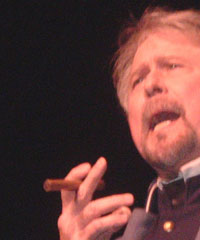 First, THIS Friday, July 25 at 8:00 p.m., our good friend Mike Vouri returns for his second appearance this season with his popular and longest running SJCT play, The Life and Times of General George E. Pickett. With music from the legendary Michael Cohen, this one-man drama has charmed audiences here for 13 years. It is also "Encampment" at English Camp, so tickets will move fast. Tickets are $12 for adults, $6 for student reserved, with $5 student RUSH on any available tickets at the door.
Then THIS Saturday, July 26 at 8:00 p.m., it's a sneak preview of the old west farce The Death and Life of Sneaky Fitch by James L. Rosenberg and directed by Jane Maxwell Campbell. This is one funny old west comedy, complete with lots of gun-slingin', saloon girls, and crazy characters. We're recommendin' this for gals and fellas 8 years and older. The play opens July 31 and also runs August 1, 2, 3, 7, 8, & 9. Tickets are $15 for adults, $8 for student reserved, with $5 student RUSH an hour before curtain.
The box office is open today through Friday from 11 a.m. to 4 p.m. and on Saturday from 11 a.m. to 2 p.m., plus one hour before each show. You may also call 378-3210 during those times to buy your tickets.
See you at the Theatre, pardners!
Firefighter of the Month - it's Tom!
Carolyn sent over this cool interview with this month's featured firefighter - Tom: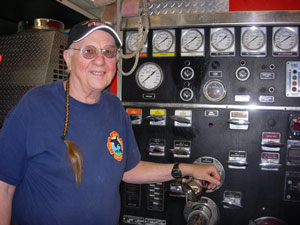 Full name: Thomas S. Odegard
Where were you born? Amherst, Mass.
Familial status (married/kids/pets):
Married - daughter - wildlife
Name a favorite food/music/team/show etc.?
Menudo/David Byrne & Prokofiev/Berkeley Poetry Slam/
No TV/ Original Hitchiker's Guide to the Galaxy/ Strangelove/Tampopo/poets: Wallace Stevens, Hart Crane, Shakespeare, John Rowe, Authors: Jeanette Winterson
What kind of hobbies do you have?
Reading - writing and reading prose/poetry - "paying attention"
What is your day job? What is the most interesting job you've held?
Keeping up with the homestead and my wife Connie.
Jack of all trades - building our own house and Firefighting
What brought you to SJI?
A 30' Fisher Sailboat and the will to cruise the NW.
What area do you live in?
Center - North end of the False Bay Watershed - South End of Egg Lake Rd
What do you like about living on SJI?
Having lots to do - sharing love and mutual respect with friends, firefighters and islanders.
What do you find is the hardest part about living on SJI?
Small ponds: literally and figuratively
What comes to mind when you hear "Only on SJI…"?
"That's good for the island." "under the radar", and ferry schedules as a reading comprehension test.
What is your position/job within the department?
Capt. Retired - Tender/pump driver operator - Water Boss - Traffic Control
When and why did you join the fire department?
1992 - went in to get a burn permit - to meet people
What do you like best about the department?
"Real" time adventure with real people who unstintingly give 100%
What has been your most exciting event since joining the department?
North Bend with Joaquin Hubbard - Haymakers, Henry Island Wildfire, Town Grocery Fire
What did you find the hardest Firefighting skill to learn?
Balancing incoming supply with multiple out-going hose streams.
Do you have other volunteer activities?
Green Party - Poetry at the Library -
Describe your ideal day off: Staying in bed late, Reading, writing, and talking with time out for cutting and stacking firewood, hot tubbing, sweat lodging or taking a long hot shower.
What are you most proud of? Accepting love and passing it on without strings.
What would you like on your epitaph?
It is about love… meanwhile keep an eye on the light!
Song for the day -
It's the Moody Blues again, with a song that I played a lot when I was dj'ing weddings - "I Know You're Out There Somewhere"...see what you think (It's OK to turn it up & dance):