August 4, 2008
Have you dropped by the island's newest bakery yet? Bakery San Juan is located on Mullis Street right next to the place where airport users who use the tiedown area come out the gate - that's Patrick (he's the boss) with his assistant Wendy showing off the cake they made for Becca at Mi Piace for her birthday.
Drop by & say hey!
Wanna fly?
There's a new outfit called Northwest Sky Ferry, operating out of Bellingham that stops here - check them out at their website.
Who's in charge....
I just saw Nancy Tiederman downtown & she says retirement from her pastoral duties is going very well ... meanwhile, St. David's David Bentley tells me the church has not been left rudderless (or pilot-less, with rudder intact; or without a compass) - here's more:
The Vestry of Saint David's Episcopal Church is pleased to announce that Rev. Doug Simonsen is the Priest in Charge during the transition in Rectors at the church. Fr. Simonsen comes to St. David's from Anacortes, WA, where he has served as a member of the support clergy for the "Komo Kulshan Cluster" of five Episcopal and Lutheran churches in the Skagit Valley.
The Vestry invites members of the community to come to services at 8:00 and 10:00 on Sunday mornings and meet Rev. Simonsen.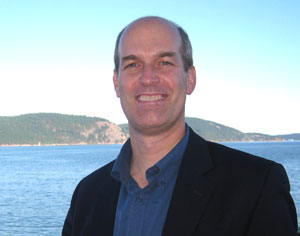 Candidates Forum was well-attended....
Saturday's forum at the Mullis Center had 80+ folks attend from this island, with even more seeing the way things went online (The League of Women Voters tells me it's posted here - I checked & the video & sound are good. Check it out!)
On the ferry Saturday evening, I ran into Congressman Rick Larsen (right), who told me he flew in from Washington, DC for the forum the night before.
Rachael, around....
Rachael Ray has been filming for her TV show here since last week - a friend says she saw her & said howdy Friday night at Steps downtown. I haven't seen her, but I did see that Griffin Bay Books put Rachael's books in the window (click here to see 'em).
I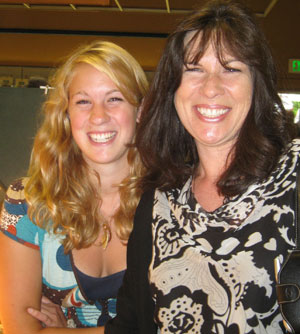 t was good to see Lisa Brown (right) and her daughter Meaghan McCormick at the store earlier in the week....Lisa's enjoying working at the County Council as a deputy clerk, while Meaghan is getting ready for her last year in high school.
I know you're interested: Here's a picture of Meaghan in '99 at the Easter Egg Hunt, when she was little. Check it out, in the Update back then.
It was a success....
Sounds like the Animal Shelter's fundraiser last weekend went great - and raised the money they were hoping for - here's more from APS vice-prez Chris:
A week ago, on Sunday, July 27, the APS-FH held its 4th annual "Wags to Riches" event at the home of Bob and Lissa McDowell. It was, yet again, our most successful event to date, netting approximately $50,000- for shelter programs, improvements and operations.
Last year we established a critical care fund for extraordinary medical expenses for shelter residents that allows us to provide a level of care that equals what they would receive in a home environment. In the past 18 months we utilized $2200- for extraordinary care for 12 shelter animals most of whom have been adopted. During the live auction we received pledges of almost $7000- to replenish and supplement that fund.
Our second "Fund a Need" was for repairs and maintenance to the existing roof which dates from the original construction in 1992. Due to the generosity of the donors we received over $11,000- in pledges for this much needed capital expense.
The entertainment by Wish-n-Wells Canine Agility proved to be very popular with the attendees. They were joined by several local canines who strutted their stuff in typical island fashion. The Kubatana Marimba Band again donated their time and talent to the enjoyment of all.
Next year's event is already in the planning stages. We will keep you all posted or check out our website www.apsfh.com for updates.
On behalf of the Board of Directors, the shelter staff, the volunteers and especially the animals in our temporary care, I wish to thank everyone who assisted us in making this event a success. The support of businesses and individuals in the form of monetary and product donations and volunteer hours towards the production of this event helps us immeasurably in continuing to make a difference in the lives of our four-legged friends and companions. We could not do it without them.
Thank you for caring!
Chris Sly-Prochnow, Co-President
APS – FH Board of Directors
Quote
Dusting is a good example of the futility of trying to put things right. As soon as you dust, the fact of your next dusting has already been established.
George Carlin
---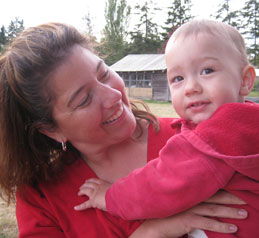 August 1, 2008
That was Val Curtis and Cole at Wednesday's Music on the Lawn, dancing to the beat. Val tells me she's staying home again this school year, to hang with the boy, who probably will be able to skip middle school science after having her as his mom.
Seeing the whales from a kayak....
In her blog, ace photographer Monika Weiland says you just don't see the killer whales from kayaks that often, but she did. Click here to read her story, and be sure & click on the cool picture she took, so you can see the larger version - really cool. You'll like it.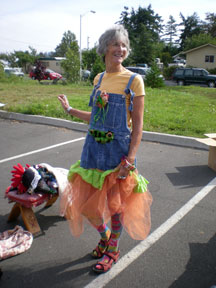 Trashion Fashion needs you!
It was a great hit last year in its first year at the Fair, and it's back! Francie Hansen (left) has more:
The Trashion Fashion show is awaiting your creative entry idea by midnight August 4th. The astro-turf stage, the garbage can spotlights, the music possibilities are ready. All you need to do is get your idea to the website (click here!) by midnight August 4th and follow the prompts. (Trashion show rules are --> click here )
The garment must be complete and wearable and ready for the show by the dress rehearsal on August 11th. We know you've got the right stuff. "Just go for it" You'll be a star!
You gotta sign up now.....
You only have a couple of weeks to sign up for this cool camp from Island rec:
Skyhawks Sports Camp returns to San Juan Island: Skyhawks is the largest provider of youth sports programs in the country. Each program focuses on the development of individual sports skills in a safe, positive and encouraging environment and is designed to engage the imagination of young athletes. The enthusiastic staff implements a unique curriculum which allows for maximum participation and fun!
During the week of August 25-29 Skyhawks will be offering three different camps. Mini- Hawks takes place in the mornings from 9am-noon. Boys and girls ages 4-7 will explore soccer, baseball and basketball through a variety of fun specialized games for these developing athletes. Cheerleading for ages 7-12 is offered from 1-4pm. Scheduled at the same time as Cheerleading is a Multi-sport camp featuring baseball and basketball for youth ages 7-14.
August 15 is the deadline to register. For more information about Skyhawks Sports Camps and other summer recreational opportunities call Island Rec at 378-4953 or visit www.islandrec.org.
It's the Playrite Boys playing at the Port - check 'em out!
Quote
Recession is when a neighbour loses his job. Depression is when you lose yours.
Ronald Reagan
---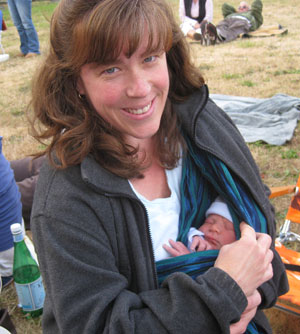 July 31, 2008
Youngest kid at Music on the Lawn....
While Keith & Kate were singing last night, there were nearly 300 people listening, including tons of kids. The youngest of that lot was Griffin, right, who insisted on bringing mom Joan Mainville-Davis (right) and dad Chris Davis rather than just hanging out at home. Griffin's a campaigner - he was born the day before at 3:25am.
If anyone younger than 40 hours was there last night, please raise your hand.
Dori & Kate change their phone number....
Here's the news:
Stillpoint School is pleased to announce a phone number change! Our new phone number is (360) 378-2331. Stillpoint School will retain its original number, 378-9760, as a secondary line until the new phone number has been published in upcoming phone books. Stillpoint School's phone number change is effective immediately.
Get your license!
Keri from the Town wanted me to tell you:
Businesses have until 4:30pm July 31st to pay for their 2009 business license in the Town of Friday Harbor without incurring a 50% penalty. Licenses were originally due by June 30th. Businesses that have failed to notify the town that they are no longer in business in writing also face getting an infraction from the town.
Want to be Identified as a Green Business?
Susan Key from the San Juan Nature Institute is looking for business partners to promote the use of native plants through a 'Go Native' Treasure Hunt at the San Juan County Fair. There will be a drawing each evening for a prize (gift certificates are welcome).
All prize contributors will be listed on the treasure hunt form and at 6 participating booths. Here's an opportunity to promote your products and services to potential customers attending our County Fair! Email Susan Key at director@sjnature.org if you are interested in donating. Participating booths include SJNI, Site Elements, SJ Horticultural Society, SJC Noxious Weed Committee, SJC Agricultural Committee, and SJC Marine Resources Committee.
Candidates' Forum - it's this Saturday!
The League of Women Voters are putting it on at the Mullis Center - here's more.
Seal pup stealing - it's a crime.....
This Seattle-based online paper says a woman in Coupeville was stopped by police - and she had a seal pup in the back seat, which was taken to our island to Wolf Hollow. Here's more.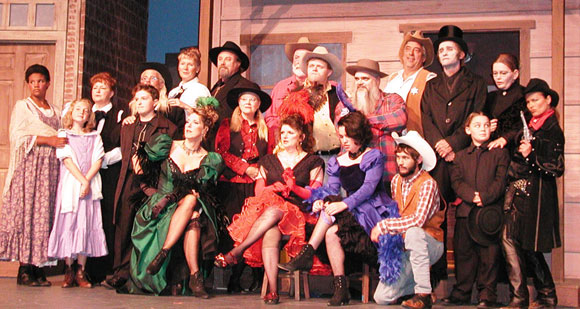 The play starts tonight at the Community Theatre (that photo of the cast above is by Jan Bollwinkel-Smith) - click on the picture to see a bigger one.
Sneaky starts tonight!
Here's more from Jan:
Word is getting out about old Golpher Gulch and that lily-livered Sneaky Fitch!
The Death and Life of Sneaky Fitch by James L. Rosenberg is one hoot of an old west comedy on the Whittier stage. Directed by Jane Maxwell Campbell, it OPENS this Thursday, July 31 at 8:00 p.m. But come early at 7:30 p.m. for complimentary opening night party vittles catered by Deb Nolan. There will be yummy southwestern-type finger foods, refreshing drinks and then sweet desserts after the show.
This romp of a show highlights new and known San Juan Island talents—see the cast list below and you'll likely recognize some names. And if the names don't ring a bell, just wait till you see the faces (hint: Scott from the Post Office, Lisa from Downtown Dog, Dana from Classic Cab Company).
We are recommending the play for folks 8 years and older (there's some loud gun pops, some melodramatic death scenes, and a "hell" or two).
And DON'T WORRY, if you can't make opening night - we have more performances Friday and Saturday (Aug. 1 & 2) at 8:00 p.m., and on Sunday, August 3 at 5:00 p.m. The final shows are Thursday through Saturday, August 7-9.
Tickets are $15 for adults, $8 for student reserved and $5 student RUSH at the door. The box office is open Tuesdays through Fridays from 11 a.m. to 4 p.m., Saturdays 11 a.m. to 2 p.m. and one hour before each performance.
See you in Gulpher Gulch!
SNEAKY FITCH CAST
Narrator Jandira Shelley
Mervyn Vale Warren Baehr
Mrs. Vale Melody Rice
Mervyn Vale, Jr. Sam Paul-Barrette
Maroon Lynda Guernsey
Mrs. Snit Sandy Baird
Sheriff Jack Oglesby George Iliff
Doc Burch; Mrs. Craven Greg Hertel
Rev. Stanley Blackwood Dana Rice
Mrs. Blackwood Susan Schirmer
P. K. Blackwood Joe Adamo
Sneaky Fitch Scott George
Lily West Tyla McKay
Melissa Snit Julia Smith
Rackham Lisa Moretti
Cowboys Joe, Bill and Bob Nicolas Zervas
Cowboy Clyde Tylon Brizendine
Emerald Diana Stepita
Sapphire Hanna Burke
Guitar Man Ed Wilson
Zeus Himself