August 15, 2008
That's David Harold and Inga last Saturday as they head to the airport to get AmyLou, who participated in the International Paddling Championships...here's more (with pictures!) on the paddling blog.
The Fair continues - see you there!
This year's San Juan County Fair has two days left, and today promises to be pretty warm - the forecast is for the mid-eighties, like yesterday's hot day. I keep hearing more people say they're going this year - that's good...it's where we all get in touch with each other. See ya there.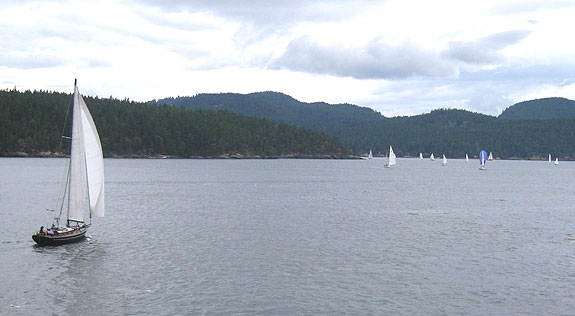 Last weekend - the Shaw Classic...
Sounds easy....you start in Friday Harbor, head east & circle Shaw Island, then head back to the Harbor with your sailboat. Even easier if the wind blows (there were some long lulls), and if the ferry stays wide of you. This picture (above) is from the east end of Shaw, as boats head back west along its north shore.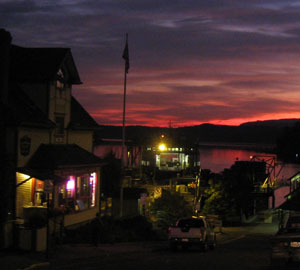 The sky was ablaze this morning at five thirty as the ferry pulled away into the harbor....photo by Josie, as we sent my son Shay off to drive to Colorado with Cam & Sherri to college....
New orca calf discovered...
Sandy Buckley told me about this earlier this week - she's gonna take a picture of it when it shows up at her house on the westside...here's more from the P-I.
They're discussing saving the barns...
Sandy from the new group to save island barns wants to invite you:
Please let your readers know about the barn preservation event that is happening Friday at the Fair. "Saving Historic Local Barns: A Community Discussion" will take place at 4:00pm in the Ag Tent, between the Exhibit Hall and the horse arena. We have a great panel of speakers representing key organizations from San Juan County, and Chris Moore from the WA Trust for Historic Preservation. This is the first public event organized by the newly forming group, 100 Friends of Old Island Barns.
Historic barns, farmhouses and other farm outbuildings are important symbols of island agricultural history and culture. Most are owned privately, but are loved by all. The problem is that most barn owners can't afford to maintain and preserve them. I think it fair to say that the territorial or farm landscape is as precious and endangered as is the marine environment of the Salish Sea. This event hopes to spark a similar kind of community spirit around barn and farmland preservation.
Thanks for listening!
Sandy Strehlou, Volunteer
100 Friends of Old Island Barns
A Summer Evening in the Garden: Fundraising Dinner & Auction for the Permanent Farmers' Market on Sunday, August 24th at Wild Berry Farm on San Juan Island
Get your tickets now! Here's more:
Enjoy a sumptuous feast of local foods amid the beautiful garden at Wild Berry Farm, and help to create a permanent home for our San Juan Farmers' Market. The garden dinner will feature the freshest sea foods, meats and vegetables, fine wine and music. There will be a live auction which will include items like a Waldron Island Farm Tour and catered picnic, a priceless opportunity to meet Frightful the Falcon, the fastest recorded animal on the planet and be a witness to his release into the wild, a helicopter ride from Dane Armstrong, an airplane ride from Denny Martel and lots more.
Check out the full list at the Ag Guild web site www.sjiagguild.com. Funds generated by this event will support the Ag Guild's Permanent Farmers' Market Project. Tickets are $75 and available at the Ag Tent at the Fair and at Griffin Bay Books. For more information contact Susie Wampler 378-4874 or Jane Burton-Bell janeburtonbell@hotmail.com or for information on the Project contact Permanent Farmers Market Project Director Lovel Pratt at 378-7172 or lovel@rockisland.com.
Bob's book is off to a good start...

Cynthia Hubbard told me Bob Tripp's new book sold 35 copies at last month's Arlington Air Show & has been doing great - here's a bit more about it:
Longtime pilot and author Bob Tripp, has crafted an aviation-based novel unlike any other in the last decade. It begins with a disastrous crash at Hong Kong's Kai Tak airport, then follows the story that happens behind the headlines. In the aftermath of the accident, Captain Dan Swanton finds his judgment called into question, his professional career on the line, and his family and personal life torn apart.
The journey of his recovery takes him into new and unknown fields, and forces him to look into questions that most of us sidestep -- the abyss of death and the mystery of survival. Is fate a hunter that strikes from the skies to destroy lives here on earth? What is the nature of the hidden quantum reality that operates behind the scenes of our everyday lives?
This new book is available from Partners West, and Baker & Taylor, or directly from Tropicbird Publishing at the address below from the www.bobtripp.com website.
Bob Tripp has a 50 year aviation career, 25,000 hours as a commercial pilot and test pilot. In addition to an Airline Transport Pilot (ATP) certificate, he holds a designation as a FAA DER Test Pilot, and is a member of the Society of Experimental Test Pilots. He has written numerous magazine articles on aviation, sports, and adventure. A short bio, samples of his writing, and flight test history are on his website, http://www.bobtripp.com.
Dr. Fu-Shiang Chia and the World's Oldest Collection of Lyric Poetry
Bob Schwartzberg tells me this is gonna be amazing - mark it on your calendar:
Friday Harbor Laboratories and the San Juan Island Library are sponsoring a "Meet the Author" reception for Dr. Fu-Shiang Chia on Wednesday, August 20th from 5:00 p.m. to 7:00 p.m. at the Commons at Friday Harbor Laboratories.
Dr. Chia has published six books of prose and poetry in Chinese. His latest "Airs of the States" from the Shi Jing is a new trilingual translation of the world's oldest collection of lyric poetry.
This collection of translations from Classical into modern Chinese and then English by Fu-Shiang Chia represent the first new, complete version to appear in English in well over half a century. The collection is the oldest book of lyric poetry in world literature still in existence– parts dating back 3000 years. It gathers the most ancient lyric poems in history, and stands as the headwaters of all known literary culture.
Fu-Shiang Chia makes these poems once again contemporary, while preserving hints of their antiquity. His language is as accurate as possible, and plain without being spare or un-poetic. The poems have been made companionable for a 21sst century audience, without sacrificing either their exotic foreignness or their careful specificity.
Dr. Chia has a long history with the U.W. Friday Harbor Laboratories, having been a research assistant, researcher and instructor at the Labs. He earned his PhD from the University of Washington, Dept. of Zoology under then FHL Director Bob Fernald.
Fu- Shiang completed the first draft of the manuscript of "Airs of the States" from the Shi Jing at Friday Harbor Labs.
Fu-Shiang Chia will discuss his translations and read selections from the book at this reception. Copies of his book will be available for purchase.
For more information and to make a reservation call U.W. Friday Harbor Laboratories at 360-378-2165 ext. 0
We're part of the deal.....
Linda & Maureen wanted me to share this with you - the deal where the school district is partnering to make better food happen at school. Check out this blog about Slow Food for the full story & you'll see where we're headed.
Quote
The hours I spend with you I look upon as sort of a perfumed garden, a dim twilight, and a fountain singing to it. You and you alone make me feel that I am alive. Other men it is said have seen angels, but I have seen thee and thou art enough.
George Edward Moore

---
August 13, 2008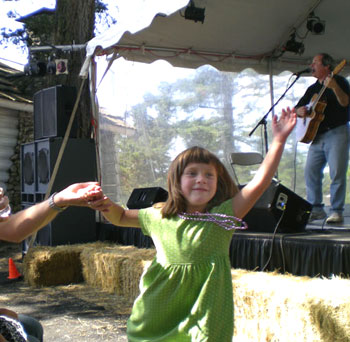 The County Fair starts today!
Well, you already knew that.
The Entertainment schedule, 4H schedule, Fine Arts Demos, and Agricultural Tent Workshops are all here on the Fair's website, which is located here (if you want the whole enchilada.)
Here are pictures from last year's Fair (you're in there) and last year's Fair's Loop Run (you're in there, too).
See you at the Fair! (I'm playing at noon on Friday & would love for you to drop by!) That's Greta (right) singing & swinging during my set last year....
Lost cat found...the Update delivers another lost feline....
Yesterday Joyce King said her cat was away - here's the rest of the story: "I am happy to report that Stoppard (who must read the San Juan Update) returned of his own accord yesterday evening. Thanks to you, Ian, and cookies will be forthcoming." - Joyce
The way it was....
On this blog (scroll down a bit) there is a photo posted by Dolly Salazar of the lime kiln at Roche Harbor (they're still there - go look!) This one was shot in 1881, though - way cool. Check it out!
It's the Milk Shack....
Joyce at the Family Resource Center reports there's something new for moms at the Fair:
Hi Ian,
The Family Resource Center will be "hosting" "Mom's Milk Shack" at the fair this year. Mom's Milk Shack is a cozy place for mom and baby to enjoy privacy and company while nursing. A changing table and other necessities will be available. It will be located in front of the horse arena across from the rabbit tent - next to the young children's fair play area (the tubs with the beans, farm animals and equipment). We invite all nursing moms and their babies to relax and enjoy the private space! This special place was made possible with donations from Friday Harbor Thrift House, Inter Island Water Company, Kings Market, San Juan County Fair Board, and Soroptimist International of Friday Harbor...and, of course, all the moms who requested it.
Thanks for announcing this...and stop by to visit!
Joyce Sobel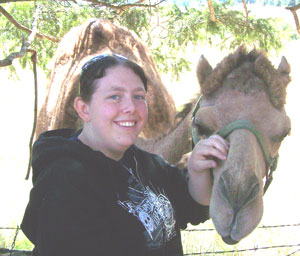 Mona poses with her friend....
Stephanie Ayres shot the picture at the right of her daughter & her new friend:
Hi Ian –

I read your column weekly or so, love it! Our family has been coming out to the island every year for 12 years to say hello to the whales :) This year, we met Mona, the friendly camel out on Roche Harbor Road. A beautiful girl is she, and I thought you'd enjoy this picture of my daughter Kacie and her. What a kick!
Who'd ever think we would see a camel on San Juan Island? She's a great gal, Mona. We stopped by several times to see her while we were there.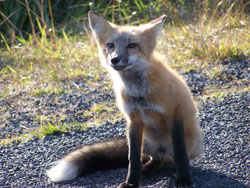 I also have attached one of my best pictures of a fox we call Spot (we became acquainted with him last year) at South Beach. What a beauty! The foxes there are so tame, i just hope no one ever hurts them. It makes me worry about their welfare.....I hope I'm just being silly!

Keep up the great work on the Update, we've made friends there on the island, so it's fun to see what's happening there.
Slow food - for you, for the kids....
This is cool, and it happens today:
Can you mention that Friday Harbor's Slow Food convivium is sponsoring a talk on Wednesday in the Ag tent at the SJC Fair by Chef Tom French? Tom will be giving a presentation about the 2008 Friday Harbor pilot school lunch program I mentioned to you tonight. The program, called the Experience Food Project, will begin in at the start of this school year, September 2008. The Fair presentation is scheduled to begin at 4 pm.

You can't miss the Ag tent, it's right in the middle of everything and is surrounded by a number of very attractive and distinctive scarecrows. You can find out more about the lunch program, about Chef Tom French, and also about the Friday Harbor Slow Food group (and how to join it) by going to slowfoodlandandsea.blogspot.com. This lunch program is a very exciting development, and we encourage everyone to look at the web page, and come by and meet Tom. (and Anthemology will be just across the way on the music stage! Maybe people can run back and forth...)
Best wishes, Linda Degnan Cobos
Quote
I come into the peace of wild things who do not tax their lives with forethought or grief... For a time I rest in the grace of the world, and am free.
Wendell Berry
---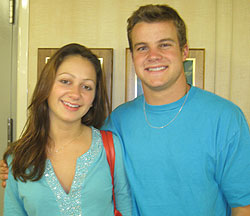 August 12, 2008
That's Loch Stimpson (he's at USC) and Kristina Linova (Seattle U) on the ferry the other night - both FHHS grads are working on the island for the summer before going back to school this fall....
Playing tonight & tomorrow.....
Oren & Peggy asked if I could tell you these guys are playing tonight at his place & Wednesday at the Fair (at 4pm - plan now!)...here's more (from left, that's Shay - drums; Christian - guitar, Miles - bass; and Avery - guitar at the Pig War Picnic last month):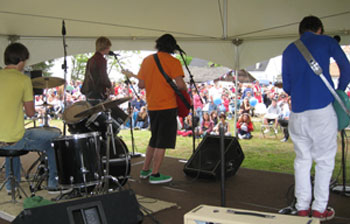 Could you post a reminder about Anthemology's performance at the Ale House Tuesday evening?
This show will be our send off party for our 2008 Friday Harbor High School Seniors; five of them have been great Ale House employees, and we wanted to say "best of luck" with a splash!
The first of them start to head off to university next week! This will be Anthemology's third show at the Ale House, if you haven't had a chance to see this powerhouse high school band rock the brewpub, here's your chance. We anticipate a whole mess of 2008 seniors & friends will be by that evening, a great opportunity to wish them all the best. The show will get rolling sometime after the dinner rush, 8PM or so.

Cheers,
Oren & Peggy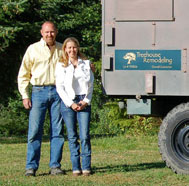 New remodeling place on the block....
When you look over their website at treehouseremodeling.com, you'll get the idea why it's a good idea to call Lauren and Derek at Treehouse Remodeling to day - check them out!
Lost cat....
Joyce's cat Stoppard is missing down near Goose Island at Cape San Juan...She has more (as you can see, she's a really good writer):
This is Joyce King, in case the little ID whatsit hasn't informed you. On Friday, Aug 8, my cat, Stoppard, somehow got out of the house. We think it had something to do with a door being left open: we had to air the house out as we had had raw sewage flooding our utility room for about a week beforehand, forcing us to temporarily relocate. Unfortunately, Stoppard couldn't relocate with us, and it's my concern that he isn't sure he'll find people here, or that he took shelter from the rain this weekend and is unable to find his way back now that the weather is more clement, or that he did come back when it was raining but nobody heard him. Especially since we were gone for a week, and I had friends staying with me the week before that so I didn't pay as much attention to him, and because I kept pushing him off my lap because his bulk was messing with my typing.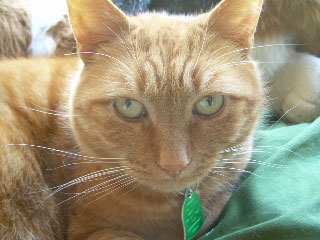 I've had him for almost a year now and he hasn't been out of the house once in all that time. He's a rescue cat, and he's young, so I know he can take care of himself, but its' been three days and he still hasn't come back and I'm really worried. We have an eagle's nest just down the road and several ginormous monster cats living next door... But I'll stop flooding you with my fears.
I'm writing to you to ask if you'll post something on your site asking people if they've seen him. He's an orange tabby, a little on the tubby side, with yellow-green eyes and a blue collar that once had a pattern of yellow cat-paws, but is now sort of fuzzy because he used to scratch at it so much. The collar also has a little bell on it, and a green bell-shaped tag confirming his rabies shots.
If you could do this for me I would be very, very grateful, and if someone finds him I will make both them and you an enormous plate of chocolate chip-marble cookies, and maybe some cake, or I'll knit you both hats out of whatever kind of yarn you want, or something else I haven't thought of yet.
Thank you for reading this, either way. It felt good to write.
Joyce King
Quote
You don't have to suffer to be a poet; adolescence is enough suffering for anyone.
John Ciardi
---
August 11, 2008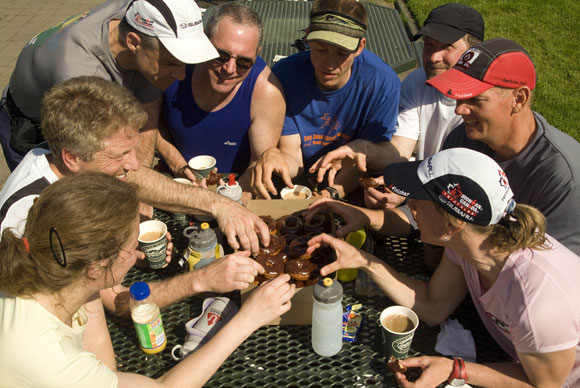 The heart of the runner - the inside scoop....
This just in (along with the picture above) from Clark Gilbert:.....
Over a year ago, Clark Gilbert and Laura Tretter began running from Friday Harbor out to Roche Harbor, a 12 mile run. Laura was training for a 50K (31 miles) run over in Victoria and this distance was good training. After arriving at Roche Harbor, they would eat a world famous Roche Harbor chocolate icing doughnut, or two, as a reward. Then catch a ride back to town. They ran all through the fall, winter and spring - in sunshine, rain and snow. Over time more runners would join the duo and run from town out to Roche Harbor and celebrate their personal victory by eating doughnuts. The best doughnuts. To date a world famous author, Michael Collins, various IronMans, a few Boston Marathon finishers, and a politician have made the Run for Doughnuts.
The attached photo shows a group of local runners, from left to right: Laura Tretter, Randy Gaylord, Paul Hopkins, Clark Gilbert, Brian Goodremont, John Pachuta, Ron Wilson and Jane Hutchison. Photo by Kathy Ballard, www.kathleenballard.com.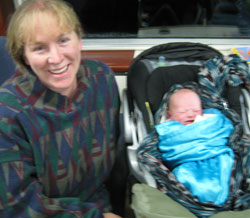 Babies on the island.....
Just saw Tory (on the right) last night with ten-day-old Paul on the ferry last night, and that's not all....
Stacie and Casey Baisch welcomes Benjamin Garrison Baisch on July 28th, 2008 at 11:55pm. Stacie tells me he weighed in at a whopping 6lbs, 3 oz!
Trashion Fashion nixed for this year....
The popular show where people make cool clothes out of recycled stuff has been cancelled for this year's Fair, becauseof not enough entries, Francie Hanson tells me. I'll check & see what's gonna take their spot later today.....
Quote
Forgiveness is the fragrance that the violet sheds on the heel that has crushed it.
Mark Twain
---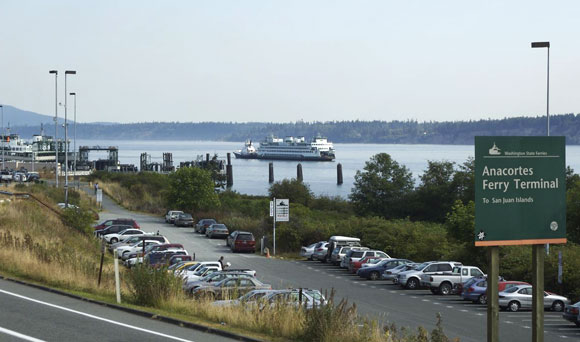 That's the Elwha getting pulled to dock by a barge on Wednesday, which threw the schedule for a loop. The Sealth has taken its place, carrying about 54 less cars, and it's not certain when the Big E will return. Photo by Tim Dustrude.
August 8, 2008
Helping Gary....
Yesterday I told you about Gary Bowman, but I also wanted to tell you there's a fund set up at Islanders Bank to help him & Yvonne with medical expenses, in his name. Drop by & help out, if you can.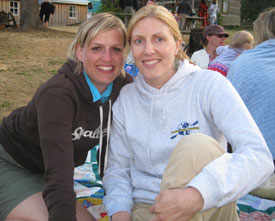 That's Angie Krieger (right) with husband Johannes' cousin visiting from Germany, Uta, at Music on the Lawn Wednesday night. She & Johannes own & run Crystal Seas Kayaking, and she says they're having a great summer on the water.
Susan's new book!
Did you hear about Susan Wingate's new book, coming out this fall? Here's more!
Baby news....
Last night I got to meet Kris & Tito Bayas' second boy, Emilio - great kid, with a great sense of humor, good at algebra, and uses both feet in fútbol. A winner. Wait'll he's THREE months old.
And...I heard Victoria Compton's having her kid today or tomorrow...more on that when I hear more.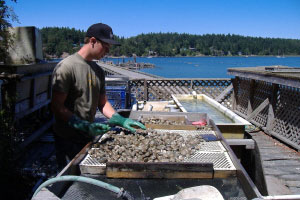 Get yer oysters!
There are still plenty out there - here's the story from Kathleen at Westcott Bay:
Hi Ian,
Westcott Bay Sea Farms will be closing for the season around the end of September. We are open Monday thru Saturday from 10:00 AM to 5:00 PM , and Sunday from 11:00 AM to 5:00 PM. We want to make sure that everyone enjoys our oysters, clams and mussels before we close. I want to thank our community for all their support. I've sent along a picture of our clam digger, Carl Billington, who digs hundreds of pounds of clams a week for us to enjoy on our plates.

I enjoy your website!
Kathleen Dolsen
Office Manager, Westcott Bay Sea Farms
Quote
Try in thine own experience, each; that ye speak not for one whole day unkindly of any; that ye say not a harsh word to any, about any; and see what such a day would bring to you . . .
Edgar Cayce
---
August 7, 2008
Getting better.....
I went by Islands Convalescent Center (ICC) Tuesday to drop in on Gary Bowman.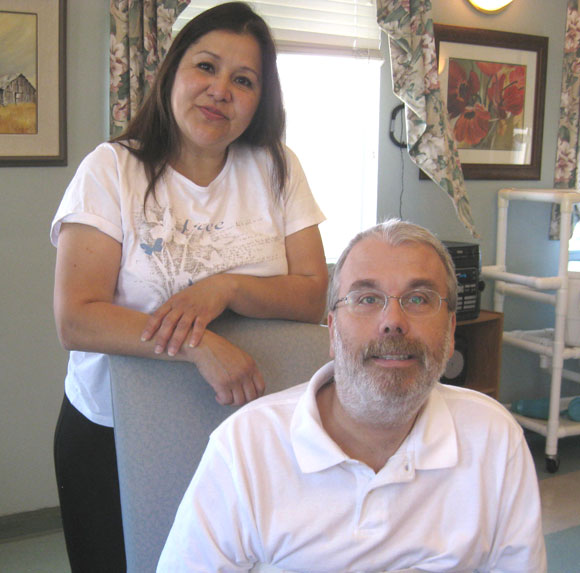 You'll remember Gary was riding his motorbike on June 26 and hit a deer, and the force of the collision threw him forty feet. He was flown off to Harborview Hospital, where he was in a coma for a week before he started to come around. He was able to come back to the island in mid-July, and was mending at the ICC until this week, when he found he had been accepted into a program for treating head-injured adults at the University of Washington Hospital.
His wife Yvonne says they're working him pretty hard, and he's pretty proud that he can do some things he wasn't sure he'd be able to do. He had a nearly hour-long walk yesterday, spent a couple of hours working on simple everyday tasks, and is doing puzzles and other mind exercise to sharpen his mental acuity. She says he keeps the physical therapists laughing and has been doing everything cheerfully. The present goal is to learn to walk on his own, and to continue to get better at everyday things.
Yvonne says she hopes to be back at the post office working next week, and she wants to thank everyone for all the love, support, prayers, and help they have offered (including the good folks at the ICC, as well as the EMTs and the Sheriff's Department) - she says the island has given her and Gary a lot of strength.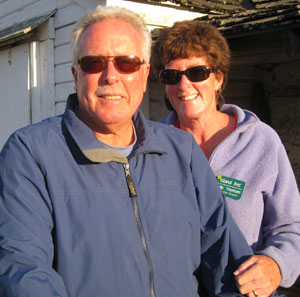 It was good to visit with Sally & Tim last night at the season's last Music on the Lawn....Sally from Island Rec has put on the weekly music series each summer for eight years, while Tim has run San Juan Kayaks for 28 years.
The new and the old....
Darren & Lisa on San Juan Islands TV (http://www.sanjuanislandstv.com/) have a four minute feature about Vic's, which celebrated its 50th anniversary last month - wahoo! You can see the video (which features longtime islander Celia Gregory, who's been going to Vic's all that time) by clicking here.
Not so new....
Remember I mentioned that Northwest Sky Ferry was a new way for you to fly from Bellingham to here? Well, just because they slipped under MY radar doesn't make them new - Barbara Wollman writes in:
Ian, Northwest Sky Ferry isn't new: I've been using them for years to get from Friday Harbor to Bellingham and back. I've flown with them occasionally to other local airports, as well. I prefer them because 1) if I call far enough in advance, I'm the one that sets the departure time, and 2) pilots stay with them a long time and get to know my needs and quirks. I've occasionally had friendly pilots on the other local airlines, but Northwest is consistently accommodating.
Open Gaming Night for Teens at the Library....
It's this Friday - Willa from the Library has more, on the San Juan Calendar. Don't miss it.
Quote
Men who have a pierced ear are better prepared for marriage - they've experienced pain and bought jewelry.
Rita Rudner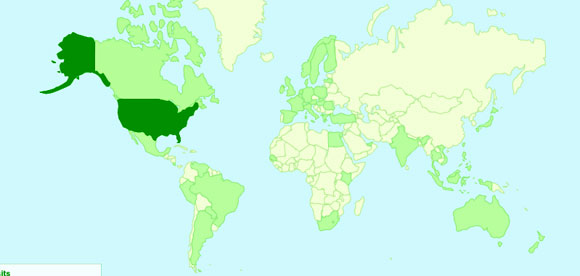 Little known facts: The map above shows the countries in the world from which people have clicked onto the San Juan Update. Although the US is green, meaning most of the visits are from there, no one in North Dakota clicked through. Meanwhile, the country in Europe with the most visits is Andorra (hey, Piet!), followed by Norway (hey, Charlotte!), Sweden (hey, Anna!), France (hey, Tracy!), and Canada (hey, Josie!), which technically is not in Europe. Neither is Wenatchee, but we're really glad you're there.