August 22, 2008
Two more nights.....
The Tempest has two more nights out at Roche Harbor, as Island Stage Left concludes its 23-show run. It's at 8pm tonight & tomorrow, so I hope you get a chance to see it...it's a wonderful show (I loved it.) I think I like Prospero's epilogue at the end the best (besides him saying we are such things as dreams are made of, but you already KNEW that):
Now my charms are all o'erthrown,
And what strength I have's mine own,
Which is most faint: now, 'tis true,
I must be here confined by you,
Or sent to Naples. Let me not,
Since I have my dukedom got
And pardon'd the deceiver, dwell
In this bare island by your spell;
But release me from my bands
With the help of your good hands:
Gentle breath of yours my sails
Must fill, or else my project fails,
Which was to please. Now I want
Spirits to enforce, art to enchant,
And my ending is despair,
Unless I be relieved by prayer,
Which pierces so that it assaults
Mercy itself and frees all faults.
As you from crimes would pardon'd be,
Let your indulgence set me free.
Here the update on the fields at Carter Street......
They're coming along....hopefully ready to be used by next year. Here's more.
Passing....
Angie from Islanders Bank told me about Shawn passing away - he used to work and play up here off and on for the last 15-20 years and was known by a few people.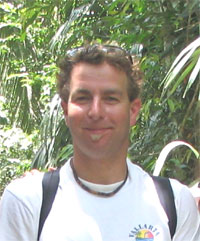 Shawn "Curly" McCarthy (03/19/1973 – 08/17/2008) - Unexpectedly passed away from complications of a motorcycle accident at Harborview Medical Center in Seattle. He will be greatly missed by all who knew him. A Memorial (Potluck) will be held on 08/24/2008 at 1:00PM at the Tulalip Tribes Gymnasium, 6700 Totem Beach Rd Tulalip, WA 98271(call Jared 317-8996 or Dave 472-1116 for more info.)
Book signing tonight at the Museum...
National Park historian and author Mike Vouri discusses his latest book, "The Pig War," Friday, August 22 at 6:30 p.m. at the San Juan Historical Museum. There will be a slideshow and book signing. The event is sponsored by the San Juan Historical Museum.
"The Pig War" is a photo history published by Arcadia Publishing and is part of the "Images of America" series. Every page is full of photos, many of which have never been published before.

Copies of "The Pig War" will be available for purchase with a portion of the proceeds benefiting the San Juan Historical Museum.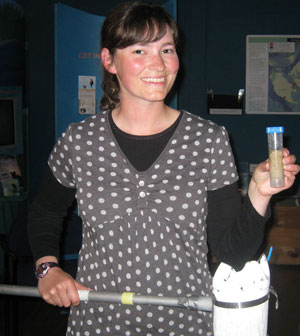 Great talk....
Probably sounds funny, but it was pretty awesome to hear about all the things folks can learn from whale poop on Wednesday night.
Katherine Ayres (right) is a graduate student at The Center for Conservation Biology, a non-profit based out of the University of Washington, which specializes in non-invasive physiological monitoring of endangered populations. She is using hormones extracted from Southern resident killer whale fecal samples to indicate nutrition, stress levels, reproductive condition, and toxin exposure. Her research team has also demonstrated the use of a scat detection dog to facilitate fecal collections.
It was cool the Whale Museum sponsors talks like this - see you at the next one!
Speaking of naturalists....
Isn't about time YOU became one? Here's more from the Whale Museum:
Registration for the Fall Marine Naturalist Training
Program, presented by The Whale Museum, is available now. The program dates
are Saturdays, September 20, 27, October 4, 11, 18, and 19. The object of
this program is to provide a learning experience that assists adult
graduates in becoming qualified regionally as professional or volunteer
naturalists.
The main focus of the training is the ecology, current status and
conservation of Southern Resident Killer Whales and other local marine
species as well as discussions about the environments they live in. The
course includes presentations on cetaceans, pinnipeds, mustelids, intertidal
invertebrates, seabirds, and a variety of other topics such as geology, and
marine conservation. Faculty includes Whale Museum staff, professional
naturalists, marine scientists, and environmental educators active in the
region. Students will also participate in a variety of field trips relating
to the topics of study. They will have the opportunity to assemble a Gray
Whale skeleton at The Whale Museum and to practice their naturalist skills
on board a tour boat. Tuition is $350 and includes an orca adoption and a
Whale Museum membership. There are no prerequisites other than high school
graduation and a sincere interest to learn.
Quote
Democrats never agree on anything, that's why they're Democrats. If they agreed with each other, they would be Republicans.
Will Rogers
---
August 21, 2008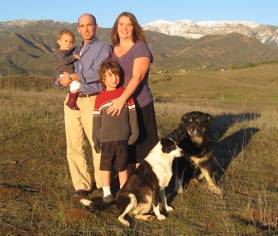 Spring Street International welcomes new Director....
Louis O' Prussack and his family moved to the island in early July, and he's the new director at SSIS. That's his wife Jennifer with him and their two children Caeden and Aiyana. Here's more, on the SSIS News page.
Book signings & readings happening....
Tonight (Thursday) at Pelindaba, it's Sue Carnes with her new book, My Champion (here's the event info). Then, on Saturday at Griffin Bay Books, it's Bob Tripp with his new book Last Clear Chance from 2-4pm (here's more).
See ya there!
Are you going to Fayette's retirement open house?
Darlene sent me the details (see below), so I told you all about it but forgot to include where & when & all that:
Please drop by for pets, snacks and beverages! It's an Open House on Thursday, August 21, 1:00 pm - 8:00 pm. It's at Fayette, Ozzie, Ingrid, Ken & Darlene's Place on 2898 West Valley Road (call 378-6866). No gifts please! If interested, donations can be made to The Fayette Honorarium Fund at Guide Dogs for the Blind
P.S., Meet Ingrid, Darlene's New Guide Dog
Quote
Every gun that is made, every warship launched, every rocket fired, signifies in the final sense a theft from those who hunger and are not fed, those who are cold and are not clothed.
Dwight D. Eisenhower
---
August 20, 2008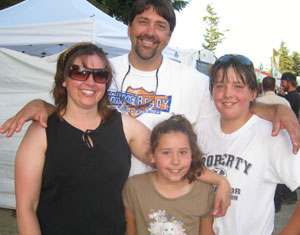 That's Fred & Stephanie & Kiana & CJ Woods at the County Fair last week, gearing up before school gets rolling (it always feels like the end of summer at Fair-time, doesn't it?)
And here are more pictures (about 200 or so, of people you know): Faces at the Fair and folks in the Loop Run 2008. And....here's the results from the run. Those galleries may take a moment to load, 'cause they have so many folks in 'em. Let me know what you think!
Election returns trickle in....
The thing with mail-in ballots is that you get a pretty good idea who is ahead, but you don't always know until the last ballot is counted - for example, I mailed mine yesterday, so I know it's neither counted, or even in the "to-be-counted" list yet. That's OK...we can wait till they're all in. We'll count 'em all. This ain't Florida.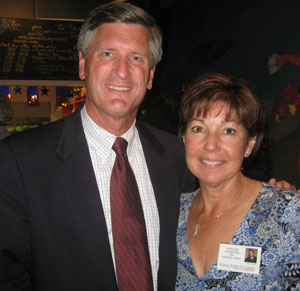 It appears that John Linde (right, with Carol at last night's victory party at the Rocky Bay Cafe)) has beaten Randy Gaylord to hold onto his position as superior court judge by a 2-1 margin, while Kevin Ranker (running for State Senator for our district, which includes San Juan, Skagit, and Whatcom Counties) seems to have made the final two against Republican Steve Van Luven (Steve got 39% of the vote to Kevin's 28% in the seven-way race.)
Meanwhile, the County's District One Council race is (I think) too close to call, with Lovel Pratt (37%) ahead of Gordy Petersen (34%) and Lisa Guard (26%). There are some 2500 ballots still left to count, county-wide, so we'll wait and see who emerges as the top two for November.
Music this weekend....
Joy & Laura from Griffin Bay Bookstore tell me that the music on Saturdays this summer has been well-attended, in the coffee part of the store in the back. Here's more:
Saturday, August 23, 2008, the Griffin bay Bookstore continues a series of Saturday night "coffee house concerts". This Saturday features music from Michael J. Cohen, Steve Dyer and Ian Bolton. All music is acoustic and presented in an intimate setting. Sweet treats from Bakery San Juan and Cynthia's Of Course go nicely with the extraordinary hot and cold coffees. No cover charge.

---
August 19, 2008
Sports practices get going....
Football practice starts this Wednesday, Aug 20th, while Volleyball, Girls Soccer, and Boys Tennis all begin on Monday, Aug 25th. Those interested may contact the school district for more specific information. (You'll want to get your physical scheduled NOW with the medical center or Suzie or the Health Associates, too - don't forget!)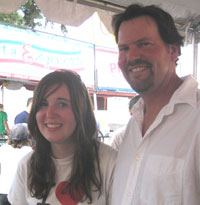 The tradition continues....
It was nice to see Dean Kinnamen's daughter Kira (right) working at the Palace Theatre this summer, keeping the family tradition alive of Kinnamens owning the place & working there.
Slow Food - the real deal.....
Remember I told you about the Slow Food deal, last week? The link I gave you was funky - try this one: http://slowfoodlandandsea.blogspot.com/
Hey, it's a retirement party....
Darlene told me at the Fair that her guide dog is retiring, and you're invited to the party - here's more:
It was nice to run into you at the fair! And catch up, briefly.
I'm attaching an announcement we've made for Fayette's Retirement Open House, 8/21. I really appreciate any help you can give in helping to get the word out.. If you want to write a little something that is fine too.
Anyway, Fayette has a following here on San Juan Island. In part due to her high visibility, but also because of her wonderful disposition and irresistible nature. Folks have been wondering how Fayette is doing. She is fine, just slowing down as she is 11.5 and takes her thyroid med. But she deserves a break after working for an amazing 10 years (6-8 is more typical). So, I wanted to give folks a chance to drop by our place and see that she is doing fine and wish her well in her retirement .
She still wants to go and work. But she is happy and cheerful even though she has to stay home. It is tough for me as well to transition from my reliable, loyal guide of ten years to a new pup, (Ingrid).
She has had an amazing career as an exceptional guide dog. She has guided me in diverse settings from wilderness to Washington D.C. She's a canoe camper, actress, mascot for re-enacting, and caver. She hangs out for all our musical performances (wags her tail in time to the music-sometimes), moans at the appropriate times during long winded speeches, bounds along as we cross-country ski outings and has explored prehistoric ruins and the interiors of battleships,..... Well, I could go on and on. I just love my old girl. and am so fortunate that she has been able to work for so long. She's 11.5 and most retire at 8, 9 or 10.
Thanks for posting this, whatever you can do will help get the word out.
Many thanks
Darlene Wahl
378-6866 (home)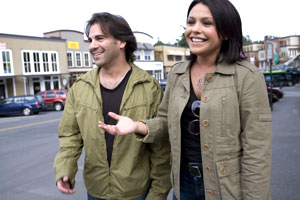 Rachael Ray...the inside scoop.....
Robin from the Visitors' Bureau has the rest of the story:
Since so many rumors have been circulating about Rachael Ray's visit to Orcas Island and San Juan Island last week, here are some details of what did happen.

Attached is a photo taken during the Aug. 1-5 film production for the series "Rachael's Vacation" on the Food Network. John Cusimano is Rachael's husband and lead singer for the group The Cringe. He appears with her on the "Rachael's Vacation" shows.

The San Juan Islands show will be aired during the upcoming 2008-2009 season, although an air date will not be known for probably a few months. A press release will be issued to all members and the media when we receive confirmation of the show's air date. The San Juan Islands show will air for the first time most likely in the spring. And then go into reruns for years, like the other Food Network and Travel Channel shows do. That's another reason to like them so much!

Here's the link to the show's page on the Food Network website.

http://www.foodnetwork.com/food/show_rv/0,3190,FOOD_30857,00.html

The production company we are working with on this program is High Noon Entertainment, out of Burbank, CA. They produce all of the Rachael's Vacation shows (and the earlier "Rachael Ray's Tasty Travels" series). Other destinations filmed during this July/August west coast trip included San Francisco and Santa Barbara.

The major Orcas Island location for filming was at SJIVB member The Inn at Ship Bay. Additional footage included Eastsound street scenes, Farmer's Market, Rose's Bakery & Café and Anthony Howe Sculptures.

San Juan Island locations filmed included SJIVB members Steps Wine Bar & Café, The Backdoor Kitchen, Pelindaba Lavender Farm, Roche Harbor, Krystal Acres Alpaca Farm, and Duck Soup Inn. Scenes were also filmed on Friday Harbor streets, at the Front Street Ale House, Rocky Bay Café, the Portals of Welcome and around Spring Street Landing.

Twelve people were on the High Noon production team that traveled to the San Juans for this shoot and they all enjoyed their time here very much. The producer told me it was a very successful shoot. I am still adding up the figures for economic impact just based upon the production days – local revenue due to lodging, meals, museum admissions, whale watching (several went during an evening off), substantial gift buying, etc.

We also work with High Noon Entertainment on other network television projects. A recent one was for the Travel Channel's popular series called "What You Get for the Money: Vacations." It was hosted by Christopher Elliott, one of the national travel journalists we work with regularly.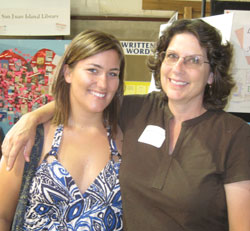 Robin
Always good to see old friends....Maude caught up with FHHS grad Ashley Wright at the Fair.
Killer whale photographer to speak....
Peggy Sue sent this over:
The Whale Museum is thrilled to present orca photographer, storyteller and educator Jeff Hogan. Jeff is the founder of Killer Whale Tales, a program that brings the field of orca research into the classroom with a unique blend of teaching science and conservation through storytelling.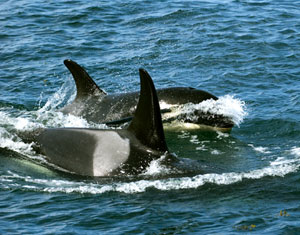 Jeff takes all of his orca photographs from shore, many from San Juan Island's Limekiln State Park. He promises to share with us how his program Killer Whale Tales came to be plus how anyone can get amazing photos of whales from the shore.
This event will take place Friday August 22 at 7:00 pm at the Whale Museum.
Quote
Preparation for old age should begin not later than one's teens. A life which is empty of purpose until 65 will not suddenly become filled on retirement.
Dwight L. Moody
---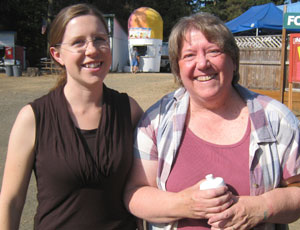 August 18, 2008
The San Juan County Fair....another one for the ages....
Is it possible NOT to have fun at the Fair? Don't think so....besides all the stuff to do, you always run into friends & extended family & new friends & visitors....lots of smiles, like Andi Zehring (right) and FHHS grad (ten years ago!) daughter Jennifer, who lives in Tacoma now.
And the weather lucked out - as Sunday grew grey & stormy, and it poured Monday morning. Nice to have a sometimes hot, sometimes a bit chilly, but completely dry Fair week.
So - it's picture time! Here are a couple of galleries of faces at the Fair and folks in the Loop Run 2008. And....here's the results from the run. Those galleries may take a moment to load, 'cause they have so many folks in 'em. Let me know what you think!

The 8.8K Loop Run was great - here's the start on Spring Street (click on the photo
above to see the larger version), and click here to see the runners getting
ready & coming in at the end.
What a wedding here looks like....
Natalie Gossett's friend had her wedding at Roche Harbor - here's her blog, with photos of a happy day.
New grandma on the island....
Cere Demuth's son Nate is a new papa - here's more: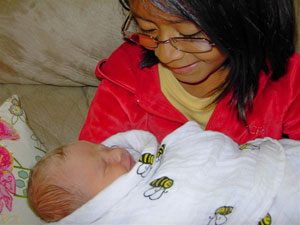 Hi Ian,
Here's a photo of Vida holding her new nephew. Canon Penny (middle name yet to be decided) was born, in record time, on August 10th @ 9:25 pm. His mom decided the Bellingham Birth Center might be a little too far and they detoured to the Anacortes Hospital where he was born 25 minutes later. He weighed 7lbs 14 oz, and was 21 inches long. Canon is the son of Nate Penny (Demuth) and Stacy Bova. He joins his brother Carter at their home in Anacortes. All are healthy and happy.
Thanks for posting,
Grandma Cere