March 1, 2005
March on: You know, "march" is a good word, because it's time to get out & march.
Tomorrow (Wednesday) there will be an assembly of folks at 2:30pm at the Family Resource Center to protest the proposed ferry changes, which universally will screw us up here. An hour later, the WSF people have a meeting 'round the corner to hear what people think. Here's details from the San Juan Islander...see you at the rally!
Doggone dog is now dog found: Franchesca called to tell me that Enah the dog was discovered...on Brown Island. She said her boyfriend Todd heard howling from over there & went & rescued it from across the water. Best they can figure, Enah swam over & didn't feel like swimming back.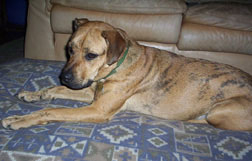 February 25, 2004
Lost dog: My friend Franchesca over at Friday Harbor Suites tells me her dog has been missing since yesterday - here's a photo of Enah the dog...give her call at 3031 if you have any ideas.
Basketball comes close: According to an eighth grade friend of mine who went down yesterday to Coupeville, it was fun because it was close, but an exciting game ended with Seattle Christian winning by four (he didn't remember the score.) The girls also lost, so both squads are done.
Great seasons don't always have great endings, but it sure was fun. Way to go, guys! Way to go, girls!
New species: A new species of seahorse was discovered on South Beach this week, possibly because of winter break & so many people watching for things. Click here for a photo of this.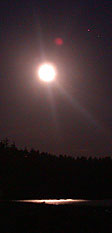 February 24, 2004
Full moon brings day to night: It sure was bright last night, with the moon rising just after sunset, and still in the morning sky this morning, right before you got up...yawn.
I took the photo at right looking northeast with a little spot of Griffin Bay in the reflection about an hour after the sun went down, from Jackson's beach. I believe the red thing in the picture is a UFO. Or a lens flare, since it didn't land near me.
That, along with clear skies, made for an easy-to-walk at-night evening.
Break: It's not just the kids who travel this time of year, with mid-winter break happening htis week. Windermere's Lynne Rogers went to Vietnam, while Western Prince's Ivan & Jackie are in France.
Some people get out.
Beads & all that: Have you seen Corina Tettinger's webpage? She (left) offers a wide variety of resources for bead makers & bead buyers, on her page that says it's about "lampwork beads you just can't live without!"
Check it out - it includes her updated journal of her trip to Egypt (another island traveler!)
Why we're here: You know how it feels when a car alarm goes off, and it seems as though it takes forever to turn it off while the owner finally comes out of the restaurant & finally finds his or her keys and finally turns the damn thing off?
There's that wonderful "Ahhhh" feeling when it's off.
Looking for it - that feeling is why a lot of folks come here, either to visit or to move - to experience the "ahhh!" of leaving all the stuff of the city behind to walk on the beach, or hike up Mount Young, or to bike somewhere. There comes a time when you just gotta ditch the car alarms (and everything else that demands so much of our attention) and quiet things down.
Basketball: Today the basketball teams play their first playoff games inn Coupeville. I'll see if I can get the scores for you as we hear them.

Another place to stay: One of the new businesses emerging from the construction & renovation of the San Juan Inn is Sybil (right) & Travis Mager's San Juan Property Management company.
SJPM provides single family and condominium vacation rental management services on San Juan Island. You'll remember Travis as a FHHS graduate, years back, and Sybil is a Northwest native who is also a real estate agent with Friday Harbor Realty. Drop in and say hey!
We're on top! Check THIS out: Go to Google & put the search phrase "friday harbor" in. Look - it's the San Juan Island Web Directory, right there as Number #1!
We just re-designed the way it looks (its eye-pleasing design, by By Design associates Anne Anderson and Beth Corbin, was launched two weeks ago) and the way it navigates.
If you put "friday harbour" in there, you'll end up someplace in Scotland, so be careful.
Comet, last word: Remember I mentioned that presentation about the Stardust project at NASA last week? I meant to tell you that one of the project workers is our own Scott Messenger, who graduated from FHHS, too.
It IS rocket science.
Quote: Only in growth, reform, and change, paradoxically enough, is true security to be found. - Anne Morrow Lindbergh


February 19, 2005

Moonshadow: You saw the moon last night, and all the stars, before the clouds rolled in...it'll be bright next week when it's full.
In the meantime, it's been pretty sunny, don't you think? Get outside & play.
Irish Music Camp, again: Here's the details - you'll want to set aside some time for Dan's Irish Music Camp in a couple of weeks. My favorite parts are the dance and the concert the last night...check it out - it's at the Marine Labs, which has a nice dancin' floor there where the cafeteria is.
China bound: Jan from Friday Harbor Yachts told me earlier this week she and Dan were headed for China yesterday...that's where some of their well-made boats come from.
Back: Pat Sandwith from the Roche Harbor Water Company's back from the hospital & back on the job after an operation on his colon...here's the details from the Roche Harbor News.
Basketball revs up: It all comes together next week on Thursday as both our girls team (10-10) and boys team (17-5) head for Coupeville to check their first playoff games off the list. I still don't know when, so if you're making plans, check in with the high school.
Wrestling: I've gotta file this Update report kinda late, so I'm gonna ask you to check on the progress of our four wrestlers at State on the San Juan Islander to see how they do. All four (Kyle Miller, Britt Banry, Jason Grone, and Danika Britain) lost in the first round, so they're in the consolation bracket.
Quote: To laugh often and much; to win the respect of intelligent people and the affection of children; to earn the appreciation of honest critics and endure the betrayal of false friends; to appreciate beauty; to find the best in others; to leave the world a bit better, whether by a healthy child, a garden patch or a redeemed social condition; to know even one life has breathed easier because you have lived. This is to have succeeded. - Ralph Waldo Emerson


February 18, 2005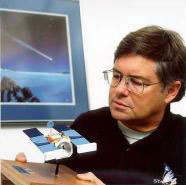 We are stardust....: A lot of people who come to the island are here to explore their inner space & reflect, but the crowd of folks who assembled last night at the Friday Harbor Marine Labs directed their attention to outer space.
NASA principal investigator Don Brownlee (right) of the University of Washington presented a gripping slideshow of the Stardust Project, which launched in 1999 to come close to a comet, gather matter from the comet and photograph it, and then, remarkably, return home with the samples early next year, when the spacecraft returns to the Utah desert in January.
If this stuff interests you (and you REALLY have played too many computer games if it doesn't), check out their website...an amazing venture, which so far is going well.
The presentation was put on by the San Juan Nature Institute, directed by Victoria Parker, which is doing a super job of offering a variety of engaging presentations around the islands.
Next week: on February 24, it's a presentation called Legacy of Historic NW Maritime Voyages. The descriptor says: "Great maritime explorations to this region began 12,000 years before the odyssey of Lewis and Clark. Dr. John Findlay, Chair, Dept of History - University of Washington." See you there.

Off to Mexico: Far as I can tell, just about everyone I know is leaving for somewhere for next week's school break (mid-winter break is all next week).
The biggest group going, though, is the kids from Calvary Chapel, who left this morning on the red-eye. There are some 40 high schoolers who are heading for San Quentín in Baja to do some mission work, building a church, and some other stuff. (I asked one of the kids what they're doing. "You know, stuff," she informed me.) It's a long drive, but everyone who's going seems excited about it.
They promise me pictures when they get back.
Shelter at the Market: When you swing by the Flea Market at the Fairgrounds on Saturday, be sure and drop by the Animal Shelter's table - that's a fundraiser for them. They're selling stuff. You know, stuff. Not cats. Not dogs. Stuff.
Quote: Kites fly highest against the wind, not with it.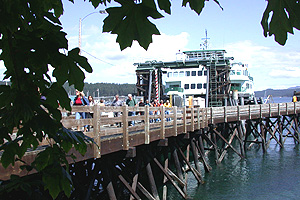 February 17, 2005
Don't forget the ferries: The ferry folks are coming to the island to discuss the proposed fare increases and fare structure on March 2nd for a public meeting, but it's pretty important to let them know what you think before they come.
If you're not up on all this, you need to drop by the San Juan Islander's compendium of resources & explanations, and find out more.
Can't let this one just happen - it has too much effect on the working folks in the islands, as well as the ability of people to provide services to both visitors & people here. Check it out, get caught up, sign the petition, and make sure you have a voice that gets heard.
J&J off to Nevada: Just heard Julie & Jeff who bought Post San Juan a few years back, then sold it late last year, are returning to their techie roots with job opportunities in Nevada next month.
They're the kind of folks you want around - bright, articulate, involved in the community, and always looking at the bright side. They'll be missed.
A & A hit 26: Yep, yesterday was Aaron & Adam D'Errico's 26th birthdays. Next time you're over by Browne's, wish them many happy returns.
Tami puts us on the map: Every month the Port of Friday Harbor writes up a little bit for its online news. This month Harbormaster Tami mentions links to the folks who offer information about the island online, and suggested us (the Update, which is you & me. That's the editorial "us," not the royal "we," princess).
Check it out. We've arrived.
Nash online: Just looked at Virginia Nash's new webpage, which promotes her healthy living counseling. It says, "pH Power - Health in a Whole New Light!! Wellness and self-healing is a movement for those who are dedicated to changing the quality of their own and others lives. pH Clinic offers several modalities to monitor and target optimal natural regimes to balance pH and maximize results. Every facet of pH Clinic revolves around balancing the body through lifestyle and diet to build blood and thus body and flip the odds against disease and degeneration in your favor."
Balanced diet means more than one cookie in each hand - check it out. I think she's onto something.


February 16, 2005
This is what it looked like looking over Griffin Bay (and the marine sanctuary in the foreground) with the sun beginning to brighten the sky above the clouds and Lopez across the way.
Family's OK: You know WaWan and Betsy Ridwan...he's the guy with the window-cleaning business and the huge smile whenever you see him.
I asked him yesterday how his family back in Indonesia's doing, after the tsunami. He says they're OK, as they live on an island away from all the trouble. He and Robin's Nest downtown took a percentage of their January receipts to send to help....
Ring out the old, ring in the new: Did you read about author Susan Meridith in the Roche Harbor News? Or about Neil Tarte fixing the bells in the carillion in the Our Lady of Good Voyage Chapel? Chris Watling has the details & reveals all.
Tale of two Julies: You can't go wrong if you go into the Countrywide Loans office over across from the Courthouse & ask for Julie. Julie Cory took over for Tracy James when she went off to live in Paris, while Julie Greene moved in to work with Tracy in the time before she left. Both are the kind of folks you want to work with - drop in & say howdy to them.
A valentine for you: Well, if I didn't see you for Valentine's Day, I guess the least I can do is sing you a song.
Here's "Give Yourself To Love," the song I tend to sing at weddings, which Joe Bongiorno uses as a bridal dance when he DJ's receptions, and which Kate Wolf made into a bit of a folk favorite. Click on the link & give it a moment to download. Then crank your computer speakers so everybody at work can sing along.
If you can't hear it, here's a bit from it:
Love is born in fire
It's planted like a seed
Love can't give you everything, but it'll give you what you need.
Love comes when you're ready
Love comes when you're afraid
It will be your greatest teacher, and the best friend you have made.
So give yourself to love, if love is what you're after
Open up your heart to the tears and laughter
Give yourself to love.....
Hope you had a good one.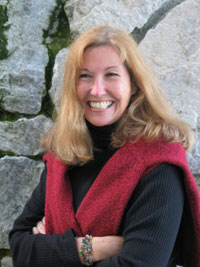 February 14, 2005
Anna's glass: Have you seen Anna Anderson's glasswork?
Check out her website - she has some pretty awesome stuff. That's one of her stained glass pieces to the right, featuring a madrona tree.
Quote: "The real work of planet-saving will be small, humble, and humbling, and (insofar as it involves love) pleasing and rewarding. Its jobs will be too many to count, too many to report, too many to be publicly noticed or rewarded, too small to make anyone rich or famous." Wendell Berry

Whoa! State champs! The FHHS Orca Bowl team won state for the second year in a row, thereby winning an expenses-paid trip to Mississippi in April for the nationals. Or the world. Or the universe. Something like that.
It helps when you know your marine science.
The team was put together by ace science teacher Marc Vermiere, and consists of John Fyrqvist (yep, he's the soccer all-leaguer who seems to make everything he does turn to gold), Shay Hopkins (soccer league MVP), Johannes Paul (soccer team MVP), Sarah Anderson (ace soccer defender), and Ashley Spendiff, who I don't believe plays, but it's probably a good idea to have at least one person on your team who doesn't go around hitting balls with their head.
I saw Tony & Lisa Fyrqvist at the store yesterday & they told me about this - it was a good week for the Fyrqvist family, as Kate's team won the Knowledge Bowl on Thursday night.
A lot to make parents proud, there.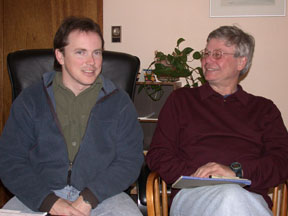 Discovery Sea Kayaks grows: Alan Willis (right) at Discovery Sea Kayaks is expanding into offering retail stuff & expanding his kayak tours, and part of the reason it's going so well is his new business partner, Dick Swanson (on the right). Check out their website & start planning your next trip!
Odd website of the month, revisited: Remember in August last year I told you this:
I KNOW I haven't mentioned Britney Spears in this space since I mentioned that one of my eleven-year-old fans has a tape with me singing on one side and Britney on the other, so you've been wondering what's she's up to.
I was looking up something about semi-conductors the other day and found the Britney Spears Guide to Semiconductor Physics. Explains a lot.

Well, I got a note in the mail over the weekend about that:
Just a quick note to thank you for that semiconductor/Britney Spears site. I used it for a paper that I just got back, and got a B+ from my professor. Keep up the good work! J.S. Winters, Tukwila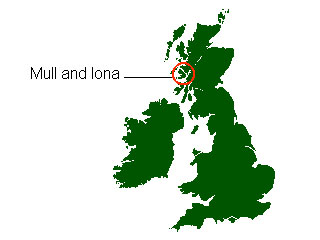 Mr. Winters did not say what college he attends.
Mull this over: I ran into Frances Bacon at the store yesterday and as part of the conversation we discovered that she had run into Craig & Krispi Staude last September on the Isle of Mull, in Scotland (right, 'cause I knew you were going to ask where that was).
While they were somewhat surprised to see each other there, it does seem that even with six billion people in the world, we can all find each other. Happens all the time.
Quote: You can't be a real country unless you have a beer and an airline. It helps if you have some kind of a football team, or some nuclear weapons, but at the very least you need a beer.-- Frank Zappa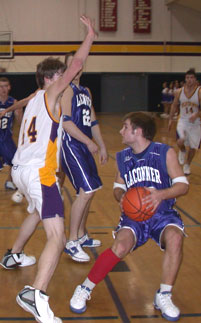 February 12, 2005
Basketball ends on high note: The FHHS boys took league champs LaConner to overtime before losing 46-42 Friday night, sending a clear message they belong in the state's elite as they head for district playoffs in the next couple of weeks.
That's John Hamilton closing 'em down inside in the fourth quarter (left).
The Wolverines were ahead most of the first half, and up by eight at the half, but the visitors whittled it to 33-31 after three. An inconclusive fourth quarter featured tight defense and a 36-36 knot after regulation.
Hey, they looked good. Prospects for the playoffs are strong - you won't wanna miss 'em.
Meanwhile, the girls rolled over the Lady Braves, winning by 30+ and dominating both ends. They're headed to playoff action as well.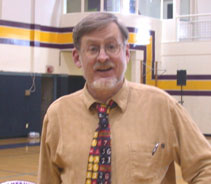 February 11, 2005
Court Bell to retire: At the Friday Harbor Middle School's honors assembly today, longtime district administrator Court Bell announced he'll retire at the end of this school year.
Court began his teaching career back in Greene County, Alabama, and over the course of a long & effective career made his way to the island, serving as the elementary school principal for years, then moving to the middle school in 1998.
There he really made a difference, guiding the school into an upward spiral of achievement and setting up a challenging and effective learning environment in which it's safe and comfortable for students.
It's going to be tough, if not impossible, to replace him.
That's Court below after the assembly with student body officers (left to right) Brook Jangard, Alex McDonald, Callie Bartlett, and Charlotte Guard. (Photos by the Update's Cameron Byington.)