prepared weekly or so by Ian Byington
December 28, 1999
New Year's is coming...great reason to celebrate, lousy reason to kill anybody. If you drink, don't drive. Start the year right.
Party on: Plans for parties all over the island are coming together...the two biggest open ones are the Theatre's evening (call 'em for details), and the one at the high school. Here's the story sent to me by Commisioner Darcie Nielsen:
Celebrate Y2K with Family and Friends!
A community Millennium bash called "Last Night" is planned for New Year's Eve. This alcohol-free event at Friday Harbor High School Commons will offer a variety of activities for families and those looking for an alternative to the usual revelry. Island Rec's Midnight (Millennium) Madness will kick off the event in Turnbull Gym with basketball, volleyball, ping-pong, and sporting contests and tournaments.

Contra dancing with "Contraband" will start at 8:30 p.m. in the Commons followed by a DJ at 10:30 p.m. with dance music including swing.

Face-painting and mask/hat-making will be available early in the evening and a children's video room and nap area will be provided. Snacks including popcorn, apples, cakes, cookies, and soft drinks, including sparkling cider at midnight, will be provided.

There will be door prizes and awards for most glitzy and silly outfits, and best Y2K "bug" costumes. There will be balloons, streamers, noisemakers, and fun as we countdown to midnight. This event is sponsored by the San Juan Community Foundation, Island Rec, the Family Umbrella Group, Soroptimist, Lions, and Kiwanis, and the School District has generously opened up the school during vacation time to host this event. Join together as a community to welcome in the new millennium!

If you would like to help or donate please call Darcie Nielsen at 378-4132. See you there!
More season: Christmas was great, wasn't it? Weather was OK & sunny (and on Sunday, too!) and it just felt good to be here.
Mystery shoppers revealed: In the big mystery shopper contest, shopper #10 was Penny Browne from over at the liquor store...she told me she heard most people got the other nine right, but only five got all ten right (people were guessing Penny Johnston from Coldwell Banker for #10).
So, out of the five correct ones, they chose one at random, and Wendy from M&W Auto Sales won! If you want to know who the mystery shoppers were, ask her.
Llama run-in: Rose, the bookkeeper at Windermere, had a harrowing experience a couple of weeks ago when she ran into a llama out on Roche Harbor road. The animal had gotten out and was smack in the middle of the road when she ran him down; he squashed her car roof and pushed her windshield in on her.
While the llama was unfortunately killed in the accident, Rose tells me she came out shaken with just a few minor scratches, in an accident that could have been a lot worse. Her car's still in the shop - glad she's OK.
Literary action: Bob and Morningstar tell me the latest version of the Dragonfly Review is online...the winter edition.


December 21, 1999
I see the moon, the moon sees me: Mary Keith reports in with the way things are gonna go tomorrow (did you see the moon tonight?!?!! Awesome!):
This year will see the first full moon occur on the winter solstice, Dec. 22, commonly called the "first day of winter."

Since a full moon on the winter solstice will occur in conjunction with a lunar perigee (point in the moon's orbit that is closest to Earth), the moon will appear about 14% larger than it does at apogee (the point in it's elliptical orbit that is farthest from the Earth) since the Earth is also several million miles closer to the sun at this time of the year than in the summer, sunlight striking the moon is about 7% stronger making it brighter. Also, this will be the closest perigee of the Moon of the year since the moon's orbit is constantly deforming.

If the weather is clear and there is a snow cover where you live, it is believed that even car headlights will be superfluous.

On December 21st 1866, the Lakota Sioux took advantage of this combination of occurrences and staged a devastating retaliatory ambush on soldiers in the Wyoming Territory.

In laymen's terms, it will be a super bright full moon, much brighter than usual AND it hasn't happened this way for 133 years!

Our ancestors 133 years ago saw this. Our descendants 100 or so years from now will see this again.

I hope someone else might find this interesting! Remember this will happen December 22, 1999. Take a look at the sky that evening.
Sheriff flown off: Bill Cumming suffered a heart attack, and was medivacked to the mainland this weekend...he's expected back on island today. Hope he's OK...good, community-involved officers like him are hard to come by, and we're lucky to have him.
Tekkies on the move: We've known for about a month that Nöe Ritter's moving to Seattle early next month (she's the lab tech out at the Marine Labs). Meanwhile, Computer Guy Wade Guidry's given notice at the public library that he's leaving after more than two years...both of these folks have done great things for their places, and will be much missed.
Sotto Voce rocks: It's Renaissance vocals (with a little Mozart thrown in), and it was awesome. Sunday night's concert at the Community Theatre was both well-attended and well-received. Bass David Bayley likened the experience to a "real workout," while director/tenor Farhad Ghatan said it was wonderful to get the response they did. They were joined by bass Roy Cope, tenors Nancy Cope and Jon Roney, sopranos Sarah Carter, Amy Moran, and Jacquie Quigley (who is not related to Tim Quigley, and is the sister of Connie Biggers), and altos Christiane Biermann (just back from presenting a genetics talk in Tokyo 36 hours earlier), Jean Hendrickson (she was the Mother Superior in Sound of Music, remember?) and Edie deChadenedes.
It was great.
Mapped out: Want to see a map of the island?
Mailbag: Ladd reports about the evolution of his group:
Just a note to say that Sunday, the 12th's meeting had 22 attendees (!). There were even a few people from Lopez and Orcas. Had good discussions, formed a member contact list (which includes the members' special sustainablity interests), and reinforced the idea that S.L. is NOT AN ACTION GROUP in and of itself. It is a think tank and networking station. Like a train station. Somewhere you connect and maybe have a good conversation at the same time. Meetings in the future will be on the second Tuesday night of each month at Katrina's at 6:30. People with questions about the dinner itself should call Kate at the restaurant.
Colleen Clancy's doing a super job directing Skagit Valley College. Her report:
An item for your web page: I was in Seattle last week to meet with Carol Barton at the Claremont Hotel. She and I will be doing some joint EH programs next year. The Claremont is owned by Carol and her husband Don--one of the last family-owned hotels in Seatle. They bought it 5 years ago and are working to make a luxury hotel out of it. It's old, big rooms, lots of character and right downtown, near everything.
Anyway, I've been telling Carol she needs to give an islander rate like we used to get at the Royal Scot in Victoria--you know, call them up and say you're from the islands and get a special rate. She says it's a go, so tell people that we now have a place to stay in downtown Seattle. Carol is a total kick, although there's no promise you'll get to see her if you stay there. She must have a life outside the hotel.
Write-up: Harrison House Suites was written up in a Sasquatch deal. Cool.
Gravel pit may re-open: Richard Munroe and others are checking out the possiblity of re-opening the gravel pit. I was getting excited by news that there might be athletic fields for the kids put in there...we'll see how it turns out.
Season: Tons of Christmas stuff going on around here. It's in the air...a good feeling all around.
Quote:
"It is in the space of mastery over paradigms that people throw off addictions, live in constant joy, bring down empires, get locked up or burned at the stake or crucified or shot, and have impacts that last for millennia." Donella Meadows

December 12, 1999
Lion lights up island: You were probably there. The Stage Left production of Lion in Winter was simply awesome. Staged at the old Pope Building Supply place across from the Inns at Friday Harbor, the building became a theater for a couple of weekends...and more. (Turning away folks for the other shows, and standing room only was the story the last night.)
The acting was real, the story rang true, and for a little over two hours the play swept the audience up in its tale of intrigue and deception, and matters of the heart. Susan Williams' Elinor may have been her strongest role in the six years I've been watching her do shows around here; the tight ensemble cast delivered the goods as well.
Stage Left organizers Dan & Helen are off to England this week, and are starting to plot what's next, possibly not one but two Shakespeare shows this summer.
Don't miss the next one.
Winners all: You've seen the lights, now check out the winners (scroll down the page to find 'em) of the Holiday Lights Contest, sponsored by the Chamber of Commerce. The real winners are the community with a bright light show every time you go into town. Cool.
Quake: Did you feel the little earthquake yesterday morning? I talked to three different folks who said they woke up a moment before it hit, then felt the rolling motion under their houses just before 5am. Located off the coast from Victoria, the quake measure 3.7.
How do I know stuff like this? I look it up at the US Geological Survey site...now you can, too.
Parade & Santa: The lighted boat parade was its usual big-hit self, followed by the Santa Ship, as Santa dropped by the new middle school commons this year. A little drizzle was part of the deal, but it wasn't as cold as it has been in the past.
Wanderings: Over the holidays a lot of people are going places, but one of the farthest afield (for the next three months) will be Corrinne from Mi Casita's, as she travels to Africa...
Did anybody you know go to that ferry meeting yesterday? With the passage of Initiative 695 last month, the guesses are ranging all over the place (some are saying $75-$90) as to how much ferry tickets could rise. That, of course, would probably have a pretty dramatic effect on our visitor numbers in the summer. As I understand it, the budget cuts don't kick in till next summer, but whew... Stay tuned...
December 7, 1999
More news: You knew they were up to something when they both left the Journal...Matt Pranger and Sharon Kivisto have started an online newpaper (news-electrons?...what ARE we going to call an all-electron, no-paper news deal?) called the San Juan Islander.
Matt was the editor at the Journal (he's also wearing Ann Carlson's old high school advisor hat at FHHS), while Sharon wrote for them, so they bring a ton of experience to the project.
December 6, 1999
Lights up: Saturday evening I was lucky enough to fly back to the island from somewhere after dark...and believe me, the lights are up! You can see town from Whidbey Island, and you know that crack I made last year about the airport oughta use Post San Juan to help people land? You could!
Town looks great. Go see it, if you haven't yet.
Cash flow: Seems like this weekend was the fundraiser weekend, with the elementary school doing their auction & the theater having their Festival of Trees.
If you missed them, they'll still take your donation.
We're famous: Business took me to Tulsa & Reno these past few weeks, and it's interesting that when folks ask where I'm from, I tell them (Friday Harbor) and they almost always seem to have heard of us; more than a few say they've even been here.
Crossroads of the world...
November 27, 1999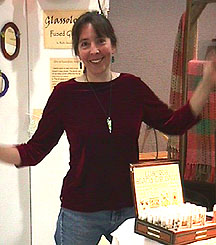 The Artisans' Craft Fair was its usual wonderful self this year.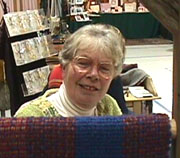 It continues to be amazing that there is so much talent around the island. The range of stuff that is available is wonderful, whether it's food like Harry's honeys or Lopez Larry's Mustard, or paintings, claywork, herbs, or woodwork.
While it seemed pretty crowded in the middle of the day, it tapered off later, but picked up again on Saturday in the mid-part of the day, after some of the rain & wind burned off. Beth Spadafora (in the red above) told me Friday's sales were good, and that people come especially to see the kind of handmade goods the Fair offers. In the booth next to hers, Ev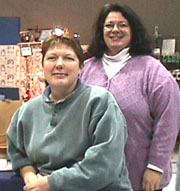 Tuller was showing off her weaving and clothwork (she had made the backdrops for Amhal as well!) , while around the corner Gail & Alice (right) were selling herbs and soaps for Bountiful Herbs.
Teresa Smith (and her husband Howard; that's Michelle in the photo) have issued their second Art Calendar...be sure and get yours soon! The high quality calendar has a different island artist's work each month, and they're great. People who pass through my office always ask where I got mine, and now you know! Call 'em up & get yours!
Of course, there were tons of people there...these are just the ones I got pictures of.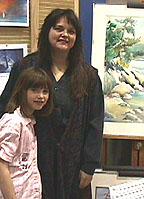 No reason to waste a ferry ride to go malling when this is going on...besides, all our friends are here.
The event was held at the elementary school this year due to gym construction at the high school, which seemed like a good idea.
Amhal rocks: Be sure & catch "Ahmal & the Night Visitors" tonight at the Presbyterian Church at 7:30pm if you can. This English-language opera features a kid named Ryan (right) as the poor crippled buy, Laura Concord as his mom, and Farhad Ghatan, Roy Cope, and Eric Concord as the three kings, as well as a bunch of our neighbors as shepherds and pages.
Some nice added touches, different from the show two years ago: Recorder and flute music added to the basic piano score, a spirited
dance by Phil Tate and Jacquie Quigley in the middle, and the closeness & intimacy of performing in the church's smaller space.
All in all, it worked.
In other show news, The Lion In Winter opens next week on the second at the old Pope Lumber Building across from the Inns at Friday Harbor, next to Post San Juan.
Mall rats: Saw Commissioner Darcie last night at the contra dance, and asked her if she's been to Ahmal, and she said no, but she's been to the Crafts Fair. (Mall, Ahmal...get it?) She makes a point of buying locally, anyway.
Meanwhile, she tells me she and her good friend Chris are getting married in May. Congrats!
Speaking of the dance, there were a goodly number of folks there at the Grange, including an aggregation from the Labs. And a good time was had by all....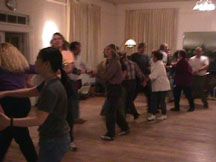 November 24, 1999
Up on the roof: Did you see they're putting a new roof on the Interwest Bank building? Hope it held up OK with all the wind last night...
Third year begins: Did you know I began writing this little online rag two years ago, on November 24, 1997? At the time, I had no idea it would grow into what it has: people stop me on the street to tell me stuff, most of which I can't use 'cause it's too scandalous; people ask me where the sport scores are when they're IN there, and ask why I don't cover them all the time...
People in the produce section of the grocery store still give me the most leads....
And, maybe most of all, it's neat to hear from the regular readers, who tell me they check this page all the time for details of island life. Thanks...you keep me going.
Let's do two more.
History buffs will find the full two years archived at the bottom of this page.
From the mailbag: Some community stuff - Mary Keith writes about this upcoming deal, a reprise of two years' ago's production (which I thought was great):
I'd just like to spread the word that some of us are ushering in the Holiday Season this coming weekend with presentations of the opera "Amahl the Night Visitors." This one-hour long opera is sung in English by residents of San Juan Island.
The story is that of a poor widow woman and her crippled son who are visited one cold winter night by three magnificent kings. It is a story of love, forgiveness and miracles! The three FREE performances are Thanksgiving Evening, Nov. 25th, also Friday the 26th and Saturday the 27th. All performances are at 7:30 pm. We will also be going to Lopez on the 4th of December for a 2 pm performance.
"Amahl and the Night Visitors" will be presented at the Presbyterian Church, on Spring Street in Friday Harbor. When on Lopez we will be at their new Community Center building.
You know Ladd who works at Harbor Books? He reports:
Last Sunday night at Katrina's saw the beginning of a new discussion group called "The Sustainable Life." With only a week to advertise the modest number of seven attendees dived into Kate's lasagna as well as topics ranging from Simple Living to Aspenization, from the Growth Management Act to the act of managing one's internal landscape.
Co-founder Ladd Holroyd had a few words about the event: "There were those who didn't want a lot of talk and no action, and those wary of getting dragged into time-consuming, uphill battles for sustainable living issues in the islands. But really the pressure is taken off Sustainable Life by the fact that it is organized to be a type of think tank, not an action group itself. Hopefully those oriented towards projects will meet at these gatherings and form action groups from there. Our role is simply to promote dialogue and critical thought.
And to eat a lot of lasagna, of course. By the way it was great. But you already knew that... "The Sustainable Life" will meet every second Sunday at Katrina's at 6:30 pm. Call 3100 for details and to reserve a spot (room for only 20 diners at a time).
November 21, 1999
Thanksgiving looms: The way we do things around here, school closes for the holiday after Tuesday classes, and tons of people head off-island to visit relatives and such. The rest of us stay here for potlucks & dinners & get-togethers....
There'll be a dinner at the Grange on Thursday if you don't have a place already to go...check it out! Details in the papers on Wednesday....
Speaking of holidays: Ken Griffey, Jr. turns 30 today. Tell your kids.
Millenium madness: Sounds like the county (spearheaded by Commish Darcie, who reps this island) and the Island Rec folks (spearheaded by Director Cindi Baker) are pulling together a bunch of music, basketball, and other activities at the high school for New Year's Eve...the idea is to have a non-alcoholic choice for families and friends that evening. Should be fun...I'll report more as soon's I find out more.
Job swaps: The Sheriff's Department lost Sharon Boyd to Windermere, where she'll take Terrie Schaff's place (Terrie & Gene moved to Oregon a couple of months back)...meanwhile, Elise DuFour moves over to Charters Northwest this week after a year and a half as ad rep at the Sounder.
Small world: As it happens, I was in St. Louis last week, where I looked up my old teaching buddy Norm Purdy, who immediately asked if I knew Scott Spaulding. Sure I do: he's from here - Beth & Chris' kid (and Lindsey's bro) who goes to Principia, the boarding school where Norm coaches. Local flavor, all over the country.
November 13, 1999
Notes around town: Big hit with the kids: Pokemon (the movie) opened on Wednesday night, just in time for the kids to stay out with no pain (there was no school on Thursday.) You can tell how popular a movie is by it's showings; Aaron at the Royal Theater has three showings a day this weekend. Most of the kids tell me it's great; I saw it & am still trying to figure out the attraction. Heck, I'm still trying to figure out the plot.
Never could figure out that purple dinosaur, either, but HE was a big deal, too.
That fire earlier this week on Nichols Street was apparently caused by something catching on fire in a dryer at the laundromat. HAd the block cordoned off for a while while our local fire guys dealt with it...no one hurt.
Foggy bottom - the fog sure rolled in last night. Did you see it? Did you see anything else?
One of the ferries - the Elwa - is offline for a while...you might check before you think you're going places. The runs are still scheduled, but a smaller boat has been added to the mix.
Whales are hurting: Our orcas are apparently ill from toxins we're dumping in the water.
From the mailbag: Marilyn Ross checks in from the East, where this is apparently news:
Ian, As future residents of SJI (hopefully) my husband Bob Schwartzberg & I are avid readers of your web site. Our local paper, the Washington Post, had an interesting article yesterday about the situation with PCB's being found in the resident orcas, and quoted some SJI folks from the Whale Museum and Lab. I was glad to see the subject getting some national attention, and thought you might be interested in the article. You can get it at www.washingtonpost.com, the article is entitled "Toxins Threaten a Wonder of the Northwest" (November 8), it's available in the search function. I think it's time the orcas get listed on the Endangered Species List. Thanks for all your news! Marilyn
Meanwhile, Howie Garrett from the Tokitae Foundation/Free Lolita reports evidence that a recent newborn here (Tweek and his/her mother may have died from this, with an explanation of how it works::
The sad part of that story is that Tweek's mother died at all, and that Tweek himself is now missing and has probably died. This makes 8 orcas who have died in the past year from the community, far more than the 1 or 2 mortalities that would be expected according to normal longevity. The Southern Resident community now numbers only 83 orcas.
Toxicology results have not come in yet on L51, but evidence is abundant that the Southern Resident community of orcas - Lolita's family - has accumulated life-threatening proportions of PCB's, among other pollutants.
KING-5 news in Seattle aired a special report on the problem Thursday night. PCB's tend to lodge in fatty tissues, especially in the blubber and mother's milk. They mimic, and take the place of, essential hormones that influence reproduction and immune systems, without acting in the appropriate way to provide growth and health. Studies have shown that when quantities reach more than three parts per million (ppm) some damage can occur in mammals. Humans now carry an average of about one ppm of PCB
contamination. Recent studies conducted by the Canadian Department of Fisheries and Oceans have concluded that Southern community orcas have accumulated an average of about 140 ppm. Tweek's mother, L51, may have succumbed to the toxic load she was carrying, and Tweek appeared to have been born prematurely and may not have had a chance from the start.
November 9, 1999
Fire chief resigns: Word has it that Glen Potter has resigned as the head of the county fire department. No future plans have been announced for the longtime & affable chief (his photo is below on this page, working with the kids earlier at FHES.)
He'll be much missed.
School pulls web site together: The high school's web site has been redesigned by student Eli Black...check it out and see what you think.
Meanwhile, Diane Kinnamen Hollis tells me the folks putting on next year's FHHS all-class, all-staff reunion have a webpage with all the details. She says:
July 8, 2000 at the Friday Harbor High School, an all class - all staff millennium reunion will take place. Our goal is to have as many alums possible participate in this historical event.
Local hero: Found out yesterday that David Duggins from the Friday Harbor Labs is donating bone marrow this Thursday in Seattle. The painful operation will give someone else a chance to live...and lay David up for a while, too. Way to go, Dr. Duggins.
Sustainable future: A discussion about sustainability issues and more concerning the islands happens at Katrina's this Sunday at 6:30pm or so. Call for details, or check with Ladd at Harbor Books. Should be good, and is definitely necessary.
Speaking of Katrina's - did you notice Kate's downsizing to the right half of the place, and closing up the left side? Food's still good, though.
Notes here & there: Did you know Becky Shanks (she of Haymaker's fame) used to ride her unicycle three miles down San Juan Valley Road to the elementary school, which used to be at the present middle school? She graduated in '76 from FHHS, with 32 in the class....Charis Pruitt tells me the proms back then "were bad - all relatives."
There's a dinner for former Marines at the Legion this weekend; there's a contra dance right next door at the Grange....Dracula concludes its run at the theatre this weekend....
Morningstar from Chiron Press tells me: "Local poet Tom Odegard is now online at the BEACHFIRE GATHERING. He is the Featured Poet of the week and we hope, one of many San Juan Islanders to be featured on this poets' page. Check out the 'renaissance man' (as Tom describes himself). There's even a photo of him."
Did you lose any limbs in last night's wind?
November 7, 1999
Weather: Nice mix of weather we've had lately: Thursday, sunny; Friday, grey & cold; Saturday, rainy & rainy. There's a chill in the air that makes it feel less autumnal & more wintery.
Soccer: FHHS girls soccer closed out their season with an 11-0 playoff loss to defending champs Seattle Christian on a chilly Friday afternoon...notable moment during the game: SCHS senior Melissa Bennett nailing 8 goals to take her career goal total to 154 in four years, and setting the state record. Even more notable: In a decidedly lopsided game, the FHHS girls were working hard till the end. They never quit.
Watch out next year.
Sports: The older Tigers football squad won yesterday to stay alive in the playoffs, while the younger two teams lost. The FHHS varsity dropped a 40-something to 0 game to Orcas over at their place yesterday as well to end their season.
Meanwhile, volleyball didn't go to the playoffs, but attended a season-ending tourney that coach Michelle Meyer tells me was great fun. She's pregnant with her & Phil's second kid - due in April.
Dinner: Last Friday, I went to dinner at Friday Harbor House, and you know, it was great. The service was attentive & good, the food was well-prepped (my crowd had halibut, duck medallions, and a fish I can't remember how to pronounce)...a good time was had by all. At another table, Donna Pritchard and her friends were celebrating her birthday. Check it out - they do a good job.
Skagit lunchroom: The Intro to Computers Class at Skagit is having their end-of-class potluck tomorrow before class....a nice way to celebrate a fun seven weeks together.
Pols & smart stuff: India registered its billionth citizen a month or two ago, making it the second biggest country in the world. The same US presidential candidate who finally admitted in May that global warming "might be true," says his failure to know India's president/prime minister's name isn't proof he's not smart enough to be president. He says he's plenty smart.
Oh.
November 4, 1999
Cosmic spoon mixes things up: Doesn't it seem like things are in some kind of flux or something?
To wit: Last night's half-hour power outage, which sent people scrambling for candles, right during dinner time...heard they were out on Lopez as well.
Or that state bill (I695) passing, which will reduce the vehicle license fees, but leaves transportation issues in question, especially those big green & white boats that we use all the time. It'll be interesting to see how that plays out...
Or all the couples breaking up around here: Talked to Kathryn Kerr of the Wine Shop on the ferry the other day: She's one of the finer philosophers & observers of island life: She says this seems to happen every year starting around now, goes through the winter, and then folks shake their heads around springtime and clear away the craziness...she calls it the island square dance, with folks changin' partners.
Girls Soccer - oh, my: After what many would consider a tough year, the girls beat LaConner 2-1 last night (goals by freshman Mariya Porten & senior Kristen Bull) in their last game of the season for their second win of the season. In their three-team league, this qualified them for a playoff game tomorrow with Seattle Christian, with their two wins over LaConner.
November 3, 1999
Swans in view: This note from noted bird watcher & cataloguer Susan Vernon from two days ago:
"We have touchdown." Some trumpeter swans were sighted in San Juan Valley this morning, the first of the season. They just flew 2500 miles to get out of -6 degrees below zero temps in Alaska.
Election results: Looks like Boyd Pratt won over Mark Kendziorek for one School Board spot, while, Sally Bryan beat John Jull for the other. The Park & Rec (Island Rec) levy was passing as of this mornng...it needed 60% yes votes, and has a 1600-600 margin at this writing; the Land Bank renewal was also overwhelmingly approved.
November 2, 1999
Boys soccer comes close: For the first time in the program's history, the boys soccer team played in its first playoff game yesterday. On a cool, sunny (mostly) afternoon, they came up short, losing 3-0, according to Conrado Ayala, who I saw on the street riding his bike home afterwards.
The loss puts a cap on a good season...congrats to the boys for reaching, and attaining, new heights.
Election results tonight: Check 'em out here.
November 1, 1999
Halloween rolls on: Tons of people in the streets last night in all kinds of costumes (although there did seem to be a disproportionate number of Harry Potter's dementers, if you ask me.) Did you get enough candy? Have you eaten it all yet?
An island thing: Seems most all the families on the island converge on the Greenway neighborhood for trick or treating...one familily that lives there told me they counted over 600 visitors to their door! So Denise Anderson organized Operation Candy Drop, so that folks who go trick or teating there have a chance to donate to the neighbors. Way to go!
Dracula rocks: Saw Director Dawn in the street today & she said the opening weekend went great, including Saturday night/Sunday morning's midnight show, which she said played to a nearly full house. I'm impressed: I thought most of the people on the island went to sleep by nine...
Contra dance breaks out: You know the folks who play for the 2nd & 4th Saturday contra dance at the Grange? They just can't stop playing - they went to do a dance on Shaw this weekend. My friend Christiana says over 40 people showed up, which is pretty good for an island with a population in the couple hundreds.
And a good time was had by all.
Soccer & football end their seasons: Youth soccer (some 265 kids) and football (around 70) wrapped up their regualr seasons this weekend in the rain with a ton of enthusiasm...toss the records, if anyone even knows them - these guys have fun when they play.
Thanks, too, to the thousands of volunteer hours it takes to line fields, put up nets, referee, coach, & do all the things it takes to put on this big a show.
More soccer: The boys soccer team plays its first playoff game ever today at 1 pm. Get down there & cheer them on - their opponent beat the Wolverines by a 1-0 score earlier, so it should be an interesting match.
Weather: Whew! What's next? After all the wind & rain on Wednesday & Thursday, all the rain this weekend, the blue skies on Sunday, and the cold last night, all we need now is some snow.
Think, care, then buy: Check out this new site, greared toward people who actually think before they buy stuff. See what you think.
Election: Oh, yeah - vote Tuesday, if you haven't already (about half the island uses absentee ballots so they can vote by mail rather than have to come into town to do it the old-fashioned way.
We'll tell you who won after we look on the County site - I believe Elections Director Sandy Gillespie's gonna be posting the results that night.
October 25, 1999
Bein' followed by a moon shadow: My, oh, my...did you see the moon come up last night right after sunset? The full moon rose through the trees; it was huge.
That was on the heels of another fine day on the island...I'd heard from several people we had a 90% chance of rain yesterday. Musta been listening to he mainland stations or something. Hope you got outside.
It was more like a 90% chance of sun.
Domestic violence victims remembered: A candlelit walk and vigil was held last night, culminating with a visit on the courthouse steps, where a candle was lit for each of the folks who died last year in our state from domestic violence. The sobering ceremony featured poetry, songs by Chinmayo, and a moment of silence to remember those who lost their lives to a moment of anger.
Dancin': Nice crowd at the contra dance at the Grange last night, which featured some musicians from Kitsap who came up for the evening. You should drop in sometime...
Other shows: Dracula, directed by Dawn Nivinski, opens next weekend at the theatre; the run includes a special midnight show. There will also be all kinds of Halloween stuff around town next weekend...get your costume ready.
To the dogs: Did you know Windermere real estate agents Zita and Dick Sandmeyer had two dogs, named Sam & Buck? Sam recently died...meanwhile, Coldwell Banker's real estate agent Sam Buck laughed when I told him about it at The Sixth Sense at the Royal Theater Friday night. Zita says the dogs were named separately, and that it's a coincidence.
About my CD: Remember I told you about my latest album? Mike at Funk and Junk (they have an auction next weekend, by the way) tells me his boy Avery listens to it nearly every day, which touches me. Meanwhile, my producer Joe tells me his daughter Taylor has recorded the CD onto the back of her favorite Brittany Spears tape, which she listens to all the time.
Now I know I've arrived. Me & Britt. Same tape.
Quote: "Oh, what a catastrophe, what a maiming of love when it
was made personal, merely personal feeling. This is what is the matter with us: We are bleeding at the roots because we are cut off from the earth and sun and stars.
"Love has become a grinning mockery because, poor blossom,
we plucked it from its stem on the Tree of Life and expected it to keep on blooming in our civilized vase on the table."
- D. H. Lawrence
October 21, 1999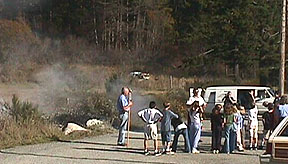 Where there's smoke: This is Fire Prevention Week at the elementary school, which means there are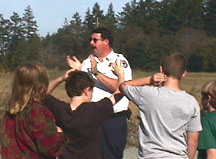 presentations all week to show the kids how to deal with fire-related situations. Using simulations, Fire Chief Glen Potter (right) and his volunteers have worked with the kids to put out kitchen fires, had the kids crawl through smoke-filled rooms (really, it was dry ice), practice dropping-and-rolling, and more.
Even though demos like the one above, in the school's gravel parking lot, may have gotten the attention of neighbors with its billowing smoke, we're all safer because they do this stuff.
The word from the kids: "This is cool."
Journal changes heads: Editor Matt Pranger at the Journal of the San Juans moves on this week, opening the position to a new guy...haven't caught his name yet. We'll let ya know as soon as we find out.
Weather: It's been great outside for the last week or so. Blue skies, just warm enough. Get outside & play.
Quick.
Real estate movers: Terrie Schaff has moved on from Windermere, where she worked in vacation rentals for a spell. She and her husband are going to set up in Sisters, Oregon soon...in other moves, Brenda Larson has moved over to Windermere from ReMax, while Carole Conran has been named to take Shannon Sandwith's place at Coldwell Banker.
Political battle: It ain't, particularly. This fall's gentle elections for school board, town council, and several ballot measures locally have been kinda quiet. Maybe it's because we'll get good folks no matter what, so there's no need for them to savage each other.
School board candidates go at it tonight with a forum, somewhere. Drop by...
And remember to vote YES on the Island Rec levy. You'll be glad you did. And so will the kids.
Sports: FHHS soccer continues to roll: Boys coach Colin tells me the surging Wolverines may qualify for their first-ever post-season action this year, while the girls won their first last night 2-1 over LaConner, with goals from Mariya Porten & Christina Bond. Coach Mike Amsel was pretty excited when I saw him in the store last night, and should be - the girls keep improving each week. Next up: Seattle Lutheran, whom the girls nearly beat in September.
Winning streak?
---
History is doomed to repeat itself:
Review the Update from August 12, 1999 - October 21, 1999
Review the Update from May 17, 1999 - August 12, 1999
Review the Update from April 8, 1999 - May 17, 1999
Review the Update from February 26, 1999 - April 8, 1999
Review the Update from January 3, 1998 - February 26, 1999
Review the Update from November 1, 1998 - January 3, 1998
Review the Update from August 31, 1998 - October 31, 1998
Review the Update from July 2, 1998 - August 30, 1998
Review the Update from May 25, 1998 - July 2, 1998
Review the Update from April 3 - May 25, 1998
Review the Update from January 22, 1998 to April 3, 1998.

Review the Update from November 24, 1997 to January 22, 1998.

---
The information here is simply stuff we here at By Design think is important around Friday Harbor or on the Island. Some of it's news, some of it's old news, and all are just things we wanted to mention, with most of it about the things that make living here great.
There will be more next week, if anything happens.

Ian Byington
bydesign@byd.com
To comment, feel free to add to our guestbook, or view it.
Other places with info about the island:
Everything. Simply everything about the island.
Pretty complete site about the island.
The Journal's Site
Includes news and classifieds!
IslandCam
The camera's pointed at Roche Harbor and Friday Harbor.
Updated every five minutes.
---
Return to the Web Directory....
This site prepared by our friends at By Design in Friday Harbor.
The information contained here is
©Copyright 1998, 1999 - By Design, Friday Harbor.
Unauthorized reuse of the content of these pages is prohibited;
links to other sites is intended to be to the benefit of those sites,
and for the edification of our readers,
and does not constitute endorsement or
agreement with views expressed there.