prepared weekly or so by Ian Byington
April 21, 2000
Big moon: I'm pretty sure you could have read outside by the light of that bright full moon...my, it was bright.
Carnival hits town: Nope, the Fair's not early this year. It just sounds that way. Christine Miller of the Fair tells me the San Juan County Fair Board is sponsoring the Carnival, put on by Davis Amusement Cascadia at the Fairgrounds till Sunday. Drop by & see 'em each day from noon till 10pm.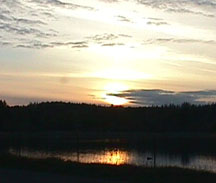 Sanctuary: One of the unexpected (and underappreciated) spots on the island is right next to Jackson's Beach, where the wildlife sanctuary is (that's it in the photo, with last night's sunset.) Good place to check out which birds are in season, as all the migrators seem to drop by & visit at one point or another.
Easter, egg: Sunday will find the annual Easter egg hunts at Jackson Beach & Roche Harbor...good chance to get outside & see friends. Be there.
Baby, baby: Saw FHHS volleyball coach & PE teacher Michelle Mayer today with baby Isaac, born to her & Phil on the tenth; she tells me he's doing great...Julie who used to work down at the pub told me yesterday that the Pub's Boo Boo's baby was to be induced yesterday.
Skagit: One of the bright spots (among many) at Skagit Valley College up on the hill is Mollie, who runs the computer lab. She serves as the assistant during open lab, and teaches several classes. She's a good one to take classes from, by all reports. Get by & meet her...
Wedding bells: You knew Commissioner Darcie Nielsen and her fella Chris are getting married on the sixth, right? Then the campaign starts for her re-election, with no presently announced opponents in sight...although several are rumored to be mulling the race. I'll tell you who, as soon as I can get at least two other people to confirm the rumors.
Showtime: The Community Theatre's production of Guys & Dolls opens soon...do you have your tickets?
March 31, 2000
Play it out: Yep, there are two nights left of the middle school play, tonight & mañana...so get over there and check it out. Starts at 8...believe me, you don't wanna miss it.
Sold: Word has it that Petro San Juan has been sold to Northern Energy. In other propane news, the sale of Friday Harbor Building Supply will be complete next week to Browne Lumber... new ex-owner Ted tells me he's ready to travel and relax. Goodness knows he's worked hard & deserves a break.
DST: The clock's supposed to go an hour ahead this weekend, but I won't tell anyone if you won't. Especially if you need the sleep....this has gotta be the dirtiest deal anyone ever thought up: the year's only 23-hour day. Just what busy people need, huh?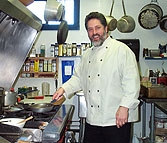 Springtree springs forth: After being sold by Jim Boyle and his friends to the Andersons who own the Place Next to the Ferry, the Springtree has new owners this season. BJ Brandli writes to say:
I've been reading your online column for some time now. I really enjoy it.
I'm pleased to let you know that the Springtree Restaurant is now open at 5pm for dinner. Manager and Chef Michael Harpster (right) is raring to make diners feel welcome with a new menu and excellent wine selection! His wife, Lisa, is a great hostess too! Thought maybe you might help us get the word out. Michael and Lisa are new to the island but are quite experienced in the restaurant business. The restaurant is also open for lunch every day and brunch on Sundays.
Thanks for any help you can give us here.
BJ Brandli
Grad night plans: Meanwhile, Jo Sandwith <jsandwith@sjisd.wednet.edu> writes on behalf of the committee getting ready for this year's grad party at FHHS:
Hi Ian, This is the article we were hoping that you could put out in your publication. Many thanks from the Senior Parents of the Class of 2000.

The parents of the Friday Harbor High School senior class of 2000 are coordinating a Safe and Sane Grad Night Celebration. While the actual events are still a surprise for the seniors, we need donations of cash and/or door prizes. The prizes will be awarded to the students throughout the evening's celebration. Your support is appreciated. For more information call: Nancy Niedringhaus at 378-3508 or Phoebe Smith at 378-3639.
Bats & balls: The crack of the bat's what you're hearing from all over the island...the high school baseball dudes are making another run at State (they finished second in the finals last year) with at least four wins that I've heard of, including a 5-0 game Tuesday, while Little League games get underway this next week.
Meanwhile, the FHHS softball girls return to action next week: after winning their first game, several players were suspended from play for school athletic/activities code infractions for two weeks, causing the team to forfeit several games. It'll be good to have 'em back...it's been a tough two weeks, and a learning experience, for the girls.
Water: The Journal's running a series on water availablity on the island (and in the islands.) Good for them. It's important to keep an eye on stuff like that when you have limited resources; it's also important not to take stuff like fresh water for granted.
Contra dance: The next contra dance is at the Grange on the 8th. Be there....
March 20, 2000
Equinox: As the seasons go round & round, we're back to another equinox. I think you could have read by the light of the moon last night, or at least take a well-lit walk on the beach. And now the days'll be longer than the night. As T. S. Elliot said, "The end is where we start from."
Gas: Well, for the first time since I can remember, the gas prices at the local in-town pumps are edging into $2 territory. Best deal is still over at the Texaco place on Carter Street (sorta behind the library), at Lynn & Charlie Meyers' place; little bit more in town. Between that & ferry rates, it'll be interesting to see how this kind of thing affects the summer tourist season...haven't heard anyone say yet they're not coming.
Whale of a deal: Lynn Gallivan/Danaher tells me she sold San Juan Excursions to Roger & Linda, as of the middle of this month. Get down & meet your new neighbors...with the sale, Lynn can end her cross-country commute with her husband, and focus on just being with him. Cool.
Middle school show: Weekend after next (on the 30th) Fred Yockers & the kids are putting on a couple of shows that Thursday, Friday, and Saturday. Every time someone goes to see the kids' shows they always say, "They're good!"
Meanwhile, the Theatre's production of "Death of a Salesman" with Dorian Oliver as Willy Loman has gotten rave reviews from everyone who's seen it. The show closed this weekend. Next big deal: "Guys & Dolls."
Weather or not: Did you see the weekend? Raining & windy all day Saturday, so at 2:30 or so I called all my baseball kids and cancelled our 4pm practice. Figured we didn't want to tear up the field this early, anyway. Within five minutes, the sun came out, the sky cleared, and it was beautiful the rest of the day. Sigh. Hope you got out in it.
Speaking of baseball, sort of, the FHHS softball girls won their first game last week, then kept their unbeaten season alive by getting rained out on Friday. Way to go, Wolverines!
March 2, 2000
Ferry woes slow: The Kaleetan experienced mechanical problems which sent the boat to the repair dock, cancelling runs Wednesday through the islands. Ferry workers say the smaller Kitsap will restore the usual service runs Thursday while the big K is getting fixed.
That, along with yesterday & last night's winds, slowed things up a bit.
Lights on: Have you been by the soccer/football field at the high school in the last week? Those aren't landing lights for the airport - the new lights will allow evening ball games for the three teams that use the field during the fall, boys' and girls' soccer, and football. There are also dimmer lights so folks can use the track to run at night. Cool. Next question: With the expected ferry service cuts, will we be able to schedule games so visitors can get back home on Friday nights? Stay tuned.
Meanwhile, the work on the streets (well, Spring Street, anyway) continues, and may be finished as soon as a couple of weeks, if all goes well & the weather doesn't slow things up.
Ready, break: Last week's winter break helped clear out the island - seemed like nearly everyone spent at least part of the holiday off-island, going to see family or heading for snow, you know.
First anniversary: The fine folks at Felicitations bakery celebrated their first year in biz last week...drop by & get a scone sometime soon.
Chow down: Tomorrow's the Dining for Scholars deal...several restaurants are donating half of their evening's receipts to local scholarship action. Good night to eat out.
Safe: Amy at the Blue Dolphin tells me some Harvard study says it's OK to eat eggs now. Saw a lot of people pounding down omelletes there the other morning....
Primarily: As you know by now, Messers. Bush & Gore mopped up in their respective primaries on Tuesday statewide, while Mr. McCain showed well in the all-candidate ballots, which the state GOP doesn't recognize. We'd tell you the count from the islands, but they're still counting the absentee votes.
New B&B owners: Have you been by to welcome Donna Mahoney at Halvorsen House? She bought the place from Cindy & John Patten, who have since moved off-island.
February 21, 2000
Moony: The moon has been out in all its splendor the last few nights, as it goes from fulltime to part time. Starting to wane, but it's sure light outside.
Ferry rally: Last Thursday's ferry rally down in Olympia appears to have been a success, at least as far as we can tell. Katie Ellingson made the trip, reporting that "Save Our Ferries" signs were all over the place, protesting ferry rate increases and service cutbacks. Western Prince's Jean VanLuevan was there, and tells me over 200 islanders added their voices to the rally.
Democrats: Couple of weeks back, the Dems elected Colleen Fowles from Orcas Island and Sarah Crosby (or just Sarah Crosby) from San Juan as co-chairs and Dave Eden as vice chair. Continuing officers are Elaine Fleming, secretary; Mary Blevins, treasurer; Carl Bender, state committeeman; Kathy Keller, state committeewoman; and Libby Blackwell, 40th Dist. representative. They also voted a commendation of Sandy Gillespie, suggested by Libby, for her fine work as head of county elections.
Restaurant swaps: He's at it again: Charles from China Pearl turned Mi Casita's into a going concern before selling it to Greg & Carol Ford; then made The Electric Company into the well-received Bella Luna. Now he's got himself into the Donut Shop, next to the theater, which suggests nothing but good times ahead for the donuts at that venerable place.
Meanwhile, did you hear Vic's has sold?
Auction: Nice little fundraiser for Anne Guitierrez at the Grange Saturday night. Anne broke her neck in a car wreck earlier this year....
February 15, 2000
Valentine's Day: The day for sweethearts was a hit downtown, with lots of visitors this weekend to the island and people eating out last night. Holidays are good for the island; several bed and breakfast folks have told me they're booked for next weekend's President's Day holiday, too.
Roche bust: There was a drug bust last mid-week out at Roche on a boat moored there, with reports of over a million dollars in stuff being confiscated.
Also, the fire trucks came out this morning (well, one fire truck) to check out a bunch of smoke that was caused by some guest not dampering a chimney correctly. Another guest said, "They showed a lot of hustle getting out here." Yup. We got good fire suppression action here.
Weather: Blasts of nice weather (that would mean sun) mixed with occasional gray (that would mean no sun) have been the order of the day the last few weeks. Rain's on tap (or outa the tap) for today...it's been going since the middle of the night, as you know.
The moon - the half we got - sure was bright the last couple of nights. Easy to get around in the dark.
IslandCam: One of their sponsors tells me the IslandCam folks aimed to suspend operations, and received letters to that effect. Then, it was announced today that Kenmore Air (the guys with the floatplanes) had purchased the operation....it's been a great service to the community. Good to see it'll stay happenin'....
Kneeless to say: Did you see Cindy from Salon Cappella? She's got a thing - sort of a cast - from her ankle to her knee on. She just got back Sunday from Sun Valley after nearly two weeks in hospital with a busted leg that included the loss of part of her kneecap. Ouch. She's in good spirits, though...she told the guy at the airport when she got back that she'd just use the crutches for ski poles now.
Softball: Just heard Vic Woodward's gonna run the FHHS softball show this spring - his senior girl Erin's one of the great kids of all time, and will play out her career with Dad. Vic, of course, used to coach the basketball girls, as well, about four years back.
Lumbering on: You heard Browne Lumber bought Ted's Friday Harbor Building Supply? It'll be interesting to see how they set things up over on the Mullis Street site.
Coffee on: Have you been by the new little coffee place next to the Parks office yet? Called the Buck Stops Here (doya think that might suggest Steve Buck has something to do with it?), Kandi is working with Shauna and Lindsey to make a nice latté for you. They say they're going to have more food soon, and that the place, which opened a couple of weeks ago, is doing great. They also have a sign contest...$300 prize with designs due by February 29th.
Around the corner, Roy's is doing well as well: Roy says, "Very busy! We have much more business than expected!"
Ferry rally: Bunch of islanders are going to a rally the 17th in Olympia to suggest to our friends there that we really NEED the ferries, which there is some concern they'll forget. Need a ride down? Call Darcie Nielsen over at the courthouse & she'll help set you up. Already a couple of busloads going...
February 1, 2000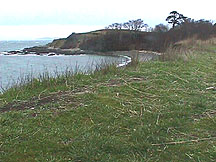 Weather: Lots of wind last night (and the night before), but it looks like the electricity held up. Wasn't that a great weekend? Felt like summer outside, till the clouds rolled in Sunday afternoon. Can you see the whitecaps at Cattle Point, as the wind blew up Sunday afternoon, in Shay's photo at the right?
Hope you got a chance to get outside and play.
Crowd & engines blow: If it seemed crowded at the Blue Dolphin and Bella Luna Friday morning, that's because it was. Usually the places clear out as everyone goes to get on the 8:10am ferry, but the Kaleeten blew an engine coming in that morning, which also blew the schedule into the afternoon when a replacement boat took over.
The ferry folks hustled and had the schedule back on track by afternoon...hey, we're used to rearranging our plans. You just go back to the restaurant and get another cup of coffee. Never is heard a discouraging word...
Our Town: It was fun to sit in the audience on Saturday night at the high school play & hear all the people around saying, "These are just high school kids?" The show was that good, and they delivered the goods. Once again, drama teacher Fred Yockers has assembled a wonderful show that played to sold-out & nearly sold-out crowds for five nights. Thornton Wilder would've been proud.
Way to go!
Kid basketball: There's basketball all over this time of year, with the Island Rec boys & girls playing (4-5th grades), the Tiger basketball teams going off-island each weekend (6-8th grades), and of course, the high school teams (they play this afternoon...get over there and watch a great show!).
On Sunday in fourth-fifth boys action, Jim McNairy's unbeaten Green team survived overtime with Rene's Blue team, while Allan's Yellow team (2-1) thumped my Red Raiders (1-2). Lyle Tarte's Purple team had a bye week...
If we don't save our ferries, who will? Commissioner Darcie Nielsen files this report:
HEADS UP on ferries....while we were in Olympia last week lobbying for ferries we met with several other ferry served communities and planned a Save our Ferries rally on Thursday Feb. 17 on the Capitol steps at 12:30 p.m. We are organizing communities through out Puget Sound to bring as many people as possible to Olympia to let our legislators know that I-695 was NOT about dismantling the entire ferry system.

The proposed huge fare increases combined with significant cuts in service are simply not acceptable and the legislature must come up with a long-term funding strategy to support this crucial component of our state highway system, just as important as any road, highway, or bridge in any other part of the state. We are urging every islander to consider the trip south for the day, THEY NEED TO HEAR US DOWN THERE! I am working with Dan Ward to arrange bus transportation and keep you posted as things progress. PLEASE MARK YOUR CALENDAR FOR THIS IMPORTANT DAY!
Ron in town: Since he and Kandy left at the end of last year, former Public Works dude Ron Loewen's been shuttling between his home here and his new job & home in Seattle. They were in town last weekend...good to see their smiling faces.
School field trip: That was Waldron School in town on Saturday...teacher Ann brought her charges over from the island, with the help of a couple of parents, to see the high school play (former Waldronite Rheanna Bensel had a part) and to do Friday Harbor. It must seem extremely well-lit over here....
Book Fair: At the Elementary School on Saturday from 10:30 - 12:30pm. Get over there & buy books & support your school!
New library tech guy: Drop by & say hi to John Sinclair, the guy who took Wade Guidry's place at the Library. He's a Scot who's personable, likeable, and knows his stuff.
January 20, 2000
Ferry rates up: The State Ferry folks are proposing a 51% ferry rate hike, with a third less service.
This may affect us. Big time. Read the P-I's account.
Sure snowed: The fun part about living here (besides that we drink wine and eat chicken every day) is how excited everyone gets when it snows. And how careful they get when they drive.
The 1/2 inch we got last night has melted by now, but maybe more tonight. Watch it.
Crackup: Just heard from Tamara in the Commissioners office that Darcie Nielsen was in a little car wreck in Washington, DC, this week. She and Chris (her betrothed) hit some black ice...she suffered a cracked sternum, and Chris is OK. They were over there visiting his parents....they're expected back on the island this evening or tomorrow.
Lights out: OPALCO has an outage planned tonight. Excuse to sleep in tomorrow: "Hey, my alarm clock was off...."
The play's the thing: The FHHS Drama Group's production of Our Town opens tomorrow night for a couple of weekends. If you haven't seen one of the high school's shows before, get with it! Fred Yockers & his kids do great work...always entertaining & full of spirit. Get your tickets now!
Going, coming: Libby Howard's gone back to college in Australia, with a couple of years to go before she finishes...meanwhile, Allison Pemberton's back for what's left of her senior year after a year in Argentina.
January 16, 2000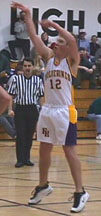 Basketball rocks: Both the girls and boys won their games yesterday in home matches against Seattle Lutheran. Led by Tyler Williams (right) and big Bobby Turman, the boys polished off the Lutes (9-3), after losing the night before to Darrington (11-2). The girls played a scrappy game as they sent SLHS packing.
Slick: Did you see the ice out on Rouleau Road yesterday? Rose from Windermere lives out there, and she says it was really cold & slick this morning.
Watch for the curves, hot rod...
Peppermint shakes: Have you gotten a peppermint shake lately at Roy's? Why not?
Mayer packs up: FHHS Michele Mayer has announced she's not coaching volleyball next year, as she and Phil concentrate on the old baby they already have and the new one they expect in April. She'll be missed...
January 14, 2000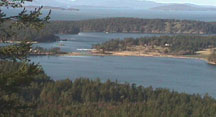 To the top: Have you been to the top on Mt. Young lately? My boy Shay took the picture to the right on Sunday when he and his brother climbed up. 'Twas a nice, sunny day, unlike the rest of the grey days this week.
Heck, it even snowed on Tuesday and Wednesday...although you could tell by the cars from the west side with all the snow on 'em, it was pretty much slush in town by daybreak. Hard to make snowmen with that, or have a good snowball fight.
Business moves: Mike Adams at Funk 'N Junk tells me Dave's going to close the Eatery this weekend...located in the building space where Sunshine Gallery used to be, Mike & Annie have bought the building and are moving over.
There are new owners for San Juan Boat Tours: the folks from Island Commuter bought it, and they seem real nice. I just heard someone bought Second Act from Debbie back in September, but hey, I know I wasn't paying attention then...
Meanwhile, Julia and Allen (the managers at States Inn) have purchased the Tucker House from Skip Metzger. They have plans for expansion...
The folks who bought the Springtree from the Andersons (who still own the Place Next to the Ferry) are hiring, I understand....
Oh, yeah - I hear Mike Amsel, the FHHS soccer coach, is moving to Shoreline to teach...
Travelers: You already knew that Juniper and Corinne from Mi Casita are on their three-month trek around Europe and Africa (Corinne's friend Jon tells me they're in Kenya, now). Well, Abbie Ellingson's hauling off to Cairo for 4-5 months this weekend. How do you say, "Goodbye" in Arabic?
Quote: "The real work of planet-saving will be small, humble, and humbling, and (insofar as it involves love) pleasing and rewarding. Its jobs will be too many to count, too many to report, too many to be publicly noticed or rewarded, too small to make anyone rich or famous." Wendell Berry
January 7, 2000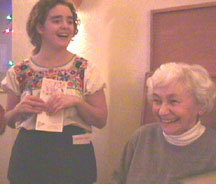 Night out: At Mi Casita last night, owner Greg and waitperson Kelly were on duty, making sure everyone was full (have you SEEN their portions?!??!). As you can see in the picture to the right, it's impossible to shoot a photo of Kelly without a smile (that's Mary Smith ordering dinner).
Have you seen the condos being built behind the restaurant? Are they gonna advertise what a great view of ferry lot B you get?
Dance away: There were many people dancing at the contra dance part of the New Year's Eve hoorah at the high school last week... Lots of 'em were rookies who are going to give it another go at this week's dance at the Grange on Saturday, starting at 8pm.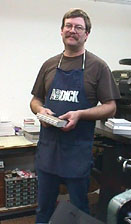 Pressed: You know who's doing great? Chris at Harbor Press has a new press & a new outlook on life since he bought the company back in August. He's been going great guns - even has an assistant, Barb Garner, who used to work at th Blue Dolphin, moved to Alabama for a couple of years, then came back to the island - and tells me business is good.
The work he's cranking out is, too.
In the street: You know Boo, the waitperson at Front Street Ale House with the English accent? Blimey, she tells me she's pregnant! due the first part of April. She'll make a great mom....meanwhile, Sharon Kivisto tells me she's getting married to Matt Pranger later this year. If he looked like he was scheming at the New Year's deal at the high school, he was: he asked her the Big Question right after midnight....saw Steve Townsdin yesterday, and he was looking better, as he continues to fight that cancer that laid him low last year. Says he's doing better....good to see him up & about.
Vote anyway: Nicholas Sky sent me this in the e-mailbag the other day:
Thought you would like these statistics: Interesting, kinda makes you uneasy about who makes the rules.
----------
Makes you wonder what the statistics for private industry are...
Can you imagine working at the following Company? It has
a little over 500 employees with the following statistics:
*29 have been accused of spousal abuse
*7 have been arrested for fraud
*19 have been accused of writing bad checks
*117 have bankrupted at least two businesses
*3 have been arrested for assault
*71 cannot get a credit card due to bad credit
*14 have been arrested on drug-related charges
*8 have been arrested for shoplifting
*21 are current defendants in lawsuits
*In 1998 alone, 84 were stopped for drunk driving

Can you guess which organization this is?

It's the 535 members of your United States Congress. The same group that perpetually cranks out hundreds upon hundreds of new laws designed to keep the rest of us in line.
January 3, 2000
Y2K, or not: Well, the lights are still on & the island still works...someone told me there was a 1900 on the date on the local cable channel for a bit (channel 14), but that's the only bug I've heard of, so far. Looks like we dodged that one...same as the rest of the world.
But still the people came - reports of overloads and crowded ferries before the first (coming) and after (leaving) circulated through town...seemed like summer, only colder.
Party & more party: The "Last Night" deal at the high school was not only smooth, but a great place for adults and kids to hang out & wait for the clock to turn to midnight. Orchestrated by Darcie Nielsen and the Island Rec folks, it was well-attended, well-danced to (the contra dance part made a bunch of converts), and was overall well-received by kids of all ages.
Let's do it again next year.
Of course, there were parties all over the island, and downtown, and at the Theatre as well, with small get-togethers, too. Nice way to ring it all in...
Business notes: Heard the Springtree has been sold by the Andersons, who will concentrate their energies on the Place Next To The Ferry ... Roberto's and The Blue Dolphin are both on the market; great chances for someone to grab successful businesses .... every bed & breakfast or guesthouse I know of was full for the New Year's - lotta people wanted to be here for the holiday.
Leaving: Cindi Baker and her husband Keith Wight and their three kids head for New Hampshire this week, leaving a hole at the Sail Loft, where Keith's been a regular, and Island Rec, which Cindi ran so well for so long...valuable members of the community who will be much missed & long remembered.
---
History is doomed to repeat itself:
Review the Update from October 21, 1999 - December 31, 1999
Review the Update from August 12, 1999 - October 21, 1999
Review the Update from May 17, 1999 - August 12, 1999
Review the Update from April 8, 1999 - May 17, 1999
Review the Update from February 26, 1999 - April 8, 1999
Review the Update from January 3, 1998 - February 26, 1999
Review the Update from November 1, 1998 - January 3, 1998
Review the Update from August 31, 1998 - October 31, 1998
Review the Update from July 2, 1998 - August 30, 1998
Review the Update from May 25, 1998 - July 2, 1998
Review the Update from April 3 - May 25, 1998
Review the Update from January 22, 1998 to April 3, 1998.

Review the Update from November 24, 1997 to January 22, 1998.

---
The information here is simply stuff we here at By Design think is important around Friday Harbor or on the Island. Some of it's news, some of it's old news, and all are just things we wanted to mention, with most of it about the things that make living here great.
There will be more next week, if anything happens.

Ian Byington
bydesign@byd.com
To comment, feel free to add to our guestbook, or view it.
Other places with info about the island:
Everything. Simply everything about the island.
Pretty complete site about the island.
The Journal's Site
Includes news and classifieds!
IslandCam
The camera's pointed at Roche Harbor and Friday Harbor.
Updated every five minutes.
---
Return to the Web Directory....
This site prepared by our friends at By Design in Friday Harbor.
The information contained here is
©Copyright 1998, 1999 - By Design, Friday Harbor.
Unauthorized reuse of the content of these pages is prohibited;
links to other sites is intended to be to the benefit of those sites,
and for the edification of our readers,
and does not constitute endorsement or
agreement with views expressed there.