---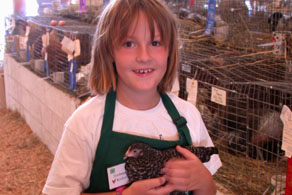 August 18, 2003
The Fair in pictures: You know, I could write and tell you all the folks who came to the Fair, or I could show you pictures.
Here's my library of this year's County Fair, with the best of about 800 photos shot by Sahale Casebolt, Emily Bayuk-Johnson, Shay Byington, and me.
There are approximately 300 recognizable people in these pix and in the Race pictures below - see if you're in there. You probably are, you know. And it was good seeing you.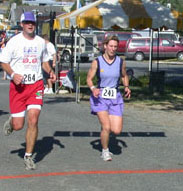 August 16, 2003
Loop Run in pictures: The 8.8 Loop Run was won (men's division) by a guy from the UW, Matt Frank in about 29:29, by my clock, while the women's side was won by islander Jane Hutchinson (right, in lavendar) in a little under 40 minutes. Yahoo! And....over 176 people ran, or walked, or strolled.
Here's pictures from before the race, and at the race's end. Check 'em out - you're in there! See the San Juan Islander for all the finishers and their times.
I'll be posting pictures from the Fair...we have several hundred - tomorrow. Check back!
Last night: By around 7:30pm, the wind was blowing up cooler winds that turned pretty cold by about nine, which made fair-going a bit chilly (but was good for business inside the Fairgrounds building). I heard lots of folks say they were coming back for more tonight, though.
August 15, 2003
The Fair continues: Here's the deal: The Local Harvest Band that Tom Doenges put together last night was one of the coolest ideas the Fair has brought, music-wise, to the Fair since I started going ten years ago.
Tom put together a little band and offered to back up local singer-songwriters for a song or two each. He got fourteen folks to sing, and it was wonderful. The music showed off the variety and talent of people on this island...you gotta love it. I hope Christine and Rev who schedule the music do this again next year!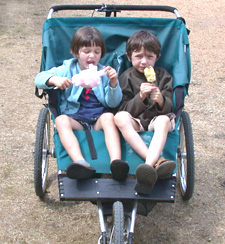 Playing last night: Kirk Fuhrmeister, Rev Shannon, Laura Chorba, Kate Schuman, Kathleen Wilson, Pat Gislason, Steve Keys, Kyle Wilson, Roger Mcgilvery, Mike Adams, Tom Doenges, Tami Doenges, and Debra Gottesman. Gotta love it!
The Fair goes on today and tomorrow - see you there!
Fair notes: Stories from the Fair:
Ian & Laura Bolton are back from Europe till around Labor Day. Meanwhile, Arielle Mancuso's getting ready to leave for France in two weeks, and Robbie Lawson just got back from walking across Spain.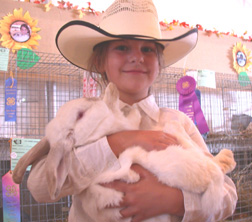 Erin Braybrook & Dan Gillespie are getting married on September 20 - wahoo! Meanwhile, Liz & Janna from Post San Juan (they sold it last year) report from the road that they got married in British Columbia last week, and will return to the island October first. They've been traveling for most of this year around the country & Canada. Congrats!
Talking to people at the Fair, I found seven different people who turn 50 this year. See if you can figure out who they are.
Did you see all the flowers in Chris Watling's flower show? She's the superintendent of that section - great stuff.
If your kids say the Fair's boring, take them around to the different sustainability exhibits. Fascinating stuff - and, it's their future. Without sustainability, we won't HAVE a future. Dig it.
Today's the day with the special for kids & rides. 12-5.pm. Check it out.
Talking to a friend last night about relationship stuff, who said, "Man, she not only came into this with baggage, she's holding onto the claim checks, too."
Visited with friends Matt & Sharon from the San Juan Islander online news deal yesterday. I mentioned that they had said they are "The only locally owned news source in the county." So I said, "Hey! What about me??!?"
Sharon said, "The only locally owned DAILY news source in the county." I said, "Well, OK." So thanks to you, for reading this, the San Juan Island Update - "the only locally owned sporadic news source in the county."
If you call this news.
Drop by the Medical Center booth & get your blood pressure checked. See if you're relaxed yet.
Stress: There's a sign down at Front Street Cafe that I like: "You came here to relax. Start Now. Please."
Sounds like the city of Denver is talking about finding a way to codify that - check out this story about the problems invoved with making a law that says you gotta relax.
Of course, it does seem like you wouldn't have to TELL people to do it.
Paul: Don't you think Pablo Lopez looks like Paul McCartney? (right, photo by Cameron Byington.)
August 13, 2003
The computer worm & its cure: A number of you have written or called about that computer worm that's in the news. For information about how to deal with removing it & patching up your system, check out the tech update on the top of the By Design Hosting site.
Moon: Did you see the moon rise last night? What? You missed it?
Don't worry, it'll be up again tonight. Sure was pretty.
Fair: See you there!
August 12, 2003
The Fair: The San Juan County Fair kicks off tomorrow...here's a peek at some of the happenings from last year, if you're the nostalgic type. I'm singing at 1pm on Friday if you get a chance to drop by - see you there! We'll be posting photos later this week - check back!
Somebody told me there will be deep-fried twinkies at the Fair. yesterday. I'm gonna go tomorrow & investigate. I'll let you know.

Sunset at South Beach: That's it, above. Dig it.
Meanwhile, go watch the moon rise over Griffin Bay tonight. It'll be mostly full, right after sunset. Take some friends with you if you want to hear 'em say "Wow!"
Tidings: Over at Rock Island, tech guy Kurt and Lori had a baby boy a couple of weeks ago - good job! And Commish Darcie Nielsen told me yesterday that Rock Island CEO Mike Greene got married the first day of summer to Tamara from her office. Congrats all around.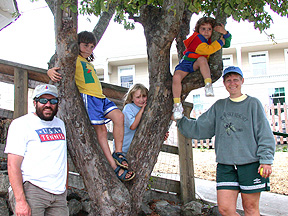 Cat's Walk coming: Kathy from the Cat's Paw Foundation is scheduling this year's Cat Walk to raise money so the Foundation can help look after lost or feral cats. The second annual event is set for Saturday, September 20. Mark your calendars!
Local author, national book: If you haven't had a chance to read Sharon Duncan's books, you oughta. Her new mystery, The Dead Wives Society, is getting nice reviews, and she has a signing set at Harbor Books later this month. Way to go, Sharon!
Election filing: Louise Dustrude wrote to remind me Ingrid has withdrawn from running for Town Council (see story below), so Debbie is running unopposed.for Bill LaPorte's former seat.
Cindi's back: You probably saw her familiar face in town this week: Keith Wight and Cindi Baker moved to Vermont in early January 2000, and they made their first trip back to visit since then this weekend. Keith (who is doing stay-at-home dad duty these days) worked at the Sail Loft, while Cindi was the first Director for the Park & Rec folks here, as well as the first girls' soccer coach at FHHS in '95.
She got both programs started from scratch, and they've grown nicely: Island Rec has gathered popular support and expanded programs, based on the solid foundation she put in place, while the soccer program has evolved to where they were 11-5 last year, headed for the playoffs. That's the kids in the picture at Sunken Park: Josh (left), Mollie, and Emily above Cindi's head. Good to see you guys again.
August 7, 2003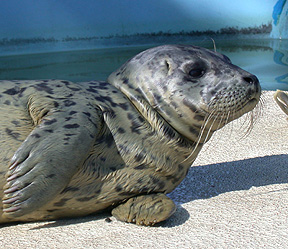 Election is on: I visited with Elections Supervisor Dan Gillespie and he says things are going smoothly in his new job, what with last week's filings and all. Not too many surprises: you can see who signed up for what on the County's website. It looks like Debbie Emery and Ingrid Fabianson will vie for Bill LaPorte's Town Council seat, while incumbents Wally Gillette and Carrie Brooks run unopposed. Meanwhile, Heidi Lopez will try to unseat Sally Bryan on the school board.
Pup on the mend: You know about our wildlife rehab center here on the island, Wolf Hollow? They currently have over 100 animals they're working on, including this seal, photographed by volunteer Sahale Casebolt yesterday.
Taped: I was listening to some folks discussing how their relationships were going. One of 'em asked, "Well, have you taped her yet?" The other guy in the conversation said, "Well, yeah."
I said, "Wait, wait, wait. Whaddya mean, taped her?"
"You know. Things are going well, maybe you've gone out for a week or two, you really like her. So you make her a tape or CD of your favorite songs. Everybody does it."
So now you know. One more step in the mating game: the traditional exchange of favorite songs CD.
Any questions?
Date changed: Remember I mentioned that Sustainability Conference with Hunter Lovins speaking at it, here in September? Check it out. They've changed the date for it to the end part of October.
Short takes: Rhonda at Mi Casita is expecting her baby in October.... Meanwhile, Randy and Missy Martin tell me their expecting their first, due in March. With two soccer-playing parents, the kid'll probably eat with her toes....They'll make great parents.
Romeo and Juliet: Make plans to see it tomorrow night. Otherwise, it's sweet sorrow.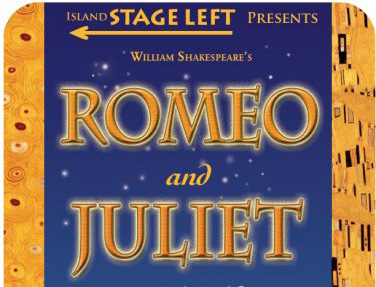 August 1, 2002
Smoke on the water: If it seemed pretty hazy last night, it wasn't just because you had a long week.
There were two huge fires over on Vancouver Island (here's the story from canada.com) yesterday & last night which blanketed the area with smoke. Sandy down at the Little Store said the golf course had a hazy cloud over it, and a deputy last night told me in the street that it had been going on for hours. Both fires were contained by nightfall.
Today is a bit gray and much cooler than earlier in the week, with even a bit of a chance of a little rain. We sure need it - the island is very dry right now, with the danger of fire great.
Sponge: On the west side earlier in the week, I was hanging around to see if the whales felt like coming by.
A family from Colorado was looking out over the water, and a ten-year-old girl said, "Look, Mom! I think it's a minke whale! It has a smaller dorsal fin than the orcas!" Her mom squinted and said, "That's great, honey. You're really absorbent."

Get ready for winter: Sally Kerr has a wood stove she wants to sell. It's free. Call her. Quick.
Staged: It's here. Romeo and Juliet begins its three week run tonight out on Wold Road. Check the schedule of shows, which include gigs by Stage Left on Orcas, Lopez, and Shaw as well.
Meanwhile, over at the Community Theatre, it's a night at the opera tonight, tomorrow and Sunday. Mistakes and mischief abound in this year's Night at the Opera. Ed Wilson directs an ensemble cast of Kimberly Cincilla, Roberta Leed, Clay Warner and RuthE. Wells in Gian Carlo Menotti's The Old Maid and the Thief. Check it out!
Burglar caught: The fellow who broke into the restaurants around here was caught a week ago, and has confessed, according to Dwight at Warehouse Coffee, which was broken into the first week of July. However, Dwight says it looks like someone else broke into his place, so the search continues in that case.
Meanwhile, Greg at Mi Casita's told me last night he's glad it's over. He's been working restaurants around town for more than a decade, and he says it's rare that they've had break-ins, and he's glad this one's been settled.
Races: Today's the final day for filing to run for office this fall, and there's always late filing... at this point it looks like Debbie Emery and Fire Chief Bob Low filed to run for Bill LaPorte's spot on the Town Council, but Elections Supervisor Dan Gillespie just told me Bob withdrew this morning. Meanwhile, Heidi Lopez will challenge Sally Bryan for her spot on the school board. I'll call Dan later today for an update - the deadline is 4:30pm.
Re-do: The folks at Rock Island re-did their website - I like it. Check it out.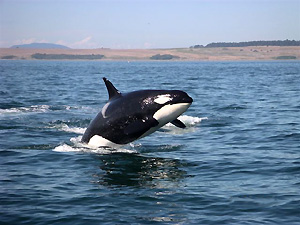 July 30, 2003
Why I haven't written anything in the Update for a week: You know how I always tell you, get outside and play?
Well, I did.
I went to play soccer last night and Sunday with the pick-up soccer crew, played guitar and sang till the wee hours with the Melodious Monks (who were passing through town & played for Elderhostel last week & this), ate Thai food, went to the theater see Bend It like Beckham (which was wonderful, you know), hung out at Music on the Lawn to hear Uncle Otto last week, went to Lopez to sing at Laura Tretter's sister Susan's wedding & eat with their family and friends, and hung out at Steve Cutting's birthday party Saturday at the Yacht Club. Oh, yeah, and I worked.
Sometimes people who think about moving here say there's nothing to do here.
Ha.
Whales that fly: I love this picture (above) Charles Scheper gave Tom Averna to put on the Deer Harbor Charters website of an orca in full majestic flight.
Can eagles swim?
From the street & the ferry lines: Lots of little things happening - I saw Holly Schutza with her born-this-month baby Chloe at the store this weekend. Chloe smiled at me, I think, so at least SHE thinks I'm funny....
Met a really friendly woman named Olga on the ferry coming back from Lopez. She was with a bike group - she's Russian-born & married to a fellow from San Francisco, and we agreed it was neat there was a place called Olga on Orcas....
Saw a bumper sticker that says, "What if the hokey-pokey IS what it's all about?"
Speaking of babies - remember Bernadette Mason? She and her husband are expecting their second in in October.
You heard the foghorns Sunday morning, I'll bet. The harbor was pretty much socked in...and you just THOUGHT you were sleeping in....
I dropped by the Economic Development Council meeting over on Lopez Friday while I was there. There were a bunch of interesting things talked about, but two I thought I'd bring up: There's a Sustainability Conference with Hunter Lovins speaking at it, here in September. Check it out. The other was that more people went to the meeting than in recent history, according to Chair Cathy Cavanaugh. Good to see people are interested.
Saw former FHMS teacher Cathy Bordi's daughter Jenny getting coffee the other day - she tells me her mom's first book is due to be published in September. She's up in Canada working on final drafts now...
Sad news: Pete Bostrum, one of the nicest and generous guys you ever met, passed away last week. He was 69, and will be much missed.
July 21, 2003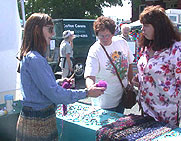 Art, everywhere: The Summer Art Festival across from the courthouse was jammed last Saturday with both vendors and people admiring the artwork, like the folks looking at Jolie's beads to the right. The artists I talked to said they enjoyed showing their work, and that sales were brisk.
This is the fourth year the Chamber has sponsored & put on this event, and Chamber director Debbie Pigman continues to put on nicely-paced, fun events that are cool to attend. Way to go!
Paved paradise & put up a parkin' lot: It started out bad & just got worse.
Sunday mornings during the summer, it happens: folks who have been visiting all want to leave the island, so they go to put their cars in the ferry line. No matter how early one puts one's car in line, there tends to be some waiting involved - sometimes with the news that, no, you're not going on this ferry, but the NEXT one (we call that an overload), or even later.
So imagine what the picture looks like when one of the ferries breaks down. Ouch. The Yakima missed the red-eye run (around six am), so we were behind from the start. The Yakima was sent off because of a propeller problem - it'll be away getting fixed most of this week - so we were left with one less ferry & tons of folks who were trying to leave the island. The overflow lot next to Roy's Coffee was full by early morning, and it just got crazy from there.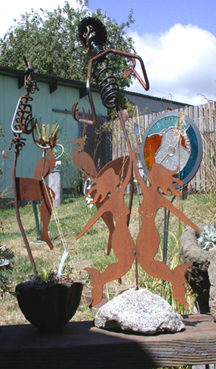 Double & triple overload frenzy.
I listened to traffic reports on the mainland, and they included reports that there were delays of 4-6 hours getting off the island because of the ferries. The Washington State Ferry folks peeled the Tillicum off the Fauntleroy run to help with the crowds, but that was later in the day & that's a smaller boat anyway.
It happens sometimes.
Sun's out! Yes, the weather's been great these last few days, and it's supposed to be nice this week, with warm days in the first part of the week. Get outside and play.
Island Studios: Over at Island Studios, the Sculpture Park in the back looks wonderful. During lunch today, take a walk & check it out...you'll be impressed. Be sure and add it to your next visit to the island..... that's a photo by By Design's Emily Bayuk-Johnson to the right of one of my favorite pieces.
Meanwhile, Pat at Island Studios tells me there's an Art Walk planned for all the studios in town August 2nd from 5 p.m. to 8 p.m. Gives you a great chance to see the breadth of the talent we have around here, all in one swoop.
July 15, 2003
Weather that makes people go Wow!: The fun part about walking around town yesterday (and last week - it was in the low 90s on Thursday) is hearing people say, "Isn't this weather great!" so many times.
And it is. Get outside and play. Looks like another great one this morning.
Off to the Mariners: Sunday morning, Kelsey Kennedy, her older sis Kimberly, and parents (Steve and Judy), boarded a Kenmore Air seaplane to go see a Mariner game for the day...
Kelsey had won the middle school division's first prize in the San Juan Library's Young Authors Fiction Contest back in May, which was a flight to the game donated by Kenmore. The high schooler, Spring Street's Galen Ellis, flew from his Lopez Island home last month. (Photo by Shay Byington.)
The stories are still onlin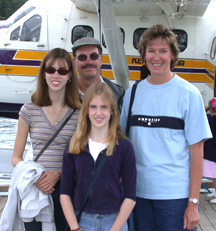 e, and make compelling reading. Fifty-five kids from our middle and high schools wrote entries for the contest.
Take the time to read these stories and you'll see why it's easy to feel there's a lot of hope and wisdom in the coming generation. I'm really proud of these kids.
Seats: Yep, the new seats are all installed on both sides at the movie theater. Get down there, catch a flick, and check 'em out.
What goes around comes around: At the Port, construction continues behind the marina for that turnaround in what was the Port parking lot, just below the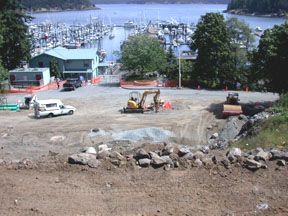 Legion. Port Director Steve Simpson says the purpose of the new turnaround is to provide a better pedestrian-vehicle interface - a place to pick up people from the ferry, for buses to run, as well as making a better path from the marina to get people to uptown.
As you can see in this photo facing toward the marina yesterday by By Design's Emily Bayuk-Johmson, construction continues.
In other Port news, it's an idea that has taken off: Steve says the new wireless access to the Internet for boats visiting the marina has been well-received.
I also asked him about the contaminated soil that turned up in the construction project - he said they're still studying it, but it appears to be from the pipelines that ran near there when OPALCO had their generating plant close by, till the early '70s.
Quote: "The outrage of hunger amidst plenty will never be solved by 'experts' somewhere. It will only be solved when people like you and me decide to act."-- Frances Moore Lappe
Jazzed up: When the Jazz Festival folded three years ago after a two decade run, a number of people wondered what would take its place...
A number of musical events have turned up, and it's wonderful. Last weekend's Lavender Festival went great, by all reports, as did the kick-off for Island Rec's Wednesday night Music on the Lawn series (last week it was Kate Schuman, along with Tom and Tami Doenges.) Chinmayo's the host for the Port's Sunday afternoon music series, and the Chamber's Summer Art Fair this weekend should be fun - it was last year.
The patterns that shape our lives: I've noticed that almost everyone I know uses their dog's name as their password for computer stuff.
You do, too, don't you?
Quote: "The ultimate measure of a person is not where he stands in moments of comfort and convenience, but where he stands in times of challenge and controversy."-- Martin Luther King, Jr.
July 9, 2003
Media pressure comes to the island: One of the cool things about living here is that there's presently no TV station except our public access dudes. TV people come anyway, and write stories about us, which is kinda entertaining as long as you don't take what they say too seriously.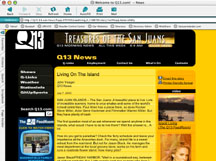 When the fire happened last year an the city newscasters breathlessly said the only grocery store in town was destroyed (it was one of five), that town was going up in flames (it was a well-contained fire that took up a block), and so on....gotta love these guys.
So, anyway, the Q13 people are running a special on us this week, which is probably good for making us sound like a place to visit. (Click here to see their site, where a bunch of this is written up.) In one story (click here to read it), it says kids want to leave the island as soon as they can, and quote some sixth grader named Brian about it. I asked my sixth grade grade son who that was & he looked puzzled. "There's no sixth grader named Brian," he replied. Since we know everyone here in our class, well, draw your own conclusions. Then it quotes a teenager saying it's lousy here - there's no Wal-Marts or malls.
Oh, my. They really should ask the people they talk to, how LONG they've lived here. Breaking news: It is not a common sentiment around here amongst kids or adults that Wal-Mart is needed here. Or missed.
Reminds me of that Wall Street Journal article five years ago that said the island was one of the top five places to retire in the US, but that one of the drawbacks to living here was there were no all-night gas stations.
Check it out, but don't take it too seriously. Dawn at Island Dive says they're coming to shoot down at the dock Friday morning, if you're into circuses.
More media: Meanwhile, Cynthia D'Errico Elliot tells me NBC's Today Show is talking about her Island Calm sometime this month. We'll try and find out when, so you don't have to watch too much TV waiting for it to come on.
The only one: My friends at the San Juan Islander mentioned in a story last week that they're the only locally owned news deal on the island. That is correct. And the San Juan Update is the only locally owned rumor mill.
Affordable web hosting: Wow...By Design's got web hosting for your web site at less than $10 a month. Check 'em out. They already host dozens of local sites, including this one.
Famboomerang: A new game called Seekers debuted at The Toy Box, Roche Harbor's gift shop, Harbor Books, and King's Marine this summer. Put together by Ellen Gonser, it's a combination of a "scavenger hunt" meets "Trivial Pursuit" but with a unique twist…it only works when played on San Juan Island.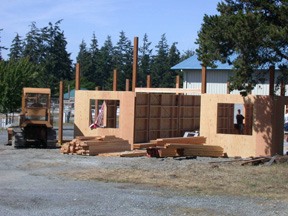 The card game encourages residents, visitors (especially those wanting to really see the sights) and families to get out and explore the Island and all it has to offer. Players must locate objects (places, landmarks, signs, etc.) pictured on a Seeker card and once found then they must answer a question which is associated with the picture…one point earned! The game can be played individually, with a group, or even in teams competing for most points earned.
Here's a link to help you visualize it better….
Melbourne connection: Chita Miller said her daughter Mimi was here from Melbourne, Australia with her two kids for a month, and just left. Mimi's married to an Aussie and it sounds like things are going well down under.
4-H: The new 4-H building's looking pretty good - here's a photo by Emily Bayuk-Johnson that shows it probably will get done by fairtime.
Theft: Several local restaurants have been broken into over the last week or so - Mi Casita twice, Roy's, The Flying Burrito, and, Monday morning, Warehouse Coffee. The after-hours burglaries are more than an annoyance - for hard-working business people who need the summer cash flow to balance the winter non-season, it can be critical.
Still, people are philosophical. Dwight Ware shook it off & got to work right away, Greg at Mi Casita re-opened right away, and Tommy from Tommy's Pizza told me he put up a sign to the thieves saying not to bother, he didn't have any money anyway. He hasn't been visited by the crooks.
Bust 'em.
July 4, 2003
Faces of the Fourth: Well, it was another glorious Fourth here on the island, which may be one of the state's biggest block parties.
It began with a Fun Run out at Roche Harbor, continued with all the activities out there (like the Dinghy Balloon Catch at right) and the parade in Friday Harbor, spilled into the Pig War Picnic up next to the Historical Museum, and continued with music and barbecues all over the island and on the beach.
The weather was perfect - no chance of rain, with no overbearing sun, either, as the temperatures drifted into the seventies for most of the day.
And there's tons of pictures of the people playing.
for photos of activities at Roche Harbor, click here
for photos of the Pig War Picnic in Friday Harbor, click here
for photos of the parade in Friday Harbor, click here
All your neighbors are in the picture, including:
Jens, Erik & Binney & Max, Elvis, Jarvis, the gang from Bye Bye Birdie, Birdie, Beth & Anna, Sarah, somewhere, Dean & Rishelle, Doug & Maia, Lori about to sing, Laurie & Tim, Steve Percer, Ricarda & Guthrie, Brock Polda, Ruben & his new kid, Denice & Gesele & Katie & Peter, Kerri wearing her winnings from the cake walk, Howie, Howard Schoenberger & his bride, Maggie King, Peter from the Sail Loft, Eric Rothlisberger, Chad & Travis, Sally Kerr, Rachel Blagden, Maryellen & Michele from Coldwell Banker, Priscilla & Lita, the Mystical Mermaid, Nancy, Cheyenne, Hunter Wood, John & Jesse, and a zillion more, including you, probably.
Let me know if you find yourself.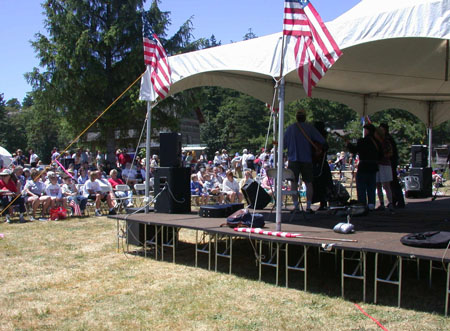 While the Picnic was going on at the Historical Museum (that's Mike Cohen & Sugar on the Floor singing to the crowd at left), at Roche Harbor I dropped in to see the balloon dinghy thingie, the donut eating contest (the winner told me he ate ten...yow....), and more. The ballon deal was fascinating - as you can see in the pictures, a bunch of folks were in the boats, and bunch of ballons are released, and everybody chases them, or steals other folks' balloons, or pops 'em, or something. It was an entertaining free for all.
Over all, it was a fun place to be.
Meanwhile, back in town, the Rock the Dock dance started around 6pm with the Timebenders playing till the fireworks started. Both were well attended (thanks, again, to the weather), and a lot of people went home happy.
Hope you had a good one. Look at the pictures...you'll see we did.
Quote: "In the First Amendment, the Founding Fathers gave the free press the protection it must have to fulfill its essential role in our democracy. The press was to serve the governed, not the governors. The Government's power to censor the press was abolished so that the press would remain forever free to censure the Government. The press was protected so that it could bare the secrets of government and inform the people. Only a free and unrestrained press can effectively expose deception in government.
"And paramount among the responsibilities of a free press is the duty to prevent any part of the government from deceiving the people and sending them off to distant lands to die of foreign fevers and foreign shot and shell." - Supreme Court Justice Hugo Black in the 1930s..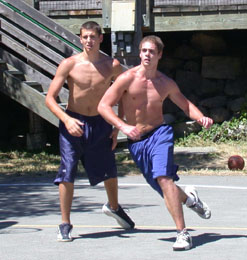 July 3, 2003
Photos: Hey, tell you what. I'll take some photos of the parade and picnic and stuff tomorrow so you see how the Fourth goes.
Or see youself in the pictures. See you on the street.
Here's pictures from last year: The Parade | The Pig War Picnic.
To the right: The 3 on 3 Tourney at Sunken Park, last week. Photo by By Design's Shay Byington.
Library rocks: I saw Heidi from the Library last night taking her walk downtown, and asked how the summer kids' reading program is going. She said something like 150 kids showed up yesterday for the performance by the guy with the bugs, both dead & alive. You know, it's great to live on an island that digs reading, especially the children.
R&J on the way: The schedule for the performances of Stage Left's Romeo & Juliet for the first three weeks of August are posted. Get your calendar out.
His own man: There's a rumor going around that Tipper & Al Gore are maybe looking for property on Orcas. I'm not reporting it as a fact. I'm reporting that it's a fact it's a rumor.
And Al (I know you read this, because Donna Pritchard and I both grew up in Tennessee, and I shook hands with your dad once): I REALLY want to be Interior Secretary some day. Call, and I'll buy the coffee. I've got some ideas.
Around town: Saw Nikki who used to work in the paint part of Browne's - she's moved into the Rouleau's house near the Fitness Center, and is painting houses on her own, now.
Ran into Wayne Foley, who's visiting town from Seattle...he just graduated from Kettering, that engineering college in Michigan Kelly Domico was going to (she just transferred to the UW). He was with his friend Krista, who's gonna graduate in six months. He's working in Seattle.
Wasn't he just in ninth grade? Wow...and doing great things, too.
Did you know the original Eddie Bauer was from Orcas?
I know you've talked to Aussie Chris who works the desk at Friday's Historical Inn...she's not the only one with a lovely accent. Her parents are here from Melbourne for the past three weeks, with one to go, and they're having a great time.
It was cool to run into Shel and Manya from Jensen Bay B&B last night - Shel bought my CD (I always have one with me), and I heard them playing it full blast as they drove by later, rocking out in the car.
Wahoo!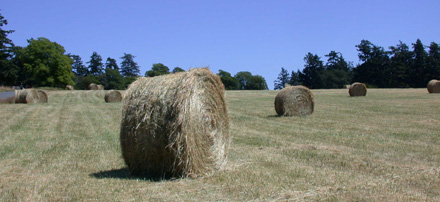 June 30, 2003
Hey: You probably drove down Douglas Road & saw these haystacks or hayrolls or whatever you call them...Steve Raichlen and Nancy from Deisel America West were taking their daily walk when we drove by and he called them "Hay-henge."
You know, they really look like hay monoliths that may line up with the moon, as you can see in this photo by my boy Cameron.
Prepping for the Fourth: Is it here already? Whoa...time marches on & here we are with the Fourth happening this week.
In town, the annual parade is at 10:30am, with the Picnic at the Historical Museum right after. The Rock the Dock dance gets going in the early evening, with fireworks over the harbor when it gets dark enough.
See you there!
At Roche Harbor, their schedule looks somethng like this:
9am Family Fun Run (2.9 miles) - Sign-up and start at Hotel de Haro.
10:00 Polls open for Roche Harbor Mayor's Race
Ballot boxes at Slip 8 & Harbormaster's Office
10:00 Village Artist booths open
11:00-1:00 Kids activities start on Pool Lawn - fun for all ages
11:00-1:00 Live Music—"Hunk a Funk" - on West Lawn
(or on Party Barge in Marina if weather is bad)
1:30 pm Donut Eating Contest on West Lawn
2:00 Dinghy Balloon Catch starts (in harbor by fuel dock - all ages)
2:30 Blindfolded Duo Dinghy Races - (slip 40— all ages)
3:00 Log-Rolling Contest (in harbor by fuel dock - all ages)
3:00 Polls close for Roche Harbor Mayor's Race
3:30 Announcement of Roche Harbor's New Mayor for 2003
4:00-6:00 Live Music—"One More Time Band"—in front of Hotel de Haro
4:00-6:00 Judging of Best Decorated Boat in Marina
6:00 Announcement of winners of Best Decorated Boat
SUNSET Special July 4th 'Retirement of the Colors'
SUNSET - 1:15am Madrona Grill live music —"My Three Jims"
10:30 approx. ROCHE HARBOR Firework Display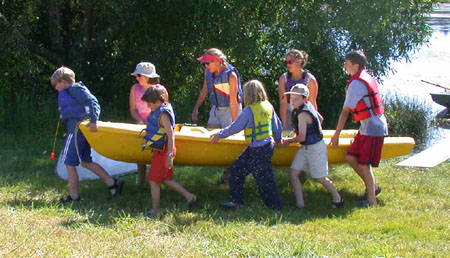 Sailing lessons: One of the cool things Island Rec does is partner with the San Juan Island Sailing Foundation to offer sailing lessons each summer. Last week was a beautiful five days for lessons, with a little breeze each day for Lisa & Sasha's class at Percich Pond (lessons with bigger boats are held at Jackson's Beach.)
Island Rec's Sally tells me there are still a few openings for both adult and kids' classes this summer. Here are a few photos from last week's time at the pond.
Moved: Sound Nutrition is moving from its location adjacent the parking lot at 849 Spring Street (under Friday Harbor Pet Supplies), to curb side (next to Edward Jones) today. The shop was closed June 23-29 for the transition.

The natural health store carries a variety of nutritional supplements and herbal products, homeopathics, aromatherapy, flower essences, health information books, personal care products and gift items. Many national brands are offered at 10% off suggested retail, making it an attractive place for islanders to get the things that keep them healthy.

"I've grown the shop quite a bit since I bought Herbs and Oils in 1998," says owner RuthE. Wells. "I've expanded beyond the specialty herbal line that I began with, to both essential nutritional supplements and such specialty items as coral calcium, food-grade hydrogen peroxide, unsweetened cranberry juice concentrate, whey protein powders, medicinal mushrooms, organic cotton toiletries and home spa products."

Sound Nutrition is open Monday through Friday 10 a.m. to 5 p.m. (except Wednesday, which is 12 – 5 p.m.). You can call the store at 360.378.2939 or send e-mail to nutrition@rockisland.

Art: Pat Lawrence writes to tell us: "Island Studios will be featuring 4 artists for the July 5th Art Walk. They will at Island Studios from 6 pm to 8 pm. Darleen Nixon will be demonstrating lamp beads, Riki Schumacher will be demonstrating her new jewelry line, Mike Bertand and Nancy and Lewis Spaulding will be there too. Come by and see us!"
Meanwhile, the Westcott Bay Reserve Sculpture Park offers "Artists In Action" July 4, 5, 6.
Sculptors demonstrating their sculpting techniques and exhibiting their artworks.
Featured artists Tom Small, San Juan Island, Ruth Mueseler, Bellingham, and Suz Gentiluomo, Carnation, will be presenting demonstrations.

Quote: "I would argue that practices that destroy ecosystems always destroy jobs." --Bruce Babbitt

Three on three: The annual Island Rec 3 on 3 Tournament was played on Saturday at Sunken Park, with music, hot dogs, and wobbly-legged (by the end) basketball players putting in nearly five hours on the court. The upper division was won by Matt, Tyler, and Travis, while Dylan, Justin, Erik, and Shay won by a basket at the buzzer in the younger bracket. Super job by John Pachuta pulling together the brackets, prizes, tunes, and fun. Way to go!
June 26, 2003
Ferry schedule changes, a little: We get all geared up for the summer, making plans and hoping we're ready - and then something happens. The Sealth needs repairs, so the ferry system has to shuffle its boats around to make sure the schedule is covered. Because it uses slower, less-capacity boats, the timing gets tweaked, too.
So hit the ferry link at the top of this page & see what the schedule REALLY is - the WSF guys have posted a temporary one on their website. Check it before you go off-island, or thnk you're coming here. It's different.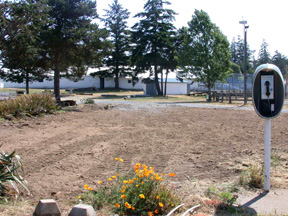 Which reminds me - my friend Tim was telling me about a couple of tourists he heard chatting down at the dock. One said, "Did you know they have a stealth ferry up here? I wonder how that works."
Close. Sealth, not stealth. And right now, it doesn't work.
Open space at the Fairgrounds: You can stand at the Fairgrounds Building and see all the way to the riding arena now...earlier this week the old 4-H Building was razed, leavng a big empty spot in the middle of the grounds. With luck, the new building will be up in time for this year's Fair. (Photo by Emily Bayuk-Johnson.)
Baby-unboom: Good news - the birth rate in the US has dropped. This is critical to building a positive future in the world...
June 23, 2003
Soccer everywhere: If it seemed like a lot of soccer was happening yesterday, that's because it was: according to FHHS soccer coach Doug there were about 46 adults playing at the high school Sunday afternoon, while about 17 11-14 year olds were playing pickup soccer at the elementary school with Scott Schwinge and me. The adult games were split into three games, while the kid stuff was running hard so they sleep well.
And with a beautiful, breezy, warmish day to play. Good stuff all around.
Around town: Connie Wargo tells me daughter Kim and her fella Jason are working up plans to get married. She just finished school and will be doing daycare this summer and fall..
John Hart and Jim McNairy said the Island Rec 3 on 3 Tourney Saturday could use a few more teams...it's for kids in grades 6-12. See the website for more info.
At the bowling alley, Bruce Williams is back from a conference in Las Vegas for folks who have bowling alleys, while Dave from E.T. (that's Entertainment Tonight, the convenience store across the way) who runs Jimmy's Café in the bowling alley, says breakfasts are picking up, and that they've been getting good reviews as more people come to eat.
Ran into Cameni Williams - she says rehearsals for Romeo & Juliet are going well. She's playing the doomed Juliet, and she mentioned that Dan Mayes is playing the Friar. This should be another great show by the Stage Left folks - for the first three weeks of August. You'll remember Cameni graduated from FHHS four years ago, and just graduated from college in New York.
You know Dennis & Gayle Hazelton (he's the head Customs guy & she's the one who grows herbs) - Gayle's sister Genda just showed up for the summer from Oregon. The circles we move in draw tighter: she and I used to work at the same high school near Eugene.
June 22, 2003
Books sell well: I dropped by Harbor Books to visit late Saturday afternoon, where Ladd told me the new Harry Potter book was selling very well all day - he said he was ringing one of the $30 books up about every five minutes or less. As it happened, I was over in Eastsound for the morning, where I noticed a similar steady stream buying the book at Darvill's there.

Meanwhile, Susan at Griffin Bay Books said yesterday was perhaps her best day ever for sales in the 25-year history of the bookstore on First Street. She sold a copy of the book to Evan Anderson while I was visiting the store, who said he would lend it to me when he was done.
Knowing Evan, if he could walk & read at the same time, he would have dived into the book right then as he was leaving the store.
Now for the next ten years: When I stopped in to say hi to Nancy & David Hansen at the Toy Box for their tenth anniversary celebration this weekend, it was typical Nancy as she said, "Wow, and look how much your boys have grown."
True enough, since my kids have been regulars to the shop since we moved to the island nine years ago when they were two and four. Typical of Nancy to be thinking about the kids...that's one reason the Toy Box is one of the established and better-thought of businesses in town.
Looking forward to the next ten years. Keep it up.
Sigh: I ran into Friends of the San Juans Director Stephanie Buffum with her fella Si on the ferry coming back from Orcas (you knew she lives on Shaw, right?), with her parents aboard as well. She tells me they're getting married in August down in Newport, Oregon, near the water. Congrats!
Passing: More sadly, I also heard that Gary Ross had died when I came back to town. Claudia had told me of his fight with being sick earlier this year, and the ever-positive Gary will be much missed.
I just looked, and there's a little writeup on the San Juan Islander.
June 21, 2003
The big question: You've been wondering, and so have I: How come the movie theater has only one movie posted on the marquee? Last week "Bruce Almighty" was up there by itself, and last night (the movies change every Friday, usually) it had "The Hulk" all by himself.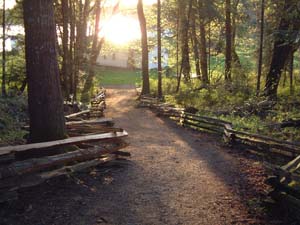 So I asked.
They're renovating the seats in both sides of the theater, so they have one side closed at a time. Should be done next week.
Now you know.
Weather: It was unseasonably cool yesterday on the island, till the latter part of the afternoon. It's a bit drizzly this morning, so it's a good day to take a little longer walk than usual. I think they're called hikes if they go longer, and forced marches if it's more than three days.
Get outside. And have a happy solstice, pilgrim.
June 20, 2003
School's out: Wahoo! If it seems like there are a lot of kids in the streets, it's because school is finally out! When classes end it feels more like summer to have the kids out & about.
Great reports from both the FHHS and Spring Street School graduations last weekend. We have a good bunch of kids around here...it's great to see them moving on to great things. Hope you got a chance to drop in on the festivities.
It was fun to drop by the bowling alley for coffee & hash browns on Sunday morning after graduation, and hear Richelle the waitress telling some tourists about how the senior breakfast had gone on till 3am at the bowling alley, only hours before. The visitors said something about it was neat the seniors on this island are so active, and she said, "It was high school seniors," and they said, "Oh!"
I'd like to be/Under the sea: OK, I know you've done it all here - gone hiking, seen the whales, gone kayaking, went fishin' - but have you gone diving?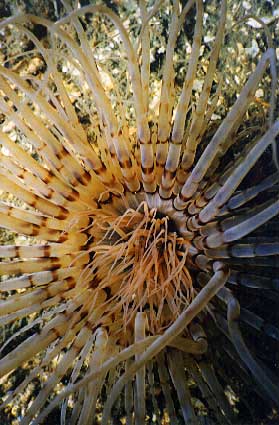 I'm not sure what I could say to talk you into it, but I know I really like this photo gallery of underwater marine life that's on the Island Dive site. Take a moment to look it over it. The colors are brilliant, and the variety of different species are amazing, like in the photo by Henry Powers to the right.
When you're on the west side, standing on shore, and see that great flat expanse of water...beautiful sky, harbor seals and orcas jumping around in the water, birds flying - it's great. This little photo gallery reminds me that there's a whole other world, with life and plants and rocks and currents and drama, beneath the surface. New eyes...
Dawn of a new day: Speaking of the dive shop, Dawn Ulrich, formerly of Lighthouse Diving in Seattle, has moved to Friday Harbor to become the new store manager at Island Dive & Watersports. drop in and welcome her.
Another dawn: Farhad from Harrison House Suites is getting married this weekend to his friend April in British Columbia. Good luck to them both.
It's changing, whether he sees it our not: People in the northern part of this hemisphere are the first to be affected by climate change, and what it promises for the coming years. We wonder what will happen to our way of life here if the ferry tickets' prices go up, or the weekend's a little wet, or too many visitors come (we DO have limited resources on the island here).
None of that matters as much as climate change, and my friends, it's happening.
Which is why it's disturbing to hear, in the New York Times, that present Administration policy is to react as though it's not.
Harry Potter comes to the island: Lisa at Harbor Books tells me she had ten boxes of that 600+ page new Harry Potter book delivered, and she feels for the delivery guy who had to haul 'em up to their second floor shop at Cannery Landing..
She and Skip have no plans to be open till midnight tonight so you can be the first on your block to buy a copy, but Jenny over at Davill's in Eastsound says they're going to. Either way, it's fun to know there's a new installment out...
Soccer sign ups continue: If you don't have your kid signed up for soccer yet, now's the time to do it. Drop by Duke's and get on the list for this fall - teams are being put together for boys & girls from 6-14.
And...in other soccer news, the San Juan Island Soccer Association is sponsoring a referee clinic August 1-3, at the end of which you can take a test and become a certified ref. You're going to go to the games anyway, so you might just as well get involved - call Tina at 6398 for more information.
Oh, yeah, you have to PASS the test, not just take it.
Middle School changes: After decades there, Joel Clark is retiring from his math duties at the middle school...I've heard nothing but fondness as former students of his have commented on his leaving. Humanities teachers Maggie Schneider and Freya Vaughn are also moving on.
Freya's plans have her teaching in Bahrain this fall. I understand they need a lot of help with their spelling there.
Band music: I'm pretty sure you can drop by the high school office and get the FHHS jazz band's CD, which they're selling as a fundraiser for $10. I've heard it (my boys play it all the time....!) and it's pretty good. Get yours today.
Jobs: Minnie over at NW Workforce Development Council tells me there seems to be more jobs (here's the current listings) than people at present around the County. Her job placement and training program is one of the more effective underpinnings of our local economy...give her a call at 360-378-4662 to find out more.
Free, by the way.
Loan ranger: With all the low interest rates lately, a number of folks are re-financing their homes, or finding themselves able to get into buying for the first time. Either way, it's a good idea to check in with someone who understands all that financial stuff. Check out Tracy James' new place across from the Courthouse, or drop by and see her. She's been set up on her own now for about a year after years at Interwest/Pacific Northwest Bank as their loan officer, and she does good, thorough work.

Quote: "When I despair, I remember that all through history, the way of truth and love has always won. There have been murderers and tyrants, and for a time they can seem invincible. But in the end they always fall. Think of it, always." -- -M.K. Gandhi (1869-1948)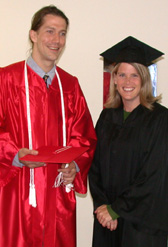 June 13, 2003
Graduation season begins: Skagit Valley College's graduation exercises were held yesterday afterrnoon at the Grange to an overflowing crowd.
It had moments to remember: Representatives from Washington State conferred the first ever Bachelor's degree to an island student who earned it through the distance education program. And it wasn't just proud mom Chinmayo and proud aunt Susan Grout who were proud of Vail McClure (right, with SVC grad Beau before the ceremony): The graduates and the crowd offered her a standing ovation as the mom of two stepped up to get her degree. And thus was history made.
Eleven graduates received their AA degrees as part of the ceremony: Colleen Smith, Katie Leed, Heather Wilhelm, Matthew Carter, Arian Drake-Raue, Micah Hogan, Beau Hubbard, Frank Reeve, Rachelle Robinson, Tara Staehlin, and Maggie La Riviere.
The other highlight of the evening was hearing people talk about retirng English teacher Francie Kisko, who has been teaching English classes since the San Juan Center opened in its present location up above the airport in 1996. Francie's work is much appreciated, she is much loved, and she will be missed.
The high school's graduation is this Saturday at 6; Spring Street School's is on Sunday.
---

History is doomed to repeat itself:

Review the Update from April 18, 2003 - June 19, 2003

Review the Update from March 1, 2003 - April 18, 2003

Review the Update from December 19, 2002 - February 28, 2003

Review the Update from October 26, 2002 - December 18, 2002

Review the Update from August 13, 2002 - October 26, 2002

Review the Update from May 9 (the fire) - August 12, 2002

Review the Update from April 1, 2002 - May 8, 2002

Review the Update from December 15, 2001 - April 1, 2002

Review the Update from September 11, 2001 - December 14, 2001

Review the Update from June 7 , 2001 - September 10, 2001

Review the Update from March 17, 2001 - June 6, 2001

Review the Update from December 18, 2000 - March 16, 2001

Review the Update from July 25, 2000 - December 17, 2000

Review the Update from April 21, 2000 - July 25, 2000

Review the Update from January 1, 2000 - April 21, 2000

Review the Update from October 21, 1999 - December 31, 1999

Review the Update from August 12, 1999 - October 21, 1999

Review the Update from May 17, 1999 - August 12, 1999

Review the Update from April 8, 1999 - May 17, 1999

Review the Update from February 26, 1999 - April 8, 1999

Review the Update from January 3, 1998 - February 26, 1999

Review the Update from November 1, 1998 - January 3, 1998

Review the Update from August 31, 1998 - October 31, 1998

Review the Update from July 2, 1998 - August 30, 1998

Review the Update from May 25, 1998 - July 2, 1998

Review the Update from April 3 - May 25, 1998

Review the Update from January 22, 1998 to April 3, 1998.

Review the Update from November 24, 1997 to January 22, 1998.


---

The information here is simply stuff we here at By Design think is important around Friday Harbor or on the Island. Some of it's news, some of it's old news, and all are just things we wanted to mention, with most of it about the things that make living here great.

There will be more next week, if anything happens.

Ian Byington
ian@byd.com

More info about the island:

Everything. Simply everything about the island.

This site prepared by our friends at By Design in Friday Harbor.
The information contained here is
©Copyright 1998, 1999, 2000, 2001, 2002, 2003 by By Design, Friday Harbor.
Unauthorized reuse of the content of these pages is prohibited;
links to other sites is intended to be to the benefit of those sites,
and for the edification of our readers,
and does not constitute endorsement or
agreement with views expressed there.