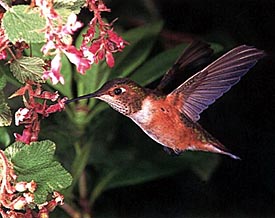 February 7, 2004
Sunny days: Lots of sun these last couple of days, with the birds starting to drop by (that's a rufous to the right). I had a crowd of robins in the yard yesterday for a while.
Try this: I KNOW this is the sort of thing you're interested in: While sitting at your desk, lift your right foot off the floor and make clockwise circles. Now, while doing this, draw the number "6" in the air with your right hand.
Your foot will change direction and there's nothing you can do about it.

Big fish: The big fishing derby's this weekend at Roche - the first fish caught was a 26 pounder. With a $10,000 first place prize, a lot of people are interested in who wins. I'll try & have the winners for you on Sunday (they'll be announced tonight.)
Whale Museum turnover: I hear Sally's left the Museum as director, and that Rich Osbourne is taking her place. Rich is the long time resident scientist and whale expert on the staff - good choice to have someone with a sense of the place's history in charge.
Basketball: Coach Rod Turnbull tells me the FHHS boys control their own playoff destiny with games at Orcas today and LaConner on Tuesday. The playoffs get underway next weekend...Orcas hasn't been as strong as the Wolverines this year, but you know it would make their season to beat us to close out their year, so no one is taking anything for granted. Senior Brady Ryan assured me Friday the guys aren't taking the Vikings lightly.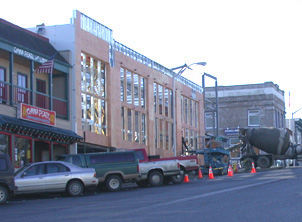 February 5, 2004
Phoenix rising: The building that is growing out of the May 2002 fire continues to rise (right)...that's China Pearl to the left and Coldwell Banker just past the cement truck, in case things seem turned around. The speed with which the construction continues is heartening...may be done for summer.
Vegetarians unite: Sam & Jane Buck are holding their annual vegetarian potluck this coming Sunday at 4:15-5:15 at the Grange. Call Jane for times and details.
More construction stories: Yep, it's true - I saw the Frontier Building supply folks put up a sign at the old Pope building across from the Suites. They're moving in this spring to offer what they offer over in Anacortes, trying to save folks the ferry trip.
The Big Fish: The winner gets $10,000, and that's a big part of the excitement about Roche Harbor's First Annual Salmon Classic Invitational this weekend.

Roche's Chris Watling wrote to say: "Roche Harbor's First Annual Salmon Classic Invitational for 2004 is just about ready to kick off with just a few spaces left for the angler who does not want to get left out.
"Roche Harbor has attracted anglers from all over the Pacific Northwest and Canada to compete for the big prize of $10,000, as well as other great prizes including a second prize of $5,000 and third of $1,500.
"This Salmon Classic Invitational has been named one of six derbies in the new Northwest Salmon Derby Series produced by the Northwest Marine Trade Association. As a participating angler in the NW series, there will be a chance to win a new 18-foot Stabi-Craft boat, Suzuki motor and EZ-Load trailer, as well as other great prizes. With a registration date of February 5th almost here, and fishing on 6th and 7th it is important to get your name in as soon as possible. For more information or to get an entry form please call Debbie Sandwith on 360-378-5562."
Quote: "To laugh often and much; to win the respect of intelligent people and the affection of children; to earn the appreciation of honest critics and endure the betrayal of false friends; to appreciate beauty, to find the best in others; to leave the world a little better; whether by a healthy child, a garden patch or a redeemed social condition; to know even one life has breathed easier because you have lived. This is the meaning of success."
-Ralph Waldo Emerson


February 4, 2004
First near the last: It was cool - not only did all four FHHS basketball teams win against Concrete, but the sweep included the JV girls' first win of the season as well. As the season nears its end, the boys varsity is looking forward to playoff action, with pairings to be determined next week.
Afoot: If Spiderman can dance, why don't you?
Pear Point pares down: Debbie Pigman from the Chamber tells me: "Pear Point Inn is being sold and the current owners are having a giant sale on February 7 & 8, 10am-4pm! Furniture from 3 bedrooms, living room, den, dining sets, pictures, vases, deck chairs, tools, shop shelves, pressure washer, Land Cruiser, 25' fishing boat, refrigerator, microwave......this is only a partial list. Everything must go!! Check it out. 2858 Pear Point Road.

The Drama Group does it again: Fred Yockers and the kids in the FHHS Drama Group keep pushing the edge...last week's production of "David & Lisa" was wonderfully acted, well-paced, and most of all moving. The actors made the
darkness of disturbed kids come alive...I've been running into people all this week who tell me it's one of the best shows they've seen here.
The only thing rotten about the show was it only had a one-week run. It would be a good one to see twice. Much better than the Super Bowl, for sure.
Outdoors in Outside: The August 2003 issue of Outside Magazine listed the San Juan Islands and Outdoor Odysseys as one of the "ten favorite liquid adventures in the United States." Check it out at Outdoor Magazine.
Library dudes make good: Remember John Sinclair who worked for a while at the library as the tech guy? He's posted a website about life in Siberia you might interesting, especially if you think WE live in a remote place.
Meanwhile, his successor Michael Perrin has slipped into management at the former Entertainment Tonight (ET), which opened as the Big Store earlier this week. Drop by & say hi - as far as I can tell he'll be there most hours.
Passing: The first time I met Dorothy at Friday Harbor Realty was nearly ten years ago, when Howard Smith persuaded her that the office needed a website to sell property. Theirs was one of the first on the island to be launched, and I was glad to know her as she gave me business hints, advice, and always said hello at the post office. It was sad to hear of her passing last week.
It was also sad to hear of Mary Karen Ryan's mom's passing a few weeks back.
At 7 p.m. Feb. 7, Charles Jackson's memorial service will be held at the Presbyterian Church.
School back in action: The school district substituted one of the make-up snow days for last Monday's inservice day (10 days ago), and has tacked on a couple of days to the end of the school year in June, making us the school system to stay in session longer than anyone in the western Hemisphere, I believe.
CD on the shelf: The good folks at Warehouse Coffee have agreed to carry my CD...one more place to get it. Since you missed making a Christmas present of it, consider what a great Valentine's Day present it would make. Or belated Groundhog Day gift.
It's the thought that matters. Sing along.

Tiger ball continues: Each Saturday the middle school Tigers trek to the mainland to play basketball against teams there. Last week saw the 6th, 7th, and 8th grader boys all record wins one way or another, and more importantly, learn how to play together better. The season continues into the middle of March.
Music: Speaking of middle school, ace music teacher Janet Olsen set things up so the kids who make their annual trip to solo ensemble each February won't have to this year. The judging will happen this weekend on island for the first time in recent memory. Way to go, Janet!
Quote; "Honest differences are often a healthy sign of progress." Mahatma Gandhi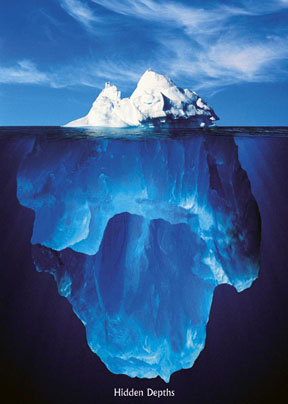 February 3, 2004
Tip: What a few weeks we've had here....mostly gray weather, changes in the business landscape, and a few dents in the body politic.
Most prominent on the landscape, of course, is the upcoming state caucus this weekend. On Saturday, the Dems on the island will meet and register their voice as part of selecting a nominee. If you go by the number of signs and bumper stickers around the island, it would appear the Howard Dean's out front, although I've seen Kucinich and Kerry posts as well, and lots of "Regime Change 2004" bumper stickers. There's not much action from the GOP, but it's pretty early for them, although the president does have people running in the primaries, like Billy Jack. Remember him?
Away & back: As you can tell by the date since I last posted news, I've been away...my dad had open-heart surgery in Tennessee & I went to be with him, Mom, and the family. He's doing great, thanks - and thanks to all of you who wrote expressing your concern. He's recovering well, and it's sure nice to have him around. I hope you get a chance to give your dad a hug and thank him for being around, too.
I'll be posting more later today.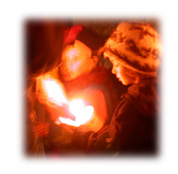 January 20, 2004
Dr. King remembered: Sunday night, about 50-75 people held a candlelight walk from the Courthouse through town in memory of Martin Luther King's 75th birthday. The march ended at the Grange, where folks sat down to a soup and salad meal and visited for a while.
In celebrating his life, I hope folks remember there is much still left to do. The achievement of his time on the planet is part of my personal history - I grew up in Montgomery in the 1960s and 70s amid amazing changes. As a kid I was told many times: "This will never change." And you know what, it did. I guess that's what makes me think, with the present craziness in the world, that there's every reason to believe things can be better. We can change - we've done it before.
Quote: "Darkness cannot drive out darkness; only light can do that. Hate cannot drive out hate; only love can do that."
-Martin Luther King, Jr.
Town news: Some things happened since I last filed a report. To wit:
Bob from the Little Store bought Entertainment Tonight from Dave & Debbie, who are going to concentrate their efforts on their year-old Jimmy's Cafe at the bowling alley. Plans are to change ET's name to the Big Store at the first of next month.

Meanwhile, Charles from China Pearl is in restaurant-acquisition mode again: he's closed a deal with Friday Harbor Suites (formerly the part of the Inns at Friday Harbor across from Post San Juan) to open an upscale steak & seafood restaurant in the Suites. An opening in early spring is planned.

The renovation at the Suites continues - all 63 rooms are being stripped of carpet, repainted, and re-draped this winter. The place'll sparkle come spring...

Building where the fire was continues full speed - slowed by the snow two weeks ago, it just looks more and more complete every time you check.

It was sad to hear Charles Jackson passed away a couple of weeks ago. Find his name at this address to read about him and remember him.
On the water: Peter Fromm called yesterday to let me know he heard "Flowers in the Sand" on the radio yesterday when he was towing a boat between islands. The "Whale Tales" author is prepping volume III, but in no particular rush.

Lower impact needed: Consumerism is growing in this country, and the signs are not good for what that will leave us in the future. Read more.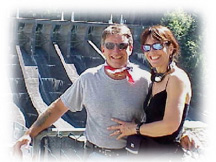 Magazine spotlights the Yachts: Jan at Friday Harbor Yachts tells me the story in last month's PassageMaker mag about how the company's Selene line is made in China has been good publicity.
Meanwhile, Brian Calvert's scheduled to marry his friend Sasha (right) in late March, and they're making plans. He, Jan & Dan are down at the Seattle Boat show this week till the weekend, showing off four boats they took down there, including a new 36' Selene.
Cheerful: I saw FHHS's cheerleading coach Jackie on the ferry Saturday night coming home from competition with her excited girls. She files this report:
The FHHS cheerleading team competed Saturday January 17th at the Oak Harbor Spiritfest competition. The competition was held at Oak Harbor High School and has been going on for a number of years. The competition brings local teams from Washington State as well as a few from Canada. There was a total of 35 team competing in the school division. There are several divisions based on the size of the squad and if it is coed. There is also an All star competition.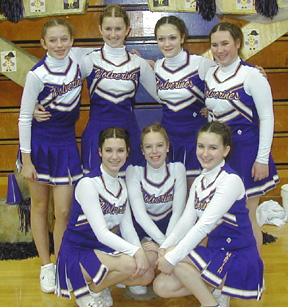 This was the first team competition that the FHHS cheer team has ever competed in. They competed in the small all girl varsity division. They had to perform a 2 and a half minute routine combining tumbling, a cheer, dancing and lots of stunting.

The girls did an awesome performance and represented Friday Harbor extremely well. They performed a clean routine and hit all of their stunts. Although they did not place in the top three in their division, we all should be very proud of them. They worked very hard for this competition and it was a great experience for all the girls. This is our first competition and we will continue to build the cheerleading program for the years to come. We have a young team this year with only 1 senior and three freshman. We will definitely be competing again next year in this competition!
In the photo: Front Row: Stacey Growden, Kelly Pope, Mariah McMurtrie; Back Row: Lilly Price, Kate Pratt, Talia Loucks, Claire Burke. Manager - Maggie Shaw

The girls will be performing their competition routine at this Friday's home game as well as the Winter fest School Pep Rally.


January 10, 2004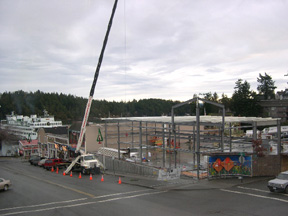 Snow no more: Well, the snow finally melted - quickly, too - and by Friday everything was like winter's supposed to be: a bit chilly, muddy from all the melted snow, and mostly gray. Ah, winter...and the days are getting longer, too.
Home sweet island.
Rebuilding goes on: You remember the fire downtown that gutted a block of Friday Harbor in one great gulp in May, 2002 (see the story below on May 9, 2002 for details)? Well, the reconstruction is moving along well, as you can see in this photo by Tim Dustrude from yesterday (click to enlarge).
Although slowed by the weather the last few days, the workers are making great progress through these winter months.
One of Tim's photos from the fire ended up on the front of the Seattle Times' online edition - you can see it here. That was a difficult month for us all... It'll be nice when the new structure's in place.
Winter sports: If it seems crowded on the ferry this morning, it's because there's some 45 basketball boys, their coaches and parents headed to Mount Vernon to play their first weekend of middle school ball at Skagit Valley College. Sponsored by the Friday Harbor Athletic Association, the Tigers will field six teams which go off-island nearly every weekend to play mainland opponents.
Meanwhile, the FHHS boys lost to ATM last night, while the boys JV eked out a one-point winner in the second game.
Short week: It felt like a weird week, didn't it? After two four-day weeks for Christmas and New Year's, it was mostly a two- or three-day week this week. wonder what next week will be like.