April 9, 2004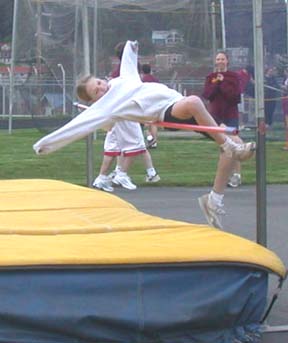 The more things change.... Well, it's almost there. The re-built building downtown is nearing completion. Rick & Wendy from the Mystical Mermaid tell me they're optomistic about opening shop in mid-May, and other people opening up shops there say the same thing. Nice weather (thank you, groundhog) lately has made for good working conditions & construction conditions.
It'll be nice to have town put back together.
....the more they stay the same: Did anyone else notice that the guy who bought Tommy's Pizza from Tommy & Sonia last month is named Tom? That the guy who bought Bob's Taxi is also named Bob? That Jim & Barbara got Front Street Cafe from Jim & Judith (I don't think Barbara's gonna change her name, though.)
I did.
Middle school on track: The FHMS track season (flying high, right) wound up on Wednesday with an away meet at Lopez High...although scores & times are kept, the emphasis is on improvement, which all of the kids showed in this short season that gives kids a chance to taste what the longer season holds when they hit high school. Coach Darrin Scheffer does a super job of organizing this many-ringed circus - way to go!
Contra Dance this weekend - you gotta go: Christiane Biermann wrote to tell me low attendance is threatening the contra dance being able to continue. It would be a shame to see this longtime tradition end... here's her note:
Let's try to have a great turnout at the contradance this Saturday!
8-11 at the Friday Harbor Grange.
Cheers,
(Christi-)Iana
360-317-6336

---------- Forwarded message ----------
Date: Wed, 7 Apr 2004 08:16:08 -0700

To: All Who Enjoy Contra Dancing

Mark Your Calendar!

When: April 10, 8 pm

What: "Your Last Chance to Dance" Dance

Dancing is a lot of fun and we all enjoy it. Right now we are reevaluating what to do because attendance has been low, and the committee is, too. We need people who want to dance, and who are willing to participate in making it happen.

Unless something changes drastically, April 10th will be the last of our dances. Hope to see you at the Grange. If you can't come, let somebody who cares know, or email <mailto:soozie@interisland.net> soozie@interisland.net.
Yours truly,
The Last Chance to Dance Committee

Clear sight in China: Remember I told you about Nicky Rigg teaching in China? I told her I wanted to post her last e-mail - maybe you can help her help her kids:
Happy Spring!

Now is the time when I remind all of you what a wonderful, beautiful, but tragically poor area of China I am living in. Some people make only $200 a year and even with the relative cost of living, there is no budget for luxury items. Along with some basic necessities, these luxury items include things such as electricity, consistent health care, and eye glasses. To compensate for the lack of eye care and to ward off poor vision, students do mandatory eye exercises each day for five minutes instead of recess. With more than seventy-five students in each class, you can imagine how the students in the back strain to read the intricate Chinese characters during lessons. This winter, students crowded into my after school class not because I was a phenomenal teacher, but because they needed the light to do their homework by, otherwise they would return home only to a single candle, or darkness.

I am working with a foreign teacher in the nearest city to have optometrists come and give students eye exams. We have found funding for their fees to come to Baojing for one week to examine all the students. They have agreed to supply eye glasses at a discounted group rate to all students we can afford to buy them for. There is the potential of being hundreds of students who need eye glasses. If only I could buy them all myself...

So, I am asking for your help, and for you to donate if you can. Each pair of glasses is less than $10. A small price to pay to see this beautiful world, isn't it?

Checks can be sent to Dr. Kate Zhou at the University of Hawaii. She was originally from this town, but got the opportunity to study in the US and is now a professor of Asian Studies. She established the relations with the schools here in Baojing that have allowed me to come and teach here. She will transfer any money sent to her directly to me. (If you need donation verification for tax reasons, let me know and I will ask Kate)

Sorry for the solicitation, but I hope my sales pitch has worked! Thank you for taking the time to read this, and I hope to hear from you soon!

Nicky

Checks can be sent to:

Education Advancement Fund International
3356 Francis St
Honolulu, HI 96915
on memo, please write Baojing eye care.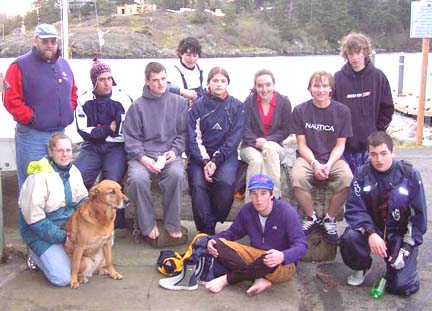 Sailing team needs help, too: Ruth Offen wrote to tell me our high school sailing team which has done so well in competitions that last few years is having hard times. They had a fundraiser earlier this week, but need more assistance. Maybe you can help:
Team members: Adam Karon, Alex Marsaudon, Catlin Ness, Felipe Lopez, Zack Offen-Pearson, Eva Wingrin, August McKenna, Katie Schmidt, Roald Dietzmen, & Brenton Hedin.Also pictured are Coach Scott Boye and Dez Bridgmon...


HIGH SCHOOL SAILING TEAM LOSES FUNDING
Island Rec has declined to continue funding for the High School Sailing Team as of this year. Island Rec is still advertising this as a class in their bulletin and still providing their van for off island transportation. The Sailing Foundation provides and maintains eight Vanguard 15s. The Vanguard fleet has been the envy of Northwest teams and other teams, including Orcas, have been acquiring them.

The team practices two days a week after school at Jackson Beach beginning in early March and spends many weekend days at events such as matches with other schools. a clinic on March 13-14 in Seattle by Sail Sand Point with races which mix team members and have an emphasis on learning and comaraderie; Double Handed District Championships at Orcas on April 24 - 25; Team Racing District Championships are May 1 - 2 at Port Angeles. Last year there were nine teams from the Northwest and Friday Harbor High School Team is very competitive in this group. The Double Handed District Championships were here off Jackson Beach last year with nine teams and over a hundred sailors participating. The winning teams are able to compete in the Mallory Cup on May 8 - 9 in New Orleans and the Baker Cup May 7 22 - 23 at the US Naval Academy at Annapolis.

The ORCA sailing clinic May 29 and 30 is available to young sailors in the Seattle area.The cost of the team is about $3500. The Sailing Foundation and Yacht Club are participating. So far from the proceeds of the "Parrot Head Party" $715 has been raised for the Team activities.

If you would like to participate in helping the team, send a tax deductible contribution to the San Juan Island Sailing Foundation, PO Box 2464, Friday Harbor and mark it for the High School Sailing Team.


March 26, 2004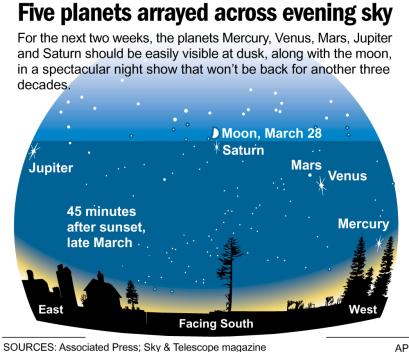 Spring went & sprung: Doesn't it FEEL like spring these days? Even when it's wet & cold it's not really, since the plants are growing & the sun's out later in the day. Very nice.
Meanwhile, it's not just the seasons lining up last week for equinox - the planets are visible in the early evening sky (see AP graphic to the right.) If you think about it, the only planets you can see with the unaided eye (naked eye is what YOU would say, 'cause I know how you are) are Mercury, Venus, Mars, Jupiter, and Saturn, since the others are too far away. Last night Saturn was right next to the moon - couldn't miss it - while the others peeked in & out of the clouds.
Gas prices rise here, too: Just saw the guys changing the prices to $2.15 at the Big Store/ET yesterday...
How high DO they have to go to get people outa their SUVs? Switching from driving an average car to a 13mpg SUV for one year would waste more energy than if you...
* Left your refrigerator door open for 6 years
* Left your bathroom light burning for 30 years or
* Left your color television turned on for 28 years
Did you know all that? Here's more.

Coming up at the elementary school: The Talent Show! Friday the 26th, at 6:30pm at Elementary School. Admission donation to food bank.....also, Marty Robinson reminds me signups for kindergarten are coming up:
Friday Harbor Elementary School welcomes the Kindergarten class of 2004-2005! Registration for next year's Kindergarten class will be held on Tuesday and Wednesday, April 6 and 7 in the school office. Parents who wish to enroll their children for the 2004-05 Kindergarten session should call the school to set up an appointment. To be eligible, students must be five years of age by August 31, 2004. Please call the elementary school at 378-5209 to make an appointment.

Please bring your child's birth certificate and immunization records. If needed, birth certificates may be obtained at the San Juan County Health Department. The Health Department will offer health screenings for Kindergartners later in the spring. Their number is 378-4474
Child psych: It's pretty cool...Ruthie Paull teaches the child psychology class at FHHS. As part of the deal, the high school students spend two classes a week at the elementary school doing cool things with the first graders. That's Ming (top), Brady (middle), and Cassie with their young charges yesterday.
Jo Sandwith's room was buzzing with activity as the kids did writing, math, and all kinds of other learning projects. Fun to watch...makes you wish you were back in school.


March 17, 2004
Wear green: Oh, yeah, it's St. Patrick's Day. Did you remember to wear something green?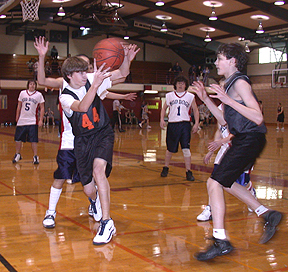 Basketball ends, baseball & softball begin: Last weekend both eighth graders put the wraps on their seasons in the league-ending tournament in Mount Vernon, with the Black team nearly edging the league champs and the White team winning a couple in a tough league. That's Mitchell (44) dumping an offensive board out to Dylan Marriner at the right. Both teams were coached by John Bostrom and Harvey Brown. Meanwhile, the 6th grade "A" team finished their season as well, winning a couple and a having a pretty good day. Mario Ochoa and Nate Howard led the charge for those two teams.
And, yep, baseball got going this week. Rain or shine, which included FHHS winning (baseball) and losing (softball) here yesterday. Should be a strong year for both squads.
Perfect for weddings: Have you been out to see what's Kit's been doing at Wood Duck Ponds lately? They just put in a new pond, and the place looks great for the upcoming season. These days she's turned the focus of her B&B to weddings, and it's sure a nice place to consider.
March 12, 2004
Notes around town: Looks like Island Scooters & Bikes has been purchased by Susie's Mopeds....birthdays: Yolanda Martinez who works at the Suites had her "feliz cupleaños" yesterday, while Ron who works late at the Little Store has his this weekend; Teri Ebey's is next week.....I hear Ian & Laura Bolton are heading for North Carolina next month....remember Diane who was working as an assistant at Coldwell Banker? She started at Luxel the middle of last month....It was neat to see all the coverage about Natalie & Greg buying into Friday Harbor Realty, and keeping the late Dorothy's dream alive. Good people, running a good office with good people.
Carol Ford usually writes to let me know what the music folks at school are up to - the kids sound really good this year, so I hope you have a chance to hear them:
The Friday Harbor High School Concert & Jazz Bands will perform for the community at the San Juan Community Theatre on Tuesday, March 16th at 7:00 pm. It would be wonderful to have a standing-room-only audience to applaud their awesome talents. They really are a dedicated group of young musicians. Admission is free, as always.

The Friday Harbor Middle School Concert Bands will be playing at the San Juan Community Theatre on Wednesday, March 17th at 7:00pm. The 6th, 7th, & 8th grade bands will each perform and they will amaze everyone with their growth as musicians! Admission is free. Don't miss it.


March 11, 2004
Ferry's behind: Just got this note from WSF this early a.m. about how the ferries are running behind...you might want to check ahead & be sure and bring a good long book for when you're waiting:
The YAKIMA is unavailable for Thurs. morning service upon 05:35 A.M. depature from ANAC. The SEALTH's first morning sailing at 06:10 from ANAC cancelled and will assume YAKIMA's sailings at 06:00 A.M. approx. 25 mins. late until approx. 08:40 A.M. Expect delays and vehicle allotments to be altered as SEALTH capacity is 100 vehicles, YAKIMA's 160.

ILLAHEE will make Lopez Is. to Fri. Harbor sailing at approx. 06:55 A.M. for SEALTH's cancelled 07:00 A.M. sailing.
Biodiesel makes the big time: Patrick from Bon Accord took the KOMO radio people out for a ride yesterday - he tells me they're gonna run the show they made four times today. The focus: Using biodiesel to fuel the boat.
The road to Roche: Chris Watling mentioned to me that the road construction/paving job out along the Roche waterline is going well, and is projected to be done by May 15. The project is concurrent with setting up the new housing across the way, which Pat Carver will be in charge of - she says those will open later this year. In the meantime, it's getting easier to drive around out there....
Quote: "Trees are the earth's endless effort to speak to the listening heaven." - Rabindranath Tagore, Fireflies, 1928
Women got game: Women's basketball, sponsored by our friends at Island Rec, starts up at the high school on the 24th from 7-9pm. Details? Call Becky at 370-5867.
Nicer: Is it just me, or do you think everyone's nicer to each other when the sun's out? This is a good sign, because the days are just getting longer, with the equinox just around the corner.
Quote: "If you don't like something, change it. If you can't change it, change your attitude. Don't complain."
-Maya Angelou
March 8, 2004
Slow & rainy: Sure was wet this weekend. An awful lot of people I know got caught up with their reading. Yawn.
Born at the right time: Randy & Missy Martin welcomed Lucy Jo into the world last Monday - she was 8+ pounds & she & mom are doing great, by all reports. Since both parents are soccer nuts, I hope she has a good left foot.
Tigers have fun: The 6th grade basketball Tigers made it to the championship game in Saturday's season ending tourney, where they snagged the second place trophy for "B" teams. The "A's" play next weekend in Mount Vernon.
Meanwhile, the seventh grade Black Tigers hit the hard part of the bracket, losing twice, while the White Tigers took 2 of 3 games to bag the third place trophy for the overall seventh grade league. winning 64-31 in the final game over Concrete.
Bill said so: I ran into Bill LaPorte late last week & he said I need to write more in the Update. He's right. And I'm left.
He's looking good following his retirement from public service earlier this year - he's still active with business, of course.
Cool web sites: Have you seen Marie DiCristina's site for her wedding photography business? Nice stuff there.
And Western Prince has a new re-design as well that's getting rave reviews...check it out.
Bio-design: Speaking of re-designs - wow. Ivan and Jackie at Western Prince join Patrick at Bon Accord here in re-fitting their boats to use biodiesel to run their boats (Marty at North Shore Charters and Tom at Deer Harbor Charters on Orcas, too!) In these difficult economic times, it's a gutsy move to use a more environmentally clean fuel that costs more - these guys are to be applauded.
Here's more from the Western Prince press release:
In 2004, Western Prince Whale Watching & Wildlife Tours will become one of the first whale watching companies on San Juan Island to exclusively use eco-friendly Biodiesel fuel.

Biodiesel is produced from vegetable oil, making it a truly renewable resource. The B20 blend reduces unburned hydrocarbons (cause of smog& ozone) by 21%, particulate matter (a factor in respiratory disease) by 10%, carbon dioxide (a greenhouse gas) by 16%, and carbon monoxide (a deadly toxin) by 11%. In addition, the use of Biodiesel B20 reduces the foul smelling exhaust fumes commonly associated with diesel engines.

Ivan, the U.S. Coast Guard licensed captain of the Western Prince II, said, "We are proud of our company's record of respecting the whales and their environment while educating the public during over 2500 wildlife cruises. While the cost of biodiesel is significantly higher for a small-scale company like ours, it is a necessary next step in being good stewards of our marine ecosystem."

Jacquelyn, a certified teacher, adds, "Our entire staff enjoys sharing their knowledge and insight with our passengers. This will be one more piece of environmental information to pass along both verbally and through example."

The Reiffs hope that those who appreciate the beauty and diversity of the marine environment in the Pacific Northwest will join them this year for a memorable and educational whale watching and wildlife tour. Information about Western Prince cruises can be found at www.orcawhalewatch.com. Detailed facts about biodiesel fuel are available at www.biodiesel.org.


March 2, 2004
Ch-ch-ch-changes: Seems to me there's a few changes among business owners on the island. A quick rundown:
Christine and David Taylor out at Inn to the Woods have sold their place to some new folks whom I haven't met yet. They'll be staying around, as they bought a place on the island. The handoff to Carlos & Tamara is set for Friday, and Christine will be hangng around to show them the ropes for the next couple of weeks.

Over at the Friday Harbor Suites, general manager Steve Fetters was surprised on his last day with a going away party at the Legion. He'll be landing at a hotel in Anaheim, California, while Mikki Ellis takes over as GM here.

At the Front Street Cafe, Jim & Judith are hanging it up after seven years - they sold the operation to Jim Petty and Barbara Chapman, who are moving here from Memphis to give island life a go.

Jim wrote me: "Judith plans to get her gardens back in shape and I can step up my volunteer activities in the San Juan Island Chamber of Commerce and selectively get back into Business Brokering and Consulting to evaluate and promote Island businesses. For those that did not know, prior to the cafe "run" I owned a Business Brokerage in Bellevue, WA (www.vrbusinessbrokers.com) and in 1996 was the Number Two Business Broker in the United States and even though I lived at the cafe for the past seven years, I have participated in doing business evaluations and consulted in the shadows to assist in the selling of several local businesses. A far cry from making Lattes! Please stop by the cafe to greet the new owners, even if you have not been into the cafe in a while. Show the true island spirit and extend your hand in welcoming them."

Out at Westcott Bay, Gary Enerson has sold his property and is closing his guesthouse there, as well as the one on the farm on Beaverton Valley Road.
Basketball: Yep, it's nearly time for baseball - so basketball must be coming to an end. One of the sixth grade and both seventh grade teams play this weekend (the 7th graders' "A" team is positioned to possibly win the the league tournament), while the other 6th and both 8th grade teams play on the 13th for all the marbles.
Moving on: Allan Marriner has accepted a position in Bellingham that he'll start in 2-3 weeks. Since moving to the island in the mid-1990s, he and Kelly have made a difference: working on the Island Rec board, youth soccer board, countless committees, coaching soccer, baseball & basketball, all while working at the Prosecutor's office...and that was just Allan. Kelly's been doing legal work in Bellingham the last few years, besides having daughter Josie a little over a year ago, after doing a stint in the mid-90s as editor of the Journal, and herself serving on the soccer board & doing other volunteer work.
People like this are impossible to replace, not just with all the work they do, but as friends. Looks like they'll be here to finish the school year...
Recovering: Sonia and Eddie tell me Ed Nash is home and recovering from his surgery a couple of weeks ago.
Dollars for Scholars: You know that most of the restaurants around are donating proceeds from dinner on Thursday night to our local group that raises money for college kids...be sure & make plans to eat out. It's a great cause!
Meanwhile, Laura from the Community Theatre has an idea:
If you are going out for dinner on March 4th in support of Dollars for Scholars, do we have a deal for you! Thursday night is our bargain night for FUNNY MONEY, by Ray Cooney, directed by Andrew V. McLaglen. Tickets are only $10 for this "maniacal masterpiece of manufactured mirth." The show starts at 7:30. Pick up your tickets today, tomorrow, or Thursday and be ready for a great night in support of Dollars for Scholars and the theatre. By the way, we will also have a donation basket out for Dollars for Scholars that night.

See you at the theatre!

Laura Concord

Call a spade a spayed: Kathy from CATSPAW tells me: "CATSPAW will be hosting a free 'for cats only' spay/neuter clinic in Friday Harbor available to all islands in the San Juans from Monday, March 29 through Friday, April 2. Space is limited. Schedule appointments by leaving a message on the CATSPAW voice mail at 360 378-9430. Your call will be returned in the order it was received."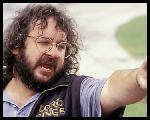 Former islander checks in: It's always good to hear from Pierre LaBossiere who used to write for the Journal, here, a few years back. He's writing in LaGrande, Oregon these days::
Hey, Ian, everyone claimed that Matt and I used to look alike, but don't you think Matt looks a lot more like this guy -- Peter Jackson -- than me?
I just resigned as the sports editor here today.The La Grande Observer was afraid of losing me to a big daily in Billings, Mont., so they promoted me to news editor with a big raise. I'm going to be doing page 1 layout and writing editorials and editing the other reporters. I thought for sure this weekend, I was moving to Montana. I was *so* burnt out on working 16-hour days on the weekends, but it looks like I'm sticking around in Oregon for at least another year or two.
Pierre

February 25, 2004
From the mailbag: It's always good to hear from you. Here are a few notes of note from the past few days:
Subject: NASA space pens. If you are interested, here is the real story behind this urban legend. Go to: http://www.snopes.com/business/genius/spacepen.asp A lot of things are funny, but not necessarily true.
Have a good one.
Cindy <springer@rockisland.com>

As you can see, I've been telling this story for years, with the notion that it's a good picture of the way we approach problems, sometimes. It's actually reassuring that the Mercury & Gemini astrodudes were using pencils, too. Thanks for the inside - and true - skinny.

Subject: Weather. Is it raining on the island? It is here in Iowa.
Denise Thurman, Des Moines

No. It never rains here. Check the weather report.

What's up, dock? Are you guys going to build another ferry slip? Then you could have more boats come during the summer, and you'd be in good shape if the dock you have got wiped out, like Orcas did when the Elwha ran into it a few years back. I heard you didn't want one for some reason. Why?
Robert Simmons, Issaquah

There are no plans to build one at this point, but you've got the right idea - when the Elwha lost power and munched the dock on Orcas (see the story below - Sept. 8, 1999), the people on Orcas had to use boats and barges for six weeks or so. Having a backup dock seems like a good idea. Having an extra dock just so we can have more people...well, that's less of a problem. There's always more people on the next ferry.

Finding the money for all this, when there have been system-wide budget cuts at the Washington State Ferries - that's another question. For now, we'll make do.
Leaving & coming: More folks leaving the island - Marshall Davis is heading to California to hang out with his girlfriend there. He says he's keeping his house here, though, and will be back in a couple of years. The old Heartworks owner is one of the great souls of the island, having been here over 20 years, and always with a smile.
Meanwhile, Kendra Keithcart is moving to Redding this weekend, leaving the Warehouse coffee folks short one bright, intelligent worker. She says she's looking for coffee work there, too. She's working Friday morning - last chance to drop in and say goodbye.
Lee and Tal Sturdivant are coming back the 10th after spending most of the past three months attending to the affairs of the estate of their friend Rosa, who passed away in September.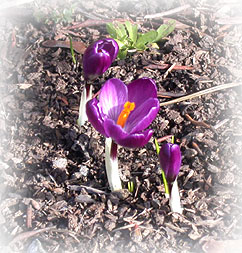 February 23, 2004
Summer comes way early: You saw it yesterday, because you were out in it - I have no idea what the temperature was, but it couldn't have been lower than 55 or so. sunny skies & a great day to play. Hope you did!
The flower at the right is one of many popping up in front of the Post Office - I shot it yesterday. Watch for more tomorrow!
Ailing friends: I heard tonight that Vic Napier hurt his back pretty bad in a fall last week, and had a couple of broken vertebrae operated on this weekend.
Meanwhile, Ed Nash is still in the hospital this morning in Bellingham after open heart surgery on Thursday. He's had wife Sonia, son Eddie, and son David helping out on the mainland.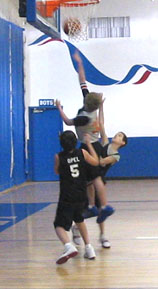 Basketball: Well, a couple of teams had chances to reach for the golden ring:
The 7th grade White Tigers (now 7-2) lost for the second time to unbeaten Marysville (9-0). The first game a month ago was by two in the final seconds, 31-29; this time we forced overtime in a high-scoring 51-51 match that ended with them hitting two threes to end the game.
Scoring was led by Richie Ochoa (17) and Zac Hays (13). That's forward Michael Knowles in white to the right scoring inside with the 18-inch jump-reach. The league tournament may offer a re-match in two weeks. (Photo by Trina Terry.)
Meanwhile, the FHHS Wolverines' dream season ended at Tri-Districts this weekend - if we had won, we would have gone to State for the first time in over ten years. Great season, and a great bunch of kids that deserve all the cheering they get.
Leaving: Just heard Dr. Kimberly Cincilla is leaving San Juan Island and moving to Seattle at the end of February, with Dr. Rebecca Ortman at Inter-Island Chiropractic taking over her practice. She will definitely be missed.
Deserving & made it: It was pretty cool to find out that the Soroptomists gave Wendy Beaird and Veronica Aldrette cash prizes for the essays they wrote last December. Both are single moms who are a couple of the hardest workers I know.
Both attend Skagit Valley College, work, and look after their little families. Veronica received $500 and Wendy got $1500 to help them achieve their dreams; I can tell you Wendy's off to a fast start - the next day she passed not one but two of her tests in the self-paced math class she takes with me. Way to go!
It's all in the way you look at it: When NASA first started sending up astronauts, they quickly discovered that ball-point pens would not work in zero gravity. To combat this problem, NASA scientists spent a decade and $2 million developing a pen that writes in zero gravity, upside down, on almost any surface including glass and at temperatures ranging from below freezing to over 300 C. Then the CIA discovered what the Russians were using: a pencil.

I love that story...and I think it applies to our approach to problem-solving here locally and at the state level. We can't keep trying to solve the same problems with the same methods & paths. And it doesn't hurt to pick our heads up and see what our neighbors are doing, eh?
Cooking with love: Vegan cook Christina Pirello says: "I have come to the conclusion that there's not a vegetable on Earth that will kill us if eaten in moderation," she said. "Most of us don't need to make a change or improve our health because we ate too many tomatoes."

The change permeates her recent cookbook, and is a refreshing redirection from her last two, which had medicinal overtones. Fans of her first book, "Cooking the Whole Foods Way"), will welcome this new focus.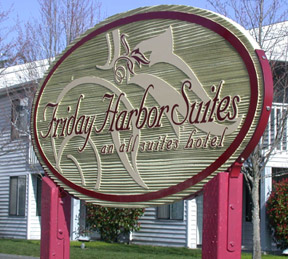 "Cooking is not designed to impress with accomplishment, just like it isn't designed to create tight shoulders, clenched fists and knots in our stomachs as we try to put a meal together," she said.

Quote for today: "Cooking is about freed passion, a tapping into the sensuality that exists in all of us," Christina Pirello says.

Changes at the Inns: Well, it's not the Inns anymore. The Inn at Friday Harbor is now Friday Harbor Inn, and the Suites at Friday Harbor are now Friday Harbor Suites. Marketing maven Mikki told me last week the Suites' renovation is going well, including posting their new sign (right) and new website. Both are designed by graphic artist Beth Corbin, part of the By Design corporate package team.
Plugs: Speaking of plugs for the home design team - call me if you're thinking about buying an ad on the top of this newsletter. More people read it than you'll know.
Review the Update from December 6, 2003 - February 8, 2004

Review the Update from October 1, 2003 - December 6, 2003

Review the Update from August 20, 2003 - October 1, 2003

Review the Update from June 19, 2003 - August 20, 2003

Review the Update from April 18, 2003 - June 19, 2003

Review the Update from March 1, 2003 - April 18, 2003

Review the Update from December 19, 2002 - February 28, 2003

Review the Update from October 26, 2002 - December 18, 2002

Review the Update from August 13, 2002 - October 26, 2002

Review the Update from May 9 (the fire) - August 12, 2002

Review the Update from April 1, 2002 - May 8, 2002

Review the Update from December 15, 2001 - April 1, 2002

Review the Update from September 11, 2001 - December 14, 2001

Review the Update from June 7 , 2001 - September 10, 2001

Review the Update from March 17, 2001 - June 6, 2001

Review the Update from December 18, 2000 - March 16, 2001

Review the Update from July 25, 2000 - December 17, 2000

Review the Update from April 21, 2000 - July 25, 2000

Review the Update from January 1, 2000 - April 21, 2000

Review the Update from October 21, 1999 - December 31, 1999

Review the Update from August 12, 1999 - October 21, 1999

Review the Update from May 17, 1999 - August 12, 1999

Review the Update from April 8, 1999 - May 17, 1999

Review the Update from February 26, 1999 - April 8, 1999

Review the Update from January 3, 1998 - February 26, 1999

Review the Update from November 1, 1998 - January 3, 1998

Review the Update from August 31, 1998 - October 31, 1998

Review the Update from July 2, 1998 - August 30, 1998

Review the Update from May 25, 1998 - July 2, 1998

Review the Update from April 3 - May 25, 1998

Review the Update from January 22, 1998 to April 3, 1998.

Review the Update from November 24, 1997 to January 22, 1998.


---

The information here is simply stuff we here at By Design think is important around Friday Harbor or on the Island. Some of it's news, some of it's old news, and all are just things we wanted to mention, with most of it about the things that make living here great.

There will be more next week, if anything happens.

Ian Byington
ian@byd.com

More info about the island:

This site prepared by our friends at By Design in Friday Harbor.
The information contained here is
©Copyright 1997, 1998, 1999, 2000, 2001, 2002, 2003, 2004
by By Design, Friday Harbor.
Unauthorized reuse of the content of these pages is prohibited;
links to other sites is intended to be to the benefit of those sites,
and for the edification of our readers,
and does not constitute endorsement or
agreement with views expressed there.