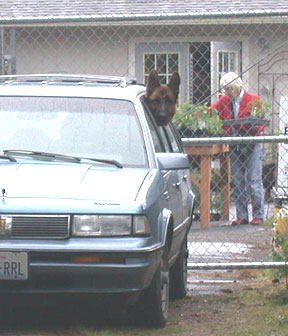 May 24, 2004
Foggy bottom: Yep, that was the foghorn you heard coming from the harbor this morning...it's been pretty socked in since just after daybreak.
It'll clear, though. You watch.
Llama or dog: One of my friends over at Warehouse Coffee who works there and plays soccer and asked me not to mention her name told me that back in January during the ice & snow she saw something interesting.
During the period when things were icy, people were driving all over the place & all over the road. She said among the people who passed by her work was a VW van that had - no kidding - a llama stuffed inside. She could see his concerned face looking out the window as the van made its way up slippery Tucker Avenue.
So, imagine my surprise when I saw the profile to the right from a distance a week ago, looking toward the back part of Browne's nursery. I thought someone had a llama in their car - but, no. It was just a dog. He was pretty friendly & licked my hand & let me shoot his picture for you, as you can see.
Gonna be crowded: Plan ahead if you're off-island & coming this way this weekend. Memorial Day weekend is usually so busy that the WSF schedules extra ferries (check their site, above), and it's usually pretty jammed in Anacortes on Friday. So do yourself a favor and plan accordingly. We'll be here for ya.
Kayaker hits big time: Sunset magazine is running a nice little writeup about local kayakers Outdoor Odysseys in their June issue. The article features OO founder Clark Casebolt & spotlights not just the company's success but also his environmental awareness and concerns. You can
see the article here.
Passing: You probably heard that Scott Devlin (right) who grew up here crashed down sound on Sunday when his plane hit another small plane. Only 33, Scott owned & ran his own aviation outfit in Camas. He'll be missed.
Quote: "Nobody loves Goliath." - Wilt Chamberlain
La la la: I haven't sang for you lately. Check here.
Hitched: Couple of weeks ago Leanne Grosjacques married Donnie Burt - congrats!
More writing & mixed messages: At the writing contest (here, read the winners' stories) the other night, I saw one of my favorite seniors from FHHS and I asked her if she had submitted a story this year to the contest. She said she's been too busy & didn't get one in this year. I said, "Yeah, senior-itis bites." She glared at me and said, "What do you mean, my wrting bites?" [Get it? She thought I'd said, "See? Your writing bites."]
After we sorted it out it was kinda funny. Cleverness exacts it price; non-cleverness, as you can see, is worse.
Youth symphony performance - It rocks: RuthE from the Theater wrote to tell me about this, coming up this weekend:
Exactly one year after their jubilant debut at San Juan Community Theatre,
the Tacoma Youth Symphony returns for a concert on Saturday, May 29, at 7:30
pm, under the direction of Dr. Paul-Elliott Cobbs.

"My wife and I came to the concert for the sheer opportunity to hear
symphonic music played here," said John Maya, who with his wife Sharon had
been a subscriber to the St. Louis Symphony before moving here four years
ago. "We expected to hear a somewhat 'green' performance by these
youngsters," Sharon said, "but we were very pleasantly surprised by their
quality of music. It really helped to fill the void for the type of
entertainment that we missed from our metropolitan life."

The ensemble of nearly 80 young musicians represents the top echelon of the
orchestral training program of the Tacoma Youth Symphony Association, which
draws the best instrumentalists from high schools throughout the Puget Sound
region.

This year's program consists of Guiseppe Verdi's popular "Overture to The
Sicilian Vespers," Maurice Ravel's Spanish-fired "Rapsodie Espagnol," and
Antonin Dvorak's beloved Symphony No.9 "From the New World."

Kings Market proudly sponsors the Symphony's return engagement. Tickets are $10 for adults and $5 for students. The SJCT Box Office is open Tues.-Sat., and one hour before the show. Call 378.3210, or go to www.SanJuanCommunityTheatre.org.

Sculptures in town: Pat from Island Studios says to come see the garden out behind her place:
Hi to all... Well, the studio is finally finished and ready for our new season, which has begun. The Courtyard Sculpture garden is finished and open to the public. We have been receiving lots of positive feedback. I invite all of you to stop by and see all of the changes.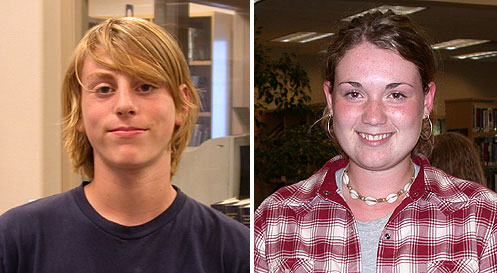 May 20, 2004
Great writing recognized: It was a simple concept: the Library asked middle schoolers and high school students to finish the phrase: "The minute I stepped off the plane, I realized what I had gotten myself into..." by making it into a 600-word piece of fiction for its annual Young Authors Fiction Contest.
Several dozen kids stepped up to the challenge, and last night the winners were honored at a reading and presentation of the winning entries. Judges Bob Dann, Janet Thomas, and Peter Fromm chose these stories as the best of the ones submitted:
High School:
1st place: Amanda Alps (above, right) -- The Real World
2nd place: Eva Wingren -- The Journey of a Thousand Miles Begins with a Single Step
3rd place: Julie Tate -- Yale

Middle School:
1st place: Christian Carter (above, left) -- The Winds to Valhalla
2nd place: Kelsey Kennedy -- The Class of Double O Eight
3rd place: Kate Hunter -- 8 Days in Paradise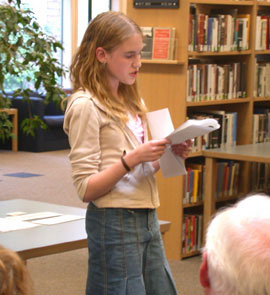 You can read the stories online (posted by your friendly neighborhood Update) here, as well last year's stories which were, well, awesome.

That's Kelsey reading her story last night at the Library's celebration. Kelsey took first place last year in the middle school division. This year's contest was coordinated by teen library assistant Jacky Elder and assistant librarian Laura Tretter, with the support of language arts teachers at the middle school, the high school, Spring Street School, and Skagit Valley College's Running Start program.
No news is good news, and good reading: Here's the deal - I'm not putting anything else in the Update today. So, click on the link above and read the great stories these young Faulkners pumped out. Better writing than I can crank out, anyway.
May 18, 2004
What's up, dock? Do you remember when the ferry munched the dock over at Orcas Landing? In September 1999 the Elwha lost power on its approach and wasn't able to stop until the dock brought it to a halt. The result was about a month or two with no ferry service, with everything & everybody barged in or boated in. You can imagine the impact on business.
I believe that's the subtext of the discussion tomorrow at the Mullis Center. This fall the state ferry guys are going to do a major renovation of our main dock here, and it's time to ask - do we here in Friday Harbor need a second back-up dock? I think we do....
That's 4:30-7:30 pm on the 20th, to look over the fall project & take input.
Gassed: Bill LaPorte checks in with an update on gas prices:
Ian, just read your update for May 14th. We do not have the highest gas prices in the Country. Last week, while motorcycling through northern California, we paid $3.199 for premium. The same station had regular for $2.999. Many other stations in California were higher than Friday Harbor, as well as, some in Nevada.

Bill LaPorte, SEA-CURE SERVICES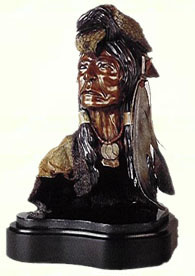 May 14, 2004
Back on island today: I dropped by the bowling alley yesterday to check on how Doug Bison's doing...Dave at Jimmy's Café says Marion's bringing him back to the island today from the hospital in Bellingham.
Doug had a heart attack Wednesday at the restaurant but was incredibly lucky - EMT Cheyenne Mauldin and Fire Chief Bob Low happened to be right there at Jimmy's Café, with a de-fillibrator in the car... and they know how to use it. Way to go.
You may not know the Doug has a couple of pretty impressive things on his resume - he's the great-grandson of Big Foot, the Sioux chief who was murdered by American troops at the Wounded Knee Massacre in 1890, and that he's an accomplished and widely-recognized bronze sculptor.
Example: The sculpture at right is called Hawk Warrior, a previous winner of the coveted Goodey Indian Culture Award presented at the 20th National Western Art Show in Ellensburg, Washington. The award is bestowed annually to the artist whose work "best represents an accurate depiction of Indian culture."
Fairly new: Did you notice the San Juan County Fair's gearing up for its August 18-21 run this year? Get ready!
Speaking of the Fair: Tom Doenges is playing as part of the warmup for Maria Mulduar when she comes in a couple of weeks - here's the scoop for this fundraiser for the fair:
Hola!

Being a Dad, member of a family and a business owner, I am quite busy with these endeavours and so it sets limits on the amount of performances I / we can do right now. However, I have an upcoming and special engagement I wanted to share with you that I am excited to be a part of: Maria Mulduar is a talented positive, feel good, extreme human being whom has brought many songs to the top of the music charts in the past. . . her most likely known hit was called "Midnight at the Oasis"

1St ANNUAL MEMORIAL WEEKEND FRIDAY FESTIVAL/DANCE CONCERT This first annual Festival/Dance called "It's Better Together" will star Maria Mulduar and Her Red Hot Bluesiana Band. The evening opens with guest band Dubious Brothers and guest artists Tom Doenges and James Barkshire. The event takes place May 28 to benefit the 2004 San Juan County Fair at the San Juan County Fairgrounds.

This event is produced by the SJC Fair and Witsend Productions and sponsored by San Juan Inn Bed & Breakfast . Doors open at 6:30 p.m. in the main building. Tickets are $25 per person. No host bar sponsored by The Lions Club. No host food by Cynthia's of Course (Louisiana Cayjun). Tickets can be purchased at the door or at these locations: Printonyx; San Pebble; Second Act (starting May 10th).

I would love to see you there or be there in spirit!

May this find you well

Tom,Tami and Levi

Speaking of which: My boys are playing guitar & bass all the time.... not like me, when I was a kid and learned all that cool folk music, but they know how to ROCK! Here's part of their inspiration.
We're Number One! My friend Bob Dewar from Kirkland reports he heard in the national news that San Juan Island has the highest gas prices in the U.S.
We win again!
Noticed it said $2.57 at the Big Store this morning.
Notes around town: Jim Ricks has been appointed to Island Rec's Board to replace Alan Marriner. Jim works in Emergency Services on the island here and was a driving force behind the construction of the SkatePark, among other things. He has one of the biggest hearts on the island - we're lucky to have him agree to serve.

Got a chance to say hey to the guys running for County Commissioner for San Juan County at the Chamber of Commerce meeting on Monday: Republicans Ray Bigler and Ralph Hahn (here's the writeup of his candidacy announcement) and Democrat Kevin Ranker were there shaking hands, as they gear up their run for Darcie Nielsen's spot on the BOCC in November. Meanwhile, over on Orcas, Democrat Alan Lichter is the only person I know runnng against 12-year Republican incumbent John Evans (I couldn't locate a website for him just yet.)
Businesses starting up: In past few weeks I've run into friends starting their own businesses - Becki Day is doing event planning, bookkeeping, and a host of other business support services (her site). Meanwhile, Mary Roth was a familiar face at Haley's before she started Mermaids, Home & Yachts Services (phone 317-6612.)
Auction: Mike Adams at Islands Auction/Funk & Junk has one of his super auctions tonight at the Fairgrounds at 6. Hope to see you there.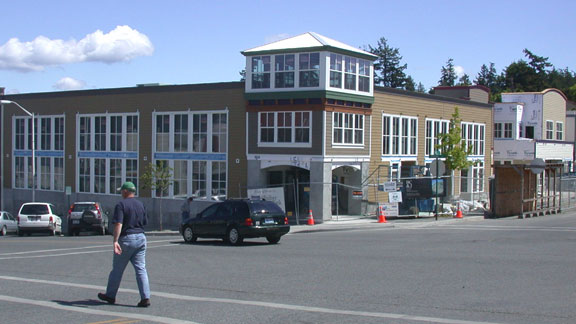 May 10, 2004
Rising from the ashes: Yesterday marked the second anniversary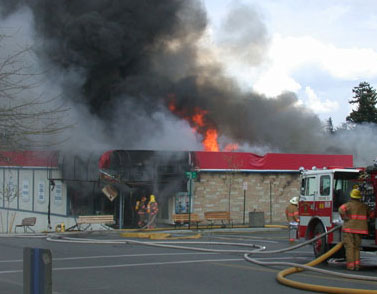 of the great fire (click here to see the stories and pix from that day, 2002) that devoured a block of town...for the past two years we've evolved from having a big hole in the middle of town to the nearly-opened two story building to the right.
Store owners like Patty at Osito's tell me they're not quite ready to open yet, but things should be in place for the summer season.
Quote: "Endeavor to be always patient of the faults and imperfections of others for thou has many faults and imperfections of thine own that require forbearance. If thou are not able to make thyself that which thou wishest, how canst thou expect to mold another in conformity to thy will?" -- Thomas a Kempis

Gas woes: When I went by The Big Store this morning, I noticed gasoline was up to $2.53 for the cheaper stuff...seems that's happening all over the country, with the costs of living here making ours among the most expensive in the US. Here's a page that might help you, a little, with the increases.
Yes! They're here! Elephant ears at the Big Store! Samples now! You heard it here, first.
Changes, updates, and that's the breaks: I hear Kelly Ann Maloney's mom & dad Diane & Kelly are moving off-island....Kelly Ann works over at Browne's.....
You saw Mitchell McCormick's busted arm a week ago? It got the worst of of skateboard/cement meeting, and took surgery, a plate and five screws to put it all together. The eighth grader tells me he thinks the screws'll be removed around the time he goes to college.
Bridget Hudson's back in town from her first year at Lewis & Clark in Portland, where she played with the college soccer squad. She's working at San Juan Excursions this summer. It's getting near time for our collegians to begin to trickle back....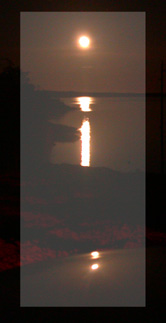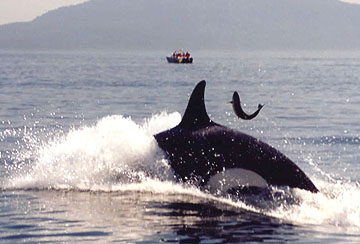 May 6. 2004
Salmon dinner, almost: Jim Maya of Maya Charters caught this glimpse of an orca diving to catch a salmon, but the fish danced out of the way just in time. That was last summer or so...
Being followed by a moonshadow: That's the moon over Griffin Bay, from the gravel pit, last night at about 11 or so.
Engaged: I think I told you I went to see "Hello, Dolly!" on Sunday...in it, Sarah Ware and her brother Dwight played a couple who become engaged after Dolly the matchmaker gets them together. I overheard a couple discussing whether or not they were real-life husband & wife, because they had the same last name in the program.
Meanwhile, I think my kids and I decided one of the better lines in the show was when the guy wooing someone in 1890 tries to impress her, saying, "I got you chocolate-covered peanuts, unshelled."
Moving on: Looks like Nancy has left Friday Harbor Escrow to start her own business....I heard earlier today that Ev sold Moon & Sixpence, as well. Lonnie & Deb Legg are moving off-island because he got a job; they're looking for a buyer for their shop, The Herb and Spice Farm, next to the Big Store/ET.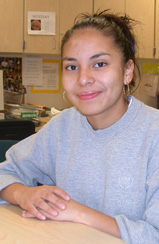 Four more years: Next year, FHHS senior Elizabeth Churape will be attending Seattle U. on a full-ride, four year scholarship. According to FHHS college placement specialist (I don't know what her title is, but that's what she does) Connie Biggers, the scholarship that Elizabeth received is an anonymous scholarship offered each year to a graduate at FHHS whose financial situation would preclude attending college without substantial financial help.

To qualify for the four-year college scholarship (to an college of the student's choice) the student must demonstrate college eligibility and the absolute need for financial assistance. The scholarship covers tuition, textbooks and on-campus housing for four consecutive years.

Elizabeth told me this award means the world to her, and she's very grateful for the chance to attend college. She's a great one - she'll do great.

May 3, 2004
Dolly rocks: My boys & I went to see "Hello, Dolly!" last night...the show evokes the feeling of an energetic Broadway show, which dancing, big voices, and just a good time. It plays again this coming weekend - go see your neighbors in a good show.
Quote: ". . . when a long train of abuses and usurpations...evinces a design to reduce [the people] under absolute despotism, it is their right, it is their duty, to throw off such government, and to provide new guards for their future security." - Thomas Jefferson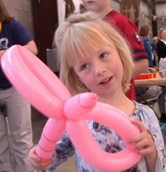 Children's Festival was a blast: If for some crazy reason you didn't get a chance to attend & play at the Children's Festival on Saturday, you can still see EVERYBODY (almost) who went in this easy-to-view gallery (and this one) of about 80 photos by By Design's Emily Bayuk-Johnson.
If you were there, look for yourself in the gallery - you can see the fun we had - stories, games, soccer, golf, dancing & dressing up, food, face-painting, and much, much more.
1066 coming back to town: Miles Crossen wrote to tell you & me about what's happening at the Pub in about a month, the weekend of the Marathon:

OK, maybe you already know about it, but it looks like "1066" will be performing at the Front Street Ale House on Friday and Saturday, June 4 and 5. If you haven't heard this Canadian band play, this English/Irish (and maybe even a little bit of Scottish) style pub band is always very entertaining with the trio's versons of classic ballads, songs, melodies, jokes, instrumentals and audience participation.

Personally, I've never had anything less than a great time (as an employee or a customer) when 1066 is doing its thing at the Front Street Ale House. I'm not saying that because I work at the pub, I'm saying that because 1066 translates into lots of fun.
Miles


April 29, 2004
New on the block: Yesterday when I visited San Juan Fax & Foto on Spring Street next to the drug store I got the scoop from Diana: She and Kevin are closing this weekend, moving things around for a week or ten days, then opening as an eating place. She said they were considering calling it Just Desserts because they were going to have, well, a lot of sweets, but are presently leaning toward Not Just Desserts, because they'll have bagels and juice and other non-dessert fare.
Generally verified rumor: Someone's gonna open a new drug store of some sort. Appears to be true.
And you knew Mike just closed the deal, buying the Dive Shop last week? Drop by & say hi - same staff, different owner.
Quote: "If future generations are to remember us with gratitude rather than contempt, we must leave them more than the miracles of technology. We must leave them a glimpse of the world as it was in the beginning, not just after we got through with it." - President Lyndon B. Johnson, upon signing of the Wilderness Act, 1964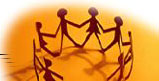 This weekend: You gotta go to Island Rec's Children's Festival on Saturday - 10:00 am-2:00 pm at San Juan County Fairgrounds. I've been every year for the past nine years with my kids, and you know, it's one of the reasons we live here. Tons of volunteers putting on games, painting your kids' faces, magic shows, the Nylon Zoo, music, all with parents hanging around visiting while the kids play. Come see your friends & play - see you there.
Meanwhile, Gallery San Juan on Nichols Street will hold a "Spring Fling" reception on Saturday May 1 between 4-8pm. It is an Invitational show with over 12 artists on and off island! Matt & Barbara always put on good events - drop by.

Do you need employees? Check out the free Job Fair on Saturday at the Grange from 11am-3pm. Call Minnie at The Career Center (360-378-4662) for more information.

And..."Hello, Dolly!" opens tomorrow at the Community Theatre for only two weekends...don't miss it.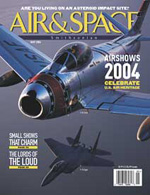 Island Rec turns twenty: This is the year that our local Park & Rec District hits its 20th anniversary. Until you read this writeup about what it's grown into, you may not realize all the good things they provide for our community. It's one of the things that holds us together...check it out.
They wrote us up: Our little well-run airport got attention recently, according to Pat Mayo, who runs the place, in his monthly newsletter:
The fine folks from the Air & Space Smithsonian magazine did an article on the pilots who fly in & out from our little airport. The article has lots of pictures that show how lovely this place looks from the air. So if you get a chance, check out this great magazine, and read about some of the local flyers in these parts.

Ferry fares rise: (This is from the note they sent me, so I could tell you): This Sunday a five percent fare increase and yearly Peak Season Surcharge will begin. This is the second part of a two-year approved fare increase. Please check our website at http://www.wsdot.wa.gov/ferries/info_desk/fares/ or call 1-888-808-7977 for more information. New blue Fare brochures are available at the toll booths or on the ferries.

Quote: "Why is it that we judge development on what we have built rather than what we have preserved? We strive to protect what was built by man, but give little thought to protecting what was made by God." - Juanito G. Cambangay - Provincial Planning Officer Bohol Province, Philippines

More about "boot sales": I mentioned boot sales last week - Mike wrote from California to add in:
Hello Ian - Thanks for the "San Juan Island Update." I look forward to each "Update" for my SJI fix between visits.
Note; Since you mentioned the "Boot" sale, you may as well finish the thought with the "bonnet" a.k.a. Hood......go figure.
Thanks for the great read,
Mike Griffin, Brea, CA
Quote: "So let's leave some blue up above us... Let's leave some green on the ground... It's only ours to borrow, let's save some for tomorrow. Leave it and pass it on down"- Chorus to "Pass It On Down" by the country music group "Alabama"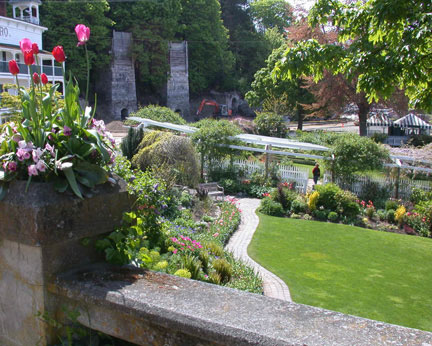 April 25, 2004
Beautiful day, beautiful weekend: Wasn't this a great weekend? Hope you got outside.
Principal search ends: The final interviews for the principal position at Friday Harbor Elementary were last week, and the final selection was announced at a staff meeting Friday: Our own Jody Metzger-Bell, who taught music and third grade at FHES for years and just finished her administrative certification.
Jody will have a tough time following retiring Carolyn Haugen's first class act, but she has the energy, smarts, and community connectedness to be a great one. We're lucky to have her.
Her selection will be reviewed by the school board this Wednesday night, and is expected to be approved at that time.
Bank on it: In the old Interwest Bank spot (lately Pacific Northwest Bank), Wells Fargo set up shop this weekend, changing the signs & colors and so on.They're keeping the PNB staff, so you can still drop in & see your favorite tellers.
Roche Harbor in bloom: When I went to visit a friend out at Roche yesterday, I carried my camera along so you could see how things are coming along. As you may know, there's a grand-scheme renovation going on at the Village that will result in a much different feel to the place.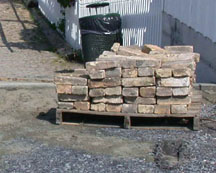 The old lime kilns from the turn of the century (THAT century) have been excavated, as you can see in the picture above in the background. It's a lot easier to see that they WERE kilns, now, burning up to 75 cords of wood an hour to keep production going over a hundred years ago.
Meanwhile, the parking lots and walkways are being re-paved with bricks like those to the left, to echo the brick walkway in front of the hotel. Colleen, on the dock at San Juan Safaris, told me she's confident the job will be done in May, as forecast, because the workers are very intent on meeting the deadline. Steve Porten was laying bricks in front of the grocery store, and he said things are going well in that regard.
The gardens look so good, I made a little gallery of them so you could see what springtime in the gardens looks like. Head gardener Alana tells me it's been a wonderful spring for growing flowers, and that both the Victorian Garden (above) and the Rose Garden (just beyond, with less roses because of hungry deer) are doing great.
And you CAN eat at Roche - the grocery is open, and Tom has the Lime Kiln Café open while Bill Shaw's restaurant's ready to serve you as well. Go eat.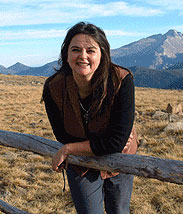 Art by Teresa: Remember Teresa Smith? She and her girls Michelle, Erica, and Emma moved to Colorado back in the fall, but that didn't keep her from continuing to turn out great watercolors. One of them was chosen to grace Joe Bongiorno's new CD cover (see & listen to it here); she also makes cards, calendars, and more of her art prints. Stephanie O'Day and her girl Kelsey went to visit them in Colorado over winter break, and she tells me Teresa's new studio is awesome.
Well, so is her new website at www.artbyteresa.com. You can order her work framed, on cards, lots of different ways. See what you think - she does great work.
Island stuff: Two common expressions around here are "island cars" and "island time"...which got me thinking a bit. An island car is usually a beater that's on what looks like its last legs, while island time tends to be the explanation for something or someone being late.
Someone mentioned last week that they thought that was negative - if it's "island-something" it's a lame excuse. Someone else said it was cool - an island car is probably being recycled and used more than in other places (we need that!) and island time suggests a more relaxed approach to schedule keeping, which will help people last longer, free of scheduling stress.
You decide.
Yo, Doll: Yep, it's finally here - "Hello, Dolly" opens at the Community Theatre this weekend. Get your tix now!
By the way, you know the Theatre changed their website address from www.sanjuanarts.org to www.sanjuancommunitytheatre.org/ , right? That's it.
Kids: The Children's Festival is next Saturday at the Fairgrounds on May 1st, from 10am-2pm. Sponsored by Island Rec, you don't want to miss this one. The people doing the planning for it tell me this one may be the best one yet - and they've always been pretty good!
Boot it: Ran into Chris Watling and her dad Charles at the Rose Street Garage Sale yesterday, and she told me in England garage sales are called "boot sales," because you put all your stuff in the boot (trunk) of your car, go to a place and unload it with a bunch of other people, and that's a boot sale.
I knew about lorreys being trucks, and lifts being elevators, and chips being french fries.
Now this.
Susie checks in: Got a confirm from Susie about the sale:
Hi Ian - As of April 19th, it is official that I have bought out Island Scooter and Bike Rental. We will be renting mopeds, Scootcars, two person mopeds and convertible rental cars.

Thanks, Susie "Moped" Doyle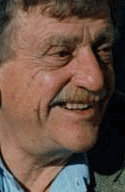 The By Design Corporate Suites ramp it up: Yep, we painted the office, put a wood floor in & took the carpet out, and re-roofed the house over spring break. Here's some quick pictures of my boys Shay & Cameron in action (that's Shay power-washing the roof, by the way - it just LOOKS like he's puttng a fire out.)
This is all in honor of the By Design Tenth Anniversary Celebration in June. Yep, we've been around since June, 1994. Almost as long as the Internet, huh?
Quote: (speaking about life, in an interview): "And my son Mark, the writer, came up with a very good sound bite. He said, 'We're here to help each other get through this thing, whatever it is.' And that's pretty good.
"And then I came up with a more pessimistic sound bite, which is, 'Life is no way to treat an animal.' " - Kurt Vonnegut, left.
April 21, 2004
Pointed our way: During my morning run this a.m., I ran into ace science teacher Val Curtis at 7:45am, out on the sidewalk next to FHMS with a small group of kids. She said that Mt. Baker was releasing steam & they were checking it out.
As it happens, I lived just outside of Portland during the run-up to Mt. St. Helens back in 1980...and we watched as that mountain let off steam, ash plumes, and finally the top 1100 feet of the mountain. Mt. Baker IS dormant, by the way, not extinct.
And all you beautiful people & science teachers in Eastern Washington think YOU have exciting lives.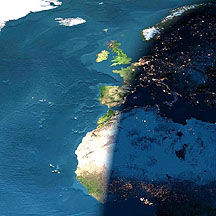 Europe from space: To the right is a photo of Europe taken by the Columbia space shuttle last year. Click on it to see a huge version; it's incredible.
My friend Nick sent me the photo with this little writeup:
The photograph attached was taken by the crew on board the Columbia during its last mission, on a cloudless day. The picture is of Europe and Africa when the sun is setting. Half of the picture is in night. The bright dots you see are the cities' lights. The top part of Africa is the Sahara Desert. Note that the lights are already on in Holland, Paris, and Barcelona, and that's it's still daylight in Dublin, London, Lisbon, and Madrid.

The sun is still shining on the Strait of Gibraltar. The Mediterranean Sea is already in darkness. In the middle of the Atlantic Ocean you can see the Azores Islands; below them to the right are the Madeira Islands; a bit below are the Canary Islands; and further south, close to the farthest western point of Africa, are the Cape Verde islands. Note that the Sahara is huge and can be seen clearly both during daytime and night time To the left, on top, is Greenland, totally frozen.

Wow.
Help Pat: That house fire over on Linder street on Monday was the house/studio of artist Pat McDole, former owner of the flower shop & frequently seen at Island Studios. Pat Lawrence writes:
Hi to all,

As you probably know, our friend Pat McDole has lost her home to a fire. A fund has been established at Key Bank to help her through this time of loss. Also, there are other ways we all can help. Pat McDole has rented a storage unit and needs metal shelves and medium size boxes. You may call Island Studios or email me and someone will either pick-up, or you may deliver to Island Studios.

Also, people will be needed to help clean-up. Date and time to be advised. If you have the time, please call the studio (378-6550) or email me and I will forward the information to Pat McDole.

I would like to thank you in advance for your help.

Pat Lawrence, Island Studios

Oceans going bad: Read this quick report from this morning's mainstream news about how the oceans are in trouble. We NEED them...start thinking about what we gotta do to change things. It's time.
Real estate news: Check out Merri Ann's quarterly newsletter about what's happening in real estate these days on the island. In brief: sales are down, values are up. Read all about it.
Island Rec does so much: Yesterday I mentioned the Children's Festival & the Triathalon...Did you know both of those are sponsored by Island Rec, and organized along with support from local organizations and businesses and volunteers.
When you get their program guide in the mail next week with all the summer activities, Music on the Lawn, sailing classes, soccer camps, stuff for kids...wow. We have a lot going on in this community because of Island Rec. I sure appreciate them.
Ellensburg drops by: When I went to get a two-shot cherry mocha with non fat milk from Warehouse Coffee over on Tucker Friday morning, the crowds were there: 280 kids and their chaperones & parents had spent the night at FHHS gym, and the moms & dads were there en masse, caffiene-loading. They seemed awful nice, the ones I taked to, and Sarah did a super job of handling the rush.
I got this note from Debbie at the Chamber of Commerce about all that:
Greetings! As many of you know a large group of 6th graders from Ellensburg visited Friday Harbor Thursday and Friday. They went to the Whale Museum, American Camp, and English Camp, slept in the High School gym, plus they had a scavenger hunt in town about the area. Two of the chaperones came by the Chamber office Friday afternoon just to tell me how friendly, informative and welcoming everyone is here on our island.
Kudos! Debbie Pigman

Family Umbrella Group Fundraiser Provides Scholarships for Needy Preschoolers: Many Island families cannot afford the fees required to send their children to a licensed preschool facility. According to the National PTA's website, "low-income children who received comprehensive, quality early-childhood education intervention had higher scores on cognitive, reading, and math tests than a comparison group of children who did not receive the intervention."

The Family Umbrella Group is a local nonprofit organization whose primary mission is to make the "umbrella" of preschool possible for these children. Scholarships are awarded to San Juan Island families, based on need, to allow the children to attend licensed preschool facilities.

Friday, April 30th marks the Family Umbrella Group's annual Spring Luncheon & Auction, their primary fundraising event of the year. Of all the funds donated to the organization, 98% go directly toward preschool scholarships.

Often, quality early learning programs are not affordable for needy families in our community. Research has consistently shown that good early education programs have an especially strong impact on low-income children who are at greater risk. Please join in supporting this important cause.

Family Umbrella Group Spring Luncheon & Auction
Friday, April 30, 2004
11:00 Silent Auction begins
12:00 Luncheon (catered by Backdoor Kitchen)
12:30 Live Auction
Mullis Community Senior Center
Tickets $30 per person ($10 for luncheon and $20 donation)

Quote: You must be the change you want to see in the world. - Gandhi
This year's is at the Fairgrounds on Saturday, May 1st from 10am to 2pm. Last year something like 1100 people came to it, and here's the other best part: it's free. (Always has been, always will be.) There are games, entertainment, and fun, including a magic show with Jeff Evans and book-signings by Paul Owen Lewis, so bring your copy of Davy's Dream or Storm Boy to get it signed! See you there!
You know how when you take your kids to the mall, they say, "Can we do this? Can we do that? Can we buy that?" Bring 'em here, and let 'em do everything. And play with their friends, while you visit with yours.
There's a nice writeup based on Janet's e-mails during the trip on the San Juan Islander, here.
In March, it was cool, too, because college students come back to the island to visit. Thlayla Douglas-Seitz was home from the University of Washington, as was Kiyo Peterman (Western) and others. Rachel Ware came home from Lane Community College for the break. Meanwhile, Skagit Valley college's Sara Staben took a campus visit to WSU in Pullman, while Lisa Marsadon is making plans to switch from her school in Maryland to Western this fall.

Tri & tri again: Blanche from the Labs is taking over running the triathlon this year in June. Alan Marriner ran the event for the past few years, but had to give it up when he started his new job working for the city of Bellingham. By the way, I have the cones if anyone is looking for them.

Soccer time: Soccer signups aren't until the Children's Festival, Saturday, May 1st, but you can sign up now, by going to the local soccer website. Last year over 225 kids played on 23 teams. This year the soccer association is offering a $10.00 discount to parents and kids that sign up early. Check it out!!!