November 11, 2004 (4am)
More on the fire: I called over at the Town fire house to find out more about the fire this morning. Fire Chief Bob Low told me they still don't know the cause, or what exactly was in the barn. He says its a total loss - as you can see in the photo, he noted that the wind was blowing right into the barn. He says Rick Galer will be talking to Wade tomorrow for details about all that.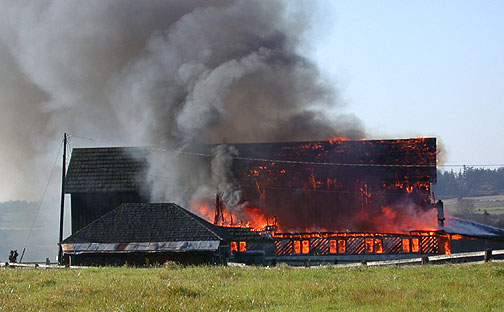 Bob wasn't sure how old the barn was, but remembered it was around when he was a kid, and that one of the notable things about it was that it was built with no nails.
We've lost an old island landmark.
November 11, 2004 (10am)
Wade's barn on fire: I just went to see what all the smoke was about, and it looks like Wade Sundstrom's barn is burning, as you can see. The emergency responder folks and fire trucks were crowding the place (it's on Douglas Road, which is pretty narrow), so ace photographer Shay shot some photos and we got the heck out of the way. We'll tell you more as soon as we find out....
Now the record is straight: Yep, soccer and football play in the playoffs this weekend. It's football here on Saturday at 12:30, and the soccer boys are at Mount Vernon High at 5:30 tomorrow night (I'll see you on the 1:40pm ferry). Here's the soccer bracket at State.
Pretty cool.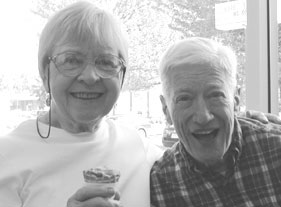 Fifty: Got this nice note from Todd Henion about two of the coolest people around these parts:
Any chance you can mention my folks, Dodie and Burr Henion. They ran the Meadows B&B for 17 years, and Dodie was FH Elementary Secretary for 20 years. Lived in Friday Harbor from 1977 to 2002.

Dodie and Burr were married in Berkeley CA in 1954. Burr is a retired advertising exec, and Dodie has been an office manager and real estate agent. They have two Children: Todd who flew for San Juan Airlines in the 80's and is now in Portland with his wife, Gwen and son Milo. And there's Greg who also lives in Portland and teaches music. Greg's wife Whitney just gave birth to Madeline.
Dodie and Burr left the island in 2002 seeking to be closer to children and grandchildren. They miss the Island.
Thank you, Todd Henion, proud son and past resident, 1977-84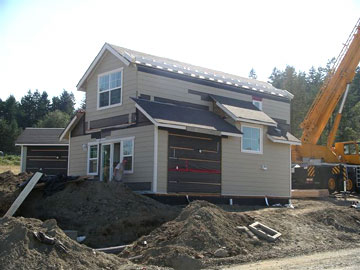 Houses going up: Over on Carter Street some of these houses in the affordable housing project are already being occupied. Here's more from Larry:
Dear Friends,

Here are some photos of the first homes in the Salal neighborhood being assembled. Thought you might like to run one of them. 10 homes will be in place by early next week. It will take approximately one month to connect them to utilities and finish the interiors but our first homeowners should be in by the end of September. There are still two homes which have not been spoken for. Applications may be picked up at our office, 435-C Argyle Street.

We also recieved a grant from the Housing Trust Fund which will enable us to construct an additional 5 homes and thus complete Salal.

Please contact me at 378-4105 if you need additional information.

Larry Soll

Post San Juan will be having an Open House this Saturday, November 13th from 10am to 2pm. There will be coffee and refreshments PLUS a prize drawing and selected items on a sale table for 50% off!

Plan to drop by for a while, meet new owners Hamid and Dora Ukra and wish them well!

Quote: We see things not as they are, but as we are. - the Talmud
November 7, 2004
Soccer in the rain: Saturday it started raining at 5am, and didn't stop till after 8pm, and neither did the successful soccer programs from Friday Harbor. Here's a peek at the action: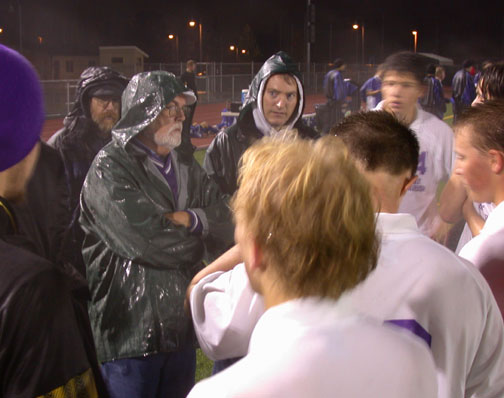 Coach Ron Duke meets with the Wolverines at halftime. The 4-0 win last night
sends the boys to State as the league's champs and number one seed.
State-Bound: Wolverines Claim League Crown, Eye State This Week

Friday Harbor captured the top spot in the Northwest A/B league last night, beating second-place Mount Vernon Christian 4-0 at Mt. Vernon High. The win sends the Wolverines (17-0) into a quarterfinal match with Bear Creek School next Friday evening at the same field. FHHS Athletic Director Rod Turnbull will confirm game time and game details on Monday.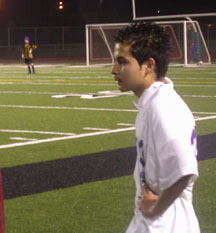 The Wolverines struck first in the rain-swept game, as senior forward Hank Schuman sliced a corner kick through three MVC defenders to find junior flash Mario Nunez (right), who headed the ball into the top left corner at 14 minutes. Several near-goals, including senior Trefor Bacon's offsides breakaway score at 27 minutes, came close, but the Hurricanes kept the halftime score at 1-0.

The second half was all FHHS, as the Wolverines kept chipping away at the MVC defense. Nunez broke through two defenders for a breakaway and his second goal, followed by a cross-field cross from freshman Matthew Porter on the left to junior midfielder Eric Rothlisberger on the right, who passed the ball into goal beneath outstretched Hurricane goalkeeper Matthew VanderArk just inside the left post. Junior midfielder Felipe Lopez iced the cake as he ran in the last goal with seven minutes to go for the final margin.

"Can you imagine? Eleven shutouts in 17 games," observed head coach Ron Duke after the game. "It was good to get the experience of playing on this [artificial turf] field before we see Bear Creek next week. The ball runs faster on it, and this will only help at State." Duke says he's happy with his team. "The defense played very well after they got used to the field, and the offense came on in the second half. It was a good game, and a good way to get ready for State."

Goalkeeper Paul Guard directed his defense of Louis Paul, John Fyrqvist, Daniel Jones, and Shay Byington to close off Mount Vernon Christian's high scoring attack, led by Daniel Westra. FHHS has allowed only six goals in 17 games, while scoring 86.

FHHS moves on to play the Bear Creek Grizzlies (10-4-1), who scored 50 goals while allowing 27 as they captured the SeaTac League title, then upset the Emerald City League's third place Northwest School 4-2 to earn a ride to State. If successful, the Wolverines will play in the final four and title games November 19-20 in Tacoma.

Girls soccer comes close: "You know, overall, they deserved it. We haven't seen that level of play this year," mused junior defender Natalie Chevalier after Charles Wright Academy put aside FHHS 7-2 in their playoff game yesterday. "Still," she continued, "we played well. We really wanted to end the season playing strong, and we did. It was a good year."
The girls end their season with a more than respectable 9-6 record and with justifiable high hopes for next season, as the team returns everyone except high-scoring, hard--working, impossible-to-stop senior Shay Hopkins, who I believe is the strongest player I saw this year in the league.
Here are some photos of the girls, shot earlier this year: Gallery One | Gallery Two.
U-14 Boys take second: The San Juan U-14 Boys came within minutes of glory Saturday as they advanced in the league tournament Saturday by beating Burlington 2-0 with goals from Grant Schwinge and Pablo Lopez.
In the championship match with unbeaten Conway, Grant scored for a 1-0 lead, while Jordan Taylor and Cameron Byington added a couple to keep the score close. The boys were behind 4-3 with five minutes to go but couldn't manage the tie as they fell 5-3.
Field of dreams: OK, one last thing about outside stuff with round balls and banana-shaped balls.
In case you didn't notice, we have a problem with our athletic fields here on the island. For the number of folks who use 'em, we simply don't have enough, and we overuse the ones we have...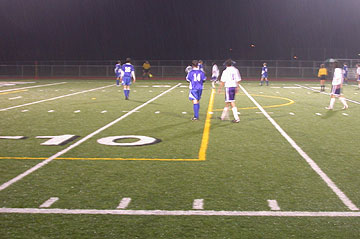 I remember in the football playoffs in November 1998 when our linemen couldn't go into a three point stance because their arm would sink into the goo of our field up past their wrist. I remember the high school girls trying unsuccessfully to pass in the mud when I coached 'em those years...the field is not an all-weather, all-season deal, even though we use it like one.
It was pretty cool to see this field last night (right) at Mount Vernon High School. Yesterday morning it started raining, and it rained all day. I'm not making this up - I checked. I was watching the games in Burlington all day, and the whole game last night...the rain didn't let up. I walked the field to take these photos for you, and it was raining. But the field itself was very playable, and the boys who worked so hard to get to this level of play actually had a field that let them USE the skills that make for high level ball.
I don't know the finances of it - I'm pretty sure an artificial turf field is pretty expensive, and I've heard million-dollar price tags thrown around - but what if we spend the money we pay each year anyway to pay off a loan for a field we CAN use, a low-maintenance (maybe no-maintenance) field that could be used all year regardless of the weather?
Where there's a will there's a way. There sure is a need...
Football, too: Our unbeaten football guys take on Ocosta this Saturday at our place in their first playoff game. Game time will be announced this week...hope to see you there!
November 5, 2004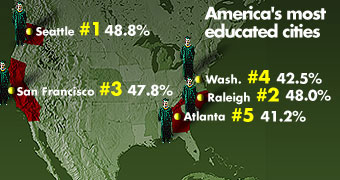 Stuff in the news and around the island, by the numbers:
The average sales price in 2003 was 95.3% of the list price at the time of sale. It is very typical for the seller to build into their list price at least 5-7% allowing room for buyer negotiations. In our market, the buyer expects some negotiation from the seller unless their offer is contingent upon the sale of their home elsewhere or there is a multiple offer situation. (Merri Ann from Coldwell Banker)

The average age of a resdent of the San Juan Islands: 47.7 (one of the candidates at a commissioner forum.)

Seattle has the most people with college degrees in the country (see map, USA Today). We, of course, live near Seattle.

Around here, we don't care if you have a degree - heck, most of us that have 'em do work unconnected to 'em anyway, and the rest have uncommon good sense and don't need a degree to prove it.

Two thirds of the county voted for Kerry this week - he won here 65.5% to 32.4%. Nader picked up nearly a percent, while the Green Party's Cobb, the only presidential candidate to come here, got a handful of votes. (County web site, by Dan). This would explain why so many people look kinda down this week.

The percentage of dogs that come when you call 'em has risen on this island in the past four years from 37% to 42%. This is probably due to the increased availability of tennis balls to chase over on Tucker Avenue as well as fat-loaded dog biscuits as Americans eat less fat & the fat industry pawns it off on the biscuit makers. Being man's best friend comes at a price.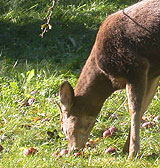 Quote: Some people change when they see the light, others when they feel the heat. - Caroline Schoeder

Other quote: The moment you have in your heart this extraordinary thing called love and feel the depth, the delight, the ecstacy of it, you will discover that for you the world is transformed. - Krishnamurti

Deer: Seems to me there's more deer around these days, and if they look fat & sassy, it's 'cause they're eating all the apples in my back yard. They young buck at the right (see his little antlers?) is a regular diner at the Apple Café.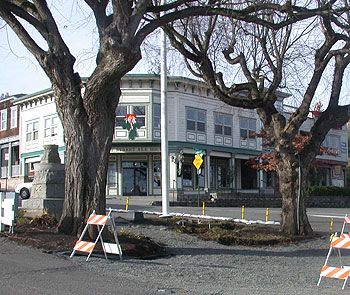 Lots of construction going on around town: The work they're doing on Caines Street is coming along nicely, with that new sidewalk and the crosswalk so folks can walk to the Mullis Center without getting run down around that minor league Deadman's Curve.
Memorial Park downtown next to the water is removed & moved and continues apace. We'll take a closer look at how we pay for it, soon as I can find out.
The Library is putting off their month-long renovation that was planned for October or November. A lot of people were stashing away piles of books because the library was gonna be closed, but now have to re-order their priorities and late notices. They're looking for new bids so they can stay within their budget - I like that in a junior taxing district. I lke that in a library, too.
And it looks like the Children's Playground renovation is well underway - as you can see below, the old structure's gone, and Denice from Island Rec says they could use some help:
Hi again!

First, thanks to those of you who volunteered to help Island Rec with the installation of the new playground equipment at the Fairground Family Park. Unfortunately, we were not able to get enough volunteers for Friday, Nov. 12, which was the main installation day. So we have had to move the installation to SATURDAY, NOV. 20.

If you are one of the people who volunteered to help on the 12th and you are still able to volunteer for the 20th, please confirm this with me. If you couldn't make it before, but this now works for you (since we moved the installation from a Friday to a Saturday), great, just let me know. We need at least 12 volunteers that day.

We also need 4 volunteers for MONDAY, NOV. 22, to help pour concrete.

So, if you or anyone you know can help out, please let me know via email or telephone at 378-9641. Also, please specify the date for which you are volunteering (otherwise, I'll put you down for both!). Thanks a lot, and again, feel free to forward this invitation to friends and neighbors.

Have a great week, Denice

Unbeaten, maybe unbeatable: Last night Friday Harbor eased past Orcas 14-12 in a game you REALLY didn't want to go home early & miss...the Wolverines scored the first time they had the ball, the Vikings the second for a 7-6 halftime score (our Dwight Ware nailed his extra point; they kicked too low & got it blocked.) That proved crucial as we scored in the fourth, but they scored with 1:17 on the clock, gamely went for two, and came up just short.
We end the season unbeaten & headed for a playoff game next weekend and Orcas heads to the small school version of the same thing. It's hard to believe they won't do well - they showed a lot of heart with their comeback. As for us - wow. Looks like we're the real deal.
Unbeaten, maybe unbeatable II: Meanwhile, our soccer boys (16-0) are also unbeaten, as well as state academic champions from last year (we just found out!) They beat Lopez 8-0 Wednesday night to advance to State; they play a seeding game to see if we're the #1 or #2 rep from our league tomorrow at Mount Vernon High at 5pm. Then next Friday or Saturday we play somewhere on the mainland against someone (how's that for in-depth reporting? But...we don't know yet!) in the Final 8, with the semis & finals the next week.
I'll let you know as soon as I find out.
November 3, 2004
Earthquakes: The Canadians reported yesterday there were a series of earthquakes centered 150 west of Vancouver Island, with the largest measured at 6.7. Here's their report.
Quote: When the heart is enlivened again, it feels like the sun coming out after a week of rainy days. There is hope in the heart that chases the clouds away. Hope is a higher heart frequency and as you begin to reconnect with your heart, hope is waiting to show you new possibilities and arrest the downward spiral of grief and loneliness. It becomes a matter of how soon you want the sun to shine. Listening to the still, small voice in your heart will make hope into a reality. - Sara Paddison, The Hidden Power of the Heart
November 2, 2004 (9pm)
Ranker, Lichter win: I just went by the Courthouse & checked - County Auditor Si Stephens just certified that Kevin Ranker (3468 votes) won over Ray Bigler (2625) and Ben White (680), with some absentee ballots to be counted, while political newcomer Alan Lichter (3810 votes) will replace 12-year incumbent John Evans (3001).
November 1, 2004
Daylight Earning Time: Best day of the year - the Sunday after DST changes, because you get an extra hour of sleep.
What would be even cooler: Blow off the idea we gotta make it up in the spring, and kick the clocks back an hour then, too. Just keep doing that till the clock comes back around to where you started. We can all use the rest. And you'll get up with the sun, anyway, whatever time it is.
Think about it. Write your legislator.
They might be giants: Big decisions this week:
Around here, probably the biggest race besides the race for prez is the commissioners' race. If you're wondering how we do it around here (if not, skip ahead): All the voters in the County, which is our 172 islands (or 700+ at low tide!) choose from the pool of candidates. Orcas (and Waldron) have put up Alan Lichter to take on John Evans, who's been in there for 12 years now - you gotta choose one. Lopez & Shaw & Decatur will put up someone in two years; that's presently Rhea Miller's seat, and she's expected to run again, then. By me, anyway.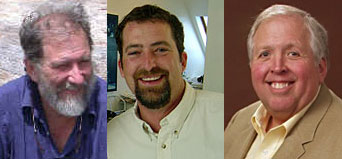 On this island, we've put up Ben White (left), Kevin Ranker, and Ray Bigler for the third spot. Ray and Ben share the distinction of both going through fires here - Ben's house over Jackson Beach burned down 5-6 years ago, while Ray's Friday Harbor Grocery was part of the town's big fire in May, 2002.
They've been out and about - I got to see all three of 'em in the past few days - Ben at an arts thing Thursday, and Kevin & Ray at the Chamber Auction on Friday.
What's the difference between the three? Generally, Ray is supported as the pro-business guy (although it would be an error to label Kevin as anti-business), while Kevin is seen as more progressive and less reductionist. Ben's got his eye on the harmful effects of growth, and at the Vistors' Bureau forum they all had ideas about how to foster tourism, while Kevin and Ben noted the need for steps to keep tourism from trampling the island into an undesirable place to visit or live or raise our kids, which we residents who live here kinda like to hear.
It's been a strange election season with Wendy Stephens running as a Dem against Kevin, losing, and coming out for Ray, a Republican. Tom Fenley entered the race with high hopes as an independent, then dropped out. The paper ran candidate profiles that included one for Gus the Dog. And one of the candidates unloaded a full page ad in the local papers beating up on his main opponent (read the San Juan Islander for details) in a late-campaign move, saying he's revealing facts about the other guy. And...Ben says if Bush wins AND he wins, he'll move to have our county secede from the Union.
Yep, a lot going on. It's why elections can be fun.
I linked their names to their pages above so you can see where they stand on things - I figure they can tell you about themselves better than the other guy or me. See what you think.
Then I'll tell ya Wednesday what happens.
Proof the Apocalypse is upon us: I remember about five years ago when we started using phone numbers that (gasp!) started with 370. Till then, all our numbers were 378-something, which meant that we could (and still do) just use four numbers when we tell someone our number.
That was bad enough. Then cell phones leaked over into 317 and 472 prefixes. This is a lot to remember, people.
Well, now there's a NEW cell phone prefix 'cause they used up all those - it's 298-XXXX. Whoa.
I guess as long as this means people are talking to each other & not bottling it up, I don't mind.
FHHS first in this week's Update poll: The state soccer standings for this week find the Friday Harbor Wolverines first in the Update's statewide Soccer poll, put together by our in-house expert, soccer observer, and sports staff. That would be me. Here's the top ten:
1. Friday Harbor High (15-0)
2. University Prep (13-1-1)
3. Overlake (12-2-2)
4. Seattle Academy of Arts (11-5)
5. Northwest Christian in Colbert (11-1-1)
6. Mount Vernon Christian (13-2-1)
7. Seattle Christian (10-4-1)
8. The Northwest School (9-5-1)
9. Orcas (10-5)
10. Shoreline Christian (8-7)
This is the league playoff week - FHHS (15-0, with 74 goals for and 6 against) plays Orcas in a loser-out match on Wednesday, which will drop us into the Final Eight if we win, with a seeding game on Saturday that will place us as the #1 or #2 seed from this league. Problems with Orcas? We beat them twice with a pair of 3-1 wins this season, including a tough match a couple of weeks ago in which they held us scoreless for the first half.
Here we go! We've come too far to look back now!
Football faces Orcas, too: Orcas (7-2) has been thumping people by about the same scores as us, and are also unbeaten in our league, while we're unbeaten overall. Game time here is set for Thursday (weird time, 'cause Orcas has a playoff game next Tuesday, probably) at 6. See you there.
Quote: "The President is merely the most important among a large number of public servants. He should be supported or opposed exactly to the degree which is warranted by his good conduct or bad conduct, his efficiency or inefficiency in rendering loyal, able, and disinterested service to the Nation as a whole. Therefore it is absolutely necessary that there should be full liberty to tell the truth about his acts, and this means that it is exactly necessary to blame him when he does wrong as to praise him when he does right. Any other attitude in an American citizen is both base and servile.
"To announce that there must be no criticism of the President, or that we are to stand by the President, right or wrong, is not only unpatriotic and servile, but is morally treasonable to the American public. Nothing but the truth should be spoken about him or any one else. But it is even more important to tell the truth, pleasant or unpleasant, about him than about anyone else." - Theodore Roosevelt (1858-1919)

Presidential polls: Before you get too caught up in the not-so-precise science of predicting election results, it's helpful to look at history.
In 2000, Gore won by half a million votes.
The Zogby Poll wasn't the only one predicting a big win for Bush at this point four years ago. On Oct 29, 2000, Gallup released a poll showing Bush ahead 49% to 42%. In the early days of November 2000, Zogby correctly noted a sharp trend towards Gore as the undecideds finally bit the bullet. Zogby ended up predicting Gore would narrowly win the popular vote. Gallup stayed the course and ultimately predicted that Bush would win the popular vote by 2%. Of course, we now know Gore won the popular vote by about 0.5%.

October 27, 2004
Full moon, with a wink: I know you probably saw how bright it was in the middle of the night with the full moon...shoot, you could go outside & read, if you wanted.

I'm being followed by a moon shadow: Tonight, Ann from Pelindaba & the Friday Harbor Elementary Art & Cultural Development Department tells me there's a lunar eclipse in the early evening. This report says it'll get going after 6 (our time) and be visible (clouds willing) at 7:30 or so, as the earth's shadow passes over the face of the moon. Here's a story with more.
Have you ever noticed people who work in coffee places seem to know more than oher people?
Quote: "My advice to you is not to inquire why or wither, but just enjoy your ice cream while it's on your plate." Thornton Wilder
Also at Pelindaba: There are a couple of presentations there tonight and tomorrow: Tonight, it's ISLAM: VALUES AND MISCONCEPTIONS presented by Birsen Davis at 7 p.m. Wednesday, October 27 at Pelindaba Cafe on First Street in Friday Harbor. San Juan Island Group 607 of Amnesty International is presenting the lecture which is free to the public and all are invited to attend.

Tomorrow it's David Domke, Professor of Communication at the University of Washington, whocomes to Friday Harbor to sign and lead a discussion of his new book, God Willing? Political Fundamentalism in the White House, 'The War on Terror,' and The Echoing Press. The event will take place on Thursday, October 28, from 7-9pm at Pelindaba Downtown.

More about the presentations here at the San Juan Islander.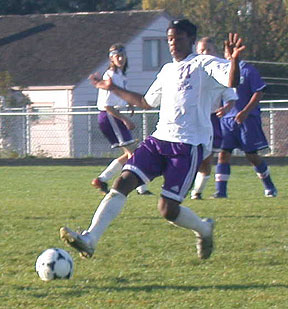 Quote:
Living in this marvelous reality ~ living in peace, is something we all want.
But I would like to ask: Do we have the capacity of enjoying peace?
If peace is there, will we be able to enjoy it, or will we find it boring?
To me, peace and happiness and joy and life go together,
and we can experience the peace of the divine reality right in the present moment.
It is available, inside us and around us.
If we are not able to enjoy that peace,
how can we make peace grow?
Thich Nhat Hanh

At the movies: We have "The Grudge" here at the theater this week. I haven't talked to anyone yet who's seen it, but I read that its star Sarah Michelle Gellar compared her part in "The Grudge" to "yoga but without all that dorky stretching."

Soccer update: Over the last couple of days, the FHHS boys won #14 without a defeat as they thumped the Lopez Lobos last night 8-0 or so, including Matthew Porter's tenth goal (right) of his freshman year...they play their game of the season tomorrow night at 4:30 here. see you there! First playoff game: next Wednesday, here.
Meanwhile, Orcas Middle School came & played our U-14 Boys & U-14 Girls - they nipped the girls 1-0 and lost to the San Juan boys 2-0 on goals by Jordyn Taylor (header) and Pablo Lopez (asteroid from space making an earth landing from 40 yards.)
Song: Ok, I'll sing this for you:
Happiness runs in a circular motion
Thought is like a little boat upon the sea
All our souls are deeper than you can see
You can have anything if you let yourself be.

Everybody is a part of everything, anyway
You can have anything if you let yourself be.

Donovan
The way it is: Some days there are more songs & quotes & mystery than there is news.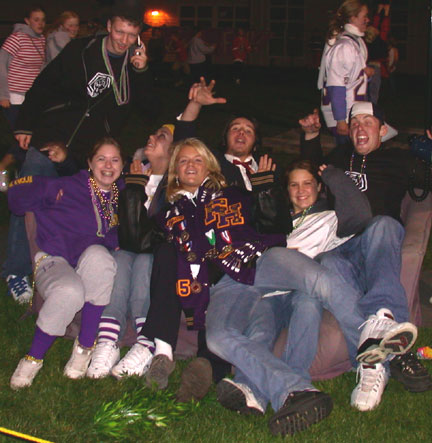 October 25, 2004
Senior couch: Yep, that was a couch in the near end zone at Friday's homecoming game, and as the kid with the bullhorn would tell you, ONLY SENIORS CAN SIT HERE!
Right before the game that's Casey at top left, above Maya (left), Amber, Jessica, Alex, Sandy, and Rick. If this catches on the end zone could look like a furniture store.
Roller hockey starts next week, with Family Open Skate starting the 6th. Call Island Rec for details and sign up!
Strange, somewhat indecisive weather: What you saw this weekend was weather that couldn't make up its mind - cold & windy on Friday night, floods & downpour Saturday morning, sunny and bright by one, cold & colder on Saturday night, then kinda nice all day Sunday. Nice and windy this morning again, which is keeping all those dead limbs from just STAYING in your trees.
Cheerleaders say thanks: It's good to have a grateful core...Jody Price sent me this note from this year's cheerleaders saying thanks for everything.
Quote: "The last word in ignorance is the man who says of an animal or plant: What good is it?.... if biotic, in the course of aeons has built something that we like but do not understand, then but a fool would discard seemingly useless parts? To keep every cog and wheel is the first precaution of intelligent tinkering. - Aldo Leopold

Are we using up too much? That's what leading scientists are saying in this article from ABC News.
Polls, polls, polls: If you're a political junkie like me, you've been watching the election polls to see which way the winds blow... here's a site that calculates state polls, updated every day to calculate how the Electoral College is gonna swing. It's the best at this sort of thing I've seen.
Far as I can figure, the national polls are useless...even if they were right, the election in 2000 showed you can get burned even with a half million more votes than the other guy.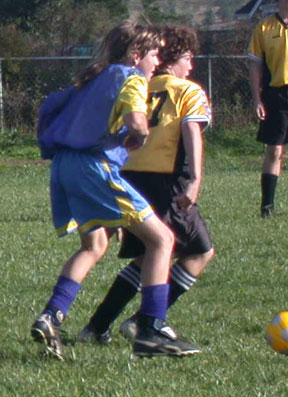 U-14 Soccer nearly upsets Conway: The San Juan U-14 boys nearly pulled off the season's upset with powerful Conway last Saturday. Conway came into the match unbeaten, with its closest game a 7-1 victory over San Juan a month ago.

Conway struck first, notching a score at 19 minutes, but San Juan answered only three minutes later as left wing Jordyn Taylor found Grant Schwinge alone on the far post for the easy tap-in. Then it was all defense for the rest of the half and ten minutes into the second period, before San Juan struck again, as forward Cameron Byington knocked the ball from the keeper's hands with his head, then nodded it into the net for the 2-1 lead.

The San Juan defense, led by keeper Isaac Taylor and tireless defenders Conner Johns, Peter Duggins (left, in blue, in a photo by Dennie Armour), Evan Anderson, and Will Tranfo, held the visitors at bay for three quarters of the game.

Then the floodgates opened as Conway unloaded four quick goals on San Juan over the next fifteen minutes. The islanders were able to answer with one more goal by Byington, but the damage was done.

It was definitely a valiant effort by our side. It's always fun to play so well when you're playing the best.

San Juan (3-2-1 in league) plays Burlington to end the season this weekend, with the season-ending tournament a week later. The boys beat Anacortes 7-3 a week ago, getting hat tricks from Pablo Lopez and Byington, with the last goal by Schwinge. The high-scoring islanders have scored 20 goals in their last four games.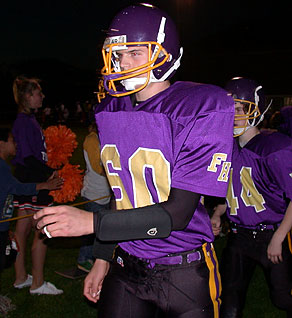 October 23, 2004
Homecoming - whoa! Last night was homecoming at the high school, and a good time was had by all. People followed the parade floats up the street to the high school where the gym was packed with purple, gold, noise, and people.
The football game itself was somewhat anti-climatic. We weren't sure how things would go with the much bigger Cedar Park Eagles, but the Wolverines (and August McKenna, right) set the tone by scoring the first three times they got the ball to go ahead 18-0 before the visitors even made it over the 50. The final was 53-12 (Cedar Park scored on the last play of the game), and FHHS is now 4-0 in league and 7-0 overall.
One of the ways you can tell people love ya is if they'll come to your game not matter what - it was cold & windy last night, and I think it's fair to say most of the overflow crowd stayed most of the game, cold as it was. It was a brilliant move by Purple & Gold to sell chili & hot dogs (they ran out, but it helped keep people warm), and it was nice to hear one of the cheerleaders tell me they sometimes couldn't hear each other because the cheering was so loud. Getting ready for State - got practice THAT, too.
In his pep rally remarks, Coach Ledford noted that there were 8 sets of brothers on this team, so he had all 16 of 'em as captains for the evening. That was a nice touch to underline the family feeling on this year's squad....
October 21, 2004
Port's pier project: You may have seen the progress the Port of Friday Harbor's made on their pier repair project - much of the pier will be replaced or repaired this month, and they hope to have all of that phase of the project finished by the first part of November. New pilings have been driven, new planks for the dock put in, and the pier's looking pretty good!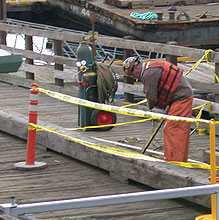 Harbormaster Tami Hayes tells me that's only the first half of the project. Next up, in November: The Port is taking a 150-foot section of walkway out, and replacing it with new dry firelines, and a new concrete walkway. This phase will involve driving from six to eight new pilings, and will require that about 25 boats be relocated to the guest docks or to open slips in the marina.

Even with all the construction, it's important to know people are still open for business! Kenmore Air is still flying in with their seaplanes, and Friday Harbor Seafood is open, too.

In other news...the Port looked over their end-of-summer reports and found they were up 3% over last year in the number of guest boats who visited the marina, which translates to about 500 boats. And last year's numbers were up 3% from the year before (2002). There were also more passenger vessel and cruise vessel stops at the marina as well - thanks for dropping by!

Mailbag: There were a few folks writing in with things to share:
From Oren and Peggy down at the Front Street Ale House:
Ian - "1066" our favorite Pub singalong band, will be appearing at Front Street Ale House Fri. & Sat. Oct. 22nd & 23rd. An island favorite, this fun group of fellows have been performing at The Pub since 1995. Great food specials to go along with the music that weekend as well, for those so inclined: Steak & Beef Kidney Pie, as well as Traditional Roast Beef dinner with from scratch Yorkshire Puddings. Band plays downstairs, starting 8:30pM. Sorry, no minors.

Cheers, Oren & Peggy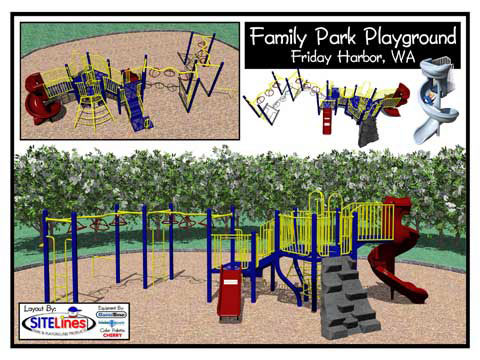 From Denice Brown, who's on the Island Rec Board:
Hi Everyone,

Recently, Island Rec was informed that we were awarded a grant from a private foundation to replace the playground equipment at the Fairgrounds Family Park. This is really exciting news, and I think the kids on this island will be so surprised to see colorful new play equipment at the park. If you haven't already, check out Island Rec's website (www.islandrec.org) for a preview of some of the new equipment. We will be replacing the large play structure in the middle of the oval with a new one that is a little larger, replacing the monkey bars and parallel bars with a toddler-only swing set, allowing all four of the current swings to be for "big kids", replacing the grill (yeah, I know, what grill? the one no one uses on the far side of the park in the corner near the intersection) with a picnic table, adding two spring rockers (a whale and a pelican) and adding several benches throughout the park. This is going to be a great project for our community!

I am looking for volunteers to help with the following:

1. One experienced volunteer to help our volunteer supervisor, Scott Zehner, mark footings on Sat., Nov. 6 (should take a couple of hours);

2. Twelve volunteers to help with the installation of the new equipment on Fri., Nov. 12 (this will be all day, likely 8-5); and

3. Four volunteers to help finish the installation (mostly pouring concrete) on Sat., Nov. 13 (it would be great if they were people who were there the day before, but not necessary).

If you or anyone you know can help out, please let me know. You don't have to be an expert, just willing to work! Thanks a lot for your support.

Sincerely, Denice Brown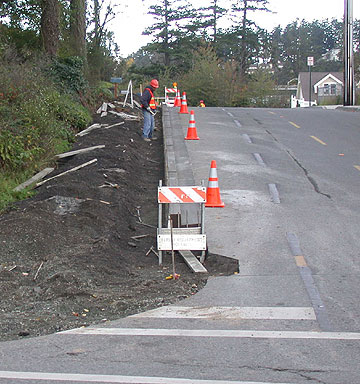 More construction news: You couldn't miss it - the new sidewalks going in on Caines Street (right) mean that anyone who is driving has to take the long way around, but it's OK. When the project is done, we'll have sidewalks along the street all the way from Spring Street School to the Mullis Center on down to Argyle Street. Should be pretty cool.
We're famous, again: The online deal CNN runs called CNN Money named the San Juan Islands as one of their top four vacation spots for the summer. Here's the website - the other three are Paris, Hawaii, and Belize.
Overheard: Down on the dock, waiting to walk-on to the Anacortes ferry with my bike, a couple of people were talking. It's important that you understand we have orcas who live in the neighborhood who stay year round (we call them resident whales) and who pass by (we call THEM transients.)
Person A: So there are these whales that are transient, and there are these other whales that are residential.
Person B: Residential? Is there married student housing, too?
Sports update: The script is still being written, but it appears three FHHS teams are playoff-bound.
The boys soccer team ran their record to 12-0 Tuesday, beating an improved Shoreline Christian team 2-0. Today they take on a tough Orcas squad at their place.
Meanwhile, our steadily-improving girls (8-4, 6-3 in league) came within a hair of beating first-place LaConner on Tuesday. Ahead most of the game 1-0, LaConner scored late to make it 1-1, then the teams traded goals to take a 2-2 tie into overtime. We nearly made it to the shootout, but LaConner scored with two minutes to go take it 3-2. The girls are at Coupeville today.
Meanwhile, the football guys take on Cedar Park tomorrow night as they continue down the road to State. They have looked impressive so far this season, and homecoming promises a large & appreciative audience - see you there.
Quote: "We travel together, passengers on a little spaceship, dependent upon its vulnerable reserves of air and soil, all committed for our safety to its security and place, preserved from annihilation only by the care, the work and, I will say, the love we give our fragile craft. We cannot maintain it half fortunate, half miserable, half confident, half despairing, half slave to the ancient enemies of mankind and half free in a liberation of resources undreamed of until this day. No craft, no crew, can travel safely with such vast contradictions. On their resolution depends the security of us all." - Adlai Stevenson, July 1965

October 18, 2004
New baby orcas! Salish Seas Charters' Tom McMillan checks in with a report of new babies in the Sound:

Ian, There are two new orcas in L Pod. The Center for Whale Research made contact with them yesterday and confirmed it. One was born to L-43 about nine or ten days ago and the newest was born to L-27 in the past seven days.

They went north to the Fraser River last night and could end up going to the Seattle area as early as today. The scary thing is the oil spill down there. Let's hope they stay up here a few more days. I don't know the extent of the spill but it sounds like it is at least to Bremerton and they like to go at least that far this time of year. At any rate it is good news for our orca population as there could be as many as four more births this winter. It is also great news as both of these mothers are relatively old to be having babies. We were predicting about four births this winter and no one picked either of these mothers to give birth. L-43's daughter L-72 could also have one and is due. That would put 3 new babies in the L-7 family matriline under 1 year old.
Tom

Debates: I watched all three prez debates this year, and really think they oughta have a new rule: You gotta answer the question. It's a step in the right direction to have the question on the bottom of the screen, so you can tell he's talking about something else.
Dodging questions - gong 'em.
And if they don't say how they're gonna pay for it, gong 'em twice.
Sports rock: Whoa - the playoff express continues. The FHHS football guys thumped Concrete 39-6 on Friday to run their record to 6-0, while the FHHS soccer girls beat Concrete the night before 5-1, as they work toward sewing up second in league (they're 6-2 and 8-3 overall) and a playoff spot.
The FHHS boys soccer team hits the road for Shoreline Christian & Orcas this week, then finishes its dream season with two at home next week.
---
Read the Update from years gone by - history is doomed to repeat itself:
Review the Update from August 31, 2004 - October 22, 2004

Review the Update from July 19, 2004 - August 31, 2004

Review the Update from June 14, 2004 - July 18, 2004

Review the Update from May 25, 2004 - June 14, 2004

Review the Update from April 19, 2004 - May 25, 2004

Review the Update from February 8, 2004 - March 19, 2004

Review the Update from December 6, 2003 - February 8, 2004

Review the Update from October 1, 2003 - December 6, 2003

Review the Update from August 20, 2003 - October 1, 2003

Review the Update from June 19, 2003 - August 20, 2003

Review the Update from April 18, 2003 - June 19, 2003

Review the Update from March 1, 2003 - April 18, 2003

Review the Update from December 19, 2002 - February 28, 2003

Review the Update from October 26, 2002 - December 18, 2002

Review the Update from August 13, 2002 - October 26, 2002

Review the Update from May 9 (the fire) - August 12, 2002

Review the Update from April 1, 2002 - May 8, 2002

Review the Update from December 15, 2001 - April 1, 2002

Review the Update from September 11, 2001 - December 14, 2001

Review the Update from June 7 , 2001 - September 10, 2001

Review the Update from March 17, 2001 - June 6, 2001

Review the Update from December 18, 2000 - March 16, 2001

Review the Update from July 25, 2000 - December 17, 2000

Review the Update from April 21, 2000 - July 25, 2000

Review the Update from January 1, 2000 - April 21, 2000

Review the Update from October 21, 1999 - December 31, 1999

Review the Update from August 12, 1999 - October 21, 1999

Review the Update from May 17, 1999 - August 12, 1999

Review the Update from April 8, 1999 - May 17, 1999

Review the Update from February 26, 1999 - April 8, 1999

Review the Update from January 3, 1998 - February 26, 1999

Review the Update from November 1, 1998 - January 3, 1998

Review the Update from August 31, 1998 - October 31, 1998

Review the Update from July 2, 1998 - August 30, 1998

Review the Update from May 25, 1998 - July 2, 1998

Review the Update from April 3 - May 25, 1998

Review the Update from January 22, 1998 to April 3, 1998.

Review the Update from November 24, 1997 to January 22, 1998.


---

The information here is simply stuff we here at By Design think is important around Friday Harbor or on the Island. Some of it's news, some of it's old news, and all are just things we wanted to mention, with most of it about the things that make living here great.

There will be more next week, if anything happens.

Ian Byington
ian@byd.com

More info about the island:

This site prepared by our friends at By Design in Friday Harbor.
The information contained here is
©Copyright 1997, 1998, 1999, 2000, 2001, 2002, 2003, 2004 and next year, too
by By Design, Friday Harbor.
Unauthorized reuse of the content of these pages is prohibited;
links to other sites is intended to be to the benefit of those sites,
and for the edification of our readers,
and does not constitute endorsement or
agreement with views expressed there.